What is a Whistle Collar?
Whistle currently has three pet trackers, the Whistle Fit - a fitness tracker without GPS, the Whistle Go, and its upgraded version with new features and longer battery life: Whistle Go Explore. We tested the Whistle Go Explore, which is a health and location tracker in one. This means that besides the GPS tracking, they also implemented a few health-related stats that distinguishes them from the other smart collars on the market. Even while we used it for ~3 months, they came out with new health-related features and continuously improved their algorithms, so we expect they will keep coming out with new innovative features in the future.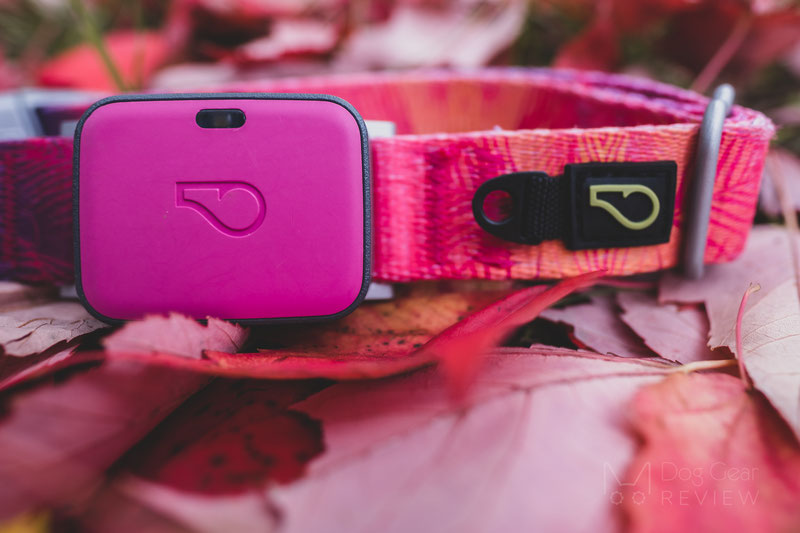 How does it work?
To save you some time right at the beginning: if you are reading this from outside of the US or Canada, Whistle will not work for you!
GPS tracking uses AT&T nationwide LTE-M network combined with Google Maps. The tracker is using satellites to monitor your dog's location and communicate the location to the app on your phone through AT&T's LTE-M cellular network. This means that you will also need to pay a subscription to keep the GPS working. Sidenote that this has nothing to do with your phone's network. Your phone doesn't have to be on the AT&T network to communicate with the tracker.
You can use this map to check the coverage in your area. If you have 4G LTE coverage, you will also have LTE-M since LTE-M reaches 20-30% farther but keep in mind that geographical features like mountains can block the signal. Just taking a quick look at the map shows perfect 4G LTE coverage for the White Mountains area in New Hampshire, while we know from experience that there isn't cell phone coverage between those mountains.
The good news is that you can check out if it works in your area risk-free since they have a 90 days "no commitment" period. If you decide that it isn't for you during this period, they give you a full refund on the purchase price.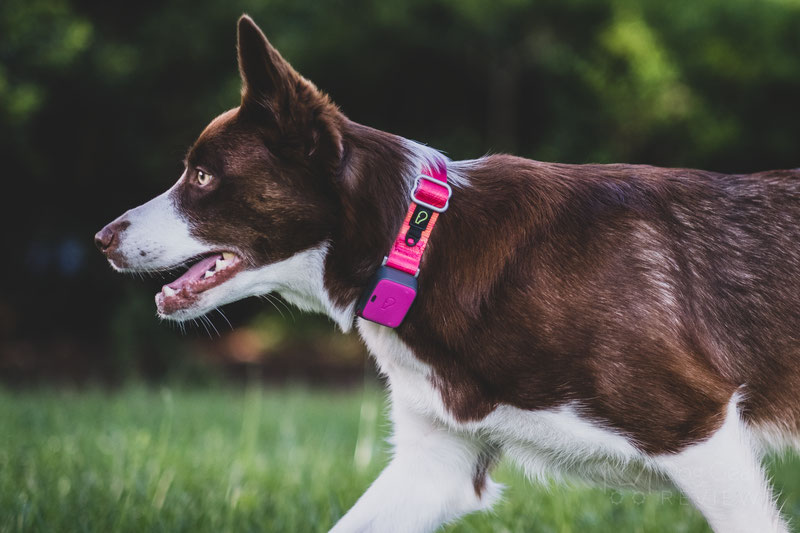 What comes with a Whistle Go Explore?
When ordering it, you will get the Whistle GO Explore Device (the tracker unit), a Snap Collar Attachment, a Hook & Loop Collar Attachment (for collars or harnesses larger than 1") and a micro USB Charging Cable. This is cool because you can decide to order one of their designer collars - and even a matching leash, or you can attach the tracker to any other collar. Their collar comes with a built-in metal mount for the tracker, so it lays more flat than if you would use the hook & loop solution on another collar.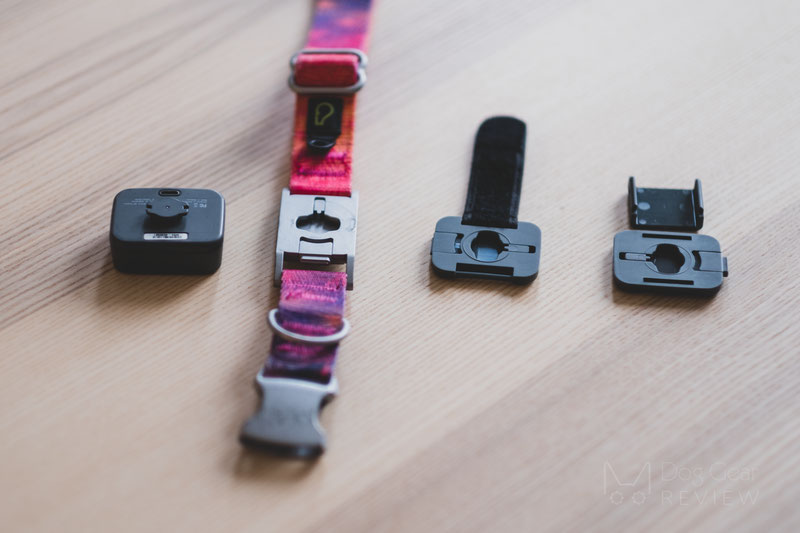 We also like that Whistle doesn't require some kind of base unit that would need to be plugged in at home all the time, taking up one of your outlets.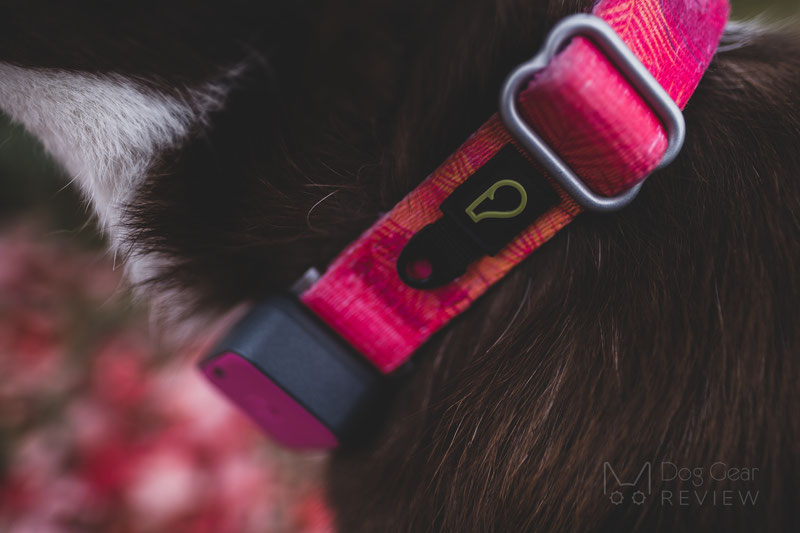 Battery life
The most significant improvement of the Go Explore compared to the Whistle Go is the improved battery life. While the Go version was able to run on a single charge for ten days, the Go Explore is good for up to 20 days! Of course, this will significantly vary based on your wifi network's strengths and the cell coverage in your area. The best way to save battery life is to create a Safe Zone for each location your dog spends time frequently and connect the collar to the Wifi on these locations. When on the Wifi network, the GPS is turned off, and the collar is getting the location information through the Wifi.
It is still recommended to charge the tracker every three days to have enough buffer if your dog gets lost. We usually needed to charge it every 7-10 days, using it only for three-four walks a day (it wasn't on Mia at home) with 2-3 half-day hikes/other adventures per week. You can also opt-in for a mail/push notification when the battery is running low, which is neat. You also have the option to pick between 3, 6, 10, 15, or 30 minutes GPS refresh rate when outside of the wifi zone. The less frequent location update would provide you less accuracy (and more lag in escape alerts) but a much longer battery life. It only takes two hours to fully charge the batteries if you use a fast charger, which is very convenient.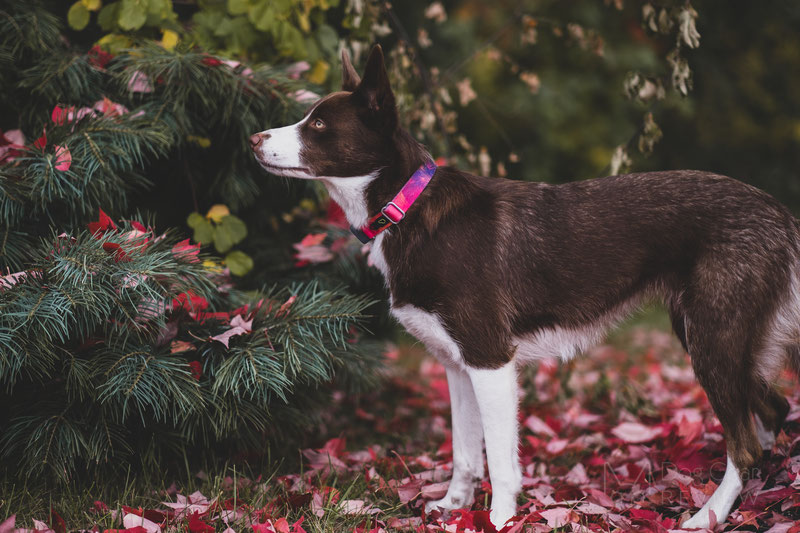 "Live" Track of Lost Dog
The tracker's most robust feature is that it gives you a location every 15 seconds if you press the "track" button on the main page. It not only gives you the latest known location, but it plots all the locations after you started the track. This shows you the direction of travel, and you can also get a feeling of their speed to determine if they are still running away at full speed or stopped to sniff around in a nearby park.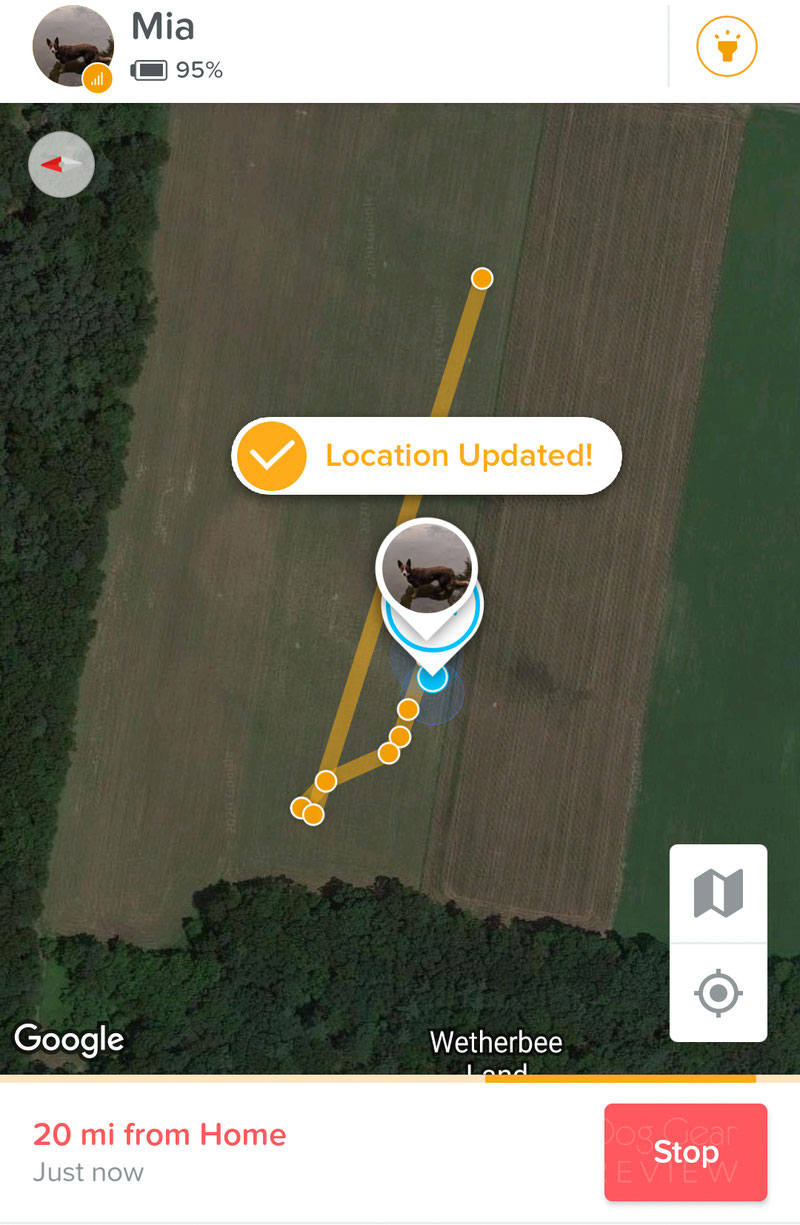 LED Light
The other upgrade of the Go Explore compared to the Go version is the built-in LED light. You can turn it on and off from the app on your phone, and you can also choose from three modes: slow flash, fast flash, or always on. The light is surprisingly bright; if you walk in the dark, it will light up the environment right next to the dog, which is somewhat visible from all sides. It can take 1-2 minutes to turn on or off the light, depending on your phone's distance from the collar, but be patient; it will eventually happen.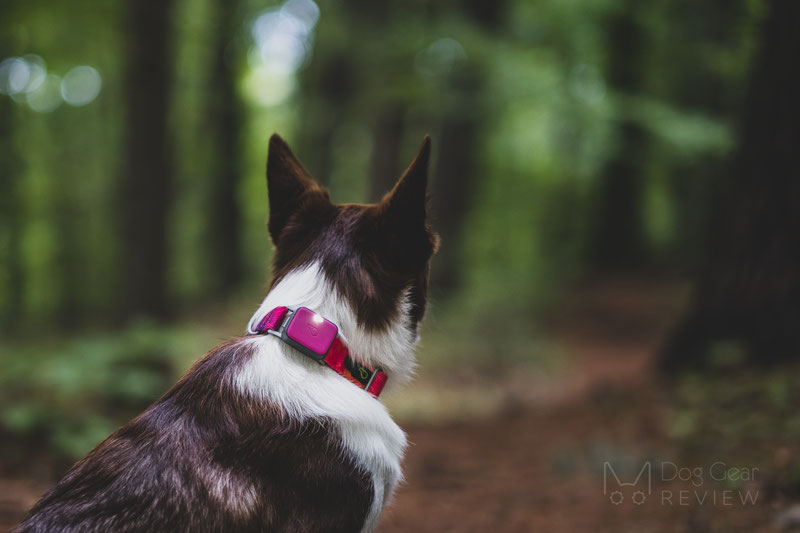 Activity Tracking
Whistle makes it very simple to keep track of your dog's activities. An "Activity" tab shows the progress of reaching the daily goals that you set for your dog, tells you how much time your dog spent resting and how much calories they burnt.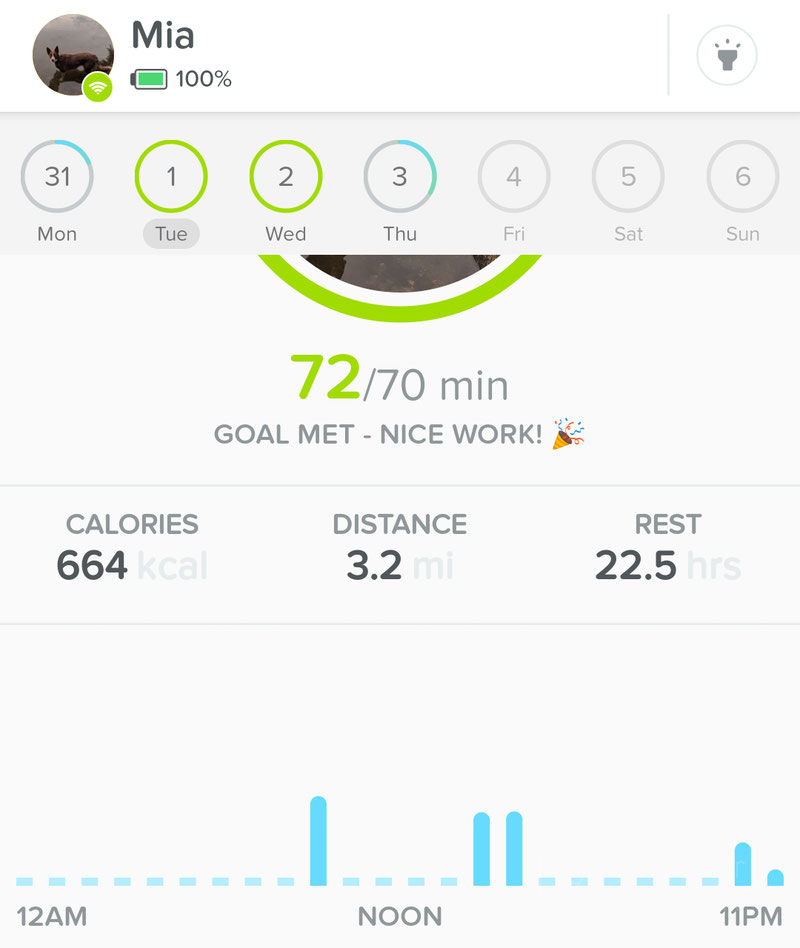 It also shows you a log for each day with small map details of your walks. Remember that usually (when not in Track mode), it is not tracking your daily walks step by step. Instead, it puts down a location point every 3 minutes (or in another interval if you want it less frequently), so it will not show your actual route. The app can recognize when your dog was walking, playing, or running, but if they missed something, you can also click on those small maps on your activity feed and mark if that was a walk, a run, play, swim, or other active time.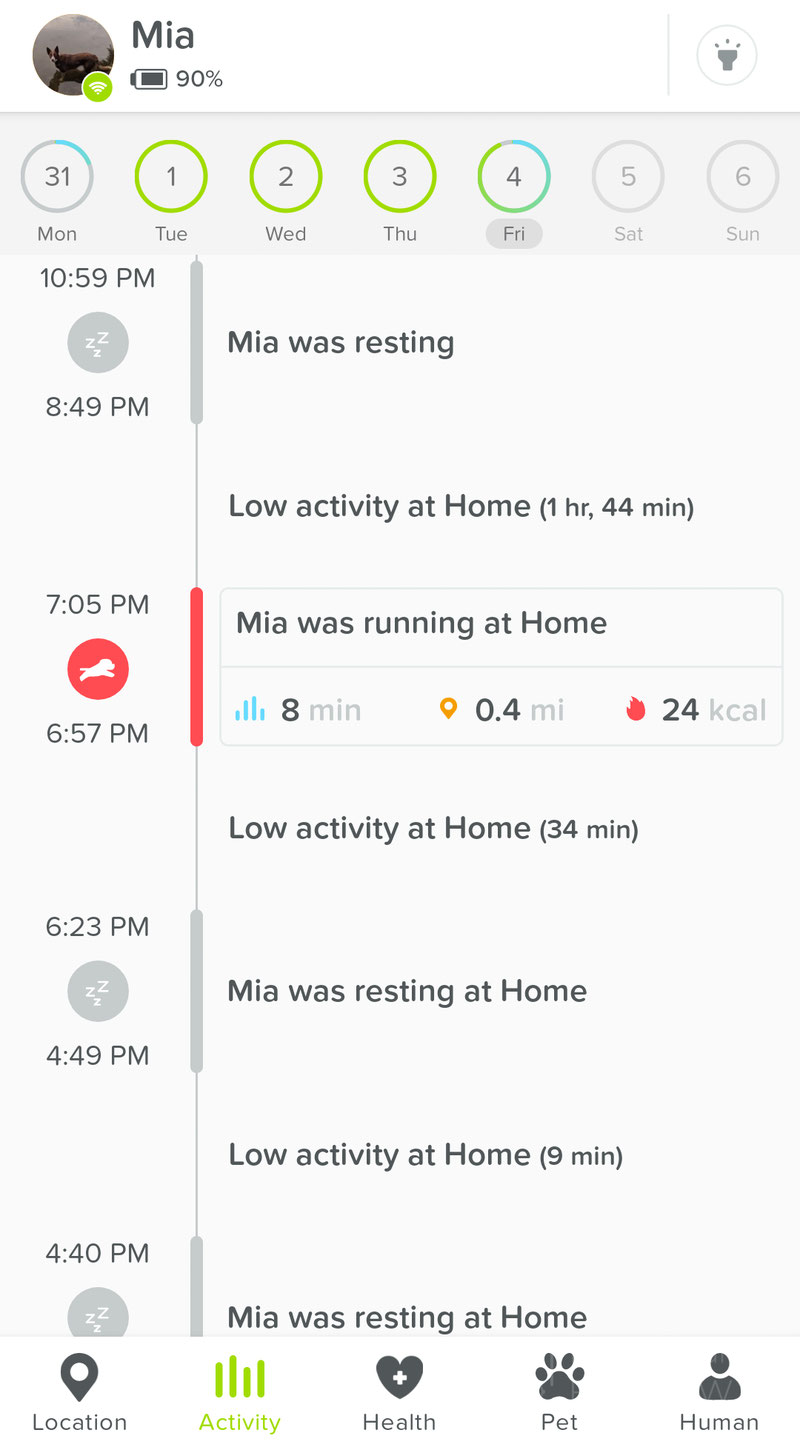 They have quite sophisticated ways to determine the stats like distance or time spent resting, but these are still just estimations. They calculate the activities with the help of a three-axis accelerometer in the tracker. They combine this data with GPS information and compare it with tens of thousands of similar dogs measurements. E.g., for determining the triggers for a resting period, they videotaped sleeping dogs to see how much they move around while shifting positions or rolling over in their sleep. They wanted to be sure not to count these minutes as an activity or disturbed sleep.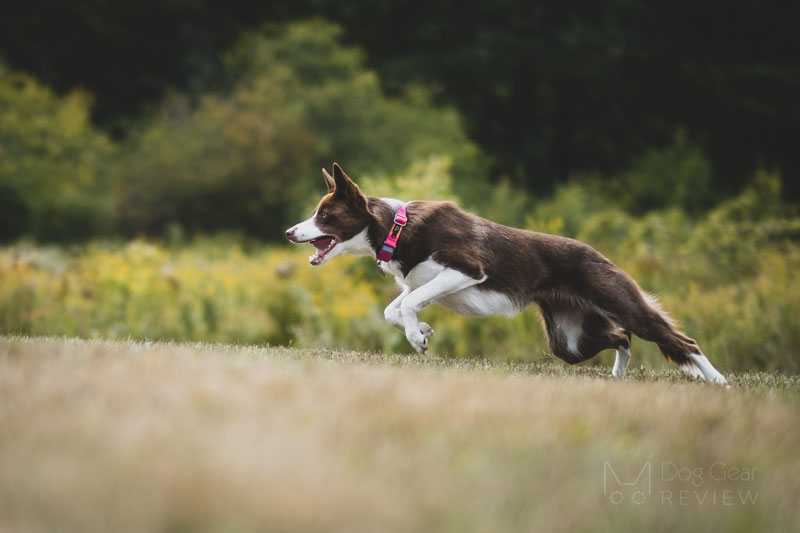 Health Insights
And we arrived at the features that differentiate this smart collar from all others we have seen so far. They are continuously working on coming up with new or better health-related stats. For example, have you ever had the feeling that your dog is spending more time licking their paws in pollen season, but you are not sure? Would it be nice to see this on a chart and see if there are spikes after a hike or a walk on a meadow? That's exactly what they want to solve for you.
The current health stats in the app are the time spent drinking (can be useful if you have multiple dogs and have a hard time monitoring if one is not drinking enough), time spent scratching, time spent licking, and their sleep quality based on how much they move around while sleeping. Of course, none of these will be exact numbers, but they showed realistic numbers for Mia.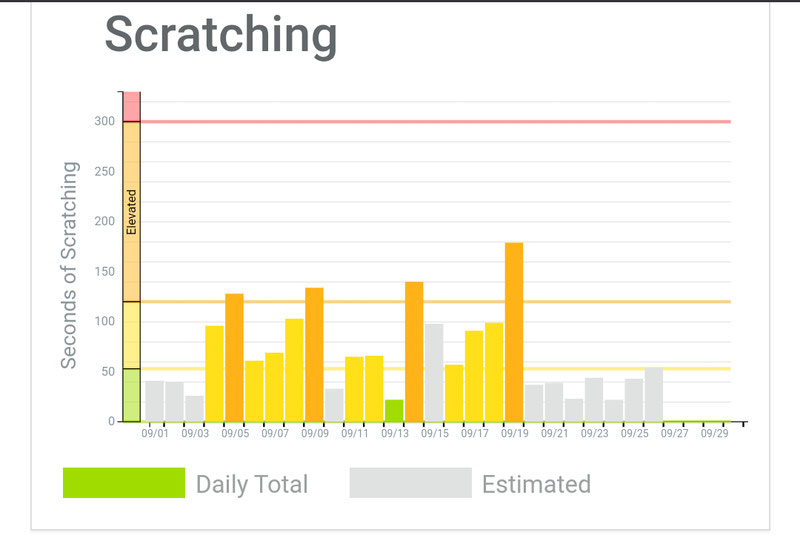 You can check out each chart separately in a weekly and monthly view and dive into the details of each day as well. For the sleep chart, it shows you a bar marking the periods when your dog's sleep was "Slightly Disrupted" or "Disrupted," so you can easily see trends in their sleep patterns.
If you don't want to spend too much time digging into these charts, the app also gives you summary Health Insights and mails you a weekly wellness report with summaries and main trends compared to the previous week.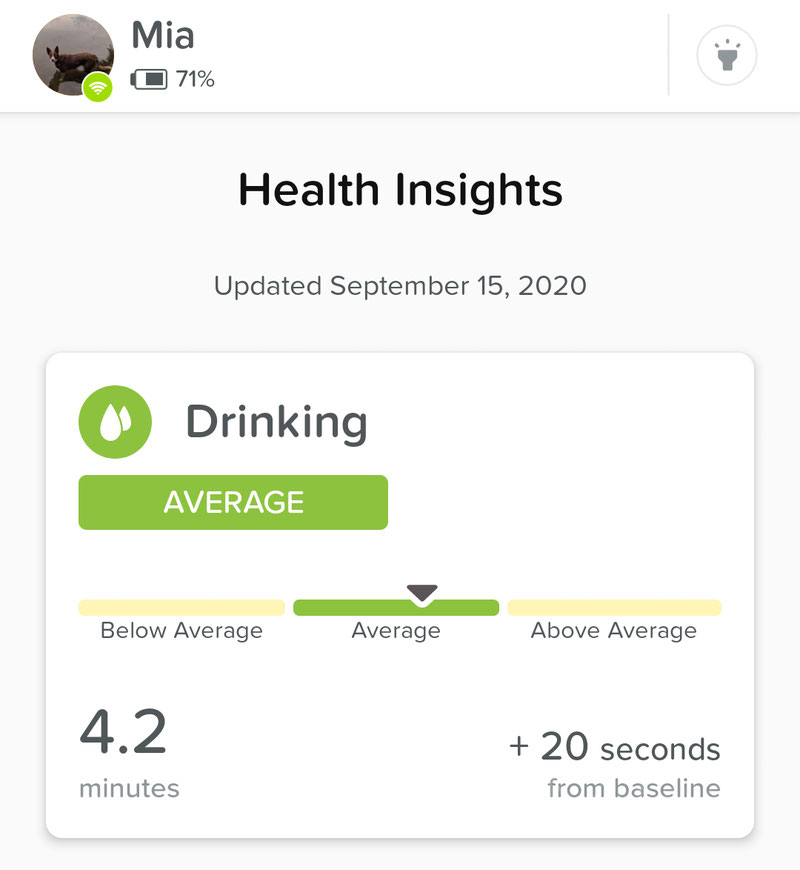 You can also reach out to a veterinarian team within the app if you have any concerns about the health stats (or about something else). This service is free for only a limited time, but it's good to have the option to chat/call or video with a vet right from the app. You can also generate a health report with a click and send it to your vet (or anyone else) for review.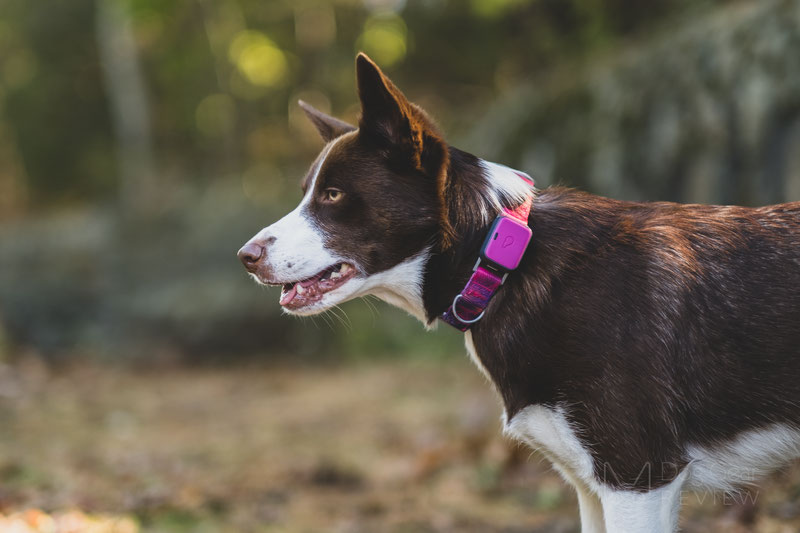 Calories Burnt and Food Portion Estimator
A cool feature is the estimated calorie that your dog burnt that day. They count in the calories that the dog is just naturally burning while resting (Basal Metabolic Rate - BMR), and of course, they add the calories from all activities that day.
When setting up the application, you can enter the type of food your dog is eating. They have a great database containing even the different flavors of the same dog food. We did look up the other foods that Mia tried over the years, and all of them were in their system! With knowing the calorie content and ingredients of your dog's food and their average daily activity level (calorie burnt and high activity minutes), after 30 days of use, it calculates how many cups of food your dog should get. This is a neat feature to double-check your dog's portion, especially if the activity levels have changed significantly lately.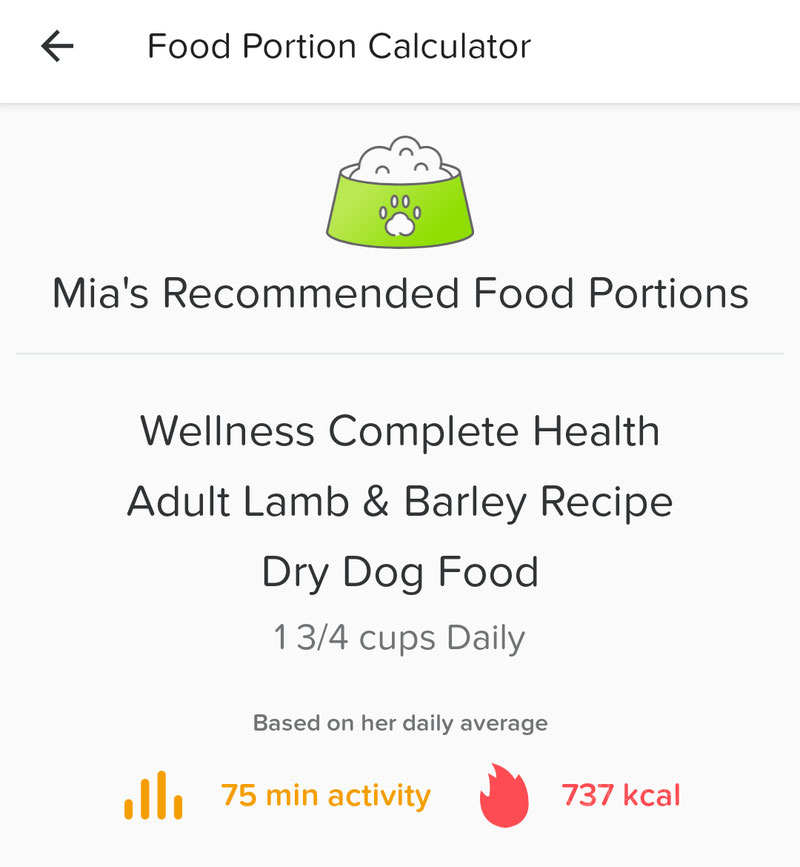 Whistle Go Explore Review
We enjoyed using the Whistle collar! The activity tracking feed is well-made, makes it easy to oversee the activities, and navigate between days. The accuracy of plotting your walking route on the map is similar to other network-based trackers: it will just put down a location dot every X minutes and connect them with a straight line, so it isn't tracking your walks closely. However, the accelerometer was surprisingly good in determining if Mia was walking, running, or playing during that activity. We heard from others that some had issues with their slow drive being recorded as a walk, but we haven't experienced the same, so maybe they improved their algorithm.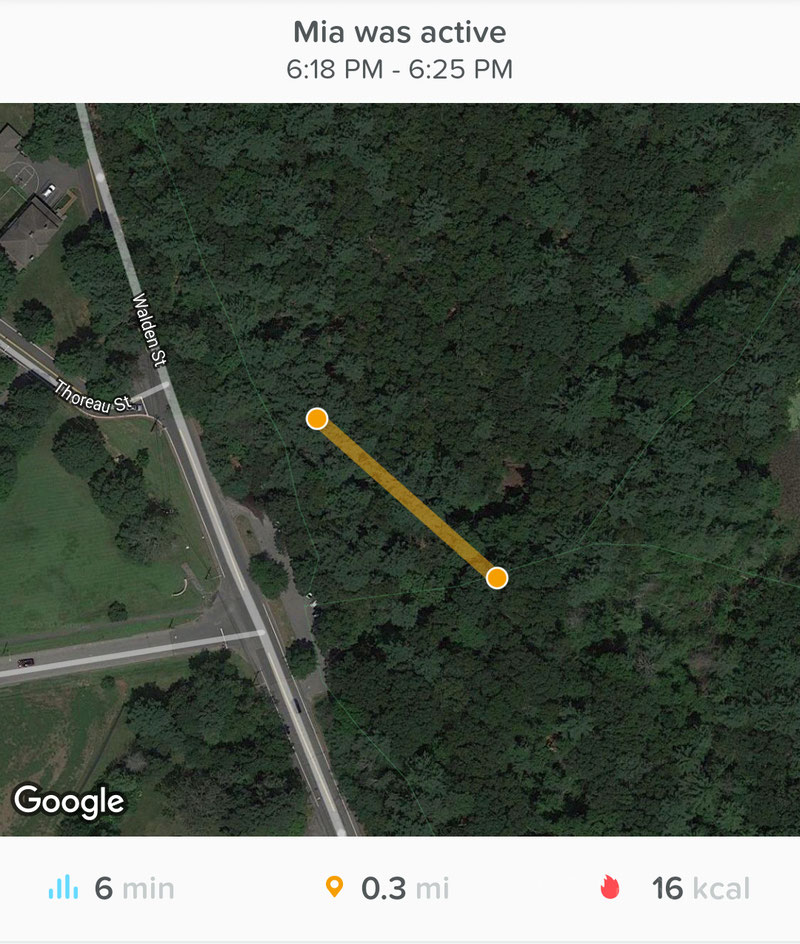 The tracker itself is waterproof; the IPX 8 rating means that it can be submerged in the water up to six feet, so you don't have to worry about it! It is also lightweight, and so far, there isn't even a scratch on it after three months of testing. We received the collar with the "Summer Sunset" Twist & Go collar. The collar band is stunning and proved to be durable. It still doesn't look worn, and the colors are still vibrant. The only complaint would be that the cover paint of the metal D-ring and the buckle is scratched up by the leash carabiner and the name tag.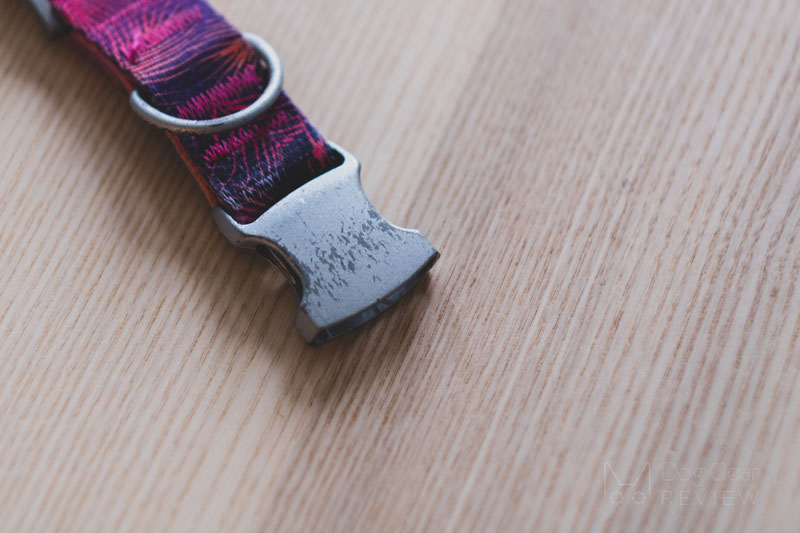 The health stats are a cool feature, and it's definitely something that could convince one to choose this collar over others! A thing to mention here is that all those stats work the best if the collar is on your dog all the time. Usually, Mia only wears a collar outside, but for the sake of testing, I left it on her 24/7. The stats were generated nicely until we had to leave her home on the 3rd day, so we removed the collar. In general, I am not comfortable leaving her home alone with a collar on in case she would manage to get stuck on something. The problem is that this ruined all those health summary charts. The app generates the wellness score and a few other information based on being on the dog on the first seven days and then for 96 straight hours to calibrate the values for the dog. This is great because it shows that they don't just assign random values to your dog, but on the other hand, we always failed to have it on at least one of these days do never got the full report, which is annoying. So, not surprisingly, you can get way more out of this collar if your dog is usually wearing one when left alone at home.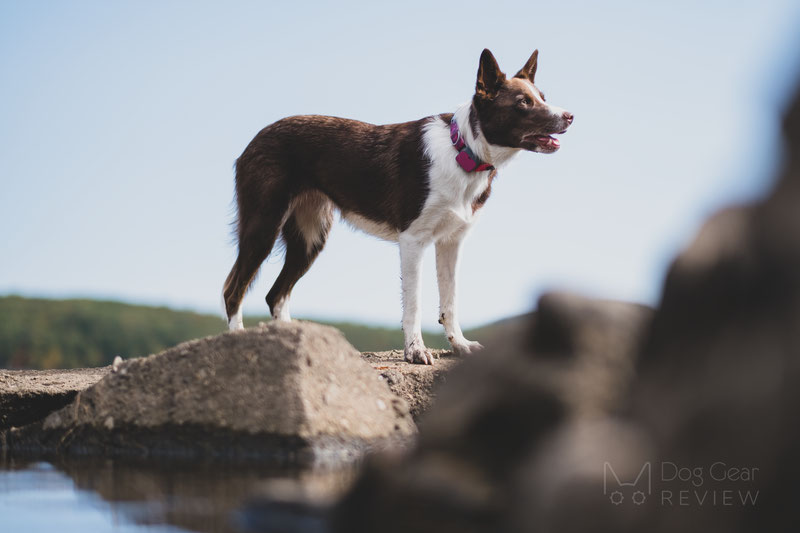 The LED light was also handy as the days are getting darker. The light is reasonably bright to be visible even from a distance, and, conveniently, you can set the 3-modes from your phone. Our only complaint is that you will have a more challenging time using the light close to your Wifi. For some reason, when trying to turn it on or off within wifi range, we just got the message that "Your Whistle is currently syncing over Bluetooth. Please wait for the sync to finish and try again." Sometimes this message disappeared after 5-10 minutes, and we were able to use the light, but sometimes we were just stuck with it. We have never had this message popping up when being farther away from the Wifi. Twice we run into the light turning off after 30 minutes by itself, but we could turn it right back on. Not sure if there is a time limit when it's programmed to turn off.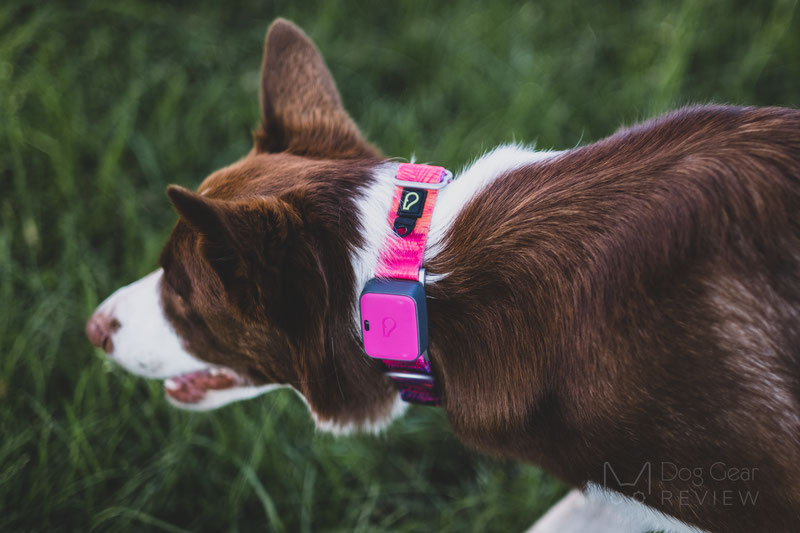 As with other trackers, you can set up Safe places in the app and get notifications where your dog arrives or leaves. It's a great feature to add multiple locations like your Home, Office, Dog Sitter, etc. You can opt-in for push notification, an email, or a text message when your dog leaves these areas. An important note is that this works best with large areas because wifi coverage and GPS inaccuracy can mix up the location and send false notifications if your safe zone's border is close to your house. To save battery life, create a Safe Zone for each location your dog spends time frequently and connect the collar to the Wifi on these locations.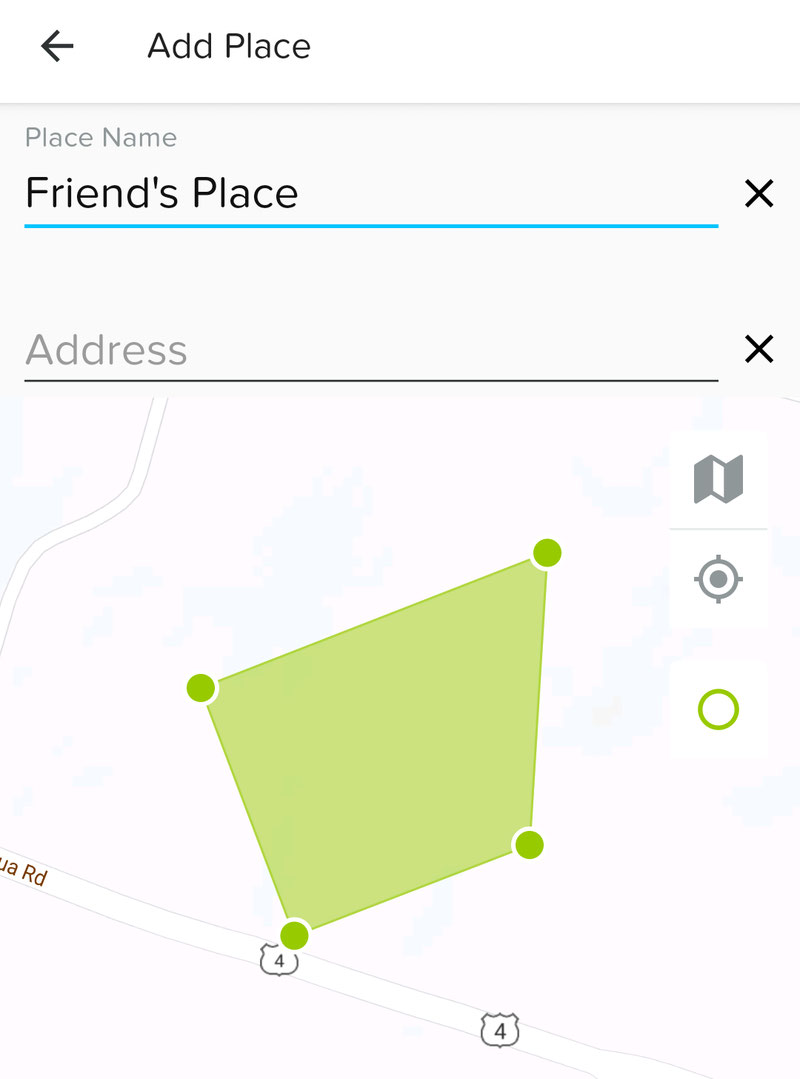 You can also enable the so-called "Family trips," which means that it will not send an alert if your dog leaves the safe area with a person added to the app - instead, you get a notification with the name of the person who is walking your dog.
A loophole in their system is that you cannot initiate the "Track" option if the app thinks both you and the collar are in a wifi zone. Let's say you see your dog running away from your yard, but the GPS location frequency is set to 15 minutes. You will probably not get an escape notification for minutes because your dog was safe at home the last time the location was checked. If you try to update the location at home or start the Track option, you will see that both are unavailable because you are within wifi range, so the GPS is preserving battery life. Once you get the next location of the dog from outside of the Wifi range, you can start the track and refresh the dog's location.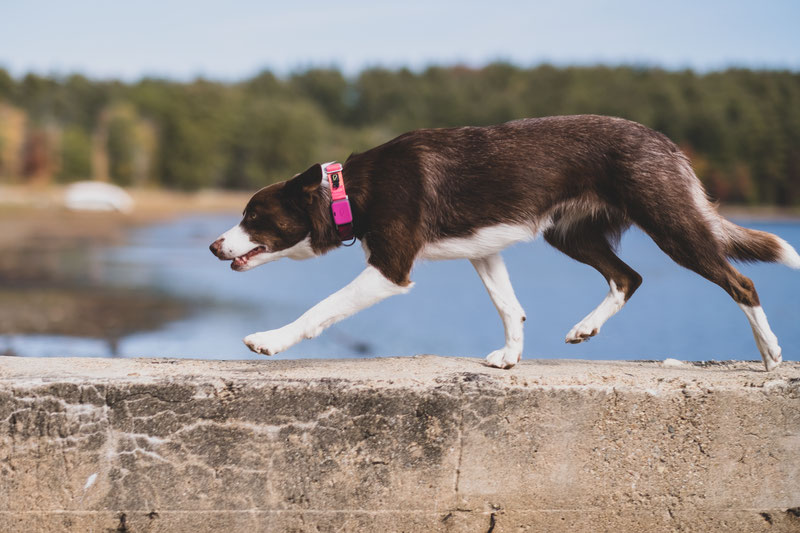 The interesting idea is that you can also use the app as a place for all dog-related information. You can set To-Dos and reminders like to check their weight, go to their grooming appointment, or not to forget their next vaccination. There is also a "Share Mia's Day" at the bottom of every day on the activity feed, which creates a nice summary of the activity time, distance walked, and calories burnt on that day if you feel like sharing it on social media.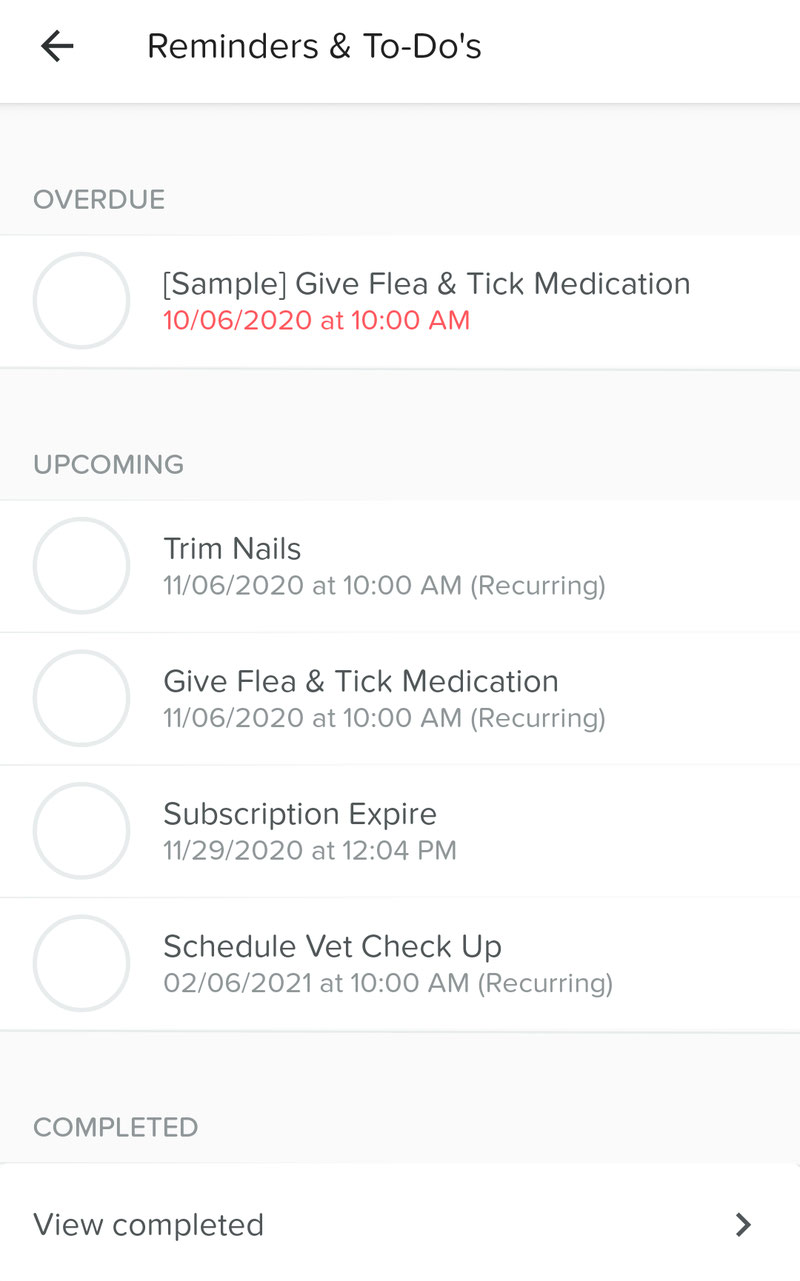 If you decide to use the Hook & Loop Collar Attachment to fix the tracker to another collar, it will "wiggle" and slide around a little more on the collar band and not lay flat the collar. The Snap Collar attachment works neatly, but that only works for a thin, flat collar, smaller than 1". Both the metal attachment on the Whistle collar band and the plastic mounts on the two other attachment options has a spring-loaded button on the side. You have to press that to release the tracker, then turn the tracker 90 degrees while pressing the button, so it's close to impossible to lose it unless you lose the velcro or the plastic snap attachment itself. You will probably have a much better user experience altogether if you go with their collars instead of attaching the tracker to another collar with the attachment pieces. You can make it work, but there is a difference between velcro & plastic solutions compared to using their well-made metal mount piece.
We know some people have concerns about using a smart collar as the primary collar we but haven't heard any complaints about this one breaking or falling apart. The metal mounting piece on their collars is well-attached to the band and looks strong enough to handle a dog's weight when pulling.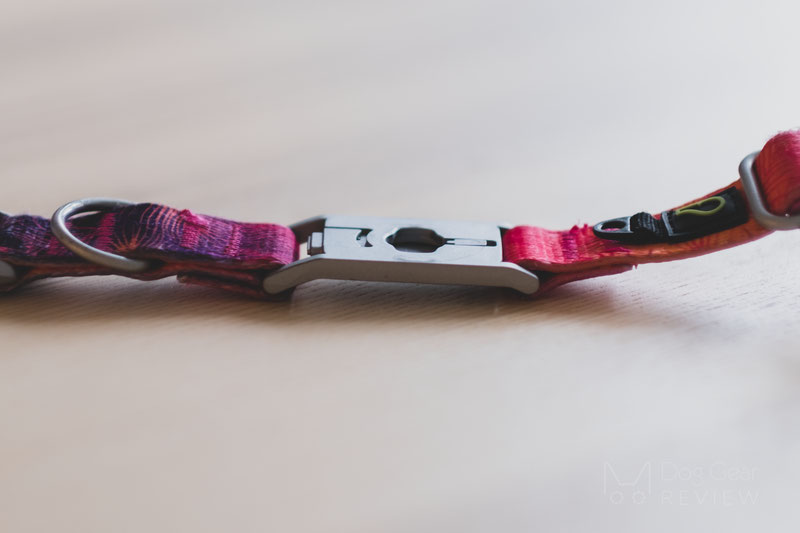 Functionality review
We keep pointing out that no gear or product would work correctly for every need in every situation. With trackers, it all depends on your primary use-case for the product. Let's see if the Whistle tracker knows what you want from a tracker!
Is Whistle a good option if I'm worried about my dog getting loose and running away?
The best thing about this collar is that it tracks your dog continuously, and you can see their real-time location at any time. If you click on "Track," it will give you a location every 15 seconds, almost like live-tracking. Like other GPS products, the accuracy will vary significantly, but it will probably be around 7-15 feet. As discussed above, you can also set up safe zones to get notifications when your dog leaves the current zone.
While these are great sounding features, you shouldn't have unrealistic expectations. Keep in mind that the tracker will not work all the time correctly, so if your dog is regularly running away from your yard, you still want to keep an eye on them. GPS and LTE signals are inconsistent, and coverage can be interrupted by many environmental factors. Depending on your settings, you get a location every 3, 6, 10, 15, or 30 minutes, which can mean that in the worst-case scenario, your dog left the safe zone a while ago by the time you get a notification. If you have wifi issues, coverage issues, or an older phone that isn't working well in general, you will probably experience problems with the app.
So, in short, it can be a life-saver in emergencies - like when the dog runs through the door or get loose from the leash on a walk and runs away. It works very well when you actively look for your dog away from home. We find that having their actual track recorded instead of just showing the last known location is much more helpful when looking for your dog.
You will find the tracker less useful if your goal is to leave your dog in your yard without supervision and watch a movie, hoping that the app will keep an eye on the dog for you. It also has some flaws if your dog is just wondering in the neighbor's yard catching the wifi signal from time to time. In this case, you will not be able to start tracking the dog or update their location because the system thinks your dog is still home. The safe zone will also not work correctly if your Wifi covers most of your yard.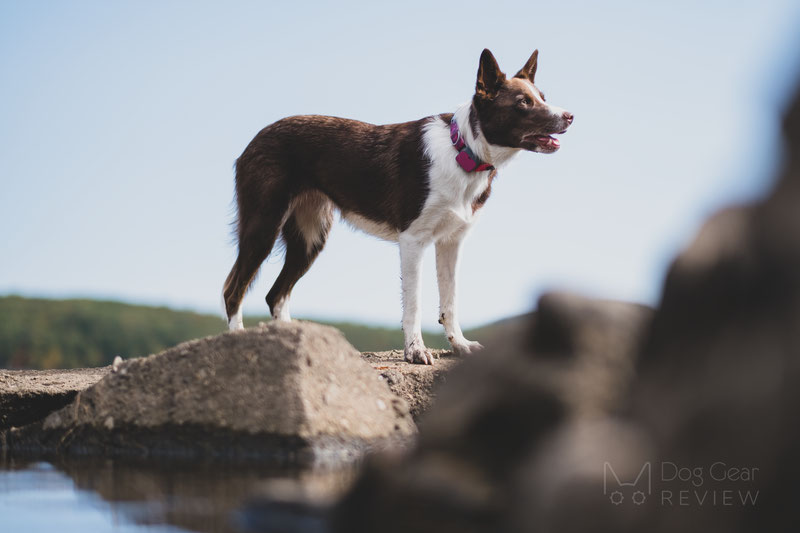 Is Whistle a good option for tracking how much my dog is running around while we are hiking?
Since you only get a location every 3, 6, 10, 15, or 30 minutes, the dog's track will be highly inaccurate. It's also not useful if you hike in the backcountry where you have spotty or no cell coverage. The tracker's accelerator is doing a good job estimating the distance that your dog walked that day, but you cannot look at the map and see exactly where they went.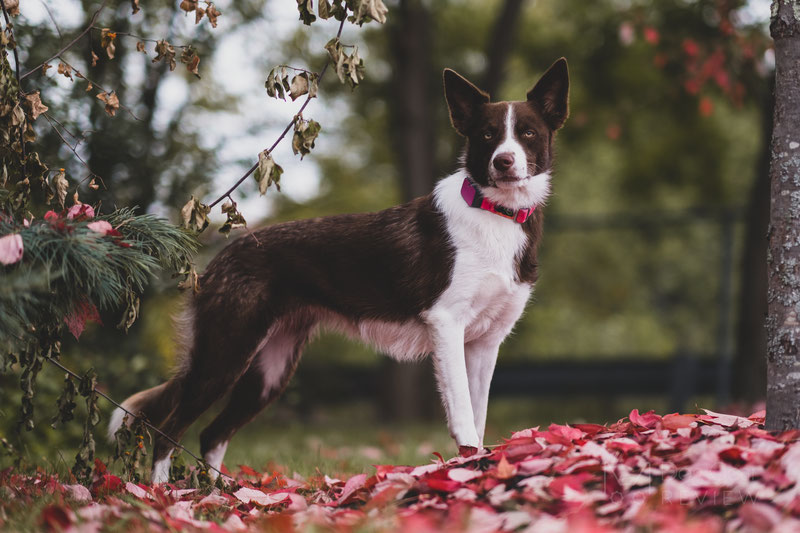 Is Whistle a good option to track my dog's overall activity level?
Yes! In the app, you can manually set how many minutes of daily exercise you think your dog needs, and it will show how they are progressing towards that goal every day. When selecting the goal, the app gives you an estimation based on your dog's breed, age, and weight, like "Dogs similar to Mia get around 46-93 minutes of activity each day," but it's up to you what you set for yours.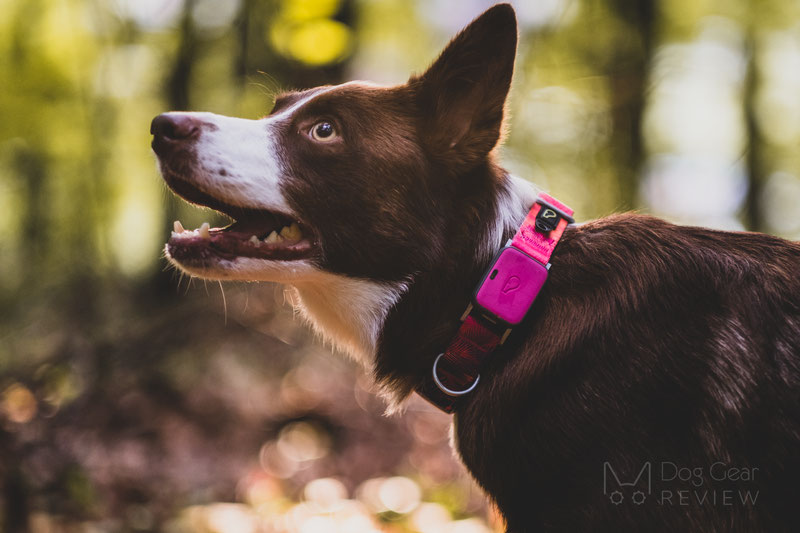 #####Is Whistle a good option to check on my dog while they are with a dog sitter or at the doggie daycare?
Yes, it should work very well for that! You can set the dog sitter's or the daycare's location as a safe place to only get notifications when your dog enters and leaves the zone. We have to mention one more time not solely to rely on these notifications. Since the connectivity can be inconsistent and inaccurate, they might send out false alarms. The good news is that you can just go to the map, click on "Update location" manually to see where your dog is and that will probably put your dog back to the correct location.
Whistle is excellent to give you peace of mind when someone else is walking your dog and to be sure they can find them if something happens. You can add your dog walker/family members to the app for free, so they can use the app and toggle the "Track Mode" when needed. Keep in mind that all people you add will see the same information on the dog you see. This means they have access to all your walks and logs and can even see in real-time where you are with the dog at any time. Hopefully, this is less of a concern with family members, but you might want to be careful when adding one-time dog walkers.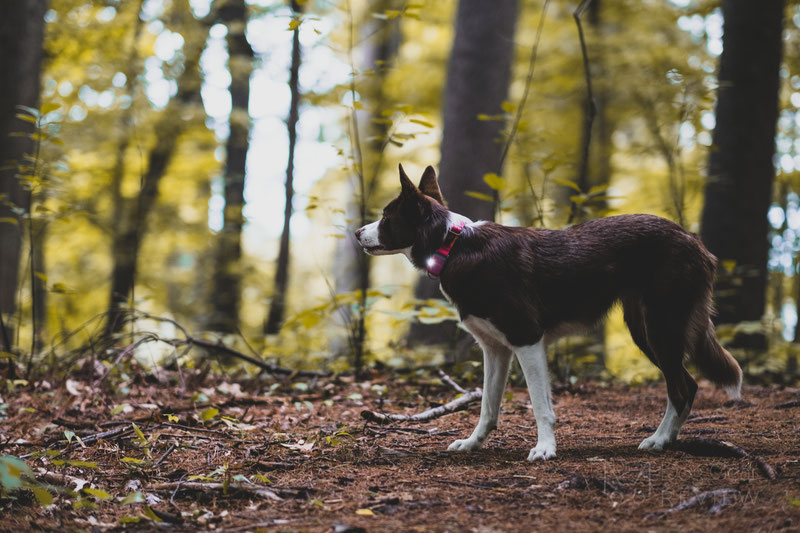 Whistle Review Summary
Altogether this is a well-made collar and tracker with innovative features!
With the frequent locations when tracking the lost dog, it's a perfect solution if you are worried about your dog getting lost. It is also powerful in the health-related stats and charts, which opens up a whole new world of monitoring your dog's health. This can be especially important if someone else is taking care of your dog or having multiple dogs making it harder to keep an eye on their individual routines. It can be used to track hiking/walking stats, but we feel these are not the most robust features of Whistle.
We can't push enough that connectivity to wifi/Bluetooth, and the cellular network itself can be spotty or interrupted by the environment and can cause problems outside of the tracker's responsibility. Whistle can be a life-saver in emergencies, but any electronics can and will have blind spots. We see many people getting lazy with recall training or keeping an eye on the dog because they have a tracker on. Please don't expect a smart collar to keep your dog safe because only you can do that. Knowing their location or getting a notification that they left the safe zone will not keep them from being run over by a car before you get there. When reading disappointed experiences from others, it's hard to distinguish if it is an actual failure of the product or the issue had something to do with the environment or network. Either way, any GPS tracker should be a plan B for emergencies instead of an excuse of not keeping an eye on the dog who regularly walks away.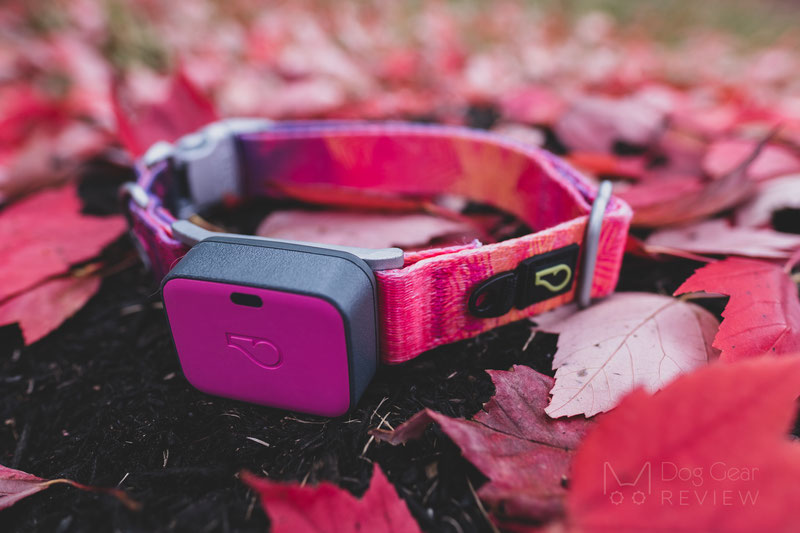 Where to buy
You can buy the Whistle trackers and designer Twist & Go collar and leash sets on their website or on Amazon.
Disclaimer: this review contains an Amazon affiliate link, which supports Dog Gear Review if you purchase the product after clicking on it without costing you anything extra. Using affiliate links will never compromise us writing unbiased, honest reviews!