About Voyagers K9 Apparel
Voyagers K9 Apparel came to life when the owners of greyhounds realized that nothing seems to fit their dogs correctly. They started their breed-specific clothing line, and today they have designs for more than 20 breeds and make a custom coat for others as well. Their quality coats come in many colors, and they fit like a glove!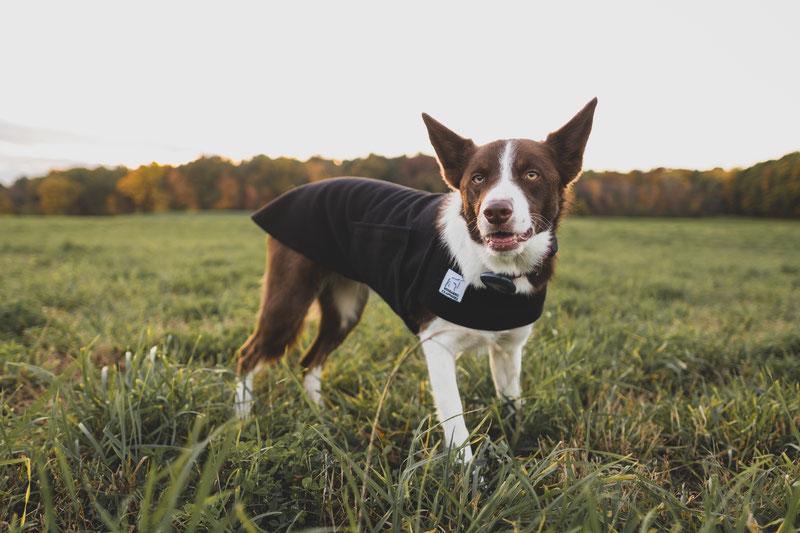 The details of the Tummy Warmer
Voyagers K9 has a great line of coats that you can "mix and match" as the weather and your dog requires :) The Tummy Warmer can be used as a standalone coat for chilly fall/spring mornings or as a base layer under their thinner Rain coat or warm Winter coat. If you click on the links, you will see that we reviewed both of those before ;)
Many are also using this coat indoors for dogs who always seem cold during the winter months or on camping trips on cooler days.
This jacket's design is very similar to their two other coats, so it easily fits under them. It provides excellent coverage around the ribcage and on the back.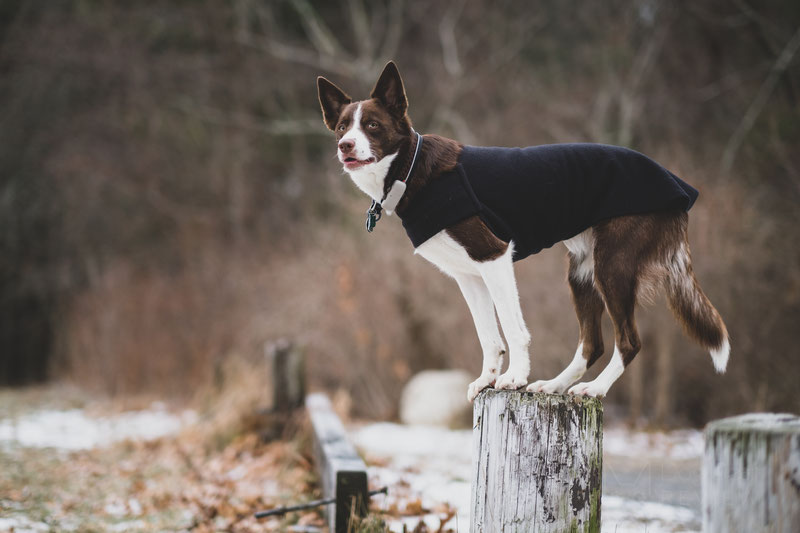 To put it on, you just pull it over the head and secure it with the wide belly band using velcro. The hook and loop panels are surprisingly strong, and their position gives you a chance to adjust how snug the coat fits your dog.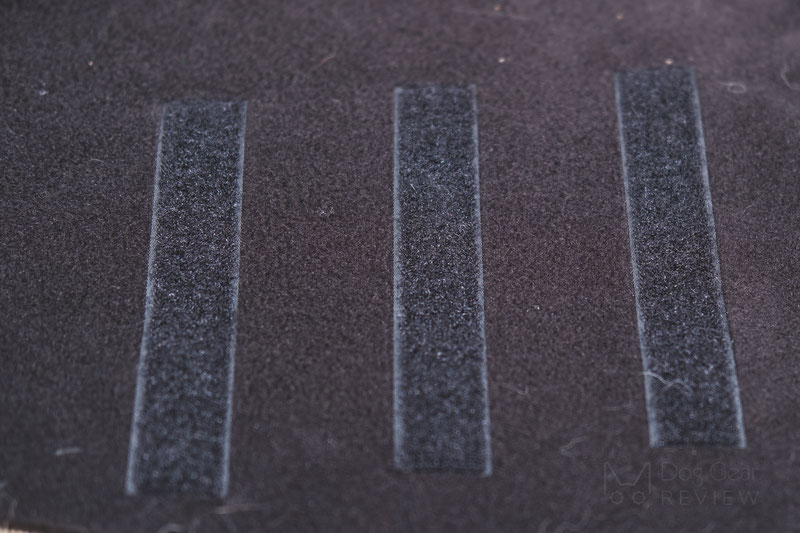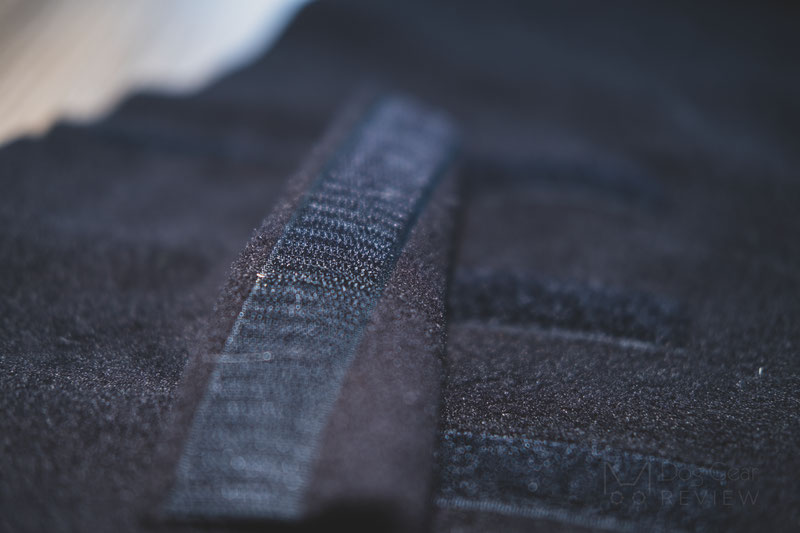 The material is a quick-drying Polartec 200 Classic double velour fabric. It is soft, very lightweight, and packable.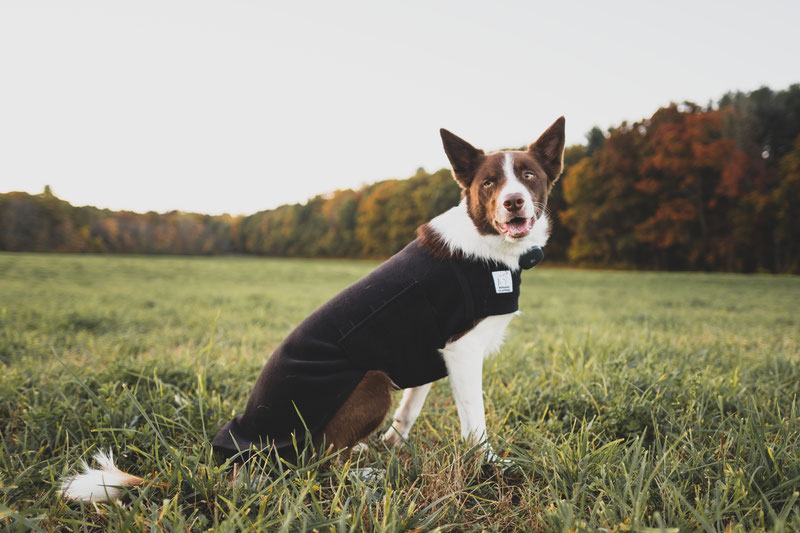 Voyagers K9 Apparel Tummy Warmer Review
We loved testing this coat because it is super easy to put on the dog. We like that it isn't bulky and doesn't slide around. It was perfect for those chilly mornings when Mia was mostly fine while running around but was happy to have an extra layer while taking a break.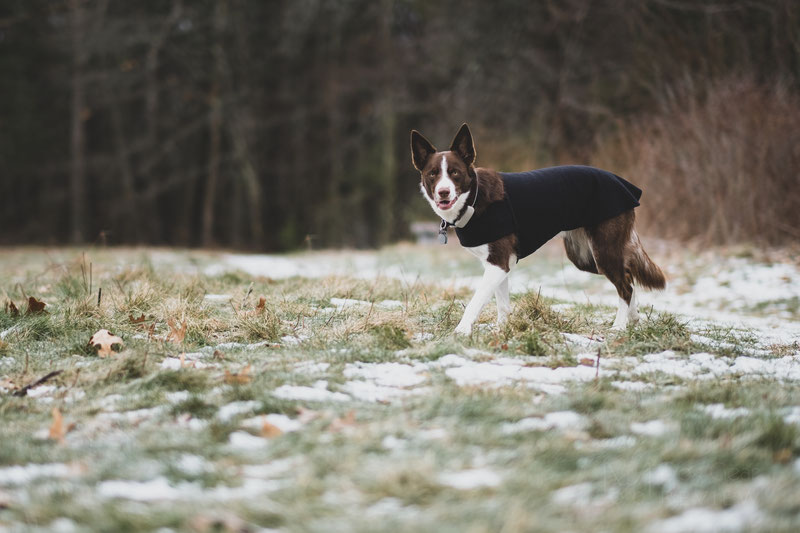 We also used it in the car on many trainings to keep Mia warm while waiting in the car. A fall/spring day can be nice and warm on the sun and while moving but can get chilly while the dog sits in the car for hours. This coat wraps around Mia nicely while it is not restrictive.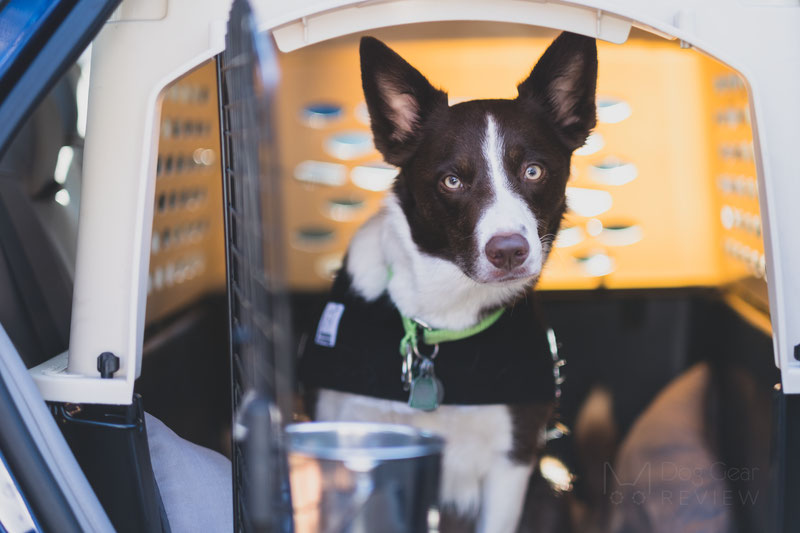 The broad belly strap and chest piece keep the coat from shifting - along with the reinforced neckline. The fleece material is not waterproof, but it dries incredibly fast. Another cool feature of the material is that you can just throw it in the washing machine and drier, and it will look new in no time.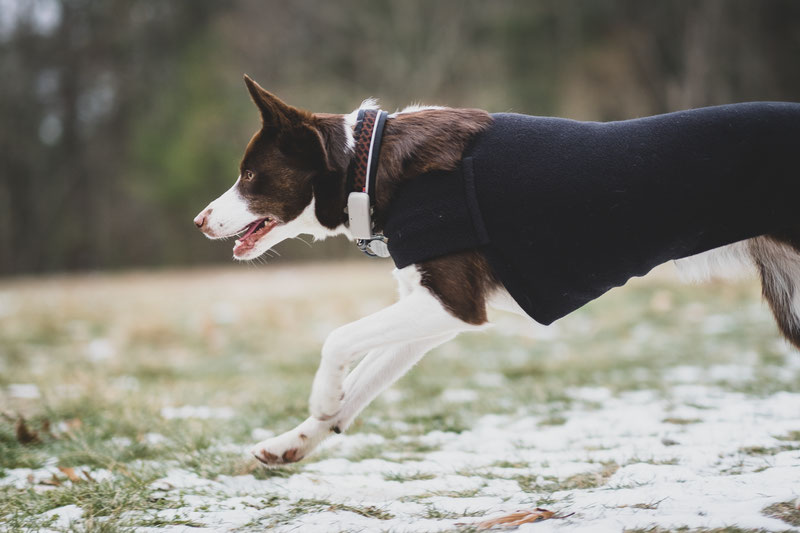 The downside of the soft material is that it will collect the dog hair, and if you use it outside, debris and plants tend to get stuck in it. Another note is that the wind can flip the back end up since the coat isn't thick. This wasn't really a big issue for us because on a very cold/ windy day, we would use another coat over it anyway.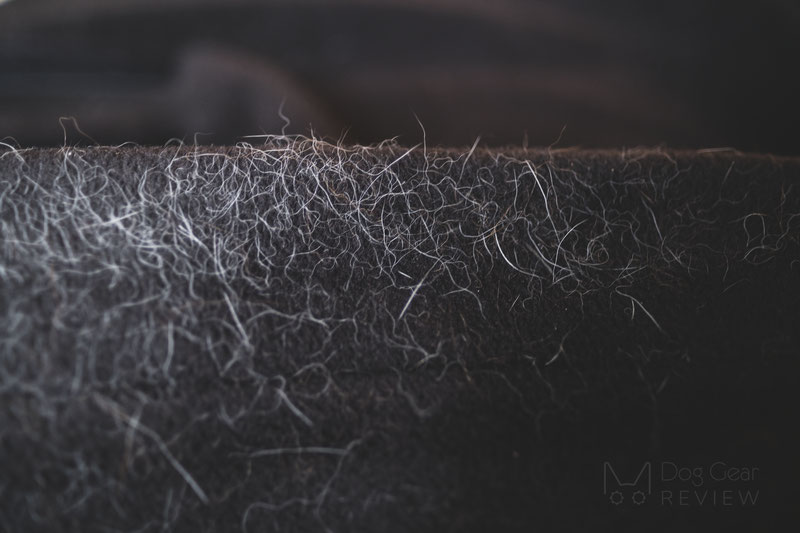 A harness meant to be used under the Voyagers K9 coats with a harness opening on the back. We did end up using the harness over it a few times when Mia was just doing quick search tasks, and I was lazy getting the coat and off all the time when she got out of the car. While we didn't use this setup many times, there were no signs of chafing on Tummy Warmer's material under the harness. The coat is actually much more durable and can handle running through bushes much better than expected.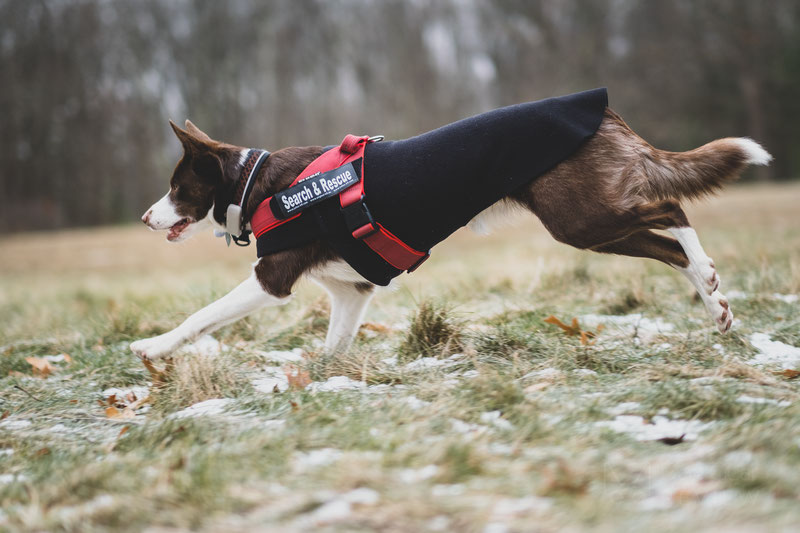 Checking Dog Coats with a Thermal Camera
We wrote an article checking 12 coats (including this one) with a thermal camera to see the insulation capabilities of different materials and coat designs.
If you want to learn more about our findings, click here to read the article!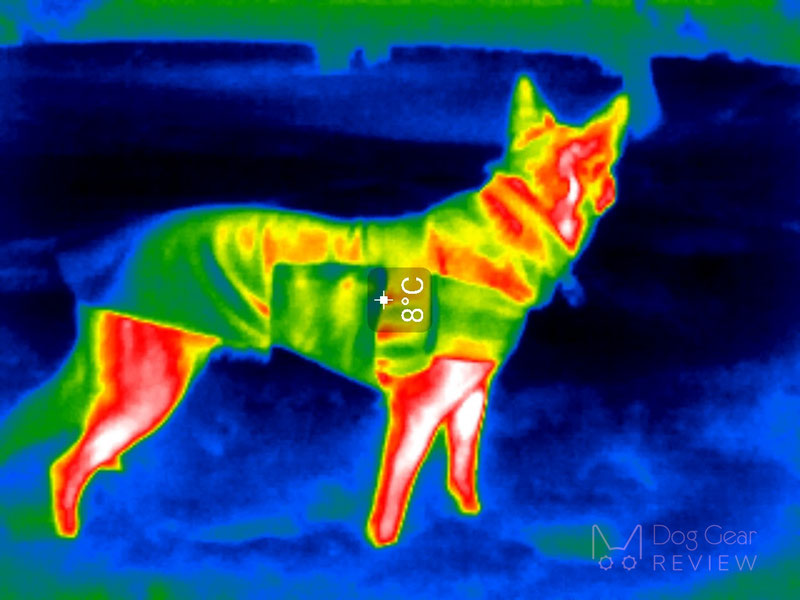 Review Summary
We liked the snug fit of all Voyagers K9 coats. They stay in place very well, even during off-leash hikes. It's also a great feature that you can use the Tummy Warmer as a standalone layer or under other coats without making them bulky. Machine washing makes it very easy to keep the Tummy Warmer clean, and it still looks great after multiple rounds of washing. Altogether this is a great addition if your dog is easily getting chilly, and I'm sure you will also grab it more times than you would have thought ;)
Another cool thing about Voyagers K9 Apparel is that they make custom coats too! If you have a dog with unique proportions, just reach out to them to get a jacket that will perfectly fit your pup!;)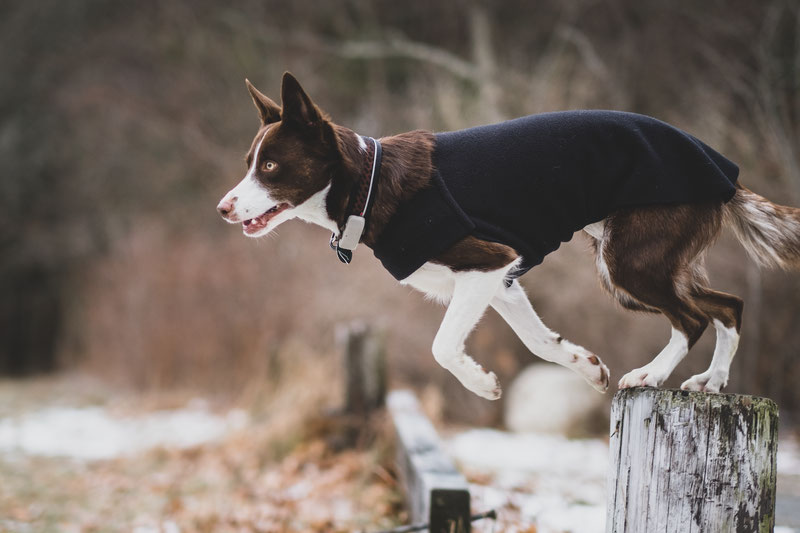 Where to buy
You can find the Tummy Warmer and their other coats on their website. All of their products are stitched in the USA!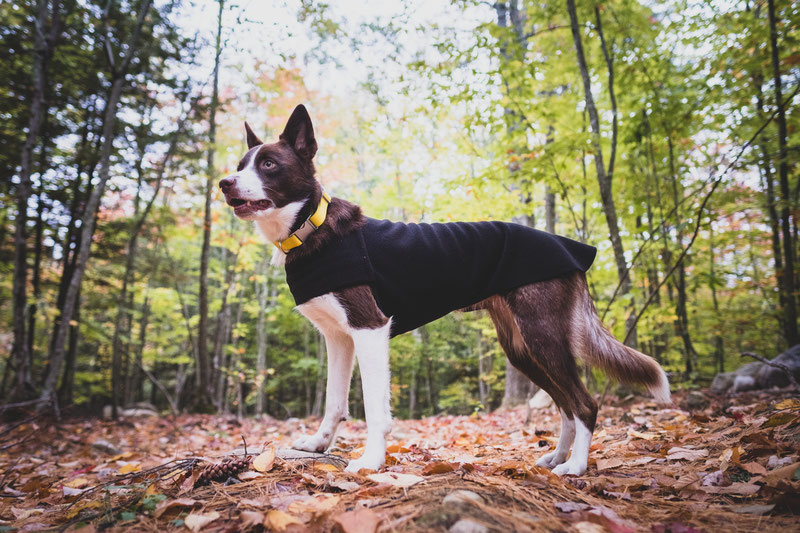 Mia's measurements
Many of you asked Mia's measurements to understand the different products' fit better. Your best chance of finding an excellent fitting gear is always to measure (and remeasure) your dog. Even we grab the measuring tape before getting a new product - even though we tested a lot of them and have a good feeling of her size by now.
I share her measurements below, but don't go ahead and order the same size just because your dog is similar to Mia ;)
Shoulder height: 19.5 inches (50 cm)

Weight: 37-44 pounds (17-20 kg)

Widest chest circumference (where the most harness would have the chest strap): 25-26 inches (63-65 cm)

Neck circumference for collars: 15-16 inches (38-40 cm)

Back lengths: 22 inches (56 cm)