Different reasons for muzzling
Since this is a more complex topic, we wrote an article about the different reasons for muzzling and why muzzling isn't cruel for those interested in reading more on the topic. Our "What to do around muzzled dogs" poster is also available on this link for downloading.
While there are many different reasons for muzzling, some shouldn't be among these - like using a muzzle to avoid barking. We feel it is essential to clarify that muzzles shouldn't be used to prevent barking; it is a dangerous and ineffective way to address this problem. If you want to learn more, check out our article on why not use a muzzle to stop barking.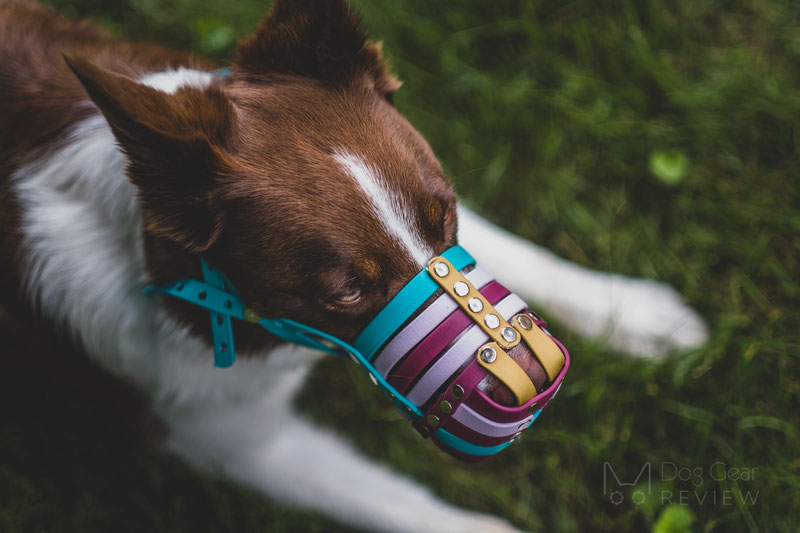 How to get the right size muzzle for your dog?
Reviewing muzzles is hard because every dog and every situation requires a slightly different solution. Something can be a pro for one dog and a con for the other. Even when we are talking about sizing, there are different opinions on how much room the dog should have in the muzzle. The only thing that everyone agrees on is that the dog should be able to pant to cool down while wearing it. However, what pant room means can generate great arguments. If you are looking for an agitation muzzle or the muzzle will only be used for short periods, you are okay with a muzzle that provides enough room for a half-pant but if you use muzzles for hikes or canicross, it is essential to have enough room for comfortable full-pant.
The other tricky thing with sizing is that although there are great Facebook groups helping figure out the best fit, different photos could make the muzzle look much bigger or smaller, so be careful to judge the size based on a few pictures.
In general, we use a bigger and more open muzzle for hiking, but we use this custom muzzle for 5 minutes at once, so we wanted more safety (closed design and smaller pant room) over a full-pant. Mia still has room for a half-pant and taking treats when wearing it ;)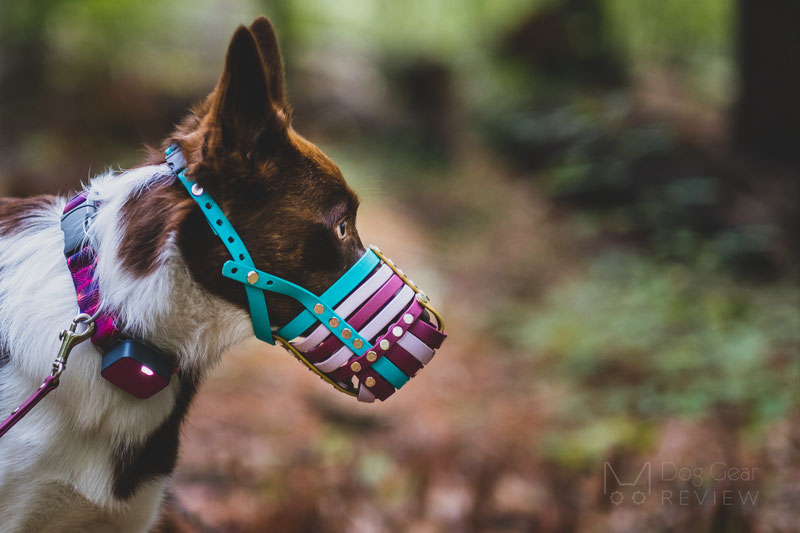 About TYDM (Trust Your Dog Muzzle)
Trust Your Dog is a small company; to be exact, Amy Creaven is doing everything besides the scenes. :) She is making sure you got the measurements right, helps you find matching colors, explaining the differences between the different options, and at the end, makes your perfect custom muzzle. ;) Besides selling muzzles, TYD also has Biothane long lines, grab tabs, and other leashes that you can get to match your muzzle's color!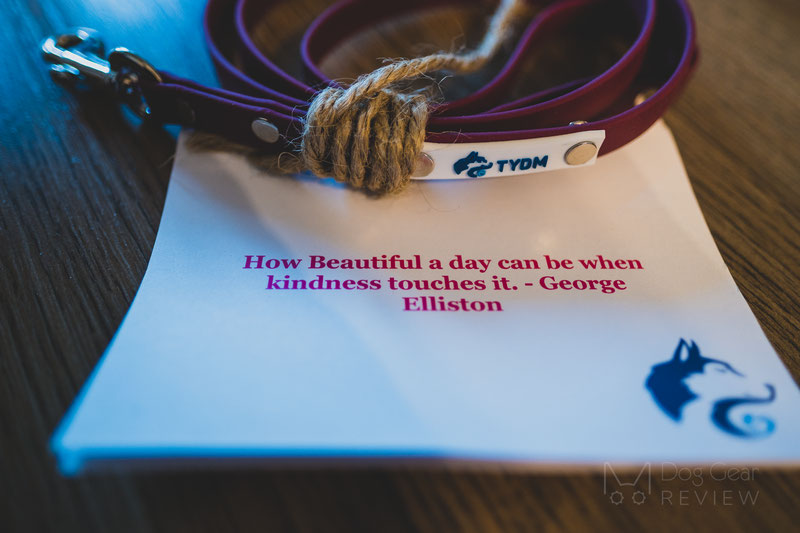 About Biothane Muzzles
Biothane is an excellent material that is getting popular to use for different dog products. It is a polyester webbing with a TPU or PVC coating that makes it durable, waterproof, and easy to clean. The other advantage of this material is the many beautiful color options! When ordering your TYD custom muzzle, you will have many different options to choose from. There were almost 30 color options to combine for your liking when we got ours - making (y)our decision process much longer than expected, haha.
An important thing to know about Biothane muzzles is that they are still a soft material, and it's possible to squash them. This means that a determined biter could even fold the front of the muzzle into their mouth and bite through it - especially if you want a big muzzle to provide enough room for a full-pant. Adding extra safety straps can reduce this risk, but a metal basket muzzle would still be a safer option if your dog is a serious bite-risk. The muzzle in this post was enough to prevent Mia's nips/snaps, but that's all different from a severe bite-risk dog.
Biothane muzzles are commonly used for dogs who are not a bite-risk at all, but they are required to wear a muzzle due to local breed-related regulation or on public transport.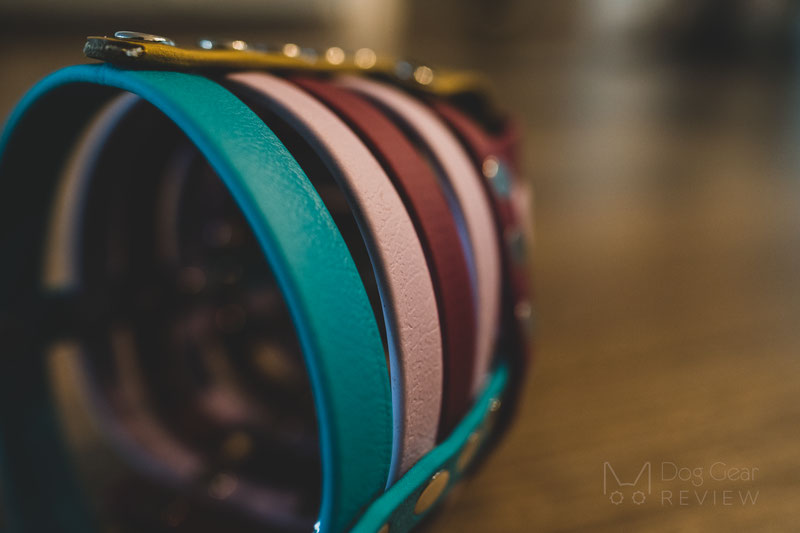 About the TYD Custom Muzzle
Amy has a detailed measuring guide to help you determine how to measure the dog for a well-fitting muzzle. She will also double-check your measurements to see if it seems realistic based on your dog's breed, weight, etc.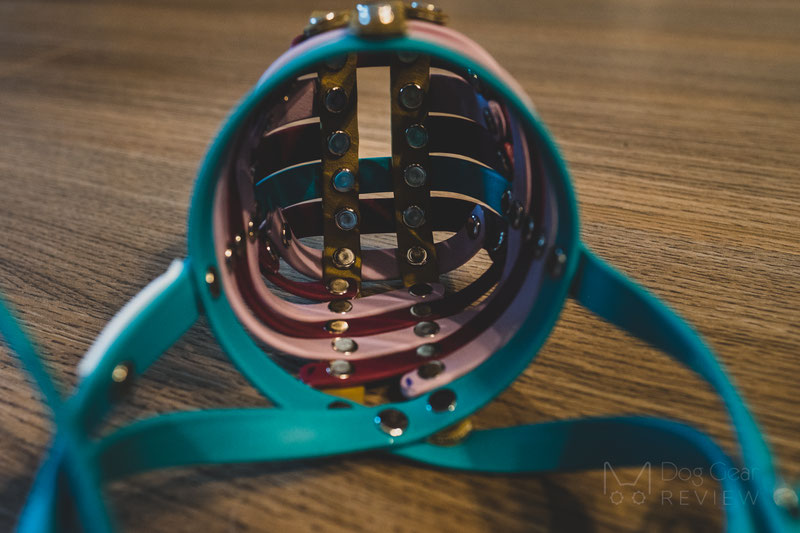 You can also choose different nose types. Our muzzle is with "Regular Nose," but they have an "Open Nose" design for dogs with a sensitive or upturning nose and a "Closed Nose" type for extra safety.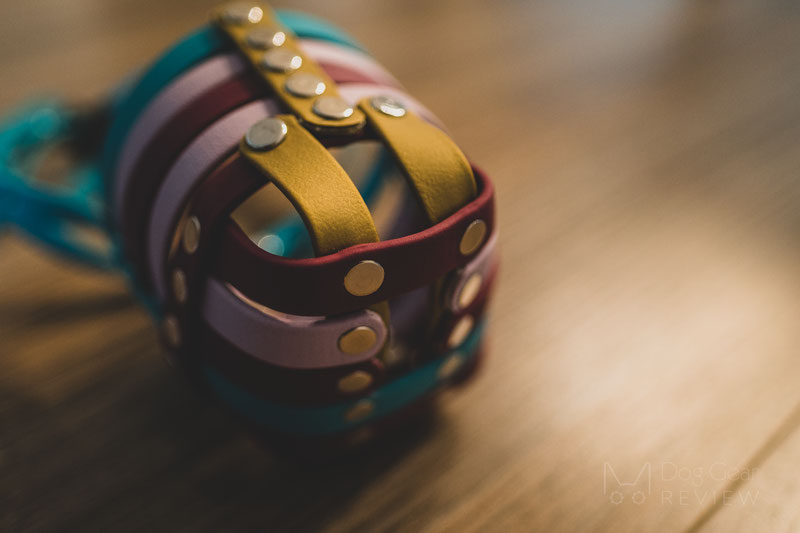 The muzzle comes with silver rivets as default, but you also choose brass or black color if that's what you prefer.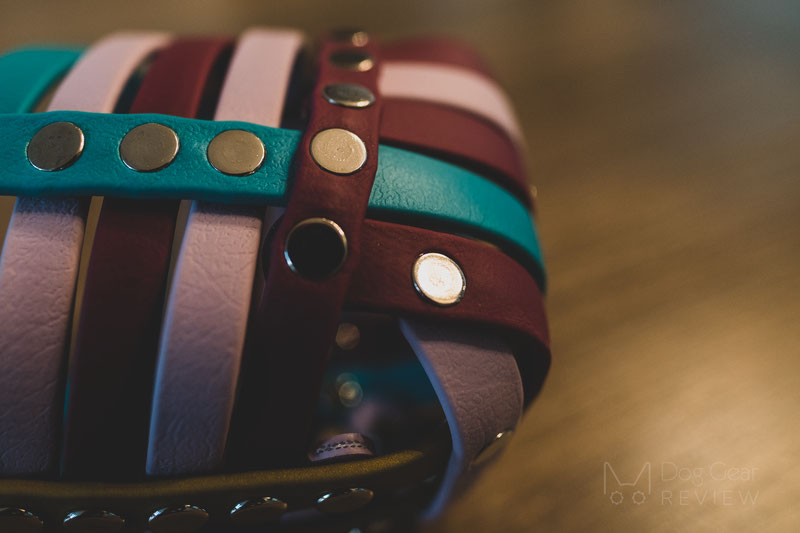 Our muzzle has a small, plastic quick release buckle on the strap to fasten it behind the ears. As an extra Add-On, you can get it with a Metal Quick Release as well.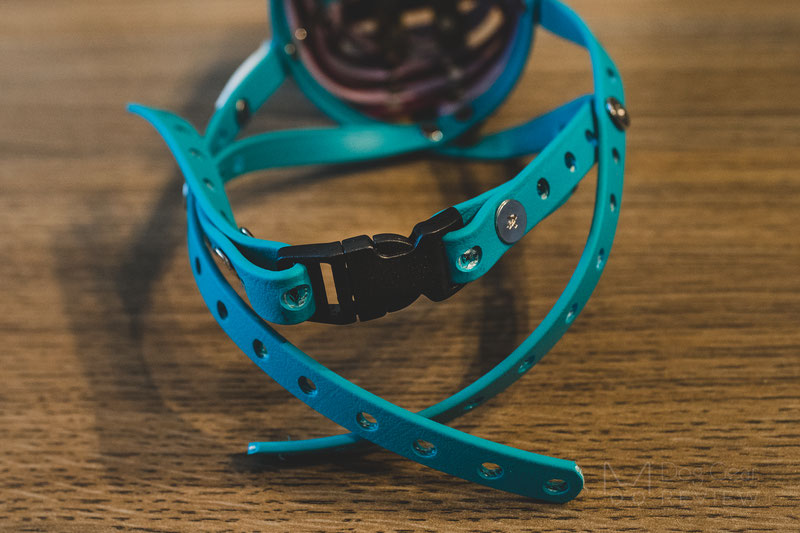 When you receive the muzzle, it will have longer straps to give you some extra room for adjustment, as you see it on the photo above. A few rivets on the straps are not glued in yet, so you can move them around if an adjustment is needed and see how it would best fit your dog. Once you feel you finalized the straps, you use the small superglue in the package to fix the settings. You can use a scissor to cut the end of the excess straps to the desired lengths.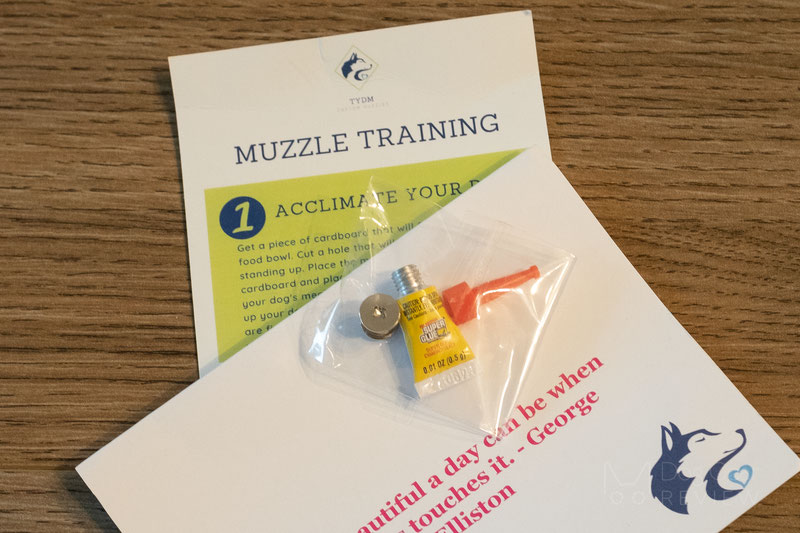 Additional options include leaving room on the front for treats, adding extra straps for additional safety, and adding a forehead strap. Forehead straps are important for additional security to prevent the muzzle from accidentally falling off. If the dog is appropriately conditioned to wearing a muzzle, they shouldn't try getting it off, but it could still happen if they get into a fight or play rough with other dogs. Generally, this is a more significant risk for short-nosed dogs because they would have an easier time getting the muzzle off while a longer snout would "get stuck" in the muzzle if it is properly adjusted and it fits correctly.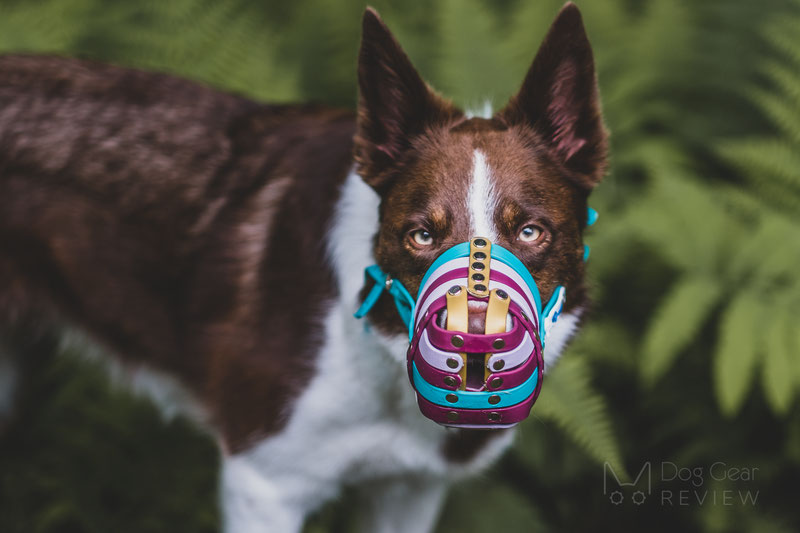 If you want to make your muzzle fancier, you can pick rhinestones, silver heart rivets, or brass stars, so as you see; there are many customization options. Our muzzle has the extra safety straps and a treat hole but no overhead strap since we didn't find that beneficial for Mia.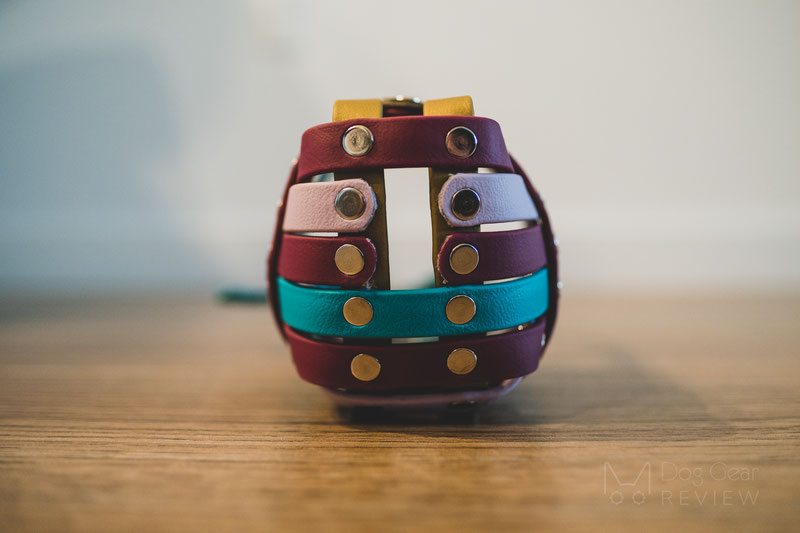 TYD Custom Biothane Muzzle Review
We usually use bigger and more open muzzles for hiking on busy trails, but we needed something for a different scenario. The TYD Muzzle is our "elevator muzzle" that we are only using for a few minutes while in the elevator at the end of our walk. Mia doesn't need to be muzzled for our walks anymore, but our neighbors regularly take their dogs out off-leash (even in the building), and they can't call them back when they corner Mia as soon as the elevator door opens… This muzzle's closed design makes these situations safer than the basket muzzles we used before, while the treat hole still allows rewarding good behavior while wearing it. We also like that it looks much friendlier, so it doesn't scare kids or other people in our building who Mia loves to say hi to.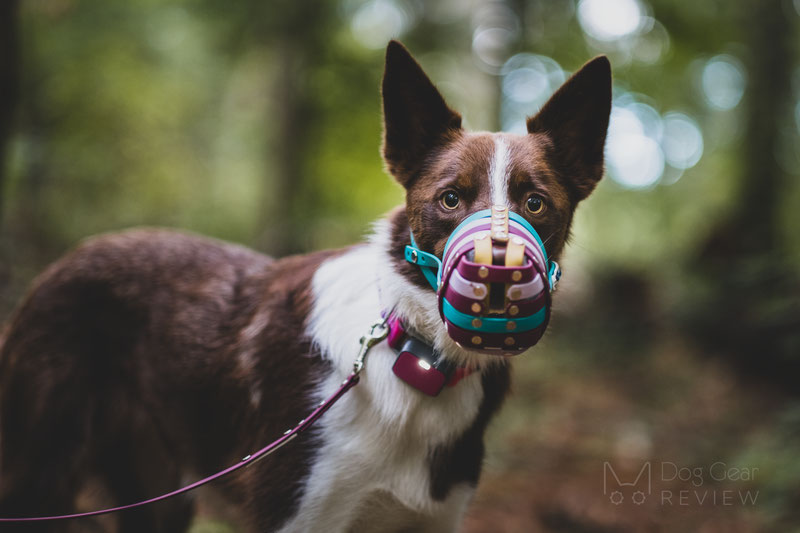 Getting a custom product always mean that you will have small imperfections without affecting functionality. If you look very closely, you will find small pen marks or unevenly placed rivets on our muzzle, but you have to look very closely to notice these.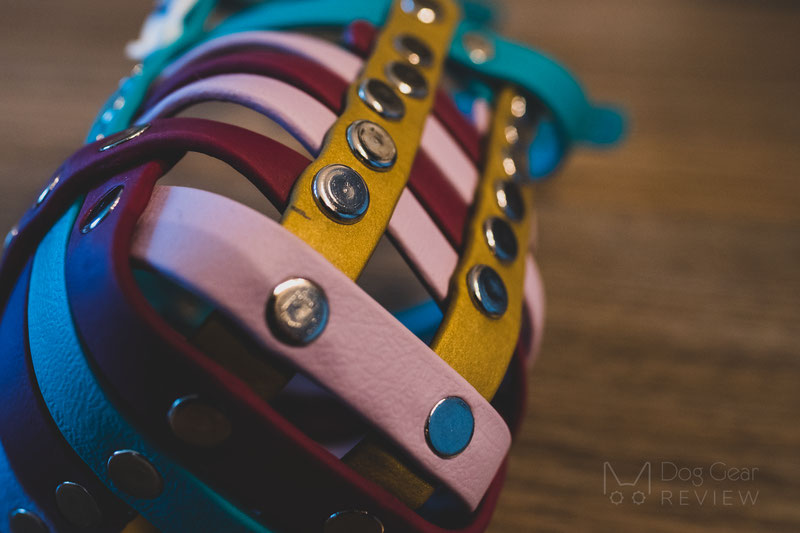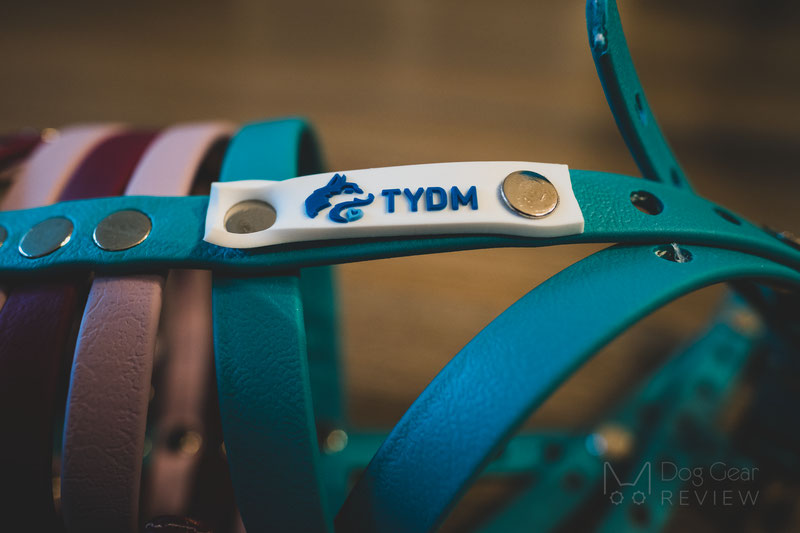 While all straps' color still look perfect, the white piece which has the logo on slightly discolored over time. We assume it has to do with the paint of the logo since this is the only strap we noticed it - but it's also the sole white strap. We had the same experience with the white strap and logo on the leash.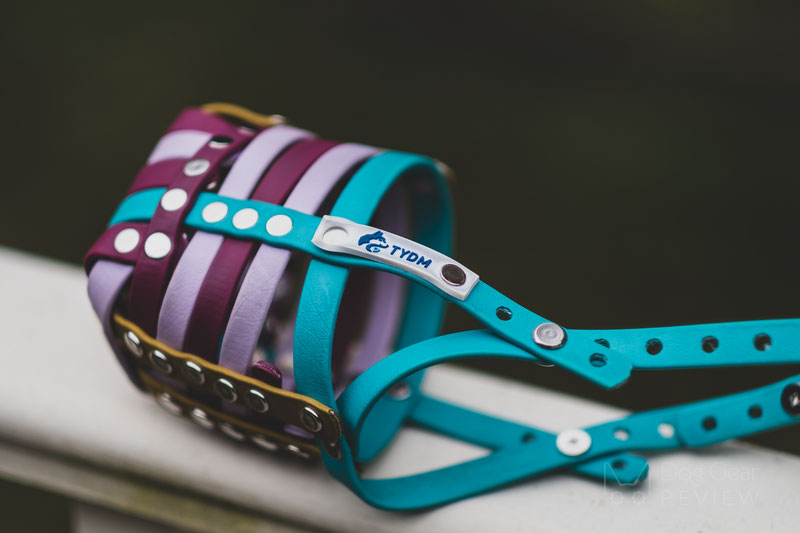 Our other and most significant issue is the rivets rusting on the inside of the muzzle - where the dog's mouth is touching it. While rusting itself is not necessarily an issue since it is only on the rivets' surface, it's probably not great to have that touch the sensitive skin around the nose and the mouth regularly. We contacted Amy regarding this, and she is in discussion with the manufacturer to find options for a coat or paint to cover these rivets and mitigate the rust.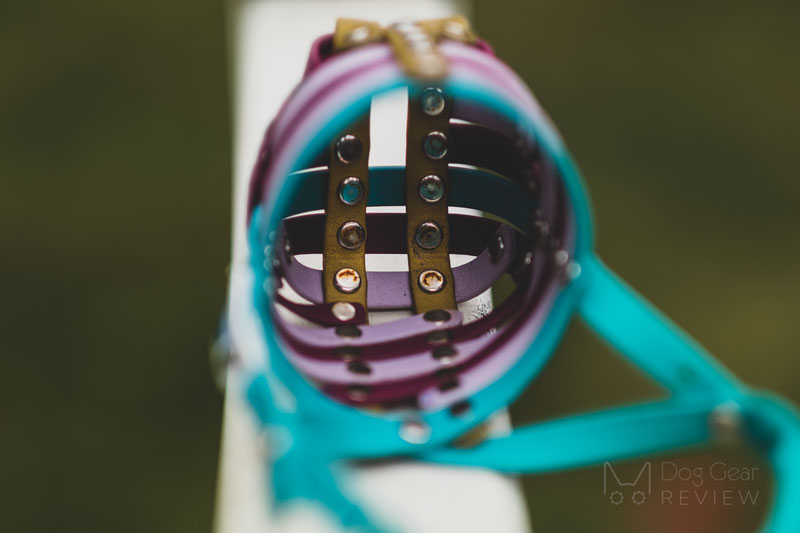 TYD Leash Review
We also got a matching Biothane leash to test. The biothane is a convenient material for leashes; it doesn't soak in water and easy to wipe clean and sanitize, which is even more critical these days. The leash is also nice to grab, not slippery, so it's easy to hold the dog back. We love our leash, it is exquisite, and there are no signs of any wear on the handle or anywhere else.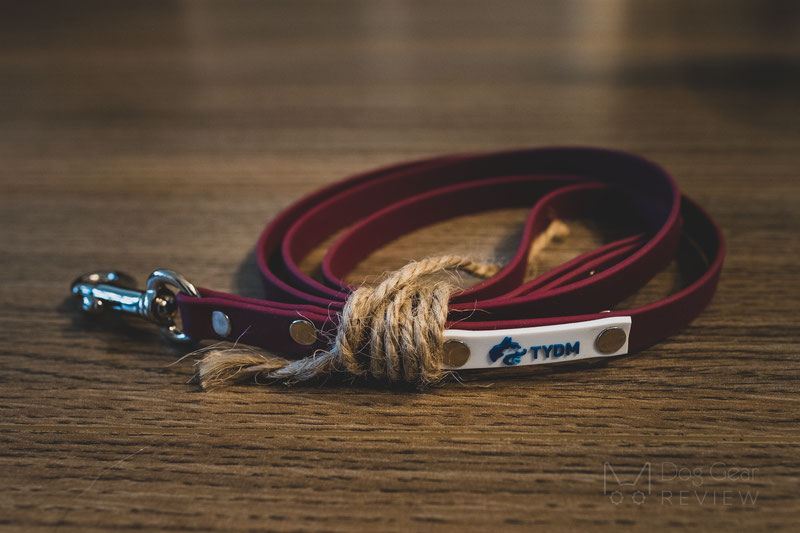 The carabiner is small and nice-looking, but it doesn't look too strong. We haven't had any problem with it so far - although Mia isn't pulling much on the leash in general. If your dog is a puller and you are worried about the carabiner breaking, you can attach a safety connector to the collar/harness and the leash as a backup.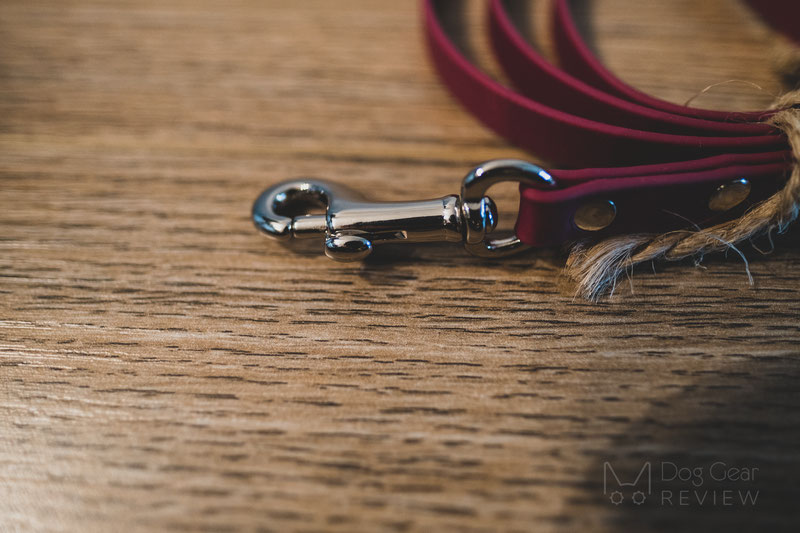 Review Summary
Altogether this is a very well made muzzle. It is much sturdier in real life than expected. Adding the safety straps all around made it strong, and it is not flimsy at all. The colors of the straps did not fade over the 3+ months while we used it daily, and it didn't get scratched either. Their customer service is outstanding, and they are very responsive. The ordering process is very detailed, and Amy is usually reaching out after receiving your order to get photos of your dog to be sure the muzzle will fit well and to understand your goals with the muzzle.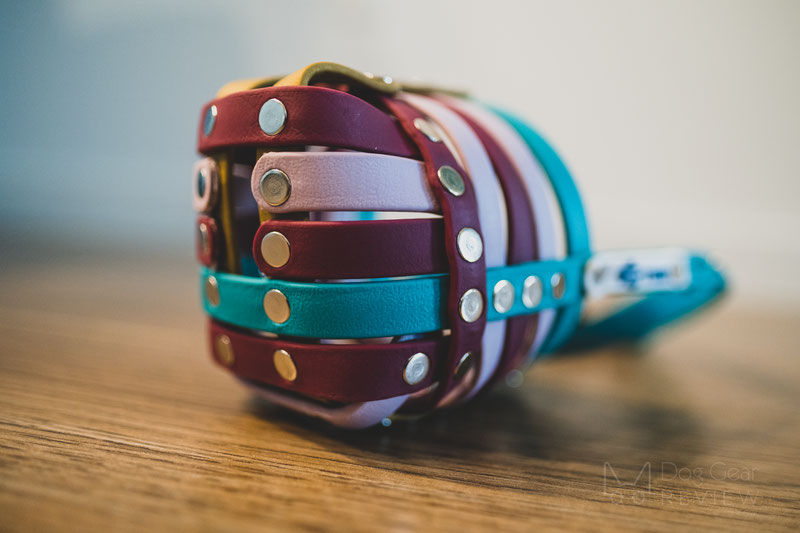 Where to buy
You can buy a custom muzzle through their website. Amy will contact you to confirm the details of your order and answer any of your questions before making your muzzle ;)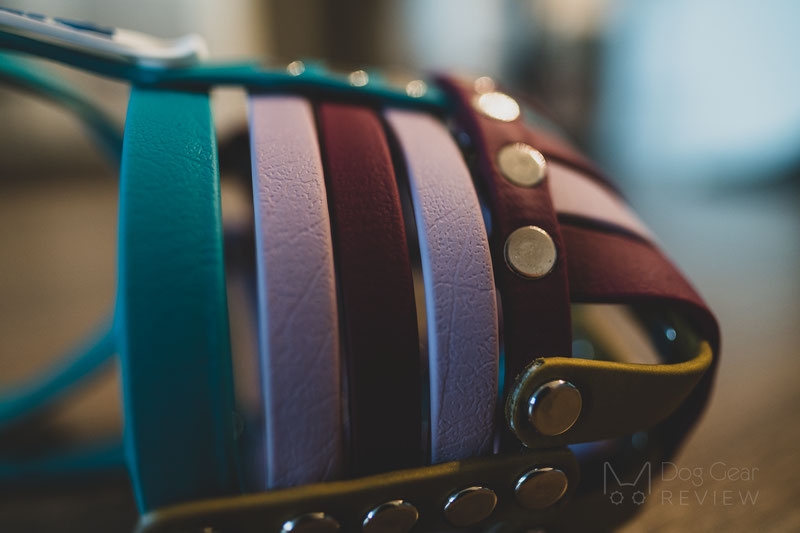 Additional resources
If you want to learn more about muzzles, you can join amazing groups on Facebook, like Muzzle Up, Pup!, or follow The Muzzle Up Project. You can also check out the Muzzle Training and Tips website and browse our articles, where we discussed many muzzle-related topics.