About Tug Pet Products
Tug Pet Product was founded in 2017 with the mission to create innovative and high-quality products. Currently, they offer only a few products, but those are all well-made, thought-through, and offer unique features.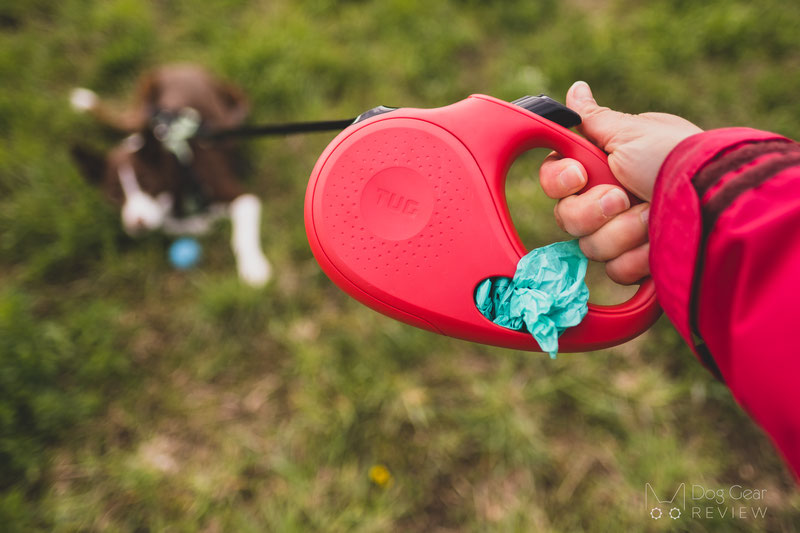 TUG Oval™ 360° Tangle-Free Retractable Leash Review
If you have concerns about retractable leashes in general, we recommend starting with our article discussing how and when to use (and not to use) them responsibly!
The Tug Oval Retractable leash has a few cool features that are worth highlighting. First, it has an integrated waste bag dispenser that can hold 2-5 individual poop bags.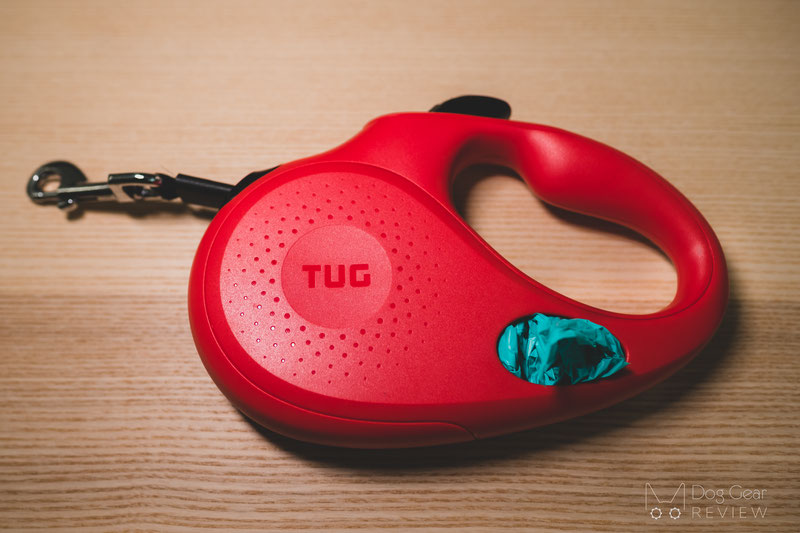 This is not suitable to insert an actual waste bag roll, but allows you to stuff bags into the opening, and they securely stay there even in strong wind.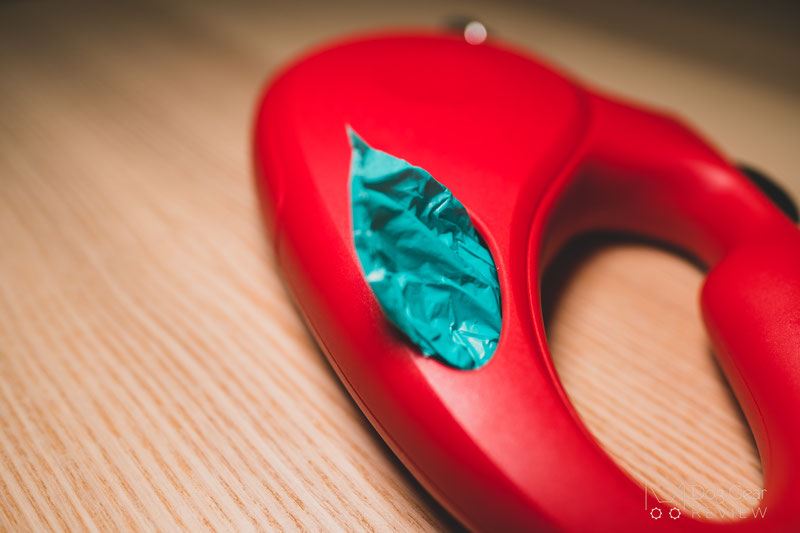 The other cool feature is the tangle-free solution on the leash opening.
This retractable leash comes with a tape instead of the more common rope. The tape lowers (although doesn't eliminate) the risk of potential injuries caused by the leash getting tangled around someone's leg or around a dog. The con of the tape leashes is that the handle needs to be bulkier to accomodate the tape, and it gets heavier than a retractable rope leash with the same length.
The other side effect we run into was that strong wind could pull on the tape leash. Mia was first stunned by the tape making sound in the wind and constantly tugging her as it resonated with strong blows, which is probably more of a concern for small dogs.
The "360° tangle-free" opening on the handle is excellent to keep the tape straight and avoid it getting stuck when moving in or out as smoothly as a rope would.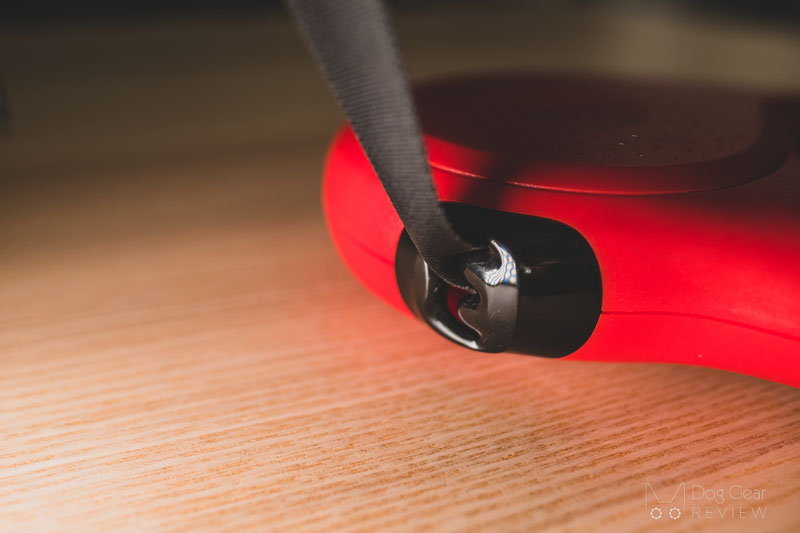 The additional attachment that comes with the leash is a nice extra. If you have a puppy who is still learning not to chew on the leash, you can just use this extension between the collar and the leash carabiner. The advantage is that it seems to be a little more chew-resistant than the thin tape (which definitely cannot handle any chewing!).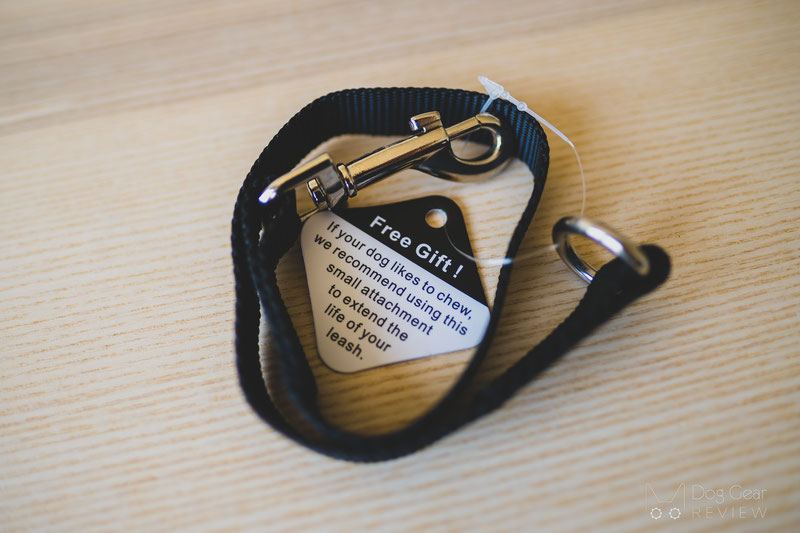 The Quick Lock/Unlock button is very comfortable to use and never failed us. The button seems to be bigger than on other retractable leashes, and it is easy to switch between stop/lock/unlock.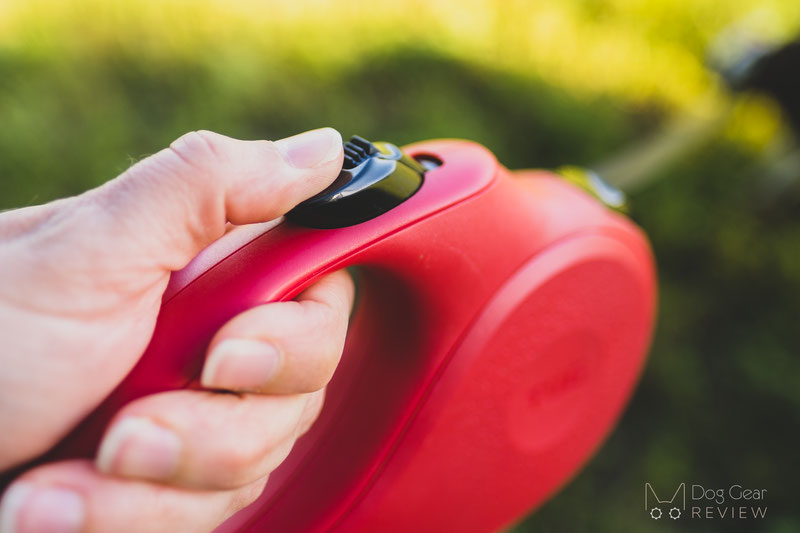 The only con we experienced is that the handle part feels very slippery. The design itself provides a comfortable grip, but the material is the same slippery hard plastic as the other parts. If one is not paying attention when the dog jolts, it's easy to lose the grip and drop it.
On Amazon, they do have another version of this leash without the waste bag dispenser, but that has an anti-slip handle. I don't know if they plan to combine these two, but that would be a perfect solution.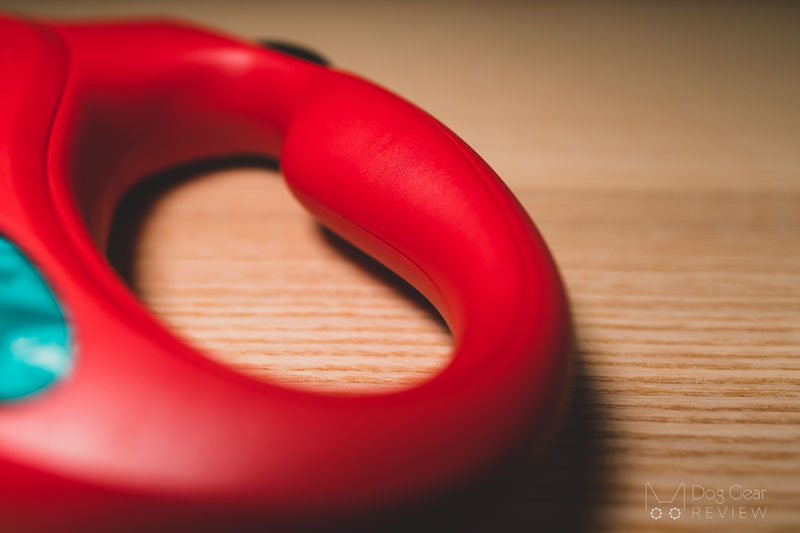 The leash comes in 5 colors and three sizes: Small for Dogs Under 33 lbs (15 kgs); Medium Leash for Dogs Under 55 lbs (25 kgs); and Large Leash for Dogs Under 110 lbs (50 kgs). We had a medium for Mia and haven't had any issues with the tape or the lock handling her weight, but she rarely pulls.
Review Summary
If you are looking for a retractable leash for your dog with good leash manners, the TUG Oval Leash offers everything you might ask for: the button is easy to use, the tape didn't tangle, and you have the waste bags literally at your fingertips when needed. However, if you have a dog who pulls, lunges, or jolts, retractable leashes, in general, are not going to be a good option for them. The tape in this leash works very smoothly, but I can't imagine it handling constant tugging well once it gets dirty and sand pieces start wearing down the material.
We would like to point at our article one more time to clarify when and how retractable leashes can be great tools and when they are just dangerous for everyone involved.
Based on our testing over two months, this retractable leash performed well in all situations.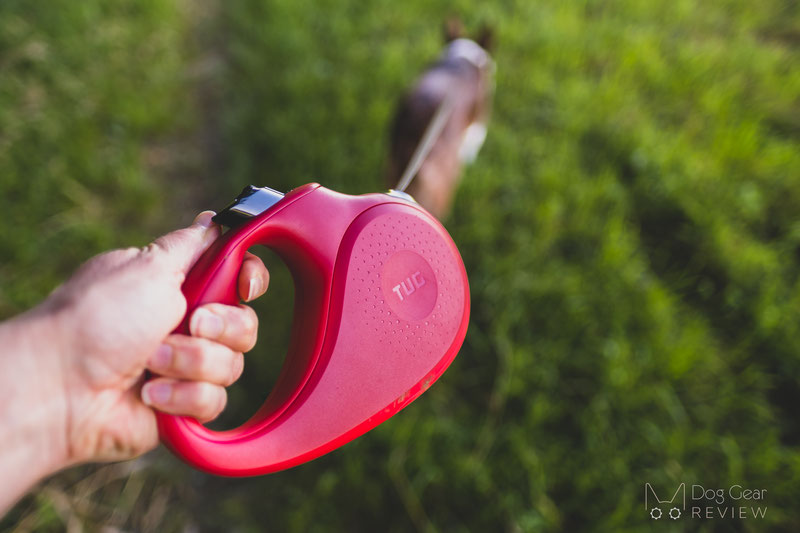 Where to buy
You can buy this retractable leash on their website, on Amazon and can find the version of this retractable leash without the dispenser on Chewy!
Disclaimer: this review contains an Amazon affiliate link, which supports Dog Gear Review if you purchase the product after clicking on it without costing you anything extra. Using affiliate links will never compromise us writing unbiased, honest reviews!