Different reasons for muzzling
Since this is a more complex topic, we wrote an article about the different reasons for muzzling and why muzzling isn't cruel for those interested in reading more on the topic. Our "What to do around muzzled dogs" poster is also available on this link for downloading.
While there are many different reasons for muzzling, some shouldn't be among these - like using a muzzle to avoid barking. We feel it is essential to clarify that muzzles shouldn't be used to prevent barking; it is a dangerous and ineffective way to address this problem. If you want to learn more, check out our article on why not use a muzzle to stop barking.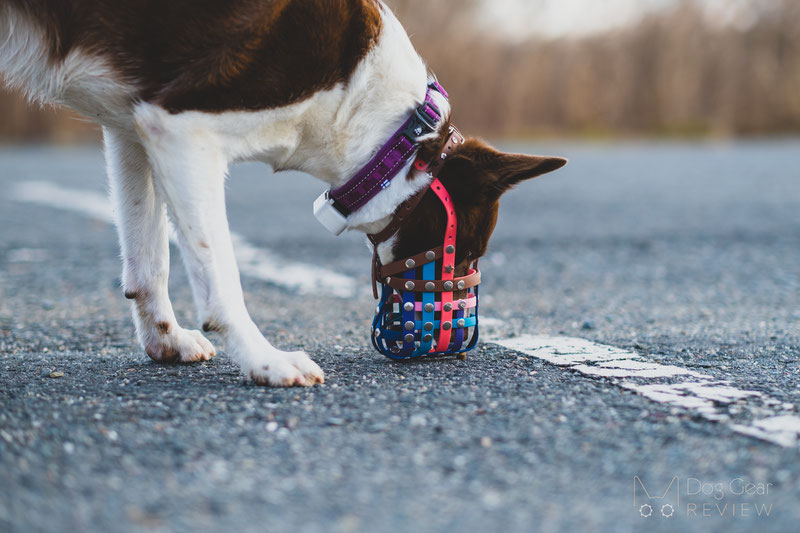 What is the right muzzle size for a dog?
Reviewing muzzles is hard because every dog and every situation requires a slightly different solution. Something can be a pro for one dog and a con for the other. Even when we are talking about sizing, there are different opinions on how much room the dog should have in the muzzle. The only thing that everyone agrees on is that the dog should be able to pant to cool down while wearing it. However, what pant room means can generate great arguments. If you are looking for an agitation muzzle or the muzzle will only be used for short periods, you are okay with a muzzle that provides enough room for a half-pant, but if you use muzzles for hikes or canicross, it is essential to have enough room for comfortable full-pant.
One of the reasons Truffle Muzzle is awesome is because they can estimate the correct sizing based on closed-mouth measurements, so there is no need for you to figure out how much to add to the circumference and length to end up with a comfortable muzzle. But, of course, if you have any specific sizing needs (leave extra room or leave less for some reason), you can also note that since all muzzles are custom-made.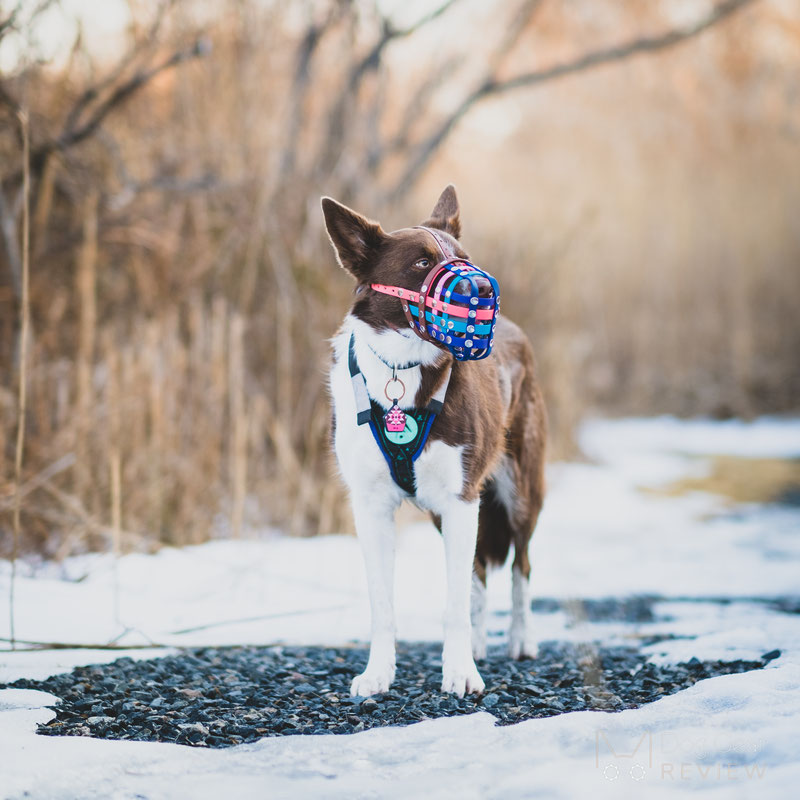 About Truffle
Truffle Pet Accessories is a small family business handmaking custom muzzles to ensure the optimal fit. They deliver worldwide. They started making muzzles for their dogs when realizing that they could not find a design that fit them well and looked friendly. Their mission is creating colorful, well-fitting, custom Biothane muzzles with the slogan "Even good boys wear muzzles!".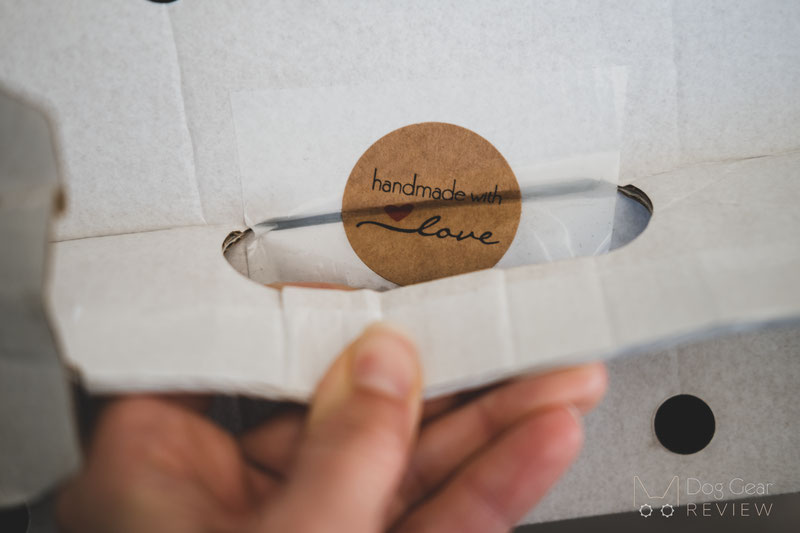 About Biothane Muzzles
Biothane is an excellent material that is popular for different dog products. It is a polyester webbing with a TPU or PVC coating that makes it durable, waterproof, and easy to clean. The other advantage of this material is the beautiful color options! When ordering your custom muzzle, you have 32 color options, potentially making the decision process much longer than expected. ;)
An important thing to know about Biothane is that they are a somewhat soft material, and it's possible to squash these muzzles. This means that a determined biter could fold the front of the muzzle into their mouth and bite through it - especially if you have a full-pant muzzle.
When ordering, Truffle Muzzles asks for the reason of muzzling, and they can add extra straps and wider Biothane tapes to make the muzzle safer. Still, they also mention on their website that it is not bite-proof. The muzzle in this review would be enough to prevent a quick nip/snap, but that's all different from a severe bite.
Biothane muzzles are commonly used for dogs who are not a bite-risk, but they must wear a muzzle due to local breed-related regulation, on public transport, or if they eat up things on walks that they are not supposed to.
About the Truffle Custom Muzzle
Ordering a well-made custom muzzle is the easiest way to ensure your dog has a comfortable, well-fitting muzzle that's perfect for the way you use the muzzle.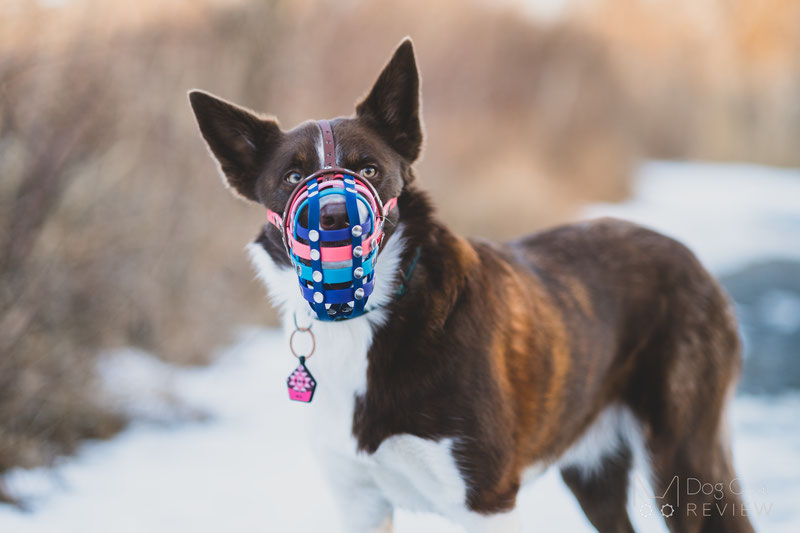 Truffle Muzzles ask for many measurements, the reasons for muzzling, and a photo of the dog so they can come up with the ideal design. I was impressed with how well this muzzle fit Mia; they really got the dimensions right!
Truffle Muzzles offer many options for customization. You can choose from six rivet styles and three closing systems: a plastic colored clasp matching the muzzle's colors and a metal roller belt type or a metal clasp matching the rivets. There is also an option for choosing nine different colors for the Biothane straps. Additionally, two charms are also included (these are the stars on Mia's muzzle)!
All these give you tons of different combinations for different looks!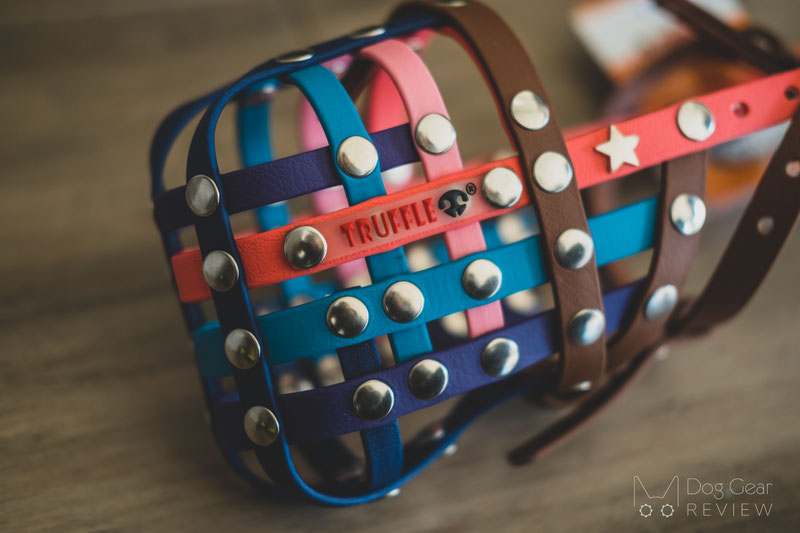 Even though you get a custom muzzle, you still have adjustment options on most straps to finetune the fit because the rivets which determine the length of the straps around the neck are not glued in when receiving it. The muzzle comes with a little glue packet so you can finalize it yourself after trying out different combinations.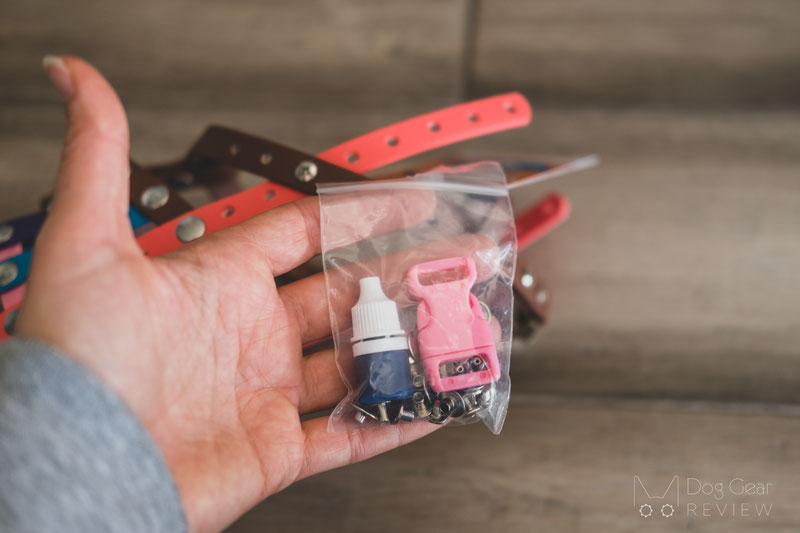 Having plenty of extra holes on the straps allows you to play around with slightly different adjustments until you find the best one.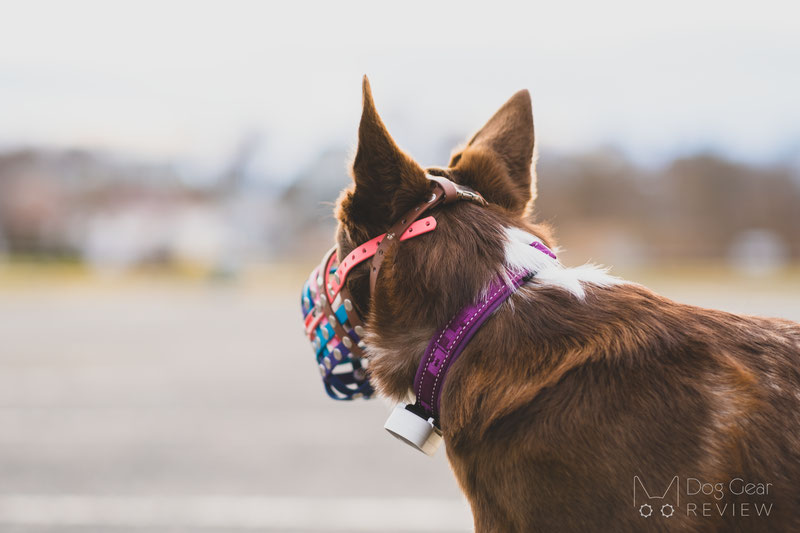 Truffle Custom Biothane Muzzle Review
I had a hard time coming up with a color combination because I liked too many options, so eventually, I just left it up to Truffle Muzzles to surprise us, and they did a fantastic job! The colors match Mia while still popping on the photos, precisely what I was looking for! I am genuinely impressed with the look and style of this muzzle!
I also like how they estimated Mia's pant room based on the closed mouth measurements. Since the muzzle is not rigid and is a little wider than her snout, she could even have a bigger pant when pushing her jaw against the bottom, but this is already pretty good. I usually try to add some extra to the measurements to end up with a comfortable muzzle, but it's great to know that you don't need to "outsmart the system" if you buy a muzzle from Truffle Muzzles.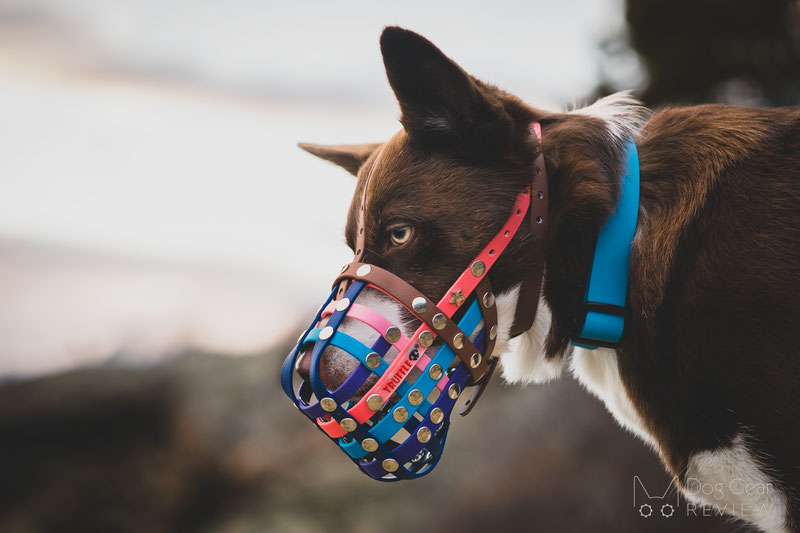 I appreciate that this muzzle stays on well; it doesn't slide in Mia's eyes, the removable forehead strap is rigid enough to stay in place, and altogether it feels "stable" in her head. In addition, it has a unique design: being snug under the chin while giving more room in the front, which is a design I always wanted from a muzzle. This way, it moves around less on the head since it's snug around the neck, but it still leaves plenty of room for panting.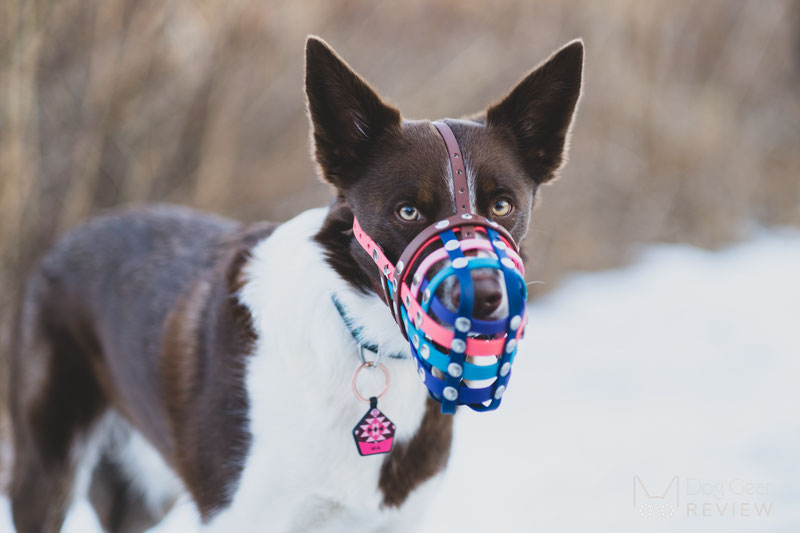 The only thing Mia dislikes is the muzzle touching her nose. To solve this, I didn't loosen the forehead strap as I would typically do to make the muzzle lay flat on the snout. This way, the two straps are barely touching her nose, and she is OK with them. This is just a personal sensitivity that most dogs don't care about, but if yours do, you can reach out to Truffle Muzzles, and they can create a unique "open nose" design since each muzzle is custom made.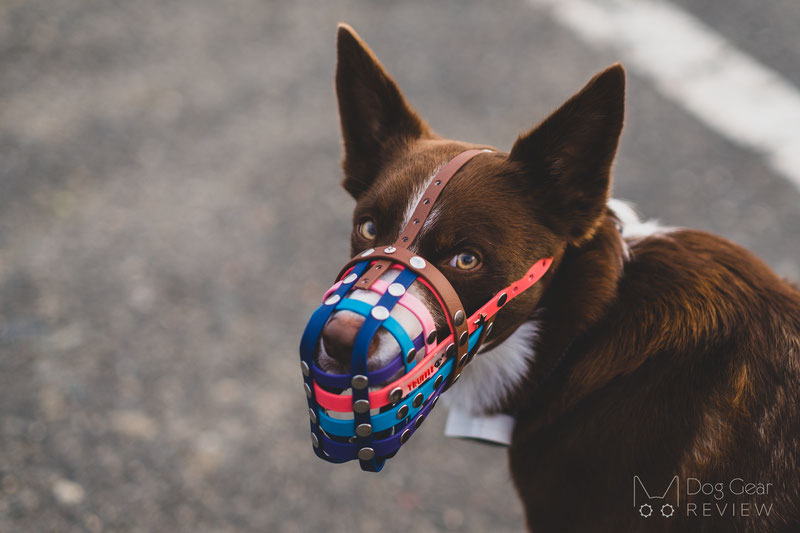 After using this muzzle for months, it still looks new, a great feature of Biothane muzzles. The Biothane is very easy to clean, and our rivets are stainless steel, so they do not rust.
The colored rivets are nickel-free and antiallergic, but their color is a thin cape over a metal stud so they can fade, scratch, and oxidize over time. After each use, cleaning and drying the muzzle helps the colored rivets look nice longer.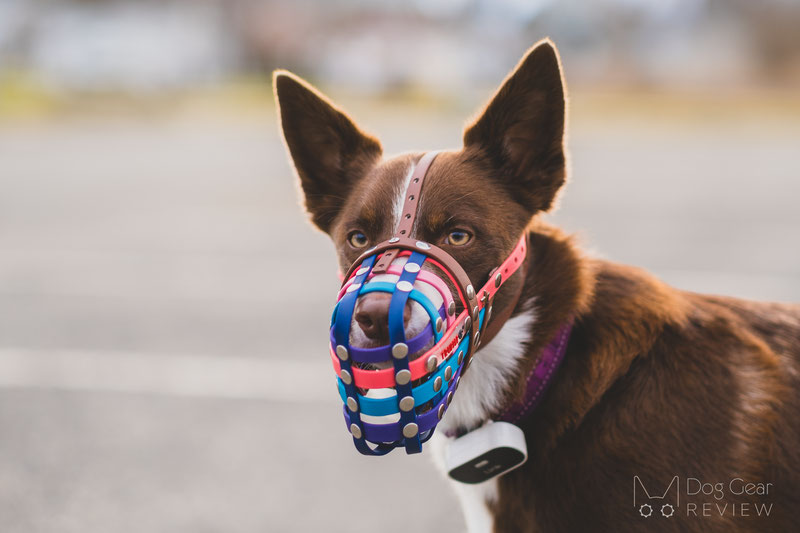 Review Summary
To summarize, Truffle Muzzles offers excellent custom muzzles with a smooth ordering process. The muzzles come in different designs depending on what your dog needs. Our version is perfect for preventing a quick snap that Mia might show during initial introductions to a new dog; still, it is well ventilated and comfortable. In addition, every strap is well thought-through and perfectly matches what I was looking for when placing our order!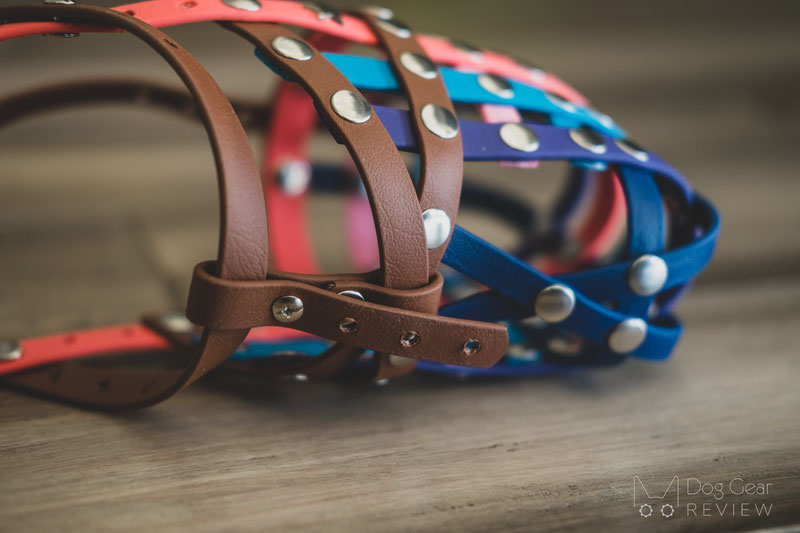 The level of customization is also outstanding; with the different materials, colors and styles, I'm sure everyone can create a combination that they will love! :)
Where to buy
You can buy a custom muzzle through their website.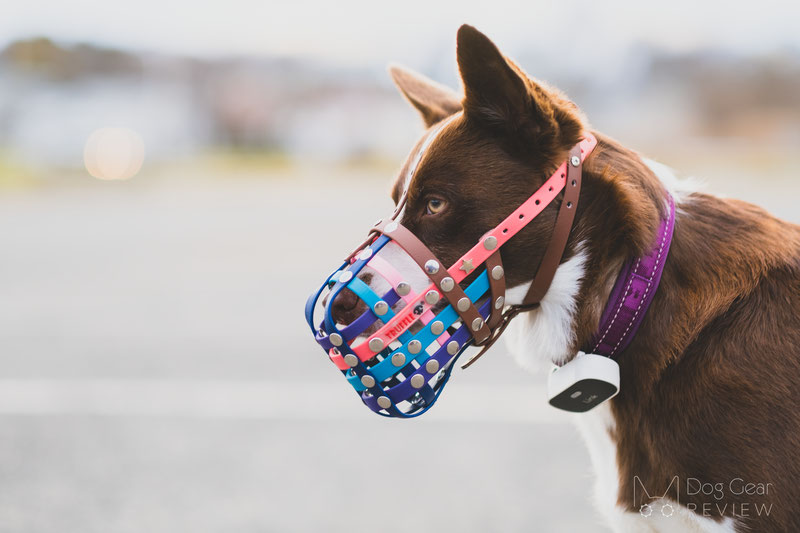 Additional resources
If you want to learn more about muzzles, you can join amazing groups on Facebook, like Muzzle Up, Pup!, or follow The Muzzle Up Project. You can also check out the Muzzle Training and Tips website and browse our articles, where we discussed many muzzle-related topics.