About Tractive
Tractive is an Austria-based company specialized in pet wearables. They used to offer different activity trackers and separate GPS trackers for dogs and large animals (like horses), but today they only sell the product called "Tractive GPS." This can be confusing when reading reviews and descriptions of their products because most people just refer to all of them as "Tractive tracker," and you only realize later that it had to be an old version because the comments don't apply to this one anymore.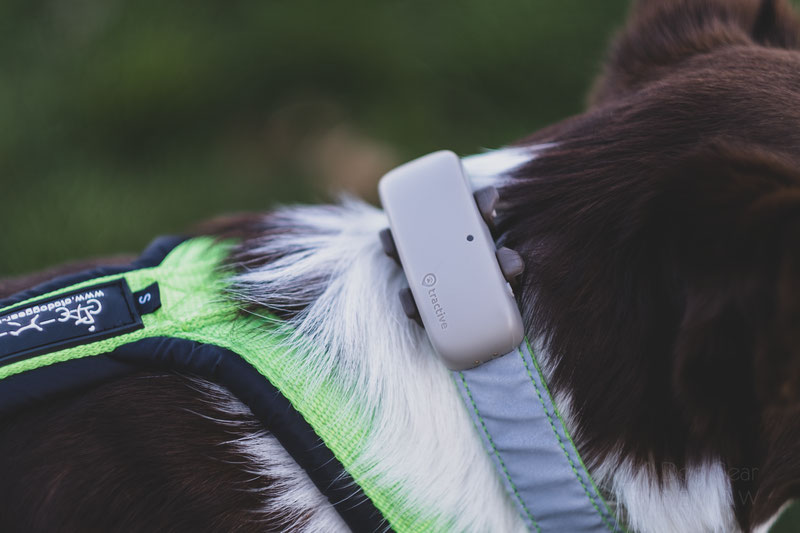 How does it work?
Tractive GPS is a small unit that you can attach to any collar (or maybe harness) and track your pet's location on your phone or their website. It determines the location using GPS satellites with 7.8 m (25 ft) accuracy at a 95% confidence level. Of course, this depends on the environment and the number of satellites available at the moment. We usually experienced an accuracy of 2-3 meters when Live tracking.
The tracker has a SIM card in it that is activated when you start a subscription plan. This SIM card will send the location of the tracker to your phone. An outstanding feature is that the tracker works on many different networks and uses the best available, allowing it to work in 150 countries worldwide.
You can check if it works in your country on this page.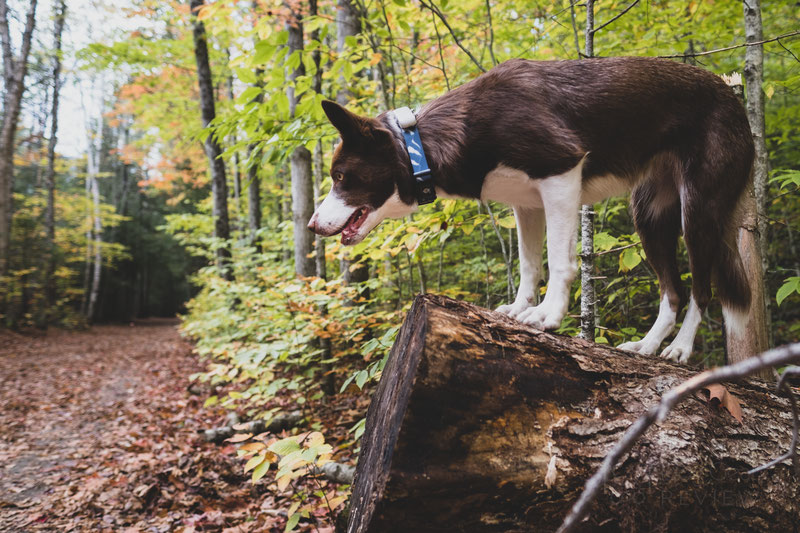 The Tracker Unit
The latest design of the tracker is a small and lightweight unit. It only weighs 1.2oz (35g) and the dimensions are 0.7 inches (17.5 mm) x 2.8 inches (71.4 mm) x 1 inch (27 mm).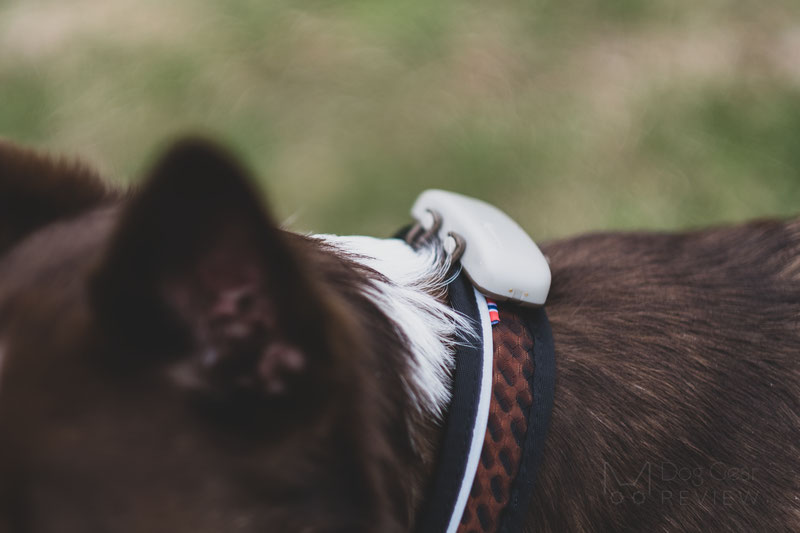 It comes with a rubber clip that fits 1 inch (2.5 cm) wide collars or harness straps. When I first attached the tracker to the collar, I was worried it would not hold, but it never failed us. We regularly used it in subzero temperatures, which could be hard on rubber materials, but we had zero problems.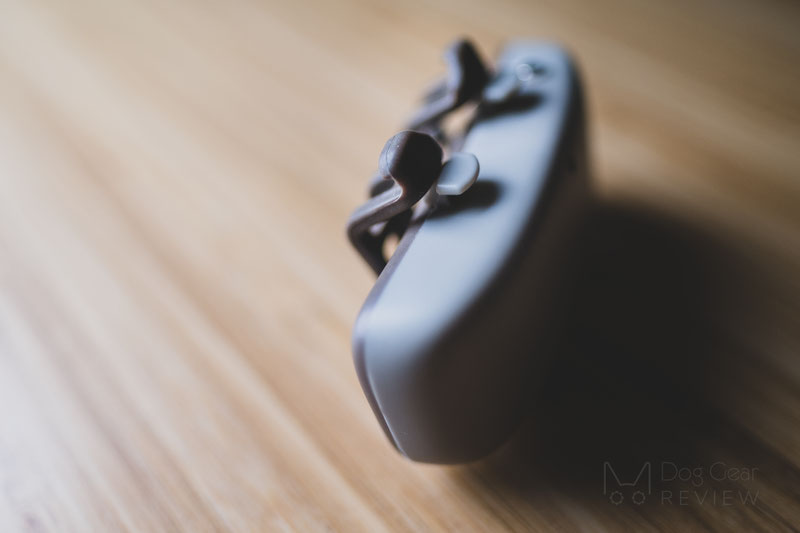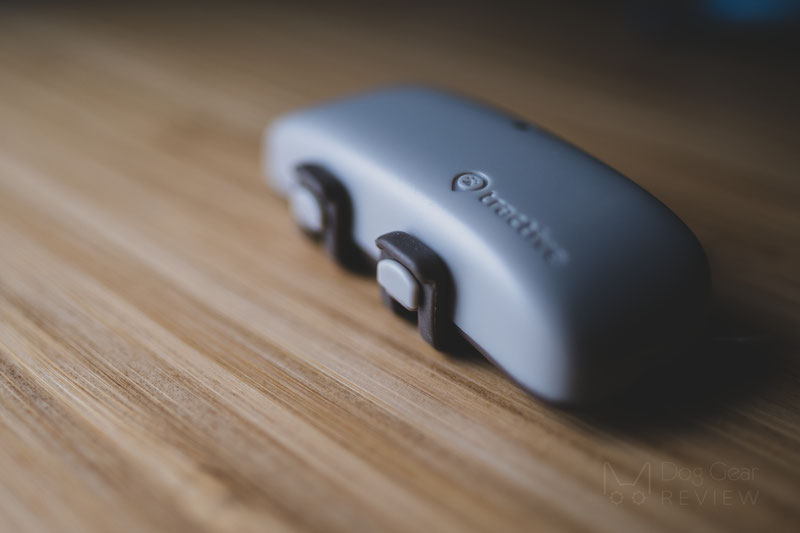 It comes with a short (8 inch (20cm) cable), which might make it hard to find an outlet to charge it without making the tracker dangle at the end of the cable. The charger snaps on the tracker with a strong magnetic force, which holds it attached safely. We heard people having trouble with Findster's similar solution, but Tractive's magnet is much stronger: you can lift the tracker easily by the cable.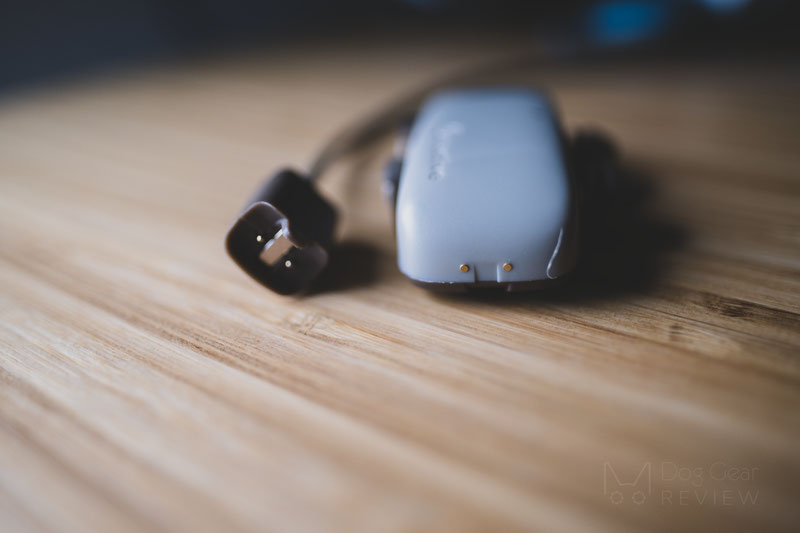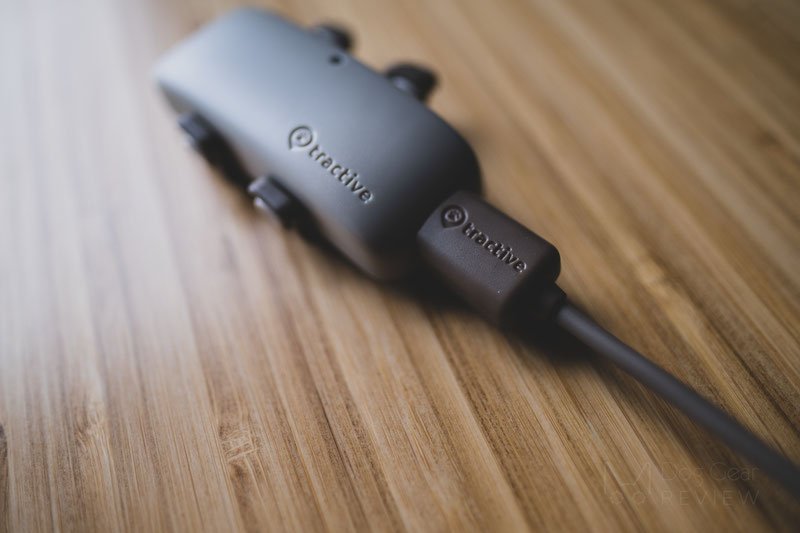 The tracker is waterproof (IPX7) and sock proof. It is made from durable plastic, so there are no scratches or cracks on it at all.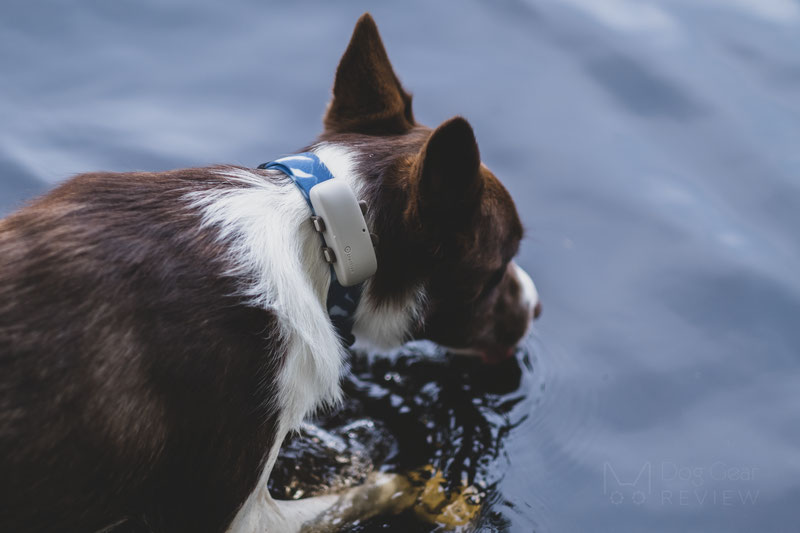 The Range of the Tracker
Using the cellular network for data transfer between the tracker and your phone ensures that you can check on your dog from everywhere - even if you are on another continent.
Battery life
They promise a battery life of up to 5 days, but this will highly depend on how you use the tracker. If you are going for long hikes every day using the Live Tracking mode, you will experience much shorter battery time than in the case of just walking around the block a few times a day.
We usually had it on Mia for walks only (not when chilling indoors), and in general, that means 1.5-2 hours walk a day with three trainings/hikes per week when we would use the Live mode, and she would run around for a few hours. With this usage, we needed to recharge it every 2-3 days on average. The app will send a push notification when the battery is running low a few hours before it turns off and lets you know when it's charged. It's neat that you can recharge it in 2-3 hours, depending on the USB plug you use for the cable.
Live tracking
In default mode, your pet's location is updated in the app every 2 - 60 minutes. To conserve battery life, updates are sent less frequently when your pet is inactive. When the battery save mode is enabled, the location is sent approximately every 10 minutes.
By clicking on the LIVE button in the top right corner of the map, you can start LIVE Tracking to see the real-time location of your pet. In this mode, you get a location every 2-3 seconds, and it also shows you the path of the track since starting Live mode.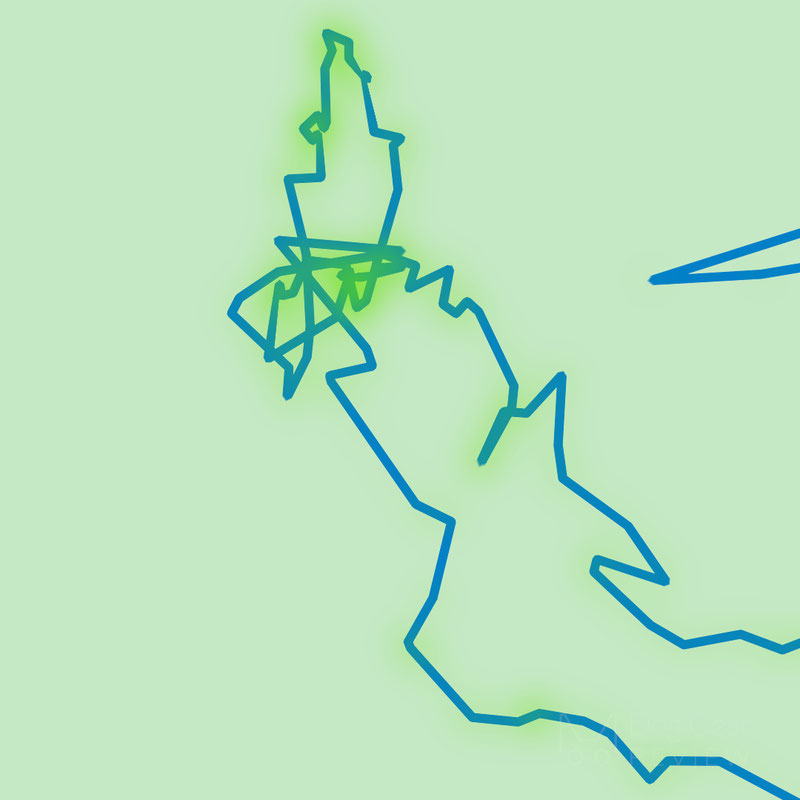 Below you see how we walked around on the same field twice, first only using the default tracking and the second time using LIVE mode (highlighted with the green heatmap). There is a little inaccuracy in the path we took, but it still shows how you can see all the turns that Mia made while Live tracking was on while the default setting only recorded 6 data points on the same track.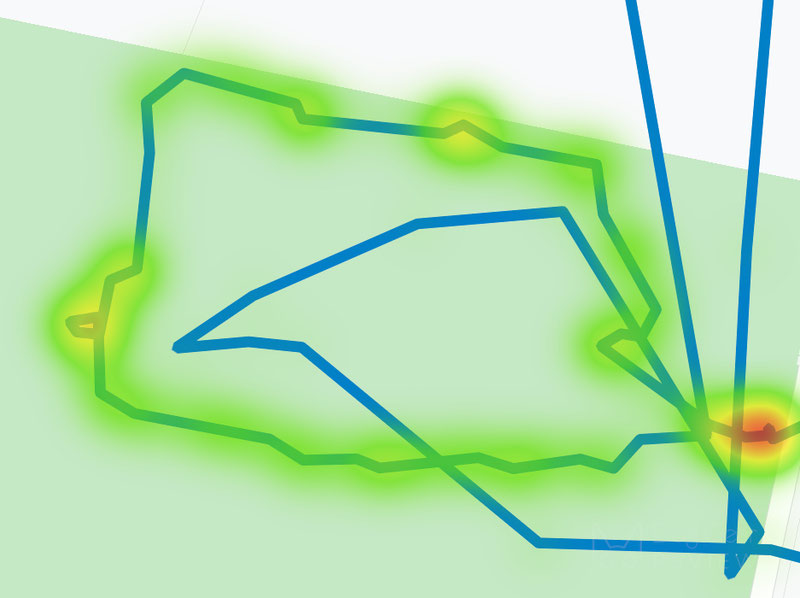 Basic Plan vs. Premium Subscription Plan
Tractive offers two different subscription plans with significant differences in functionality. We had the Premium subscription that allowed us to use all the cool features, so check carefully if the basic plan is enough for you. Having the location history and exporting Mia's track in .gpx were the main features for me, and note that the premium plan is needed for worldwide coverage.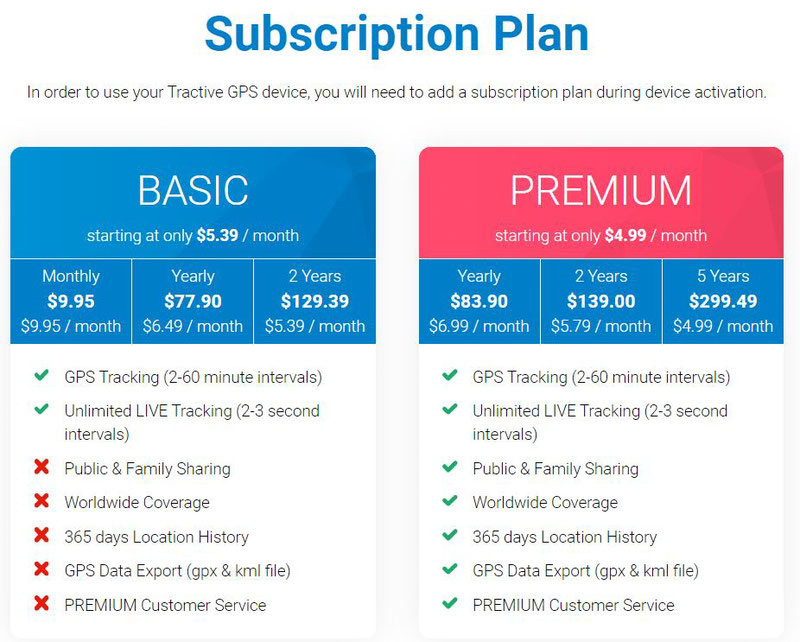 The App
When you open the app, the first tab is the "Map." This shows your dog's last known location, and you can check the history or start Live tracking from here as well.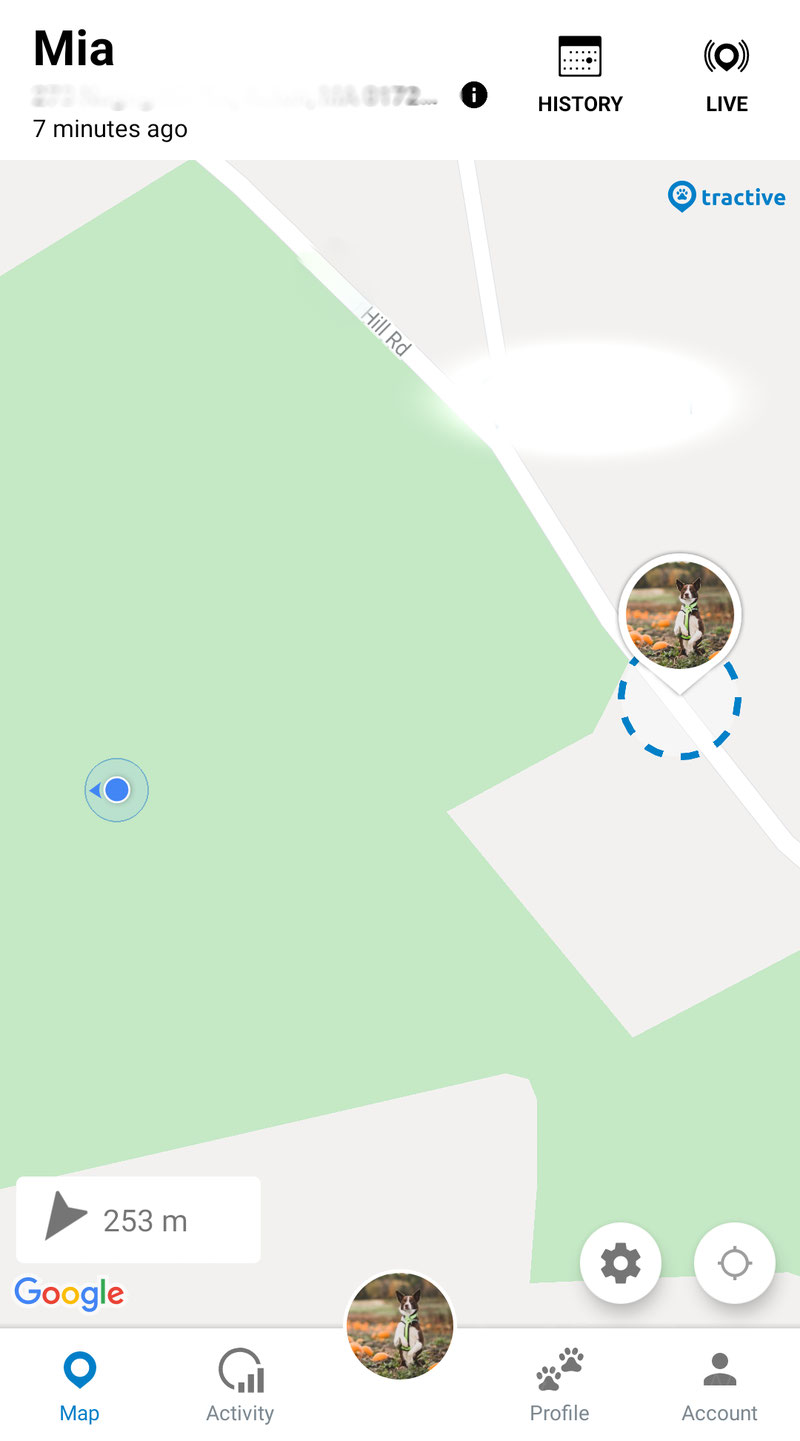 Tractive's app has a friendly UX/UI; there is nothing complicated or tricky when using it. It has an "Activity" tab with a dashboard showing the dog's daily activity and calories burnt, while on the right side, it shows your average based on the last 90 days' data. If you have it on your dog 24/7, it indicates meaningful data for the time spent resting - for us, it just shows the time spent indoors since Mia is not wearing a collar at home.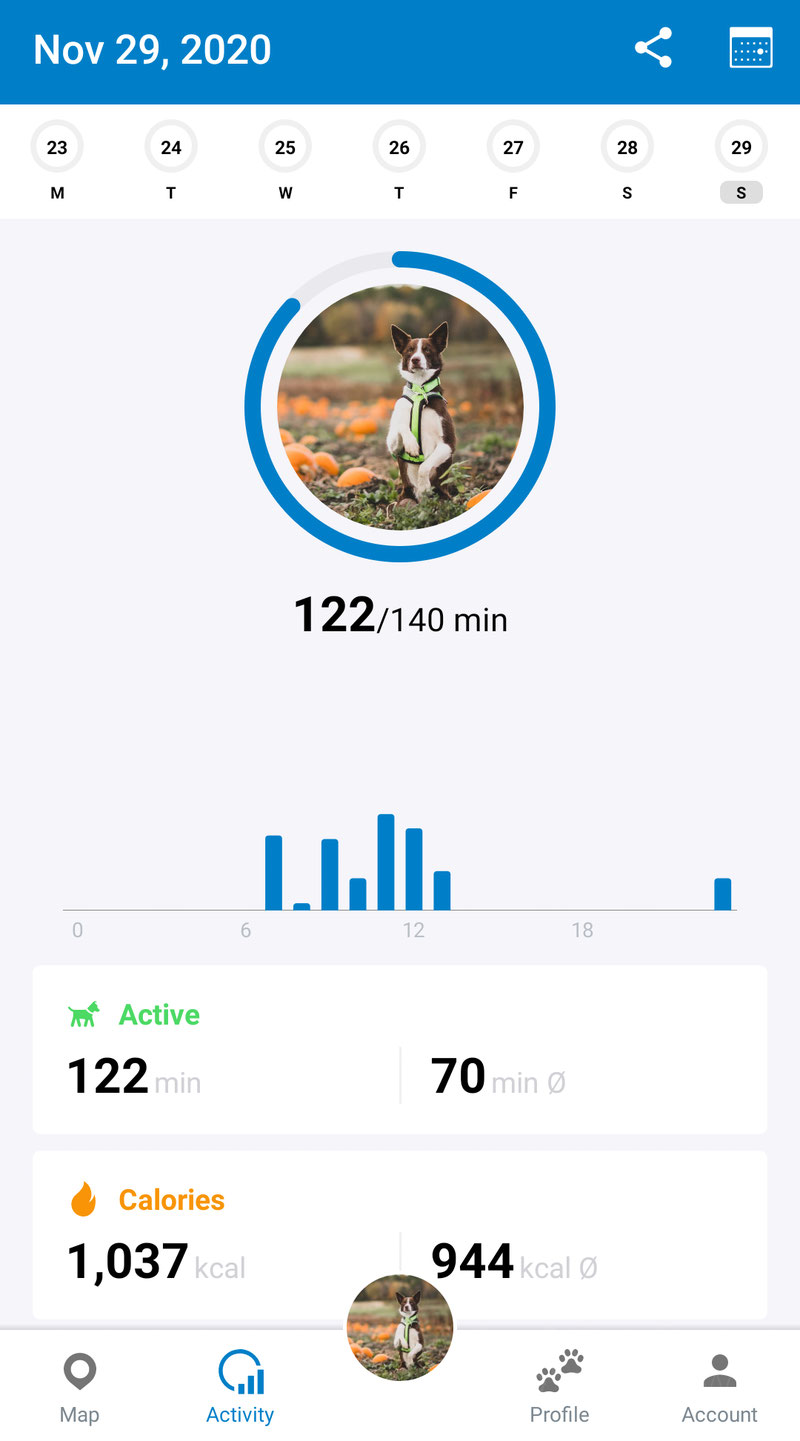 There is also a leaderboard under the Activities tab if you feel motivated by checking how much exercise other dogs get. It's neat that you filter the results and only see dogs' logs in your area or the same breed. You can also add friends or family members for free (in the premium plan), allowing them access to the dog's location. If you have friends with Tractive trackers, you can also add them to compare your stats on the leaderboard.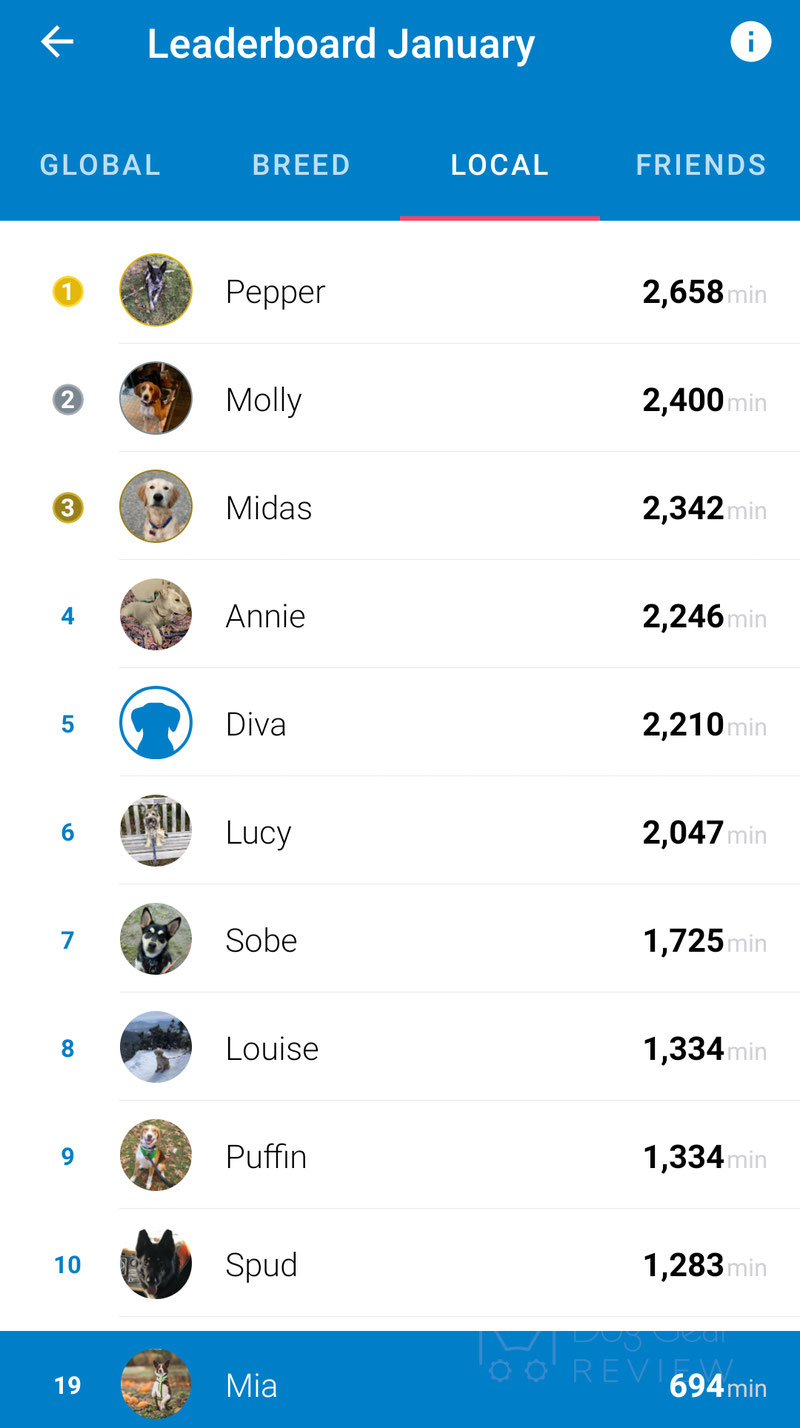 Safe Zones
You can set up virtual fences with a few clicks and choose different icons to symbolize them on your map. The minimum size of the Virtual Fence's radius is 160 feet (50 meters) for a circular fence and 330 x 330 feet (100 x 100 meters) for a rectangular fence to ensure there is enough room to tolerate the inaccuracy of the GPS location and avoid getting false alerts. You can set up 5 Virtual Fences per device.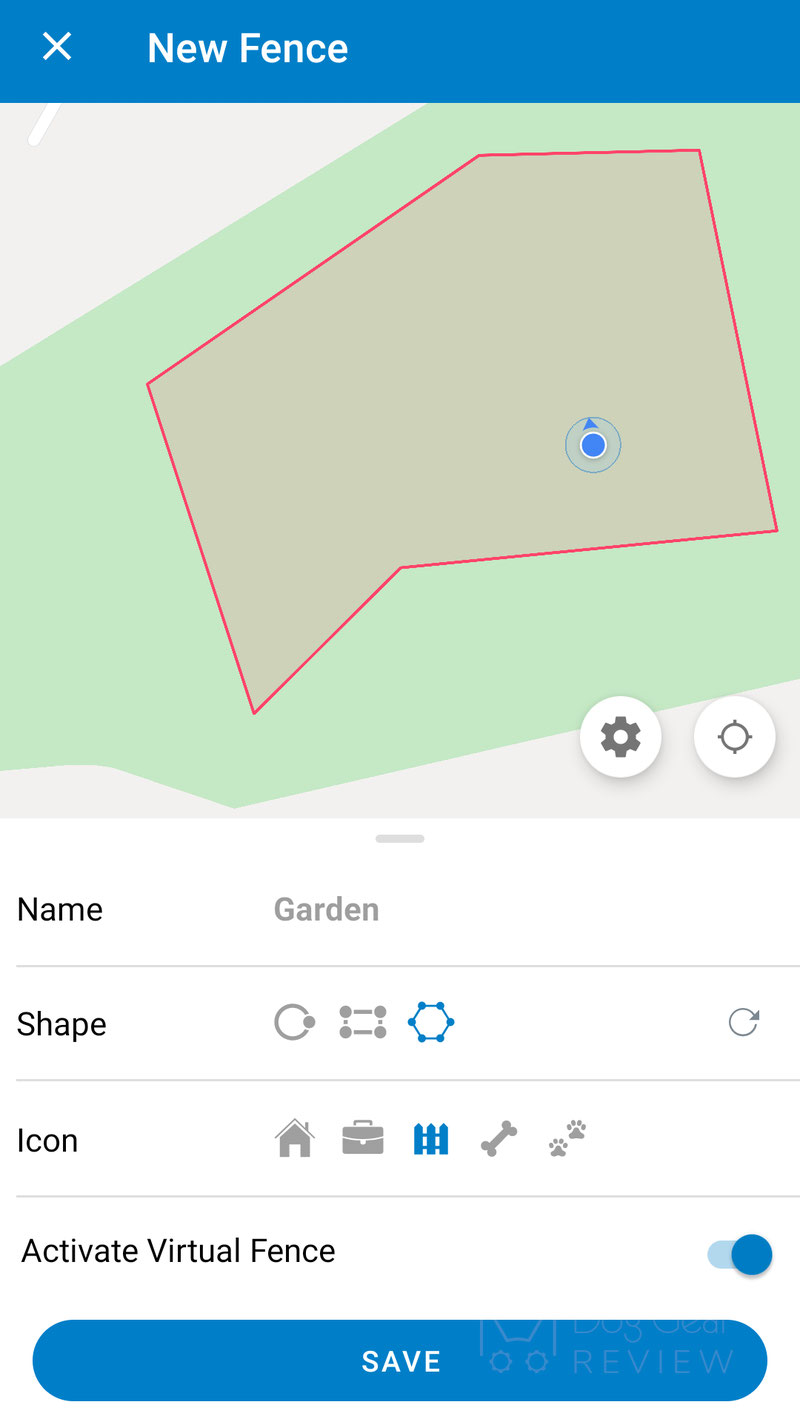 LED Light & Sound
The tracker has a small LED light that you can remotely turn on and off to make your dog more visible. This sounds useful, but the light is relatively small, and if the tracker is positioned on the other side of the dog or turned downwards, you will not really see it.
A cool feature is that the module can also make a sound! Tractive suggests using this feature when looking for a lost pet (to hear where they are exactly once you are closeby). Another way to utilize it is to teach the dog to come back to you when they hear the collar's sound if they have too much fun chasing a squirrel in the woods far away from you. The sound that the tracker makes is a high-frequency sound that Mia seems to dislike even though it's not loud. I would recommend trying it out at home and showing it to your dog, so you are not scaring them even more in case of an emergency.
"Find" Mode
The app has the "Find" option in the top right corner of the map on the main page, next to the "Live" option. It's an interesting concept to show how far you are from the dog by filling up the rings when you get closer, but it doesn't show you direction. This reminded me of the "Hot and Cold" game we played as a child, lol. I believe the idea is that you start Live tracking to get close to the dog's location and use this "Find" mode for the last few feet/meters.
The Sound and Light mode is available under the Profile-> Tracker tab, but they also made a shortcut and displayed them on this "Find" tab, which ensures that all "emergency features" are quickly available on the same tab.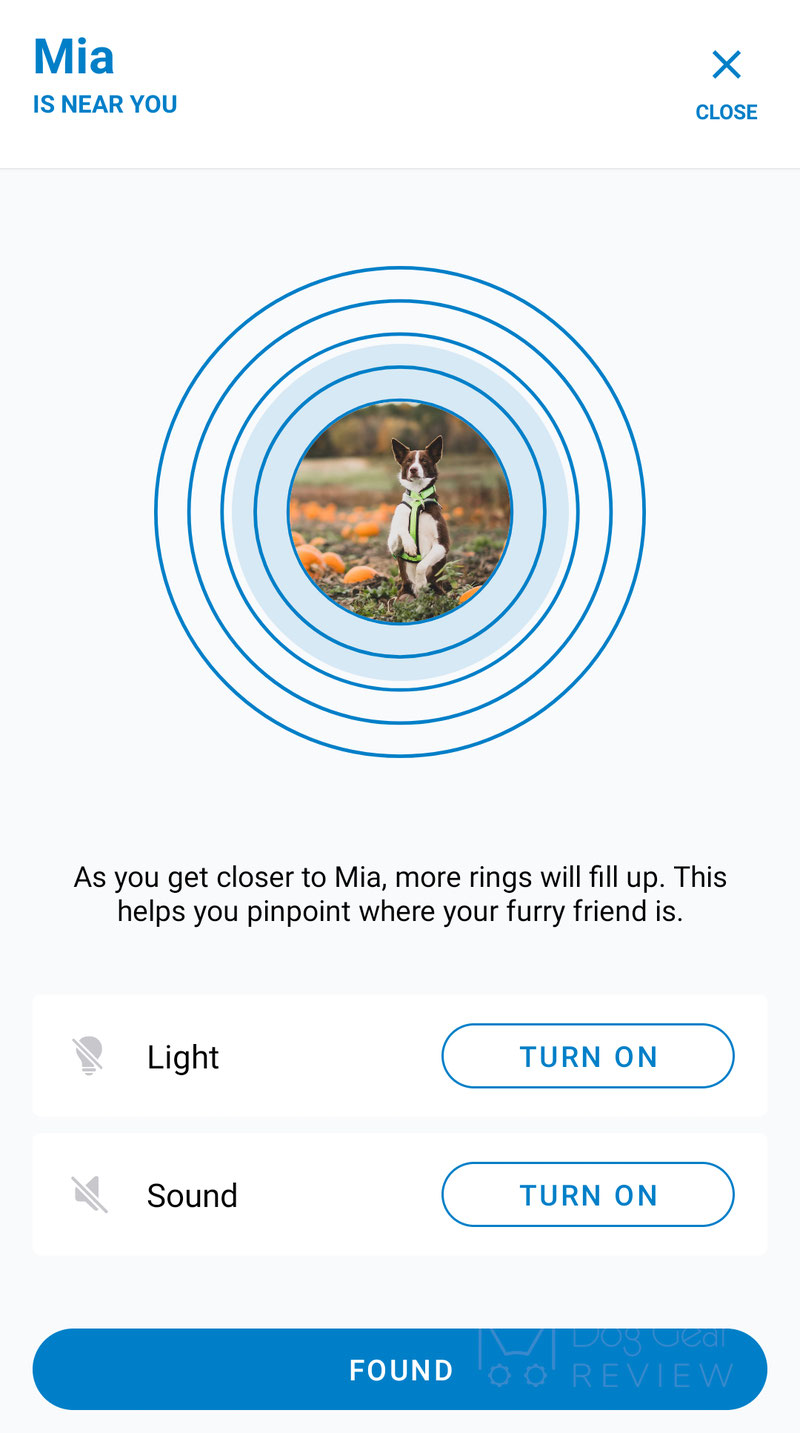 Tractive Review
We used the Tractive GPS tracker on hikes, for city walks, and to track Search and Rescue trainings for over four months. I had a tough time writing this review because the tracker worked like a charm for the first two months but started having different issues after that. I was hoping it is only a unique issue with my tracker, but unfortunately, I could reproduce most problems with a second tracker.
Altogether this could be a great tracker with lots of potentials if the issues I experienced could be fixed - which is in progress as I write the review.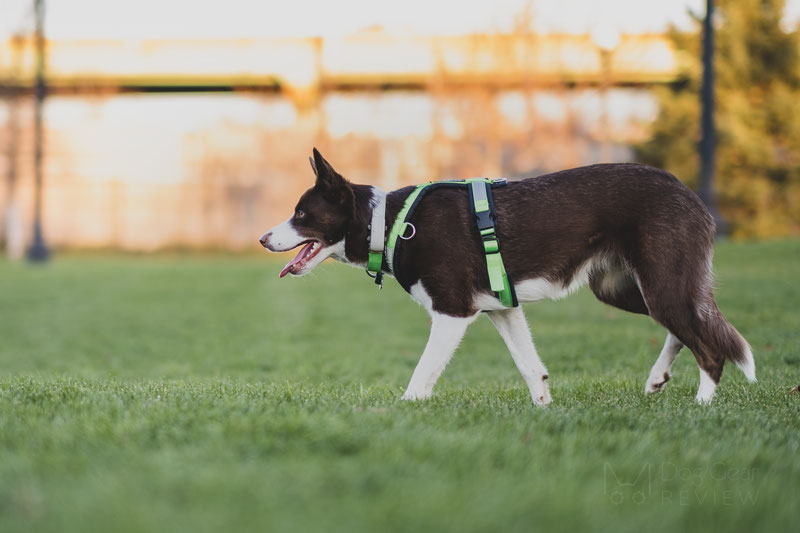 Let's start with the general impression of the tracker unit.
The physical unit seems a little big at first, but it's lightweight and is very easy to attach-detach to any gear. While holding an Aluminum tracker unit feels fancier before it gets all scratched up, this unit still looks new after extensive use. It never fell off from any collar, and we did use it with a few different ones.
I was also interested to see how the elastic loops will handle the freezing winter weather, but they didn't seem to get more rigid on or after our hikes. The only con of this attachment is that it determines the width of the collar that you can use it with.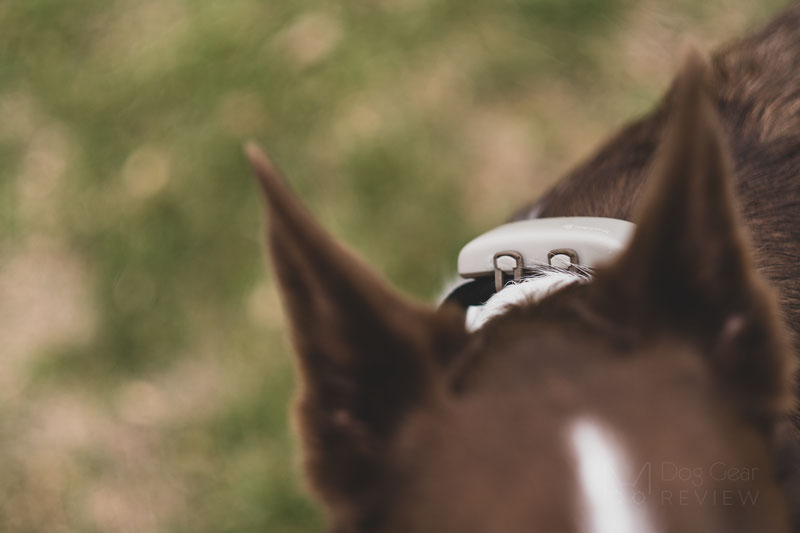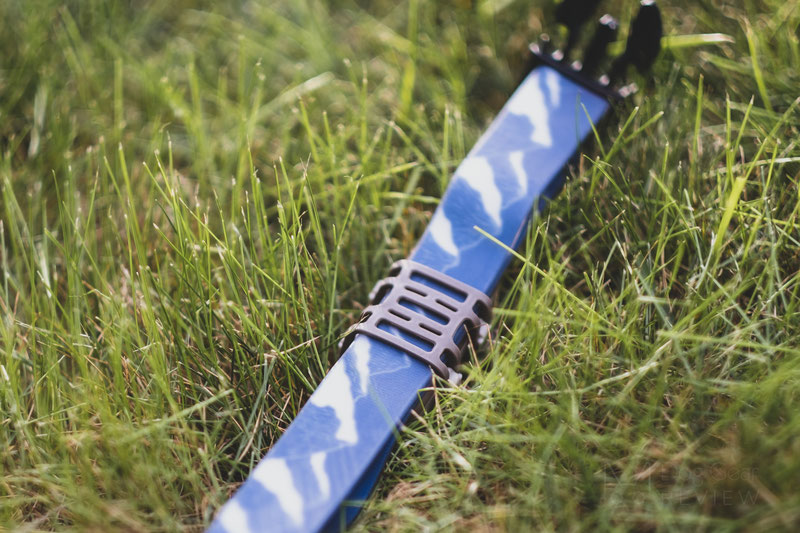 The Live mode is the most impressive feature of the tracker by far. When using it for tracking SAR tasks, it clearly shows when Mia got into the scent and turned to check out the other side of the woods. It is accurate enough to show where we turned on a trail, and the frequent location points make the track very realistic.
For Search and Rescue, it is also beneficial that I can export the track in .gpx or .kml and merge it with my path. An important note here is that Tractive also has a web site where you can log in and see all the same information and access a few extra functionalities - like the above-mentioned export option.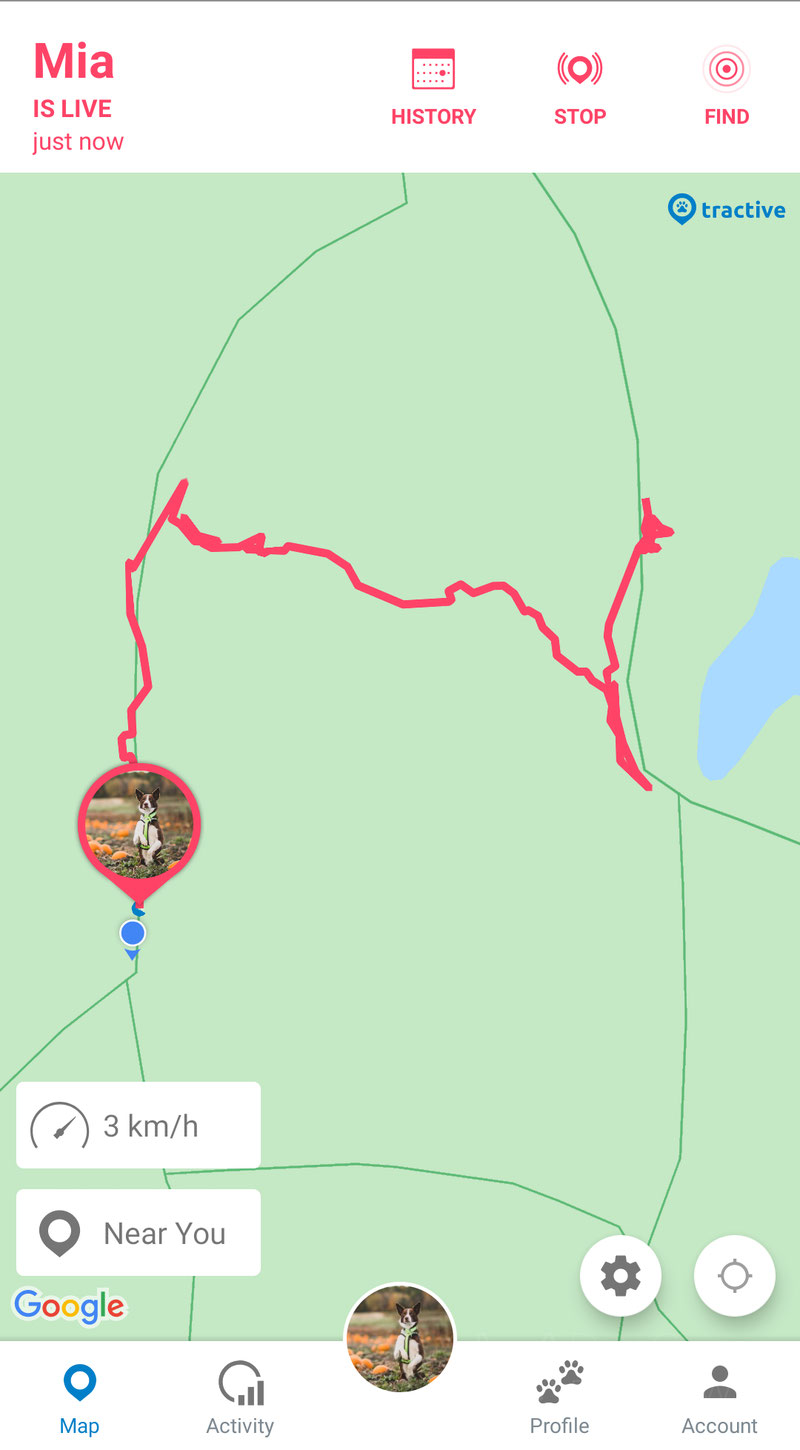 One feature I missed is seeing the previous Live tracks in a list - like when you want to see your previous hikes quickly. The History tab shows all the locations, which means that it also displays your drive to the trailhead, making it a little messy to figure out the actual distance your dog walked. You can make this work by setting the "From" and "To" dates and times of the log you want to see, but it can get annoying if you don't know when you started or ended the hike exactly.
It would be nice to see these Live tracks listed under the History tab separately, assuming these are the tracks you are most interested in looking up again, not the drive on the way there.
Live Tracking also creates a heat map to see how much time the dog spent on a location during the track, which I didn't find particularly useful, but it's an interesting addition.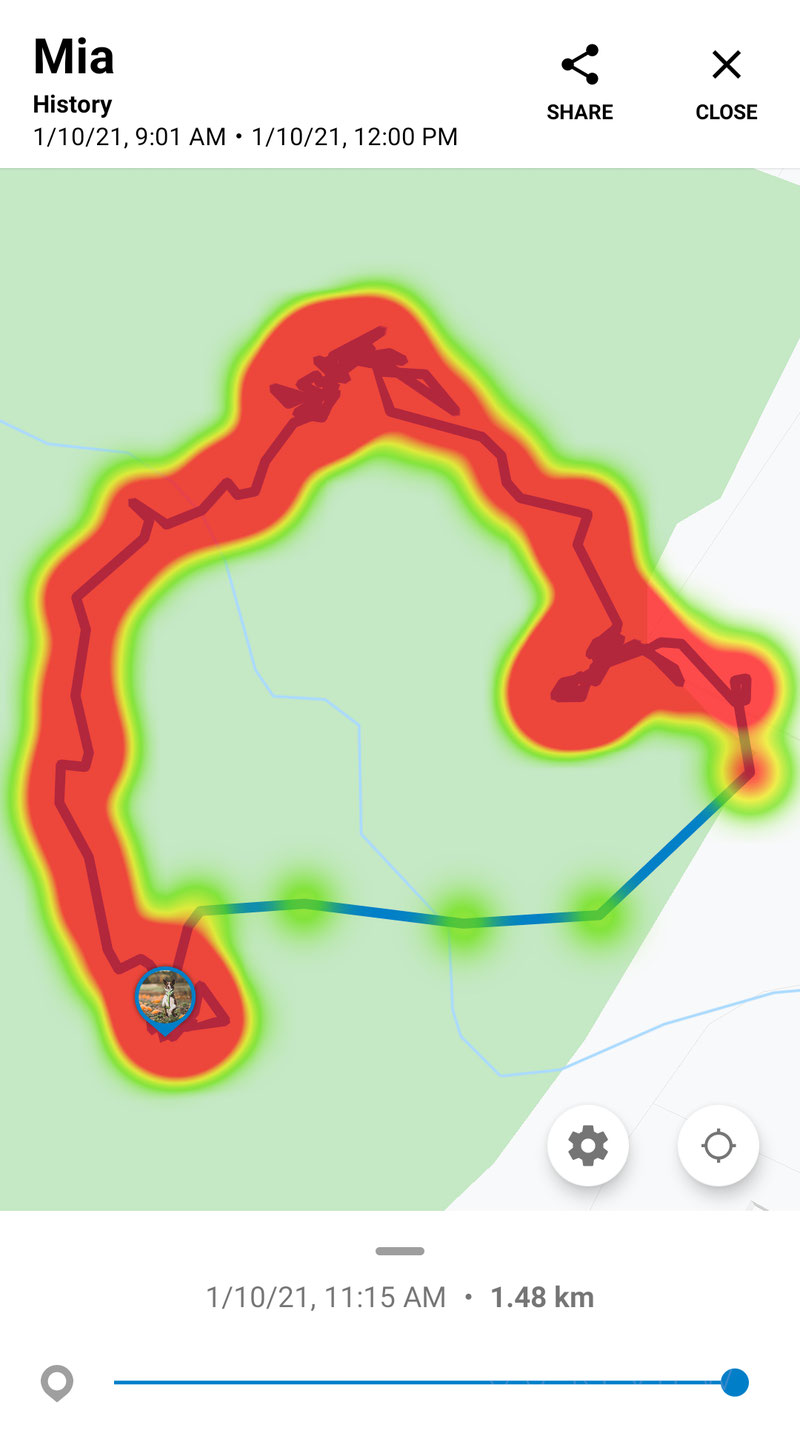 So let's talk about those problems that we mentioned at the beginning.
The technology's most significant disadvantage is that the tracker needs good cell coverage to communicate the location, so it will not work at all on backcountry trips. This is true for all trackers using the same communication method, but we did run into "Connection too Weak" error messages more times than was reasonable. In most of these cases, we were 10-15 minutes drive from big cities, in well-populated areas where our phones had good cell coverage. When checking the app, it also showed that the GPS and Network connection is "OK," but we could not start Live tracking or use it to determine Mia's location.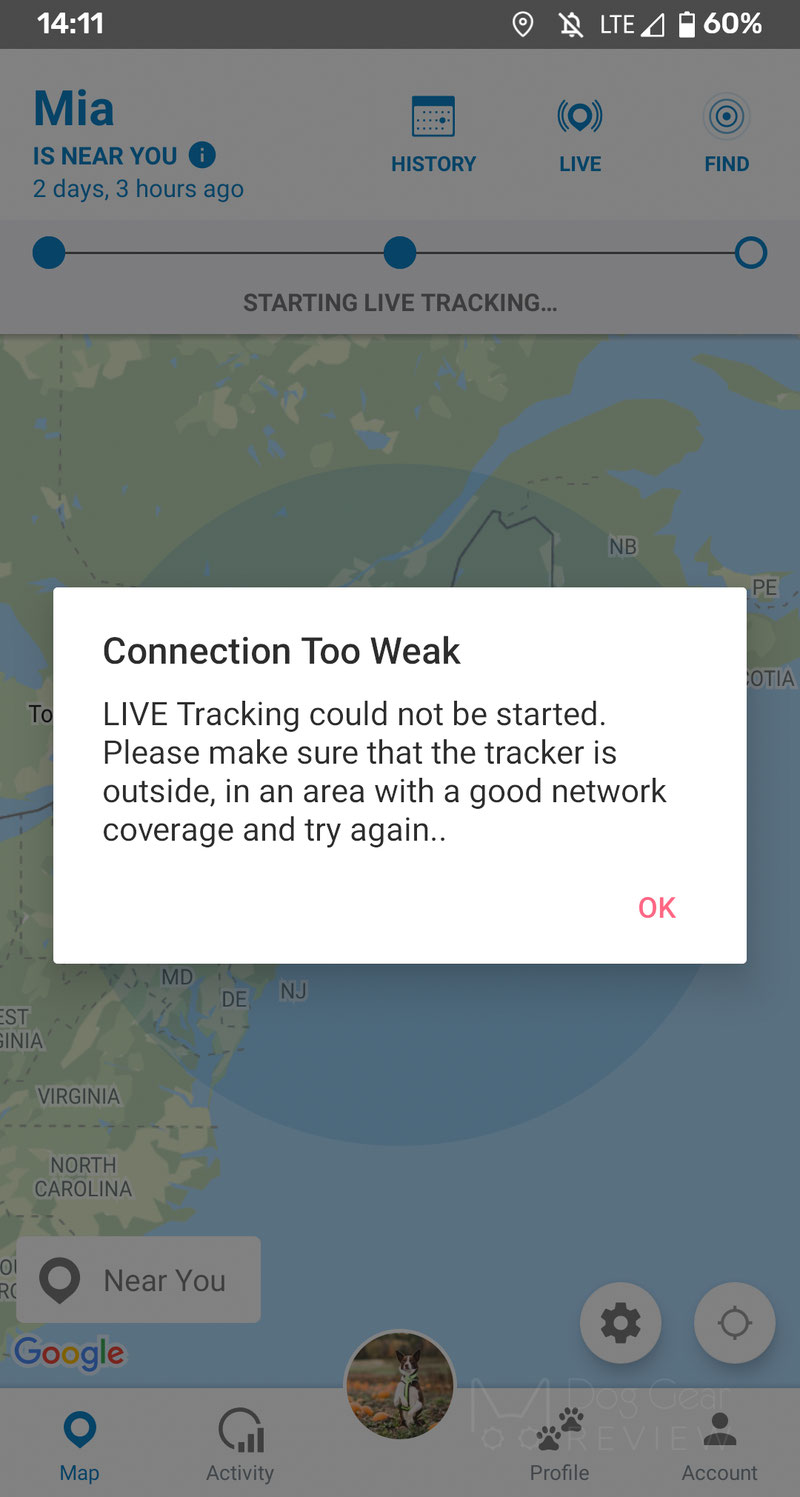 Twice the tracker switched to the "Network Not Connected" state after a hike and was useless for days. The weird thing is that tracker couldn't reconnect even when we were back in the city where it worked before. After waiting a few days to see if it would resolve by itself, I tried charging it, although the battery was still okay. As soon as the charger hit the tracker, it connected back to the network.
There is no need to say that this is a big problem in a real emergency. The bad news is that we received a second tracker for testing, and I was able to reproduce the problem with that, so it isn't an issue with specific hardware. The good news is that we worked with their customer support team, providing them data, and their developers are working on a solution. It seems like a combination of specific factors triggers this: below freezing temperature, active Live tracking, and the battery level being between 20-30%.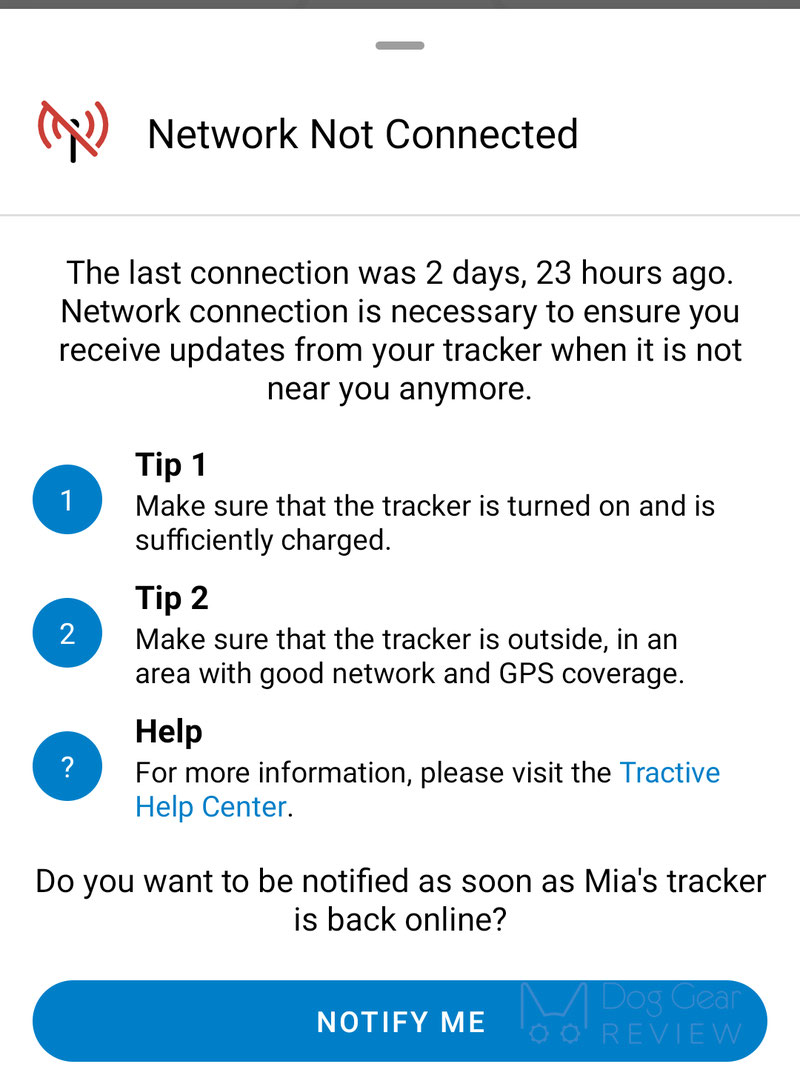 Another problem we run into multiple times was the Live mode not starting while everything else worked. I saw Mia's location moving on the map and was able to use the "Find" tab, but the Live tracking was only in "starting live tracking…" mode, then quit trying without an error message. These happened both in woods where it's possible that the GPS coverage wasn't the best, but also in open, well-populated areas. Checking the tracker's status, it always showed a good network and GPS connection, so not sure what was going on. Sometimes I could finally start Live mode after multiple tries on the same spot, sometimes not. This is a smaller concern in my eyes since the dog's location was still correct on the map, only the Live tracking wasn't able to start.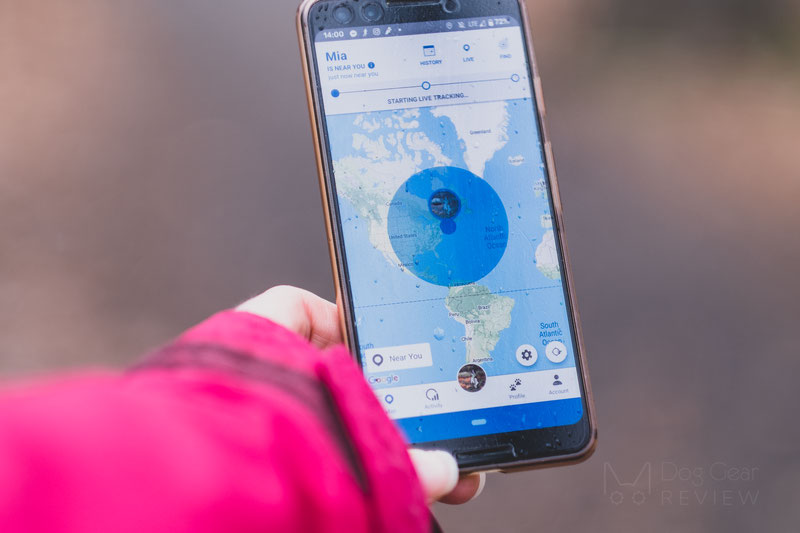 The last issue we experienced is also a weird one. I got the feeling that it might have something to do with the cold since we usually experienced it on colder days, sometimes on the same day with both trackers. What happens is that the tracker goes into "Not connected" or "Turned Off" status while showing that the battery is still charged - last time, it showed 60%+. In reality, however, the battery is drained, maybe due to the winter cold, while the battery level in the app is stuck on a reasonable level.
When you put the tracker on the charger, it comes back online immediately. Once on the charger, the battery level will jump down to only a few %, indicating that the problem was the low battery. This is especially weird because you never get a Low battery notification before the tracker would turn off - since the app still thinks the battery is doing well.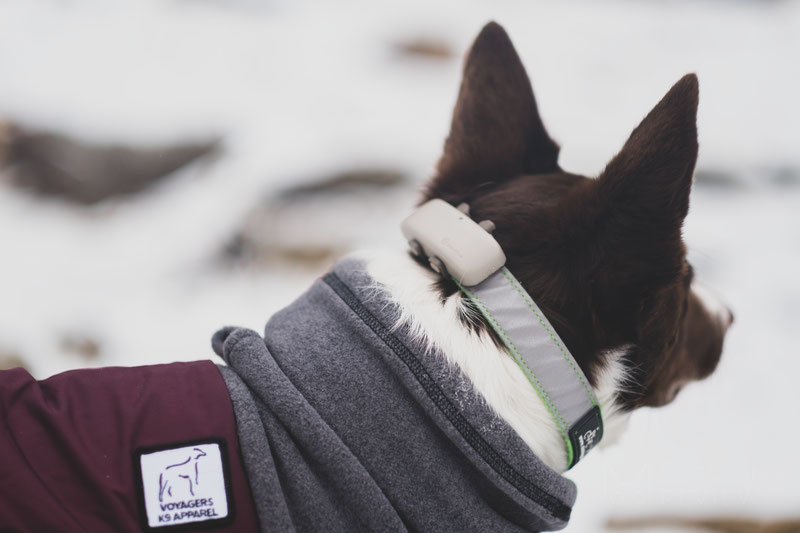 We forwarded all these concerns to the Tractive team with time stamps and all environmental factors that could play a role in causing the trackers to misbehave. Their dev team is looking into all of them, and I will update this review if there is a fix or more information on them.
Functionality review
We keep pointing out that no gear or product would work perfectly for every need in every situation. With trackers, it all depends on your primary use-case for the product. Let's see if Tractive GPS knows what you want from a tracker!
#####Is Tractive a good option if I'm worried about my dog getting loose and running away?
I would still say yes. Even though we experienced some problems with starting the Live mode and the tracker turning off, it still worked most of the time. None of the trackers we tested so far worked in every situation we tested them, which is why we keep repeating that all these solutions are still only a backup for emergencies. You will get your dog's location accurately in 99% of the cases if you live in an area with good cell coverage, making a big difference in finding your dog. Since the battery time is only a few days, you will have to keep in mind regularly putting it on the charger to ensure it has sufficient charge for starting live tracking, Find mode, etc., in case your dog runs away.
Is Tractive a good option for tracking how much my dog is running around while we are hiking?
Should be… If you can start Live tracking, it will very accurately show your dog's track. The problem is that you might experience my struggle with initiating the Live track or hike in an area with inadequate cell coverage when the tracker doesn't work. This not only means backcountry, but we also had issues with starting Live tracking in many city parks and town forests. Another problem for hikes can be that you can only set the Live tracking duration to be 5-60 minutes. If you are out on a day hike, you will need to restart it every hour.
Another cool feature is that the Premium plan also shows you how fast the dog is walking/running at a given time (see in the left corner of the screenshot below).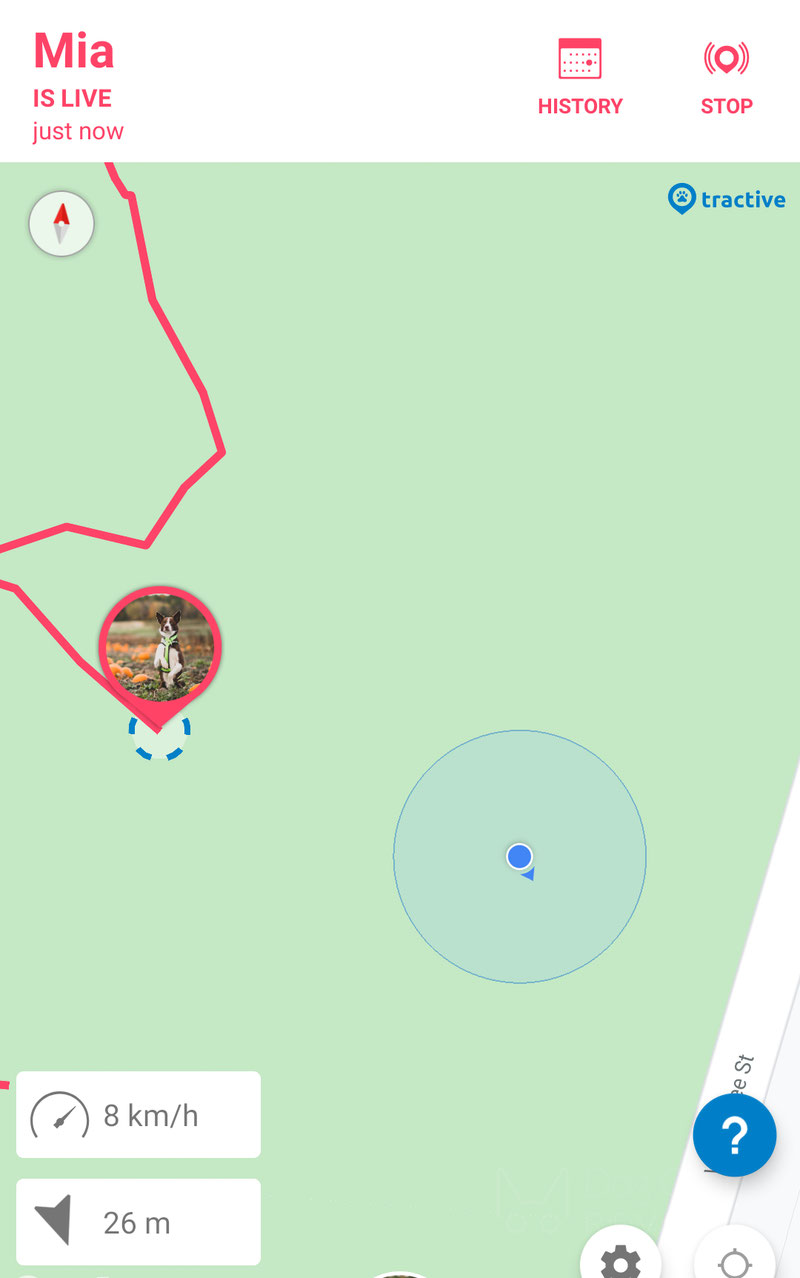 #####Is Tractive a good option to track my dog's overall activity level?
Tractive also functions as an activity tracker, but I wouldn't say it is its most robust feature. You can set activity goals in the app and get badges when you hit different milestones. The approximate calorie count per day is nice, but it's tough to tell how accurate that is.
The tracker has a three-axis accelerometer to estimate activity levels even when the dog is indoors, but we haven't found any mention of this on their website. It would be nice to know how it is calculated precisely, what triggers active vs. rest times, how it is adjusted to breeds/dog weight etc.
#####Is Tractive a good option to check on my dog while they are with a dog sitter or at the doggie daycare?
You can use Tractive for remote monitoring from work or another continent; it should work just the same!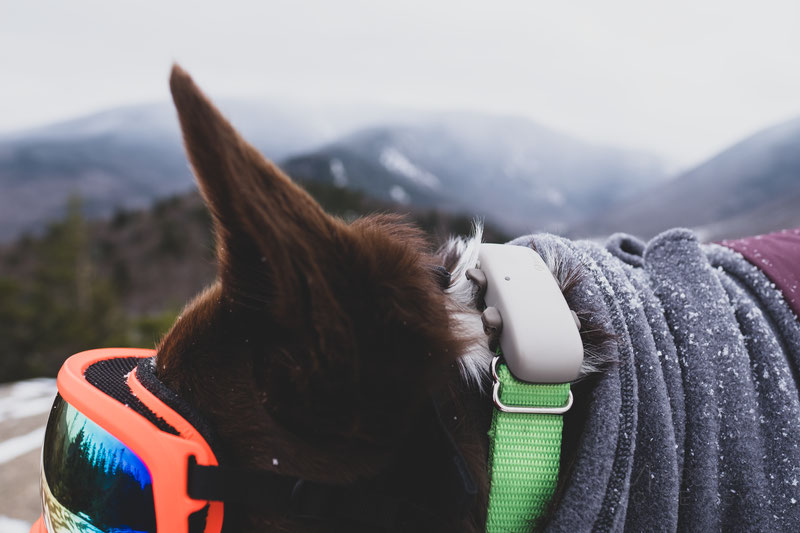 Using a tracker to keep the dog safe
We can't push enough that connectivity and the coverage can be spotty or interrupted by the environment and can cause problems outside of the tracker's responsibility. The technology also relies closely on your phone, providing accurate GPS location - which is better for some phones and worse for others.
Having a tracker on the dog is a good backup and can be a life-saver in emergencies, but any electronics can and will have blind spots. We see many people getting lazy with recall training or keeping an eye on the dog because they have a tracker. Please don't expect a smart collar to keep your dog safe because only you can do that. Knowing their location or getting a notification that they left the safe zone will not keep them from being run over by a car before you get there.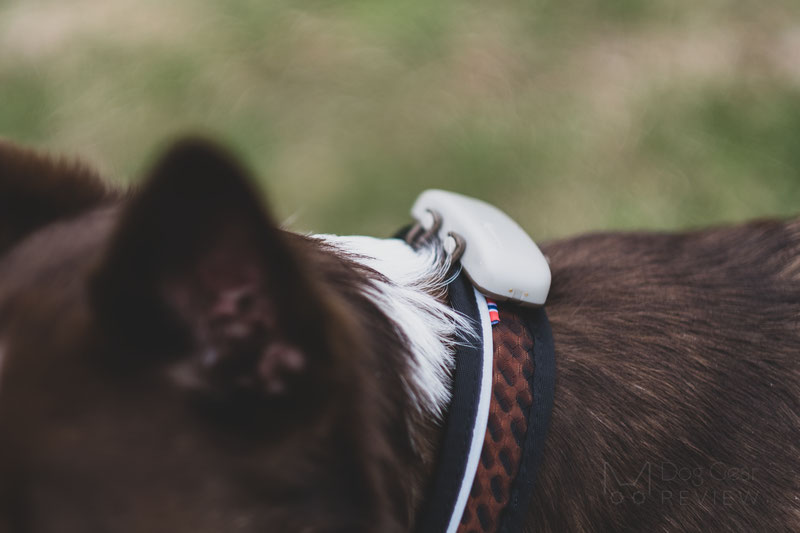 Tractive Duo Review Summary
As mentioned multiple times, I am a little conflicted about Tractive. It was one of my favorite trackers so far during the first two months, but I grew more concerned about our experiences in the last two months. You also have to keep in mind that we extensively test these devices with the intent to see if they would run into a problem in "extreme cold," deep in the woods, while swimming, while opening other apps during Live tracking, etc. We do our best (worst?) to trigger problems with the app/tracker while an average pet owner might not see any of the issues we encountered.
The "Not Connected" bug is probably the biggest concern, but just to put it into perspective: we used two trackers for four months and experienced that problem only 2 or 3 times (one case is not categorized yet). This means they shut off once every 3-4 months - which is not great but not terrible either. It's also true that the developers are aware of these problems and work hard to fix them, so I expect this to be solved soon.
Not being able to start Live tracking is annoying, mainly when the app displays a suitable cell and GPS connection, so there is no visible reason why it wouldn't start. With the first tracker, this happened almost every second time when I wanted to use it, but the second was much quicker to start up on the same locations, so I would suspect there is something genuinely off with the GPS unit of the first tracker we received. The first one also regularly stopped Live tracking after 5-10 minutes, while the Live Tracking Duration was always set to 60 minutes. While this can be annoying, it's still not blocking you from seeing the dog's current location so we wouldn't say it's a reason by itself not to invest in it.
To also highlight the pros for Tractive: this is the only tracker that we have used so far, which allows you to download the track, which is a neat feature. If you pay for the Premium Plan, it also works in more than 150 countries worldwide and is compatible with multiple network providers. This allows the tracker to automatically connect to the network with the strongest mobile network signal on the dog's location. This should make it a good option for someone who travels with the dog regularly or for areas where there are many different providers with spotty area coverage.
Altogether this tracker has tons of potential even for working dogs (like SAR) in areas with cell coverage as soon as GPS connectivity and Live tracking bugs are fixed to make it more reliable. I could see Tractive being used as an entry-level option for hunting dogs or search dogs (again in areas with cell coverage) instead of the much more expensive options - again as soon as these bugs are cleared.
For an average pet owner, I feel it delivers very similarly to other cell-based trackers, while being able to use it on different networks can be a significant advantage for many.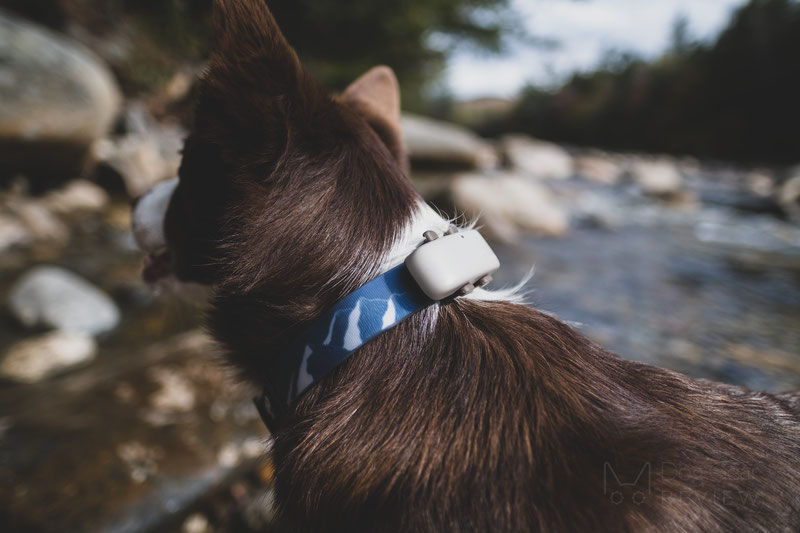 Where to buy
You can buy the Tractive tracker, accessories and choose a subscription on their website and on Amazon.
Disclaimer: this review contains an Amazon affiliate link, which supports Dog Gear Review if you purchase the product after clicking on it without costing you anything extra. Using affiliate links will never compromise us writing unbiased, honest reviews!