Spark Paws is a company that was established in 2017 to provide high-quality and affordable pet essentials.
The founders started the company because they were having a hard time finding suitable clothes for their French Bulldog, and they wanted to create a place where customers could purchase quality pet products without breaking the bank. Quality is their top priority, and they use meticulous craftsmanship to create their products.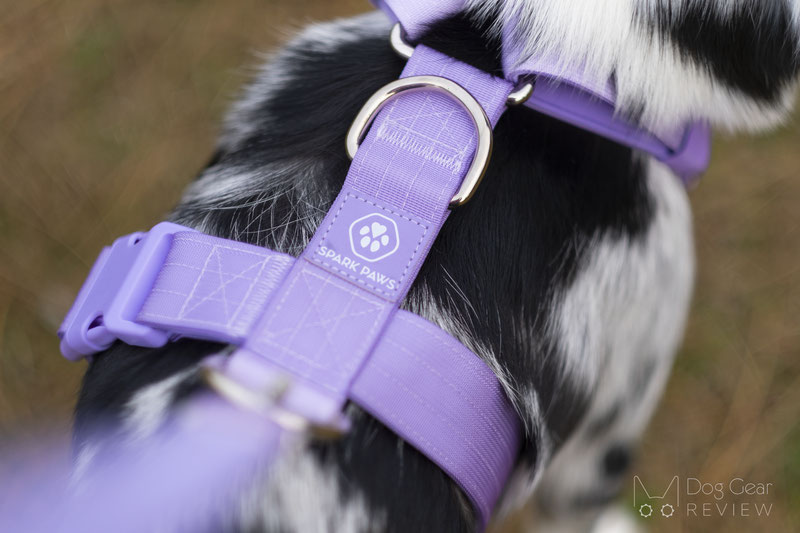 About the Spark Paws Anti Pulling Y-Harness Set
The Spark Paws Anti Pulling Y-harness Set includes their Anti Pulling Y Strap Harness, with a perfectly matching Neoprene Leash and a poop bag carrier.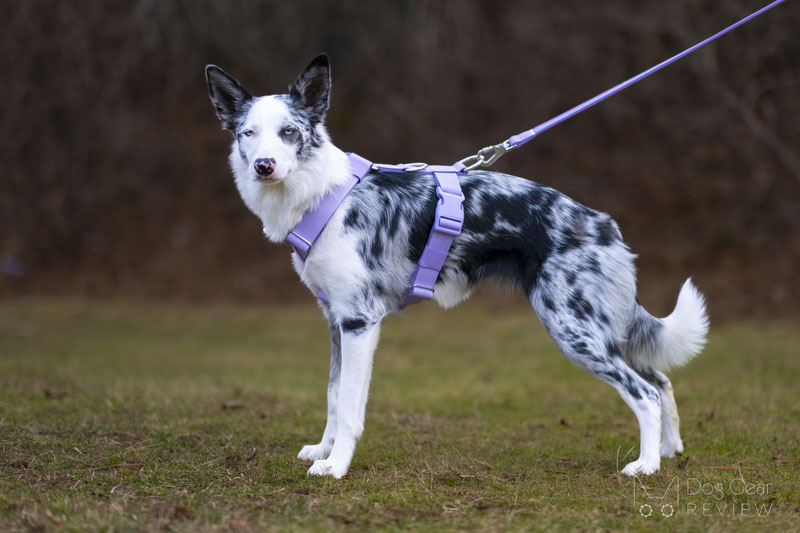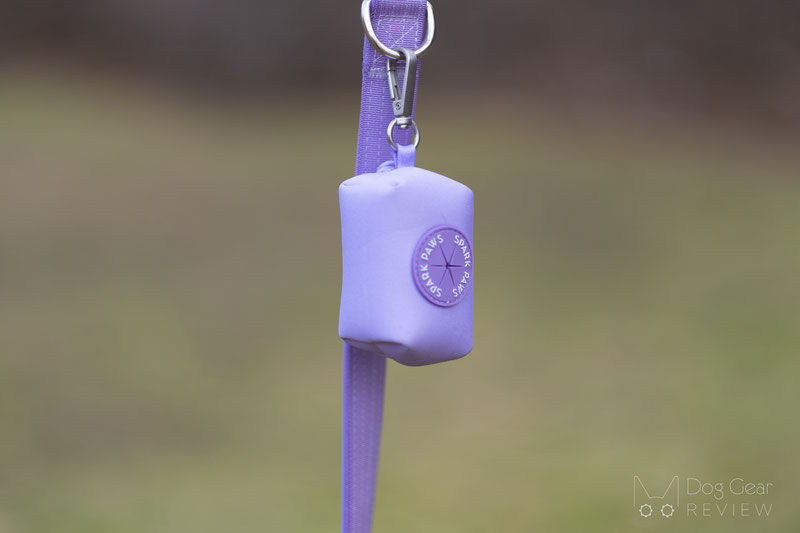 The Anti Pulling Y-Harness is made of sturdy materials and designed for dogs between 30 - 130lbs (13.5 - 60kg). The harness has three, 1.5" stainless steel D-rings for leash attachment points which makes it a great option for a variety of situations. The harness is padded with soft neoprene, has two large ABS-grade plastic buckles, and is adjustable at 5 points to ensure a good fit for a variety of dogs.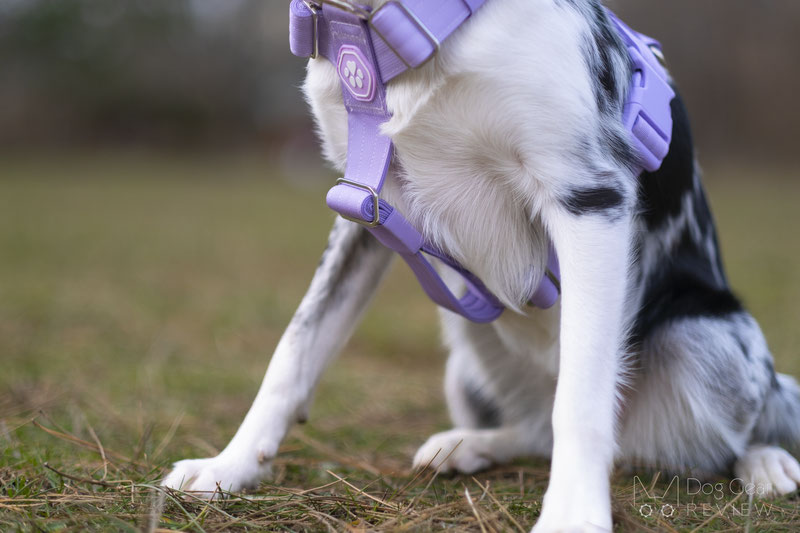 The Neoprene Leash is durable and lightweight. It features thick neoprene padding on the back of the leash and inside the handle to provide comfort if the dog pulls.
It has an alloy locking hook and triple stitching to ensure that it can withstand hundreds of pounds of pulling force. The leash's dimensions are 59" L x 1.1" L (150cm L x 3cm W).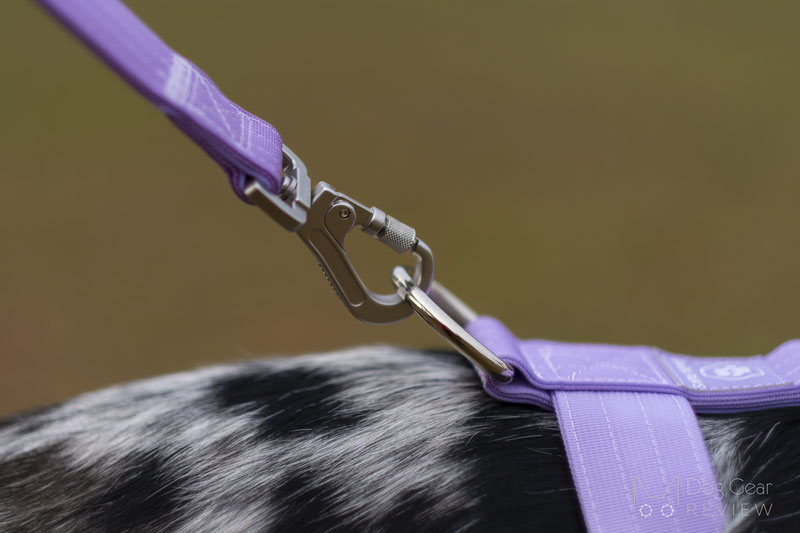 Overall, this set is designed to offer comfort for both dogs and owners while providing support for heavy pullers. It also comes with the option to use it for no-pull training, making it a versatile choice for dog owners looking for a multi-functional harness set.
It also features a military-grade nylon exterior shell for durability and is designed to support more than 5x times the pulling pressure of the suggested weight for each size, ensuring the safety of your dog in case of sudden lunges or pulls.
Spark Paws Anti Pulling Y-Harness Set Review
The Spark Paws Anti Pulling set has received a lot of attention both online and in real life on our walks. It is a stunning, sturdy set that even non-dog-people notice and comment on! Currently available in five stunning colors and three sizes.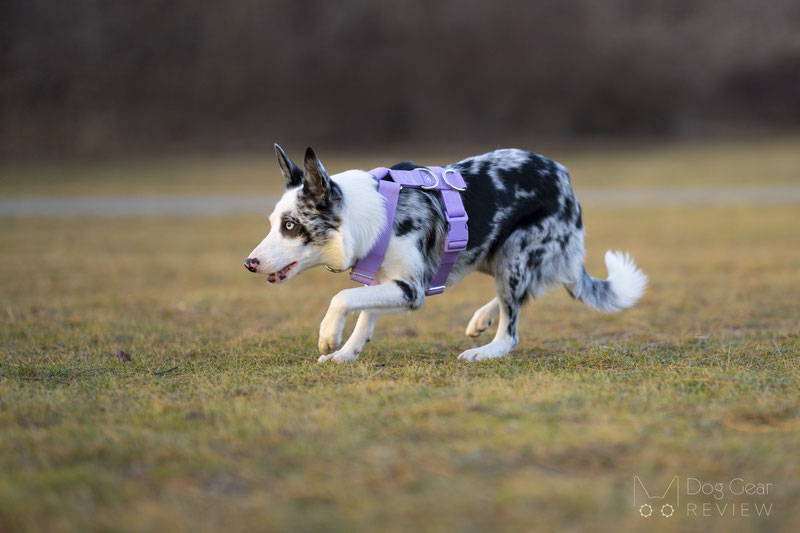 The Spark Paws harness has generated some confusion regarding its name "Anti-Pull" and why it also supports heavy-pullers. Although it's not a dedicated pulling harness, its wide and padded straps distribute the pulling force well to safely control large and strong dogs who may not walk well on the leash yet.
With the option to use the front ring or attach a leash to both the back and front rings, you can choose the setup that works best for each situation.
The three leash attachment points let you choose between no-pull training, good steering power with the attachment point close to the neck, or good weight distribution with the other back attachment. We have an article discussing the differences that the back attachment ring's position can make.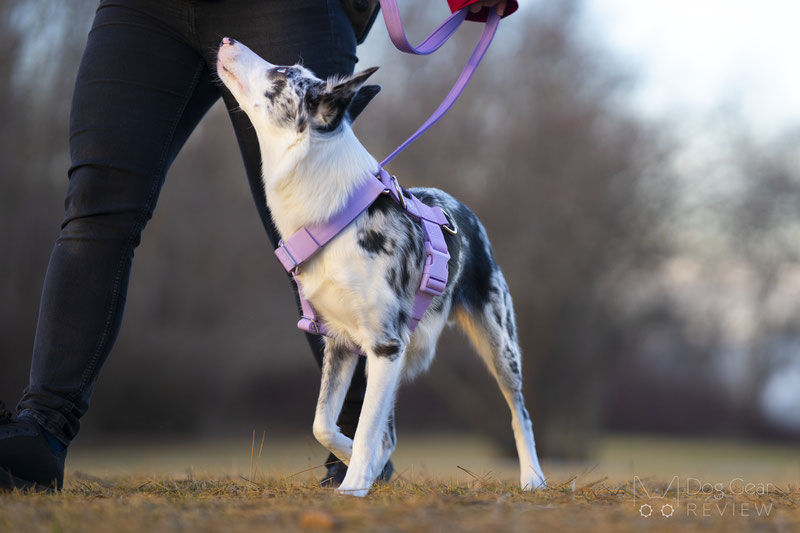 The biggest problem we run into with this harness is its sizing which I suspected to be an issue before receiving it. I raised my concerns to Spark Paws before shipping it out and also after trying it on Zulu and we agreed that we will go ahead with the review but will also discuss sizing and why it doesn't fit Zu well.
If you read the company's intro at the beginning of this review, you might have noticed that they originally started this brand to create products that fit their Frenchie. Even though on the website they mention that they collected measurements from thousands of dogs to ensure their products are well-fitted, their products are modeled by and geared towards bull-type dogs, Boxers, and similarly built dogs.
It's important to note that no harness will fit all dogs perfectly, which is never the harness' fault. The Spark Paws harness simply seems to fit wider and deep-chested dogs better, than leggy and two-dimensional breeds like Border Collies.
The size chart already indicated that this harness will probably not be a good fit for Zulu as even their smallest size is way too big for her small neck. When we received this harness we still had Mia and it was even an awkward fit on her bigger structure.
The neck section sat too low on Zulu's shoulders even on the tightest adjustment, and while the back attachment points were usable for walks, the no-pull ring just rotated the harness and dragged her front legs to the side, rather than turning the dog. In fact, in the photo below, it's easy to see that she could have easily stepped out of the harness if she had tried to move forward.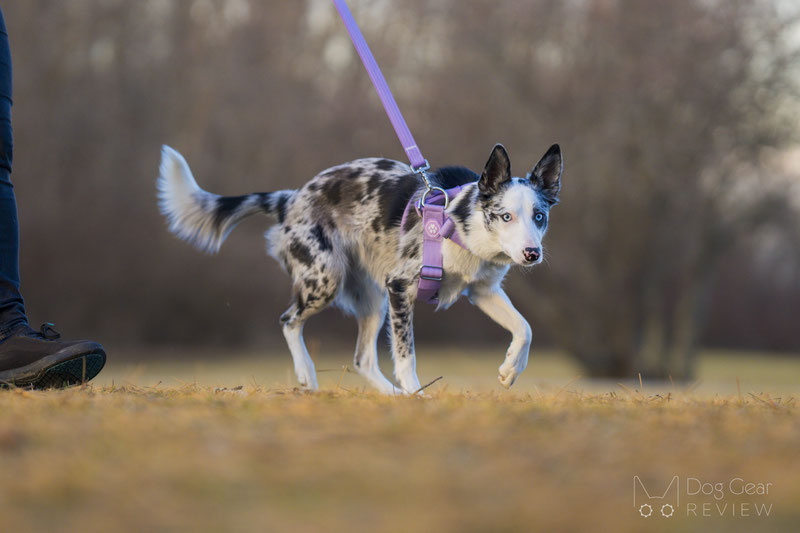 It's essential to note that this doesn't mean that the Spark Paws harness is not a good harness or a functional no-pull harness. It just means that it's geared towards wider and deeper-chested dogs, and generally larger dogs and Zulu is not a good subject to test this product.
Zulu's weight of 29-30 pounds is on the lowest end of the recommended weight range which shows why we were having fitting issues. This is also important because the wide, heavily padded straps make the harness quite heavy for a smaller dog. While this gives the harness a sturdy and robust feeling, gear-shy dogs may not appreciate it.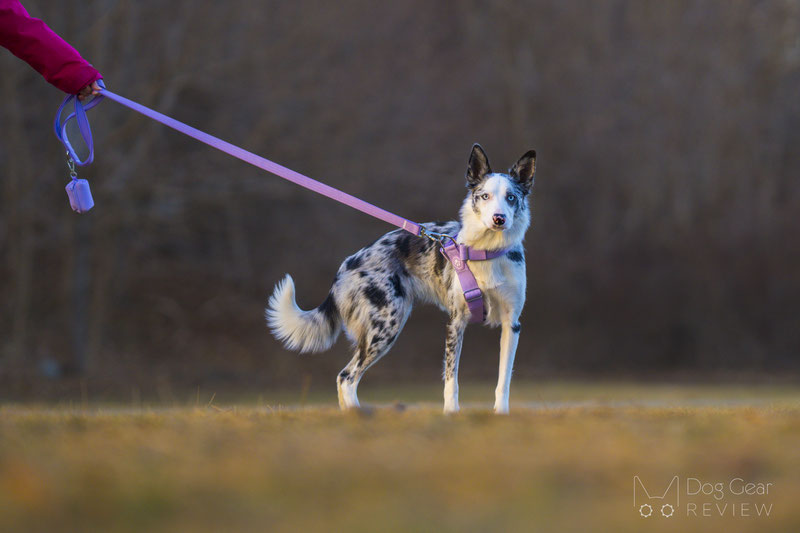 The only other thing we noticed is that the plastic buckles were fairly hard to open after long walks below the freezing point, which is not an unusual problem for some plastic materials.
Besides these notes, the material and sturdiness of this set are very impressive. Its adjustability and the three rings make it a very versatile harness that can fit many medium/large dogs well and can be used in many different situations.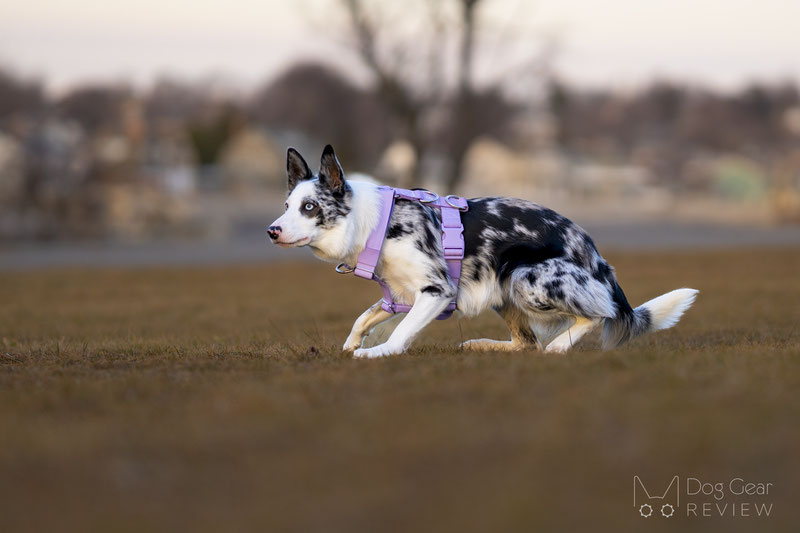 Functionality Review of the Spark Paws Anti Pulling Y-Harness Set
No-pull correction: The high position of the no-pull ring makes it potentially a good no-pull harness for wider dogs who better fit the harness than Zulu.

Running/Biking: This is not a pulling harness, but you can use it if the dog runs next to you without pulling or if you just want to give running/biking a quick try before investing in proper equipment. It is well-padded and the fifth adjustment point gives enough room for an armpit clearance for most dogs.

Hiking: It's a durable harness that could be great for hikes. The lack of a handle minimizes the chance of the dog getting stuck on something in the woods, while you can still use the back strap to grab the dog when needed. The neoprene padding should dry fast but it still collects a fair amount of mud and water on the trails. One thing to keep in mind is that a heavier harness with wide straps might not be ideal for hot summer hikes.

City walk: Works well, the three attachment points let you switch control points for different situations (walking in a busy area vs sniffing time in a park).

Easy to put on/adjust: It has two buckles on the chest straps, so it needs to go over the dog's head. Adjusting is easy, and the sliders stay in place well after adjustment.

Visibility: Some colors are visible, but it doesn't have reflective elements.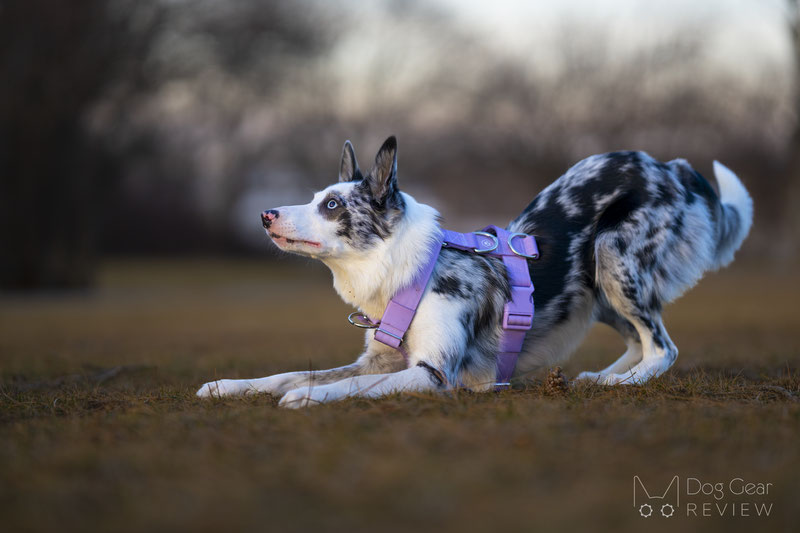 Summary
Altogether this is a sturdy, heavy-duty harness that I can see working well on larger, wider dogs. If you want to order it, pay close attention to the sizing chart as it might not fit all dogs. However, all the straps have a wide adjustment range and the ability to set the length of the strap between the front legs makes it easier to create a good fit on most medium/large dogs.
It is a stunning, well-made set that was made to create a versatile tool that can keep dogs safe in a variety of situations.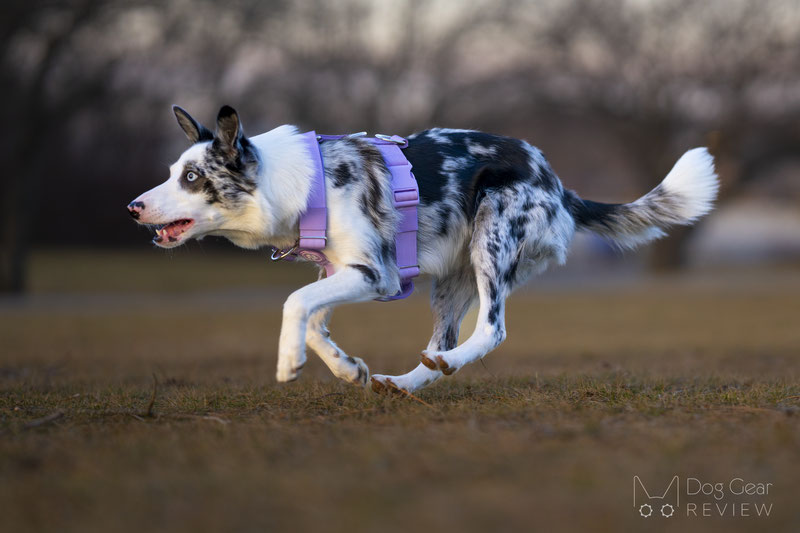 Where to buy
You can find all their products on their website. For reference, Zu had their Small harness.
As always, be sure the harness is a good fit for YOUR dog. If you need help deciding, read our article on harness fitting.
Zulu's measurements
Many of you asked for the dog's measurements in reviews to better understand the different products' fit, so I'm sharing Zulu's below for reference.
Shoulder height: 19 inches (50 cm)

Weight: 29 pounds (13 kg)

Widest chest circumference: 24 inches (60 cm)

Neck circumference for collars: 13 inches (33 cm)

Back lengths: 17 inches (44 cm)