About the Rywell Arc-Chill Cooling Mat
The Rywell Arc-Chill Cooling Mat is designed to keep pets cool, comfortable, and safe during the hot summer days.
The main feature of this mat is the Arc-Chill natural cooling fabric from Japan which is supposed to gently reduce the dog's body temperature by 3-5°C (5-9°F) to prevent overheating.
The Rywell Cooling Mat is chemical-free, made of non-toxic and non-irritating materials. If your pet happens to be a chewer, there's no need to worry about any harmful substances being ingested. You can machine wash it on a cold and gentle setting but dry it carefully.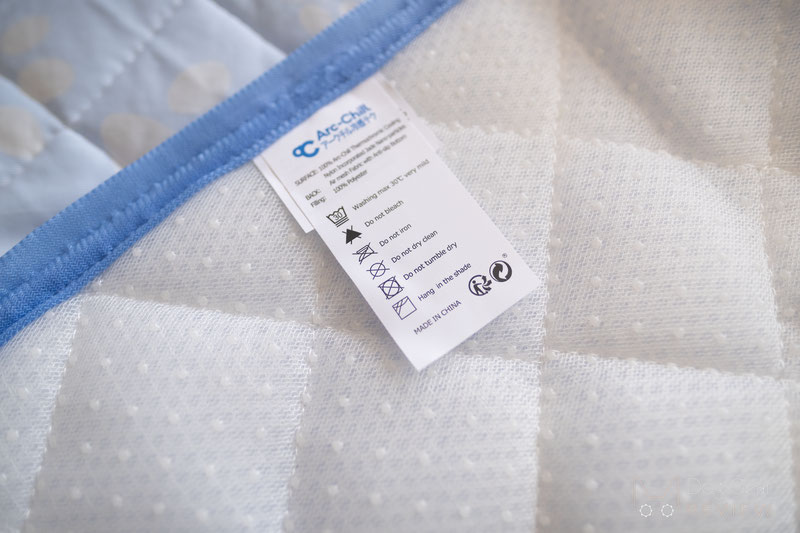 Another interesting feature of this mat is its endothermic color-change technology. As the temperature reaches 95°F, you can witness the mat change color (whitening under the dog). This is supposed to be a visual representation of the mat's efficiency in absorbing heat to indicate that the mat is working.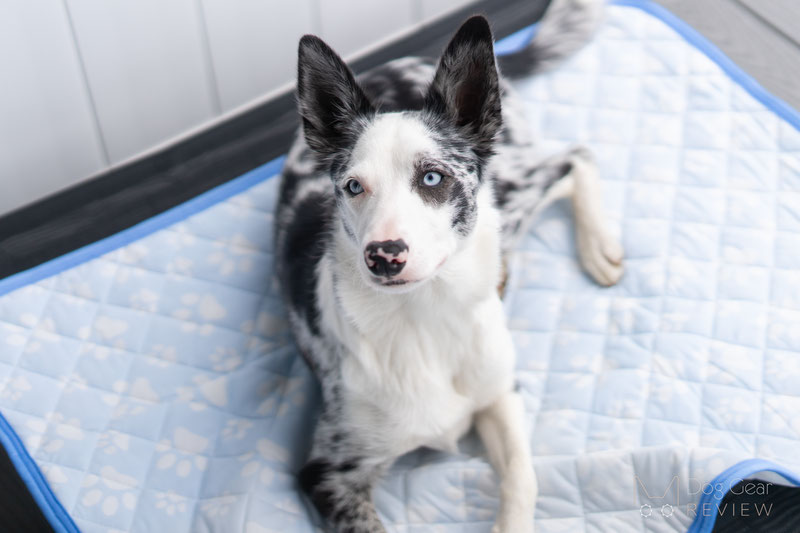 Rywell Arc-Chill Cooling Mat Review
When reviewing the Rywell Arc-Chill Cooling Mat, we need to discuss what cooling means in this case. If you're seeking a product with a significant cooling effect, ice or gel-based cooling mats might be more suitable for your needs.
However, this mat offers a cool-to-the-touch surface. It features a thin, breathable material that effectively dissipates heat, preventing it from becoming as warm as a regular bed or blanket would under your dog. It will still eventually warm up under the dog, and the underside of the dog will not be cool after laying on the mat - but it maintains a cooler surface compared to other materials.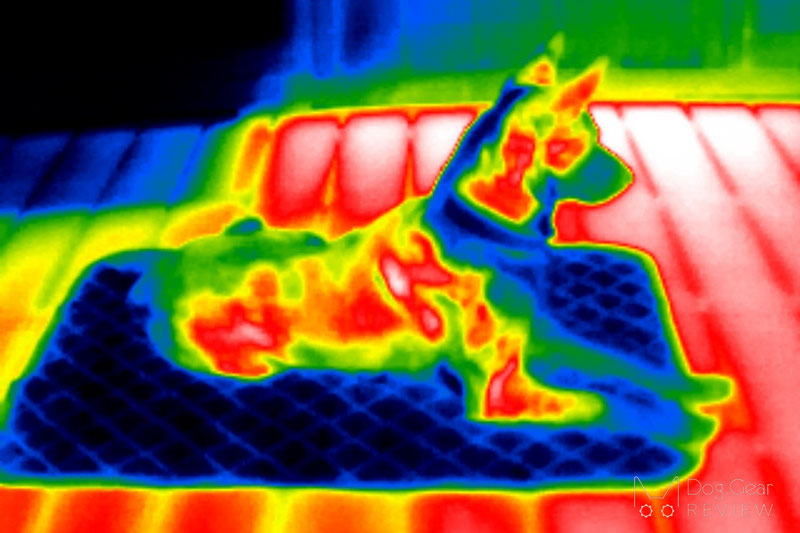 Additionally, I'd like to clarify that this isn't really a mat, more like a thin blanket with the non-slip back providing stability so it doesn't bunch up that easily. If you intend to place it directly on the floor and your dog requires/likes cushioning, this may not be the most suitable option for you.
I used this cooling blanket over Zulu's memory foam bed and elevated bed, and she seemed to enjoy it there. Typically, she tends to dig up any additional blanket, but she left this one in place and slept on it regularly.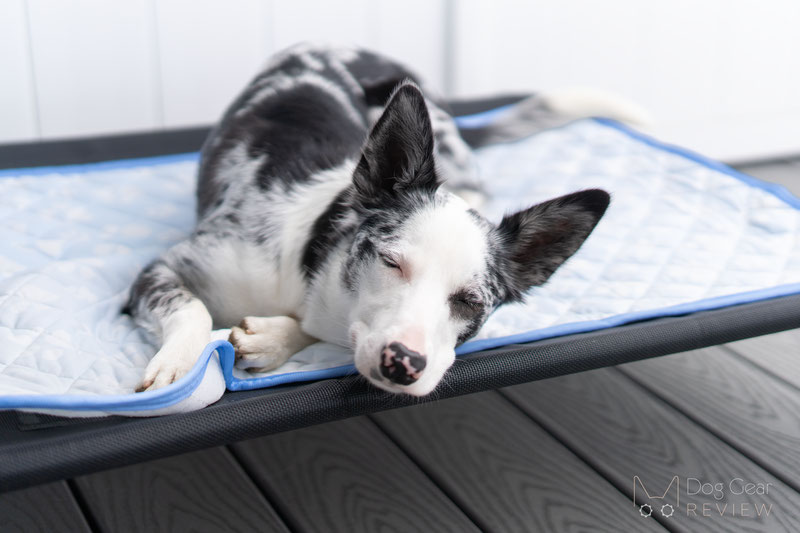 The "magic color-changing fabric" mentioned in the product description doesn't seem to correlate to its effectiveness, as it's simply a material that reacts to heat. It's worth noting that this feature has certain limitations: the cooling mat should not be used under direct sunlight or washed on a hot cycle, as doing so can damage this color-changing characteristic.
The color and pattern were never as vivid as in the product photos, but after I placed it outside for merely 5 minutes on a cloudy day while taking pictures, I noticed some more fading of the color. Later I stored it folded in half in a well-lit room without direct sunlight, and the edge of the folding clearly burnt into the material. Now the whole blanket just looks sad, as you can see below, even though it wasn't even washed yet.
It could have been exposed to high heat while storing or shipping during the summer, which might have caused the faded color to start with.
While the concept of the color-changing material is intriguing, in real life, it doesn't live up to the idea. Since the color change doesn't actually prove that the material is working, it makes me think that the mat would probably have a higher-quality feel without the color-changing feature/fading issue.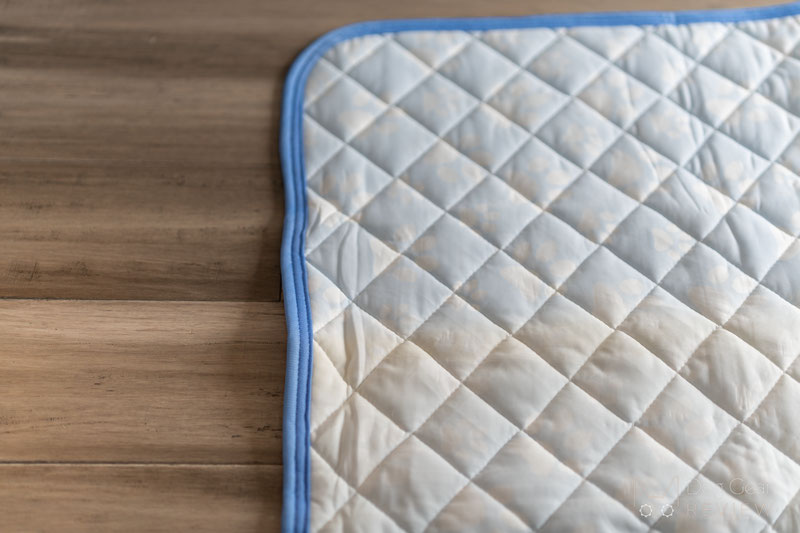 Considering all the points mentioned above, it's important to set realistic expectations for this product.
It worked well over Zulu's crate bed, stayed in place well, and she is more comfortable sleeping on this over the summer than on a fluffy bed or a fleece blanket which would make her feel warm quickly.
This mat is great for situations when you don't have the opportunity/don't want to use a more active cooling system. This also helps the dog to handle the heat without accidentally being overcooled e.g., when used in a crate where they cannot move away from it.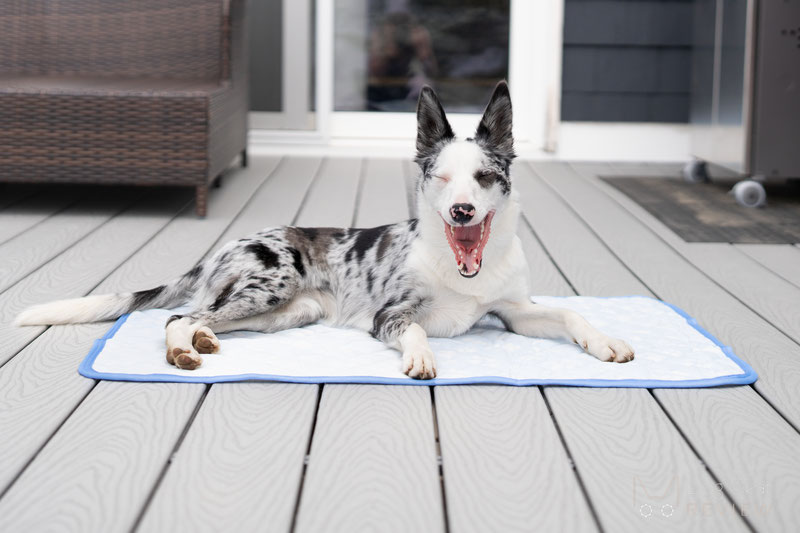 Review Summary
This self-cooling mat offers some decent selling points at its price point, and Zulu seems to enjoy staying on it on warm days.
However, I wish the product description focused more on these strengths rather than overly emphasizing the magic color-changing feature and possibly exaggerated cooling effects.
If you go into buying it with the right expectations, it is a good chill blanket!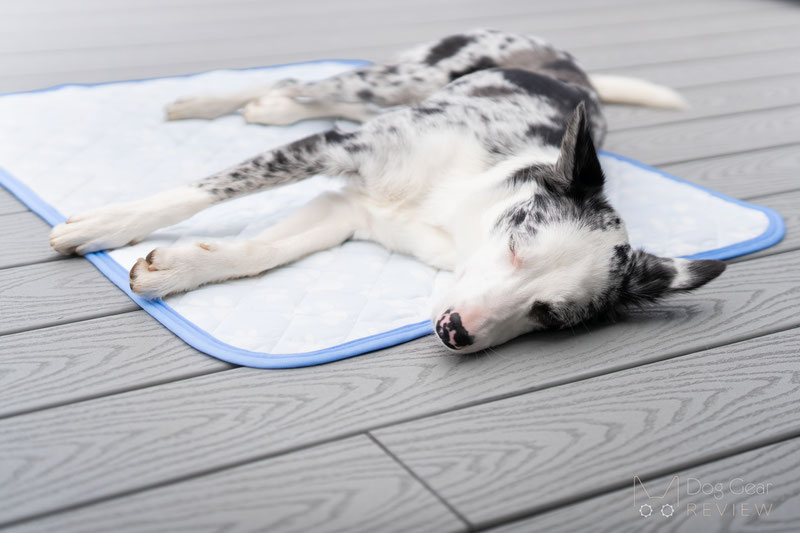 Where to buy & code
You can buy all this Rywell arc-chill mat through Amazon and use the "3HDQZTKF" code for 5% off until the end of 2023.
Disclaimer: this review contains an affiliate link, which supports Dog Gear Review if you purchase the product after clicking on it without costing you anything extra. Using affiliate links will never compromise us in writing unbiased, honest reviews!