Ruffwear is an outdoor dog gear brand based in Bend, Oregon, founded in 1994. The company is dedicated to creating gear for outdoor adventures and is guided by performance, adventure, and sustainability principles. They are committed to conducting business to maximize the good they can do in the world while being conscious of their impact on the planet.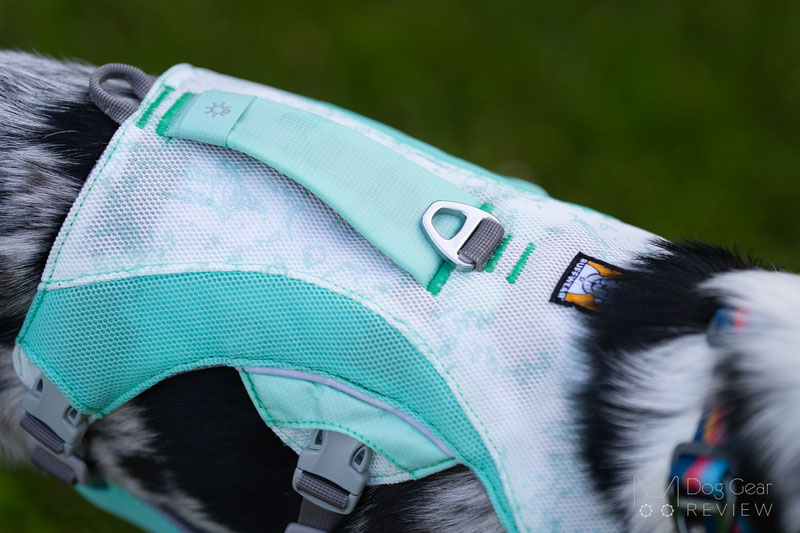 Why would a dog need help cooling down?
Some would argue that wolves or hunting/guarding/herding dogs never needed a cooling vest or a cooling mat, and they were all fine, so all these products are just the result of the "dog mom culture." ⁠But let's pause momentarily and consider the changes in our dogs' lives.
Once upon a time, dogs lived outside 24/7, so they had weeks/months to get used to the weather warming up at the beginning of the season. These days, family pets spend most of their time in an airconditioned or at least a somewhat temperature-controlled environment, making it much harder for them to handle the heat when they go out.⁠
Historically, dogs napped during peak heat in the shade, avoiding unnecessary exercise on hot days. These days, however, we might have to take the dogs for a quick walk during our lunch break, and we take them with us for vacation, kayaking, etc. There are also service dogs and working dogs who need to work even when it's hot.
There are also many widely different breeds with different needs and limitations nowadays. Originally dogs were bred for practical reasons, but as we all know, in the modern ages, most breeds were more bred for looks which took them far from those original working dogs/wolves.
Dogs are involved in our lives in very different ways than they used to, and many of them need help adjusting to the situations we put them in.
Does that mean all dogs need a cooling vest/cooling mat or another cooling product? Absolutely not, but learning about these products and knowing when and how to use them can save dogs' lives.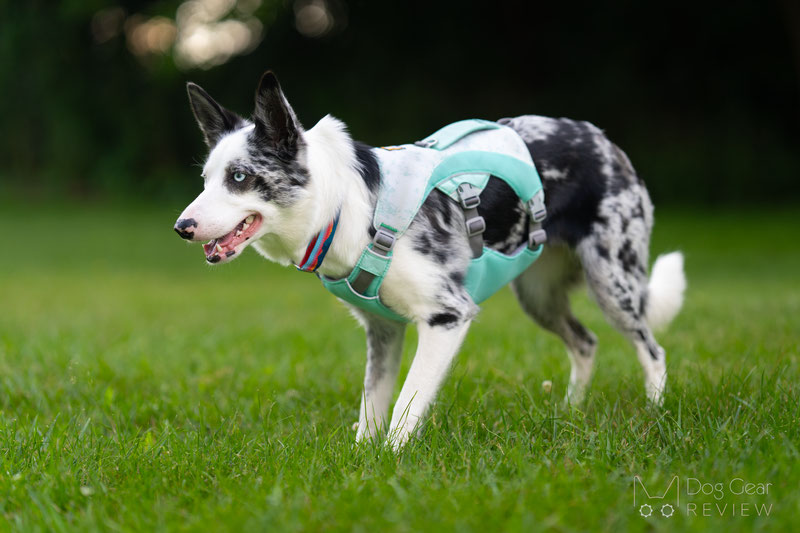 Do Cooling Vests/Harness Really Work for Dogs? How?
Evaporation-based cooling vests/harnesses work by creating a big surface for evaporation. They utilize the same process when humans sweat to cool down because when the water changes from liquid to a gaseous state, it pulls energy from its surroundings, creating a small temperature drop.
You could achieve the same effect if you soak the dog before heading out for a walk, but wet fur can cause rubbing and hot spots on long-haired, double-coated dogs, while short/thin-haired dogs dry too fast for this to be effective over a longer period. I always carry plenty of water when hiking, but it can be hard to pour it on a double-coated dog effectively. Most of the water sprayed on the coat usually just repels, and half an hour later, the dog is dry again. This makes using water directly on the dog very ineffective and unrealistic if you need to carry all that extra water.
Dog cooling vest and harnesses makes applying water much easier and more effective while it provides a longer-lasting cooling effect.
However, the effectiveness of the evaporation process will depend on humidity levels. On a humid day, the evaporation will be very slow or even non-existent, so instead of cooling the dog with the vest, they just have an extra layer warming them. On the other hand, if the air is dry and there is a strong wind, the evaporation process will be speedy, and the cooling vest might overcool the dog first and then stop working soon after.
If you want to read more about the pros and cons of the different cooling products, check out our article, discussing many options!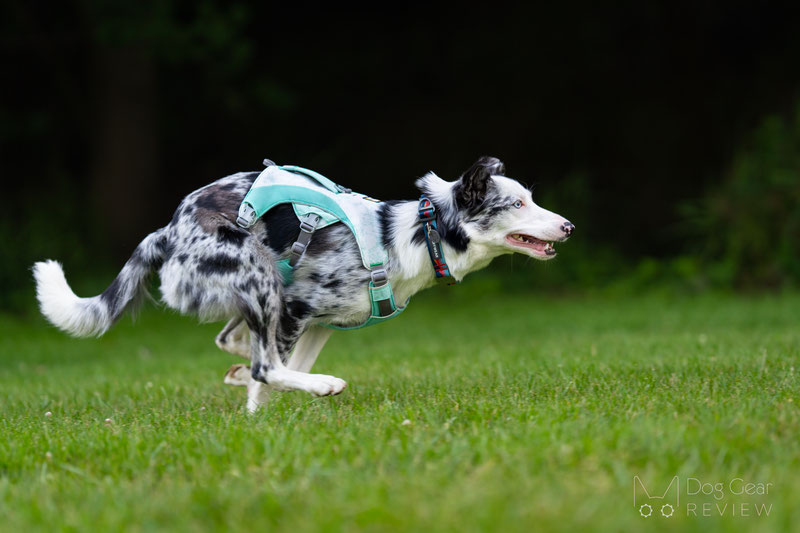 About the Ruffwear Swamp Cooler Harness
We have previosuly reviewed Ruffwear's Swamp Cooler Vest that features the same triple-layer Swamp Cooler™ Tech material:
the exterior polyester mesh layer deflects intense sunlight and heat while providing an optimal surface for effective evaporation
the middle Polyester non-woven felt layer acts as a moisture reservoir, ensuring consistent cooling
the inner dry-weave polyester mesh lining keeps the dog cool and the fur dry, contributing to a comfortable experience.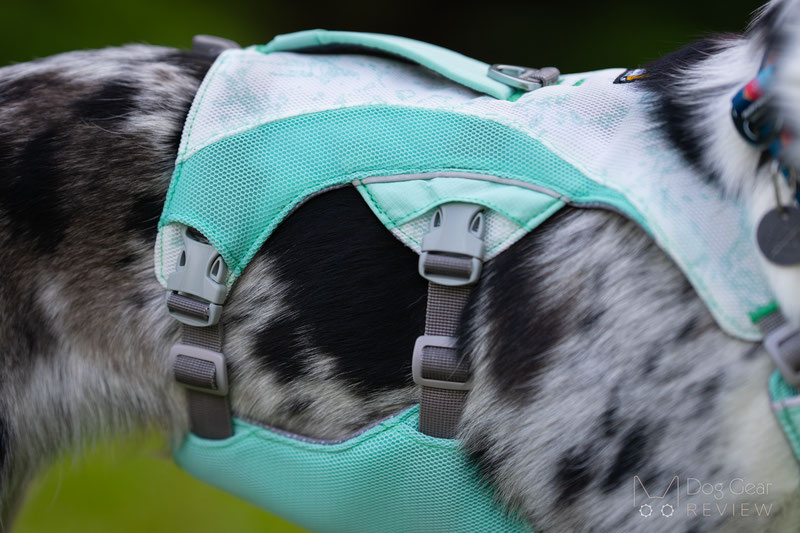 While the Swamp Cooler Vest was a relaxed fitting vest, the harness version was designed to fit similarly to their iconic Flagline and Webmaster harness (latter fits similarly with the addition of the Brush Guard).
The Swamp Cooler Harness features six adjustment points and four buckles, so there is no need to lift a leg when putting it on/removing it. It has a large padded handle, an aluminum V-ring for a leash attachment point on the back, and a reinforced webbing loop behind the handle for an additional attachment point.
It also features a reflective trim and a light loop on the handle for attaching The Beacon.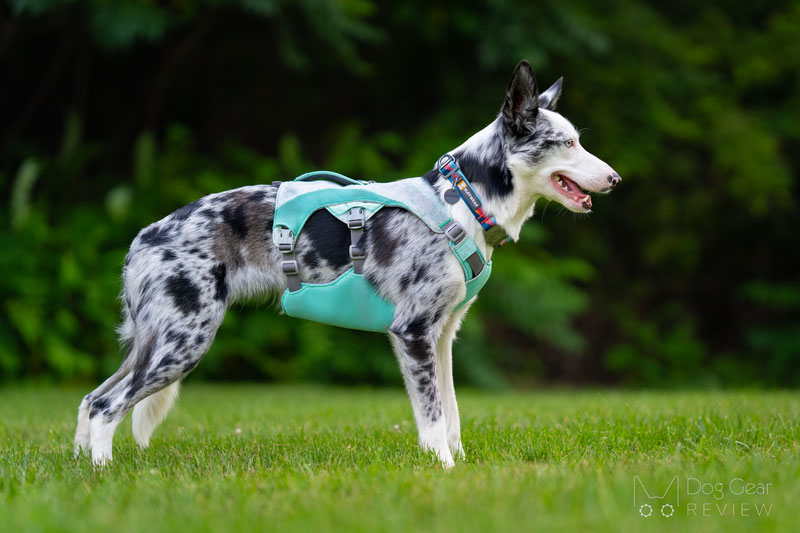 Ruffwear Swamp Cooler Harness Review
We started testing the Ruffwear Swamp Cooler Harness mid-summer and really liked the combination of the absorbent evaporation-based cooling material with the functionality of their harnesses.
Usually, I don't like adding a harness under a cooling vest/coat since it usually ends up rotating/pulling up the vest, so combining these two features is a great solution to prevent that. This also gives you a lower profile cooling product on the dog, eliminating the need to decide on a cooling feature before heading out for a hike/longer day. If you end up needing the cooling element - it is already on the dog, so it's easy just to add water without needing to carry around extra gear.
Zulu is wearing the small size, which fits her well with other Ruffwear harnesses.
However, as you can see in the photos, the Swamp Cooler harness is a tad bigger in the neck section than the other Ruffwear harnesses we used. It was tightened all the way, and the front section was still sitting too low on her neck/shoulders. I had many dog owners reaching out with the same experience, so this is something to consider if your dog is on the lower end of their neck circumference range.
I contacted Ruffwear regarding the fit of the neck section, and they responded with the following:
"The fit is inspired by our most popular harnesses, but because it's a cooling harness, it uses different materials with different levels of padding, which creates a slightly different fit."
If you are unsure how a harness should fit or why having a looser neck section is a problem, check out our article on the topic.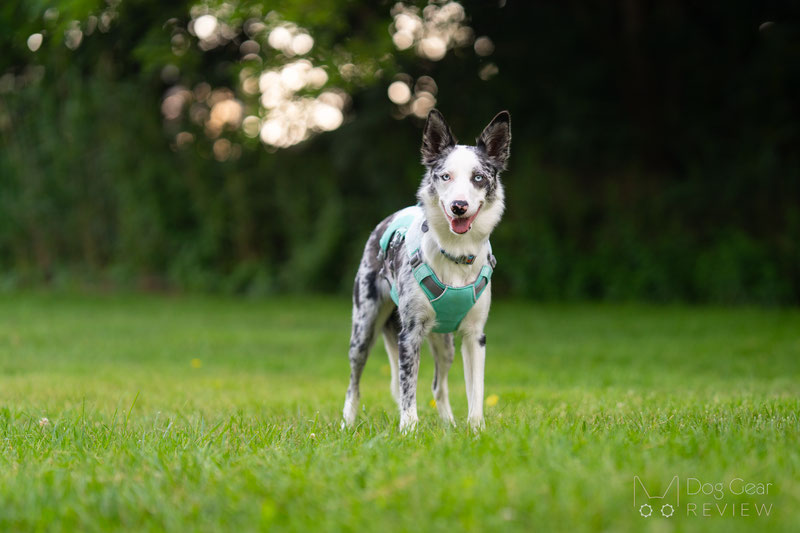 The mesh material makes it easy to pour water over it since it soaks it right in without any repelling effect. The cooling period highly depends on the heat, wind, usage, humidity, etc., but it did stay wet for an extensive time (usually 2-6 hours) in our area.
I usually applied the water while laying it on the ground to distribute it evenly, then shook off the excess water/let it hang for a few minutes, and then put it on Zulu to avoid her being damp under the vest over an extensive time. It stayed wet and cool for long hours without soaking the dog in the process.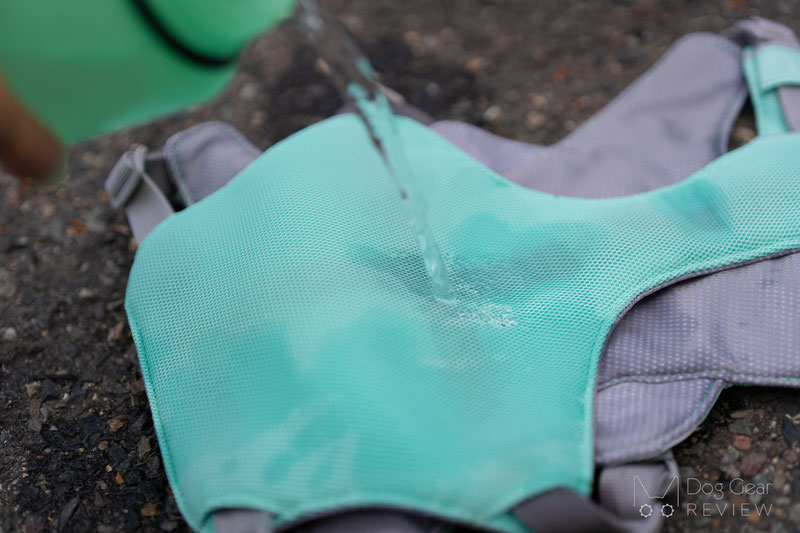 When checking the Ruffwear Swamp Cooler Harness with a heat cam, it's easy to see how well the evaporating and reflective effect works over the harness.
Although the harness does not cover the side, it has a large back and bottom panel that effectively cools the core.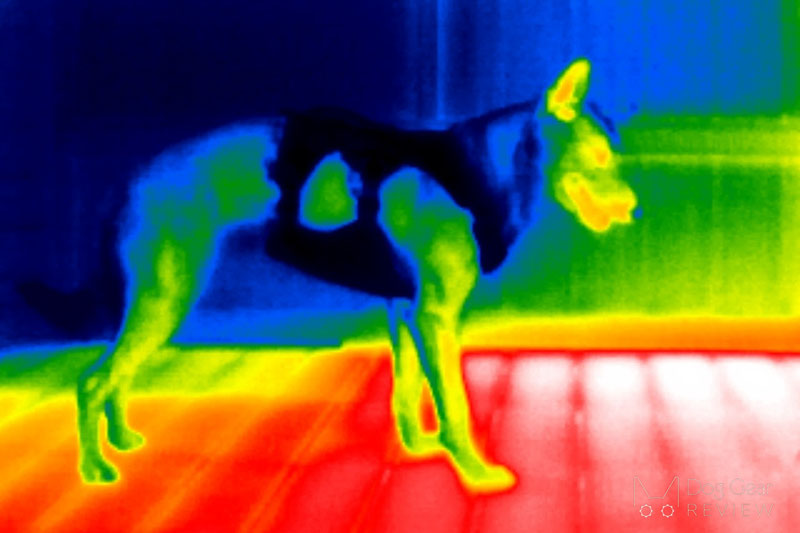 The image below shows Zulu shortly after I removed the harness she was wearing for 5 minutes. Her fur was dry under it as I let the harness drip for a few minutes before putting it on her, so the blue shape of the harness was only the result of its "dry cooling" effect, not generally dampening the fur.
Zulu's hair was clearly cooler under the harness material, even after only a few minutes of use.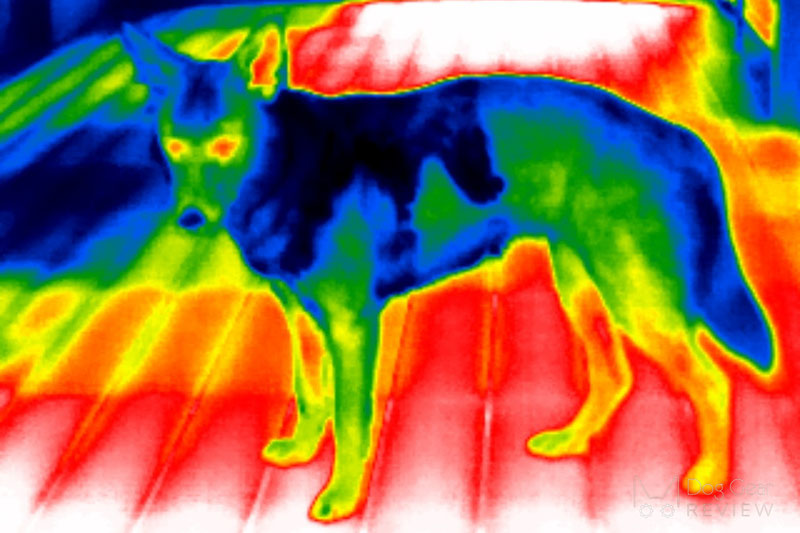 Review Summary
In summary, the Ruffwear Swamp Cooler Dog Harness offers a versatile solution for keeping dogs cool during outdoor adventures without bringing an extra cooling product. I only wish the sizing of the neck section would align with their other products to ensure it fits dogs similarly.
The material seems to be durable; however, the outer mesh layer will not be able to handle running through woods as well as the Webmaster or Flagline would. This harness can be a great low-profile solution for dogs who need a bit extra support during hot days, but they also need a safe and secure harness that they cannot slip when scared.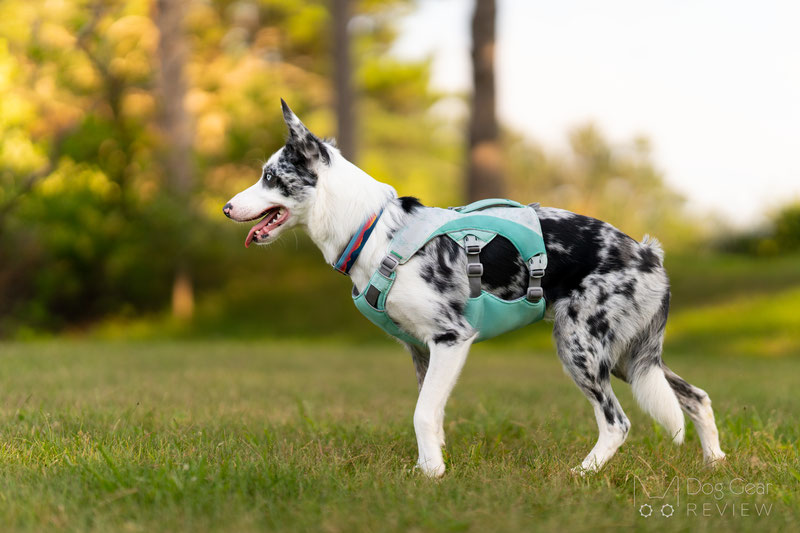 Where to buy
You can find Swamp Cooler Harness on their website and on Amazon. It comes in three colors and five sizes.
Disclaimer: this review contains affiliate links, which support Dog Gear Review if you purchase the product after clicking on it without costing you anything extra. Using affiliate links will never compromise us in writing unbiased, honest reviews!
Zulu's measurements
Many of you asked for the dog's measurements in reviews to better understand the different products' fit, so I'm sharing Zulu's below for reference.
Shoulder height: 19 inches (50 cm)

Weight: 29 pounds (13 kg)

Widest chest circumference: 24 inches (60 cm)

Neck circumference for collars: 13 inches (33 cm)

Back lengths: 17 inches (44 cm)