Ruffwear is an outdoor dog gear brand based in Bend, Oregon, founded in 1994. The company is dedicated to creating gear for outdoor adventures and is guided by principles of performance, adventure, and sustainability. They are committed to conducting business to maximize the good they can do in the world while being conscious of their impact on the planet.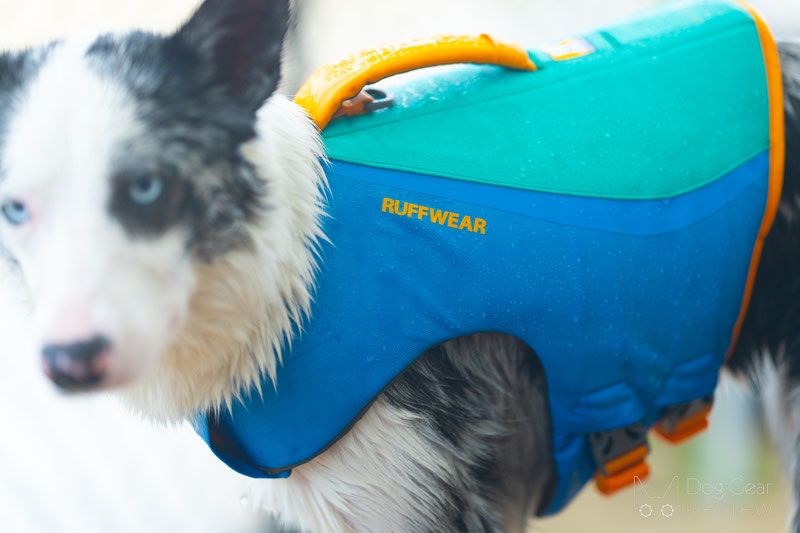 Why would a dog need a life jacket?
While life jackets can be a lifesaver for many dogs in many situations, not all dogs need one. So how do you know if it would be helpful for yours?
Let's start by talking about dogs with medical conditions, joint issues, or just bad swimming techniques that need a life vest's extra help. There are also dogs doing hydrotherapy as part of their rehabilitation, where life jackets are regularly used. It's clear that these dogs can benefit from a life jacket that helps them stay in a proper swimming position and let them safely enjoy some low-impact exercise.
How about a healthy young dog? They can benefit from a life vest the same way as small kids who can already swim. If you take your dog on a boat or kayak, they can unexpectedly fall into the water, and the cold water can cause shock to their body. Accidents can also happen when dogs jump in the water or play around it, hit their heads, and lose consciousness. It's also possible for a good swimmer to enjoy their water time too much and not stop when their muscles tire. This can cause muscle cramps that can be fatal if the owner cannot get to the dog in time.
Many people think that life jackets are just fancy gadgets, and our dogs (and wolves) lived happily without them in the past. While this is true, we also have to keep in mind that our dogs' lives have changed so much. We take them with us on longer trips on the water on a SUP or kayak; we train them in dock diving; we take them to dog beaches where we play fetch with them all day. All these are very different situations from a dog (or wolf) just enjoying some time around the water by themselves. These changes in their lifestyle require new solutions from our side as well to help our dogs safely accompany us on all these adventures.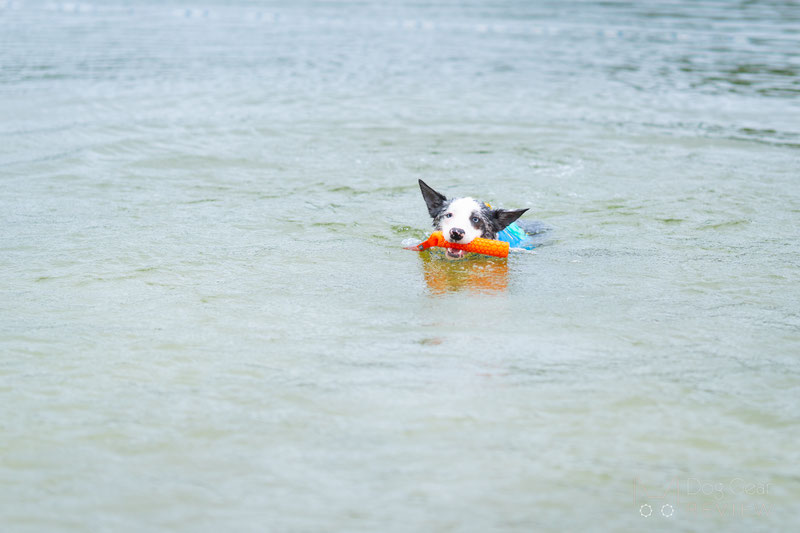 About the Ruffwear Float Coat
The Ruffwear Float Coat is engineered with precision and care to provide optimal buoyancy, comfort, and ease of movement for your dog while they enjoy the waters. With adjustable straps and ITW Nexus Airloc side-release buckles, the Float Coat™ secures a great fit on most dogs with good armpit clearance.
The buoyant, PVC-free foam keeps this life vest very lightweight and maneuverable. Ruffwear recently upgraded this life vest, and now they are using two different types of foam: CLPE foam on the outside and softer and more flexible foam on the inside. The vest is designed to support a natural swimming position while not restricting leg movement.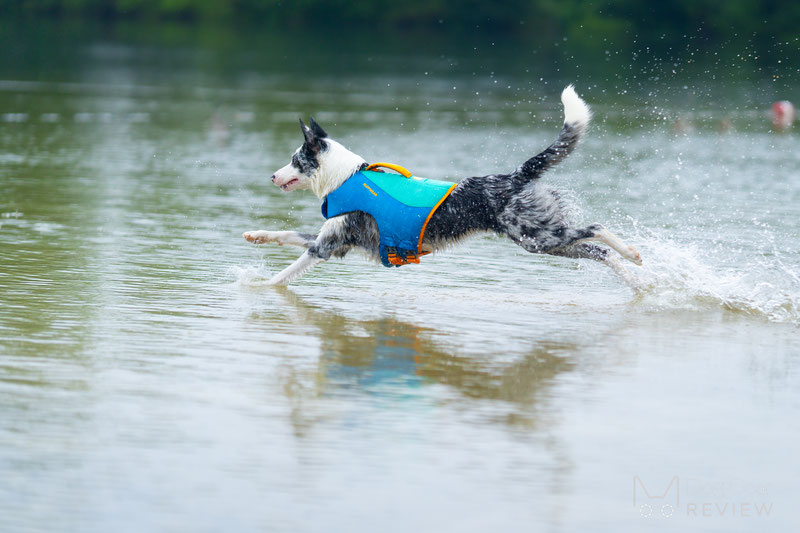 The easy-to-grab but low-profile handle on the back provides control, enabling you to guide or assist the dog in and out of the water effortlessly. There is also a plastic D-ring under the handle for leash attachment.
Ruffwear also kept visibility in mind and used vibrant colors and tonal reflective accents, ensuring safety in low-light conditions. The handle also has a light loop to attach their Beacon for adventures in the dark.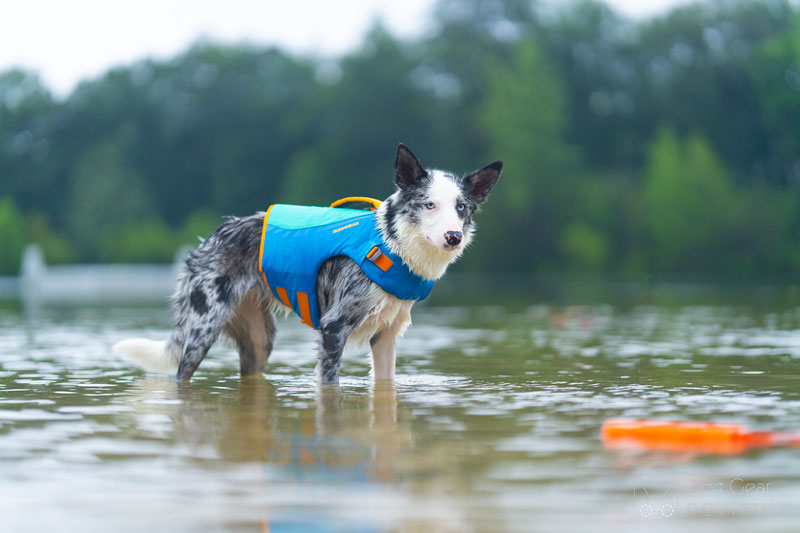 Ruffwear Float Coat Review
This was the first summer when Zulu realized she could swim, so I felt a lot more comfortable letting her explore the waters with the Float Coat on. This is the first life vest she has ever tried, and since she is a gear-shy dog, it took a little bit to get used to it, but she didn't mind wearing it at all when playing/running.
It is a surprisingly light jacket even when wet since it soaks in minimal water. It is somewhat flexible, but still, the most rigid gear Zu had on her, which affected her turns a bit - but again, she is a sensitive, gear-shy dog.
Zulu is also a proportionally deep-chested dog with a small neck circumference, and the Float Coat still fits her well! She had good armpit clearance, and the neck section sat where it was supposed to when it came to life vests. It stayed in place and didn't rotate or ride up while using even though she ran around a lot on the beach.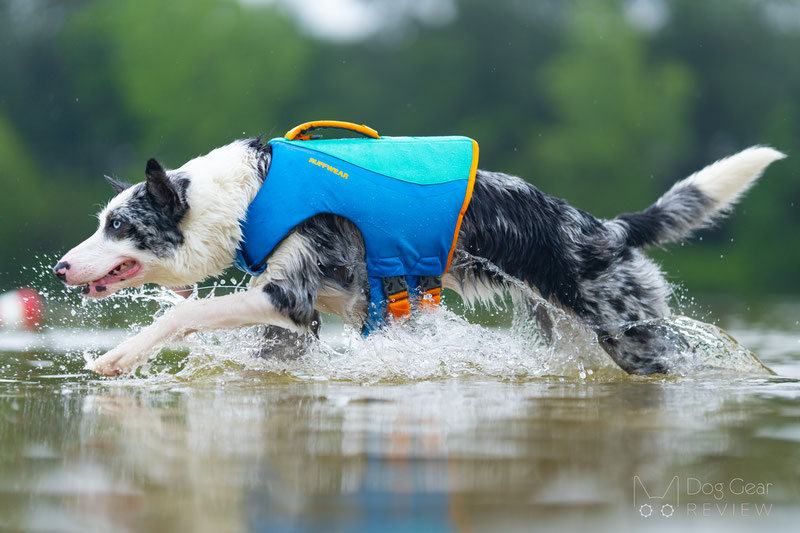 When swimming, the Float Coat provided the right amount of support which helped her gain confidence in the water. The handle is low-profile to avoid getting caught on something but still easy enough to grab, even from a boat or kayak, to help the dog out as needed.
The D-ring is fairly hidden under the handle, which minimizes the chance of getting caught, but it is also a bit hard to access if you need to leash up the dog suddenly.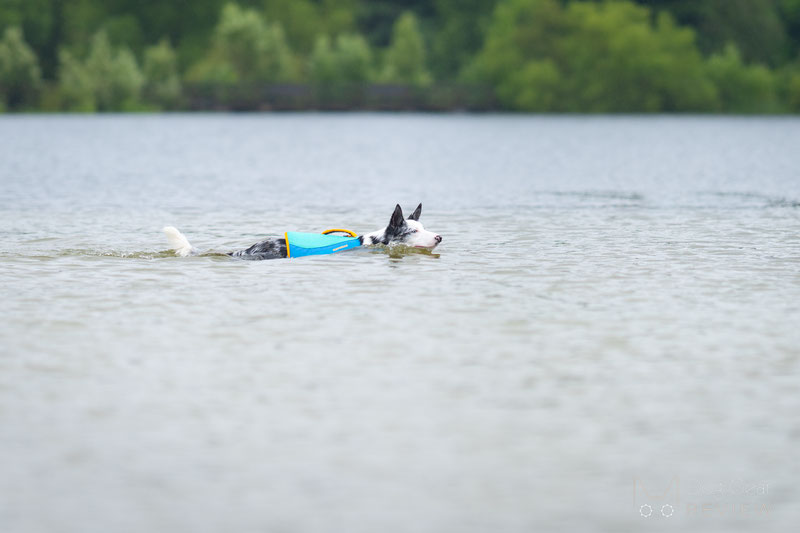 The buckles feel strong, and the "telescoping neck closure" is a neat feature to adjust its length while maintaining the padding on that section.
The chest section is secured with the buckles only, which worked well. Many life vests have velcro on that section, collecting the dog hair and dirt over time. The Float coat is a low-maintenance, durable life vest with its 800 denier ballistic polyester shell fabric.
Summary
Solid buckles, a clever neck closure, a great fit, and hassle-free maintenance make the Float Coat a great option on the dog life vest market. It is a sturdy, low-profile, lightweight option with all the neat features you can ask for, and most of all - you can count on it to keep the dog safe.
Its back panel is still a bit rigid - even with the newly updated foam layers - but it is on the more flexible end of the spectrum when it comes to life vests.
Where to buy
You can find the Float Coat on their website and on Amazon.
Disclaimer: this review contains an affiliate link, which supports Dog Gear Review if you purchase the product after clicking on it without costing you anything extra. Using affiliate links will never compromise us in writing unbiased, honest reviews!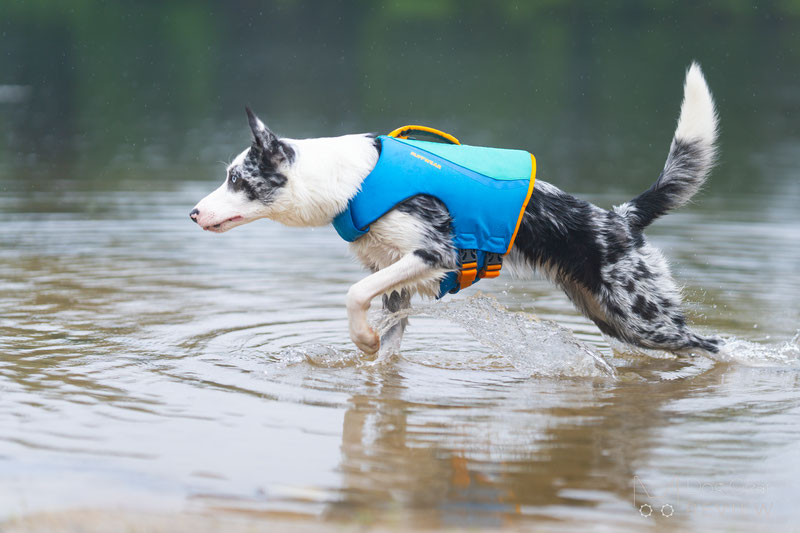 Zulu's measurements
Many of you asked for the dog's measurements in reviews to better understand the different products' fit, so I'm sharing Zulu's below for reference.
Shoulder height: 19 inches (50 cm)

Weight: 29 pounds (13 kg)

Widest chest circumference: 24 inches (60 cm)

Neck circumference for collars: 13 inches (33 cm)

Back lengths: 17 inches (44 cm)