Ruffwear is an outdoor dog gear brand based in Bend, Oregon, founded in 1994. The company is dedicated to creating gear for outdoor adventures and is guided by performance, adventure, and sustainability principles. They are committed to conducting business to maximize the good they can do in the world while being conscious of their impact on the planet.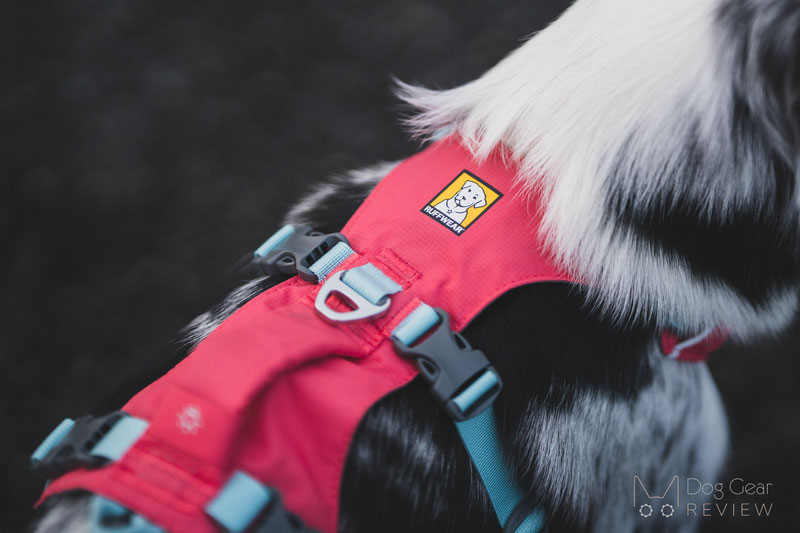 About the Ruffwear Flagline Dog Harness
The Ruffwear Flagline is a high-quality harness designed to provide comfort, control, and safety for dogs on walks. This lightweight and durable harness is crafted from robust but light materials, ensuring long-lasting performance while keeping even gear-shy dogs comfortable and safe.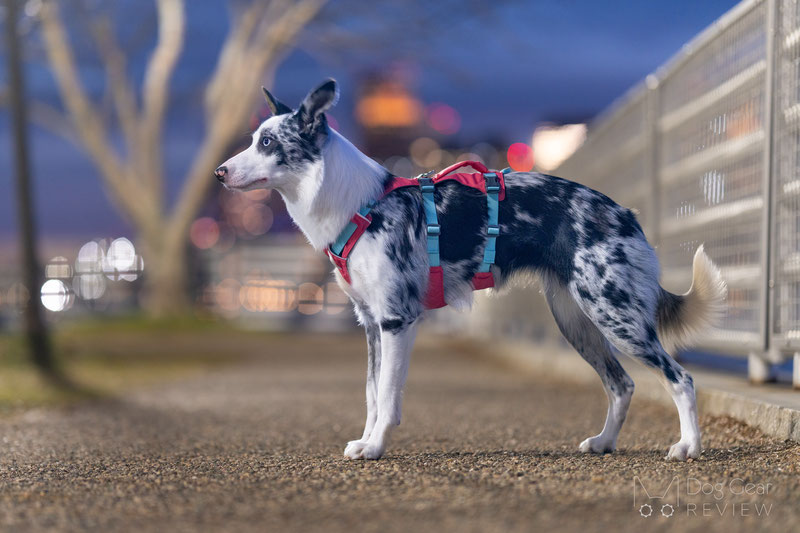 One of the standout features of the Flagline harness is the three-strap design and the connected underside to distribute pressure when the dog is lifted. Customization is key for a comfortable fit, so the Flagline harness offers all adjustable straps around the chest, belly, and neck, allowing a snug and secure fit for dogs of various sizes and shapes.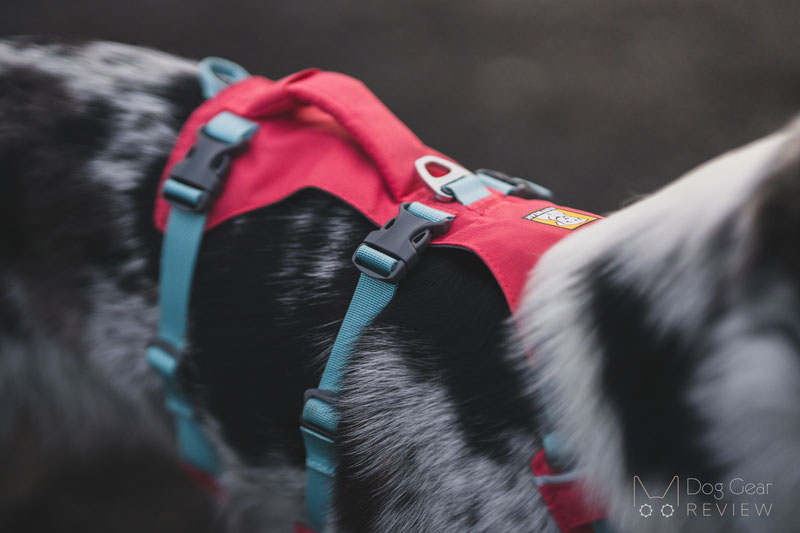 The harness has a sturdy aluminum V-ring leash attachment point on the back, and two reinforced webbing loops: one on the chest for no-pull training and one at the very end of the harness. These attachment options give you flexibility and control based on your specific needs.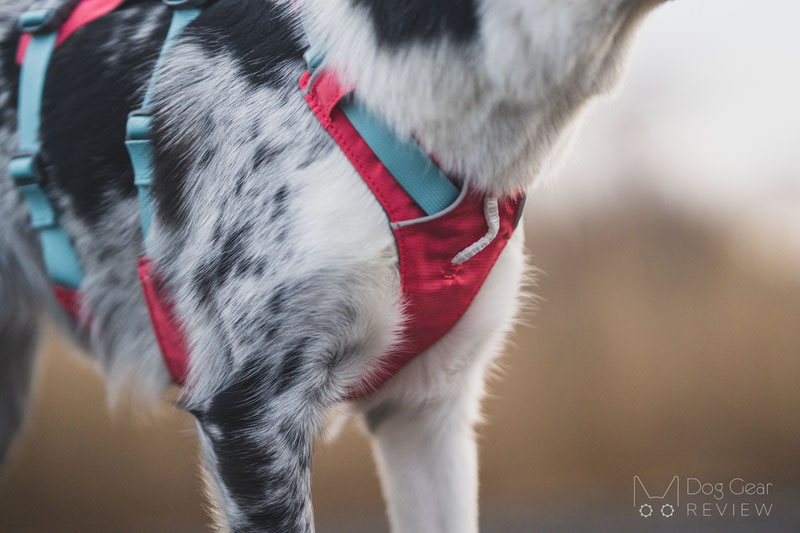 For added convenience, the Flagline harness includes a padded handle on the back. This handle allows you to quickly and easily lift or assist your dog over obstacles, making it ideal for hiking or navigating challenging terrain. The Flagline harness also incorporates reflective trim along the edges and a light loop on the handle to attach a small LED light.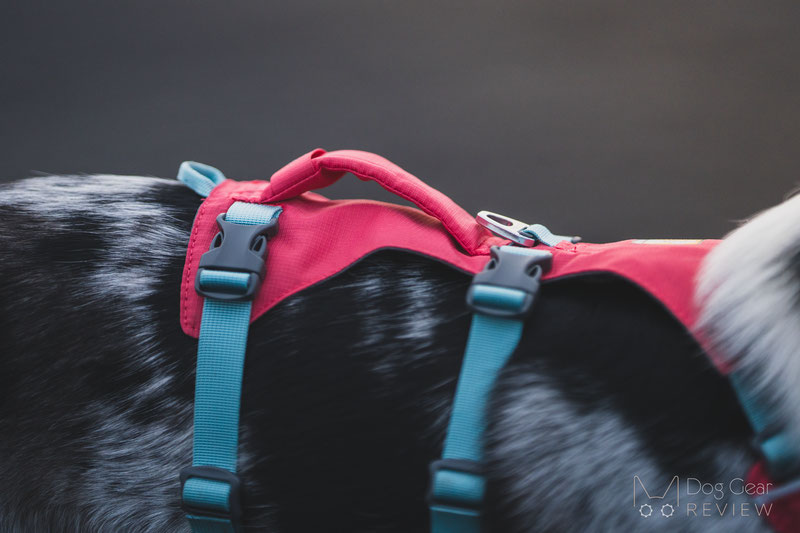 Ruffwear Flagline Dog Harness Review
The Flagline harness quickly became my go-to choice for city outings with Zulu. Unlike other H- or Y-harnesses that she can easily slip out of, this harness provides me with peace of mind. I know that even if she gets startled by a sudden noise while walking in the city, she won't be able to back out of it.
What I love about the Flagline is its lightweight and thin design. Zulu doesn't typically like harnesses with a lot of coverage, but she doesn't mind wearing this one after the initial few minutes.
One of the great features of the Flagline is the connected underside which distributes the weight of the dog very well. Unlike most three-strap harnesses that require lifting a leg to put them on, this harness only needs to go over Zulu's head. All the chest straps have buckles on them, making it quick and hassle-free to put on and take off.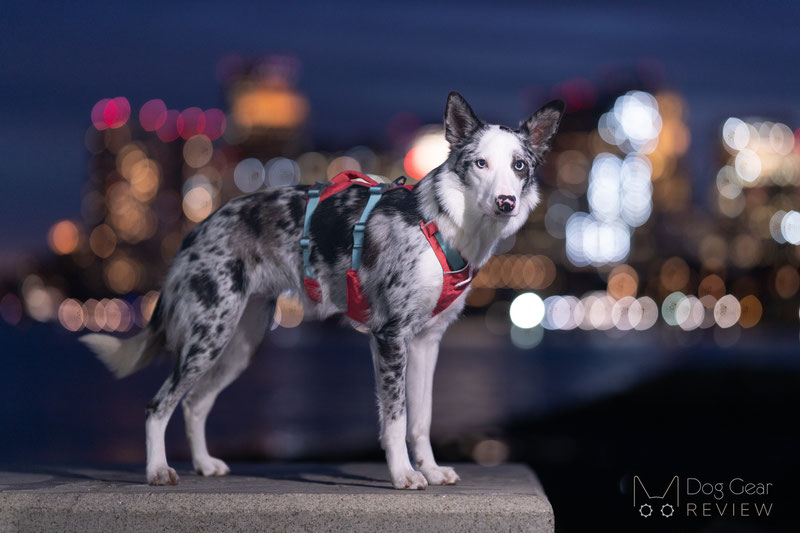 The thin material of the Flagline harness makes it an excellent choice for summer outings or muddy hikes. Unlike thicker harnesses that can contribute to the dog overheating and become heavy when soaking up water, this harness dries quickly and remains lightweight. Additionally, it's low-maintenance, as dirt and dog hair can be easily brushed off, and most cleaning can be done with a quick rinse.
When it comes to the fit of a three-strap harness, it often depends on the dog's proportions. However, the Flagline harness generally provides a decent armpit clearance for most dogs, allowing for free shoulder movement.
It's worth noting that due to its material and design, the harness may ride up slightly when pulled forward by the back leash attachment or when using the no-pull front attachment point. While the thin material of the harness may provide somewhat less structure than what's ideal for a no-pull harness, the webbing loop is placed high enough on the chest to minimize rotation to the side when it turns the dog towards you.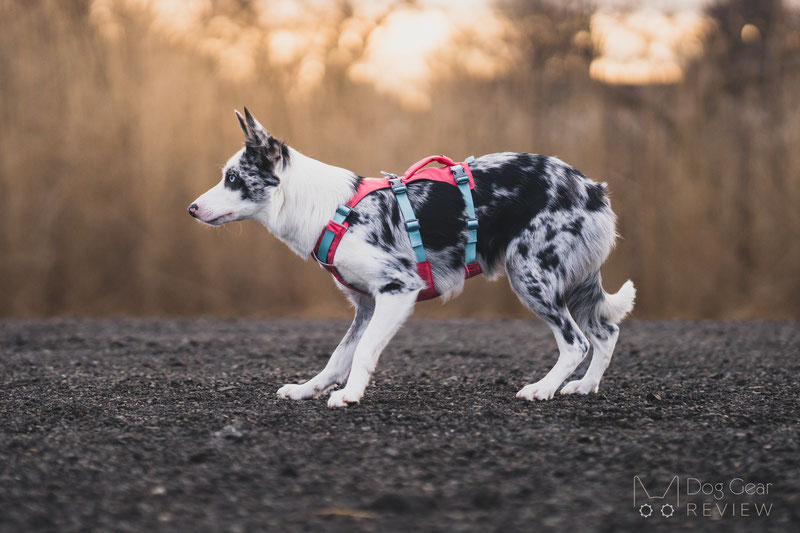 The Flagline harness features an ergonomically shaped section between the front legs, preventing chafing on the inside of the legs, even for narrow dogs like Zu. This design ensures optimal comfort and eliminates any discomfort or irritation, even during prolonged use or vigorous activities.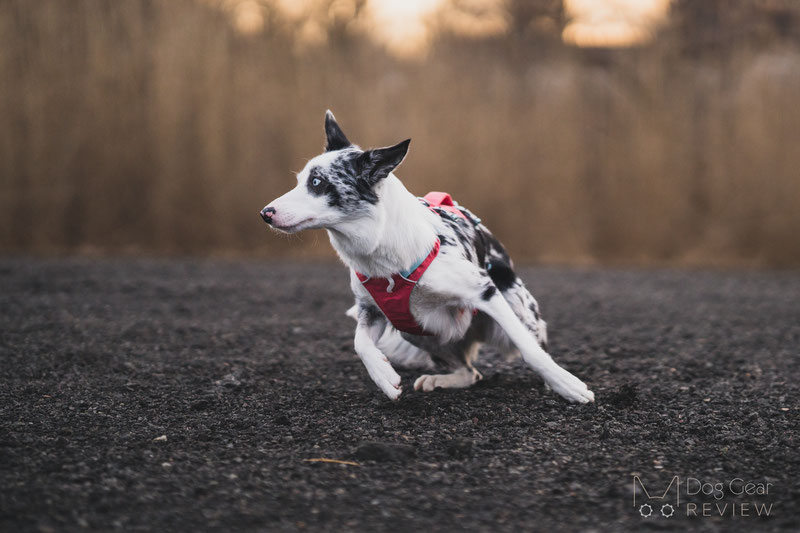 During our testing, the only issue we encountered was that the chest straps tended to loosen up during vigorous off-leash adventures. After about an hour of running and playing, I noticed that I could fit my entire palm under the straps instead of the recommended 2-3 fingers. However, I found that this occurred when the sliders were not pushed all the way to the end of the excess straps.
Once I adjusted the sliders to hold down as much of the excess strap as possible, the straps remained stable, and we did not experience any further loosening issues. It's important to pay attention to this detail during initial setup to ensure a secure and snug fit for your dog throughout their activities.
Web Master vs. Flagline
Two popular three-strap dog harnesses on the market today are the Flagline and the Web Master, both made by Ruffwear. We received many questions on how to choose between them and how they compare, so we wrote a separate article discussing that in detail.
In the photo below, you see the Web Master pictured with the Brush Guard, which makes its fit more similar to the Flagline's.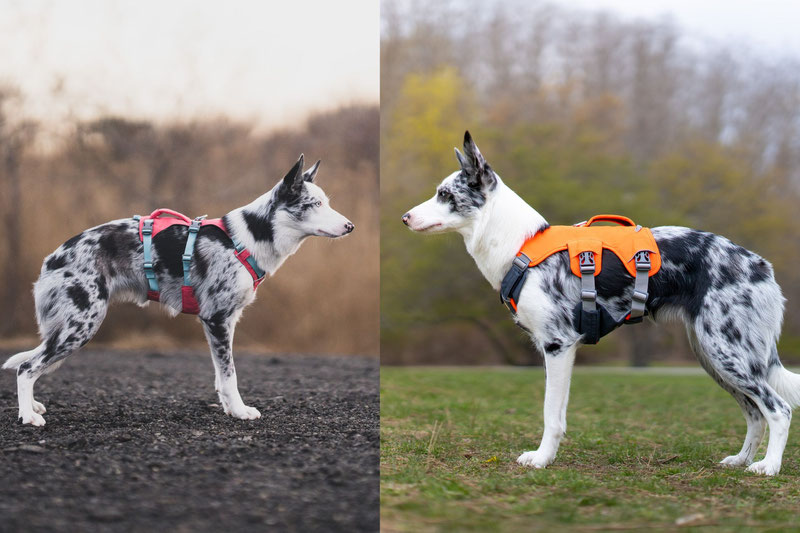 Functionality Review of the Ruffwear Flagline Dog Harness
No-pull correction: It is a good no-pull option when the chest attachment point is used, although its effectiveness will depend on how the harness fits the dog.

Running/Biking: This is not a pulling harness. There is no padding on the neck-straps, which makes it unsuitable for pulling sports. However, it can be used if the dog just runs next to you if it provides a comfortable armpit clearance for your dog.

Hiking: It comes in visible colors, and the durable, light material makes it great for hikes when you need to help the dog up steep sections. In addition, the harness dries fast and doesn't soak in much water, so it's a low-maintenance option for muddy hikes.

City walk: Works well; the visibility is excellent for evening walks and provides security since dogs cannot back out of the harness easily.

Easy to put on/adjust: It has four buckles on the chest straps, so it only needs to go over the dog's head; no need to lift the legs. Getting the adjustment right might take a long time, but the six adjustment points allow for a good, customized fit for most dogs.

Visibility: The reflective rim and the light loop ensure high visibility, while some color options are more visible than others.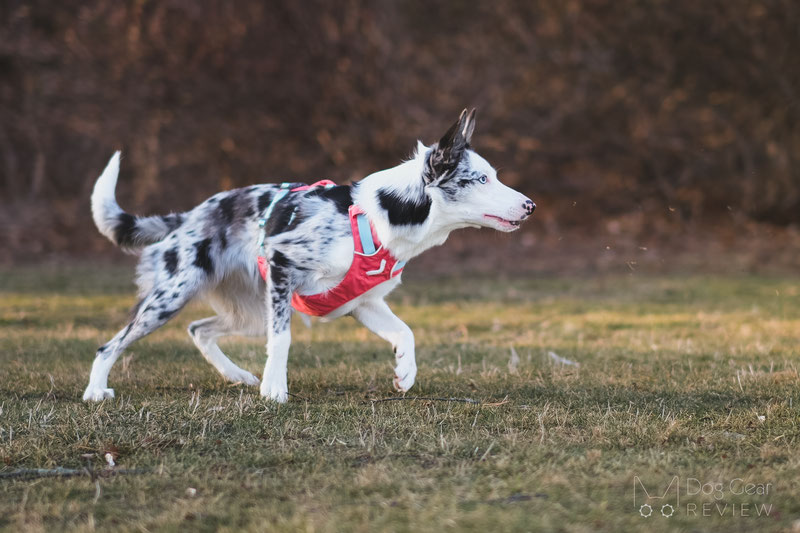 Review Summary
The Flagline harness is an excellent choice for outdoor adventures, particularly when your dog may need assistance navigating challenging terrain. While it's important to note that it's not intended for emergency carry-outs, the harness offers valuable support during such situations.
One of the standout features of the Flagline is its low-profile design, providing minimal coverage compared to most three-strap harnesses. This makes it particularly suitable for dogs who are sensitive to wearing gear or for hot summer months, allowing dogs to stay cool and comfortable.
Despite its lightweight feel, don't mistake the thin material for weakness. The Flagline harness is highly durable, capable of enduring extensive use without showing signs of wear and tear.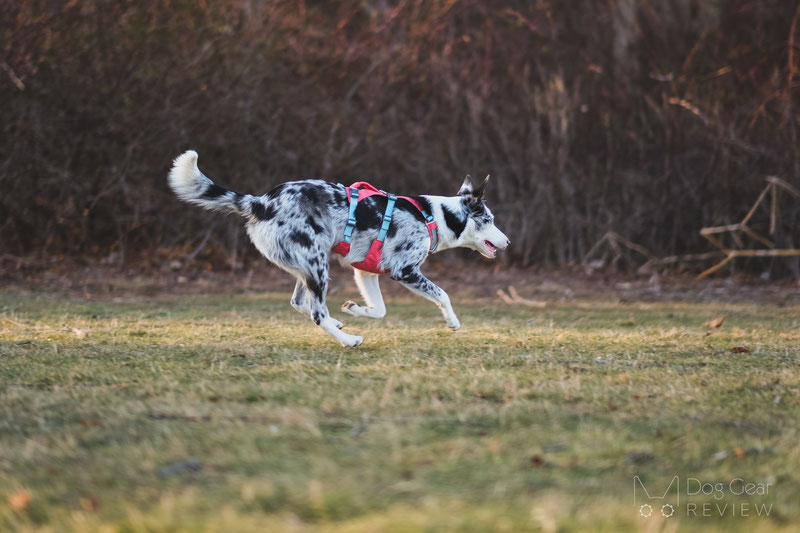 Where to buy
You can find Flagline harness on their website and on Amazon.
The harness currently comes in five sizes and four fun colors - 8 colors altogether with the four older colors that they are discontinuing. For reference, Zulu is wearing the small Flagline in Salmon Pink color.
As always, be sure the harness is a good fit for YOUR dog. If you need help deciding, read our article on harness fitting.
Disclaimer: this review contains affiliate links, which support Dog Gear Review if you purchase the product after clicking on it without costing you anything extra. Using affiliate links will never compromise us in writing unbiased, honest reviews!
Zulu's measurements
Many of you asked for the dog's measurements in reviews to better understand the different products' fit, so I'm sharing Zulu's below for reference.
Shoulder height: 19 inches (50 cm)

Weight: 29 pounds (13 kg)

Widest chest circumference: 24 inches (60 cm)

Neck circumference for collars: 13 inches (33 cm)

Back lengths: 17 inches (44 cm)