(The review was updated after testing both the V1 and V2 goggles!)
Rex Specs
Rex Specs' idea came to life when the founders' dogs ended up with eye problems worsened by extended exposure to the sun during their adventures. They did their research, hoping to find eye protection that would stay on and be comfortable for the dogs. They had no luck, so they created Rex Specs! Today they are a well-known brand, and you can see their goggles on military dogs and also on weekend-warrior pups.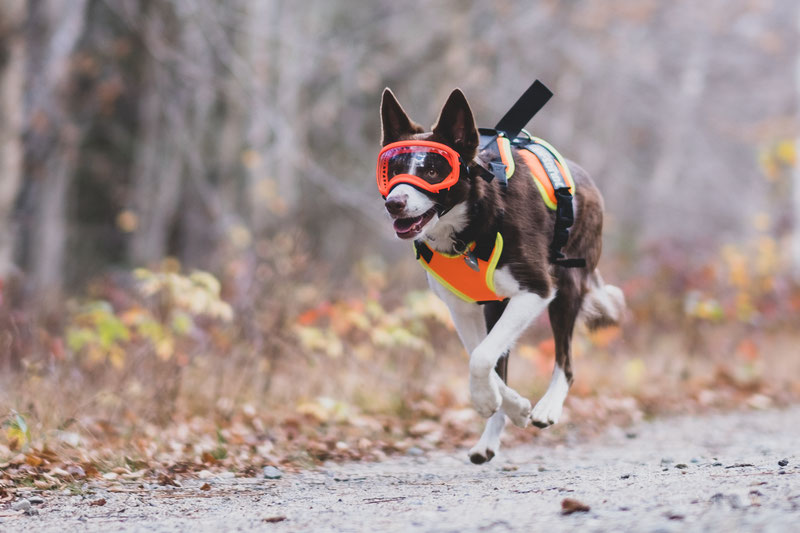 Why would a dog need goggles?
Since this is a bigger topic, we ended up writing a separate article discussing how we came across the idea of putting goggles on Mia and its different advantages.
Check out our article "Why would a dog need goggles?" to read more on the topic! ;)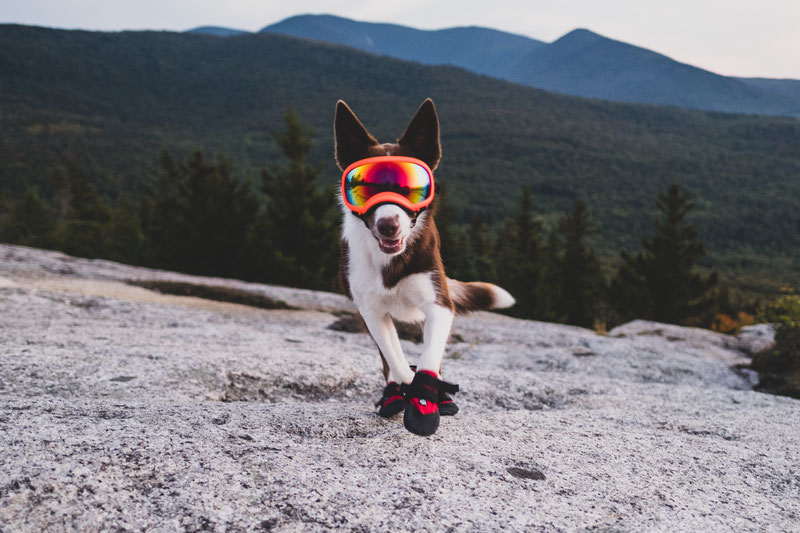 The details of the Rex Specs Goggles
The Rex Specs' design is very similar to ski goggles. The frame's material is much more flexible and durable than you would expect; it is basically shatterproof.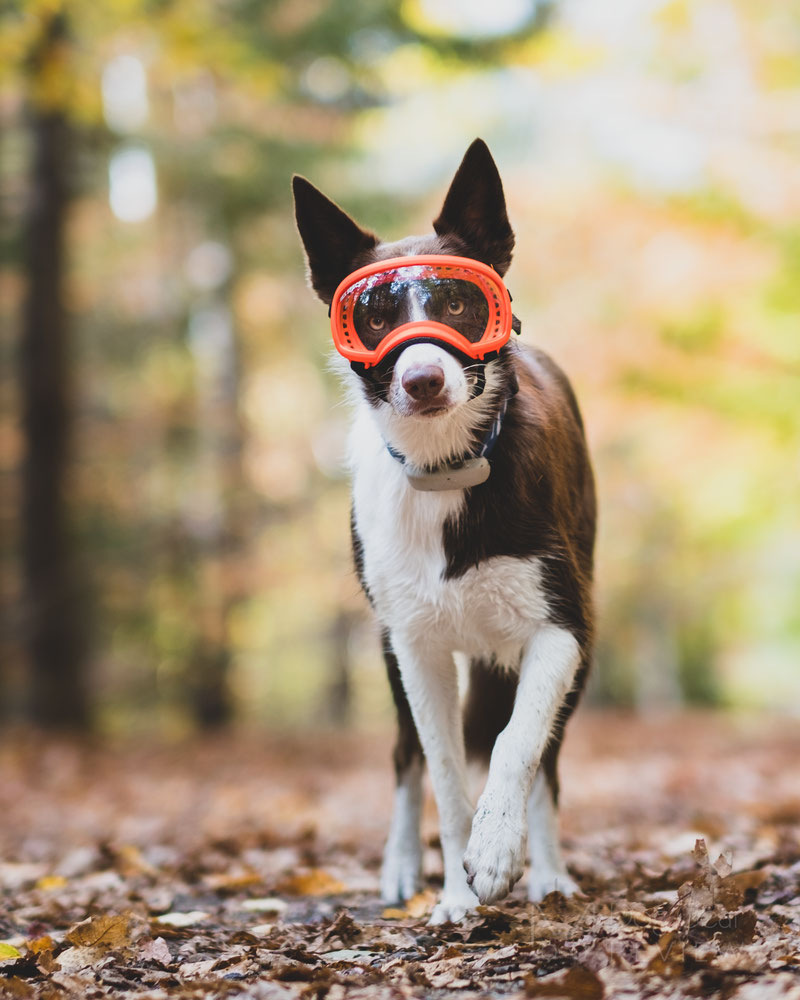 The goggles have a breathable mesh cover on the sides and foam edging for comfort. This provides a tight seal around the eyes while letting the air through. This design also allows water to quickly drain from the goggles if used while the dog is swimming.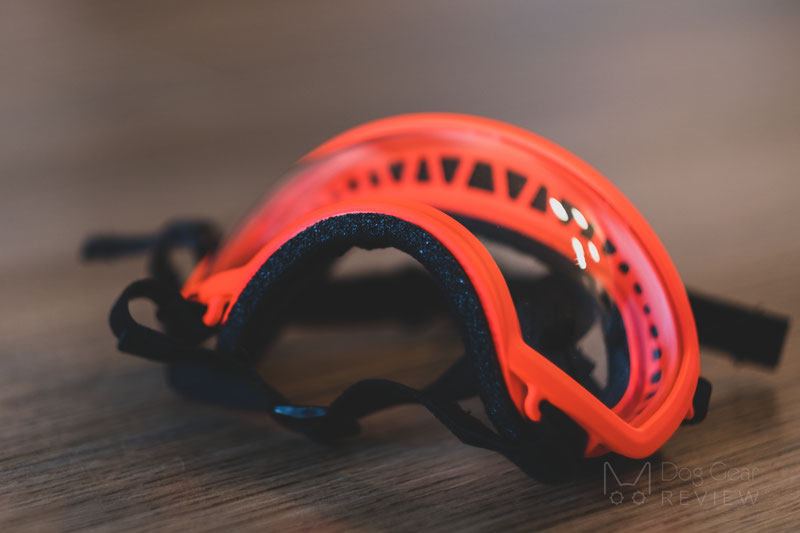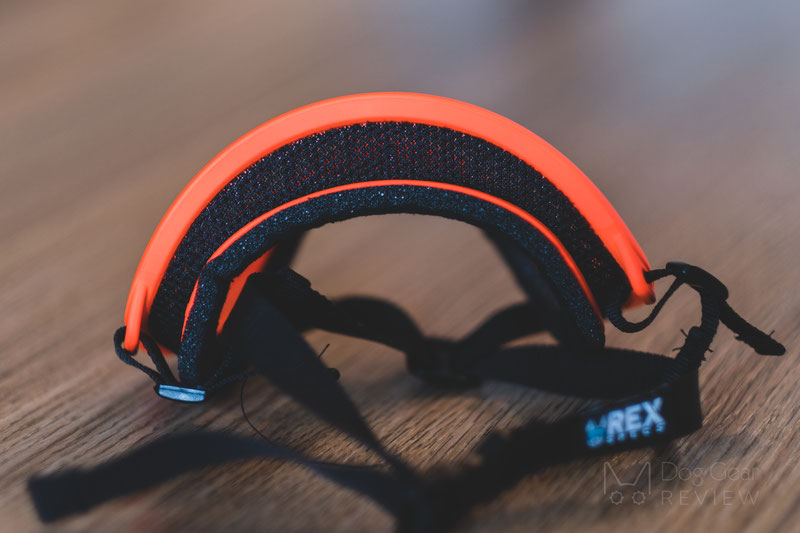 The strap system is fully adjustable and elastic to ensure an ideal fit for all dogs. The elasticity provides a good range of motion for panting or playing fetch while the goggles still stays in place securely. There is only one small plastic buckle on the straps, which is secured on the top behind the ears, making it easy to put on or take off.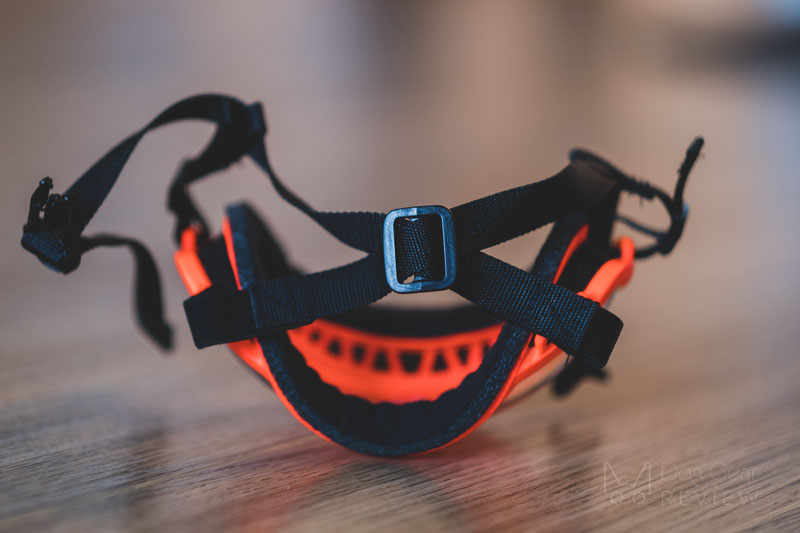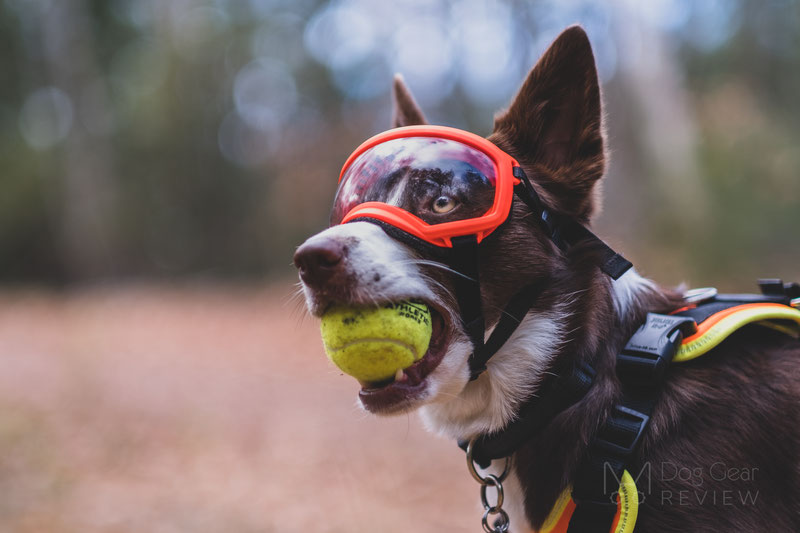 Fitting and adjusting all those straps and sliders can be a little tricky first, but they have great videos on the website walking you through the ideal fit.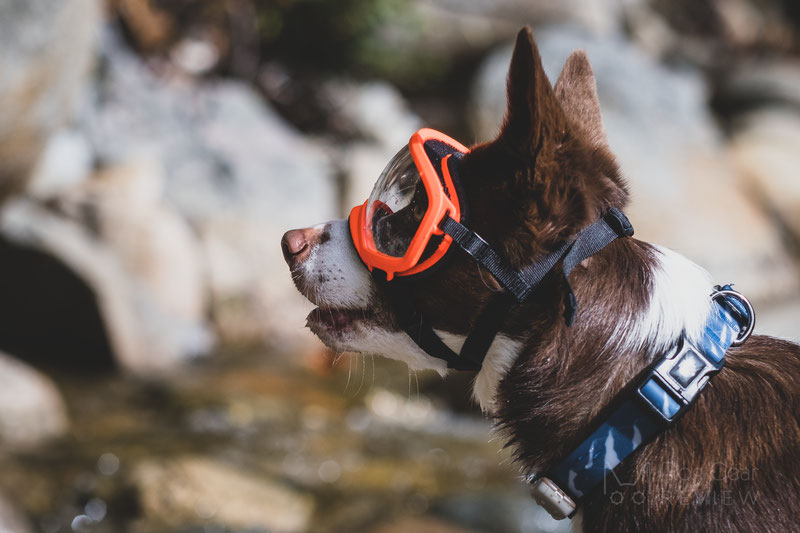 The Polycarbonate lenses are impact-resistant and shatterproof. All of their lenses (even the clear ones) are rated UV400, blocking 99.9% of UVA and UVB rays. If your lens would get beaten up after using it for a longer time, you can buy replacement lenses separately.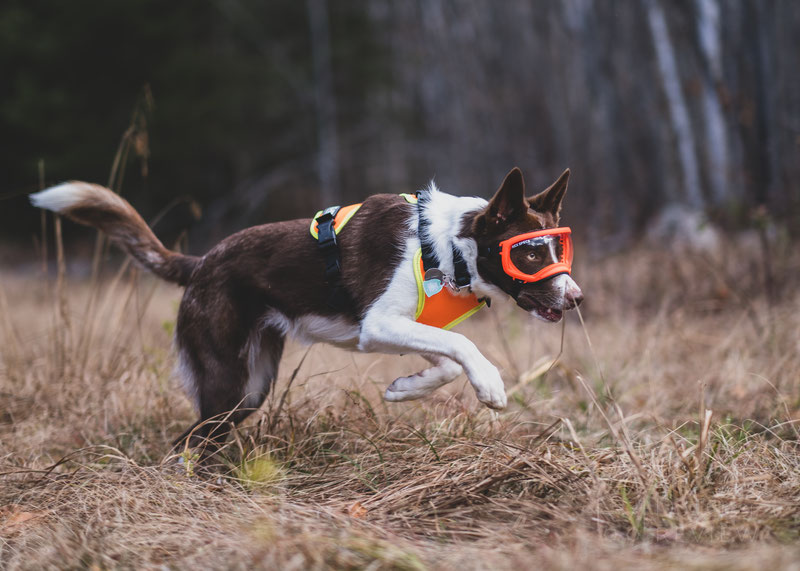 Finding the right size
We spent a long time debating between the medium and large Rex Specs for Mia because she was between sizes.⁠ Her nose circumference is around 8,5-9 inches, while her head is 14-15 inches depending on where I measure precisely and how tight/loose my tape measure is. As you see below, there is a significant size difference between the two sizes. ⁠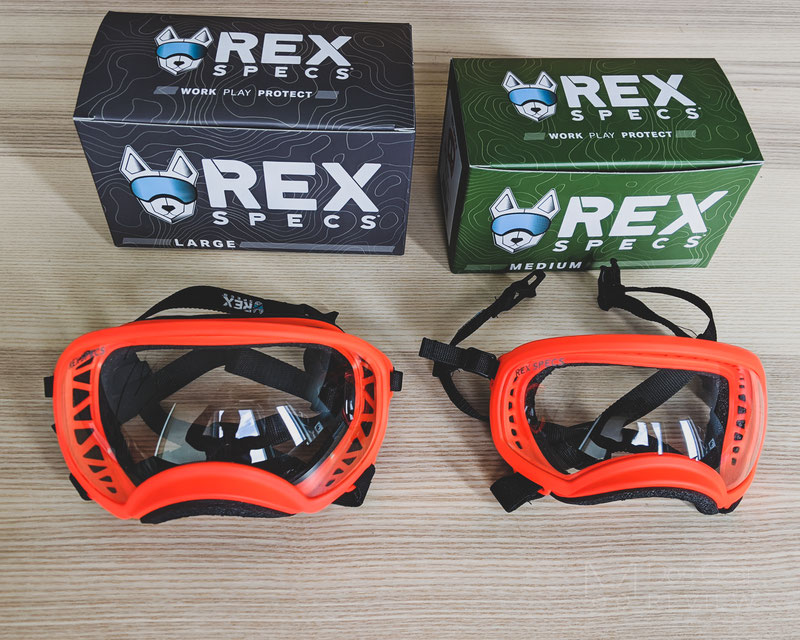 We ended up going with the large, thinking that it would leave more room for a full pant and provide better peripheral vision. Both are important because we are using the goggles on long and usually off-leash hikes. The Large goggles ended up sliding up on Mia's head to her ears and also shifting to the sides. I couldn't tighten it more around her muzzle to bring it back down because the muzzle straps were positioned in the middle of her snout, limiting her pant when tightened. Ideally, you want the dog's eyes to be in the middle of the goggles after running around for a bit; you don't want the bottom of the goggles to be right under her eyes, limiting her vision.⁠
Photos of size Large below: ⁠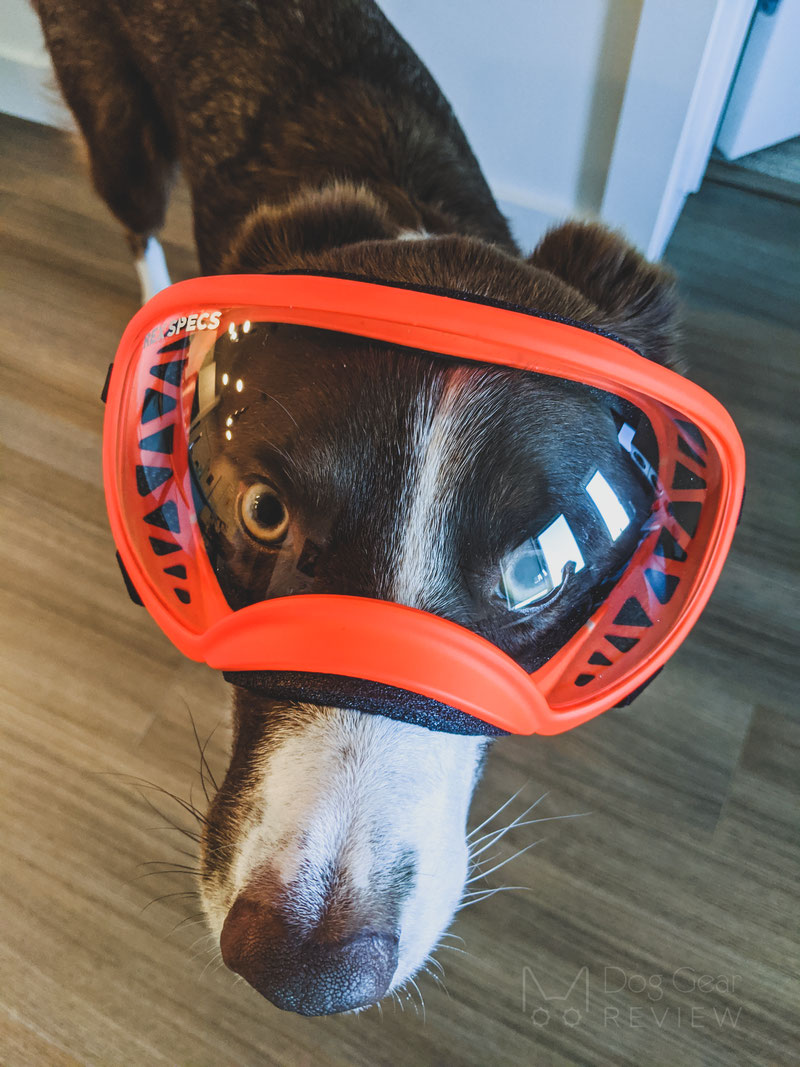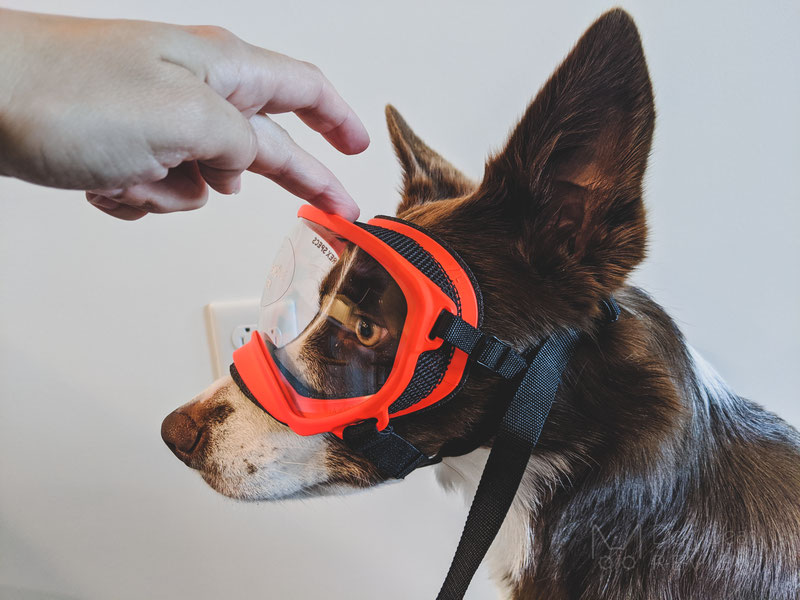 We ended up exchanging it for a Medium, and it fits much better. The muzzle straps are now behind the corner of Mia's mouth instead of the middle of her snout, which stabilizes the goggles. It doesn't slide up, neither rotates around. Whenever we are concern about the pant-room, we test it using a tennis ball. If Mia happily grabs the ball, she will be able to comfortably pant as well since she is super sensitive to any pressure and would not even try to take the ball if something is limiting her face ;)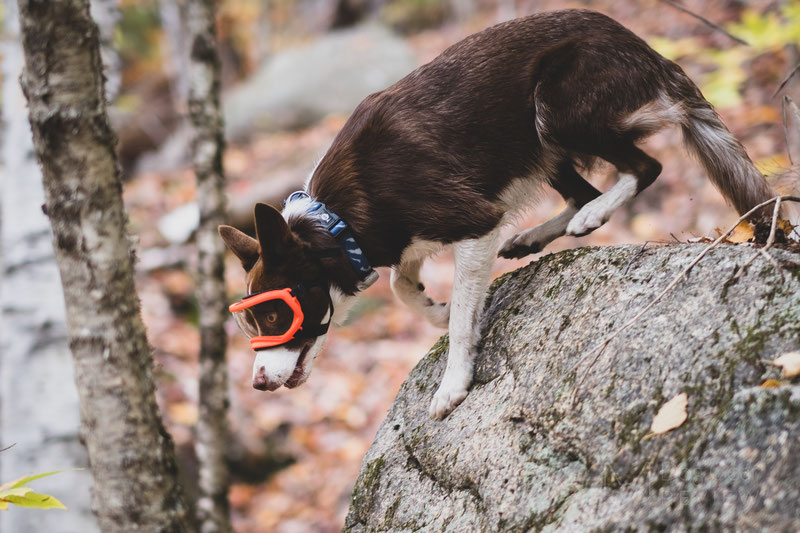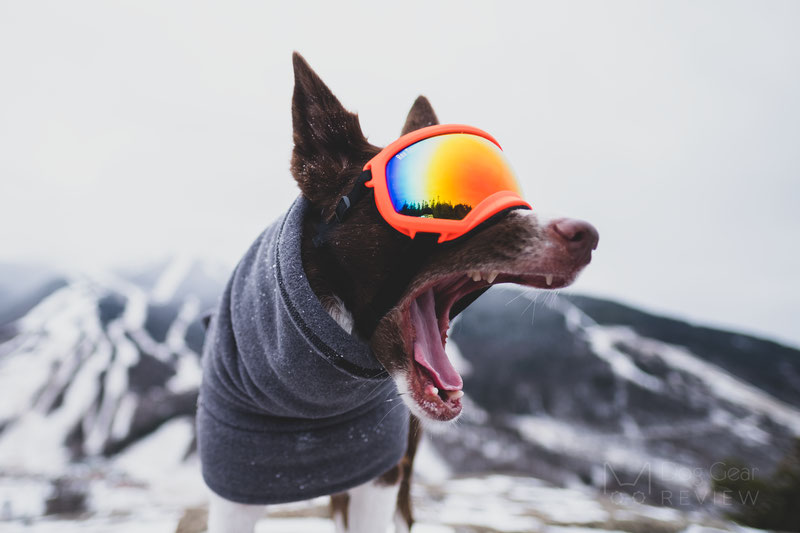 Rexspecs V1 vs V2
The original V1 design (reviewed in this article) was great, but Mia is a perfect example of a dog between the medium and large sizes - you can see how both fit her in the next section. Many owners faced the same dilemma: they would prefer the large's better field of vision but need the medium's stability and snugness. This is the main problem that the new V2 goggles solved!
The main difference between V1 (orange) and V2 (teal) is the fit, so everything else in this article still applies to the new version. If you are interested in seeing the comparison of the two versions, check out our article on the topic!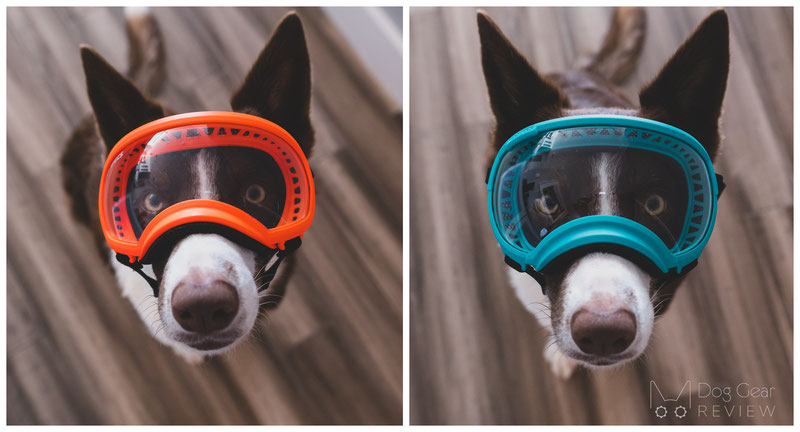 What's the difference between their different lenses?
As we discussed above, all their lenses have a UV 400 rating, which means they block 99% of the UVA and UVB rays. The difference between the lenses is in durability and protection from bright light. All the lenses are impact-resistant, but it's expected that their top layer will get scratched sooner or later if the dog runs through bushes.
The clear lens is a good choice because it provides the best visibility even when scratched. They are also excellent "starter lenses" because dogs have an easier time getting used to this one than a dark lens.
The different mirror lenses are useful because they block more light - just like our sunglasses do. This is important for dogs whose eyes are sensitive to light - e,g, dogs with light-colored eyes or a dog who recently had eye surgery. Their darkest mirror lens is the Silver mirror that only lets 13% of the light pass through, while our Red mirror allows 20%. They also have a Smoke lens (not mirrored) that allows 20% light through. The outer layer of the Smoke lens provides better visibility when scratched than the mirror lenses.
You can read more about their lenses on their page for replacement lenses.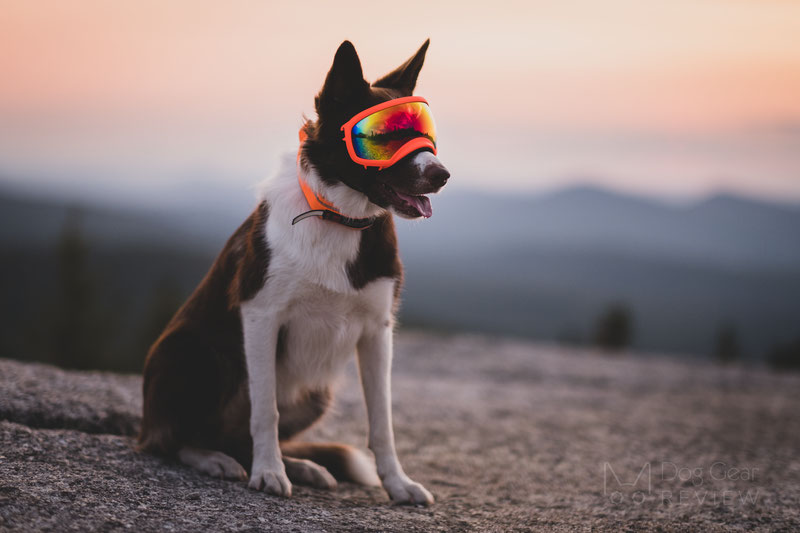 Rex Specs Review
We were worried that Mia would have a tough time getting used to wearing the goggles. It took a fair amount of time to desensitize her to wearing a muzzle two years ago, and we were ready to go through the same hassle with the goggles. Fortunately, muzzle training perfectly desensitized her to wearing goggles as well!
In the beginning, we had a few sessions playing fetch and tug with her favorite toys while wearing the goggles, then we went for a shorter hike to see how she does, but she basically had no problems wearing it from day 1. In general, you want to spend more time with similar exercises to be sure they like wearing the goggles.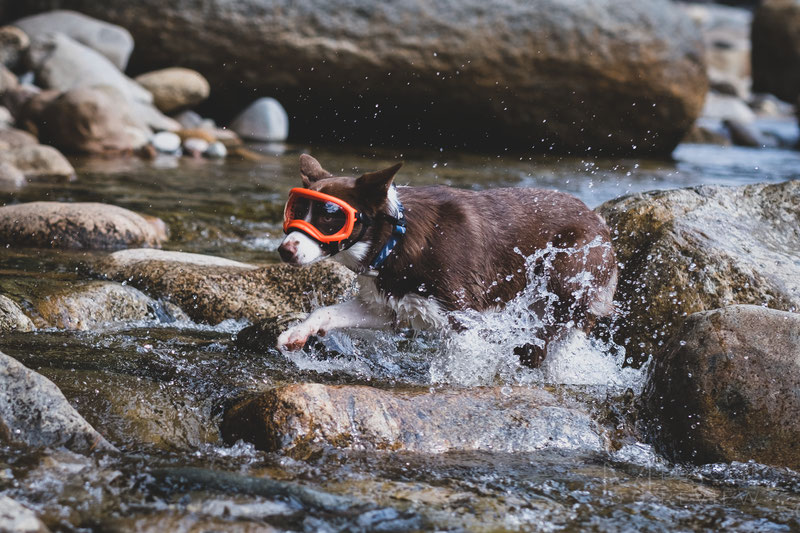 We had a challenging time adjusting the straps perfectly. After readjusting it multiple times, I only realized that the right side strap was a little bit looser after checking the photo below. As you see, even a slight asymmetry in the lengths of the straps can shift the lenses to one side, so you want to double-check them after you feel you get the adjustments right.
We mentioned Mia's eye trauma in the article about the different reasons for using goggles. It is a terrible experience when you have to worry about your dog's eyesight, and I hope never to face that again. Having the Rex Specs on Mia for off-leash hikes gives me peace of mind.
In the beginning, I was concerned that she might get stuck on something in the woods with all those straps, but the design is quite streamlined, and the goggles doesn't have an opening that could get stuck. When we started training for Search and Rescue, I also felt that Rex Specs could be a great safety addition once we start longer searches in the woods - especially if she will be searching in a dense forest at night. She is so focused on her task that she runs through the woods at full speed, making me uneasy after her previous accident.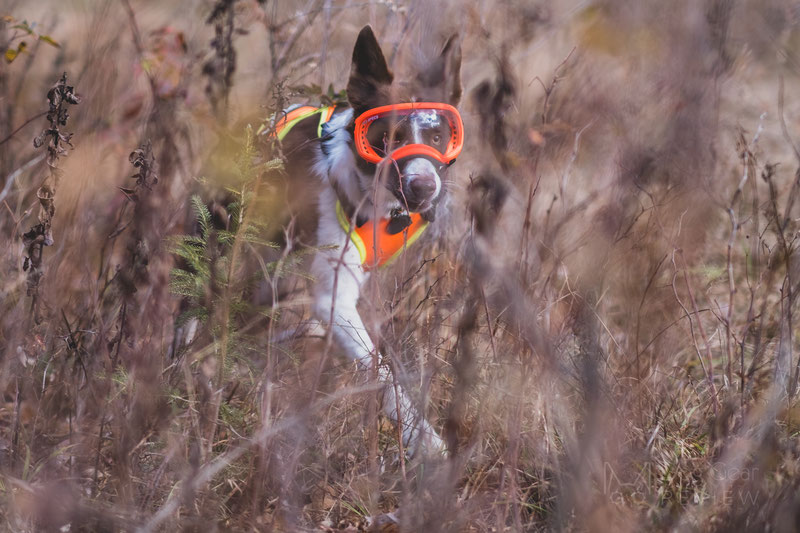 Our only complaint with Rex Specs is that replacing the lens can be a little annoying and takes some practice. We saw many videos when one could easily pop out the lens and snap in the other, but for some reason, it was never a smooth process for us. We usually have a problem with one of the lower nose tabs, so it might just be a small issue with our frame. It can be done, but it usually takes 10 minutes to make all corners snap-in correctly, so it's not something I would quickly do on the trail while my fingers are freezing on a peak. Again, I saw it working nicely for others, so this might be an individual problem. Still, we recommend trying it out a few times at home, so you get the feeling of the process.
Rex Specs also has a great video about replacing the lens in a clear frame, that we found super helpful.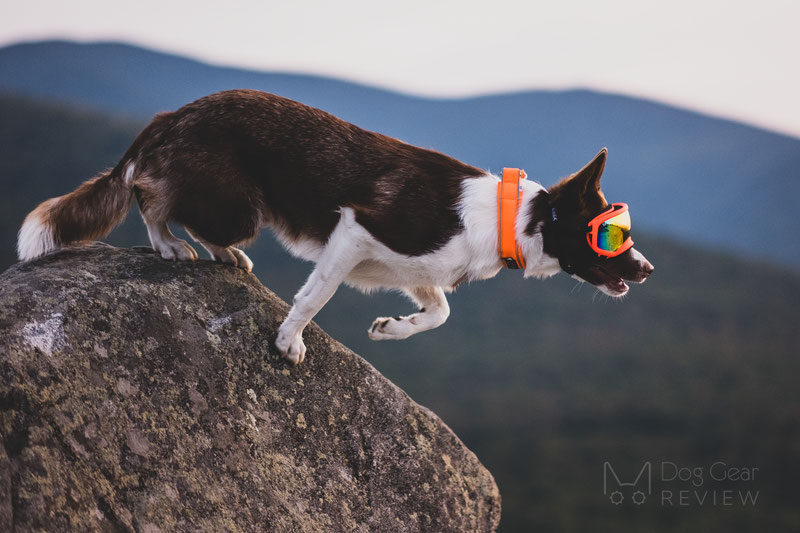 Rex Specs Review Summary
We can't praise this product enough. It is very well made, durable but also padded and flexible. It protects without restricting and the new V2 version fits Mia even better.
First, I doubted that it would stay in place even if Mia runs around or when she shakes off the water after a swim, but it does! It is also lightweight, which ensures that the dog will not even notice wearing it if you take the time to introduce the goggles slowly at the beginning.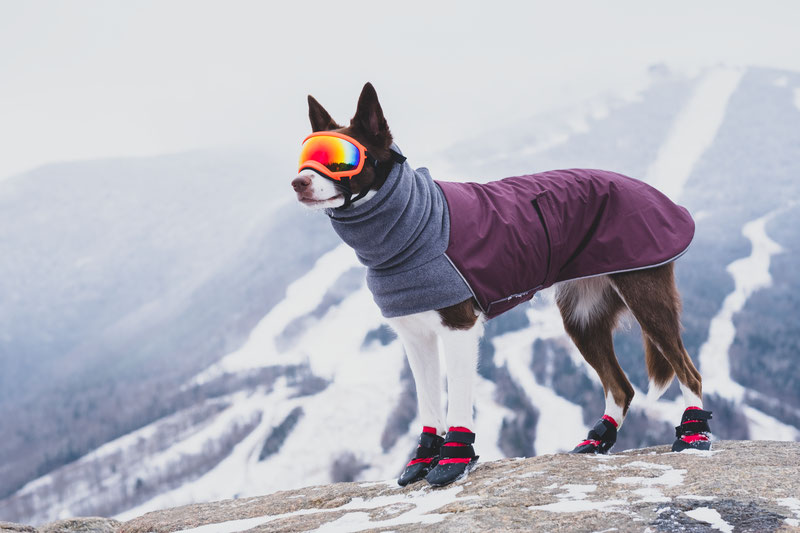 Where to buy
You can buy all their products on their website, some combinations are available on Amazon and you can also find them at many different retailers in many countries.
Disclaimer: this review contains an Amazon affiliate link, which supports Dog Gear Review if you purchase the product after clicking on it without costing you anything extra. Using affiliate links will never compromise us writing unbiased, honest reviews!