Pomppa is a company founded by Meri Alku in 2008, and specialized in creating high-quality dog coats. The company's mission is to improve the well-being of dogs by creating long-lasting and durable products that enable natural and unrestricted movement.
Pomppa is guided by strong values emphasizing the dog's well-being, valuing each other, and respecting the environment. They have recently launched a new RePomppa second-hand online service for used Pomppa dog wear to extend their product life cycle and minimize their environmental impact.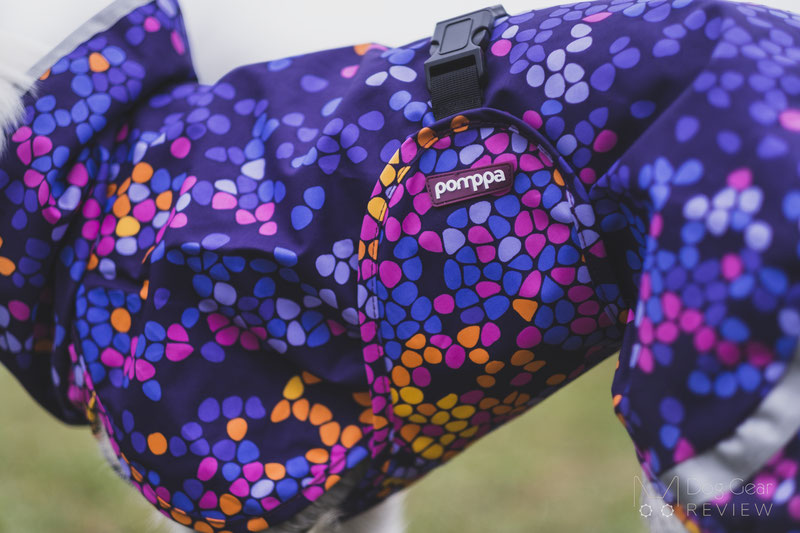 The Differences Between the Pomppa Coats
The Pomppa Coats have a similar design, but their material makes all the difference. While SadePomppa is a thin raincoat, SadePomppa and ToppaPomppa are warm winter coats.
This little image from their website is very handy to understand how the different coats' warmth and waterproofness compare. Adding extra warmth to any coat is always possible by using the JumpaPommpa sweater as a base layer.

The Details of the SadePomppa Jacket
SadePomppa is a durable and lightweight raincoat for year-round use. The waterproof shell fabric and thin lining are made to withstand anything from drizzle to downpour. It can be used individually as a raincoat but also as an excellent shell jacket over a thermal layer. The materials are made from 100% recycled polyester, with a water resistance of 5,000 mm and water-repellent treatment.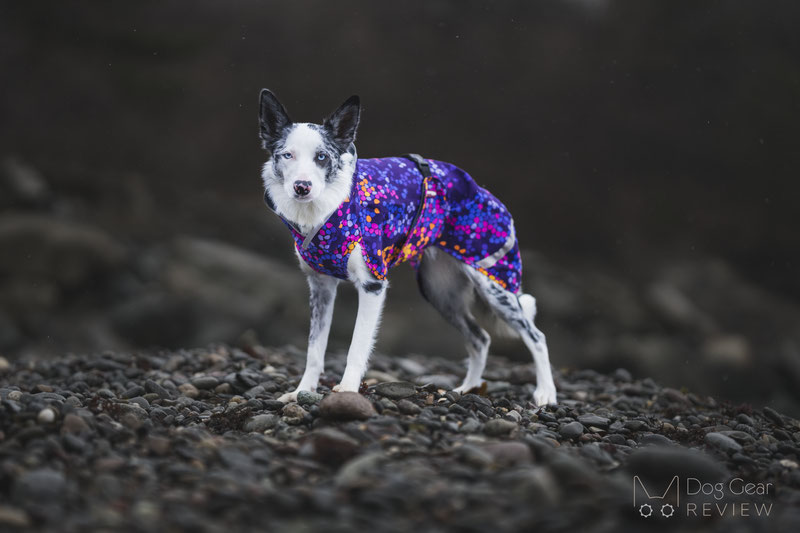 The design provides a big coverage and ensures that the coat protects the dog's back, neck, abdomen, and rear end without restricting their natural movement. The simple design and the lack of leg straps guarantee a good, chafe-free fit for dogs with different ratios and is quick and easy to put on. The curved buckle and the reflective stripes are nice additions to the streamlined design of this coat.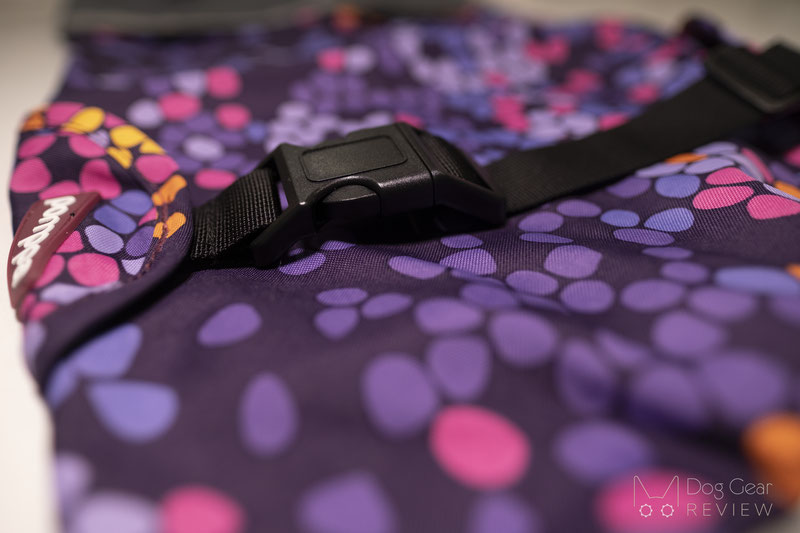 The Cosmos pattern is a new and unique addition to the Pomppa color collection. It was created by illustrator Johanna Rautiainen, who aimed to bring more joy and color to the dark nights of autumn. The pattern features thousands of twinkling stars. The placement of colors varies, making each Cosmos coat unique.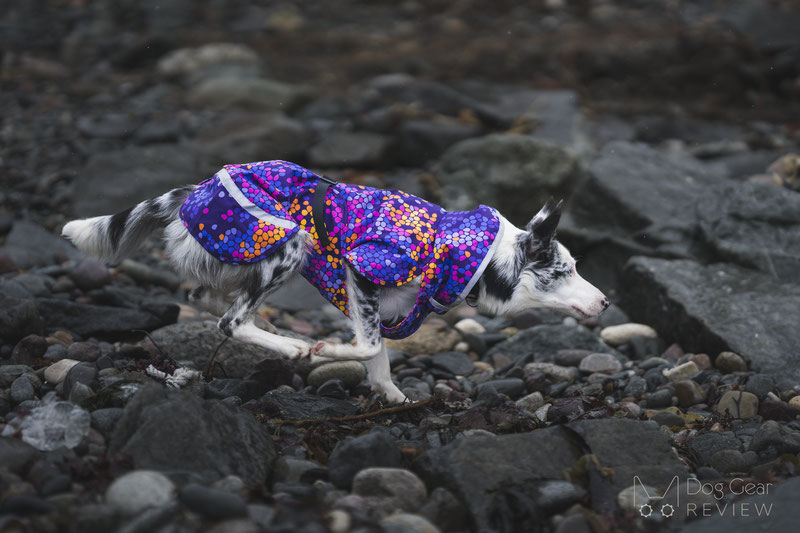 SadePomppa Jacket Review
I was excited to test and review the SadePomppa coat this year, having previously reviewed PerusPomppa, KevytPomppa and the JumppaPomppa.
In the previous reviews, I mentioned that Mia had some difficulty with the coat rotating on her during off-leash times. However, I had not encountered this issue with Zulu, even when she was running around on a hike. It's possible that the coat's design is better suited for Zulu's body type or that the lighter material helped it stay in place better. It's also possible that Mia was between sizes, as downsizing her PerusPomppa reduced the rotating problem significantly.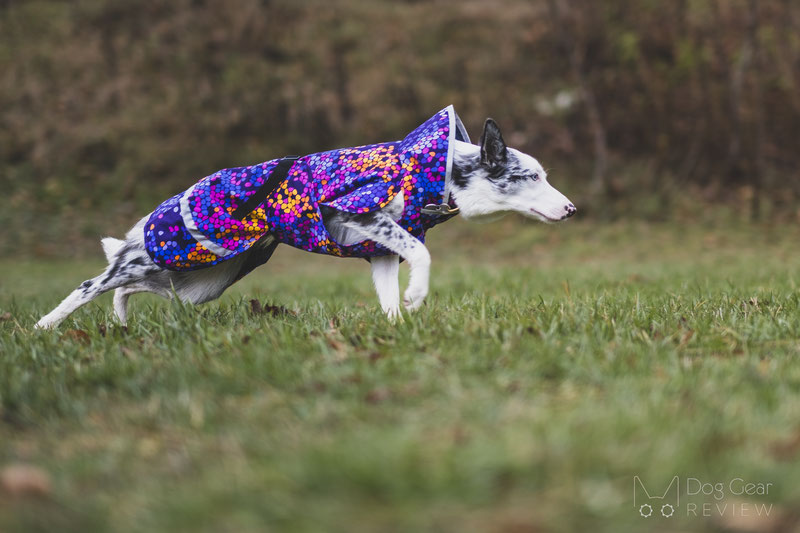 This coat is an excellent fit for the deep-chested, narrow, lanky Zulu. While it is currently a bit wide between her front legs, as she continues to fill out, I think it will be perfect on her in a few months. The width of the chest piece has not caused any chafing issues so far, and the cut-up design provides room for comfortable shoulder movement. It only has one buckle to secure the coat, so it is easy to put on and remove quickly, and the thin material is easy to clean and dries fast.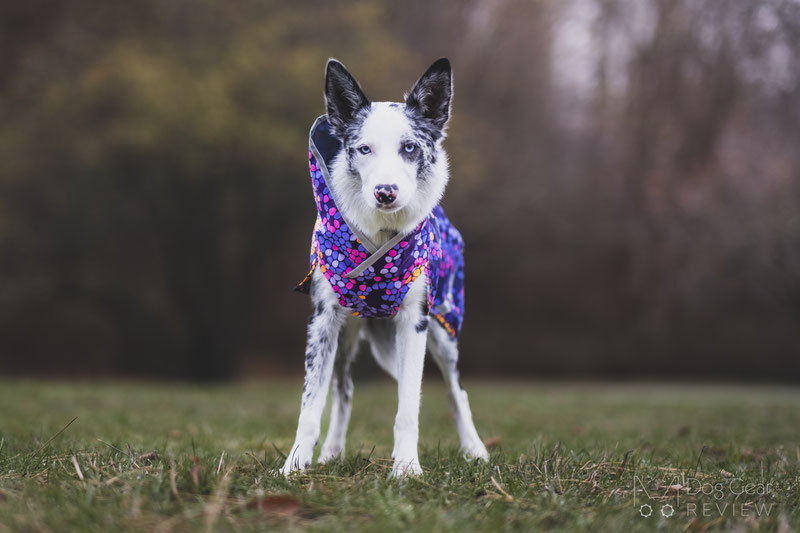 Zulu has the size 48 coat. A few months ago, it was a little long, but as she grew, it is just the right size to still cover her back while running. The coat has a cut-up design at the back to make it comfortable for dogs who hold their tails up.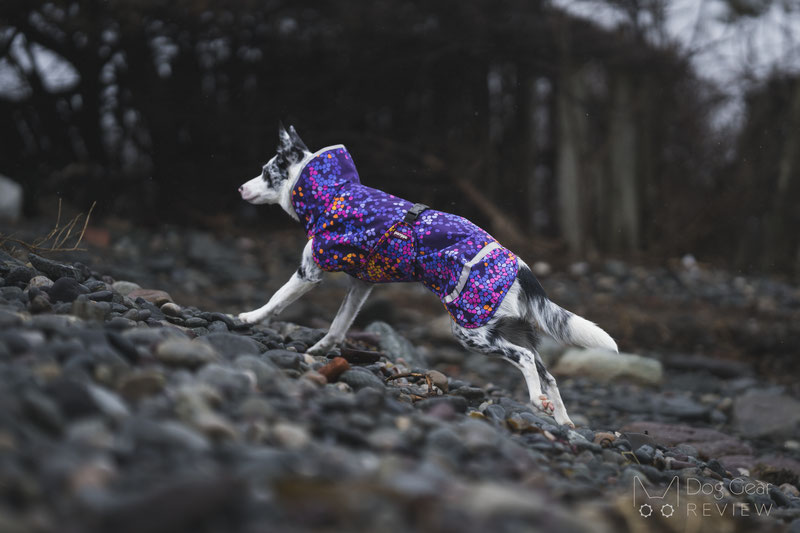 Review Summary
The SadePomppa jacket is designed for all-season use, with durable and lightweight waterproof shell fabric and lining. We used it while running around off-leash in the woods, and there is not a scratch on it so far. The outer material is durable and completely waterproof.
I was happy that this Pomppa coat stayed in place and fit Zulu well. Altogether this is an excellent quality but light coat that kept her dry and protected from the wind.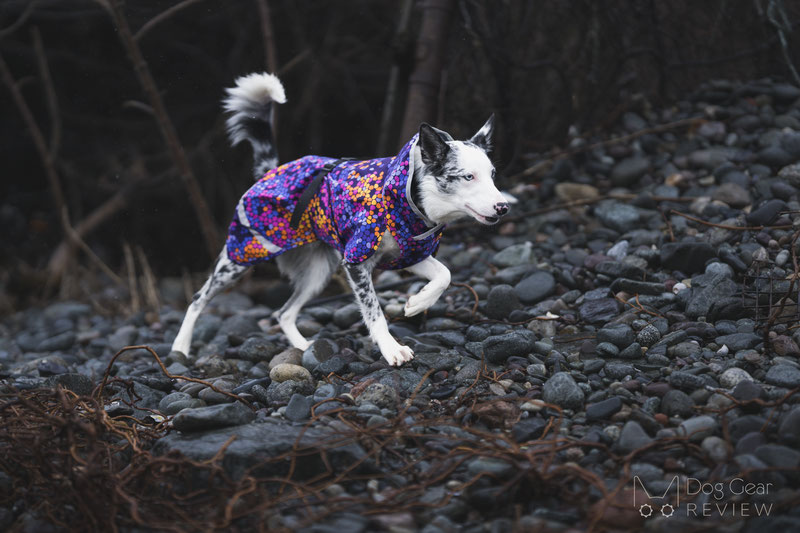 Where to buy
You can buy the Pomppa products on their website and they are sold by CleanRun in the US and Canada.
As a reference, Zu is wearing the size 48 coat.
In addition, if the coat buckle breaks, you can also buy a replacement buckle on their website.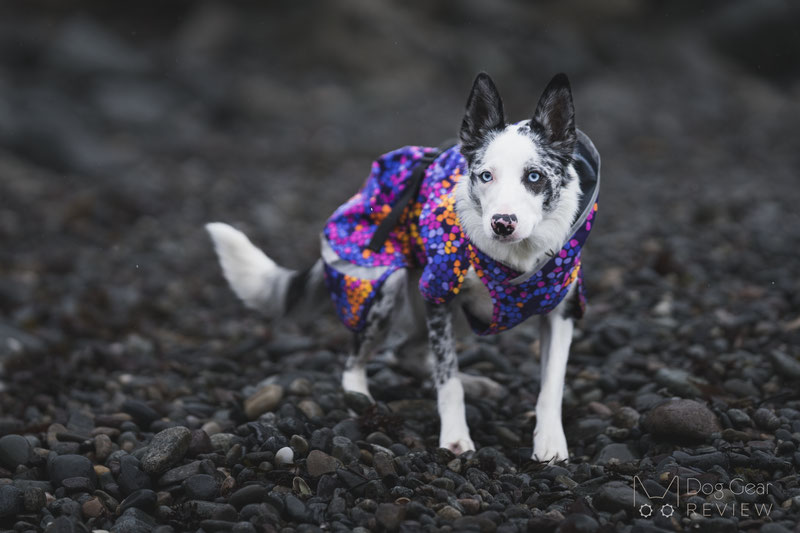 Zulu's measurements
Many of you asked for the dog's measurements in reviews to better understand the different products' fit, so I'm sharing Zulu's below for reference.
Shoulder height: 19 inches (50 cm)

Weight: 29 pounds (13 kg)

Widest chest circumference: 24 inches (60 cm)

Neck circumference for collars: 13 inches (33 cm)

Back lengths: 17 inches (45 cm)