About Pomppa
Pomppa is a Finnish company focusing on durable, practical, and colorful dog clothing to protect them from the elements. Their coats are well-fitting and provide excellent coverage while they still allow free movement.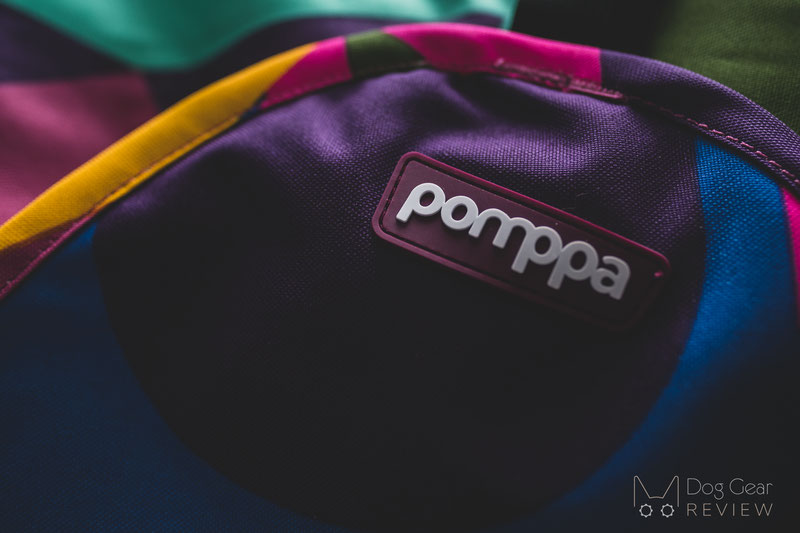 The Differences Between the Pomppa Coats
The Pomppa Coats have a very similar design, but their material makes all the difference. While SadePomppa is a thin raincoat, PerusPomppa and ToppaPomppa are warm winter coats. KevytPomppa is a thinner mid-season jacket that still handles rainy days well.
This little image from their website is very handy to understand how the different coats' warmth and waterproofness compare.

The details of the KevytPomppa Jacket
KevytPomppa is excellent for wet and chilly autumn days when the dog could use a bit extra warmth but doesn't need a thick coat yet. As a general rule, we used it between 0-10 Celsius (32-50 Fahrenheit)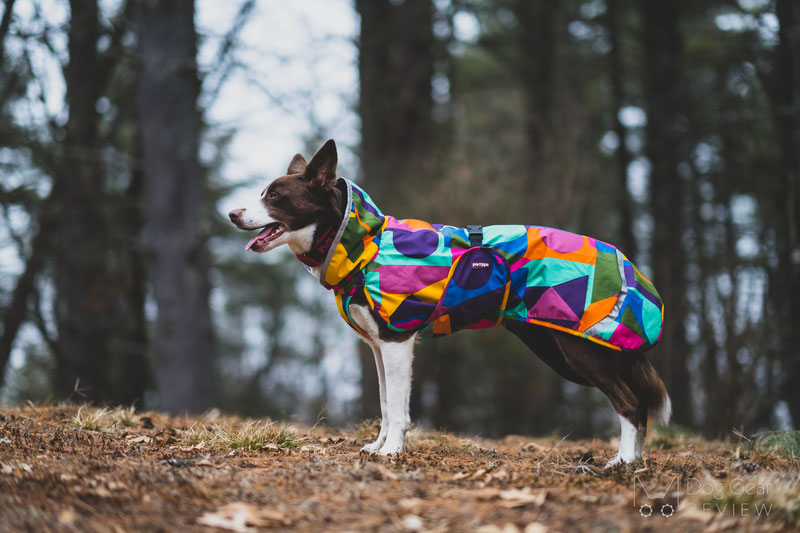 We also used it as an overcoat above a base layer during warmer winter days because it provides such great coverage that protects from the wind.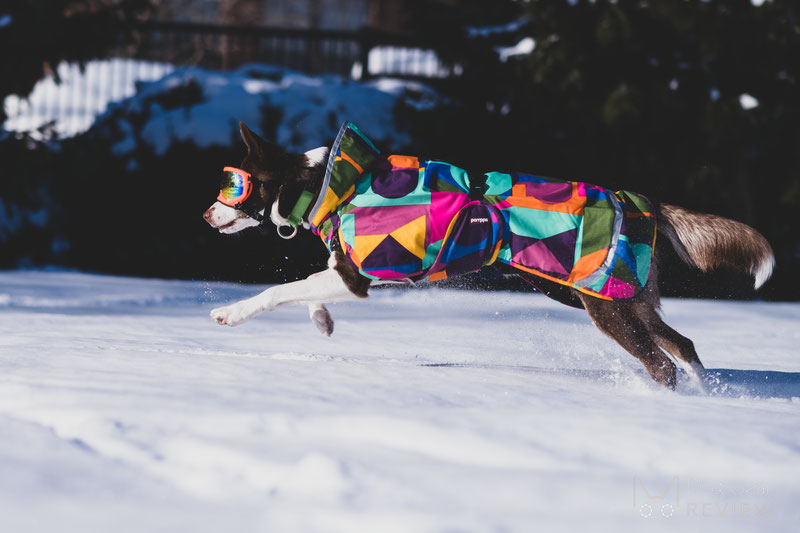 The lining of this jacket is made of a thin synthetic fur layer. This is anti-static, soft, and light, so it doesn't make the jacket bulky.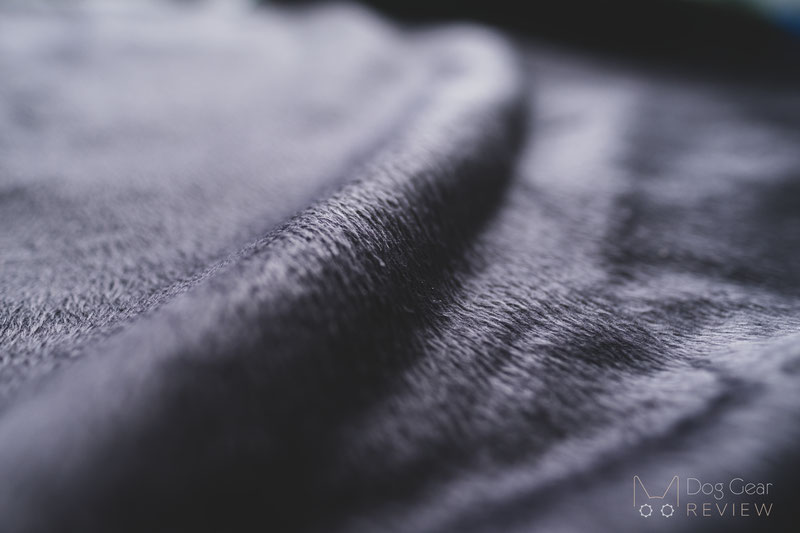 The outer layer is waterproof - has a water column value of 5000 mm. It also has reflector linings added for visibility.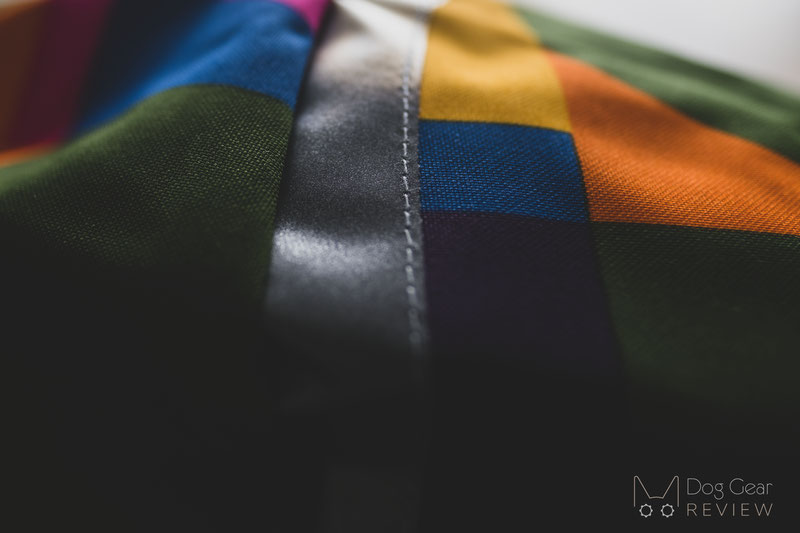 The coat is very well made and feels high-end. Every seam and edge looks perfect on ours!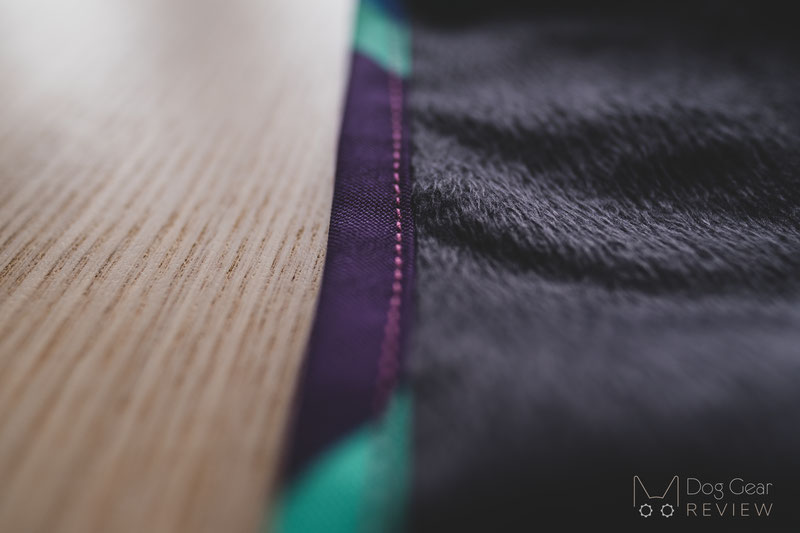 KevytPomppa Jacket Review
I was in discussion with Pomppa for years before finally timing it right and making this collaboration happen! I heard so much about their products and was excited to start testing a few of them.
I think it's great that Pomppa comes out with a few new colors and/or patterns each year, and they always offer fantastic colors! The pattern of our Kevytpomppa (called Kymppi) is unfortunately not available in this season, but they are considering bringing it back in the future. We did receive an astonishing number of questions about this coat both online and in-person; its colors and pattern are truly stunning and unique!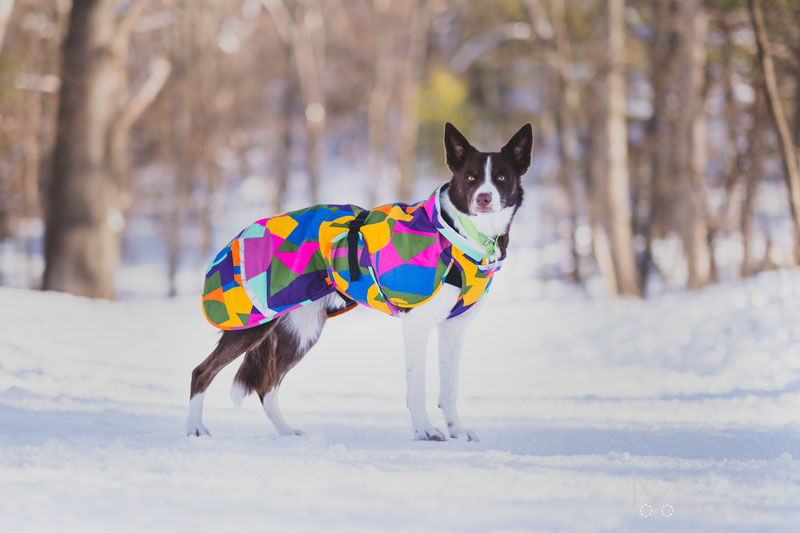 I liked this coat because although it provides excellent coverage, it also has relatively big openings for the front legs, so Mia doesn't pull up the jacket with every step.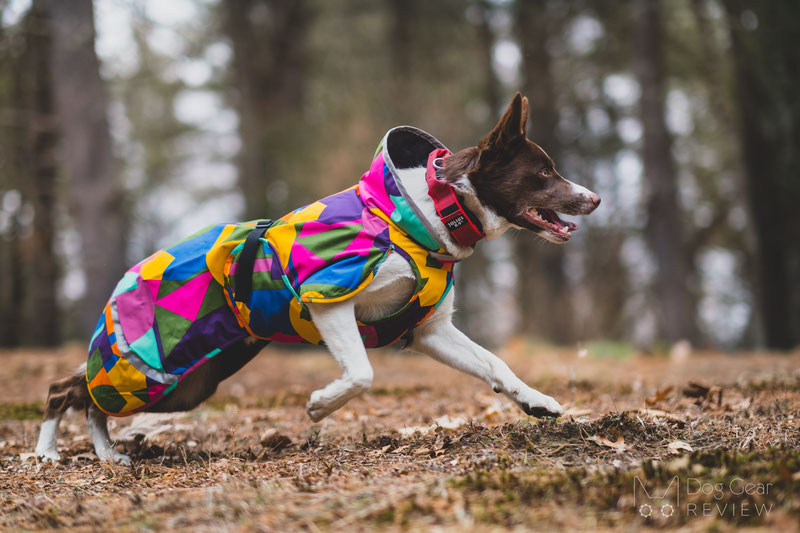 The coverage around the hips is especially great. This was very helpful in heavy rain or on cold-windy days to keep Mia's joints warm. In addition, it very nicely "hugs" the end of the dog while it has a cut for the tail.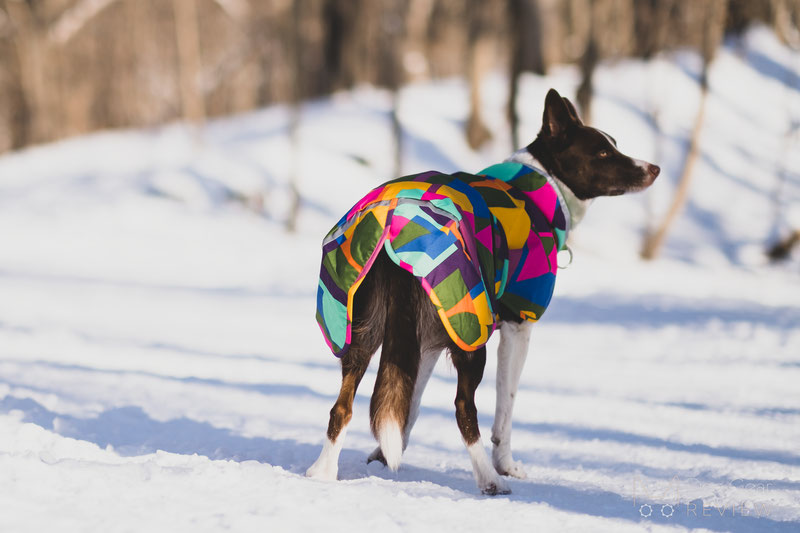 Another great feature is that the outer material is rustle-free, so it barely looks creased after keeping it in your backpack or putting it away for the warm months.
The outer material is also great in repelling the water: even after using it for months and keeping it tucked in the car trunk for a long while, the water still beads up on it perfectly. The coat is also machine washable (on a delicate cycle with warm water), so it's easy to keep it clean; just don't forget that using a fabric softener will ruin the water repellent capability of most coats!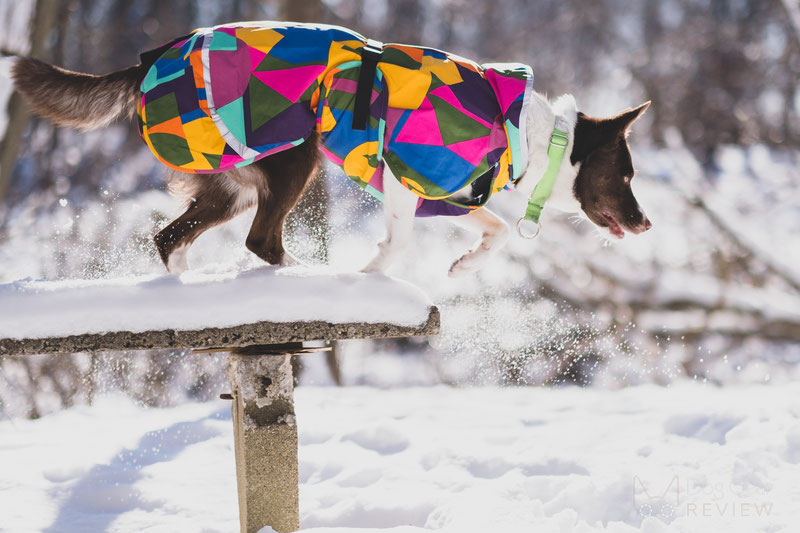 After discussing all the pros of this coat, let's face a big con we run into while testing. Our contact person at Pomppa actually told us upfront that they would like to send us specifically this coat to test because some of their customers had issues with the fur lining making the jacket rotate to the side on short-haired, active dogs. They were interested to see if we would experience the same problem and wanted to try to "debug" it by changing the adjustments around to see if it fixes the issue.
Unfortunately, we soon proved that they were right to worry. The long design without loops around the back legs paired with the soft and slippery lining of the coat did make it rotate on Mia.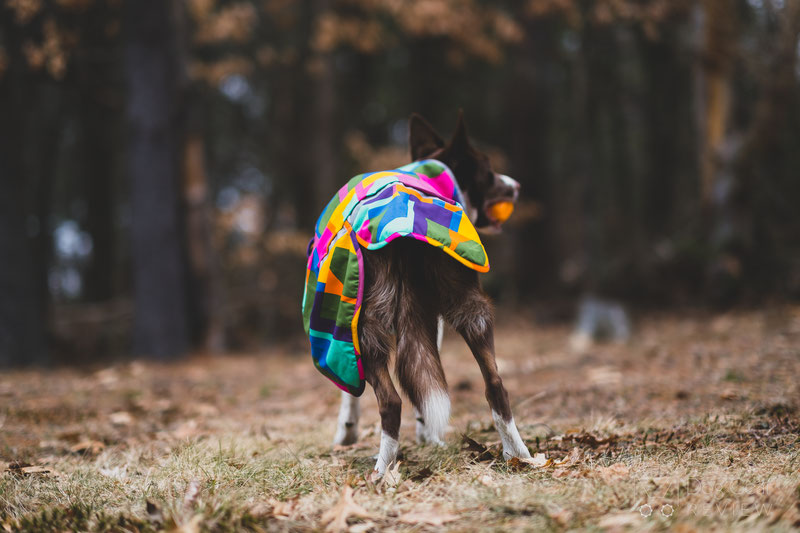 It was completely fine for leash walks or calmer off-leash walks, but if we would, e.g., play fetch where at the end Mia always stops suddenly and turns to the left to catch the ball, the coat consistently rotated that way as well. After sending videos and doing a fit check with Pomppa, they recommended tightening the belly band a little more, which decreased the frequency and severity of the rotation, but it was still somewhat present.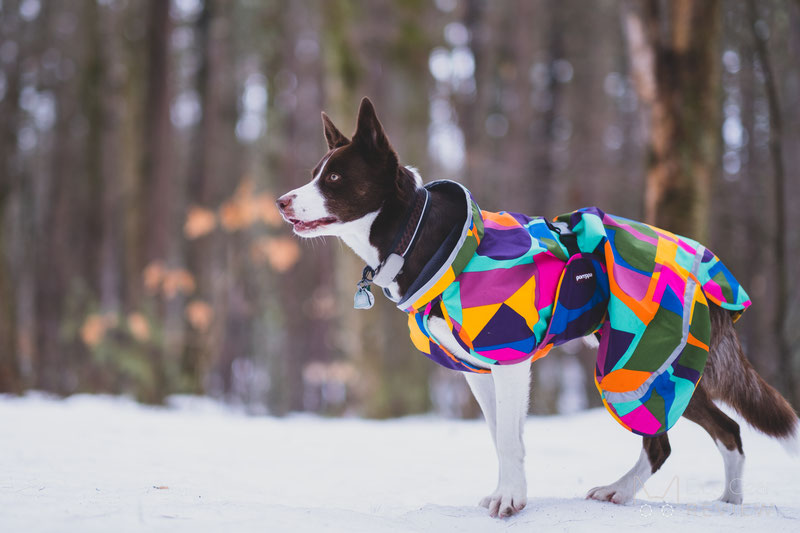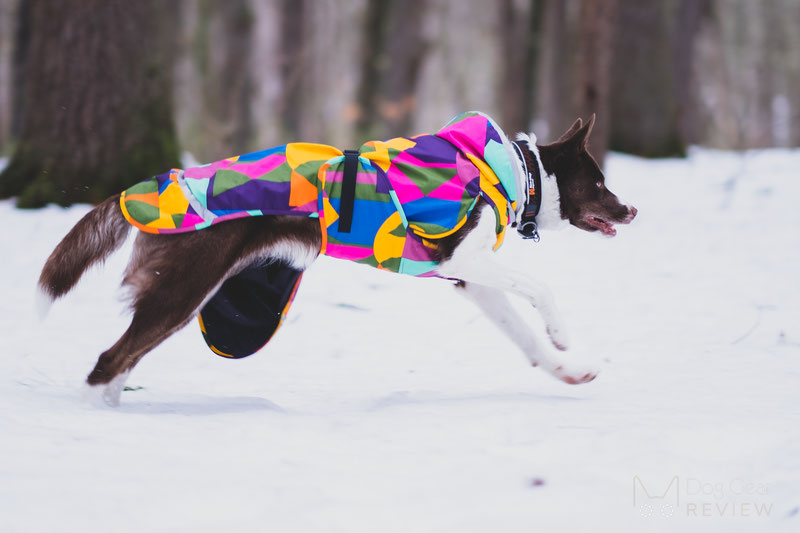 This little detail makes using an otherwise superb product a little awkward since I constantly needed to stop and re-adjust the layers and re-buckle coat. We eventually switched to using this coat for city walks, shorter bathroom breaks, short walks in the pouring rain, when it performed flawlessly.
It also seemed to stay in place well, even on off-leash adventures when we used it over a fleece under layer. I assume it's because the coat's lining wasn't sliding as much on the fleece as it did on Mia's fur.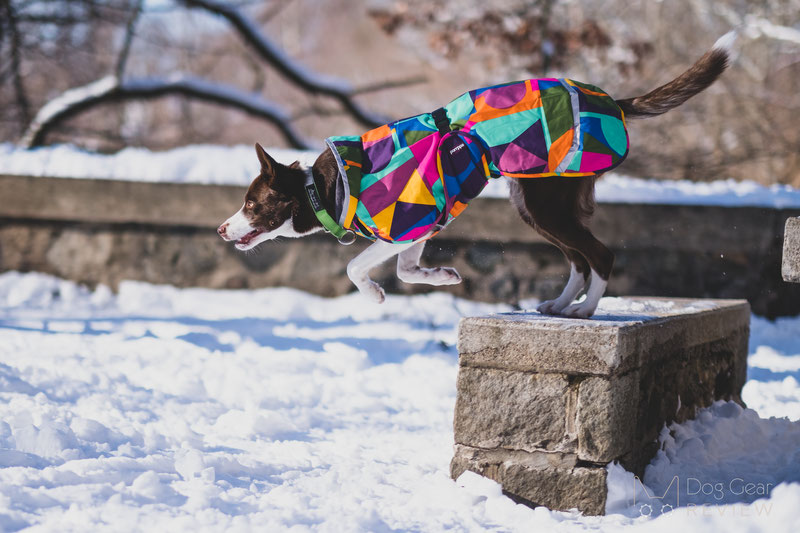 Review Summary
KevytPomppa is a well-made and designed coat that comes in stunning colors. The only thing to remember is that if you have a short and soft-haired dog, you might run into the same issue when they get the zoomies. The outer material is very durable; it can easily handle running through bushes without any scratch on the fabric.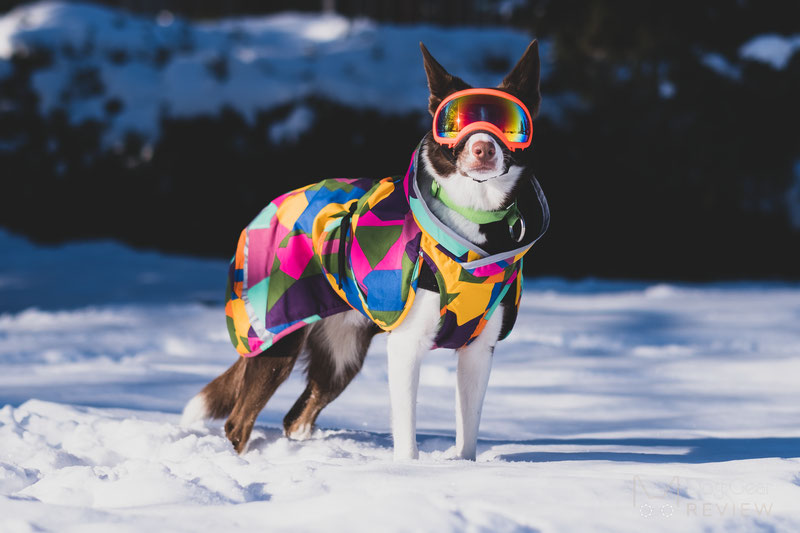 Where to buy
You can buy all their products on their website and can find retailers in many countries as well. If the buckle of the coat would break, you can also buy a replacement buckle on their website.
As a reference, Mia's coat was size 56, which refers to the dog's back length in cm.
Mia's measurements
Many of you asked Mia's measurements to better understand the different products' fit. Your best chance of finding a good fitting gear is always to measure (and remeasure) your dog. Even we grab the measuring tape before getting a new product - even though we tested a lot of them, and have a good feeling of her size by now.
I share her measurements below, but don't go ahead and order the same size just because your dog is similar to Mia ;)
• Shoulder height: 19.5 inches (50 cm)
• Weight: 37-44 pounds (17-20 kg)
• Widest chest circumference (where the most harness would have the chest strap): 25-26 inches (63-65 cm)
• Neck circumference for collars: 15-16 inches (38-40 cm)
• Back lengths: 22 inches (56 cm)