About Pomppa
Pomppa is a Finnish company focusing on durable, practical, and colorful dog clothing to protect them from the elements. Their coats are well-fitting and provide excellent coverage while still allowing free movement.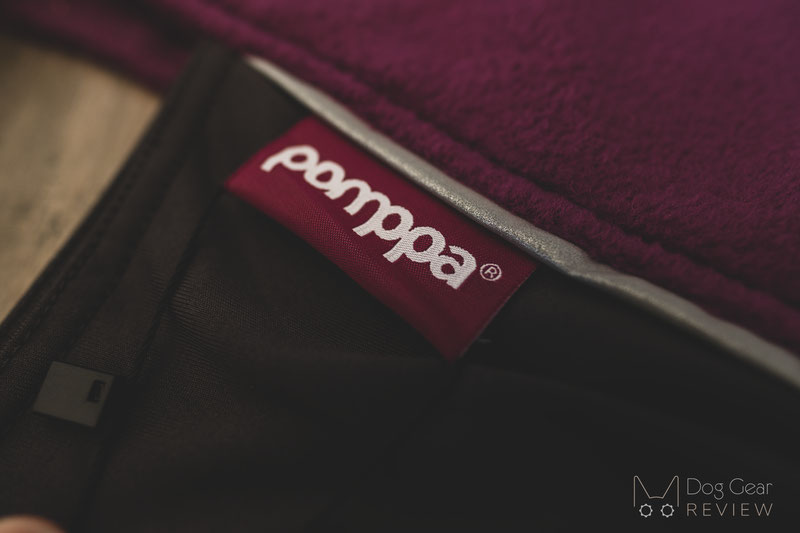 The details of the JumppaPomppa Jacket
JumppaPomppa is a well-fitting sweater that can be used as a standalone coat or as an underlayer to add extra warmth to a thinner mid-season coat over the winter.
The top part of the coat is a soft, anti-static plush, while the bottom is a water-repellent thermal tricot. They are divided by a reflective stripe on both sides for visibility in the dark. The material is not waterproof but moisture-wicking, so it can also be used to help a wet dog dry faster.
The coat's material is flexible, and there is also an elastic piece around the waistline to keep the coat snug.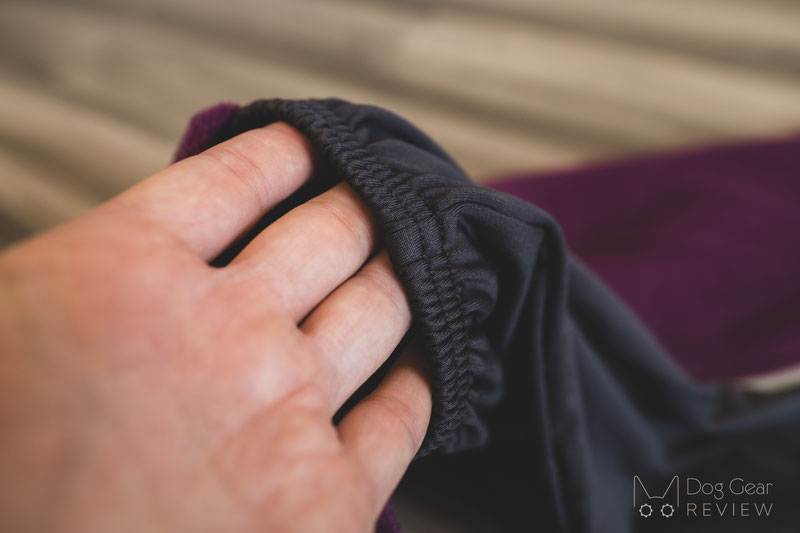 The fit and elasticity allow unrestricted motion and make the coat stay in place perfectly even when running around off-leash. In addition, the large collar and the excellent coverage keep the big muscle groups warm.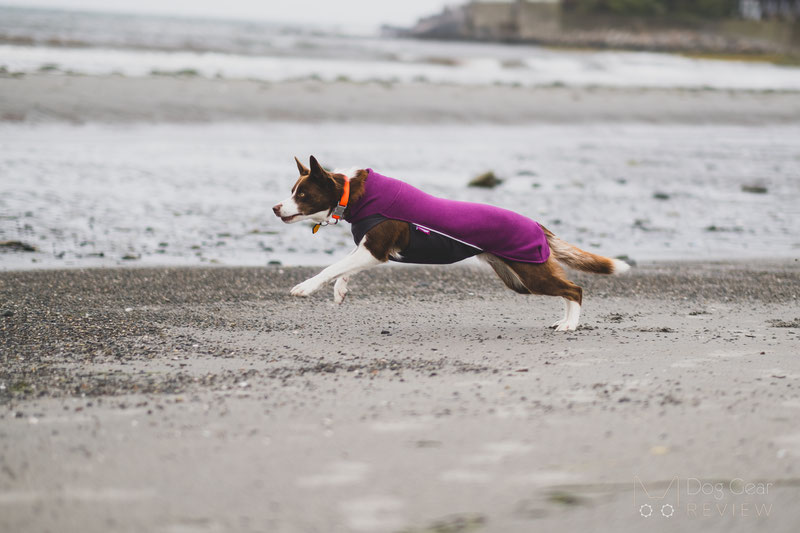 JumppaPomppa Jacket Review
The best thing about the JumppaPomppa coat is that it fits Mia like a glove! It isn't bulky and doesn't restrict her movement at all while providing just a little extra warmth on chilly days or while waiting in the car. Keeping the main muscle groups warm prevents injuries, and its great coverage does just that.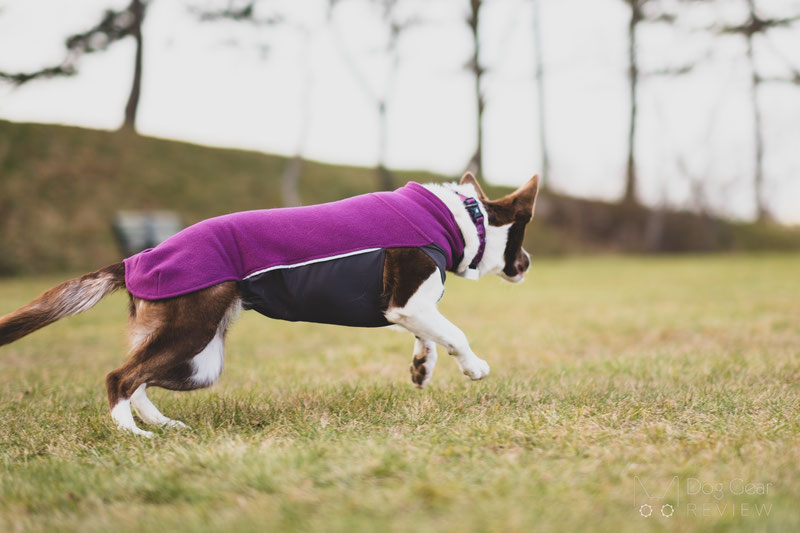 It's also thin enough to use as a base layer. Some winter coats tend to flap up in the wind and have holes between the straps or around the legs where cold wind can get in, so adding a well-fitting base layer that covers the dog well and stays in place is great.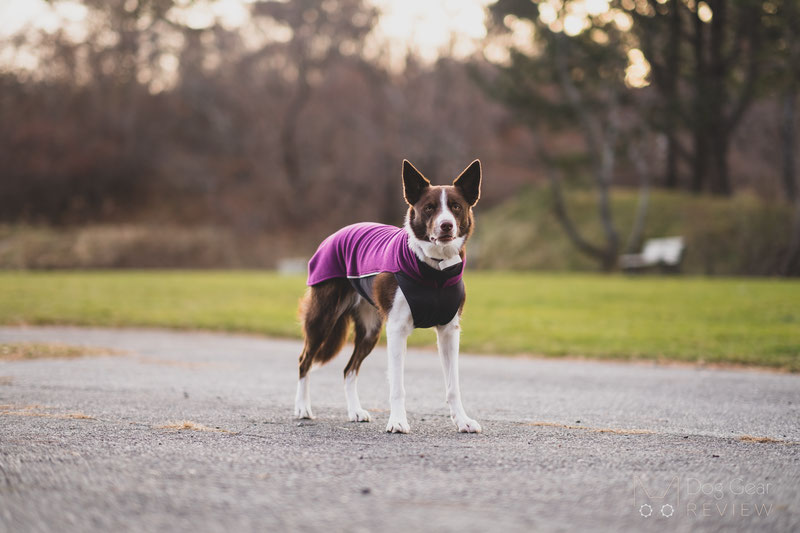 It doesn't have any zippers or buckles, so there is nothing to chafe the dog or for their hair to get stuck in. Unfortunately, this also means that the front legs need to be lifted when putting the coat on. The elastic material makes this easy, but some dogs still might not like it when you try it for the first time.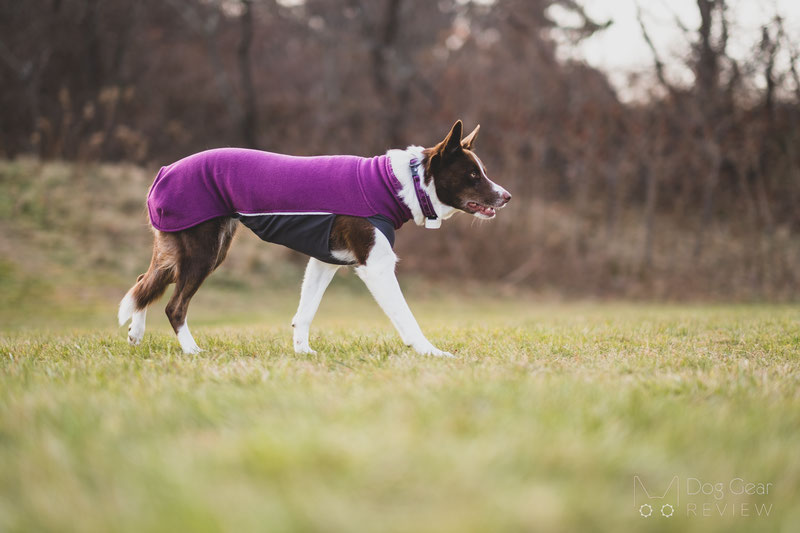 The anti-static top layer minimizes the amount of dog hair sticking to it, but of course, there will be hair on it. The coat is still reasonably easy to keep clean, and it is machine washable if it needs a thorough cleaning.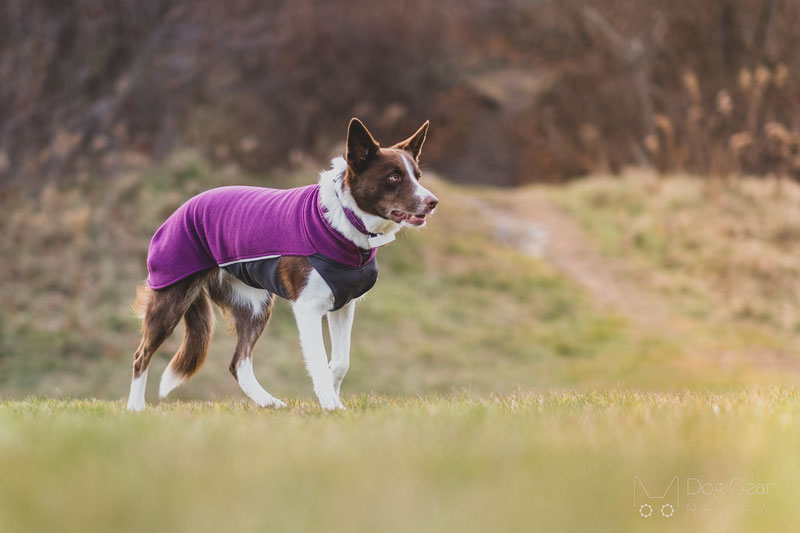 Review Summary
I am usually not impressed by sweaters, but the JumppaPomppa truly impressed me. It is such a well-made, well-designed coat. It's thin but still feels durable. It is not enough as (and not meant to be) a serious winter coat or to protect from wind. In return, it is perfect for active dogs who just need a little extra warmth but would overheat in a thick coat.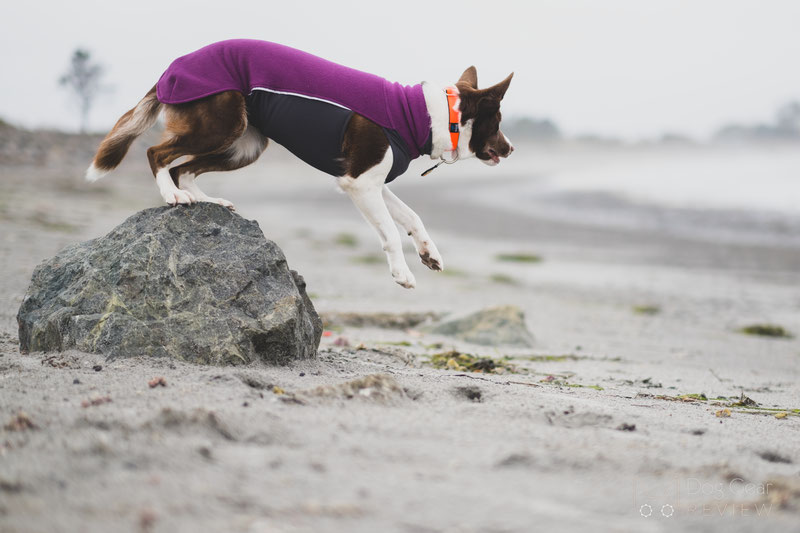 Where to buy
You can buy all their products on their website and can find retailers in many countries.
As a reference, Mia's coat was size 56, which refers to the dog's back length in cm.
Mia's measurements
Many of you asked Mia's measurements to better understand the different products' fit. Your best chance of finding a good fitting gear is always to measure (and remeasure) your dog. Even we grab the measuring tape before getting a new product - even though we tested a lot of them, and have a good feeling of her size by now.
I share her measurements below, but don't go ahead and order the same size just because your dog is similar to Mia ;)
Shoulder height: 19.5 inches (50 cm)

Weight: 37-44 pounds (17-20 kg)

Widest chest circumference (where the most harness would have the chest strap): 25-26 inches (63-65 cm)

Neck circumference for collars: 15-16 inches (38-40 cm)

Back lengths: 22 inches (56 cm)