About Petfusion
Petfusion is a company that would deserve more publicity! They make high quality and very well designed pet products like beds, feeders, cat scratchers, etc.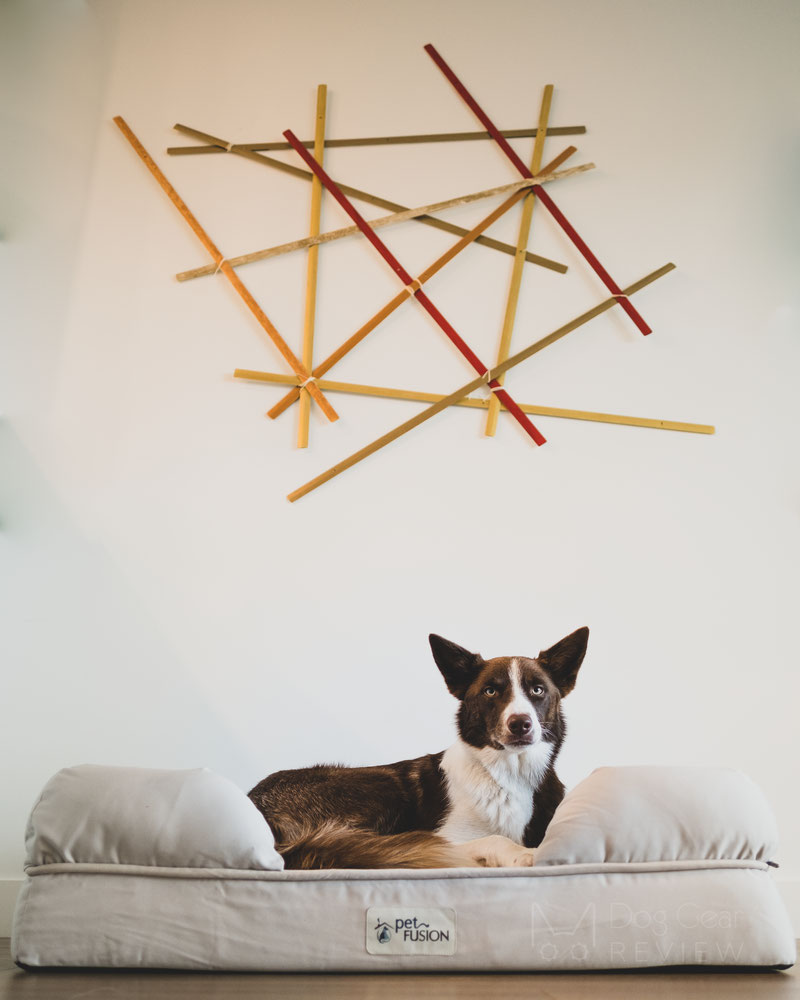 The Features of the Petfusion Ultimate Dog Lounge
This bed is a very well-made and thought-through product. It has a thick memory foam base and a "pillow" on three sides for added comfort. The cover is tear-resistant, water-resistant, and machine washable! It has two zippers (one for the memory foam and one for the pillow) with little flaps to make all liquids roll past the zipper avoiding leakage throught the zipper teeth. While the cover is only water-resistant, the memory foam has a waterproof inner liner for extra protection.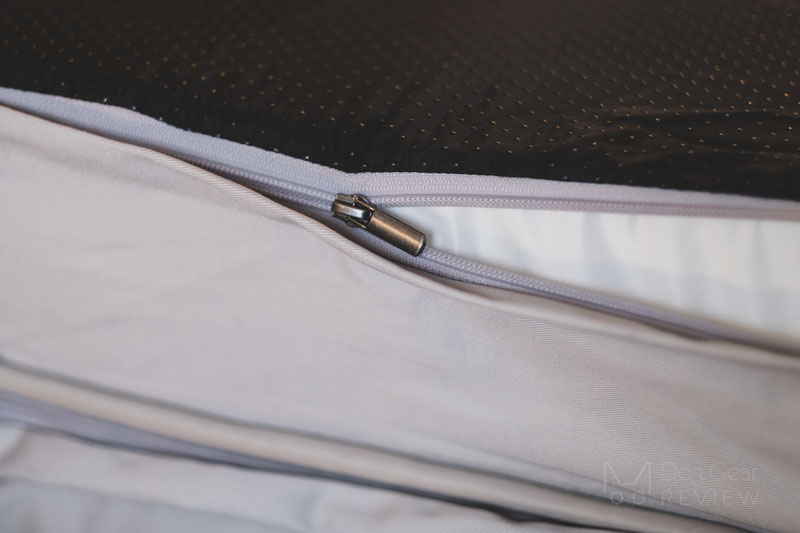 The bottom has a no-skid cover, which makes it stay in place better on slippery floors. We had trouble with other beds sliding away from the wall because Mia is pushing her back to the wall when she sleeps, but with the pillows on the side, this isn't a problem anymore.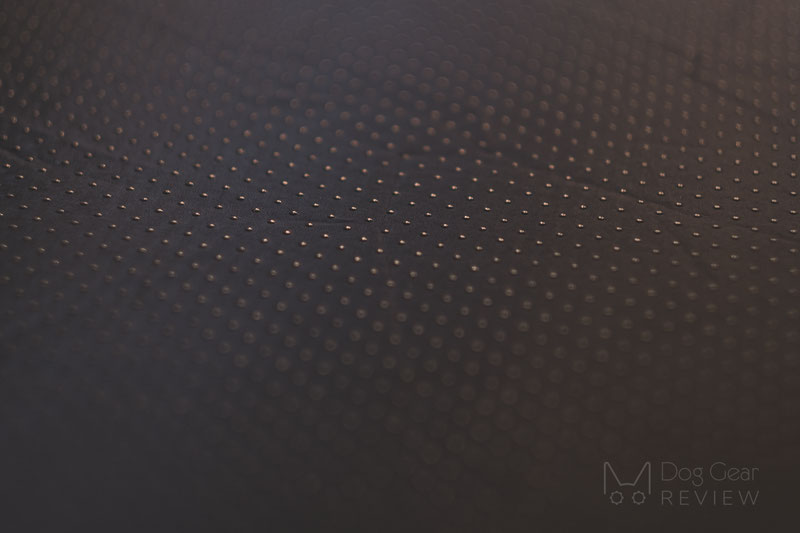 Petfusion Ultimate Dog Lounge Review
For the longest time, we just used towels, blankets, or old pillows as a bed for Mia because sometimes she chewed on her bedding when she got bored. Now finally, she can have a good bed without us needing to worry about its lifespan. The thing is that Mia loves soft beds; she is so happy to curl up in them at the end of a long day.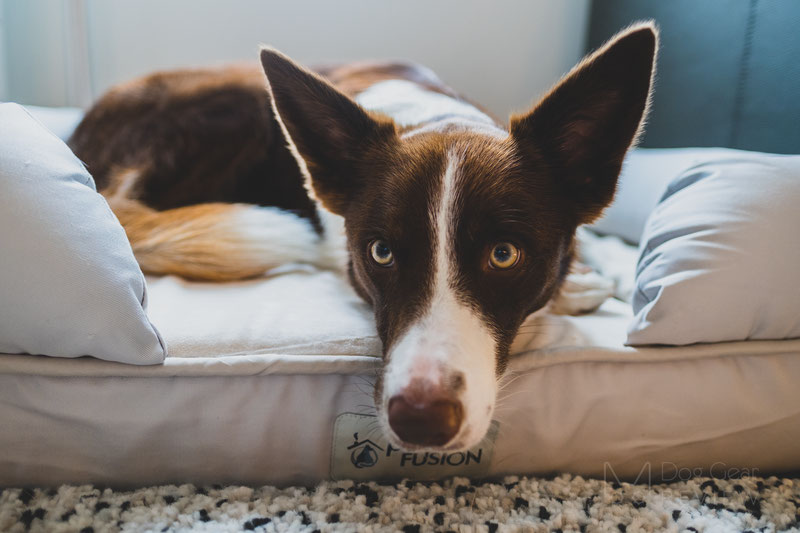 We wanted to be sure that we can tell you about the Ultimate Dog Bed's durability, so we (=Mia) used it for over three months before writing this review. We washed it in the machine multiple times, and Mia slept on it every day. We are happy to say that it passed our testing!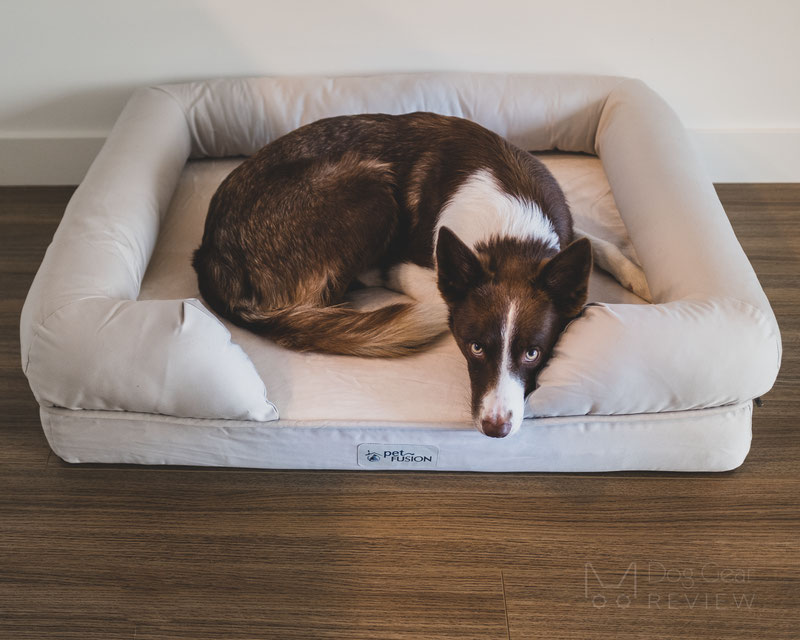 The bed's outer material is scratch-resistant, and it still looks new! The memory foam also looks and works just as well as on day one! When I washed the cover, I wanted to flip the memory foam, so Mia is not sleeping on the same side all the time, to keep the foam like-new longer. I couldn't figure out which side was up over the first two months because there is no sign of use on either side yet!
The soft memory foam can be a great choice if your dog has joint pain. Many thick beds are too soft for dogs to comfortably step on them since their feet sink in too much. This can be hard on dogs who already have joint pain and prefer not to balance on unstable surfaces. This bed is a great compromise: it sinks in when the dog lies down but not that much that it would be hard for them to get on or off the bed. Even I could sit on this bed, and the memory foam wouldn't sink that much that I feel the floor under it.
The memory foam is 2.5 inches tall in the small/medium beds, 4 inches on the large and extra-large beds, and 6 inches in the jumbo size to be sure it is comfortable to different sized dogs.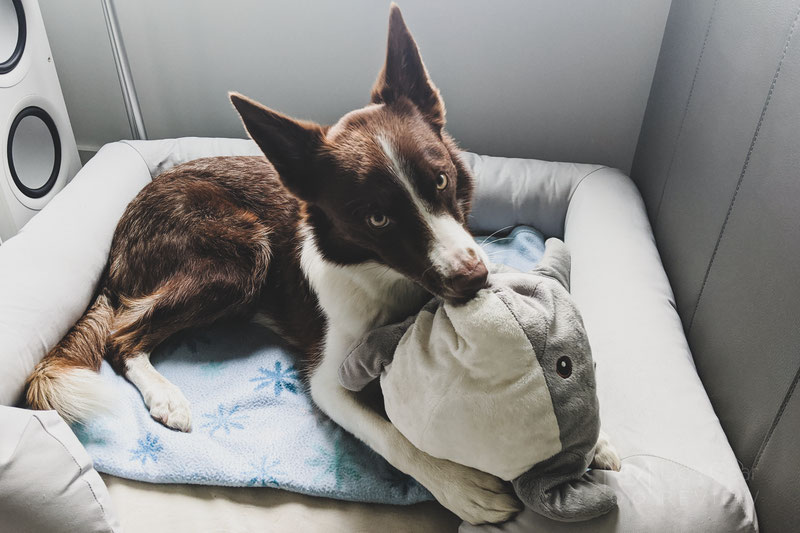 The "built-in pillow" on three sides is excellent as well. Mia loves to sleep with her head resting on them. It's also good because Mia likes to sleep right in a corner or next to a wall, but we can move this bed anywhere, and she is still comfortable to curl up in the corner of the bed. The sides also protect the walls if you have trouble keeping the walls white next to the dog beds.
Getting the pillow and the memory foam out of the covers is very easy. When you wash the covers for the first time, you will spend some time putting back the pillow into the cover, but once you figured out the optimal technique, it will get much quicker ;) Another note is that the zippers are tiny but they are still easy to use. Be careful when opening/closing the zippers to ensure that the inner lining of the memory foam doesn't get stuck in them.
Petfusion also sells a Premium blanket that you can use to cover the bed for extra coziness. Having the blanket on is also a good idea because it is easier to quickly wash or replace the blanket as needed and wash the bed cover less frequently. The dog hair is also less visible on the blanket than on our lightly colored bed.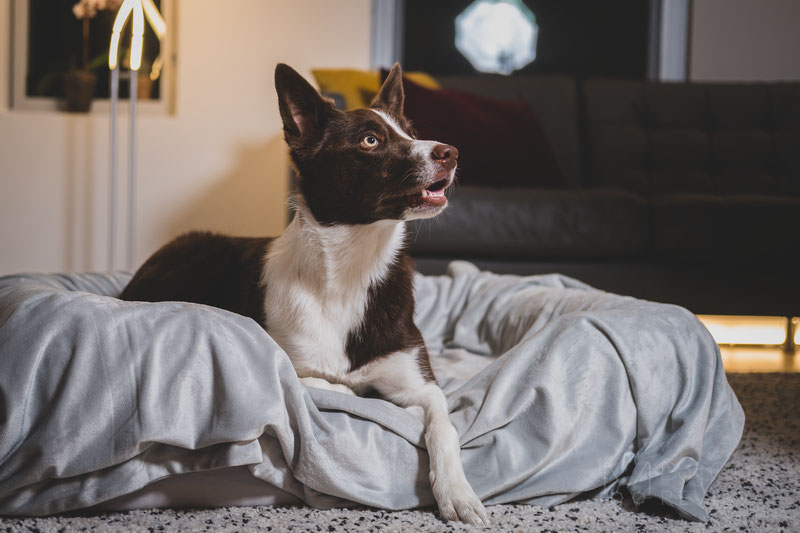 There is one difference in features between this bed's colors that's easy to miss: the Sandstone color (like our bed) is the only one that comes with a micro plush cover on the sleeping area. If your dog likes to scratch the bed before lying down, the cover on the two other colors might be more resistant to that, but if your dog loves to cuddle into anything soft, go for the Sandstone! :)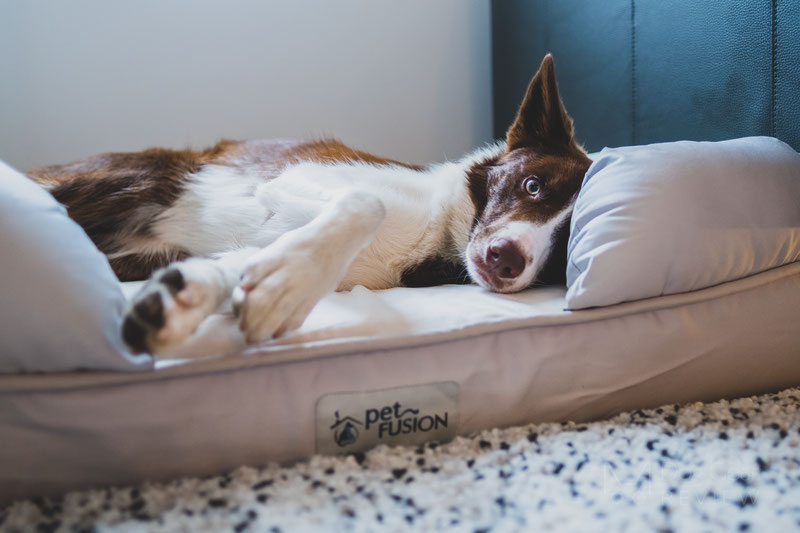 To summarize our review, we are impressed with the Petfusion Ultimate bed. It is a very well made and good quality bed that will hold up for a long time. It does take up more room than expected because of the pillows on the sides, but Mia is also using that to rest her head so it's not a "lost space". This bed is an investment, especially if you have an older dog who has trouble with their joints.
Where to buy?
You can buy all their products on their Amazon site. For reference, Mia's bed is a size Large in Sandstone color.
Don't forget to check out their Premium blanket for extra coziness. ;)
Disclaimer: this review contains an Amazon affiliate link, which supports Dog Gear Review if you purchase the product after clicking on it without costing you anything extra. Using affiliate links will never compromise us writing unbiased, honest reviews!