PETDURO is a fast-growing company that came out with many new dog and cat products even while we were testing their collar and leash combo. Their harnesses, collars, and leashes come in many different colors and patterns so everyone can find something they like.
About the PETDURO Personalized Floral Collar and Leash
Petduro offers an excellent selection of dog collars and leashes with many different colors and patterns. Ours is part of their Floral line - specifically, the Red Sunflowers pattern.
Their collars can be purchased separately or as a matching set with a leash. These collars and leashes are made from nylon material, with a stylish pattern on one side and a matching color on the backside.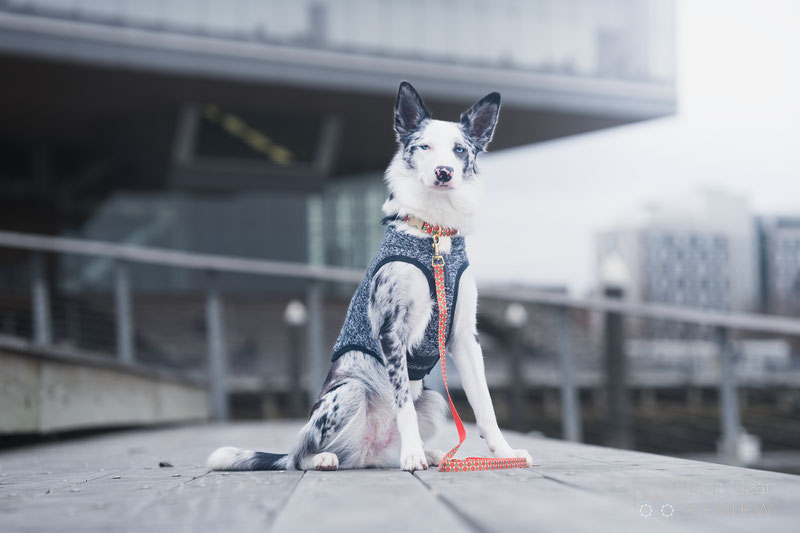 The collar comes in 5 sizes and is highly adjustable to fit most dogs. Our leash is on the shorter side with its 4 feet (120 cm) length, but it's comfortable for structured walks. Currently, their main images on Amazon show all leashes to be 4 feet, but the description shows leash lengths between 4-6 feet depending on the sizing, so there might be different options since we received ours.
The leash features a metal D-ring below the handle, allowing you to attach a poop bag holder or wear the leash around your waist when your dog is off-leash.
The other personalized set that we have reviewed from Petduro had a metal buckle on the collar with engraving; however, this one features a plastic buckle which can be black or bronze depending on the pattern of the collar. The snap hook and the D-ring on the leash also come in black or bronze, matching the collar's color scheme.
The buckle can fit up to 12 characters for the dog's name and the same for the phone number, which will be laser engraved.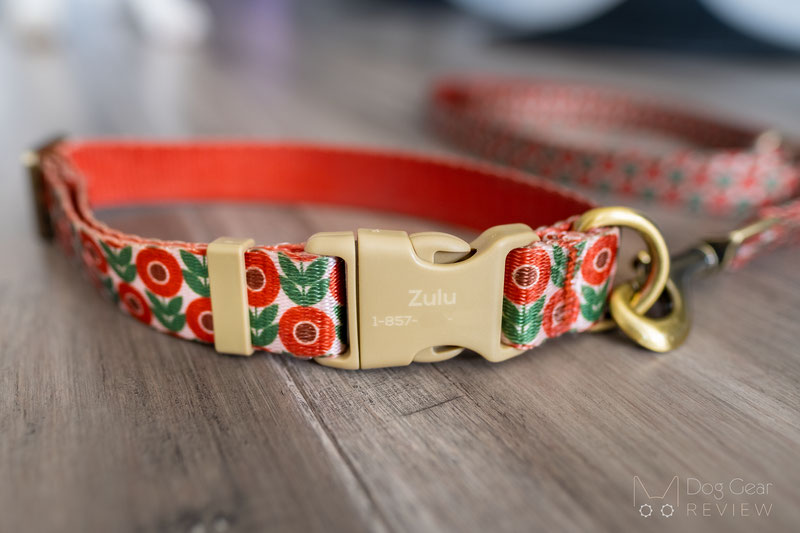 PETDURO Personalized Floral Collar and Leash Review
Zulu has a Small collar, which is only 0.8" wide. This is on the narrower side for a collar this size; thus, it can get lost in her fluffy neck fur. The leash and collar are light and soft, nice to loop around my wrist and easy on Zulu's hair. However, the material can feel slippery if you try to hold onto a larger dog who is pulling.
I chose the XS leash because I preferred the elegant look of the 0.6" width leash over the 0.8," but when ordered through Amazon as a set, I believe they sent the same size leash you chose for the collar.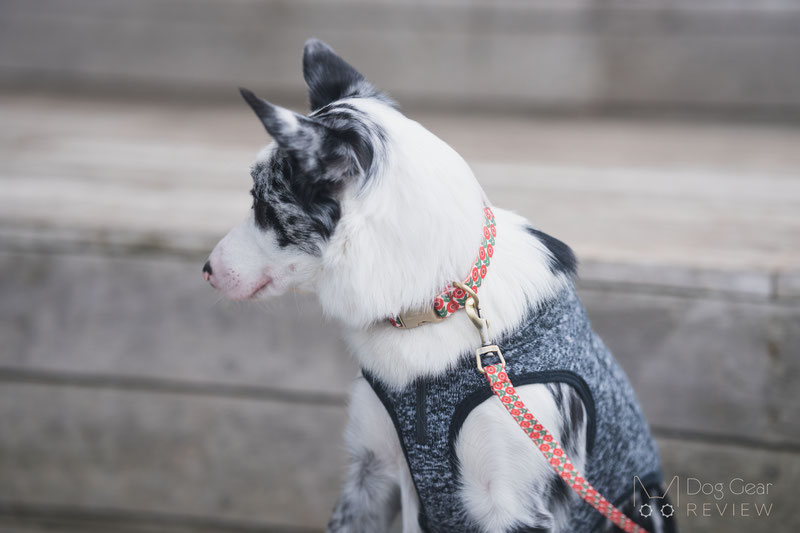 There is no information available on any stress or weight testing done on the plastic buckle. While there haven't been any issues with it so far (even when used in subzero temps), it may not be the best choice for larger dogs prone to lunging or who would run away if the buckle opened.
This colorful collar and leash set is perfect for smaller dogs and city walks, but it may not be ideal for heavy use on trails due to the nylon material's lack of water resistance and tendency to fray over time.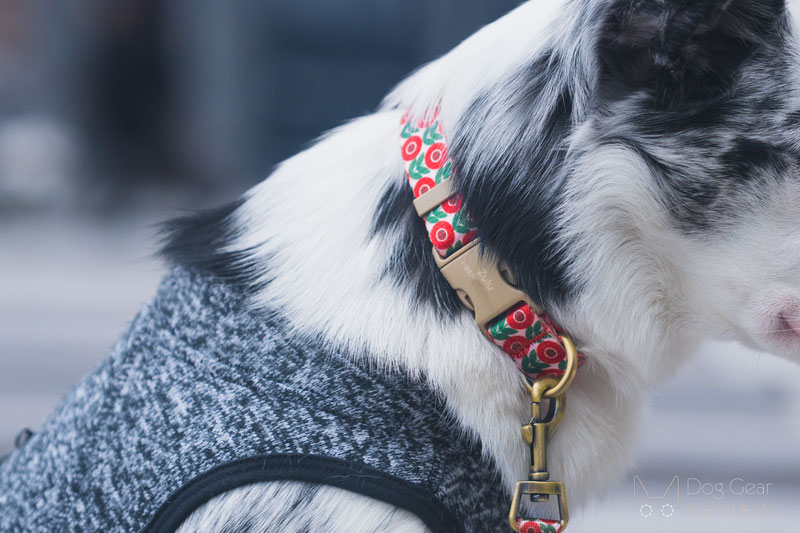 One great feature of this set is the option to engrave text on the collar, eliminating the need for a tag that could easily get caught or lost. However, it's worth noting that the white text on the light brown surface may not be the easiest to read unless viewed up close. For better readability, I recommend choosing one pattern with a black buckle instead.
A pro for the engraved buckle is that the text did not fade or get scratched up too much. Even after months of use, it looks pretty much the same, and the text is as readable as it was on day 1.
The Petduro Floral set is stylish and lightweight, and we have used it for many walks. The bright colors have held up remarkably well and have not faded despite frequent use in all kinds of weather. Additionally, this set is easy to clean: after a muddy walk, I tossed it into the washing machine (in a bag), and it came out looking as good as new.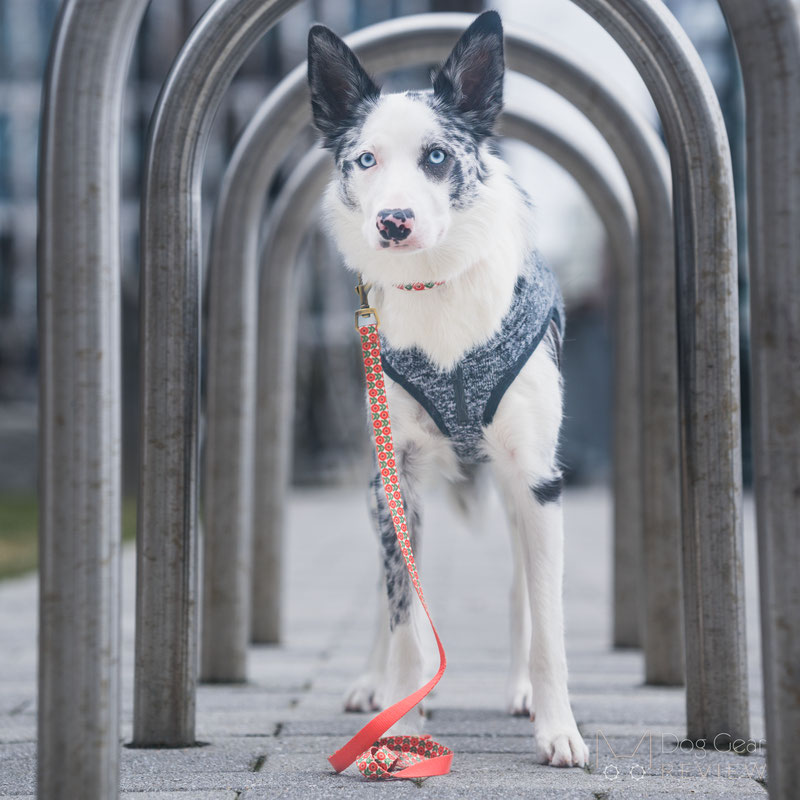 Where to buy
You can find their Floral collar & Leash sets on Amazon.
For reference, Zulu had a small collar and an XS leash.
Disclaimer: this review contains an Amazon affiliate link, which supports Dog Gear Review if you purchase the product after clicking on it without costing you anything extra. Using affiliate links will never compromise us in writing unbiased, honest reviews!