About OneTigris
OneTigris is a tactical-style outdoor gear store selling all kinds of products, from airsoft gear to affordable military-style dog harnesses.
About the Goliath Training Harness
The Goliath K9 Training Harness is a highly adjustable, minimalistic harness that still has plenty of features without having extensive coverage on the dog's back. They used multi-layered nylon webbing construction along with UTX® Duraflex buckles for durability and strength. The pull strength of the Buckle is 441lb/200kg, while the steel rings can handle 143lb/65kg.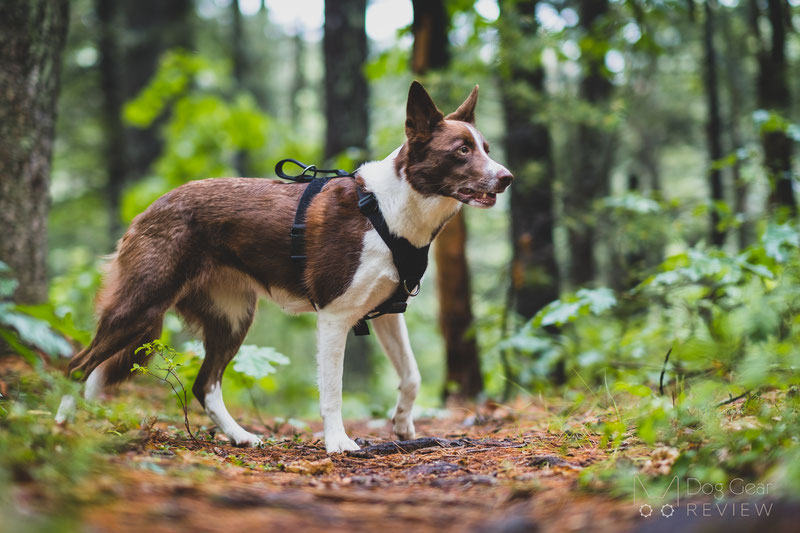 The harness not only has a wide range of adjustments, but it also has five adjustment points, so you can even set the lengths of the chest piece between the front legs. This can be great for dogs who are still growing or those who are usually hard to fit in other harnesses.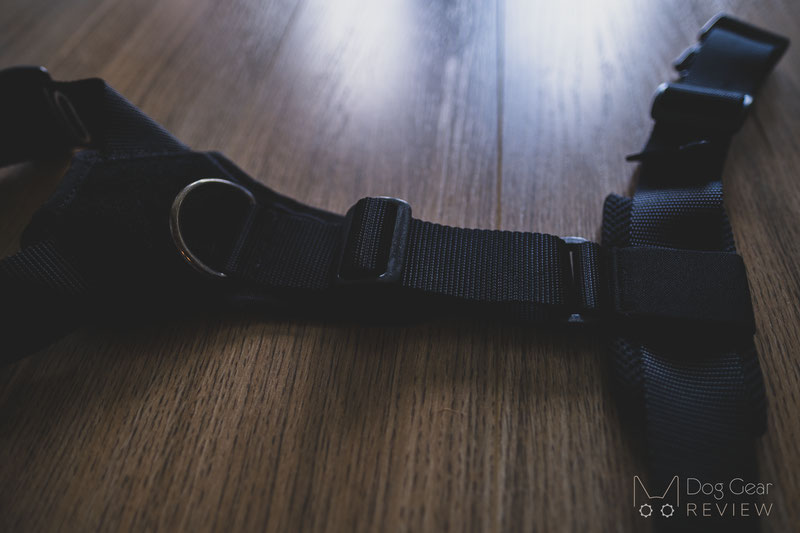 The back panel is minimalistic, but a small velcro panel on the chest straps allows you to add interchangeable patches to the harness.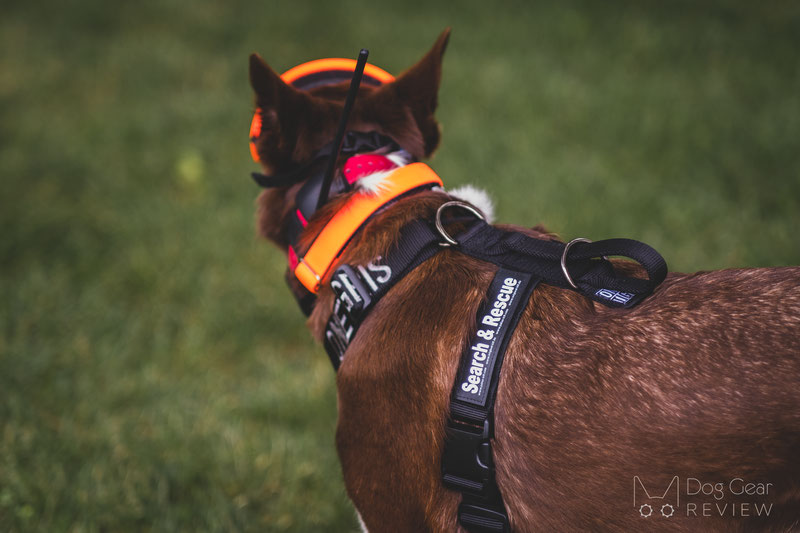 The chest piece and the section under the ribcage still have padding from the same breathable mesh material that OneTigris uses for their other harnesses.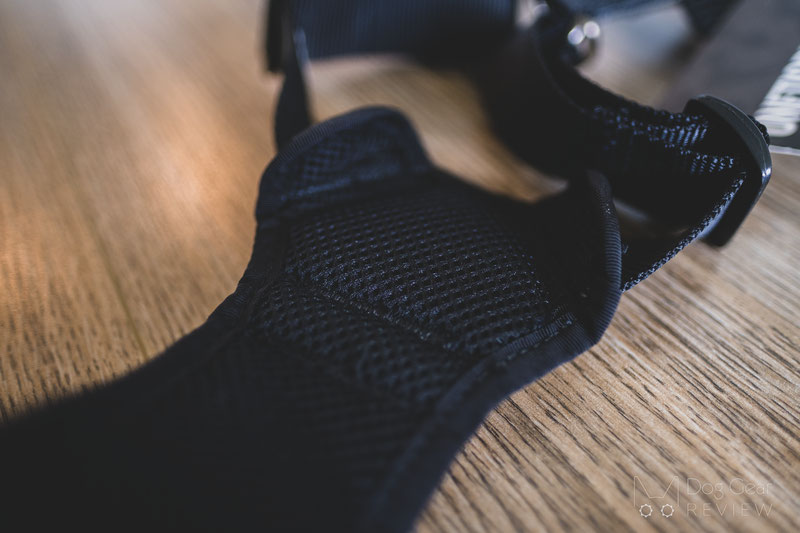 There are three stainless steel D-rings for leash attachment points: one on the chest for no-pull training and two on the back of the harness. The section between the legs is wide enough to prevent the harness from rotating on the dog, while it still doesn't chafe the inside of the front legs even on Mia, who is on the narrow chested side of the spectrum.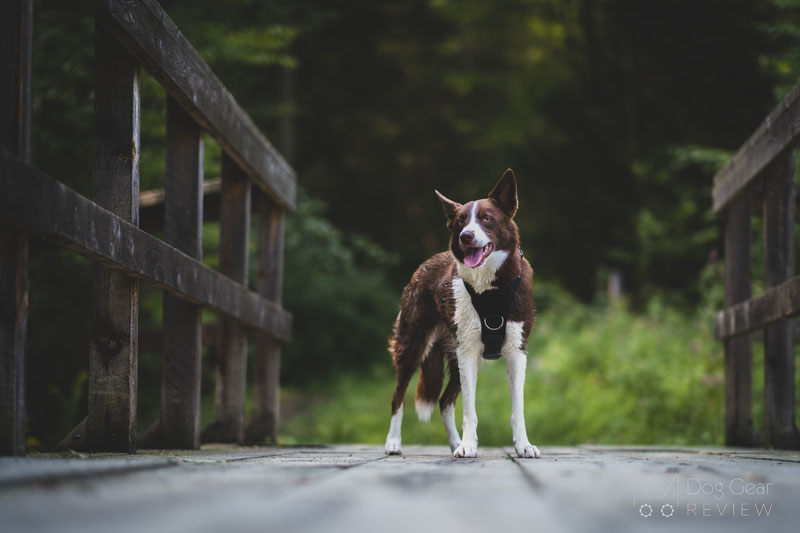 The most exciting feature of this harness is the handle. It can be tucked away through the second leash attachment ring to avoid getting stuck on something, but it's always easy to grab and pull free when needed.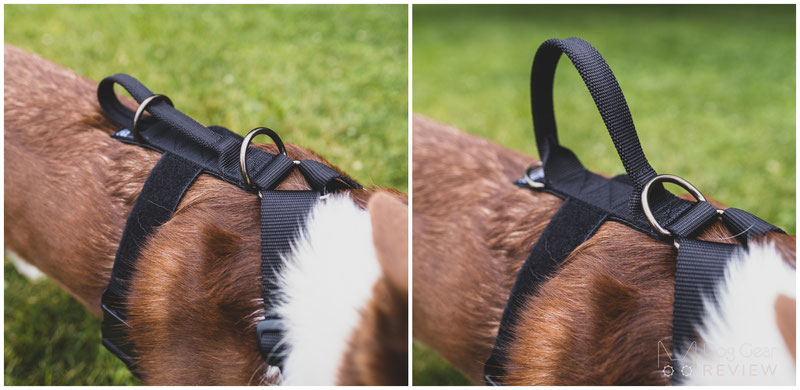 Goliath Training Harness Review
The Goliath K9 Training harness quickly became one of my favorite OneTigris harnesses. I really like how OneTigris moved away from covering a significant part of the dog's back, avoiding issues with overheating on hot days. Also, the solution for the handle is so simple yet unique.
OneTigris harnesses tend to fit bigger dogs well, but this fits Mia perfectly! Even though it only has a minimalistic back part, it still stays in place well due to the broader chest piece between the legs.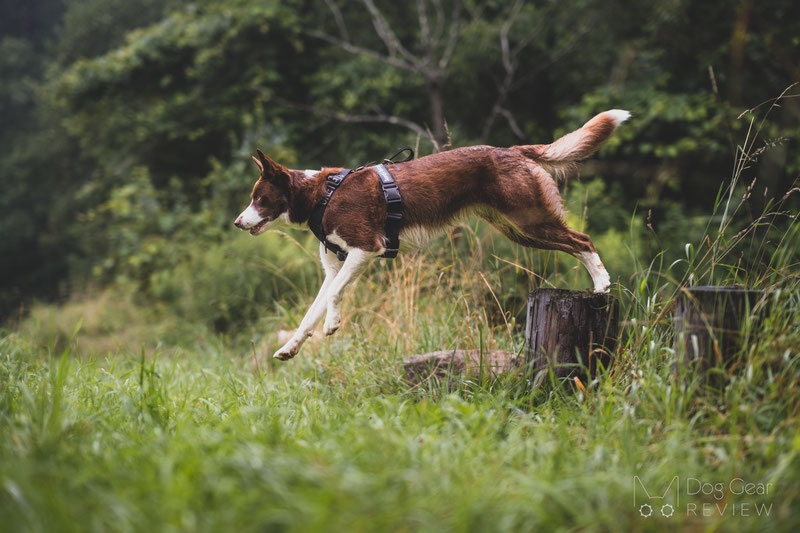 The fit is highly adjustable, and it allows for a full range of movement behind the front legs.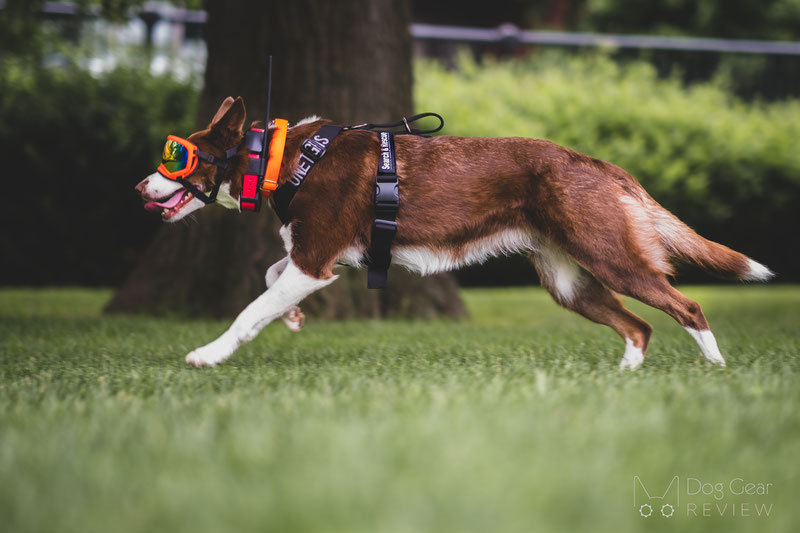 The only issue we ran into was that this harness doesn't have velcro loops or an elastic band to stow away the excess straps. After talking to OneTigris, they recommended just cutting the end of the straps.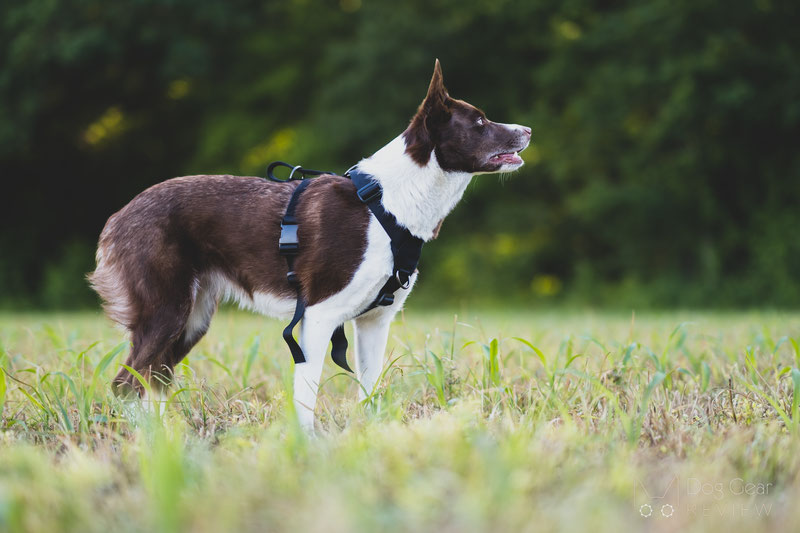 Well, even though I did my best to sew the edge of the straps after cutting, the ends started to fray on a hike, and unfortunately, by the time I noticed, there was no way to save them. Probably using a flame or another heat tool would have been the right way to do this. Regardless, I hope this harness will also come with a built-in solution to hide the excess straps in the future, like most of their other harnesses.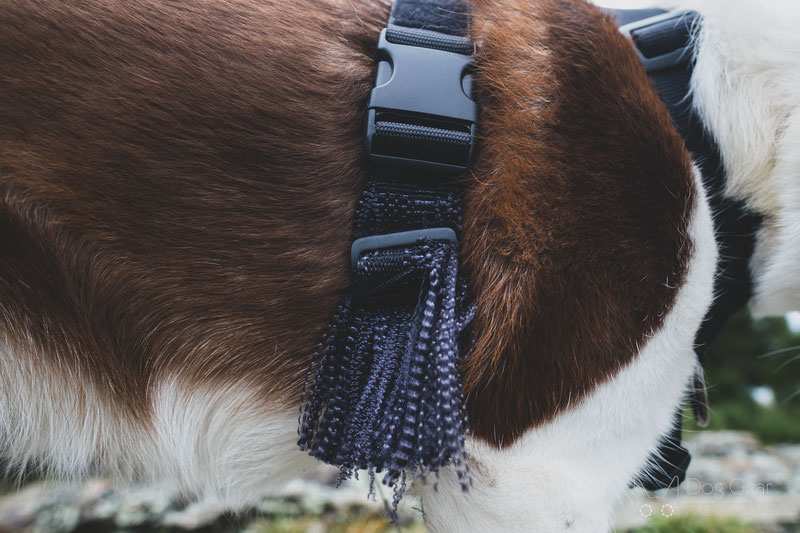 The no-pull ring tends to be placed just a little too low on the OneTigris harnesses for Mia, which was true for this one as well. It probably works on a deeper chested dog, but it's mainly dragging Mia's front legs to the side instead of effectively turning her.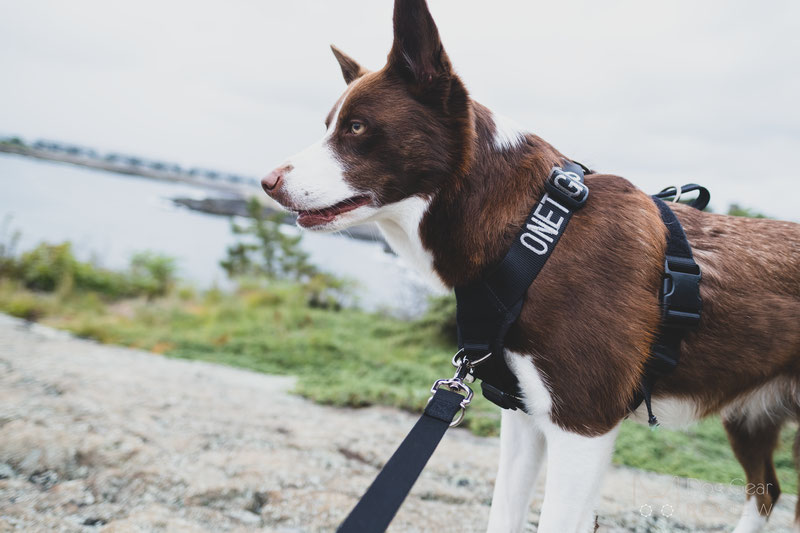 The padded front section does soak in some water and mud, which makes the strap between the legs snag somewhat, but the harness itself dries pretty fast.
Besides these minor issues, I really enjoyed using this harness (until I ruined the straps, unfortunately).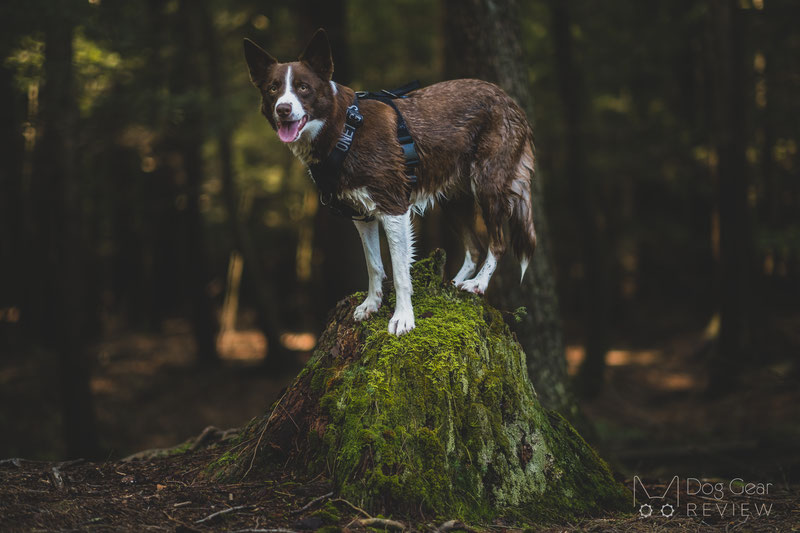 Functionality Review of the harness
No-pull correction: It has a no-pull ring, and it works reasonably well on deeper chested dogs if you adjust the harness to sit closer to the armpits. Unfortunately, it sits a little too low on Mia to work correctly.

Running/Biking: You can use it to see how your dog likes these sports, but it was not made for pulling sports, and the neck-straps are not padded at all, so you will eventually need to switch to a harness specifically designed for that.

Hiking: We used it a lot on hikes, and having the handle was an excellent help on steep sections! We prefer a more visible harness for hiking, but that doesn't fit the profile of OneTigris. It doesn't soak in too much water and leaves the shoulders/back free, which is ideal for hiking.

City walk: Works well; the ring closer to the neck gives you good steering power, which comes in handy in busy environments. You can switch between the three leash attachment points in different situations.

Easy to put on/adjust: all the straps have plenty of room for adjustment. It will take some time to fit all those straps initially, and you might have to re-adjust it after the first few walks. The neck strap doesn't have buckles on, so you have to pull it over the head and then use the chest straps' two buckles to secure the harness.

Visibility: This harness currently only comes in black; it doesn't have reflective parts either, but you can put reflective or fluorescent patches on it.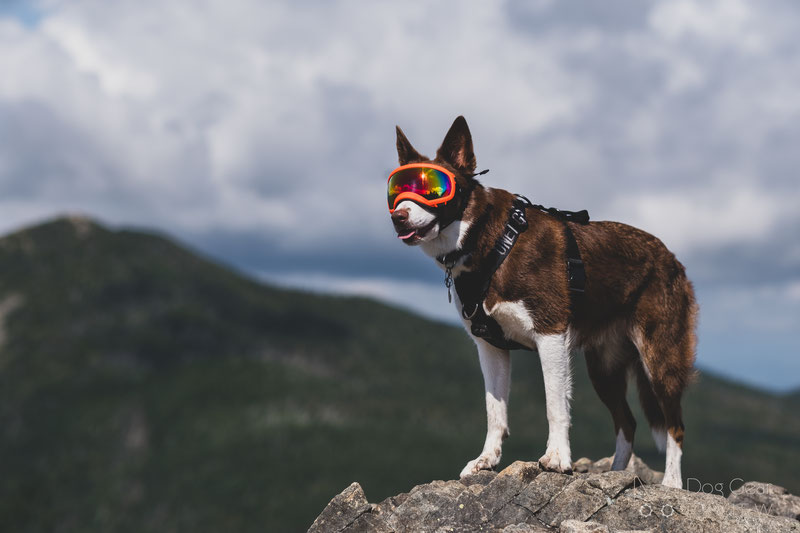 Review Summary
The Goliath Harness is a fantastic, well-made, and versatile harness that can be the perfect choice for many different situations for many dogs. I only wish it would come in a more visible color, and it would be an excellent option for hiking or our search trainings.
As always, be sure the harness is a good fit for YOUR dog. If you need help deciding, read our article on harness fitting.
Where to buy and code!
You can buy the Goliath harness on Amazon and on their website where you can use the "DGRCODE-US10" coupon for 10% off!
You can find sizing information, videos, and detailed descriptions of each product on their page. Be sure to check their sizing chart because this harness is tailored for bigger dogs - Mia had the medium size, and the only other sizes are L and XL.
Disclaimer: this review contains a affiliate links, which supports Dog Gear Review if you purchase the product after clicking on it without costing you anything extra. Using affiliate links will never compromise us writing unbiased, honest reviews!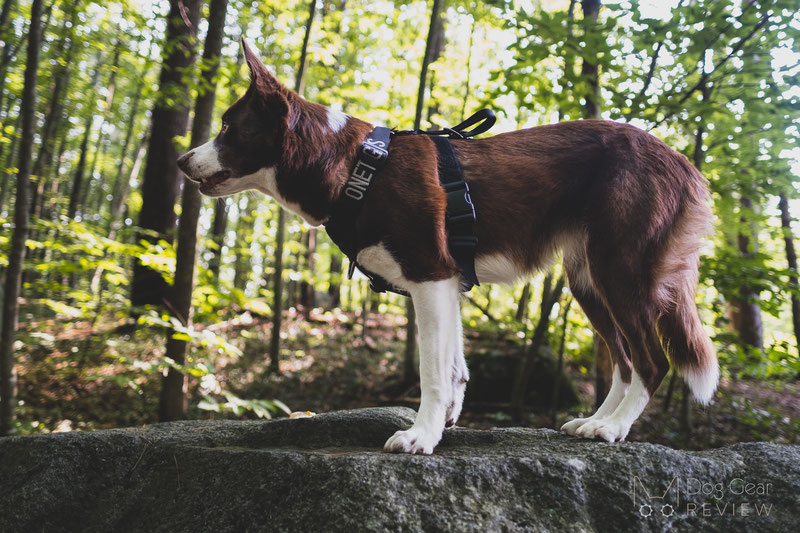 Mia's measurements
Many of you asked Mia's measurements to better understand the different products' fit. Your best chance of finding a good fitting gear is always to measure (and remeasure) your dog. Even we grab the measuring tape before getting a new product - even though we tested a lot of them, and have a good feeling of her size by now.
I share her measurements below, but don't go ahead and order the same size just because your dog is similar to Mia ;)
Shoulder height: 19.5 inches (50 cm)

Weight: 37-44 pounds (17-20 kg)

Widest chest circumference (where the most harness would have the chest strap): 25-26 inches (63-65 cm)

Neck circumference for collars: 15-16 inches (38-40 cm)

Back lengths: 22 inches (56 cm)