About OneTigris
OneTigris is a tactical-style outdoor gear store selling all kinds of products, from airsoft gear to affordable military-style dog harnesses.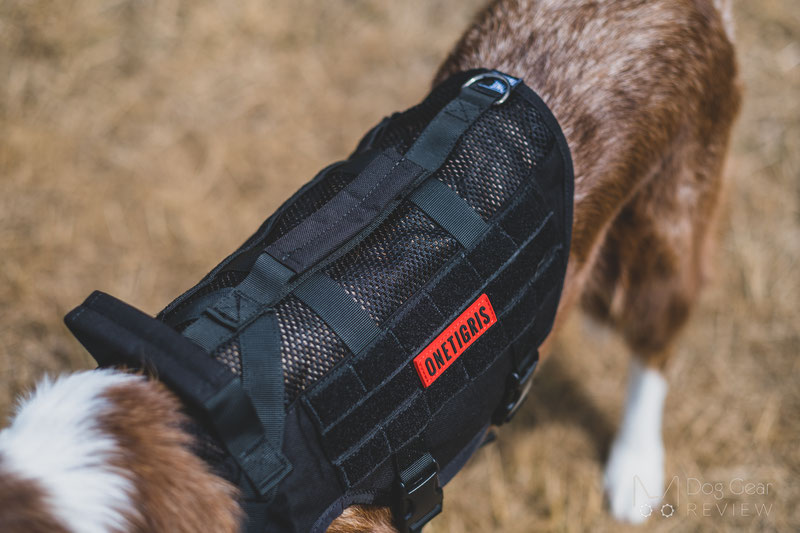 About the AIRE Mesh Harness
The new OneTigris AIRE Mesh Harness was designed for warm days and muddy adventures. It has a big mesh section on the top, providing airflow, and is made of a thin, 1000D nylon material that dries fast and is easy to clean.
The harness is very light, only weighing: 16.2oz/461g (Size M); 17.5oz/694g (Size L); 27.8oz/789g (Size XL).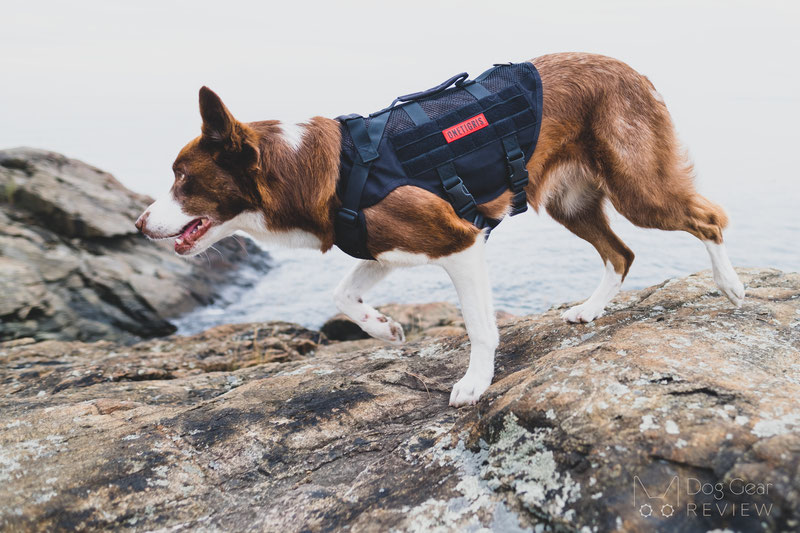 It has two padded handles (one horizontal and one vertical) if the dog needs support on a steep trail or while getting in and out of the car.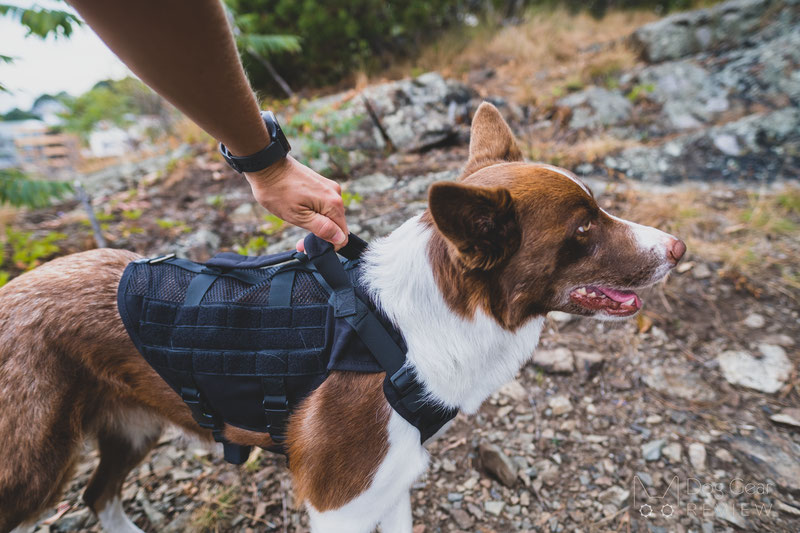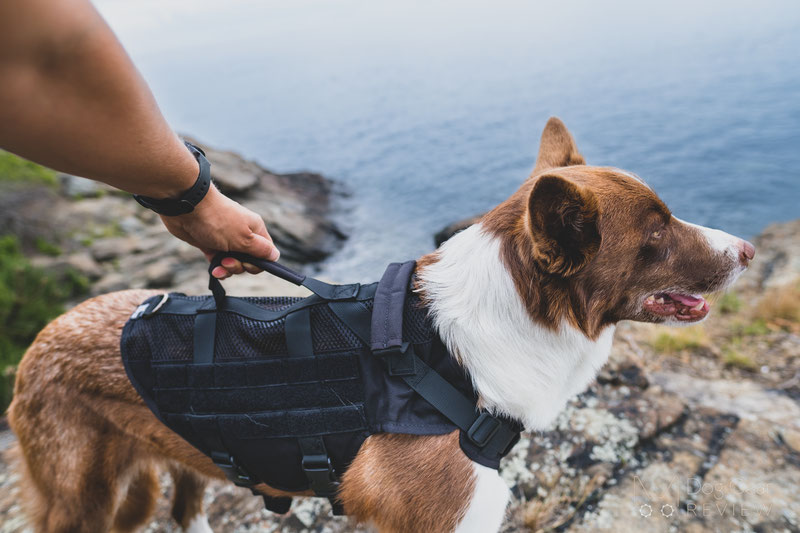 The AIRE Mesh Harness has three stainless steel D-rings: two on the back and a no-pull ring on the front. MOLLE panels are on both sides for MOLLE compatible add-ons and four UTX-Duraflex® quick-release buckles on the chest straps.
They were strength tested as:
-Size M: UTX-Duraflex® Buckle 121 lb/ 55 kg; Front Chest D-ring 264 lb/ 120 kg; Top D-ring 200 lb/ 440 kg
-Size L/XL: UTX-Duraflex® Buckle 143 lb/ 65 kg; Front Chest D-ring 200 lb/ 440 kg; Top D-ring 200 lb/ 440 kg
AIRE Mesh Harness Review
The AIRE Mesh Harness is an excellent cross of a vest and a harness. Most similarly designed harnesses are on the heavy side with durable, thick material that traps the heat and is too warm over the summer and soaks up all the water during rainy days. Vests offer ample patch space for service dogs or dogs in training / working dogs, but they are usually not strong enough to safely control a larger dog by attaching the leash to it.
This harness offers a great combination of these features: it has room for all patches and add-ons, it's light and breathable like a vest but strong, and it has the versatility of a harness with multiple leash attachment points.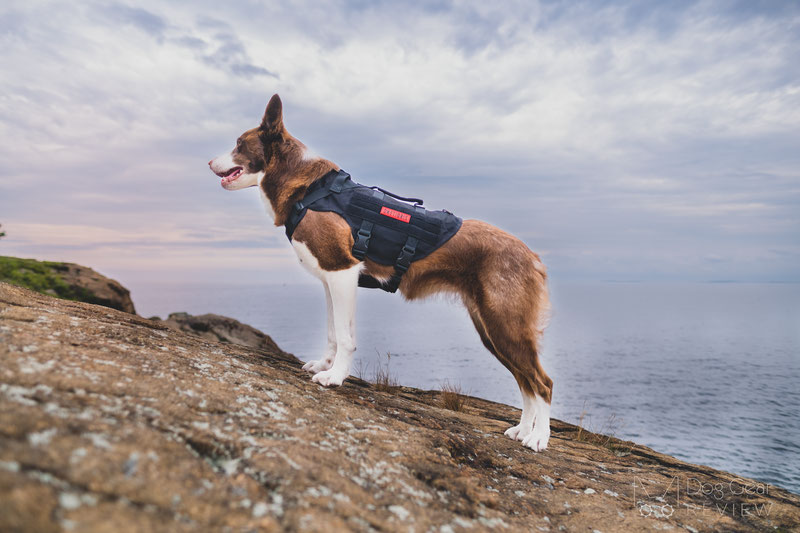 The two handles on the back make it very easy to support the dog in and out of the car or on a steep trail while they lay flat enough not to get caught on something in the woods unless the dog is going through a very dense area. The mesh section is also not ideal for dense undergrowth since that can tear, but the harness as a whole is still a durable, strong construction despite the light and thin design.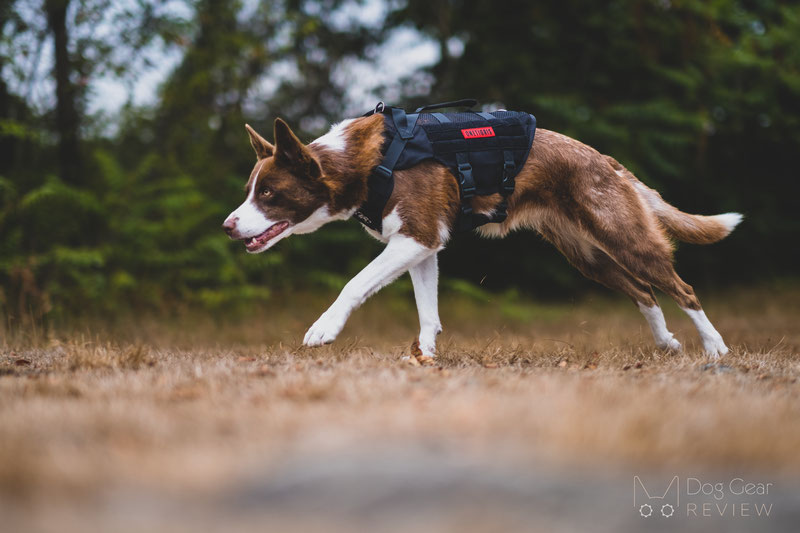 All the straps are adjustable on both sides; however, the length of the chest panel between the front legs has a fixed length. However, if you go on their website and go to the "Specifications" section, you will find even the chest piece length that helps you determine the correct size.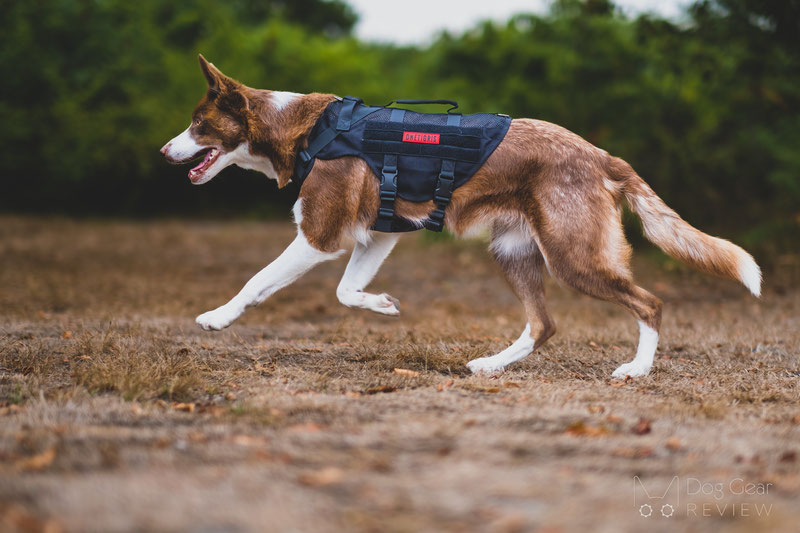 My favorite thing about this harness is that it stays in place very well. All the buckles are symmetrical, and the chest panel is wide enough to keep the harness centered, so it doesn't rotate even when the dog is running around off-leash.
The no-pull ring is positioned just a little too low to turn the dog effectively, but the three-strap design helps keep the harness in place, and this balances out the position of the ring, making it a reasonably good no-pull training harness.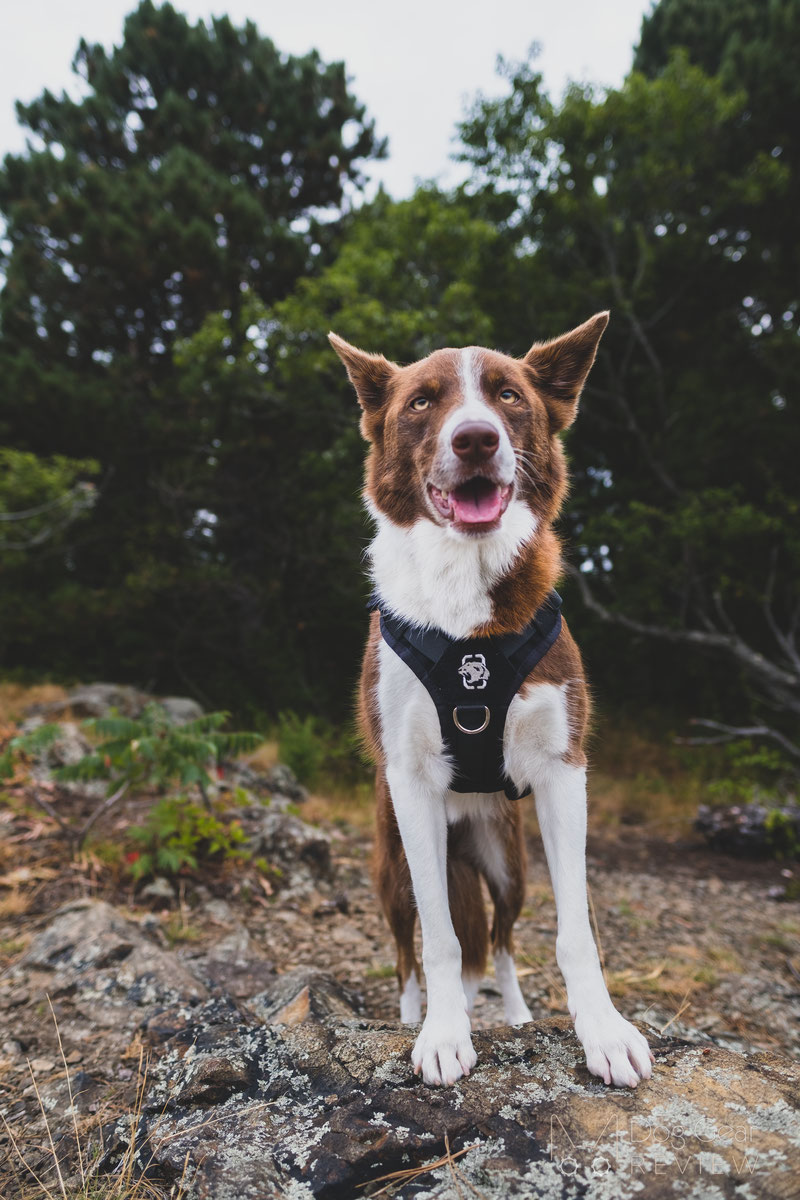 Like with many other OneTigris harnesses, the fit was not perfect on Mia; however, I saw it fitting perfectly on many other dogs. Mia has awkward ratios, so finding a harness/vest that fits her neck and chest well and gives enough room behind the front legs is hard. Since this is a thin, light "vest harness," I wouldn't be too concerned about chafing in the armpits unless the dog has very sensitive skin or if the buckles' position interferes with the shoulder movement.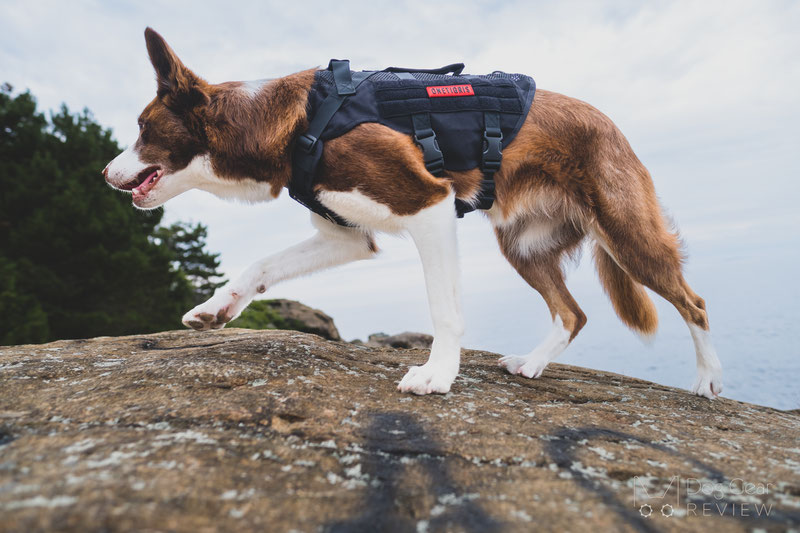 Functionality Review of the harness
No-pull correction: Although its position might not be ideal for all dogs, the no-pull front ring can be used for training loose leash walking.

Running/Biking: The design could be used to try pulling sports, but this is not a pulling harness. It doesn't have enough padding on the neck-straps, and the breathable back section might not be enough to counterbalance the heat trapped under the whole harness while heavily exercising.

Hiking: I would use a more visible harness for hiking, but the breathability, easy cleaning, and big handles make it a good option for cooler hikes.

City walk: Works well; the three leash attachment points and the handles provide excellent and versatile control over a dog.

Easy to put on/adjust: Easy adjustment, although it takes some time to go through all of them. All the straps are adjustable, and the chest straps have buckles on both sides, so there is no need to lift a leg. The neck section doesn't have a buckle, so it needs to go over the head.

Visibility: This harness is not meant to be visible.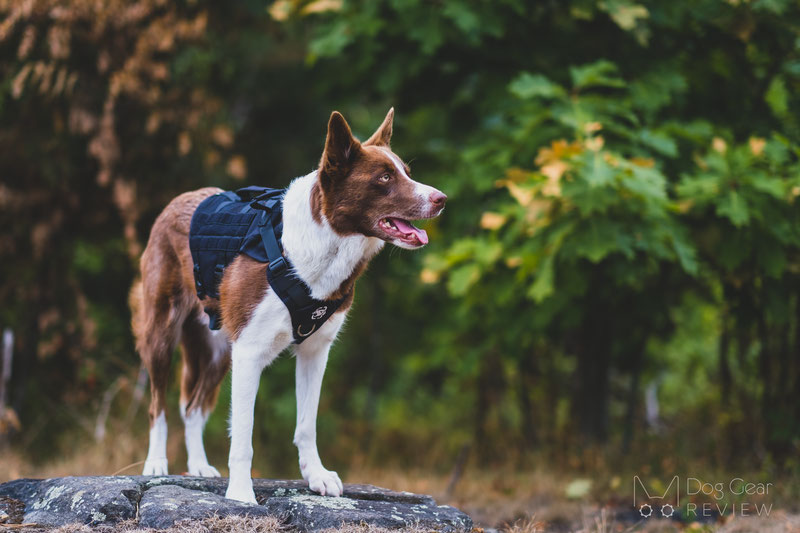 Review Summary
This light and streamlined harness is packed with cool and functional features. The handles on the back are easy to grab and are helpful in many different situations when the dog needs support or control. The three leash attachment points make it versatile to use in different walk styles and to cater to different training needs. The large velcro panel makes it easy to add any custom text as needed.
The harness has a clean look, especially after all the excess straps are tucked away with the velcro fasteners. Looks and behaves like a heavy-duty, thick harness, but you will be surprised how light it is. The thin material also makes cleaning and drying very easy and quick.
The only thing to remember is that it is still a black cover over the dog, and there is a temperature when the breathable back is not enough to prevent overheating.
As always, be sure the harness is a good fit for YOUR dog. If you need help deciding, read our article on harness fitting.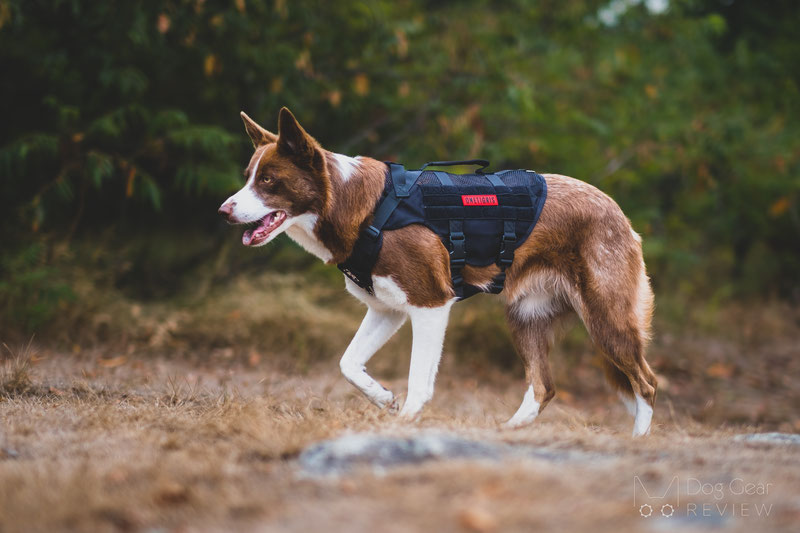 Where to buy & Code
You can find the new AIRE Mesh Harness on Amazon and on their website where you can use the "DGRCODE-US10" coupon for 10% off!
You can also find sizing examples, videos, and detailed product descriptions on their website.
When writing this review, the harness comes in two colors and three sizes that best fit bigger dogs. Mia had their Medium harness, which is the smallest this comes in.
Disclaimer: this review contains affiliate links, which supports Dog Gear Review if you purchase the product after clicking on it without costing you anything extra. Using affiliate links will never compromise us writing unbiased, honest reviews!
Mia's measurements
Many of you asked Mia's measurements to better understand the different products' fit. Your best chance of finding a good fitting gear is always to measure (and remeasure) your dog. Even we grab the measuring tape before getting a new product - even though we tested a lot of them, and have a good feeling of her size by now.
I share her measurements below, but don't go ahead and order the same size just because your dog is similar to Mia ;)
Shoulder height: 19.5 inches (50 cm)

Weight: 37-44 pounds (17-20 kg)

Widest chest circumference (where the most harness would have the chest strap): 25-26 inches (63-65 cm)

Neck circumference for collars: 15-16 inches (38-40 cm)

Back lengths: 22 inches (56 cm)