About Non-stop Dogwear
Non-stop Dogwear was founded in Norway only ten years ago, and today you can find their products in over 1,000 stores in 22 countries. We love their passion for designing the best-fitting dog harnesses to "release their potential," as their slogan says. Their focus is on pulling harnesses and other types of equipment for skijoring, canicross, etc. but they also have a few harnesses more suited for everyday dog walks - like the Ultra harness that we are just reviewing ;)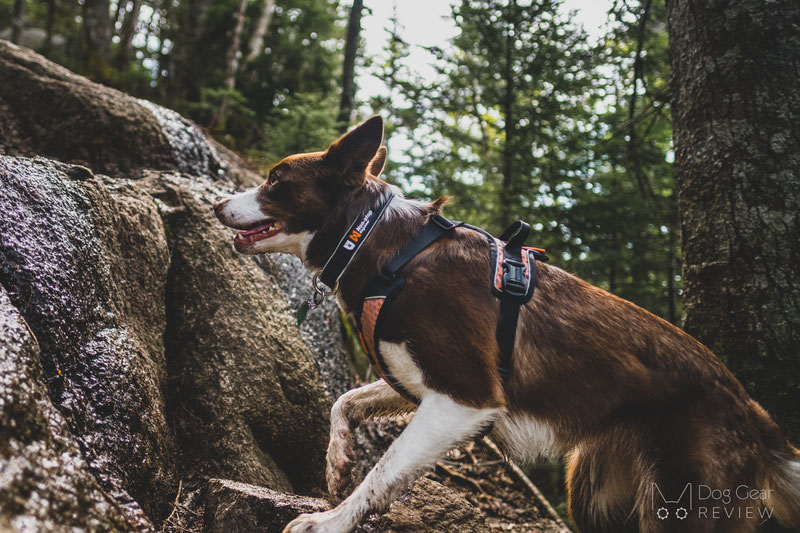 About the Ultra harness in general
As mentioned above, the Ultra harness is geared towards hiking and everyday walks, not pulling sports like most of the harnesses from Non-stop Dogwear. It is a Y-shaped harness with two buckles on the chest strap and four adjustment points for the best fit.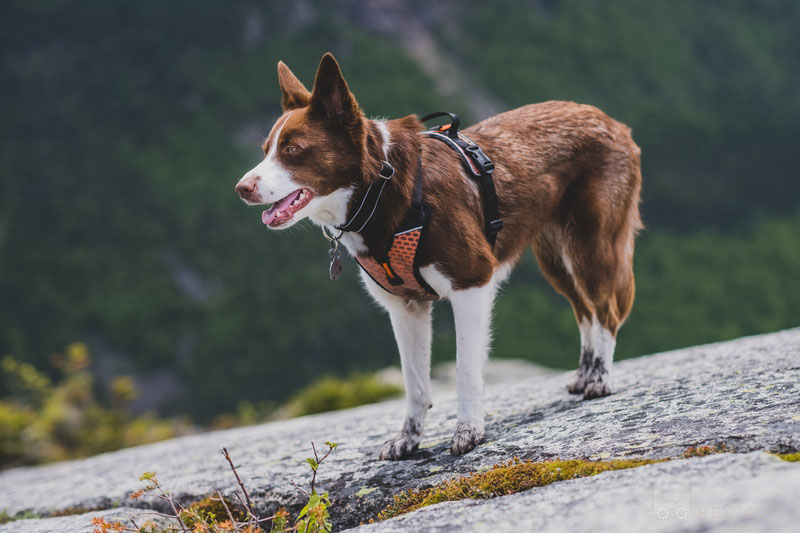 The most exciting feature of this harness is the material itself. They used a breathable HexiVent material instead of thick padding. This makes it still soft while it doesn't soak in the water and helps the dog cool down on hot days.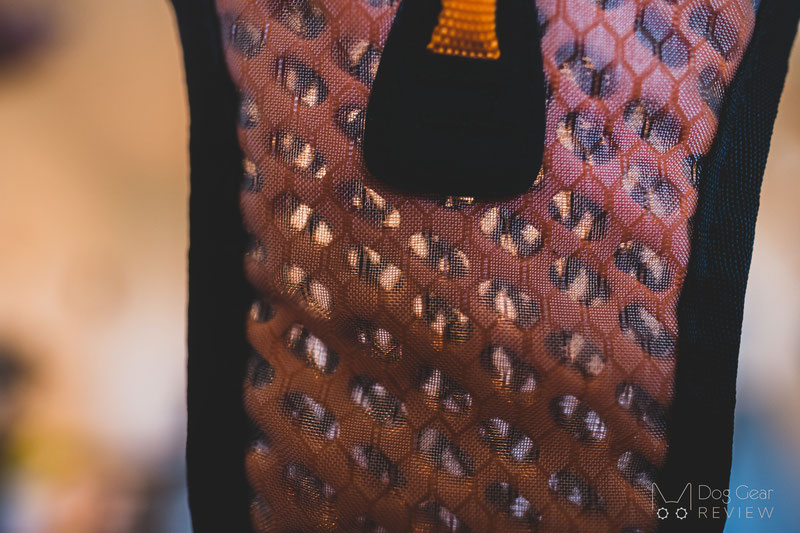 The Ultra harness is similar to the Line harness in its general design. It also has three leash attachment points: one on the back, one no-pull-loop on the chest, and a loop below the ribcage for attaching a tracking line.
Front loop for no-pull correction: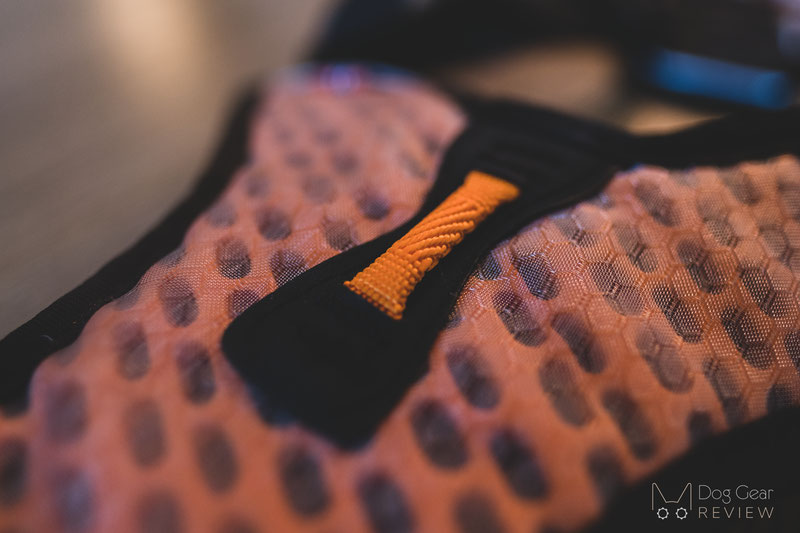 Attachment point for tracking lines: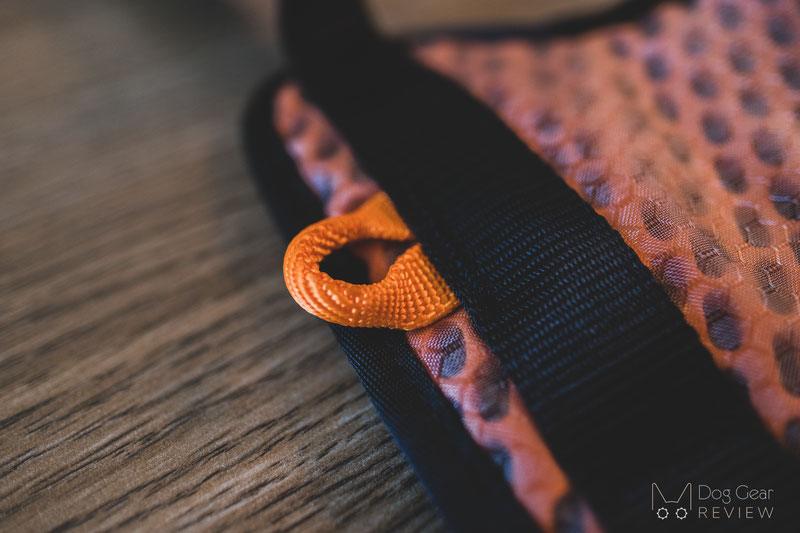 Strong brass ring on the back:
The harness also has a handle on the back, and they used Hypalon reinforcements in high-stress areas. The harness also has a 3M reflective lining on the back piece's edges and some on the chest part.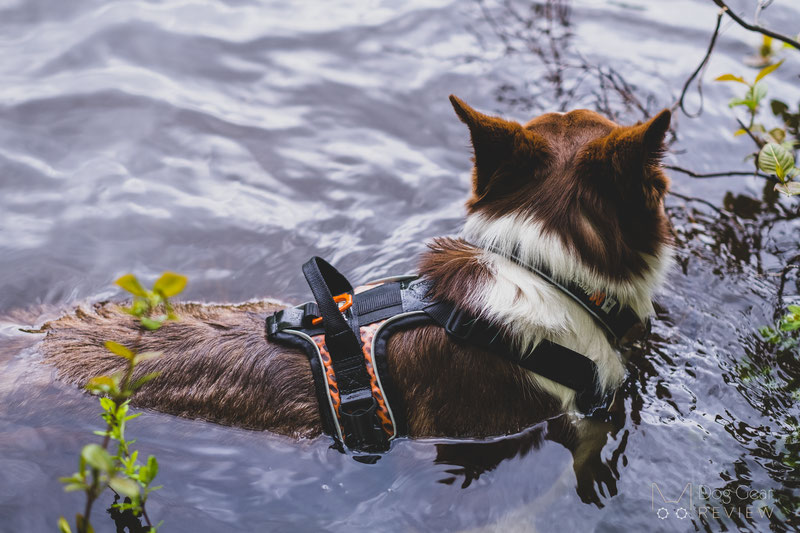 Ultra Harness Review
We tested this harness for months while going for many day-hikes. We always appreciate when a harness is easy to clean and will not get heavy after soaking it in water and dirt. This harness proved to be exceptionally good in this sense: it was easy to soak out the mud and dirt with a swim at the end of the hike.
Since we are talking about cleaning, we also want to mention that the harness is only machine washable on low temperature (30 Celsius/ 86 Fahrenheit), and the best is to air dry after that (do not tumble dry!).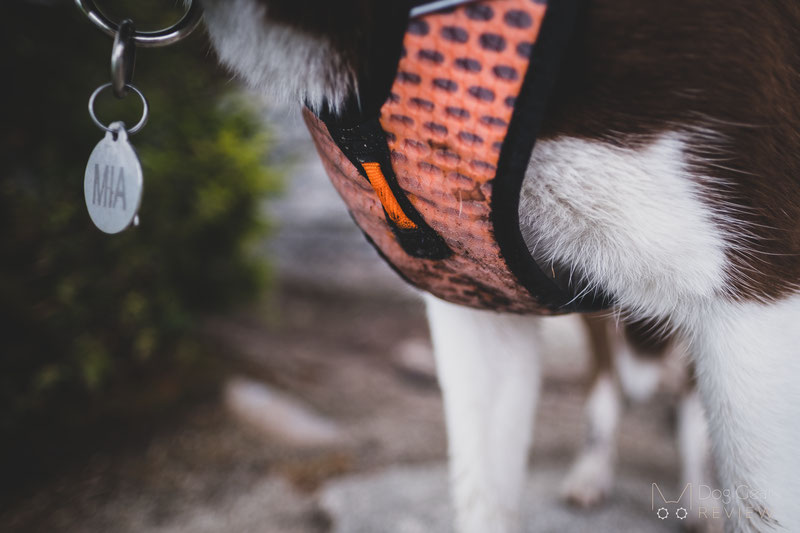 The harness also stays in place well; it doesn't slide to the sides or up the dog's neck.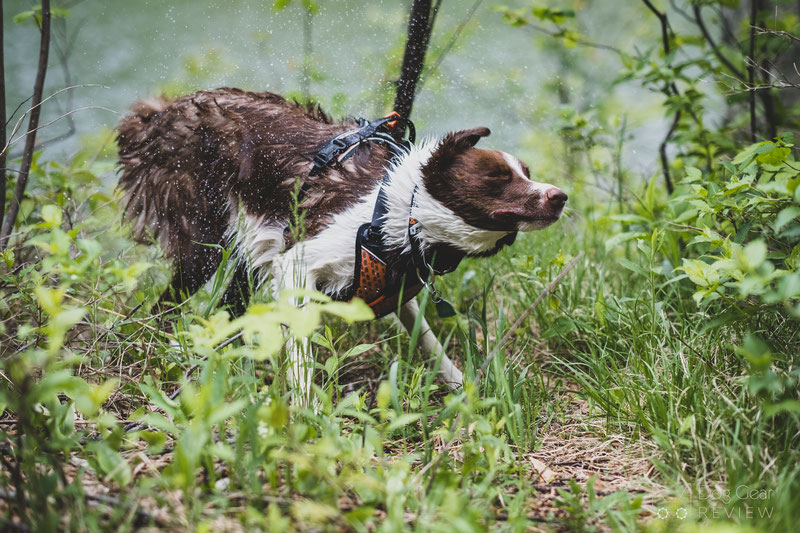 We only had two problems with the design, which might only be related to Mia's built. This might or might not be an issue on your dog, but we want to point it out anyway.
The first one is that the harness doesn't leave enough room behind Mia's shoulders for free movement. If your dog has sensitive skin, this could cause chafing on the back of the leg or in the armpits quickly. Some dogs would also start taking smaller steps and change their natural gait, which can be hard on the joints in the long run. For some reason, Mia didn't show any sign of the above, but we also know many dogs who would behave like you entirely restricted their shoulder movements, so this is something to keep in mind.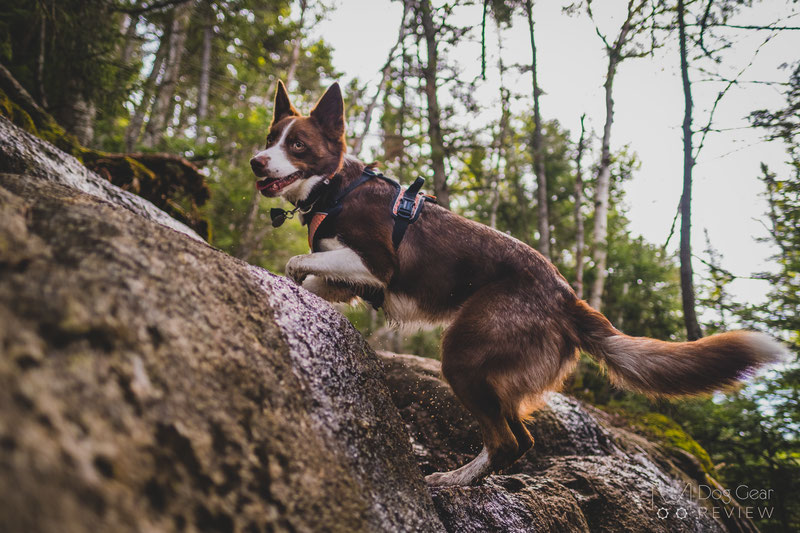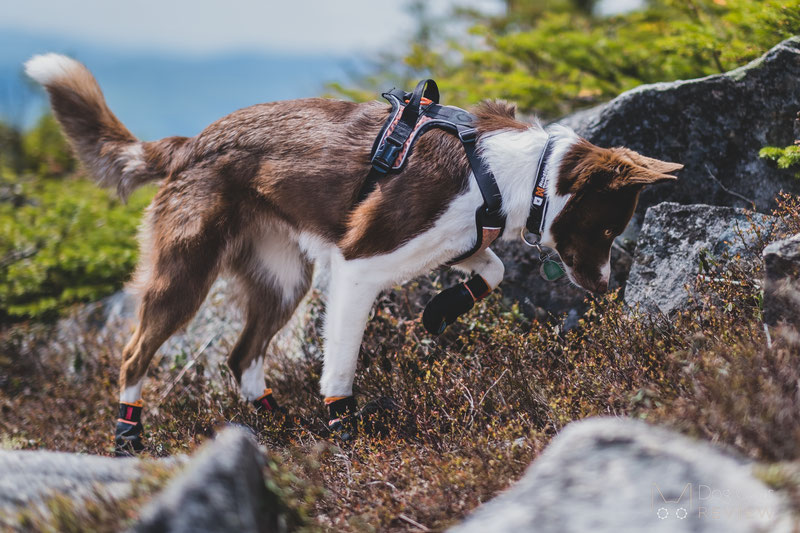 The second aspect that we would like to mention is the width of the chest part. This is an attribute of a harness that many don't consider, mainly because it's hard to notice unless you go down to the dog's level. Having a wide chest piece provides excellent distribution of force if your dog pulls, but if they touch the inside of the legs, this could also cause chafing since they rub against the skin with every step. Again, this is something that wouldn't be an issue for a wider chested dog, and it might not even be an issue with most others. As we mentioned, Mia's skin isn't sensitive; she never had signs of chafing there - even after all-day-long hikes, but we prefer a harness that isn't touching the inside of the legs.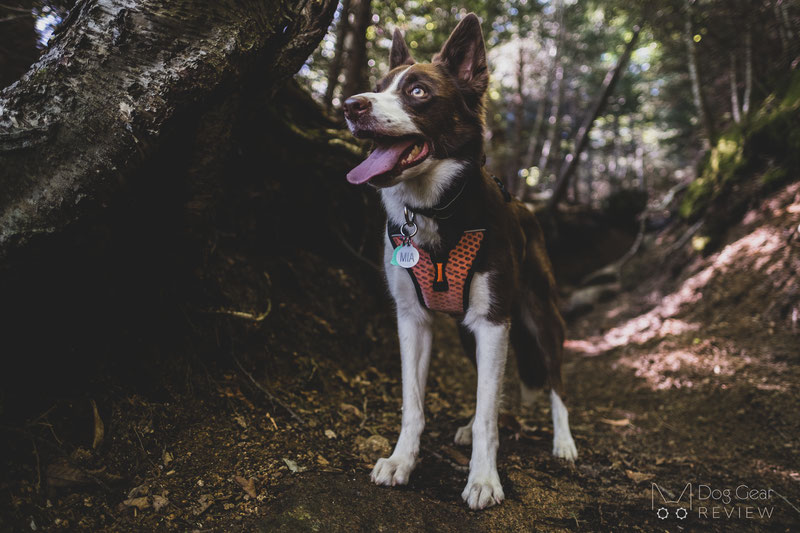 Altogether, this harness worked for us very well. We are impressed with the quality: there are still no signs of wear anywhere on it. Even the ring on the back looks new; it isn't scratched up like most of the painted rings after a few weeks. The handle on the back is perfect for helping Mia up on steep parts or hold her back on a steep descent, but like with any handle sticking out on the back: there is a chance that the handle could get caught on something in a forest.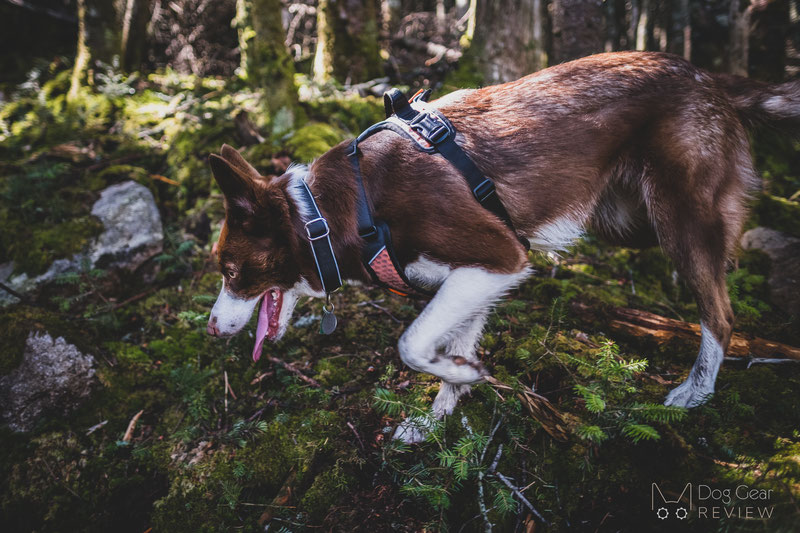 For reference, Mia got a Medium size Ultra harness. As you might saw on the photos, we had the neck-straps as tight as they go, and we felt it could be just a little tighter for the perfect fit. Unfortunately, one size smaller would have been probably too small altogether, and it would have brought the chest straps even closer to her armpits.
Functionality review
No-pull correction: While it isn't the main purpose of this harness, it can be used for no-pull training. Actually, among the Y-harnesses with no-pull rings that we tested so far, this harness (and their Line harness which has the same basic design) worked the best.

Running/Biking: If it fits your dog well, it is great for bikejorning, jogging, etc. as an occasional hobby, but we suggest buying proper equipment if you want to get into it seriously! This is not a pulling harness, so don't start your dog sledding carrier with this.

Hiking: It's perfect! It has a handle on the back, doesn't collect the mud, and is visible.

City walk: Works well!

Easy to put on/adjust: It only has two buckles on the chest part, so you have to pull the harness over the head and then use the buckles on both sides to fix the harness. Adjusting is easy, and the sliders stayed as adjusted.

Visibility: it has reflective stripes on the edges, and the orange color is visible by itself.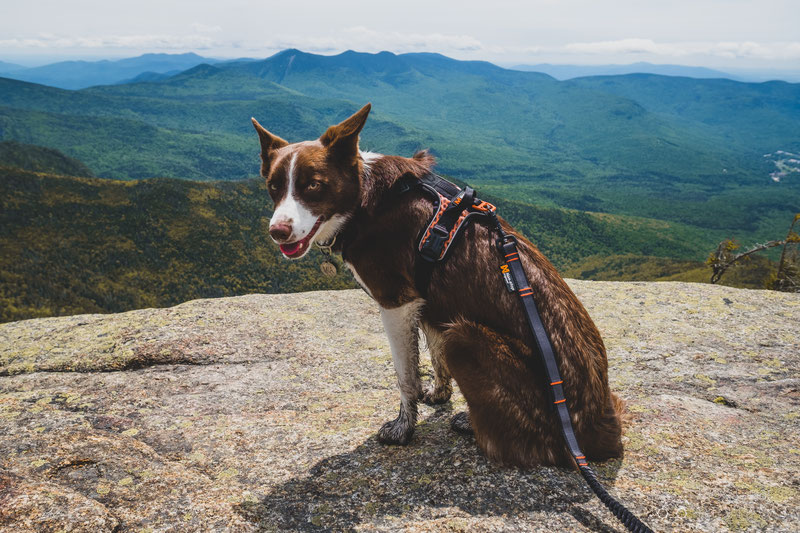 Summary
The Ultra harness is an exceptional quality product with great attention to detail. The four adjustment points give you plenty of room for fitting, and the three leash attachment points accommodate almost anything you could want. The buckles and leash attachment loops & ring are secure, and the sliders on the straps stayed in place, did not loosen up while hiking, running, or swimming.
As always, be sure the harness is a good fit for YOUR dog. If you need help deciding, read our article on harness fitting. If it left a little more room both behind the shoulders and between the legs, this would be our go-to hiking harness so far!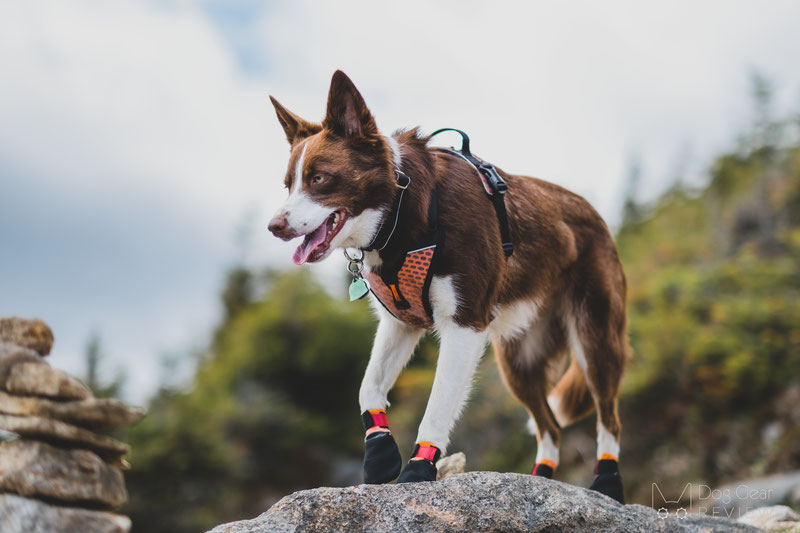 UPDATE!
Non-Stop Dogwear just came out with an updated version of the Ultra harness. We tested and reviewed the changes and are happy to say they solved all our concerns mentioned in this review. Head over to our Rock harness review to read more about it and see the comparison of the two harnesses!
Where to buy & Code
You can buy all their products on their website with worldwide shipping and probably find retailers and stores in your country.
We're excited to announce our collaboration with Non-Stop Dogwear! Use the code "DogGearReview" for a 20% discount on all their products worldwide. Rest assured, our unbiased, honest reviews remain unchanged. Using affiliate links simply helps support our work while you save.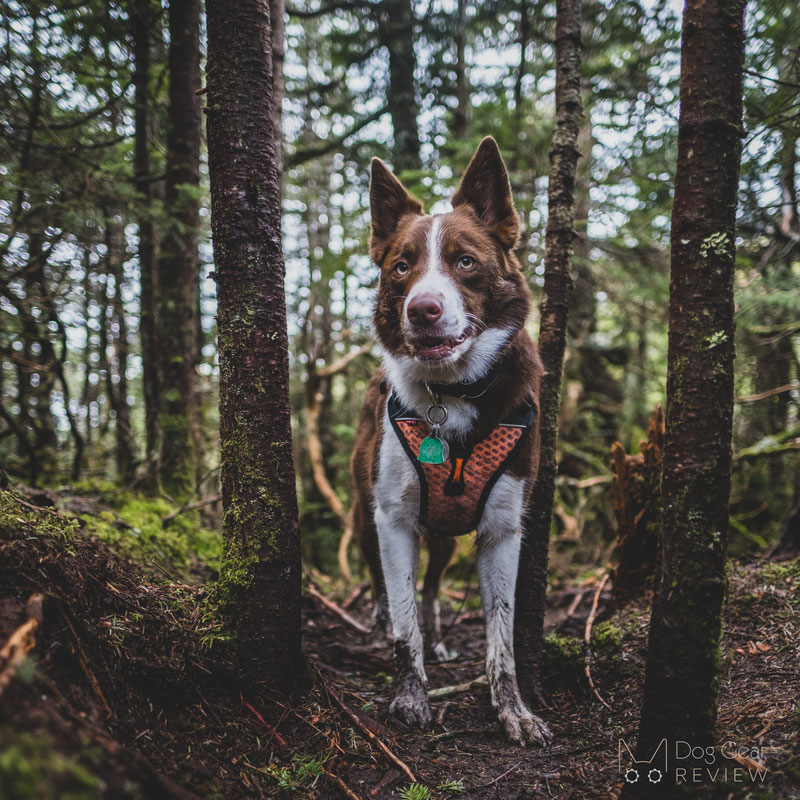 Mia's measurements
Many of you asked Mia's measurements to better understand the different products' fit. Your best chance of finding a good fitting gear is always to measure (and remeasure) your dog. Even we grab the measuring tape before getting a new product - even though we tested a lot of them, and have a good feeling of her size by now.
I share her measurements below, but don't go ahead and order the same size just because your dog is similar to Mia ;)
Shoulder height: 19.5 inches (50 cm)

Weight: 37-44 pounds (17-20 kg)

Widest chest circumference (where the most harness would have the chest strap): 25-26 inches (63-65 cm)

Neck circumference for collars: 15-16 inches (38-40 cm)

Back lengths: 22 inches (56 cm)