Non-stop Dogwear is a Norwegian company that has rapidly grown over the past decade, with their products now available in over 1,000 stores across 22 countries. While they focus on equipment for skijoring, canicross, and other pulling activities, they also offer a range of other products, including dog jackets, collars, leashes, and human gear.
Do dogs need boots?
The question of whether dogs need boots is a common one among pet owners. The answer, however, isn't straightforward as it varies from dog to dog and depends on various factors.
Different types of boots serve different purposes. For example, boots can protect a dog's paws from extreme temperatures, such as hot pavement or cold snow. They can also prevent paw drying and cracking caused by salted roads during winter walks. Additionally, boots can provide traction on slippery indoor surfaces and protect paws from sharp objects on rocky terrain.
The decision to use boots ultimately comes down to your dog's needs and sensitivities. Some dogs may require boots more than others, depending on their breed, size, age, and health conditions. Observing your dog's behavior and how they react to different terrain and temperatures is essential to determine if boots are necessary.
We wrote an article about things to keep in mind when using boots on hikes over the summer since there are just as many pros as cons around the topic. We also have another article on the different types of winter boots, the differences between summer vs. winter boots, and much more.
To read more educational posts, check out our Articles page!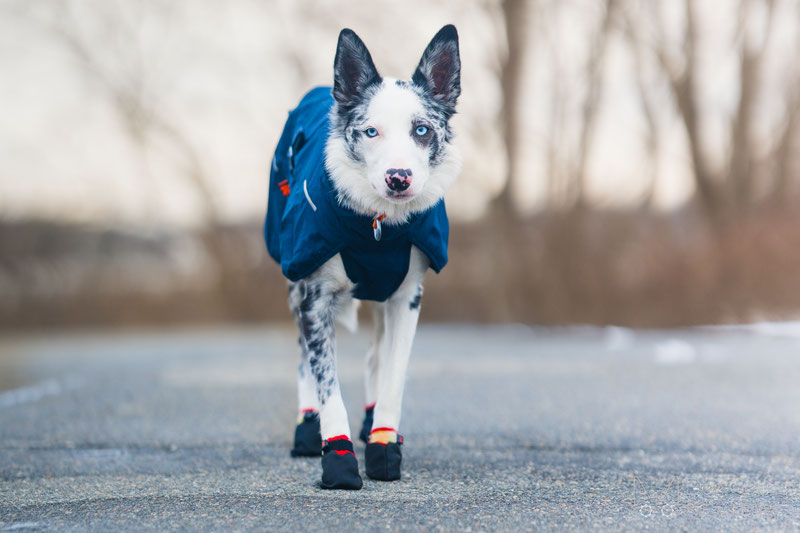 What size of boots does my dog need?
When choosing the right size of boots for your dog, it's essential to follow the sizing guide provided by the manufacturer. Most companies provide sizing instructions on their product site, so be sure to check before purchasing.
Place a sheet of paper on the ground to measure your dog's paws accurately and have your dog stand on it. Lift the opposite leg to put weight on the paw you want to measure and draw lines on both sides. You can then measure the distance on the paper later without causing any stress to your dog.
Some companies ask for the paw's width, while others size based on the paw's length, so it's crucial to check the sizing guide for each brand. For instance, Non-stop Dogwear recently changed their shoe sizing to be based on the top of the paw as shown in this video.
It's recommended to measure all of your dog's paws since the front paws may differ in width from the back paws. You also need to ensure a snug fit, as loose-fitting boots can cause your dog to lose balance and chafe their feet.
Avoid the misconception that leaving the straps looser or ordering a larger size will make the boots more comfortable for your dog. Just like hiking in oversized boots, ill-fitting shoes can cause discomfort and pain for your pet. Therefore, aim for the most precise measurement possible for optimal comfort and performance.
Non-stop Dogwear Solid Socks Review
The Non-stop Dogwear Solid Socks are specially designed for rough terrain and are reinforced with 1000D nylon, making them more durable than the Long Distance Booties we reviewed before. The elastic velcro ensures an easy and secure fit, while the soft nylon inner lining provides comfort during exercise on dryland and gravel.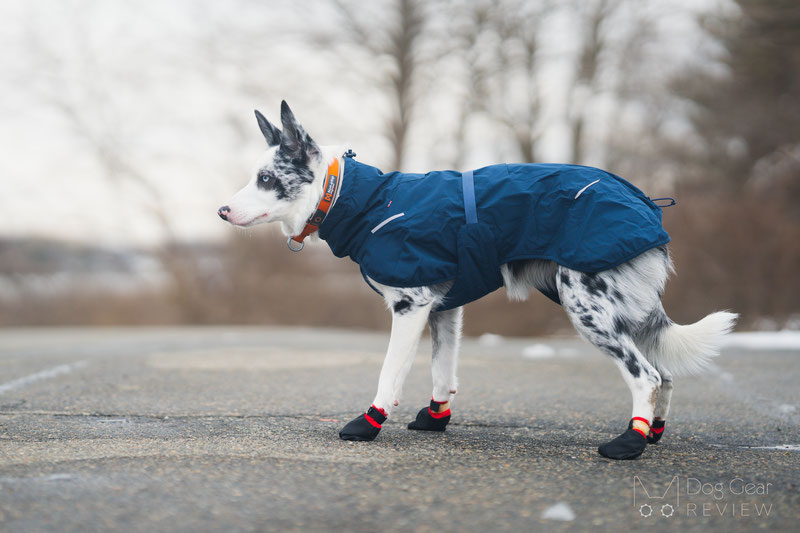 Even the biggest size only weighs 20 grams per sock, so it is a very light boot indeed. While sock-type booties can and will get worn down, Solid Socks are reasonably long-lasting for their price point. If used on rough terrain and/or for running, they hold up significantly shorter than boots with rigid soles, which is a tradeoff you get for the better grip and comfort the bag material provides.
The outer shell of the booties is made from tightly woven 1000D nylon, which provides extra protection even when the dog is running on rough terrain. The best is that you can toss them in the washing machine on a gentle cycle (max 30°C) to clean them as long as you avoid tumble drying.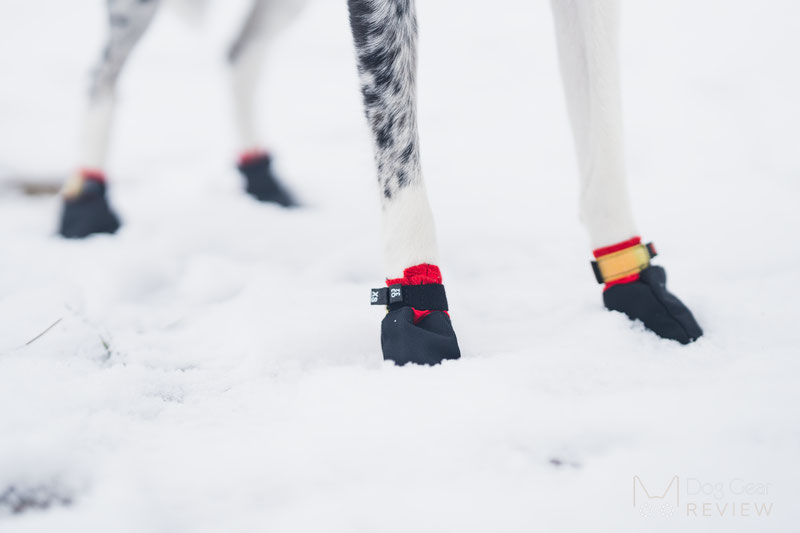 The Solid Socks are the first booties Zulu used. Since she is gear shy and has had a hard time with wearing coats and harnesses, I expected her to need a long desensitization time to wear any boot comfortably. However, to my surprise, Zulu required only five minutes of encouragement before confidently walking around in the booties when putting them on outside for the first time.
These "bag-style," softer boots allow the dog to get a better grip while running, and they also chafe and rotate less than the ones with a solid rubber sole. Zulu has tiny stick legs for a Border Collie, and these boots stayed on well while running around.
It is worth noting that Zulu needed the XS boots for all four legs, which is currently the smallest size available.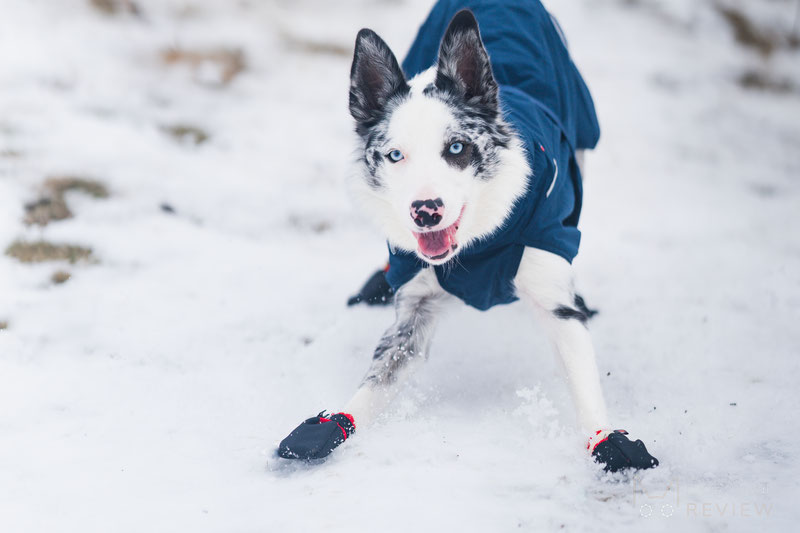 Review Summary
The Non-stop Dogwear Solid Socks are lightweight, durable, designed for rough terrain, and easy to clean after adventures. They have a soft inner lining for comfort and elastic velcro for a secure fit.
The "bag-style" design allows for a good grip and causes less chafing, making them an excellent choice for dogs with sensitive skin or those who are hesitant to wear boots.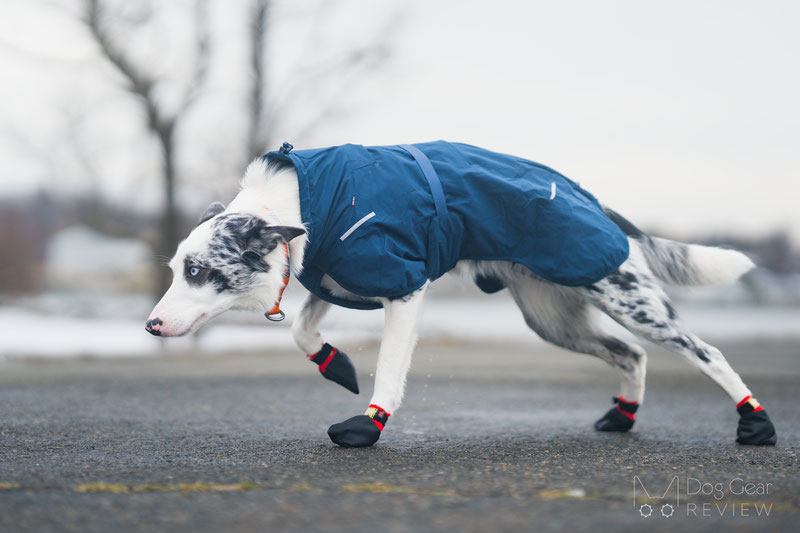 Where to buy & Code
You can buy all their products on their website and probably find retailers and stores in your country.
We are happy to announce that we have an ongoing collaboration with Non-Stop Dogwear! You can use the code "DogGearReview" to get 20% off sitewide globally! Using affiliate links will never compromise us in writing unbiased, honest reviews, while it is a way for you to support our work while also getting a discount.