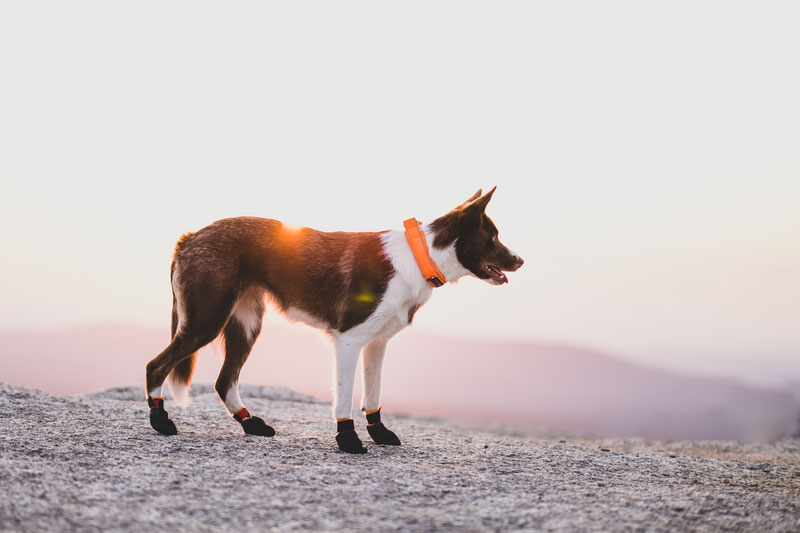 Non-stop Dogwear Protector Bootie Review
About Non-stop Dogwear
Non-stop Dogwear was founded in Norway only ten years ago, and today you can find their products in over 1,000 stores in 22 countries. We love their passion for designing the best-fitting dog harnesses to "release their potential," as their slogan says. Their focus is on pulling harnesses and other types of equipment for skijoring, canicross, etc. but they also have a few harnesses more suited for everyday dog walks.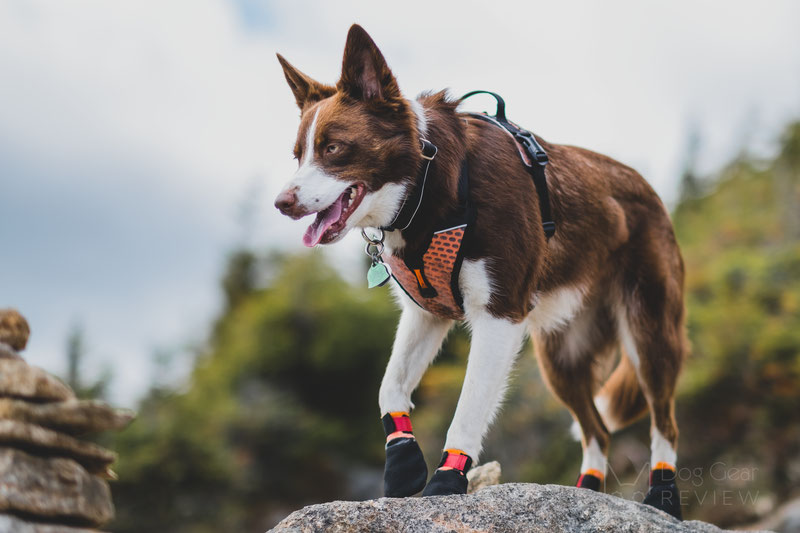 Do dogs need boots?
Many owners think using boots is stupid, while many believe it is necessary for all dogs. Well, like with every other gear, the answer is: it depends.
Different boots can be used for different reasons, such as protecting the paws on hot or very cold pavement or preventing the paws from drying out while walking on salted roads over the winter. Many also use them on icy snow when the dog's paws would get cuts or in powdery snow if it tends to get stuck between the toes. It can also be used inside if a dog has arthritis or slides around a lot on the floor.
Some dogs are just more sensitive than others, so you have to know your dog and see how they can handle different terrain and temperatures.
We wrote an article about things to keep in mind when using boots on hikes over the summer since there are just as many pros as cons around the topic. We also have another article on the different types of winter boots, the differences between summer vs. winter boots, and much more. If you want to read more on the subject, check these out under our Articles page!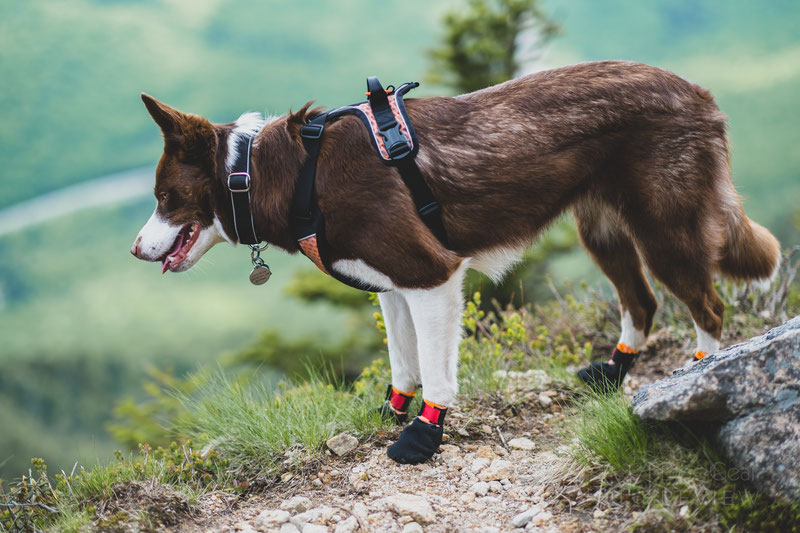 What size of boots does my dog need?
The best is always to follow the sizing guide on the product site. Measuring your dog's paws is the easiest if you put their feet on a paper, lift the opposite leg to put weight on the leg you are trying to measure and draw lines on both sides of the paw. You can measure the distance on the paper later without stressing the dog with it. It is always recommended to measure all paws! Commonly, the front paws are wider than the back ones, but the opposite can also be true for some dogs.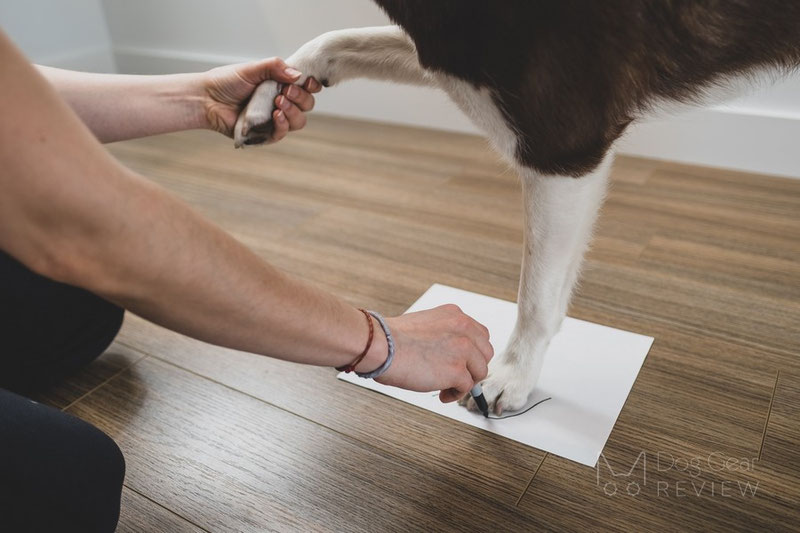 You have to figure out how tight and snug they have to be for the optimal fit. Many think that leaving the straps looser or ordering one size bigger will make the boots comfier for the dog, but if you have ever tried to hike in oversized boots, you know it's not true. If the paws are sliding around in the shoes, the dog will lose balance much easier, and the shoes will chafe their paws much faster, so you want to measure it as precisely as possible.
The details of the Non-stop Protector Boots
These boots are made from level 5 anti-cut material, dipped in nitrile rubber to protect the paws from rough surfaces, glass, salt, and warm asphalt. The rubber outer-layer makes the boots water-resistant and also uniquely non-slip. The shoes were initially developed for hiking and mushing on dirt roads, but it can also be used for city walks.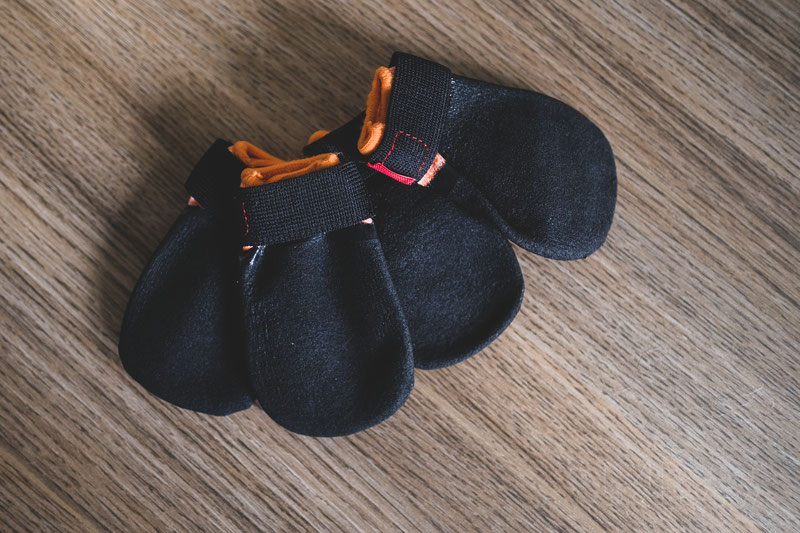 These boots are surprisingly lightweight and packable. We just weighted ours with already some mud on it, and they weigh around 16-17 grams each! Boots with rigid soles can take up considerable space in your backpack, but these can easily fit in any pack.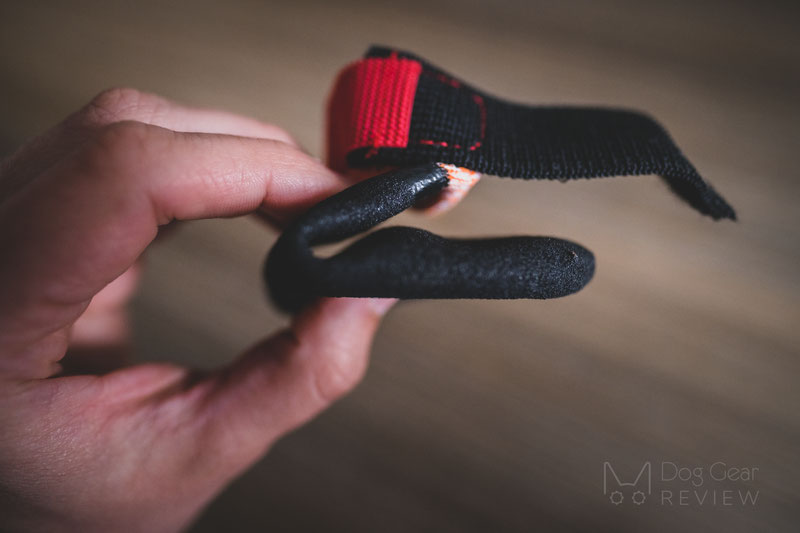 The inside of the boots is covered with a seamless, soft fabric to avoid chafing. This is also great to trap in humidity since dogs sweat a little on their paws, speeding up chafing.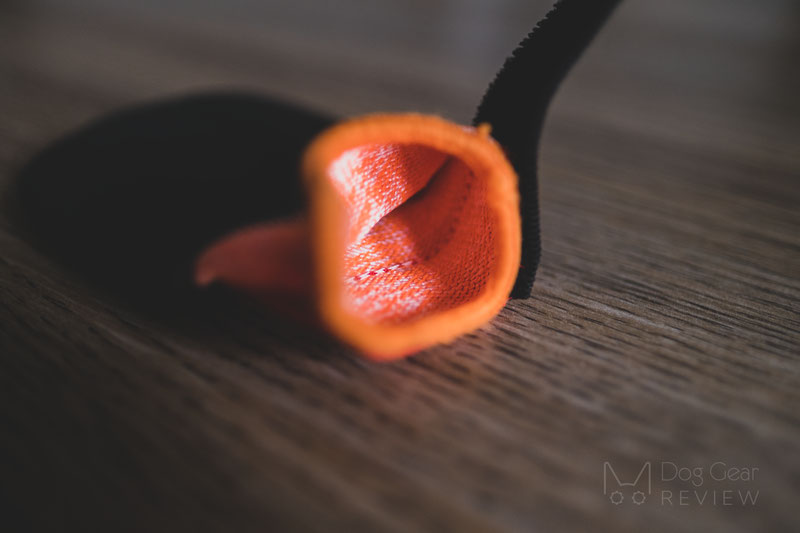 Non-stop Protector Bootie Review
We tried a few other boots for hikes on rough terrain, and so far, the Protector booties provided the best traction for Mia. We believe this is due to two reasons: one is the rubber material itself, which is non-slid by itself. The second reason is that even the rubber material is somewhat flexible, so the dog can have a better grip on the rocks and feel the ground under their paws a little better than the ones with stiff soles. It seemed that Mia was very comfortable wearing these boots and had no problem balancing on rocky terrains above the treeline.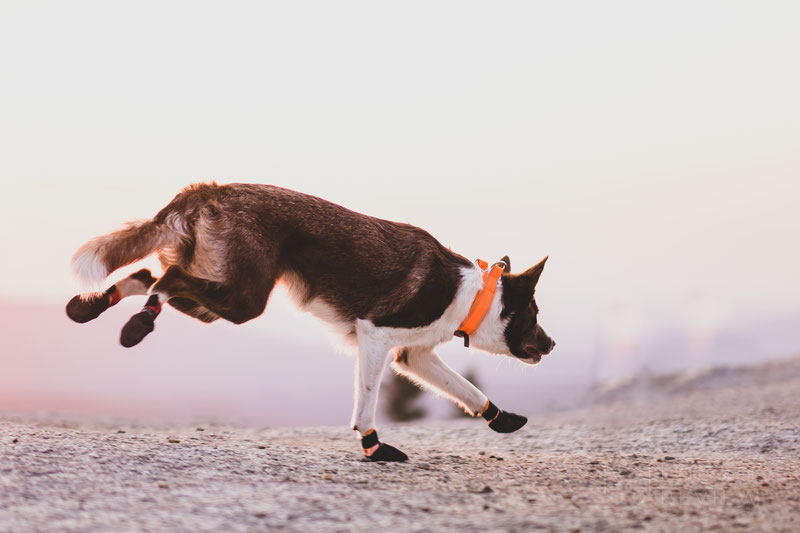 The boots are secured on the paws with an elastic velcro. Most boots came with two fasteners on each boot, but so far, we prefer Non-Stop's solution. Adjusting 4 vs. 8 small velcros per dog is MUCH easier and faster. At the same time, these boots seem to stay in place just as well as the ones with two velcros.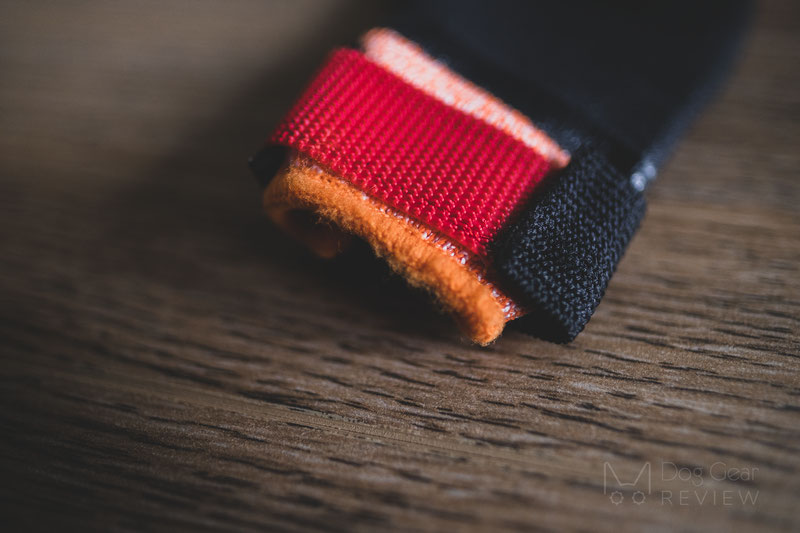 For the sake of a well-balanced review, we would love to say some cons about these boots, but it's hard to find any. The only thing we can think of is that the rubber material is not breathable at all; thus, be careful using it on hot days when dogs can overheat - as we discussed in the article about using boots over the summer. This also means that the boots will not dry out quickly if water goes in them from the top.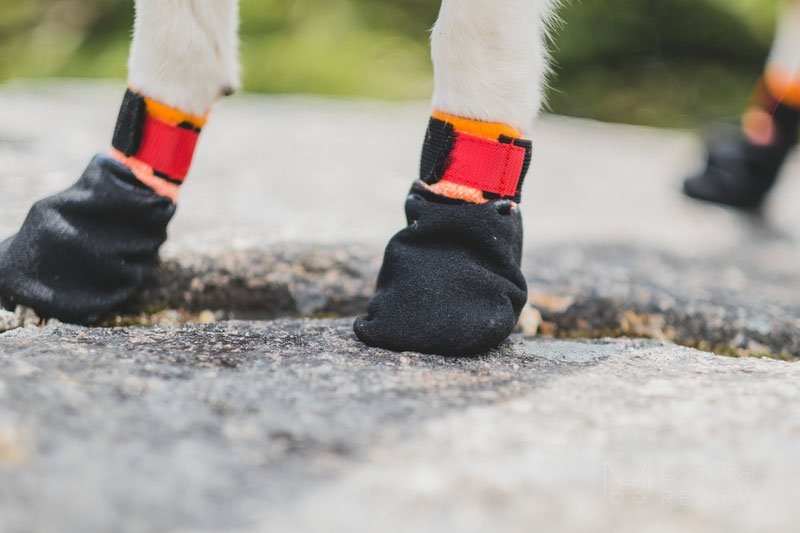 Having the same outer material all around the boot is also great because you don't have to worry about it turning if the dog makes a sharp turn. We had problems with other boots turning upside down and wearing down the top material fast if we haven't immediately realized that it is rotated on the paw. With these boots, you don't have to worry about this; they can turn around and will be just as comfortable.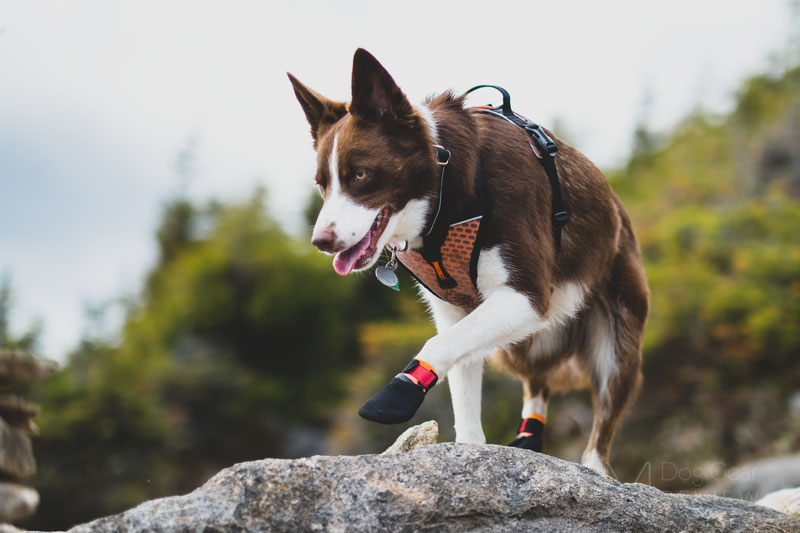 Update!
We used these boots for months without any problems until the winter cold hit. Soon after the first few icy walks, I noticed loose threads on the velcro straps. Unfortunately, this slowly escalated, and today all our straps look like the photo below. Not sure if it has something to do with walking in icy snow or the cold, but regardless, it is a problem.
We contacted Non-Stop Dogwear, and they are looking into the issue and possible ways to reinforce the ends of the elastic straps. They had many dogs testing these boots and haven't experienced this before, so it might also be a standalone production defect with my boot since I received it before they started selling it.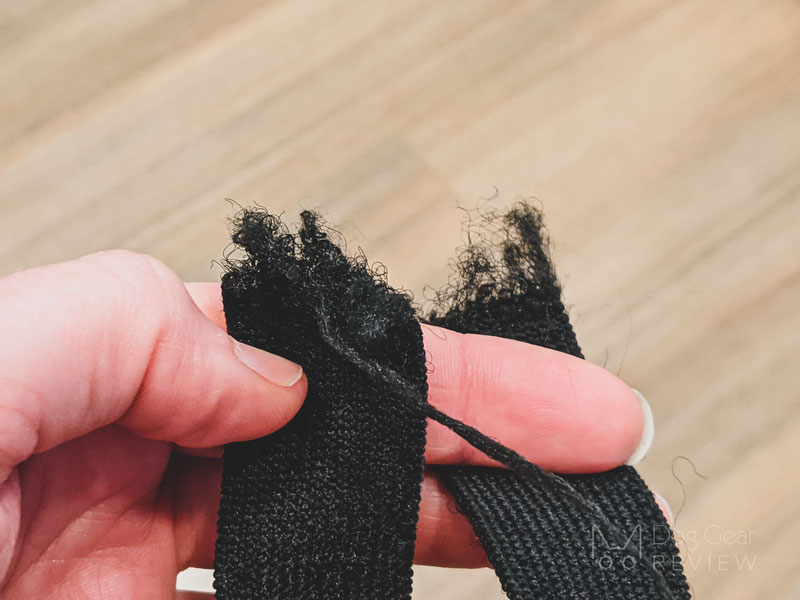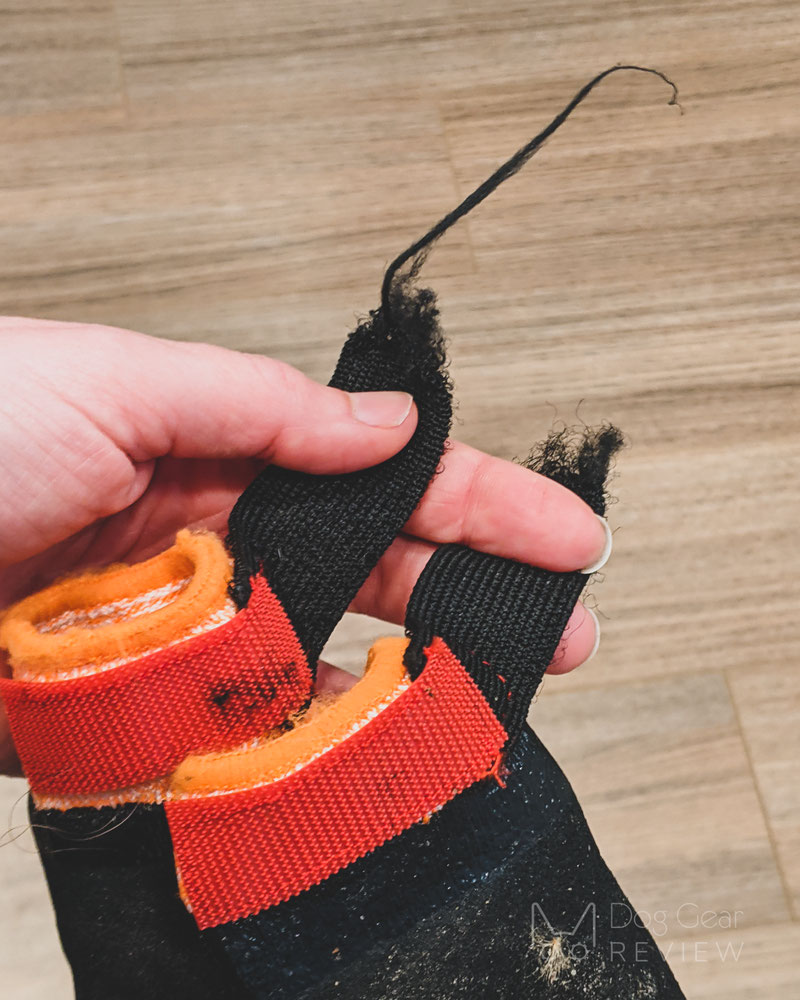 Review Summary
To summarize, we were impressed with these boots until running into the problem with the straps. The boots' material seems durable and comfortable for Mia. They have never chafed her paws or dewclaws, which is a common issue when using boots. We also like that they are machine washable, which is needed after a few longer hikes to keep the inside material clean and soft. We think these boots are a perfect combination of the protection that dogs might need on rough terrain while providing the flexibility and grip that a sock-type, thinner boot would.
The boot itself is still in perfect condition; there is no sign of cuts or wear, even though now we also used it in the city to protect the paws from the salt on the roads.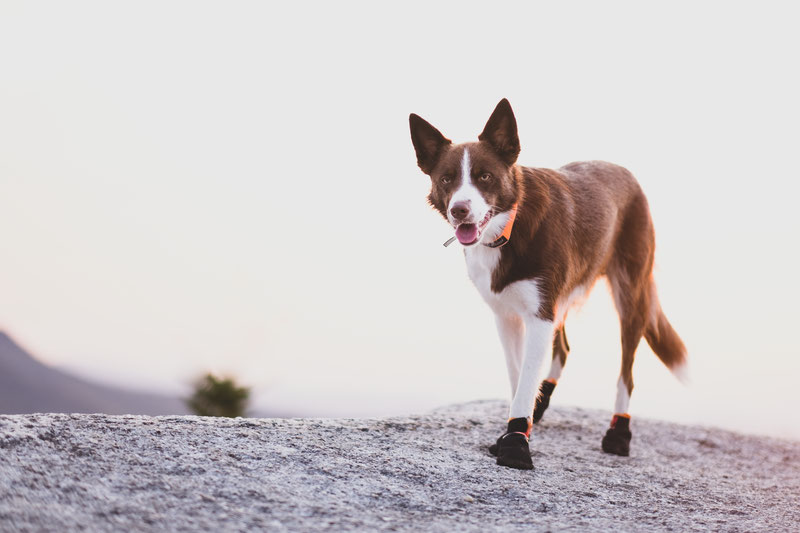 Where to buy?
You can buy all their products on their website and can probably find retailers and stores in your country. They have great videos for each harness on their website to show how it should be positioned on the dog. For reference, Mia needed their small size which is currently their smallest size. We assume they will coma out with different sizes soon smaller dogs can use these boots as well!