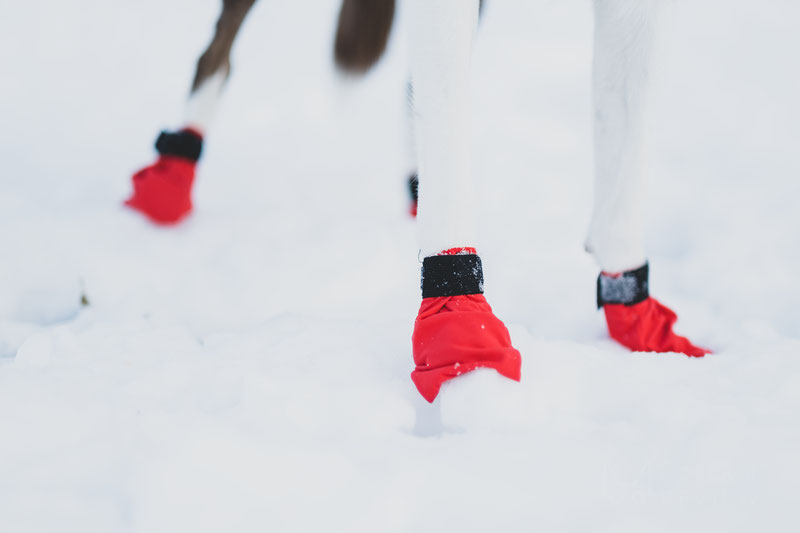 Non-stop Dogwear Long Distance Bootie Review
About Non-stop Dogwear
Non-stop Dogwear was founded in Norway only ten years ago, and today you can find their products in over 1,000 stores in 22 countries. We love their passion for designing the best-fitting dog products to "release their potential," as their slogan says.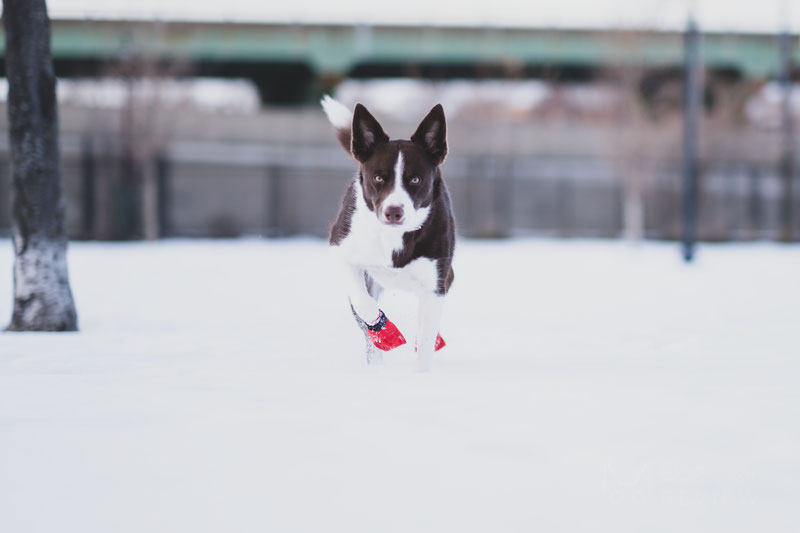 Do dogs need boots?
Many owners think using boots is stupid, while many believe it is necessary for all dogs. Well, like with every other gear, the answer is: it depends.
Different boots can be used for different reasons, such as protecting the paws on hot or very cold pavement or preventing the paws from drying out while walking on salted roads over the winter. Many also use them on icy snow when the dog's feet would get cuts or in powdery snow if it tends to get stuck between the toes. It can also be used inside if a dog has arthritis or slides around a lot on the floor.
Some dogs are just more sensitive than others, so you have to know your dog and see how they can handle different terrain and temperatures.
We wrote an article about things to keep in mind when using boots on hikes over the summer since there are just as many pros as cons around the topic. We also have another article on the different types of winter boots, the differences between summer vs. winter boots, and much more. If you want to read more on the subject, check these out under our Articles page!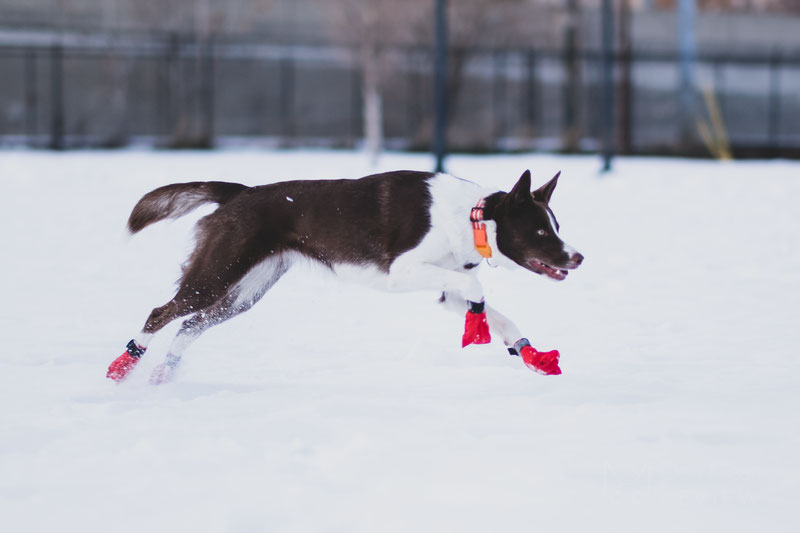 What size of boots does my dog need?
The best is always to follow the sizing guide on the product site. Measuring your dog's paws is the easiest if you put their feet on a paper, lift the opposite leg to put weight on the leg you are trying to measure, and draw lines on both sides of the paw. You can measure the distance on the paper later without stressing the dog with it. It is always recommended to measure all paws! Commonly, the front paws are wider than the back ones, but the opposite can also be true for some dogs.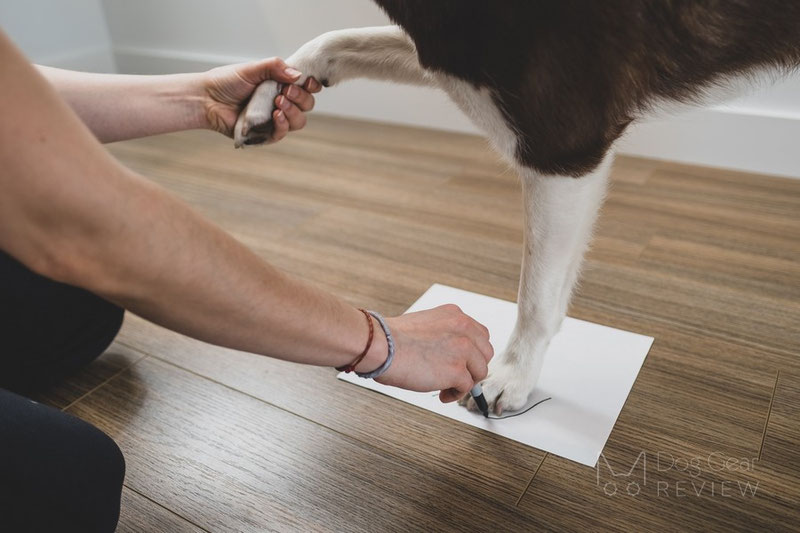 You have to figure out how tight and snug they have to be for the optimal fit. Many think that leaving the straps looser or ordering one size bigger will make the boots comfier for the dog, but if you have ever tried to hike in oversized boots, you know it's not true. If the paws are sliding around in the shoes, the dog will lose balance much easier, and the boots will chafe their feet much faster, so you want to measure it as precisely as possible.
Non-stop Long Distance Bootie Review
The Long Distance booties are lightweight, soft "sock-type" boots meant to provide a good grip while also protecting the paws from snow, ice, and salt.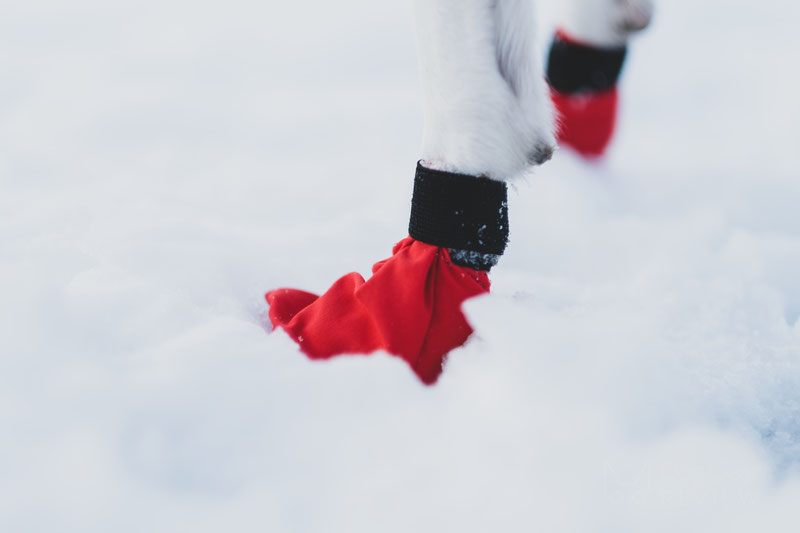 The design of these boots is a little baggier than what we are used to with solid boots. This might be weird at first, but the claws need room to move around to have a good grip on snow or other slippery surfaces. When you hold the paw up, the boots seem too loose/baggy, but they should be just right when there is a weight on them since the paws spread out when the dog steps.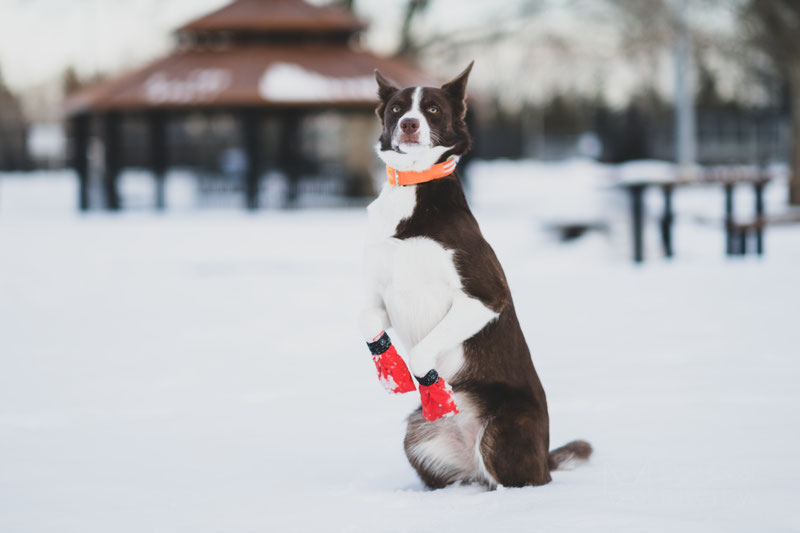 The tightly woven nylon material is soft enough not to chafe the paws if the fit is right. I wouldn't say these boots are completely waterproof, but they are water-resistant for sure. They handle water well for some time, but they start to soak it in after a while, especially on a day when the snow is heavily melting. It's a big pro that they are machine washable (at low temperature!).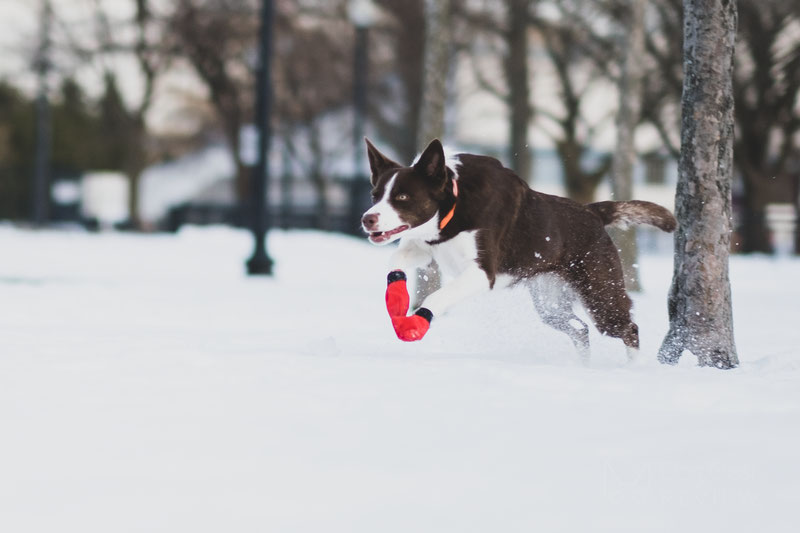 The elastic velcro straps hold the boots in place well on Mia, and they are quick to secure/open. They do slide down a little as she runs - making them "flop around" a little more, but we have never lost one so far. It can be hard to decide how tight the straps should be, but we found it much easier with the elastic straps and soft boots. A general guideline for fitting them is to make them tight enough so you can't rotate or pull them off easily. You also want to make sure they are pulled all the way up before using the hook and loop fasteners.
Every dog is slightly different, but this boot should also work well for dogs with dew-claws due to the soft material and the looser design.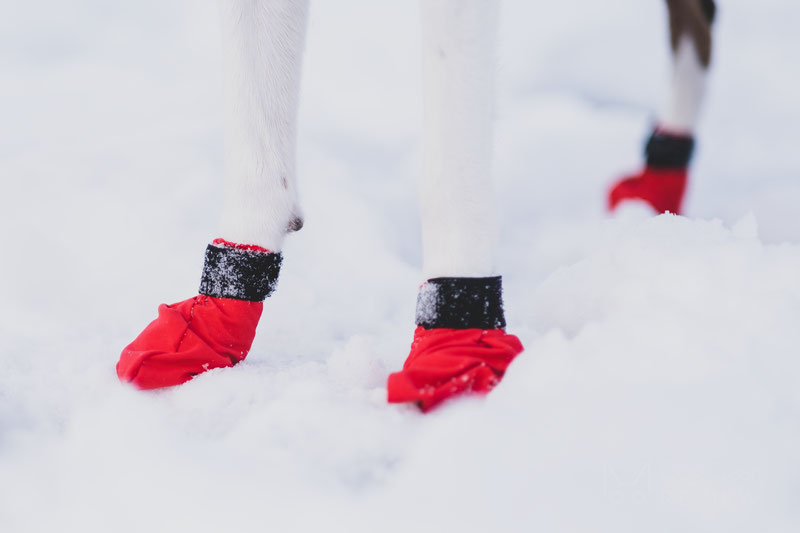 These boots were designed to be used in the snow, where the thin material is helpful and practical. They work on dryland as well, but don't be surprised if they wore down fast because the material wasn't meant to endure that. For example, if they are used for pulling sports with a high drive dog on gravel, they might wear down in an hour - for others, it might hold up much longer. Non-Stop Dogwear has another product called "Solid Socks," which was developed for dryland. Those socks have the same design but with reinforced nylon to make them more durable. We recommend checking those out for dryland.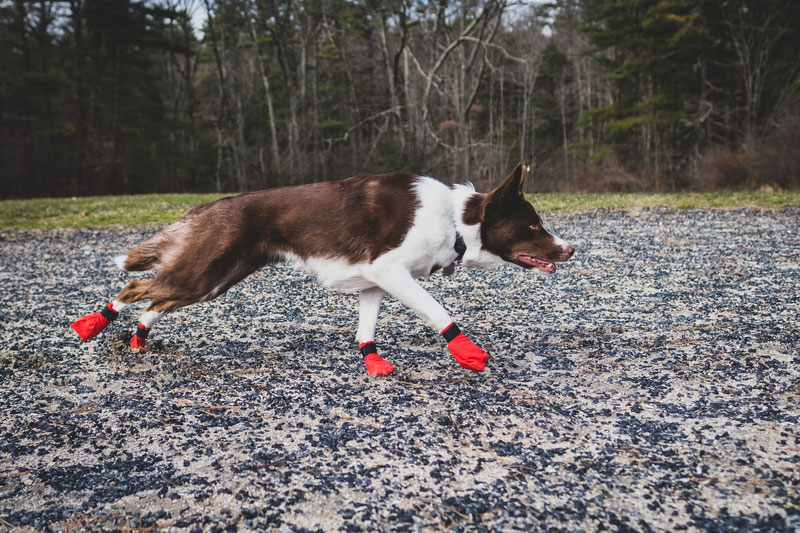 The Long Distance Boots can be a perfect option for emergency use as well because there is room under them to apply vetwrap or bandage on a cut. The shoes are also super packable, they don't take up space almost at all, and they are only 3-11 grams each (depending on the size).
Review Summary
The Long Distance boots are well-made and used by mushers all around the world. They are thin and lightweight, which makes them very comfortable for dogs but also makes them less durable on rough surfaces. They are the perfect solution if your dog has trouble with snowballs between the toes or just need a little extra protection while running in the snow. They are very quick to put on, take off, not like other solid boots that can be tricky to pull on the paws and secure with all straps. I also like that they don't take up room in the backpack; I could carry them around in my pocket if I need to.
Where to buy?
You can buy all their products on their website and can probably find retailers and stores in your country. When writing this review, the boots came in 7 sizes and two colors (red and blue).
For reference, Mia needed their Small size.