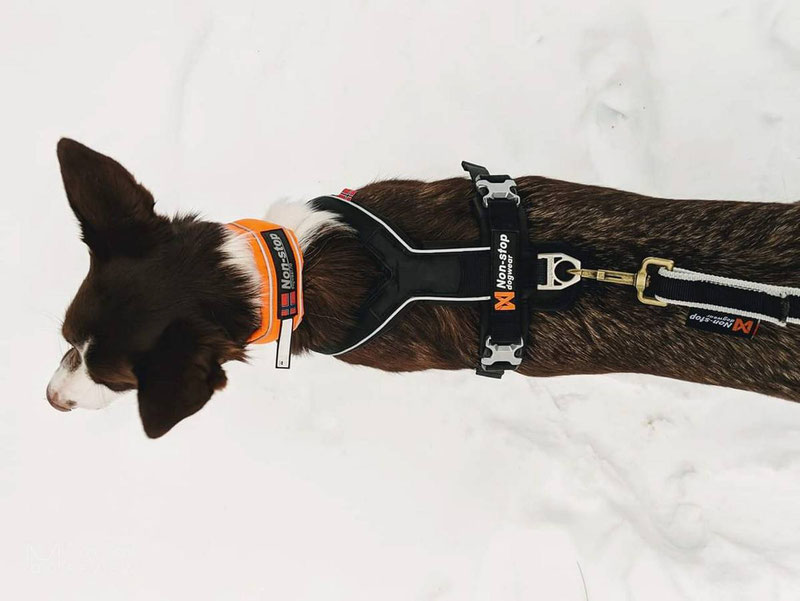 Non-stop Dogwear Line Harness Review
About Non-stop Dogwear
Non-stop Dogwear was founded in Norway only ten years ago, and today you can find their products in over 1,000 stores in 22 countries. We love their passion for designing the best-fitting dog harnesses to "release their potential," as their slogan says. Their focus is on pulling harnesses and other types of equipment for skijoring, canicross, etc. but as today they also have two harnesses more suited for everyday dog walks.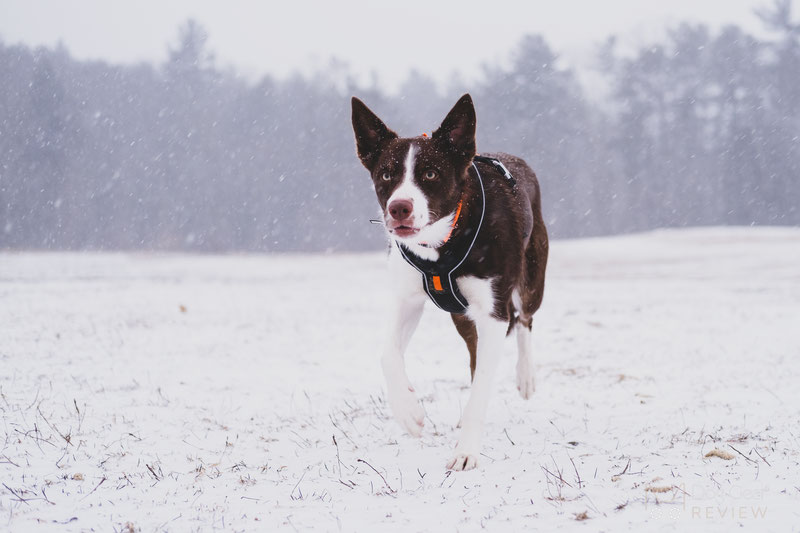 About the Line harness in general
I usually don't like the harnesses without adjustable neck straps because there is a high chance that it will not fit your dog perfectly. I guess this is the reason why the Line harness comes in nine sizes with a fair amount of overlap between sizes - and it did fit Mia perfectly. I now see the advantage of not having buckles on the front straps: it distributes the weight of the dog evenly across the neck and it will be positioned on the dog as it was designed. The good thing with adjustability is that you can make the harness to fit almost any dog but it might not be positioned properly at the end because it just wasn't designed for that body type.
The material of the harness is padded but durable and it also has 3M reflective lines running around the edges. The outside material is waterproof so it is easier to clean and does not soak the water in. The harness has strong sewings and Hypalon patches to make it even stronger.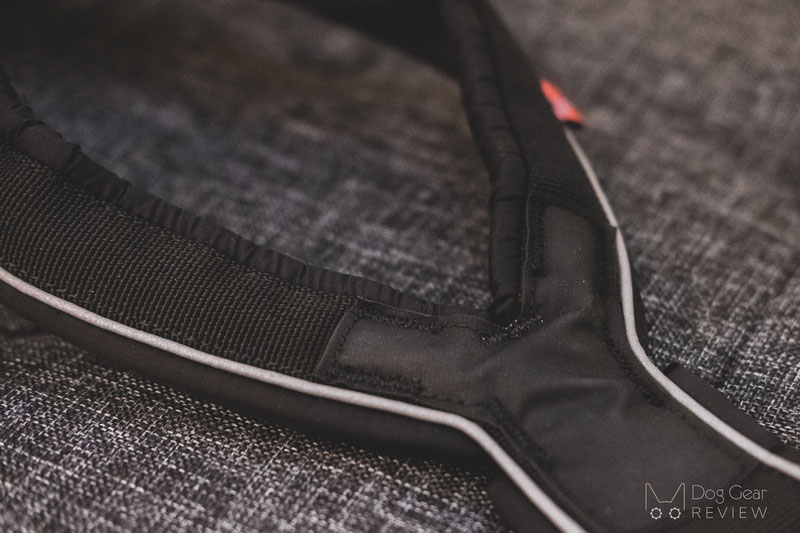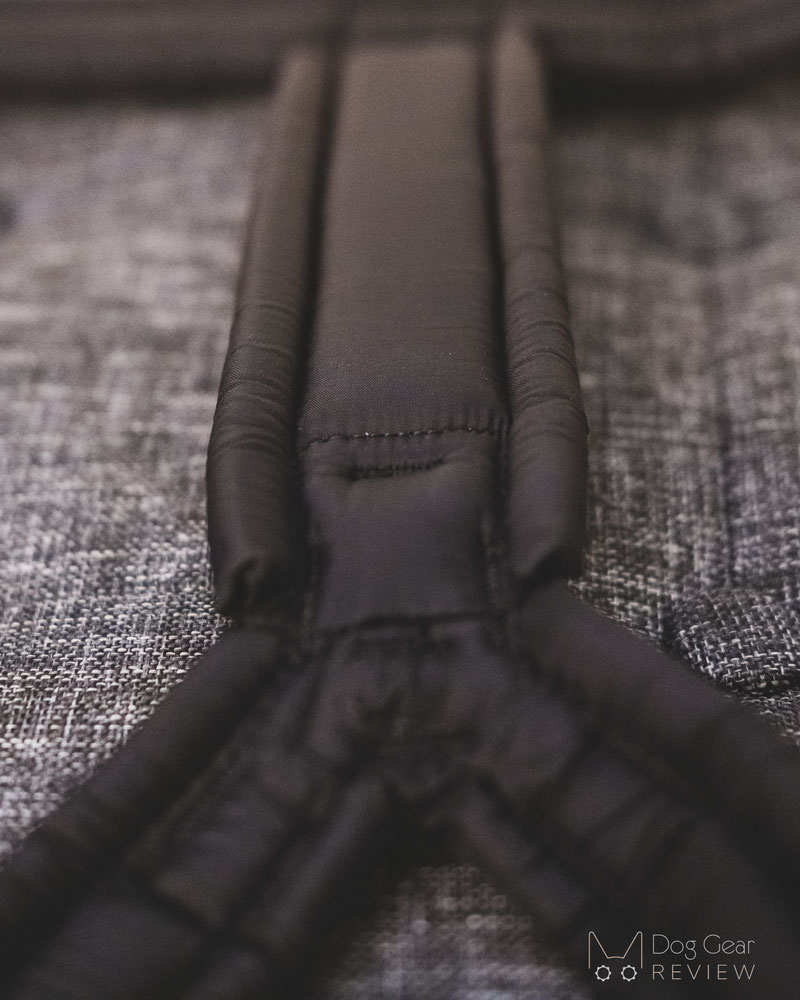 I am usually not excited for the buckles but the ones on the chest straps are from Duraflex and they not only look cool, but they don't have a single scratch on them either after months of use which impressive.
One of the interesting things with this harness is the three leash attachment points: one on the top, one on the chest and one under the dog's rib cage. This latter one is for attaching a long line for tracking and scent training that I haven't seen on other harnesses before.
I appreciate that they clearly say in the description that the front loop is for "mild anti-pull training". You can use it if you really want to, but that's not what this harness is primarily designed for.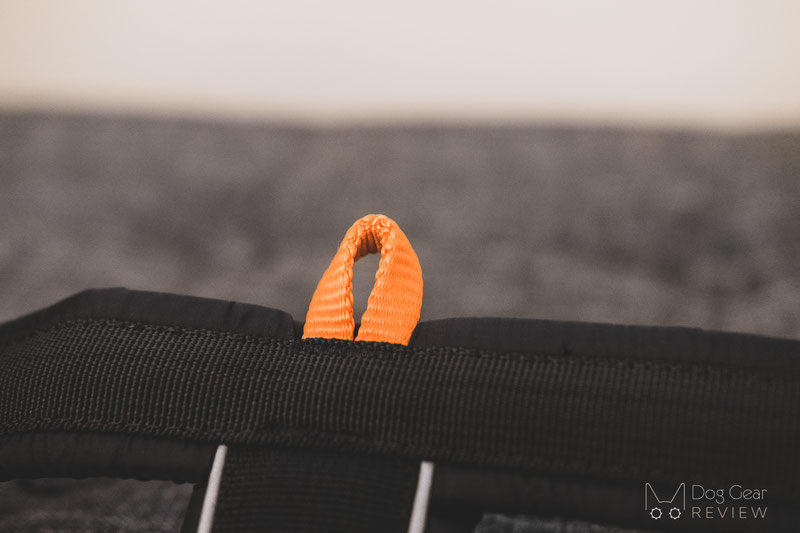 When arranging this testing, we mixed up the harness sizes and first I got a size 4 instead of size 5. This gave me the opportunity to compare them before sending back the smaller one so on the photo below you can see the significant difference in sizes. They not only made the neck part longer but the straps are much wider and the buckles are bigger on the right one.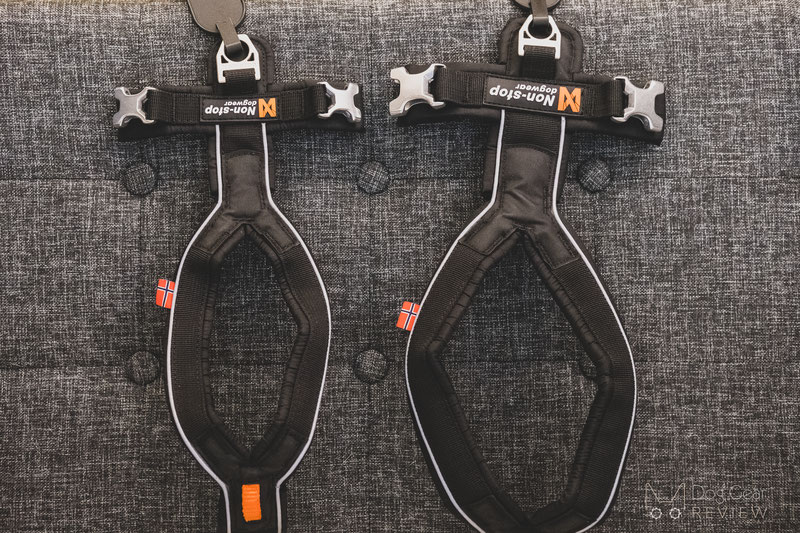 Line Harness Review
First I have to say that I used these products A LOT. Sometimes it can be misleading to see when I share different problems with products because the truth is that sooner or later you will run into some issues with any product and if I like a product, I will use it more and discover more issues. This doesn't mean that the quality of the product is lower because in that case, I wouldn't be happy to use it.
I had three smaller issues with the harness.
The biggest one is the wearing of the top layer of the chest part. Since I haven't seen this anywhere else on the harness, I assume this could be a quality issue with this piece of material and has nothing to do with the design. So far, the softer, inside material seems to hold up without having the top layer to protect it.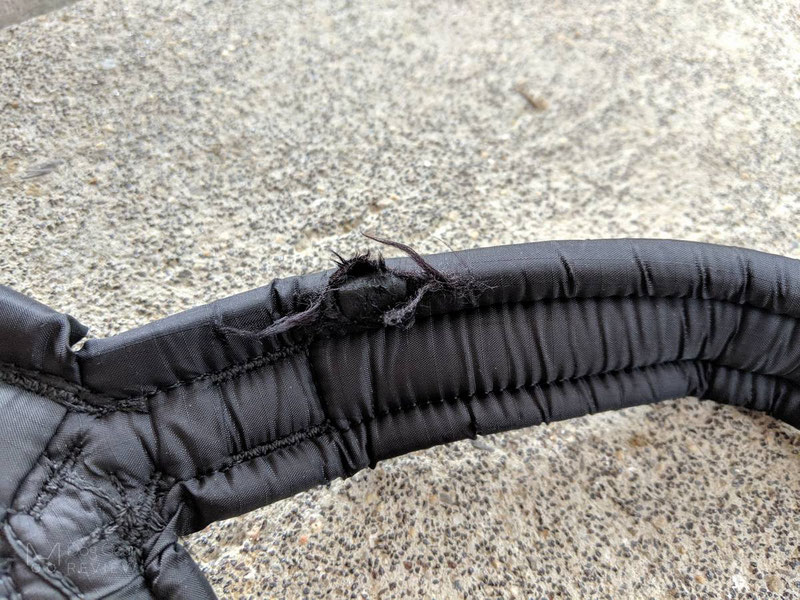 My second feedback is that the no-pull loop on the chest is so tight that it is really hard to attach a leash with a bigger carabiner to it. It got a little looser after I tried it a few times but it's definitely designed for a smaller carabiner than the one on the Bungee Leash.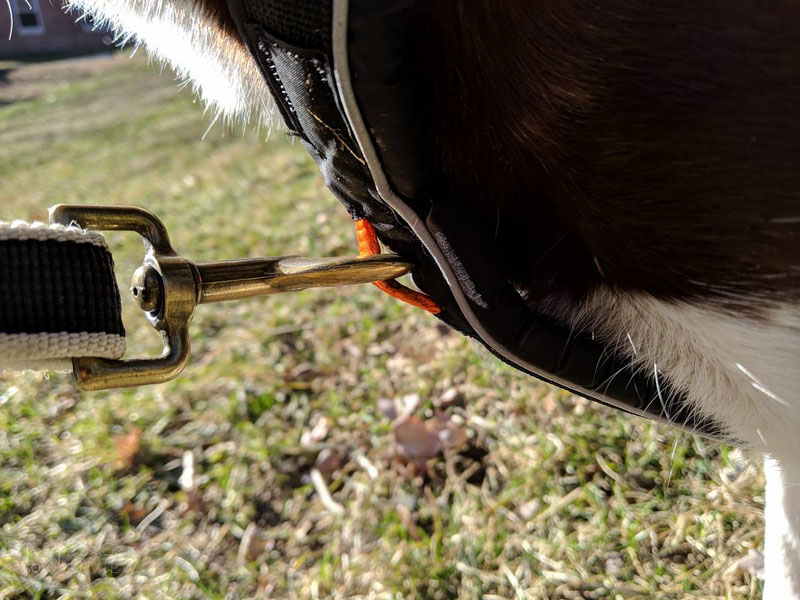 My last comment is about the sliders/buckles on the chest straps. It seems that they are not holding the harness strong enough and slowly they get looser. I adjusted them the first time properly, leaving enough room for 2-3 fingers under it. A few weeks later I saw that it is really loose on Mia. I checked and I was easily able to fit my palm under it. I tightened it again but a few weeks later had the same experience - especially if we went for a run.
Again, I wouldn't say this is a big issue so just take it as a reminder to check the dog's gear from time to time to be sure it still fits as it should.
Subjective Summary
Despite the issues I mentioned in this review and in the other one about the Bungee Leash Pro & Safe Collar earlier, I really like this harness, collar and leash combo.
The Line harness now also comes in orange and blue but even the black one is pretty. The material of the harness is great: it is padded but sturdy and it is not the mesh material which would collect all mud and hair. The chest straps sit farther back on the dog to give room for the shoulders and the chest straps distribute the weight well when the dog is pulling.
Functionality Review of the Line harness
Another thing that I appreciate a lot in Non-stop Dogwear is that they create a chart like below for most of their products to show the strengths and weaknesses. Everyone knows that there is no product which excels in every category and still there are many companies advertising them that way.
This chart below shows that while the Line harness is good for pulling if you want to do it seriously, you should pick one of their other harnesses. At least that's how I interpret the chart, it would be nice to have a sentence explaining why they categorized it this way :)

And here comes my usual functionality review:
• No-pull correction: This harness wasn't meant to teach your dog better leash manners, but it can be used for that as well. Actually, among the Y-harnesses with no-pull rings that I tested so far, this harness slides the less to one side and I think this is as close as you will get to a no-pull functionality without buying a harness which was specifically designed for that.
• Running/Biking: Great for bikejorning, jogging, etc. as an occasional hobby, buy specific equipment if you want to get into it seriously! They specifically mention on their website that it is not a pulling harness so don't start your dog sledding carrier with this. We used it for canicross and while I was happy with it, I would definitely suggest getting a pulling harness if your dog is pulling with full speed.
• Hiking: I only missed some kind of handle from the back to have a better grip when I have to lift the dog but you can also just grab the harness itself on the back and hold it by that as a workaround. I would also prefer a more visible harness for hiking but now this harness also comes in orange so no complaints there! The harness is not collecting too much mud and is really comfortable for the dog even on a long hike.
• City walk: Works well, could be a little more visible.
• Easy to put on/adjust: The Line harness only has buckles on the chest part but in return, it comes in nine sizes to be sure it fits well. You have to pull the harness over the head and then use the buckles on both sides to fix the harness. Adjusting is easy but I also had trouble with the sliders/buckles letting the straps loosen a bit as I mentioned before.
• Visibility: it has reflective stripes on both sides and you can buy it in orange if visibility is important to you.
Where to buy
You can buy all their products on their website and can probably find retailers and stores in your country. They have great videos for each harness on their website to show how it should be positioned on the dog. This also helps you figure out where to measure the dog exactly before buying a harness.
Mia's measurements
Many of you asked Mia's measurements to better understand the different products' fit. Your best chance of finding a good fitting gear is always to measure (and remeasure) your dog. Even we grab the measuring tape before getting a new product - even though we tested a lot of them, and have a good feeling of her size by now.
I share her measurements below, but don't go ahead and order the same size just because your dog is similar to Mia ;)
• Shoulder height: 19.5 inches (50 cm)
• Weight: 37-44 pounds (17-20 kg)
• Widest chest circumference (where the most harness would have the chest strap): 25-26 inches (63-65 cm)
• Neck circumference for collars: 15-16 inches (38-40 cm)
• Back lengths: 22 inches (56 cm)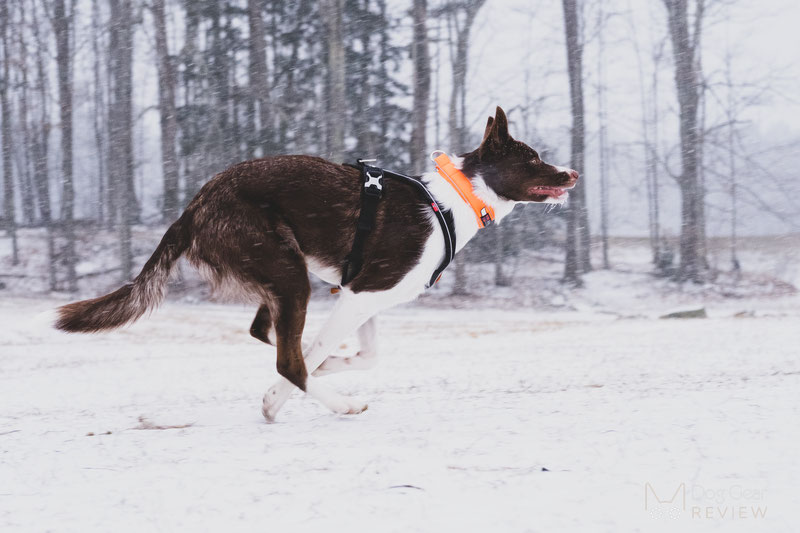 Similar Posts on Dog Gear Review
Back to all Reviews