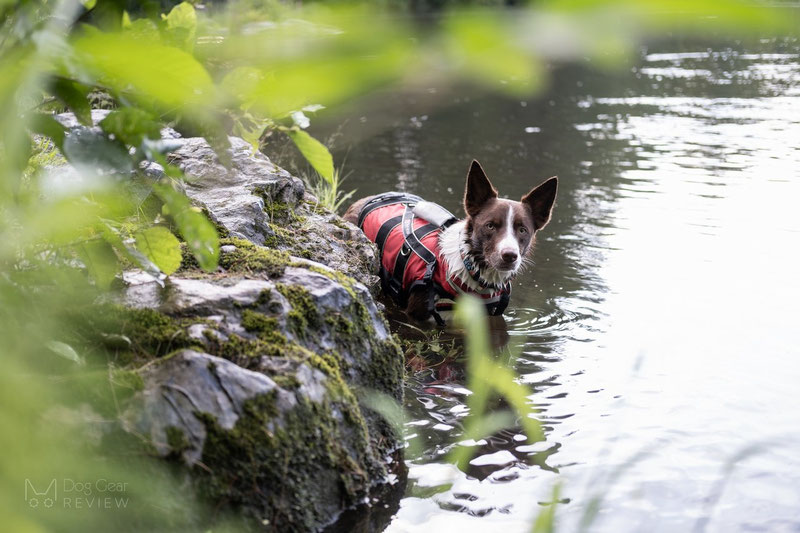 Non-stop Dogwear Safe Life Jacket Review
About Non-stop Dogwear
Non-stop Dogwear was founded in Norway only ten years ago, and today you can find their products in over 1,000 stores in 22 countries. We love their passion for designing the best-fitting dog harnesses to "release their potential," as their slogan says. Their focus is on pulling harnesses and other types of equipment for skijoring, canicross, etc. but as today they also have a few harnesses more suited for everyday dog walks.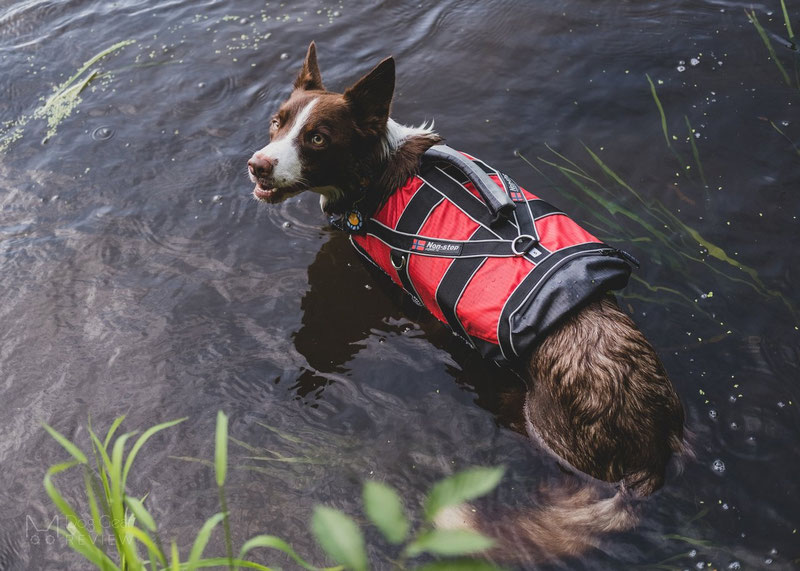 Why would a dog need a life jacket?
While life jackets can be a lifesaver for many dogs in many situations, not all dogs need one. So how do you know if it would be helpful for yours?
Let's start by talking about dogs with medical conditions, joint issues, or just bad swimming techniques that need a life vest's extra help. There are also dogs doing hydrotherapy as part of their rehabilitation where life jackets are regularly used. It's clear that these dogs can benefit from a life jacket that helps them keep in a proper swimming position and let them safely enjoy some low-impact exercise.
How about a healthy young dog? They can benefit from a life vest the same way as small kids who can already swim. If you take your dog on a boat or kayak, they can unexpectedly fall in the water, and the cold water can cause shock to their body. Accidents can also happen when dogs jump in the water or play around it, hit their heads, and lose consciousness. It's also possible for a good swimmer to enjoy their water time too much and not stop when their muscles get tired. This can cause muscle cramps that can be fatal if the owner cannot get to the dog in time.
Many people think that life jackets are just fancy gadgets and our dogs (and wolves) lived happily without them in the past. While this is true, we also have to keep in mind that the life of our dogs changed so much. We take them with us on longer trips on the water on a SUP or kayak; we train them in dock diving; we take them to dog beaches where we play fetch with them all day. All these are very different situations from a dog (or wolf) just enjoying some time around the water by themselves. These changes in their lifestyle require new solutions from our side as well to help our dogs safely accompany us on all these adventures ;)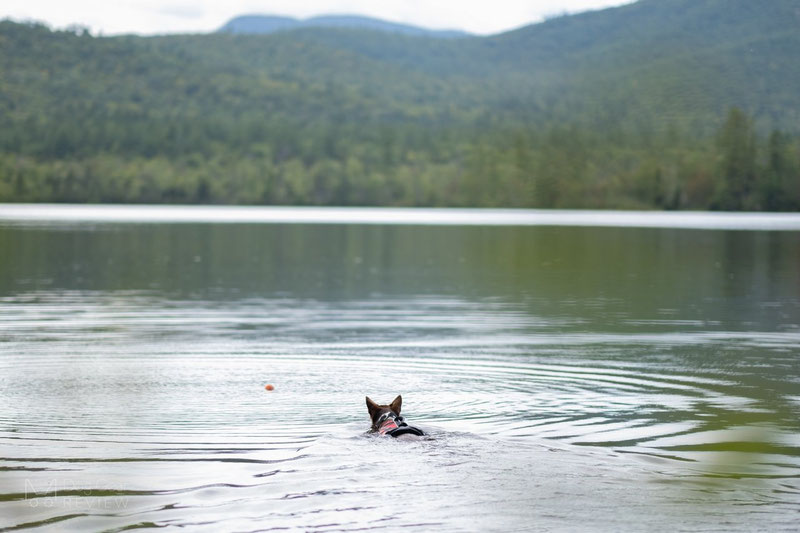 The details of the Safe Life Jacket
The Safe Life Jacket is a high-quality life jacket made with human-grade floatation material. As you see it on the photo below, it has three padded straps: two around the chest and one around the neck.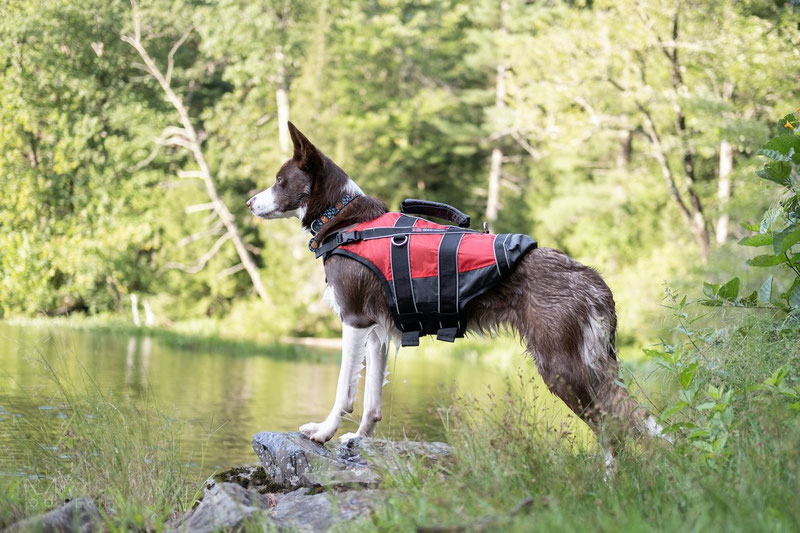 The buckles on the chest straps go through a textile eye to distribute the weight evenly and to prevent rubbing. In general, you want to look for a life vest which does not have straps or buckles rubbing on the skin - especially on the belly since, in case of a life jacket, the pressure is on the belly.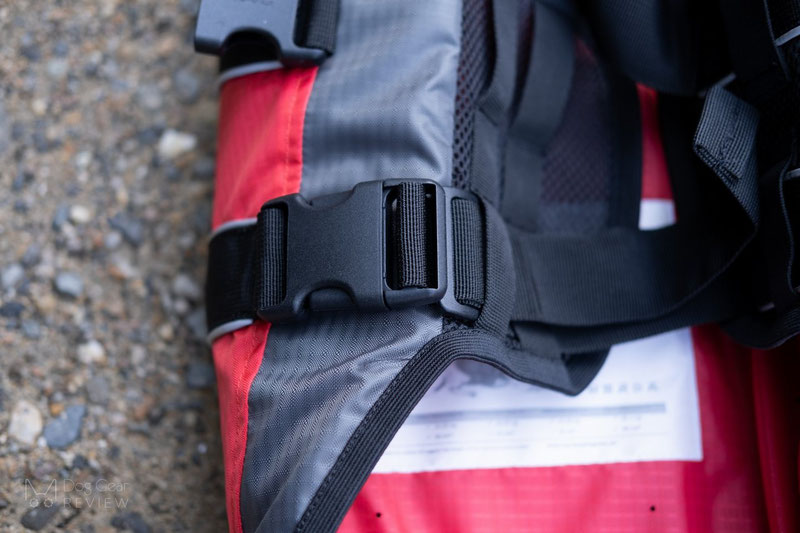 There is a heavy-duty handle on the top of the life jacket which allows you to retrieve the dog from the water. It is easy to grab and comfortable to hold which is important when you want to lift a larger, wet dog.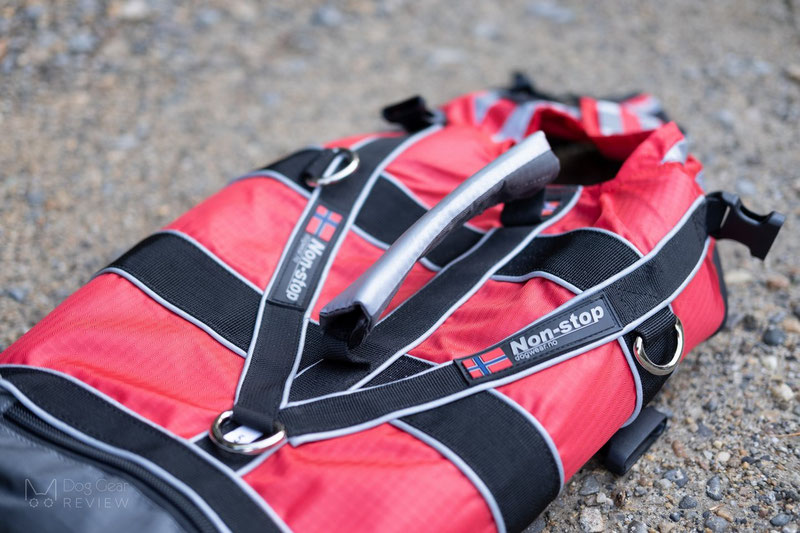 An extra feature is the zipper pocket at the end of the life jacket where you can keep the leash or anything else that you want to have on hand.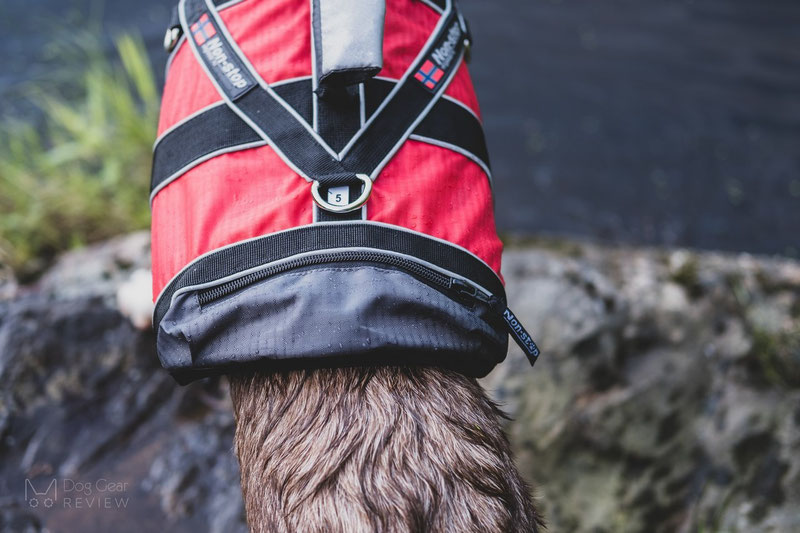 Safe Life Jacket Review
Free movement of the legs is just as important in case of a life jacket than in case of harnesses. The jacket will only be comfortable if the shoulders can move freely and also the back legs will not hit the side of the vest while swimming. You can move the life jacket farther back on the dog to give more room for the shoulders by setting the neck-straps longer - just keep in mind that it should be still a tight fit around the dog to be sure the dog will not slide out from it.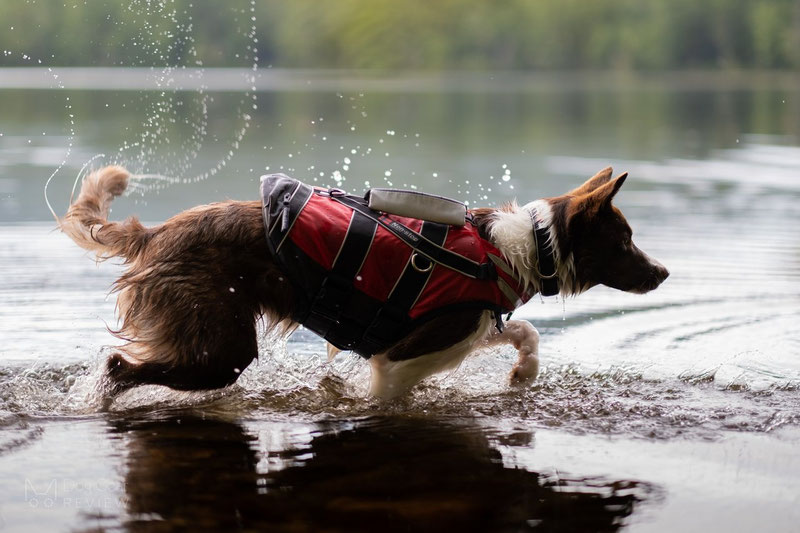 On the photo below you can see that the jacket has a "break-in" period to loosen up and eliminate the crease from packaging. Since it is stored flat, the sides will "stick out" a little more until you use it 3-4 times but you will see that slowly flattening out after every swim.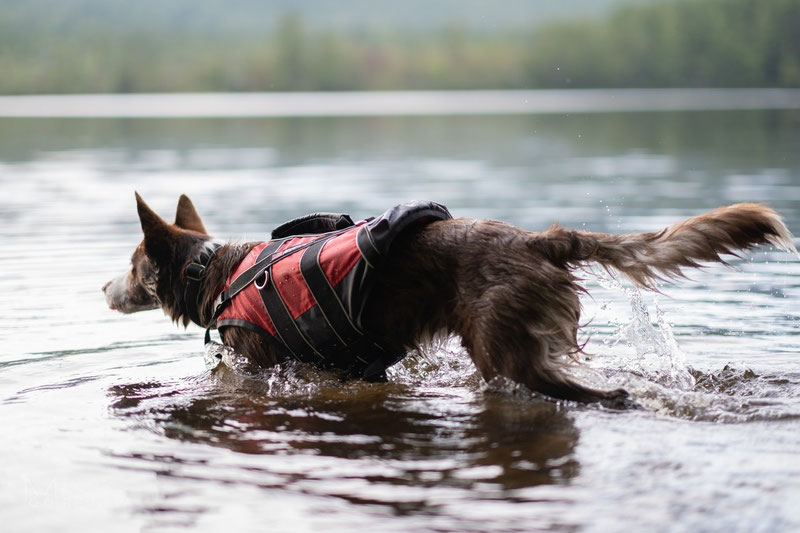 While the life jacket seems like a big gear to put on the dog, it dries faster than many harnesses. The outer material is sturdy but thin and the "padding" inside the jacket is the waterproof floatation material which does not soak the water in.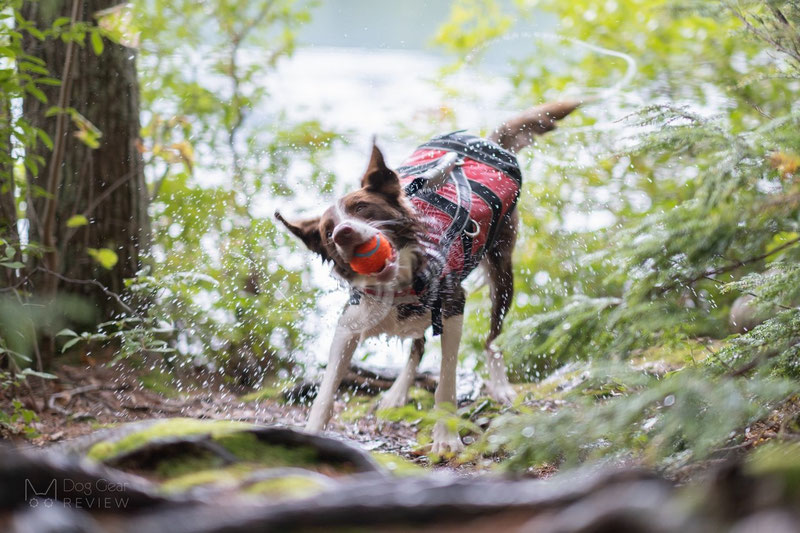 The life jacket has three leash attachment points: one on the back and two other rings on the sides. The latter can be used e.g. to position the dog during a hydrotherapy session while the first can be used to quickly leash the dog. I wouldn't say you have a lot of control over the dog when using the back leash attachment ring but it is a strong one and it's much easier to find it than looking for the ring on the collar on a wet dog.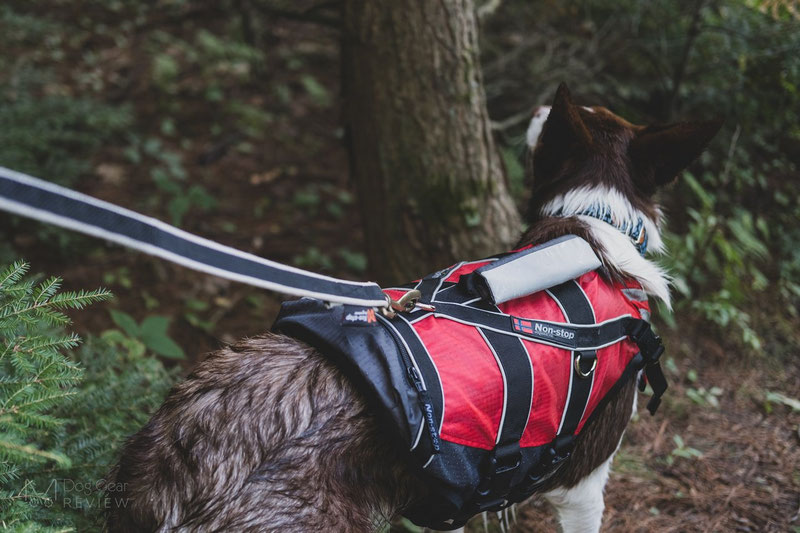 We were excited to test this product because Mia loves swimming but at the same time, she has a terrible swimming technique. She usually does not lift her head high enough which results her swallowing water. To keep her safe, she is only allowed to swim for short period of times, close to the shore.
The Non-Stop Life Jacket solved this issue when she is swimming without retrieving something and made it much better when she does bring back something.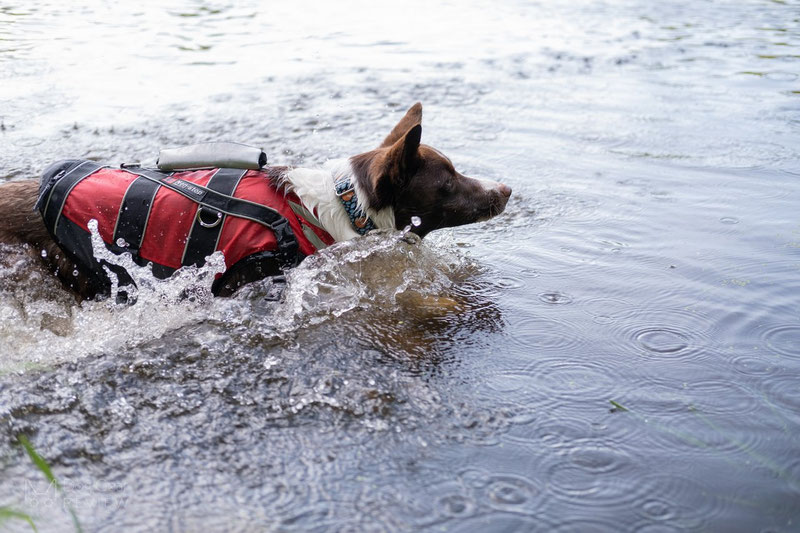 You can see in the photo below how the water still goes in her mouth when she is bringing back the ball. The situation is a little better with using proper retrieving toys that do not require her to open her mouth this much but eventually, she lowers her jaw underwater regardless of the object she is carrying. Well, I guess this is not something that a life jacket can completely solve but it did help up to a certain point and it gives me the peace of mind that Mia will have an easier time staying up even if she swallows some water and start coughing farther away from me.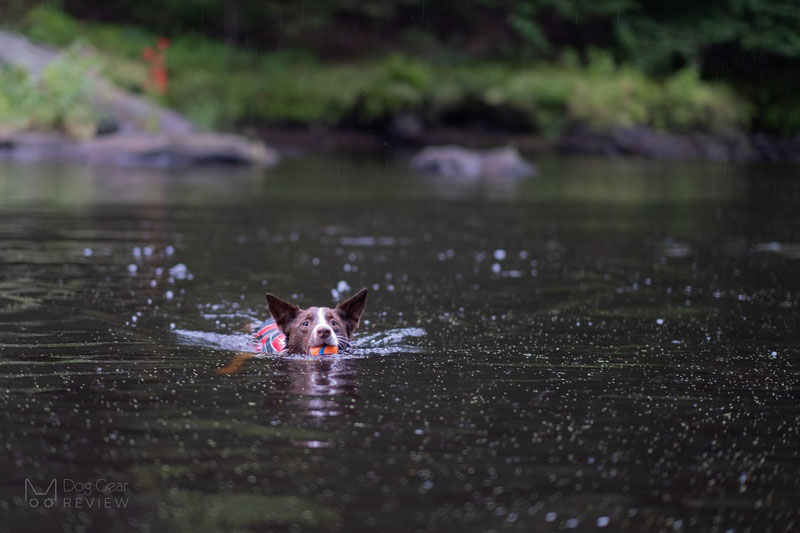 Summary
This is a great quality life jacket with attention to all the small details. No buckles are rubbing against the dog at all, it is adjustable and comes in five sizes at the moment.
In practice, it is a little bulky and it isn't comfortable to carry around while you reach the place where your dog can swim but this would be the same with all other life jackets.
Be sure to check out Non-stop Doggear's video on how to adjust the straps and how to put the jacket on the dog! It can be tricky if this is your first time using a life jacket ;)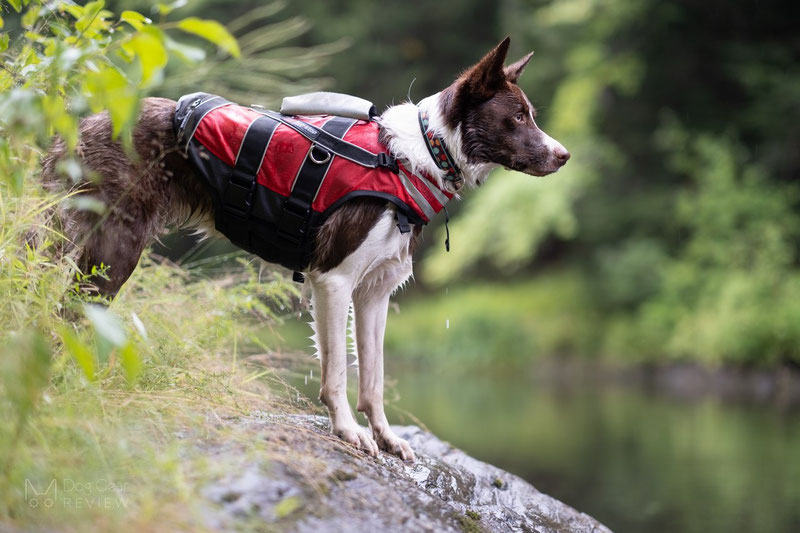 Where to buy
You can buy all their products on their website and can probably find retailers and stores in your country. They have great videos for each harness on their website to show how it should be positioned on the dog.
For a reference, Mia needed size 5 which is the same size we used from the Line harness and the Freemotion harness so if you have any of those, it's probably a good starting point to figure out your dog's size.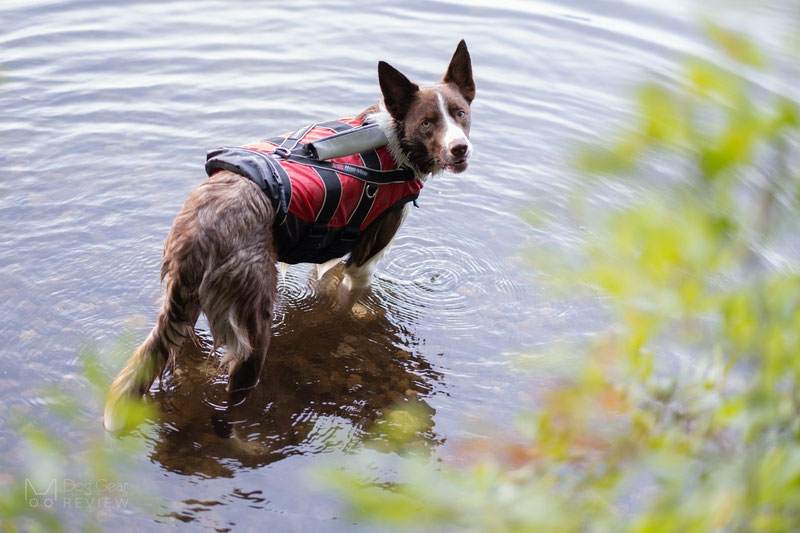 Mia's measurements
Many of you asked Mia's measurements to better understand the different products' fit. Your best chance of finding a good fitting gear is always to measure (and remeasure) your dog. Even we grab the measuring tape before getting a new product - even though we tested a lot of them, and have a good feeling of her size by now.
I share her measurements below, but don't go ahead and order the same size just because your dog is similar to Mia ;)
• Shoulder height: 19.5 inches (50 cm)
• Weight: 37-44 pounds (17-20 kg)
• Widest chest circumference (where the most harness would have the chest strap): 25-26 inches (63-65 cm)
• Neck circumference for collars: 15-16 inches (38-40 cm)
• Back lengths: 22 inches (56 cm)