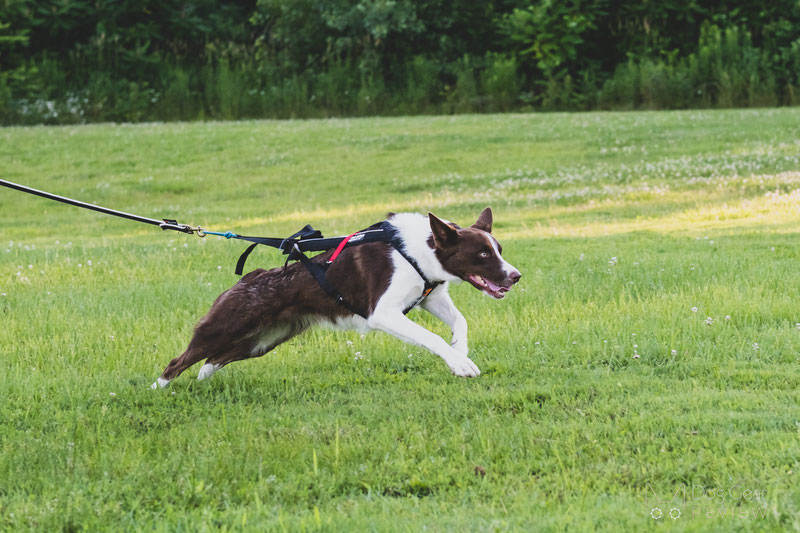 Non-stop Dogwear Freemotion Harness Review
About Non-stop Dogwear
Non-stop Dogwear was founded in Norway only ten years ago, and today you can find their products in over 1,000 stores in 22 countries. We love their passion for designing the best-fitting dog harnesses to "release their potential," as their slogan says. Their focus is on pulling harnesses and other types of equipment for skijoring, canicross, etc. but they also have a few harnesses more suited for everyday dog walks.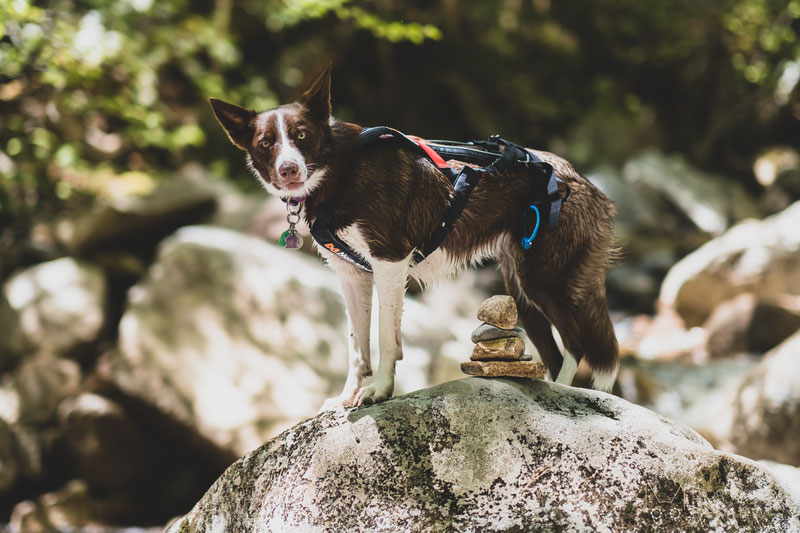 The details of the Freemotion Harness
The Freemotion Harness was designed for pulling activities with a high pulling point like cycling, walking, skiing or running.
It has adjustable straps which make it easy to fit most dogs. To be honest, I had to watch their video about adjusting the harness and also read their product guide before putting it on Mia and after looking at the photos, I realized that I still did not do a perfect job (see later) so be sure to double-check if the result on your dog looks as it should.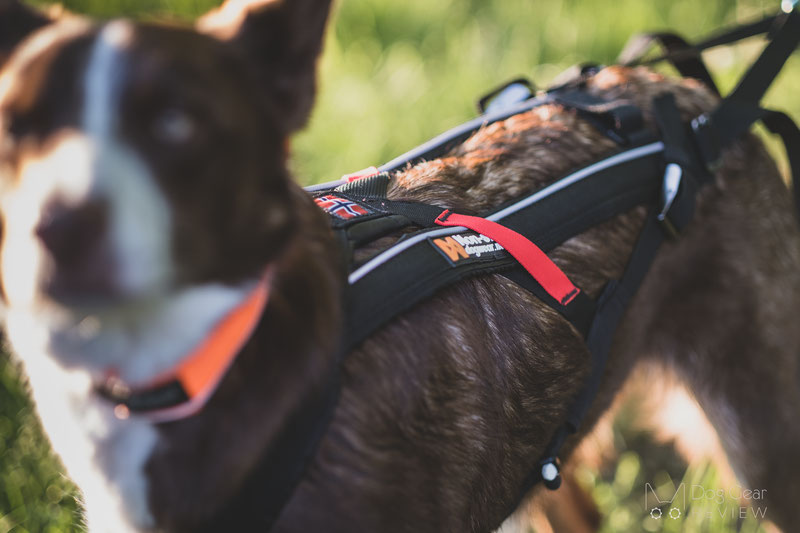 On the previous version of this harness, the straps were elastic on the side which is static now as standard. If you prefer an elastic one, you can buy this separately in their webshop where you can also order replacement straps if needed.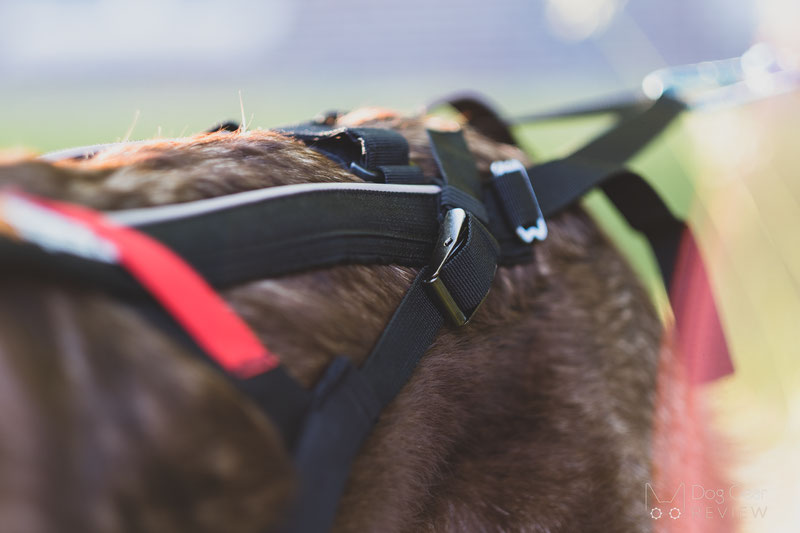 After adjusting the harness, you can trim off the excess straps or secure the surplus so it's not flapping around when running.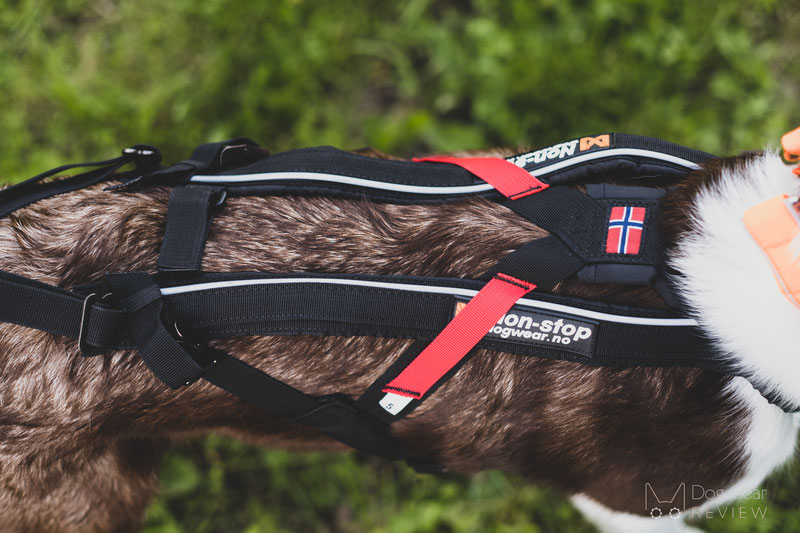 Many canicross harnesses are just made with straps without much padding or stiffness but the Freemotion harness has both. It does not have any buckles so you have to pull it over the dog's head and lift both legs to get the dog in a tight-fitting harness. This is not necessarily easy but once you are done, the harness stays in place perfectly.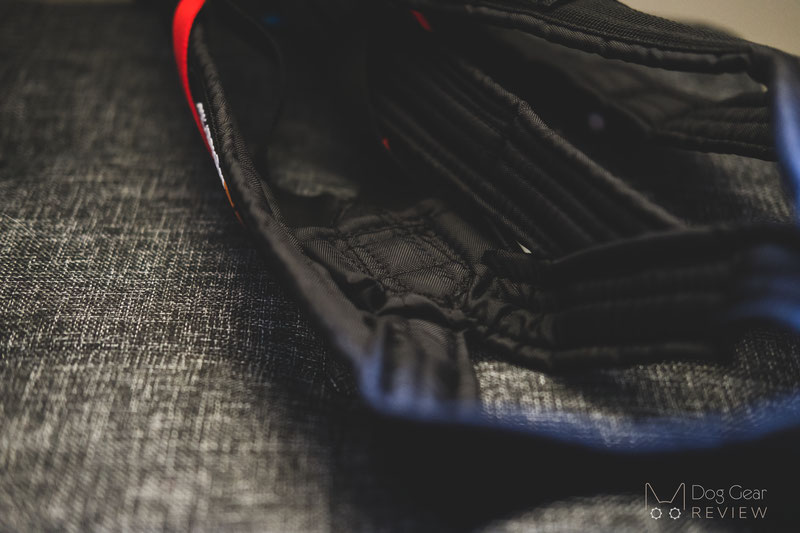 The harness is extremely well-made: the sewing, the fasteners, and the sliders are strong and they hold perfectly. After going for runs and hikes, there is no sign of any wear, tear or loosening on the harness at all.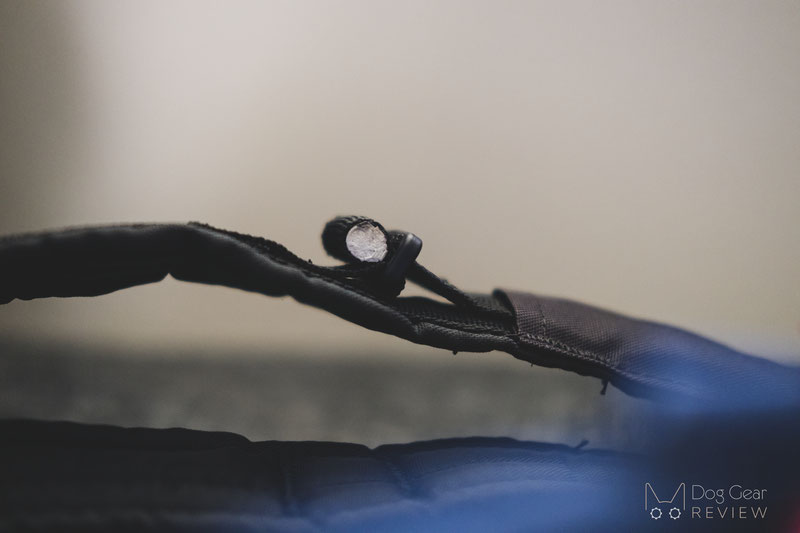 The Nonstop Dogwear Line harness vs the Freemotion harness
This is the first pulling harness that we tested so I cannot yet compare it to its category but I can tell that it makes a big difference in canicross compared to the previous harnesses that we tested.
Many readers asked me about how this harness is different from the Line harness so let's compare these.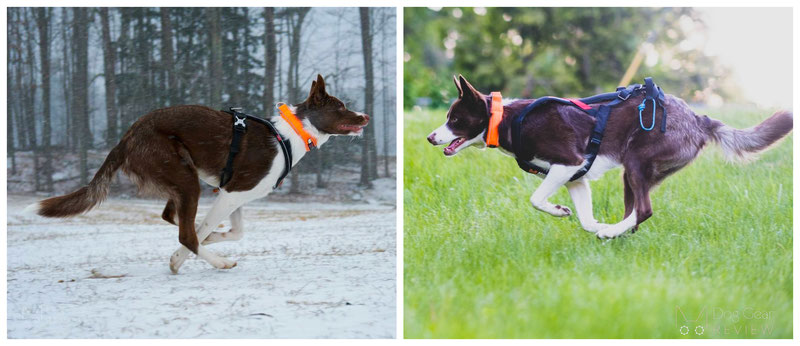 As you saw it in our previous review, we liked the Line harness but after the first 5-10 minutes of running, I had the feeling that Mia started to pull less when we used that. With the Freemotion harness, she definitely pulls stronger and it seems that it is much more comfortable for her in long distances.
It's really hard to describe slight differences because the Line harness is also a great product, but I think the Freemotion harness does a better job in keeping her airways free and utilizing her pulling points. It's not like the Line harness would put pressure on her neck (I wouldn't use it for running otherwise) but now I see that she is breathing more evenly and can pull harder in the Freemotion harness.
The Line and the Freemotion harnesses were made with different purposes in mind so strictly saying they cannot be compared. If you are looking for a harness to use for everyday walking, some hiking and also some occasional pulling activities - the Line harness is a great choice! If you are serious about a puling sport, the Freemotion harness will worth your investment but you have to also accept that it's a one-purpose harness not suitable for other activities like hiking.
Freemotion Harness Review
As I said above, I was impressed by how well this harness distributes the weight on Mia and how big of a difference that made in pulling force, speed and endurance.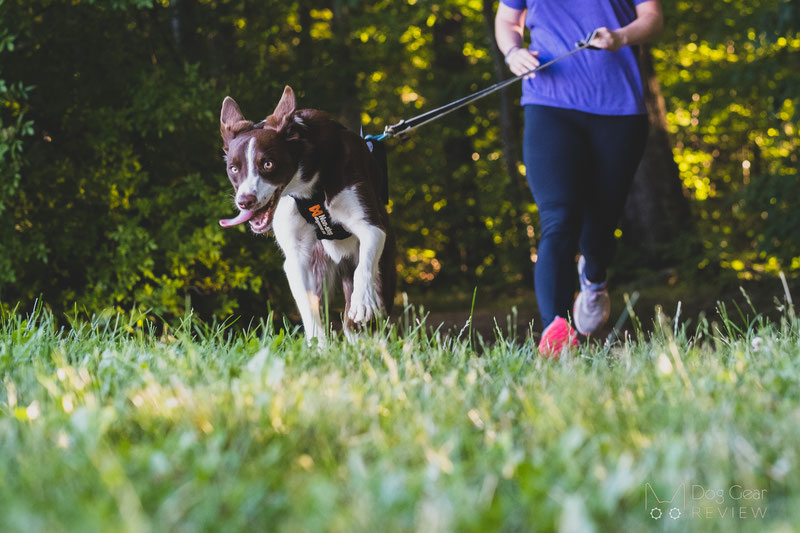 I also mentioned that I had some trouble with the proper adjustment of the harness so I would like to point out my mistake here. I was so focused on checking the straps around Mia's body that I forgot to adjust the "V" at the end of the harness (before the blue rope). The end of that "V" should end over the top of the dog's tailbone and you can see how it is a little longer than that when Mia pulls. Fixing this gave more stability to the harness when Mia pulls sideways (turning).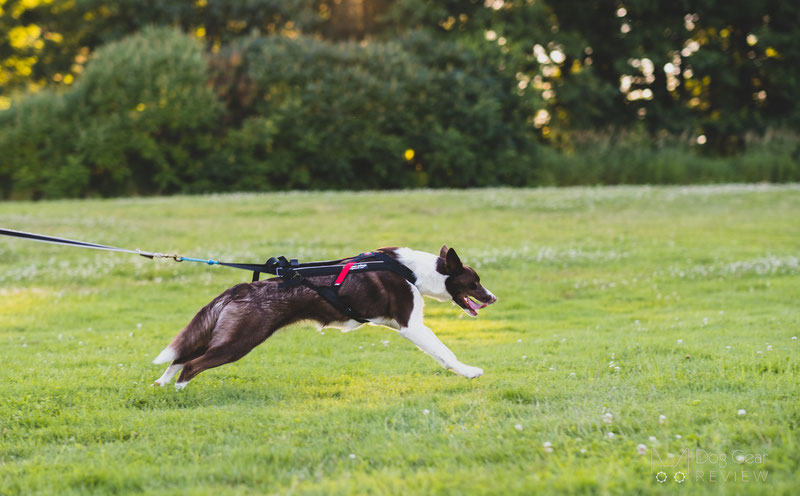 Back to the review! When you look for a harness for running, you need one which leaves enough room for the shoulders to be sure it's not rubbing the dog's leg. While this harness was perfect on Mia, it's possible that the side straps would rub the elbows of a deep-chested dog so always check how the harness looks on your dog.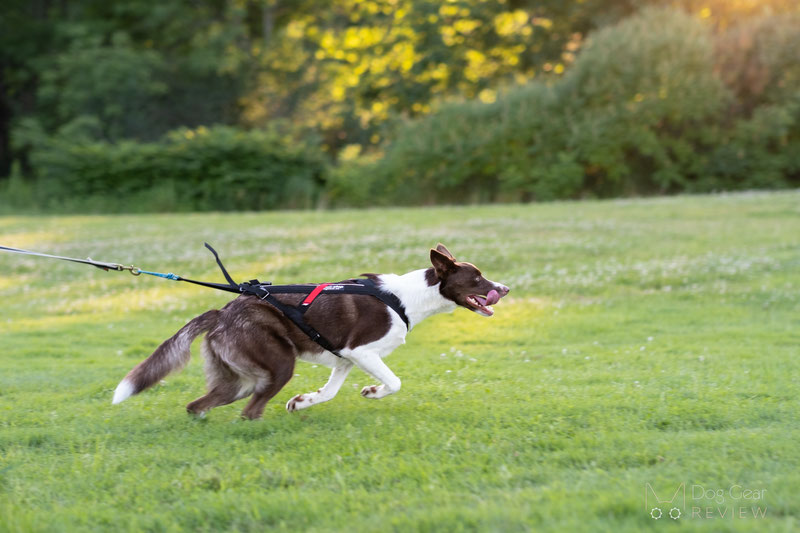 One of my favorite features of the Freemotion harness is that it's firm enough so it doesn't get tangled on the dog or they are not able to slide out when jumping around before the start. The straps are thick enough to stay in place and to not slide up to the neck when the harness is slightly pulled forward. Of course, the dog would still be able to escape if they got scared but I like how this helps to keep the harness in position even when the dog does not pull.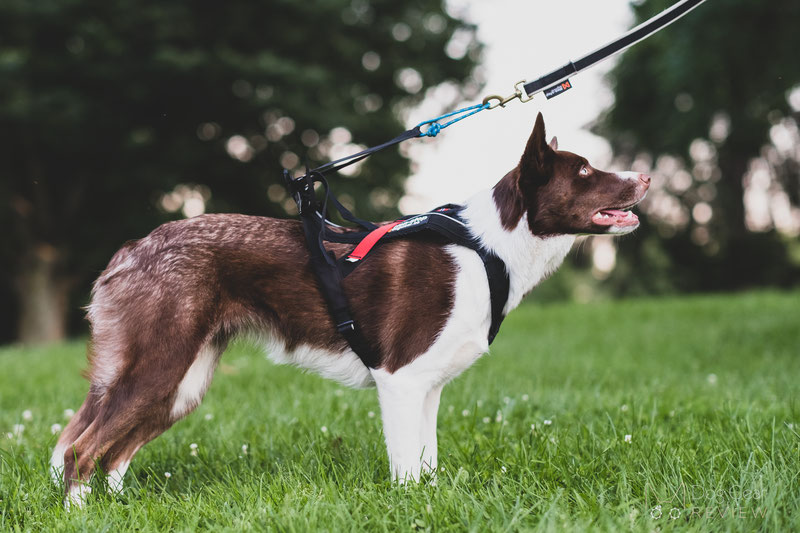 While this harness wasn't made for hiking, we also tried it on a trail where Mia had to be kept on leash. It collected some mud and took a while to dry but it was comfortable to use on most of the trail. It cannot be used to help the dog up or down on steep parts since it does not have a handle on the back and the dog can slide out from it. I can imagine that it would work if you usually hike without much elevation gain.
While you are probably not looking at this harness for hiking, I want to mention that I would not recommend using this harness for off-leash hikes because there is a high chance that the dog will get tangled in bushes and hurt themselves and/or the harness.
Fun fact: did you know that the colorful part on the top of the Freemotion harness (red on Mia) is marking the different harness sizes? The harness comes in 8 sizes with 8 different colored straps on the back so just by looking at these photos, you can tell Mia is wearing Size 5. ;)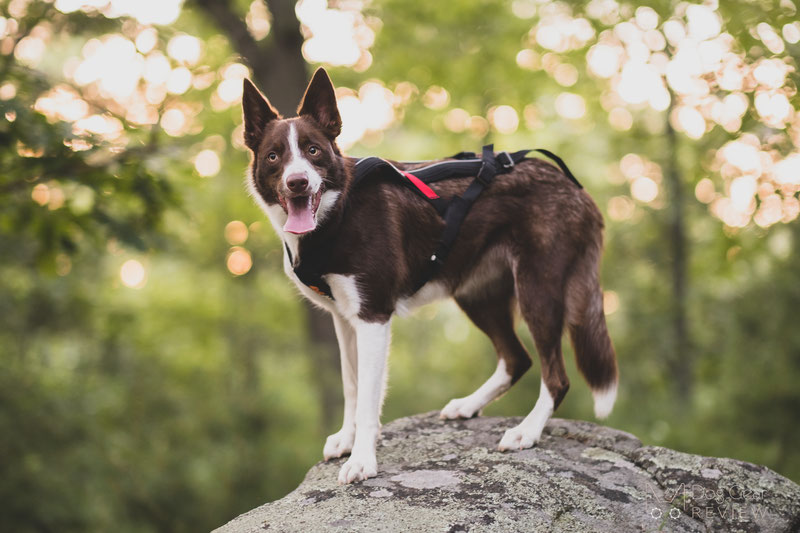 Note: this harness is hand wash only with warm water and hang or machine dry on low! Do not put it into your washing machine!
Summary
This might be the first harness we tested where I cannot list any quality or design issues - and believe me, I tried hard to find something! The expertise of Non-Stop Dogwear lies in pulling sports and you can clearly see this here. The Freemotion harness is a durable, well-designed harness made with high-quality materials.
The "cons" that I can list would apply for all similar harnesses: these type of harnesses were made for pulling and are best used for only that. You probably don't want to invest in this unless you are serious about a pulling sport.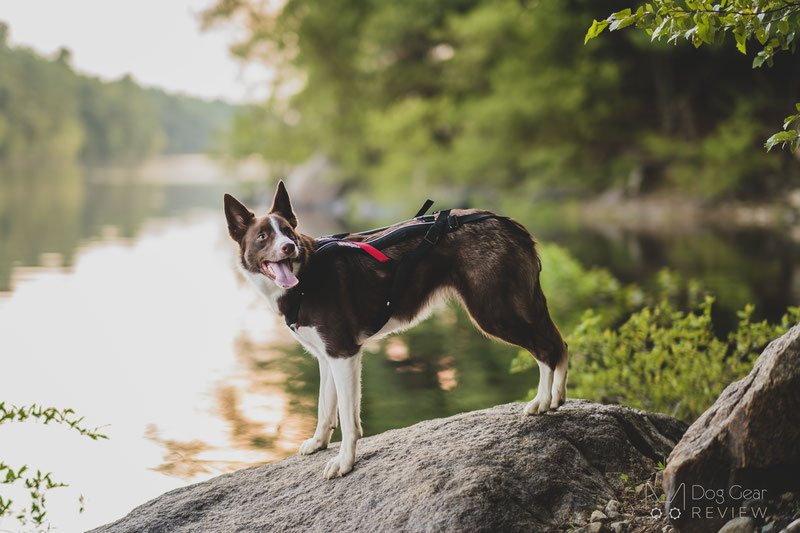 Where to buy
You can buy all their products on their website and you might also find retailers in your country. They have great videos and guides for each harness on their website that worth checking.
Mia's measurements
Many of you asked Mia's measurements to better understand the different products' fit. Your best chance of finding a good fitting gear is always to measure (and remeasure) your dog. Even we grab the measuring tape before getting a new product - even though we tested a lot of them, and have a good feeling of her size by now.
I share her measurements below, but don't go ahead and order the same size just because your dog is similar to Mia ;)
• Shoulder height: 19.5 inches (50 cm)
• Weight: 37-44 pounds (17-20 kg)
• Widest chest circumference (where the most harness would have the chest strap): 25-26 inches (63-65 cm)
• Neck circumference for collars: 15-16 inches (38-40 cm)
• Back lengths: 22 inches (56 cm)