Update: The Non-stop Dogwear Black Jacket was discontinued but their similar Blest Jacket is still available.
About Non-stop Dogwear
Non-stop Dogwear was founded in Norway only ten years ago, and today you can find their products in over 1,000 stores in 22 countries. We love their passion for designing the best-fitting dog harnesses to "release their potential," as their slogan says. Their focus is on pulling harnesses and other types of equipment for skijoring, canicross, etc. but they also have a few harnesses more suited for everyday dog walks.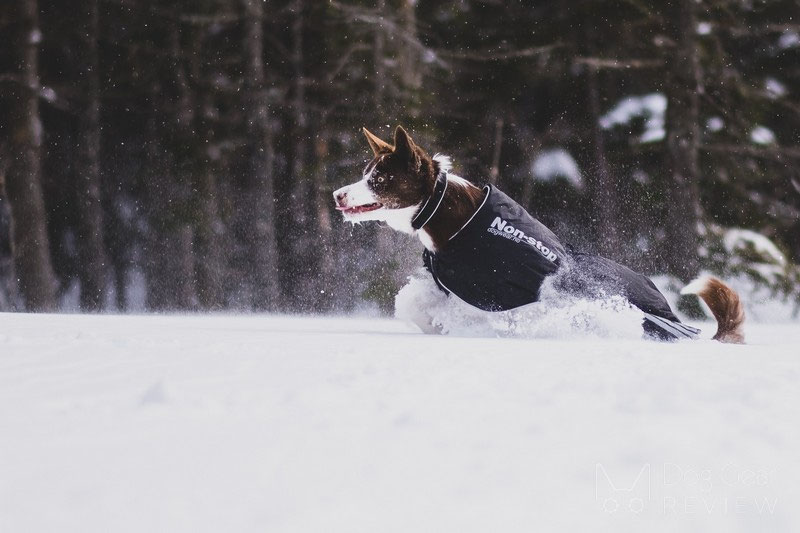 The details of the Black Jacket Light
The Black Jacket from Non-stop dogwear is a waterproof and warm jacket, but it's also incredibly lightweight! The outer shell is made from a "ripstop" material while the inner side is from a Primaloft material. These make the coat durable and warm but also incredibly lightweight and packable.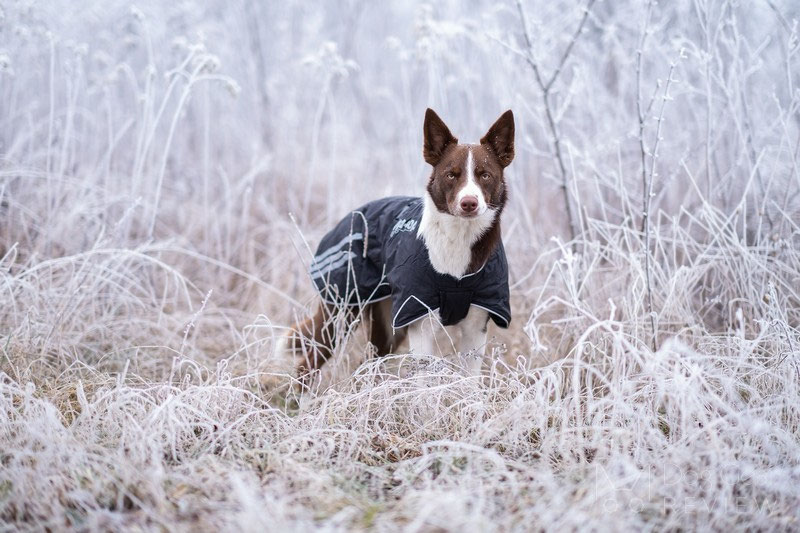 You would think a black coat cannot be visible, but it does have 3M reflective lines around all edges, and even the pattern at the end is highly reflective!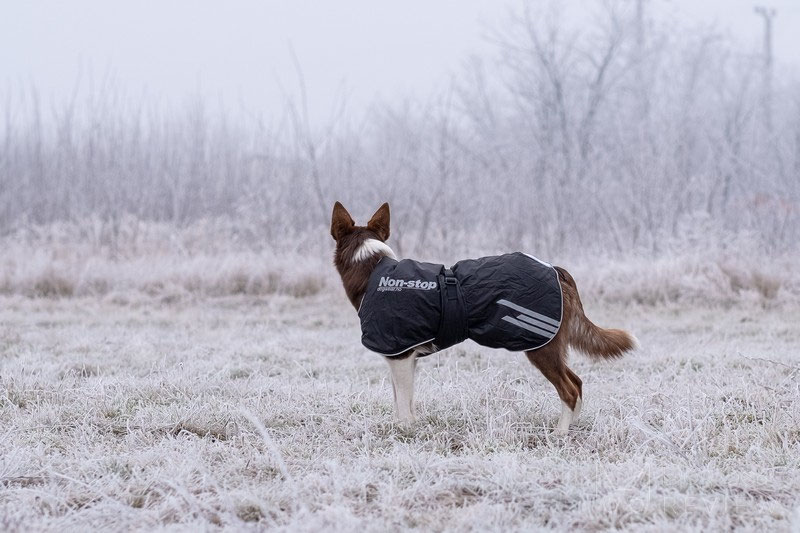 The jacket has one buckle which holds the coat in place and secures the chest covering part.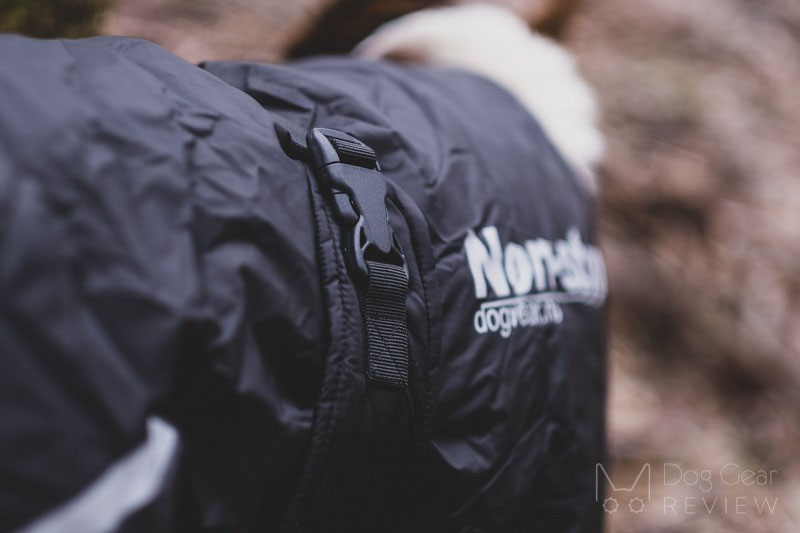 The Black jacket doesn't have elastic loops going around the back legs to hold the jacket in a place like the Non-stop dogwear Beta Pro Raincoat that we reviewed before. The coat stays in place well on most days, but you can also secure it to a long pulling harness or the pulling line/leash by using the small loop at the end.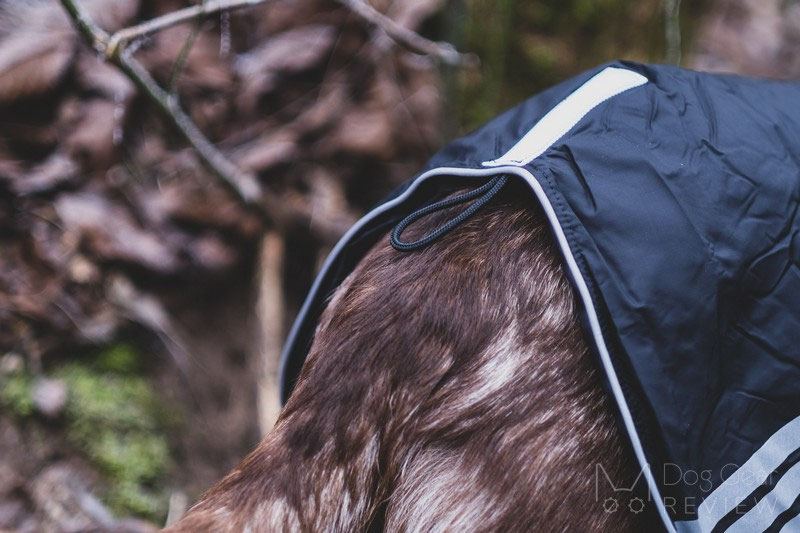 Black Jacket Light Review
We tested this jacket over the season a lot. Mia had it on for hikes in the snow, freezing rain, crazy wind, and even for playdates when other dogs jumped on her while running around. We also had to wash it twice due to the muddy playdates. Happy to say that there is no sign of a tear or wear on it at all!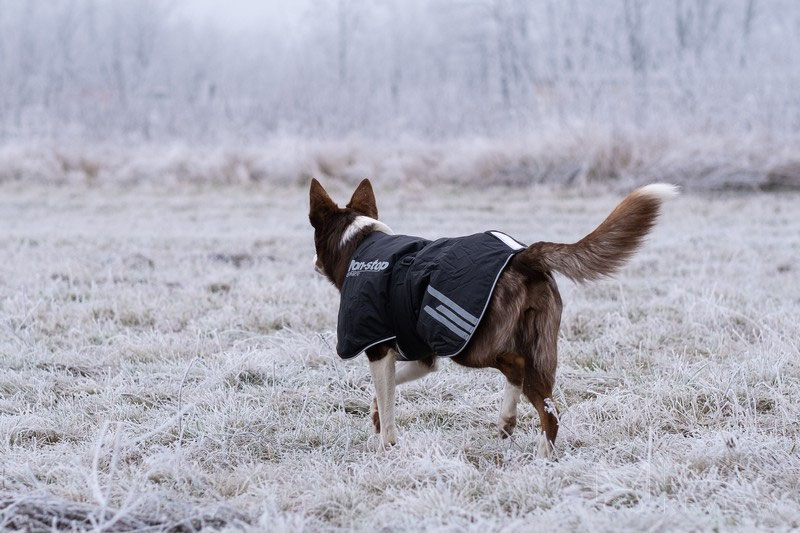 We like that this coat provides a fair amount of coverage for the joints and the bigger muscle groups, but it doesn't restrict the movement at all. It is soft and comfortable on the dog, not bulky at all.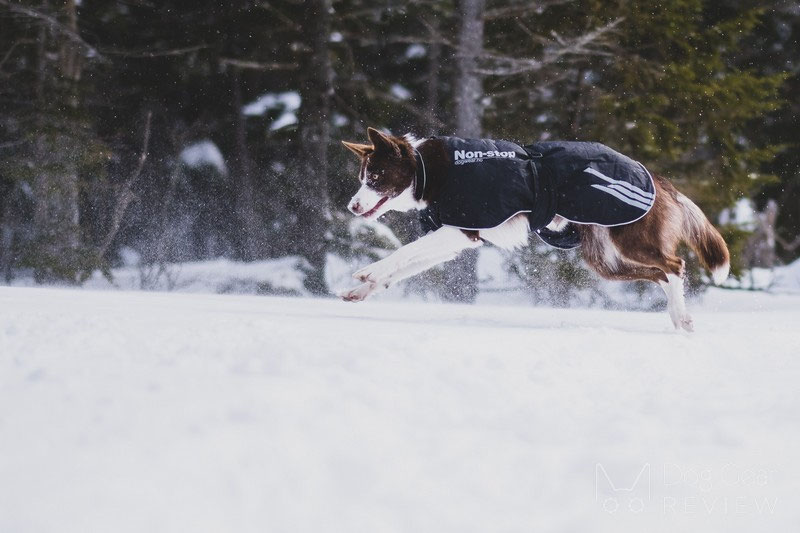 Another great thing about this coat is the chest coverage. On "warmer" but snowy days, Mia started to have fur snowballs on her chest - even though this is usually an issue for long-haired dogs. The small chest protection that the Black Jacket offers was enough to prevent this for us!
Disclaimer: if your dog has much longer chest hair, this will probably not solve the issue, and you need a coat that covers more of the neck/chest.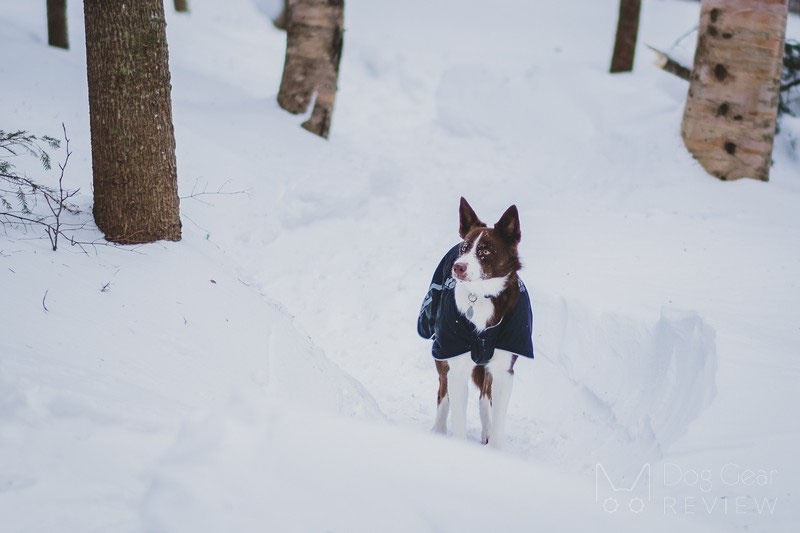 On the other hand, this chest part does tend to slide to the right side due to the one buckle on the left of the jacket. It is a small, plastic buckle, but it is still enough weight to rotate the coat slightly after a while. It's not an issue, but you can see on the photo below how it doesn't cover the full chest and wouldn't be enough to protect a longer haired dog from collecting the snow.
Altogether, this is a durable, warm coat that we liked a lot! It is water repellent but not waterproof, meaning that it will soak through in a storm but can handle some precipitation.
There are only two things to mention, but those are more like room for improvement than actual cons for getting the Black Jacket.
One is that a strong wind flips up the back of the coat, which could be solved with the above mentioned elastic loops around the back legs. The coat was designed for sled dogs where attaching the jacket to the back of a pulling harness (like a Freemotion harness) is a perfect solution. That doesn't help much, though, if you are using it without a long harness under it.
The second one is purely an esthetic point: it would be nice to have an outer material that doesn't crease this easily in the backpack, but this has nothing to do with functionality.
The Non-stop dogwear Black Jacket Light vs. the Blest Jacket
Since we tested the Black Jacket and the Blest Jacket at the same time, we wanted to write about the differences as well to help to figure out which one to pick for your dog.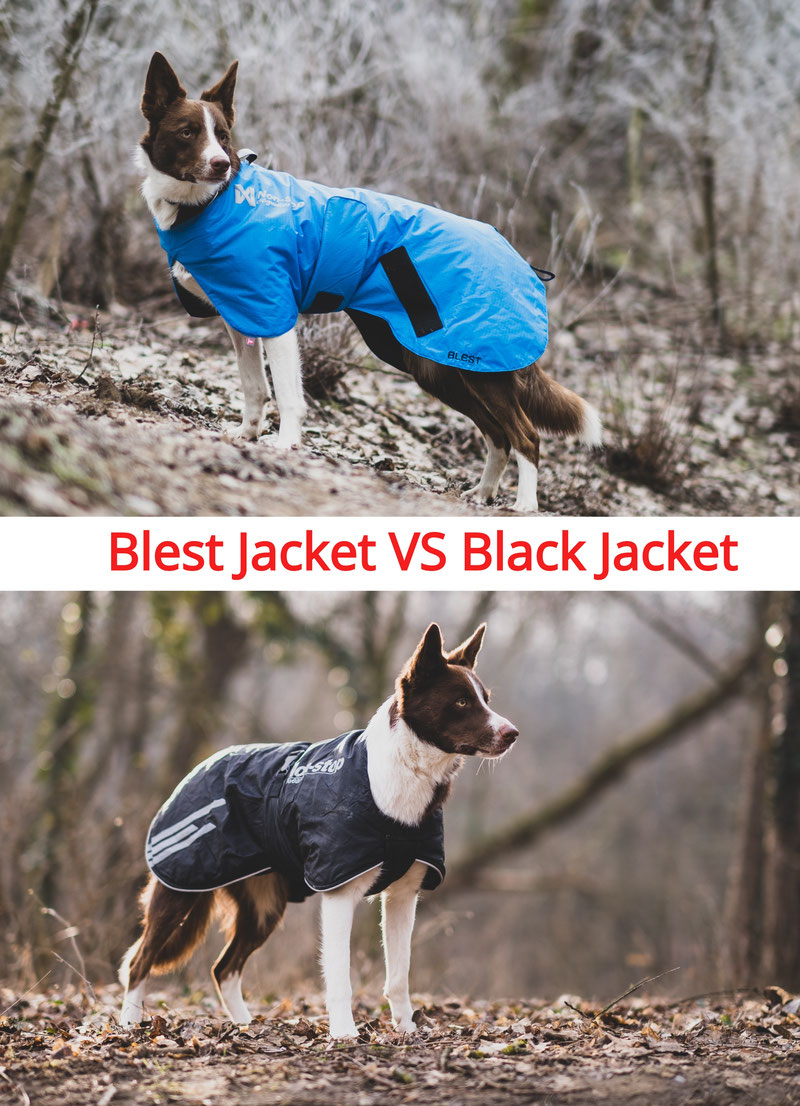 Both jackets provide about the same amount of warmth. The blue Blest Jacket has a much warmer fill but has less filling than the black one. This makes the Blest Jacket perfect for hiking/camping because it is so light and packable. Both jackets could go over a long pulling harness, and both have a loop at the end of the coat to attach to the harness to prevent the wind from blowing it over.
The Black Jacket is excellent for city walks because the reflective parts are highly visible at night. It can also be a better choice for short-haired dogs because of the extra chest coverage.
The Blest Jacket may be better for thicker coated dogs who may not need the chest coverage but still need to keep the big muscle groups warm. We like that the Blest Jacket covers more of the dog, which is excellent against windchill. Mia has joint issues, and it seems that she is doing better on cold, windy days when wearing the Blest Jacket.
Checking Dog Coats with a Thermal Camera
We wrote an article checking 12 coats (including this one) with a thermal camera to see the insulation capabilities of different materials and coat designs.
If you want to learn more about our findings, click here to read the article!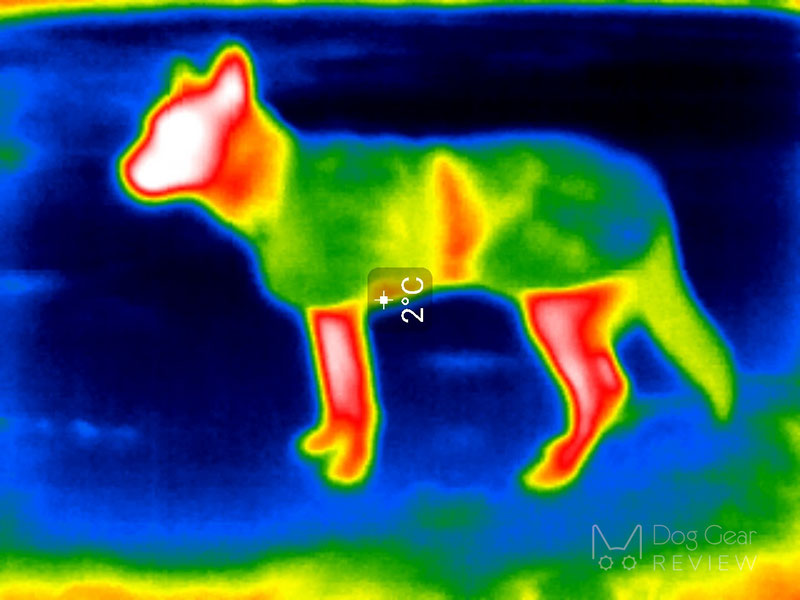 Review Summary
Hard to say any cons of getting this coat! Light, packable, provides excellent coverage and has reflective parts. It even comes with a small bag to make transportation and storage easier.
As of today, it comes in five sizes from S to XXL.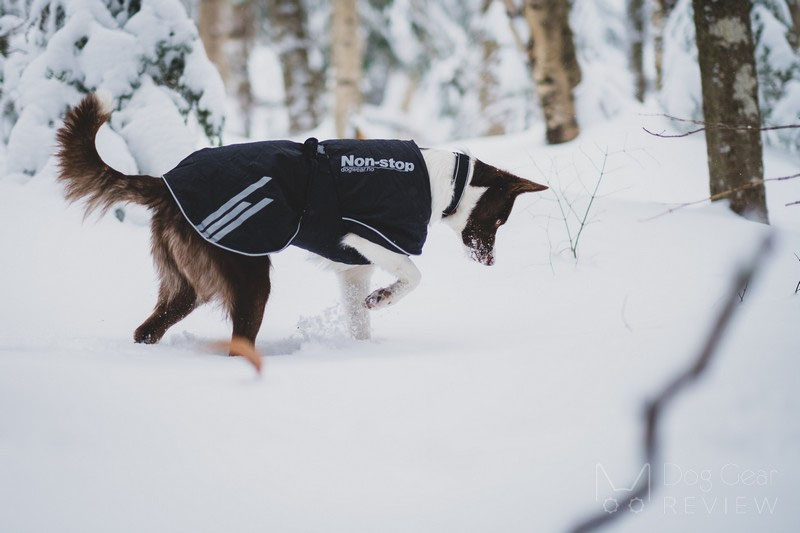 Where to buy & Code
You can buy all their products on their website and probably find retailers and stores in your country.
We are happy to announce that we have an ongoing collaboration with Non-Stop Dogwear! You can use the code "DogGearReview" to get 20% off sitewide globally! Using affiliate links will never compromise us in writing unbiased, honest reviews, while it is a way for you to support our work while also getting a discount.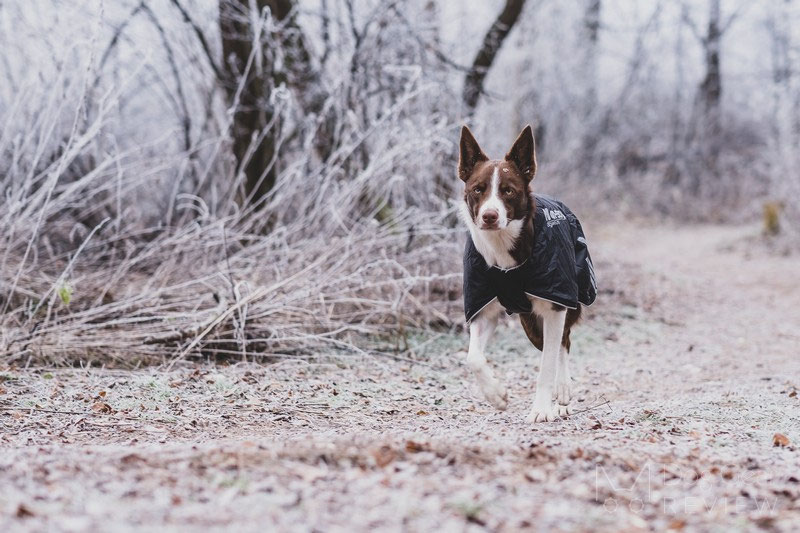 Mia's measurements
Many of you asked Mia's measurements to better understand the different products' fit. Your best chance of finding a good fitting gear is always to measure (and remeasure) your dog. Even we grab the measuring tape before getting a new product - even though we tested a lot of them, and have a good feeling of her size by now.
I share her measurements below, but don't go ahead and order the same size just because your dog is similar to Mia ;)
Shoulder height: 19.5 inches (50 cm)

Weight: 37-44 pounds (17-20 kg)

Widest chest circumference (where the most harness would have the chest strap): 25-26 inches (63-65 cm)

Neck circumference for collars: 15-16 inches (38-40 cm)

Back lengths: 22 inches (56 cm)