About Non-stop Dogwear
Non-stop Dogwear was founded in Norway only ten years ago, and today you can find their products in over 1,000 stores in 22 countries. We love their passion for designing the best-fitting dog harnesses to "release their potential," as their slogan says. Their focus is on different equipment for skijoring, canicross, etc. but they also have a few harnesses more suited for everyday dog walks.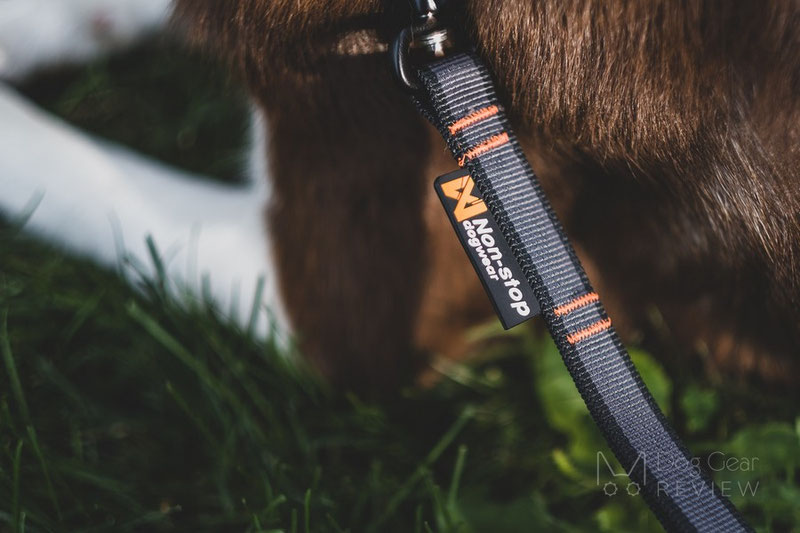 About the Touring Bungee Adjustable Leash
This leash was designed for hiking with every trail-scenario in mind. We haven't realized there is a need for more functionality than our "normal" leash until we tried this and haven't grabbed our other leashes for hikes ever since. Of course, this can also be used for everyday city walks and running, but we feel there are better options out there for those situations since you might want more bungee for running and less for city walks.
The leash has three elements:
-> a static handle close to the collar/harness to hold your dog close when passing others on the trail,
-> there is a bungee section on the middle to absorb the tugging- we found this especially helpful on rough trails where both you and the dog has to step from rocks to rocks making it hard to synchronize movement,
-> the end of the leash is static again with an adjustable handle.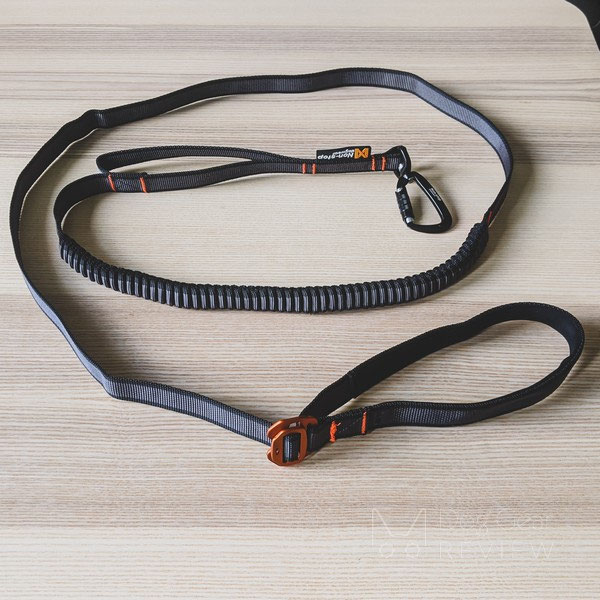 The Twistlock carabiner is strong while it is also surprisingly light. The leash (including the carabiner and the aluminum buckle) was tested for 300 kg (660 pounds). It would probably hold even more, but that was the heaviest weight they were able to test it at the time.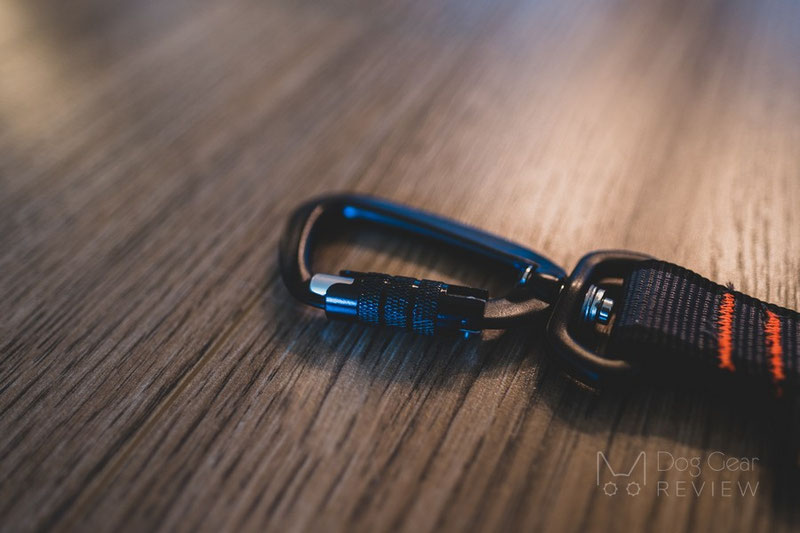 The outside of the static handle is covered with 3M reflective material, which provides visibility if you need to walk by a road in the dark.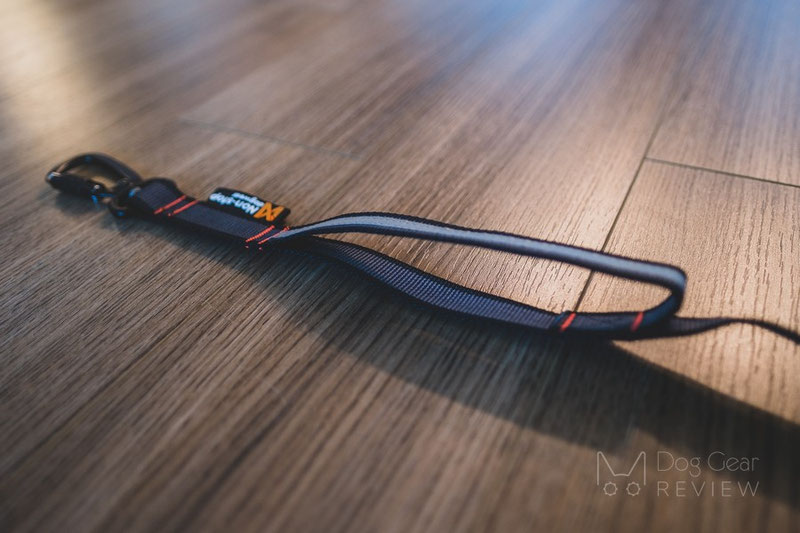 The aluminum buckle on the handle makes it possible to adjust the leash's lengths. You can also open it up to put the leash around your waist or a tree when you take a break. The inside of the handle has neoprene lining to make it comfier to hold.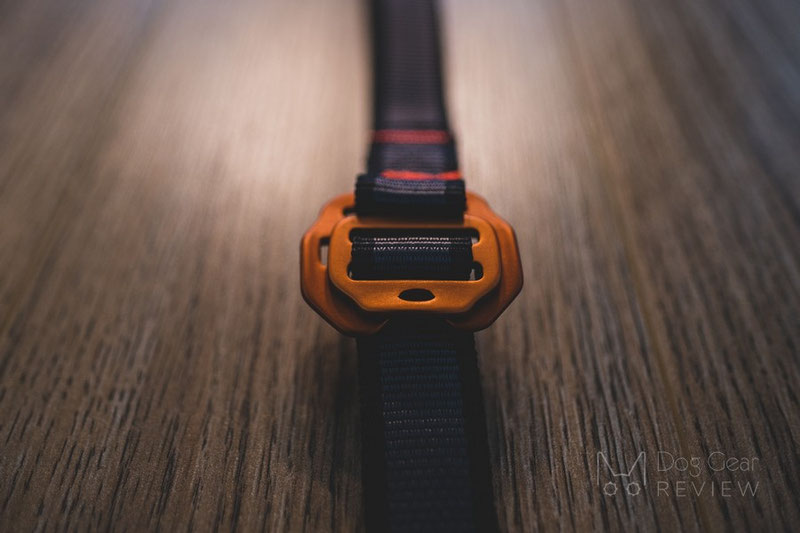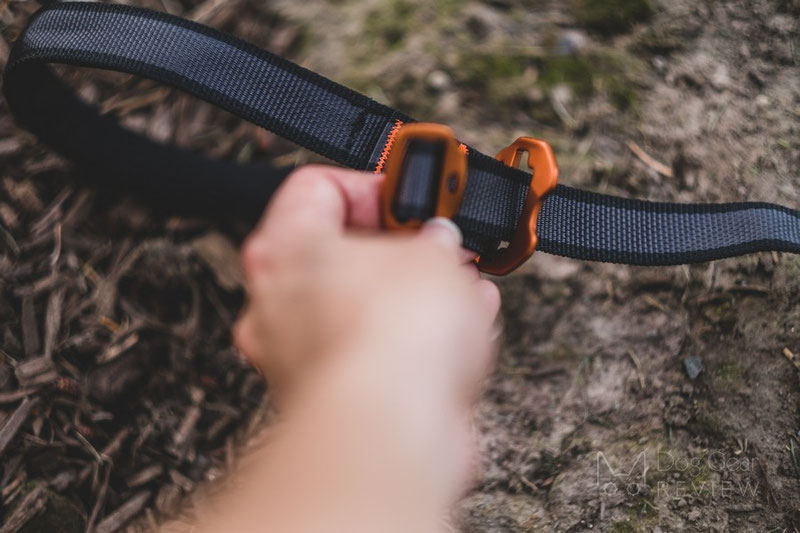 Dimensions of the leash
Circumference of the handle loop at the end of the leash, minimum: 17 inches (43 cm) - determined by the neoprene cover on the inside of the handle.
Circumference of the handle loop at the end of the leash, maximum: 58 inches (146 cm) - determined by the elastic middle section.
Length of the leash with maximum loop, neutral: 63 inches (1,59 m)
Length of the leash with maximum loop, stretched: 7.3 feet (2,22 m)
Length of the leash with minimum loop, neutral: 7 feet (2,11 m)
Length of the leash with minimum loop, stretched: 9 feet (2,75 m)
Width: 0.9 inch (23 mm)
Weight: 0.35 pounds (160 g)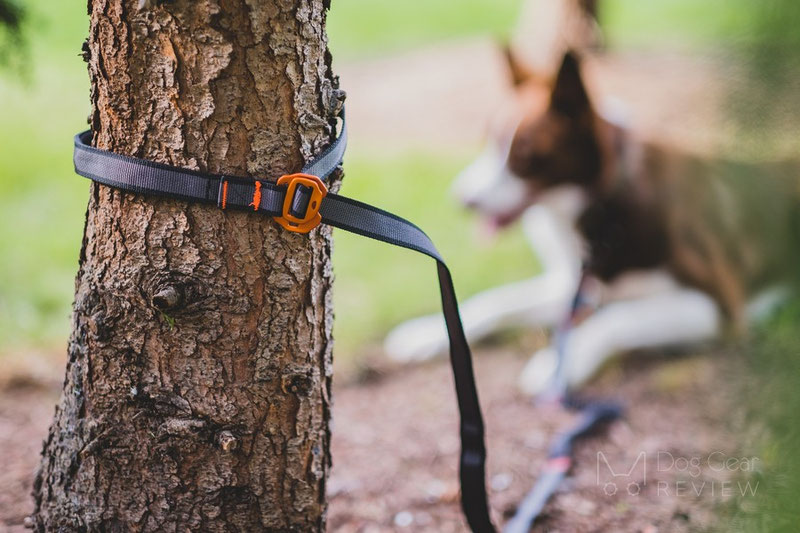 Touring Bungee Adjustable Review
The only small problem we can mention is the same that we experienced with all colored aluminum carabiners and sliders: they scratch up sooner or later, and the silver color will shine through. We also have to say that these small, hardly visible scratches are all we have on the leash after using it for multiple hikes, and it does not mean anything for usability.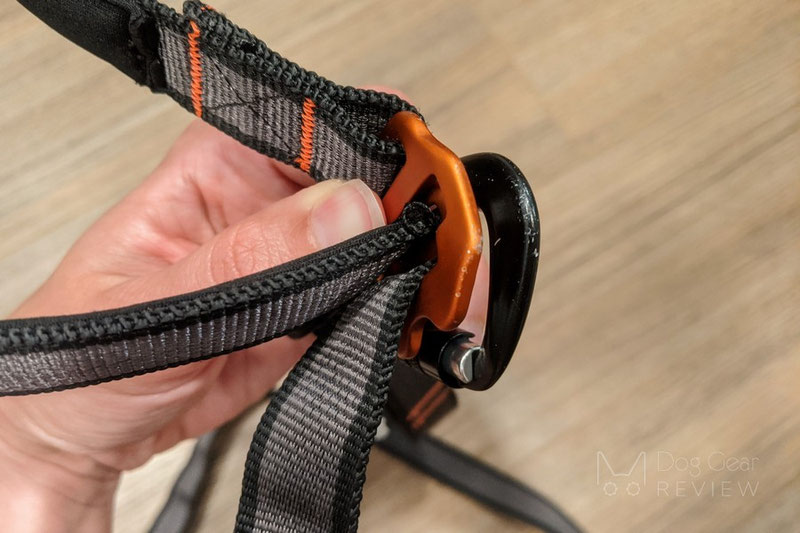 While we are usually not too excited about leashes, we found this one to be excellent. It has all the features that we never know we needed, but now would miss. Every piece of this leash is well-designed, high quality, and last but not least, pretty! The leash's strap-like material doesn't soak in mud and didn't get too dirty on our hikes, either, which is an advantage if you hike in the rain. It looks durable while it is also surprisingly light.
One more thing to keep in mind is that this leash is hand-wash only, so don't throw it in the washing machine after a hike!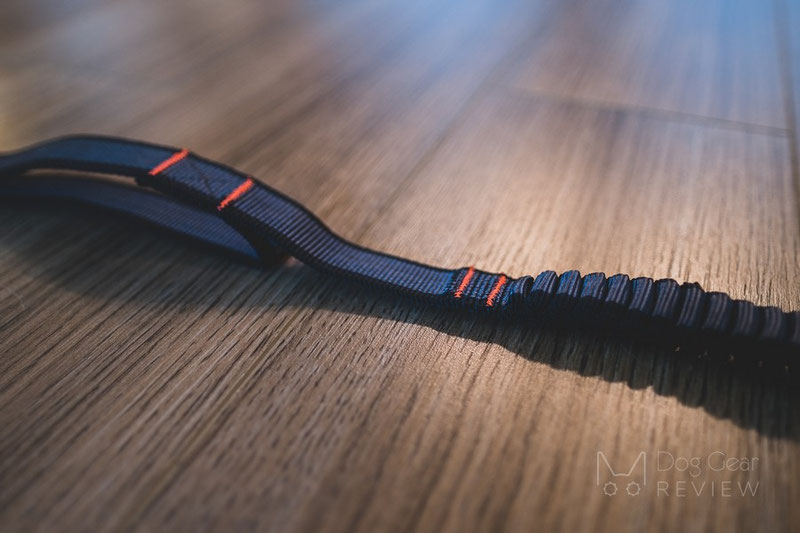 Where to buy & code
You can buy all their products on their website and probably find retailers and stores in your country.
We are happy to announce that we have an ongoing collaboration with Non-Stop Dogwear! You can use the code "DogGearReview" to get 20% off sitewide globally! Using affiliate links will never compromise us in writing unbiased, honest reviews, while it is a way for you to support our work while also getting a discount.