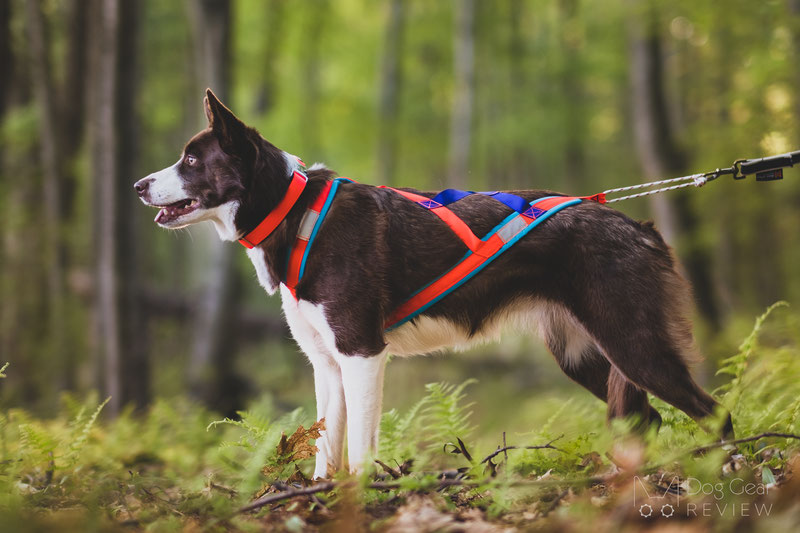 Nahak Pigma Pulling Harness Review
About Nahak
Nahak was founded in 2015 by people who have vast experience in dog pulling sports. Today they have a team of 20+ people working on providing well-designed, durable, and creative products.
They put a big emphasis on sourcing materials locally as much as possible. As a result, today, more than half of the raw materials are manufactured in Canada or the United States. In addition, all their products are developed, tested, and made in Canada.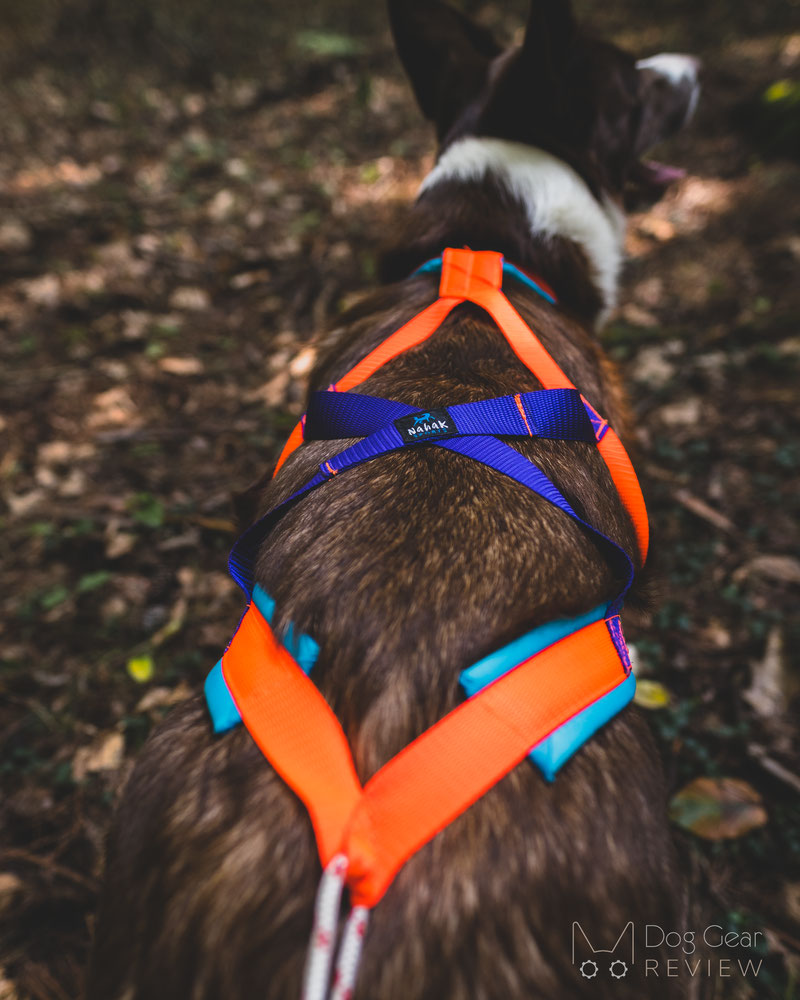 The details of the Nahak Pigma Pulling Harness
The first thing to note about the Pigma harness is that it comes in many stunning colors! They have a fantastic tool on their website, so you can mix and match many colors for the body straps, back cross, and the padding to create a custom design.
You can also buy matching collars and colorful bungee lines to have a complete set.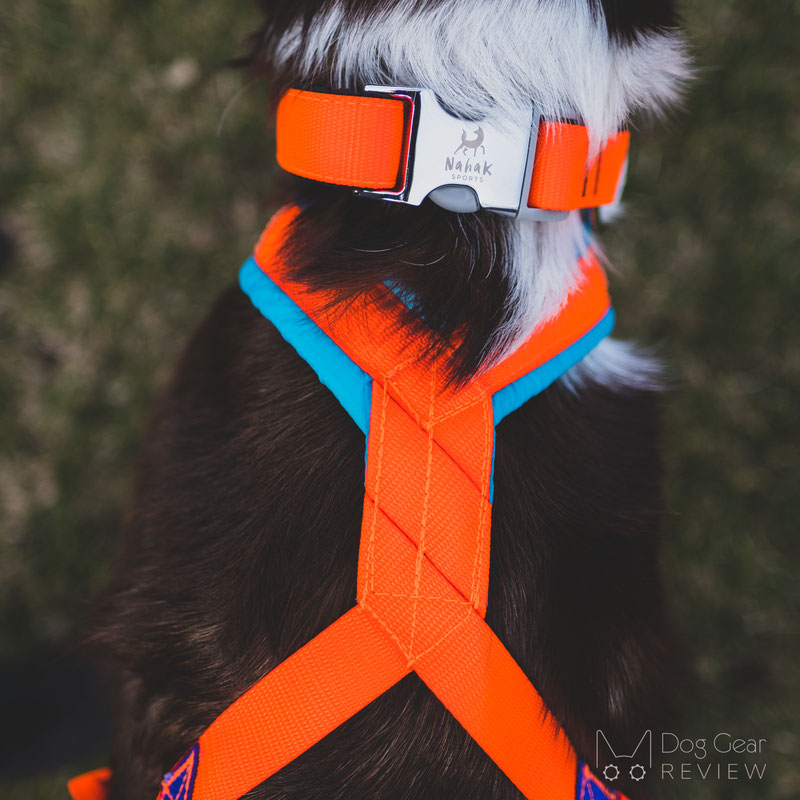 The other thing one would immediately notice is that the harness is incredibly lightweight and packable. It's not a rigid, heavier harness.
Taking photos of this harness to show the fit accurately is almost impossible because the material does stretch a little when the dog is pulling. To ensure it is not too big when there is pressure on it, it needs to look a little too small when not used. I tried to put some pressure on the leash for the photos, but it is still not the same as seeing it in action. I used action shots as well for the review, but it's also not easy to see the fit correctly on a running dog from an angle.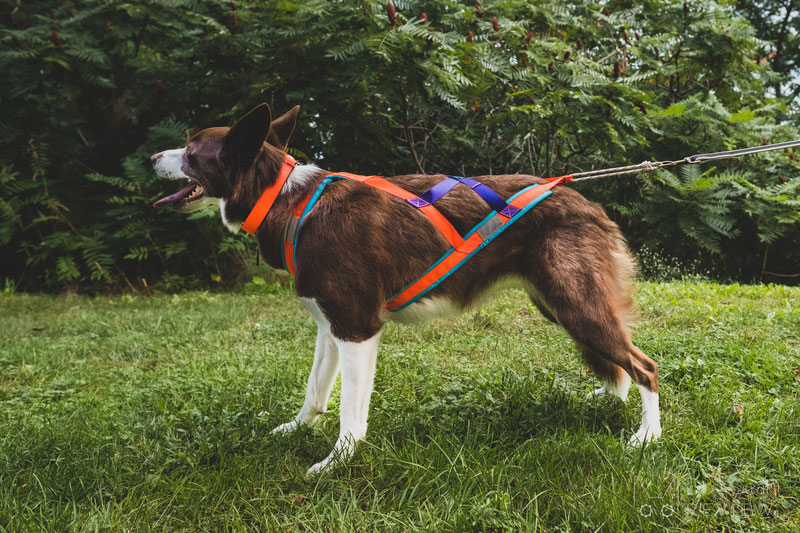 The harness is very well-made, with solid stitching and reinforcement on every point.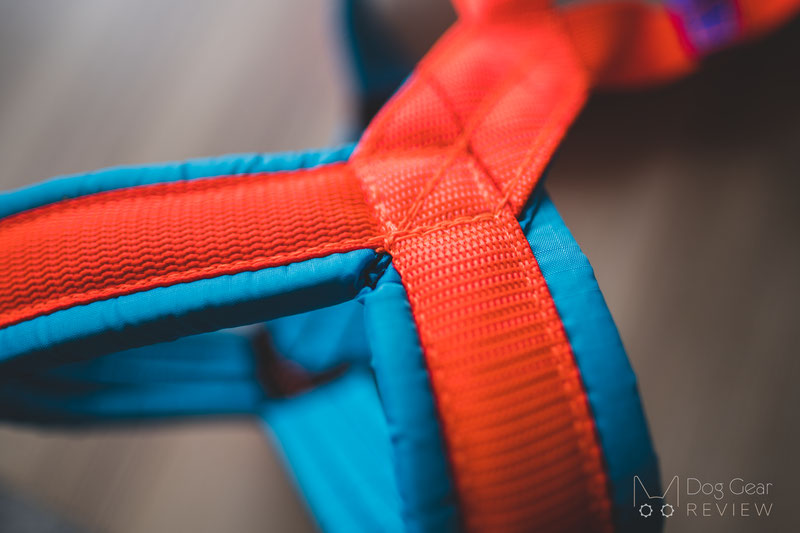 The padding is thick: 3/8" on the neck and chest straps and 1/4" at the sides where there is less pressure on it. In addition, the padding is waterproof, so it doesn't absorb any water and doesn't freeze in the winter.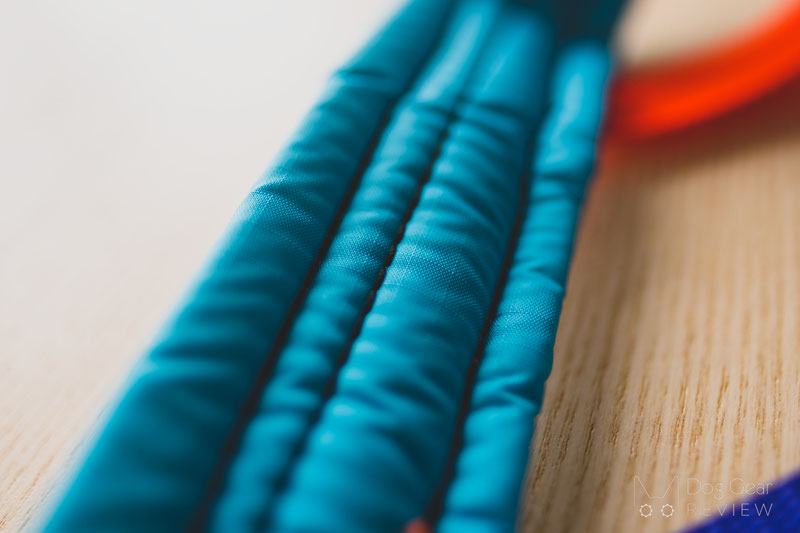 The padded, adjustable collar that we received with the harness also has stunning features. It has a hybrid clip made of both aluminum and plastic that can withstand 350 lbs (158kg). In addition, an oversized 1"1/2 O-ring makes attaching the leash very easy.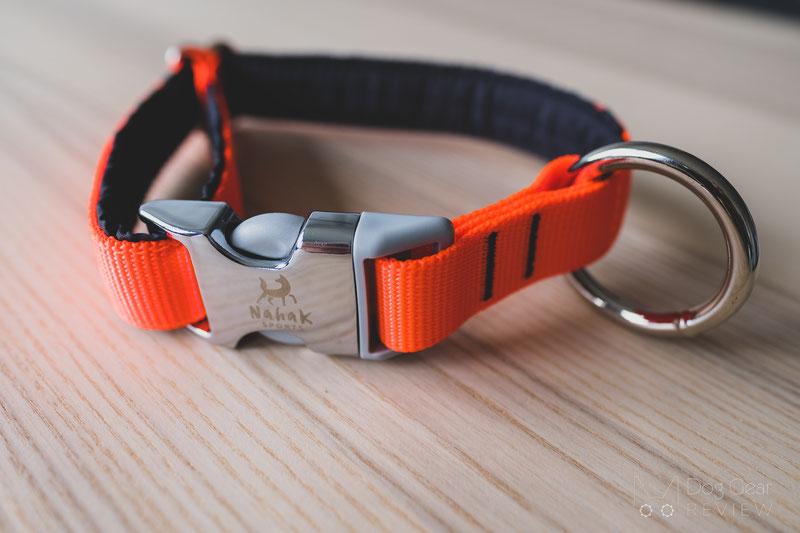 It's important to know that this harness is not adjustable, so it needs precise measurements on the exact spots to determine the size.
Based on Mia's measurements, Nahak recommended going with an XS harness to ensure it is not too big around her neck because that would slide down on her shoulders when she is pulling. The neck section looked great when we received the harness, but the back was too short and small around the chest. So we sent it back, and they modified it, creating a custom size: XS neck section with a Small body section attached to it. This fits Mia much better.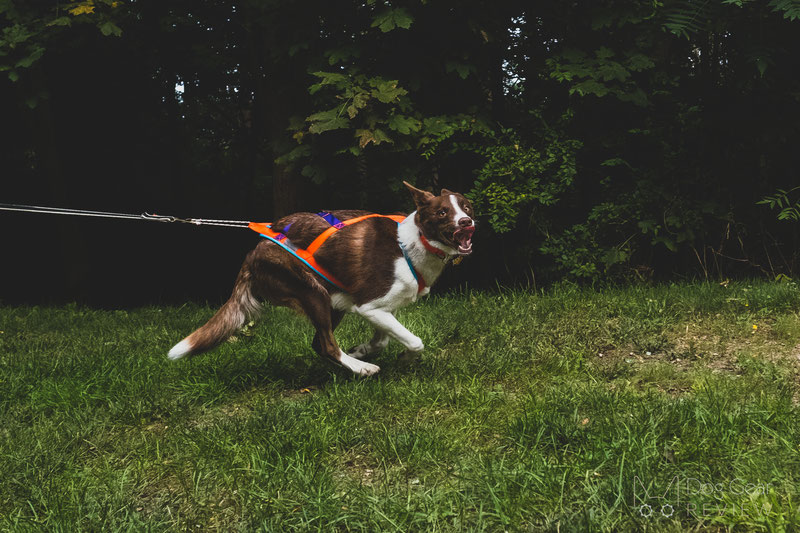 Nahak Pigma Pulling Harness Review
We took our time testing this harness partially because we skipped the hot and humid summer months and only got back to canicross in the fall. The other reason is that Mia needed time to adjust to her seizure meds at the end of summer, and I didn't want to push any exercise until she was cleared to do so. By the time cooler days arrived, she was also ready to run, and we had perfect canicross days to test this harness.
Therefore we eventually tested this harness almost over an entire running season - starting in the spring and then finish testing in the fall.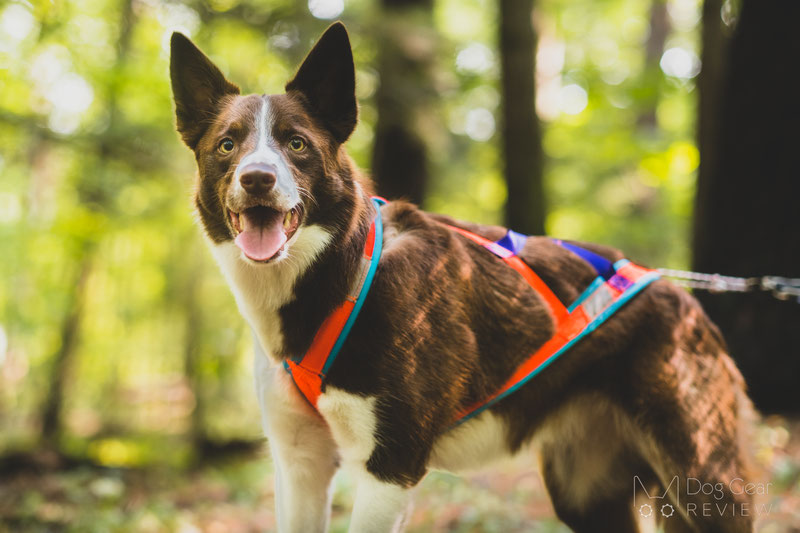 An important thing to note about long harnesses is that they were designed for dogs who pull forward.
We got many questions if this design could be used for hiking as well. While technically it could be, it does slide up when there is no pressure on it, and the dog can back out from it if pulled forward by the leash. It is not a rigid harness that stays in place when pulled in any direction; it's only meant to be pulled backward.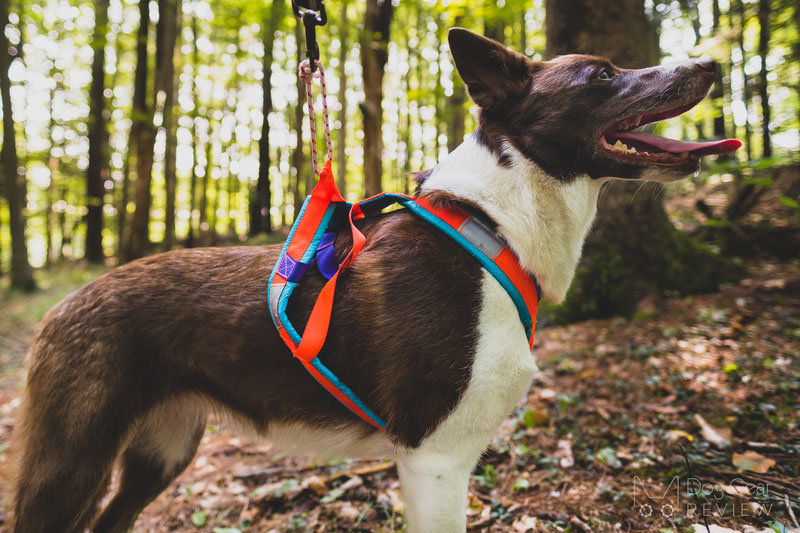 We also mentioned before that it rides up in the armpits when there is no pressure on it, making it weird to use for a dog who doesn't pull. But, at the same time, it does stretch out when the dog pulls, providing just the right amount of room in the armpits without letting the chest straps on the side being pulled back behind the ribcage, which is avoidable.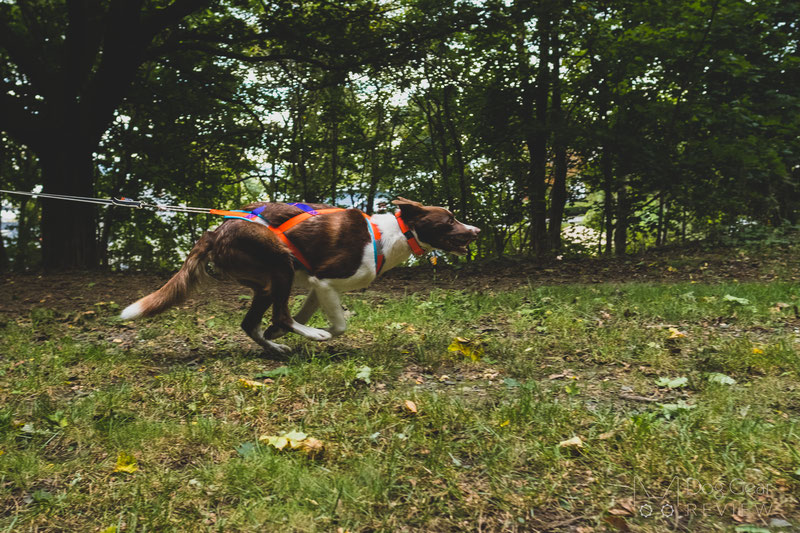 This harness was made for one purpose -pulling- and it is excellent for that. It didn't seem to chafe or rub Mia anywhere; there are no signs of tear and wear on it so far. I like that the padding is waterproof because many running harnesses came with fleece lining that gets dirty quickly when running on muddy trails. This harness is super easy and quick to clean and dry; it looks new with minimal maintenance.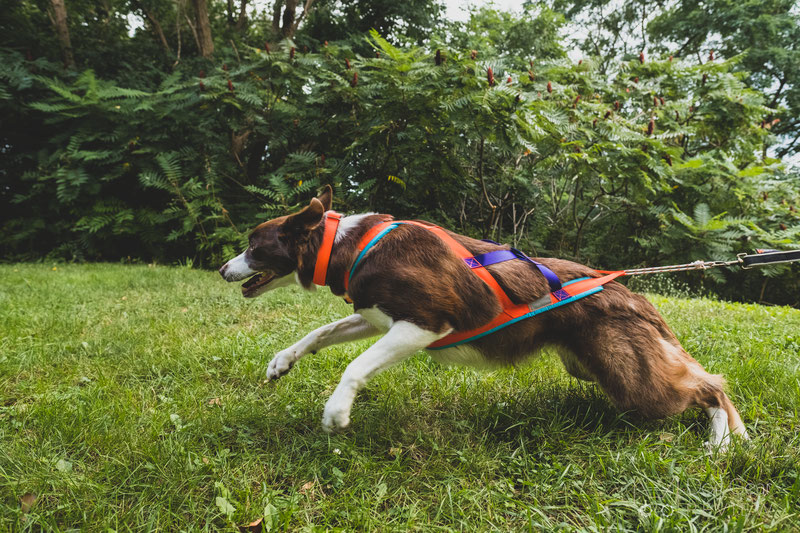 The size and fit of the final harness were pretty good on Mia, although it could have been still a little longer for her to pull into it comfortably. The neck and side straps are all at the right place when she is pulling, but the leash attachment could have been just a little farther back.
Since we are just running as an irregular hobby, this works well enough for our purpose, but I would replace it with a longer one for anything more serious. If you have any concerns about sizing, I highly recommend talking to their fantastic customer support to utilize their immense experience and ensure the harness fits your dog as it should.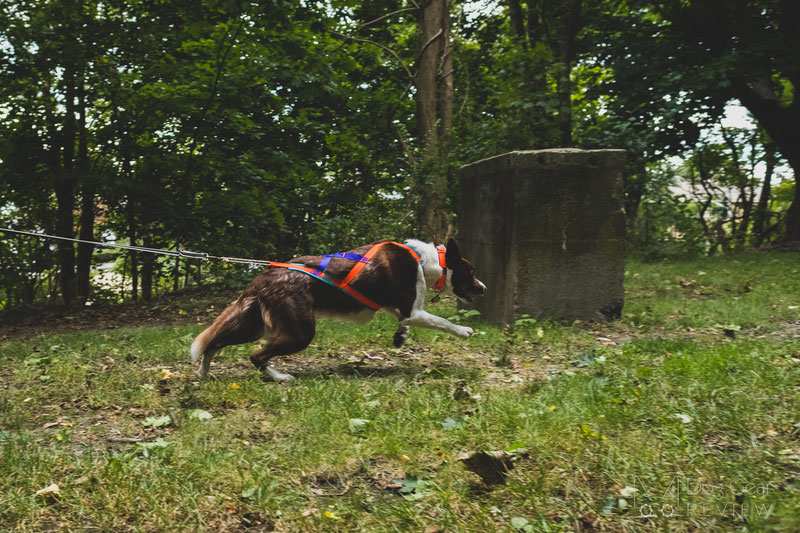 Summary
The Nahak Pigma Pulling harness is a very well-made, durable harness that is made with attention to all details. If this is not enough, the striking color options and the 16 sizes ensure you will find the exact harness you dreamt of.
Although there are plenty of size options, the harness doesn't have any adjustment options or buckles, so be prepared to measure the dog multiple times before ordering.
Where to buy
You can buy all their products on their website and found information on measuring under the sizing chart.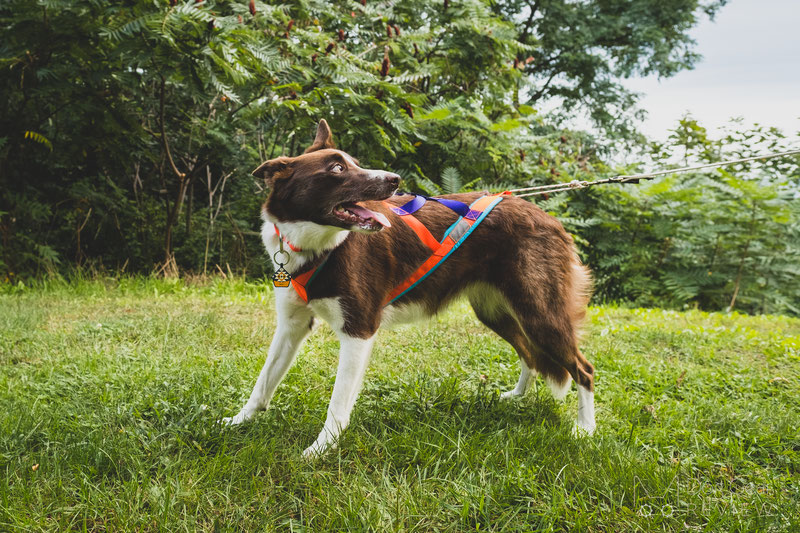 Mia's measurements
Many of you asked Mia's measurements to better understand the different products' fit. Your best chance of finding a good fitting gear is always to measure (and remeasure) your dog. Even we grab the measuring tape before getting a new product - even though we tested a lot of them, and have a good feeling of her size by now.
I share her measurements below, but don't go ahead and order the same size just because your dog is similar to Mia ;)
• Shoulder height: 19.5 inches (50 cm)
• Weight: 37-44 pounds (17-20 kg)
• Widest chest circumference (where the most harness would have the chest strap): 25-26 inches (63-65 cm)
• Neck circumference for collars: 15-16 inches (38-40 cm)
• Back lengths: 22 inches (56 cm)