About Musher
The Musher brand was born in Transylvania in 1997 when Laszlo Both had trouble finding proper sledding equipment. After lots of research, he started making his gear, including harnesses for his Huskies and improved and changed the design as needed. When other locals with the same problem started reaching out to him, Musher was born!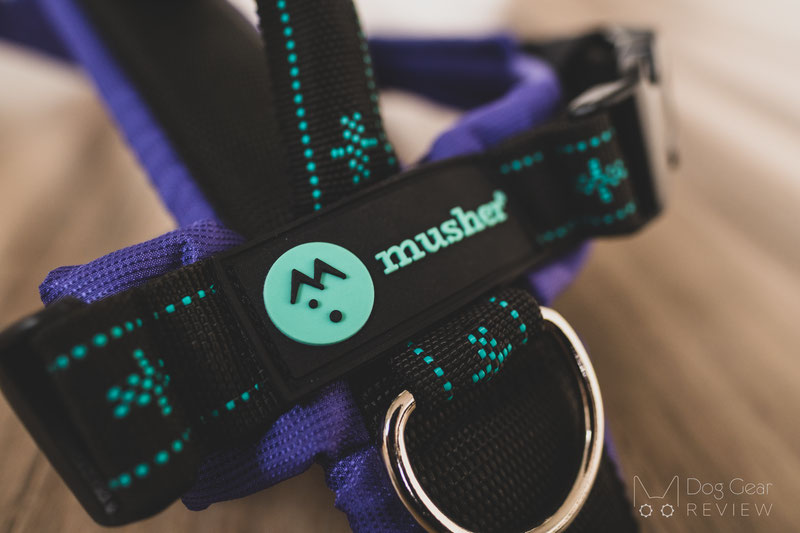 About the Musher Freespirit Harness
Musher and their products went through a serious re-design at the end of 2021. The Freespirit harness is one of their new products! It is a versatile short harness that can be used for canicross or bikejoring, for adventures, or for everyday city walks.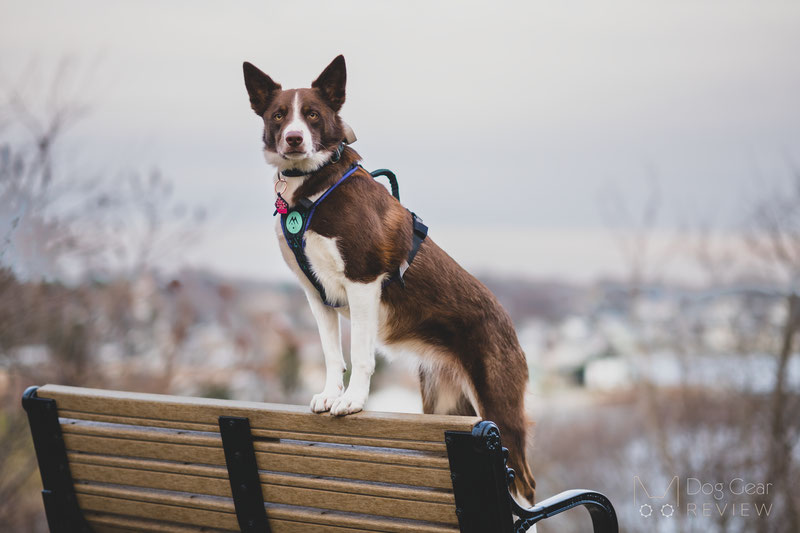 It comes in four sizes and twelve colors, so everyone can find one that matches their dog. :)
All four straps are highly adjustable and are secured with velcro. They also have a small velcro loop around the straps to provide added security, but the strong velcro holds the straps pretty well.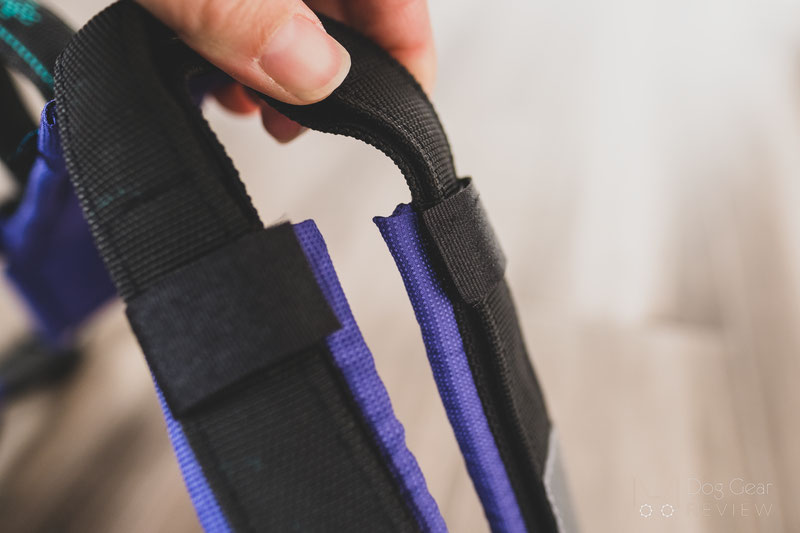 It has two plastic buckles on the chest straps and one leash attachment point, and a big handle on the back.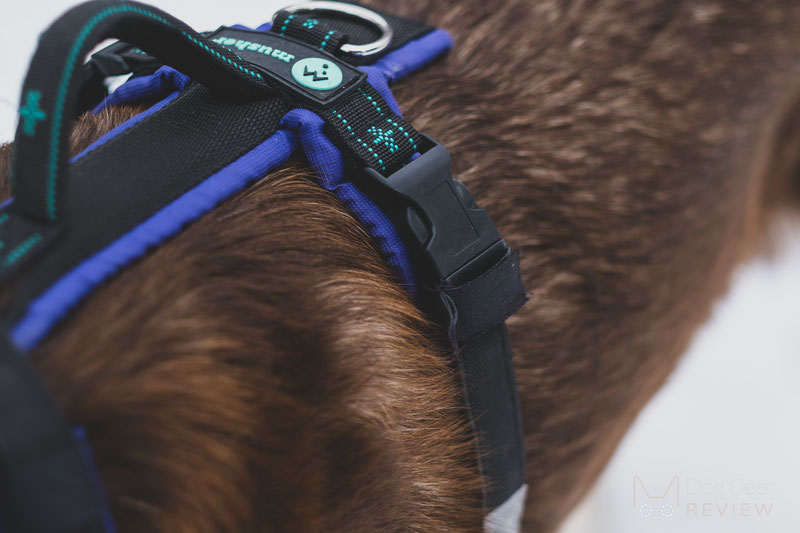 The harness is well-padded with a polyfoam insert and lined with a durable, water-resistant (not waterproof!) polyester material.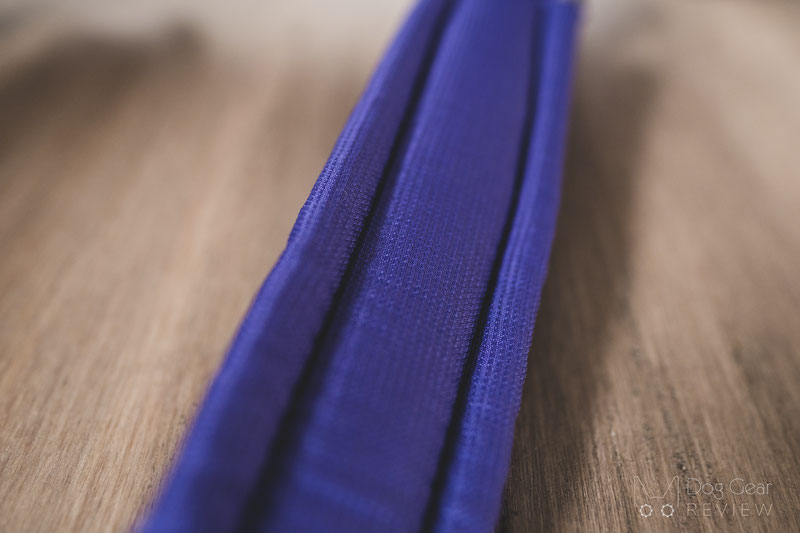 All four straps have a reflective panel that makes the harness visible in the dark.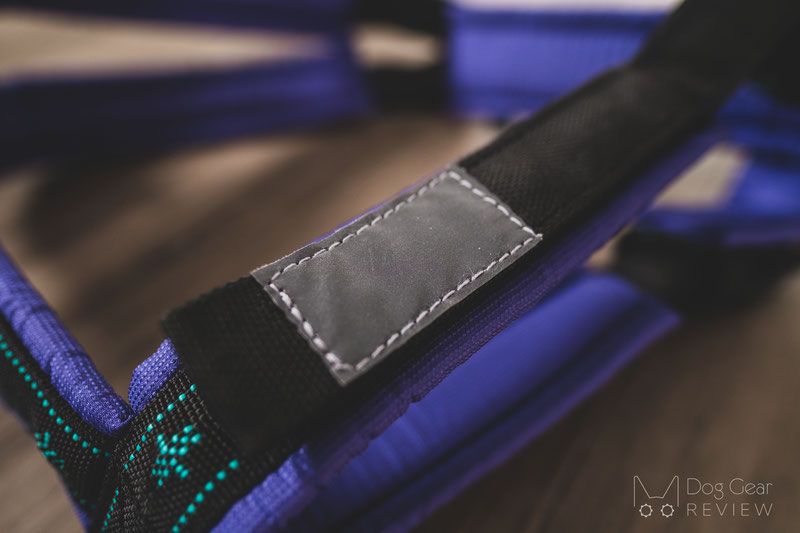 Musher Freespirit Harness Review
The Freespirit harness is very versatile, so we heavily tested it on different adventures for months.
The large handle on the back is easy to grab and came in handy during steep, icy hikes to support Mia. We also tried it briefly for canicross, but Mia's pulling style needs a longer harness. The harness is "rigid" enough to hold its shape reasonably well and doesn't ride up like the ones made of a thinner webbing. It stays in place well and is padded enough for comfortable pulling.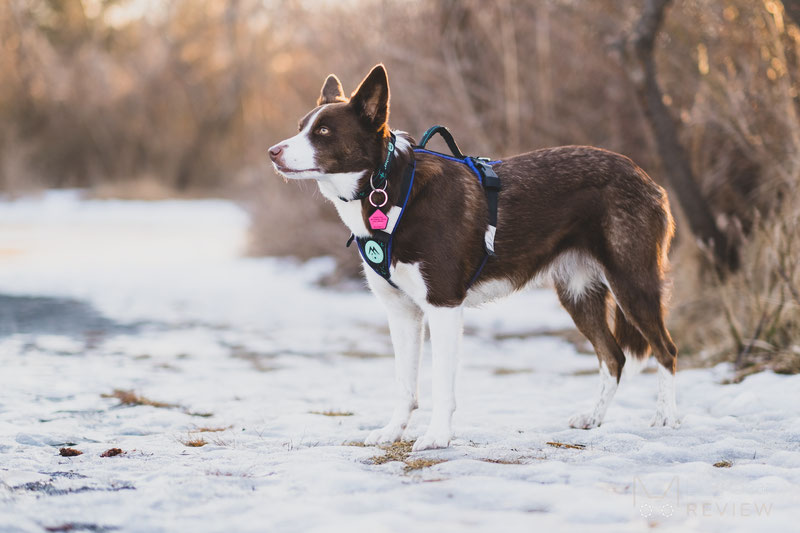 Musher kept in mind the obstacle races popular in Europe when designing this harness: it is ideal for helping the dog through obstacles, dries fast, and is easy to clean. At the same time, it also doesn't cover more of the dog than necessary to prevent overheating.
The harness leaves just enough clearance behind the front legs to move back freely. This, in return, makes the harness stay in place well; it doesn't rotate or slide much.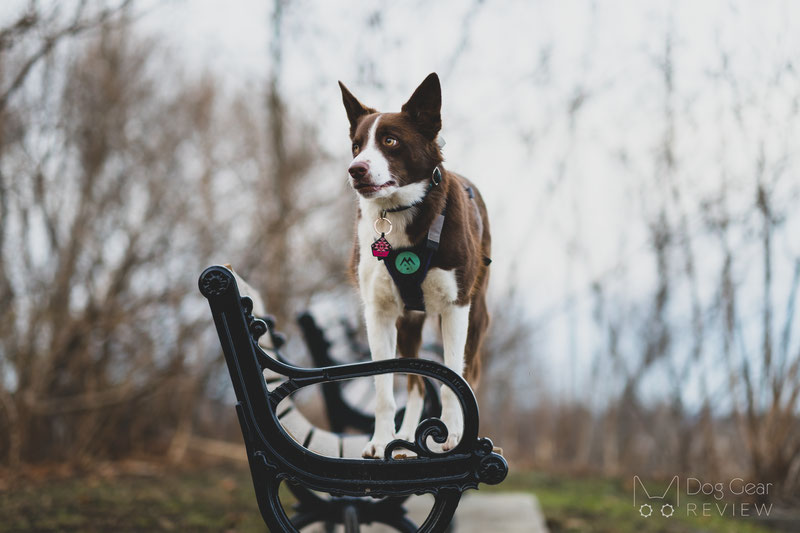 We ran into only two minor problems while using this harness, and none of them were functionality-related. We also want to note that we tested this harness right after launch when there is always a higher chance of issues popping up.
The first is that the fabric of the smaller velcro loops (the ones going around the actual straps to add extra security) started fraying after a few weeks. I reached out to Musher, and they told me this was a problem with the initial supplier of that material. They buy these straps from a new supplier now and haven't seen the problem since.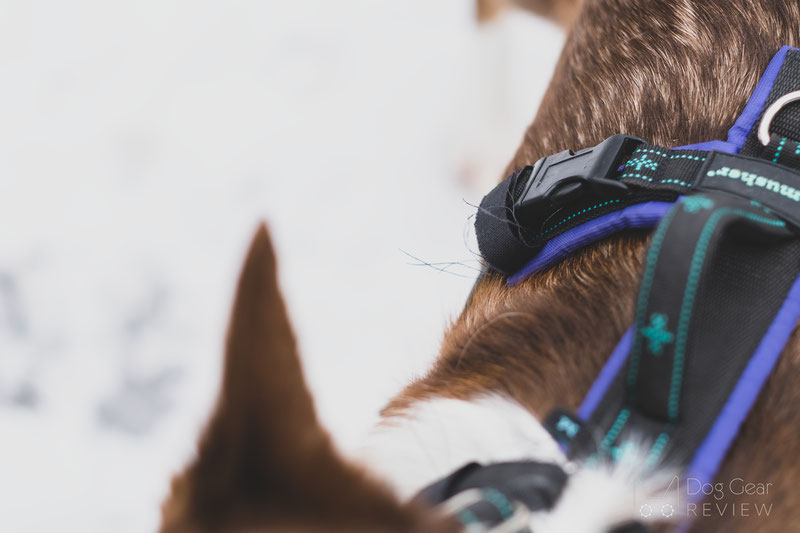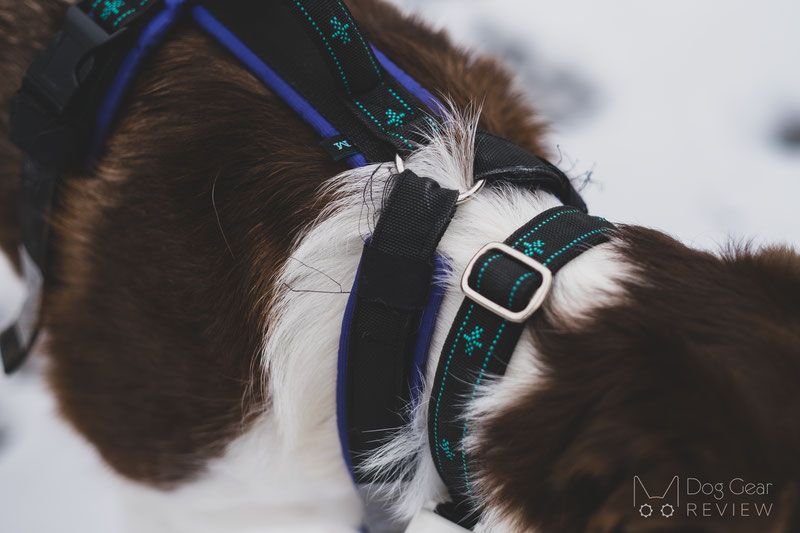 The other comment is more of a note than a problem: the end of the velcro on the chest straps started to stick out after the first weeks.
It is just the bottom section, and it doesn't seem to open more, so it's more of an aesthetic problem than a functional one. It can initially be corrected, but once some dirt accumulates on the velcro, it gets harder to stick it back in place. However, the chest straps still hold safely, and I didn't notice any loosening in their adjustment even though it went through some heavy testing during the last months.
This is also something that the company is aware of, and they are working on a solution.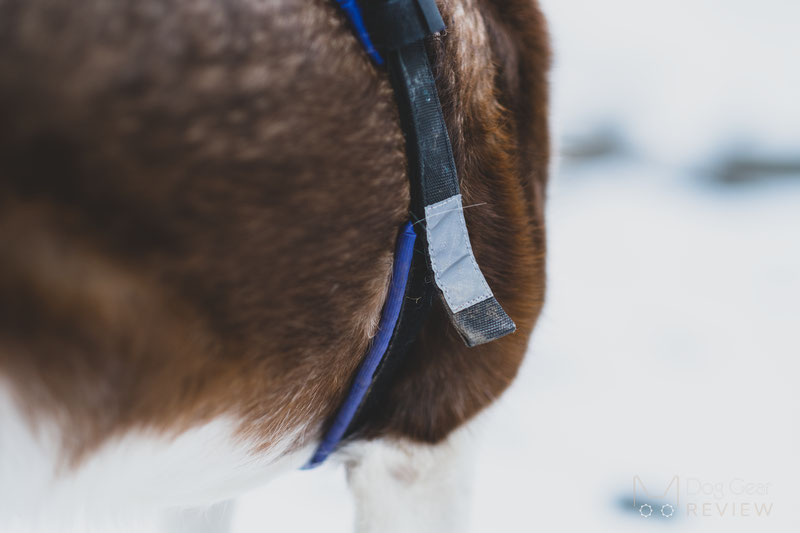 Functionality Review of the Harness
No-pull correction: Does not have a no-pull ring.

Running/Biking: It is ideal for dogs who prefer running in a short harness or run by their person rather than pulling.

Hiking: It's great! It doesn't cover too much of the dog, so they don't heat up more, dries fast, is easy to clean, and the handle is also ideal for helping a dog on a steep hike.

City walk: Works well; the leash attachment point and the handle provide excellent control over the dog.

Easy to put on/adjust: Easy if you can pull it over the dog's head when adjusted for their neck circumference. All the straps are adjustable, but only the chest straps have buckles.

Visibility: It has reflectors and also comes in high visibility colors.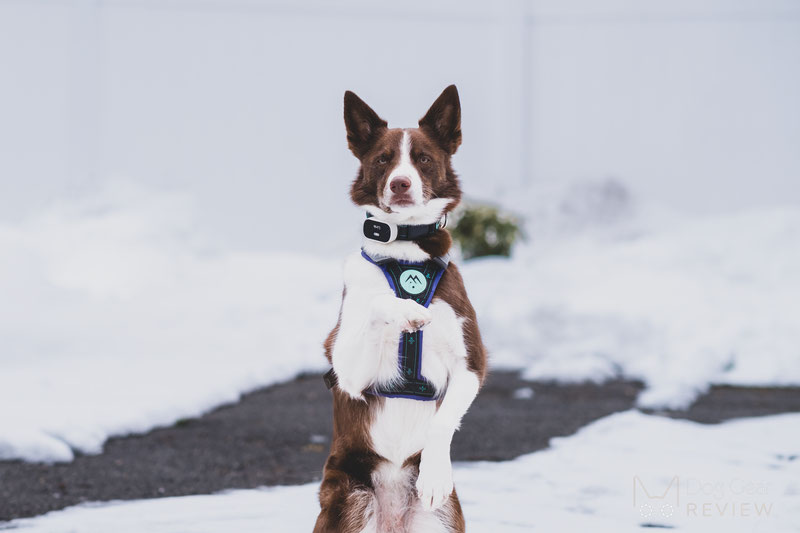 Review Summary
The FreeSpirit harness is well-made and well-designed, clearly made by dog people.
It has all the necessary features without adding unnecessary panels that would increase the chance of chafing and overheating. We used this harness for months daily, both for hikes and daily city walks, and it performed well for all activities across the board!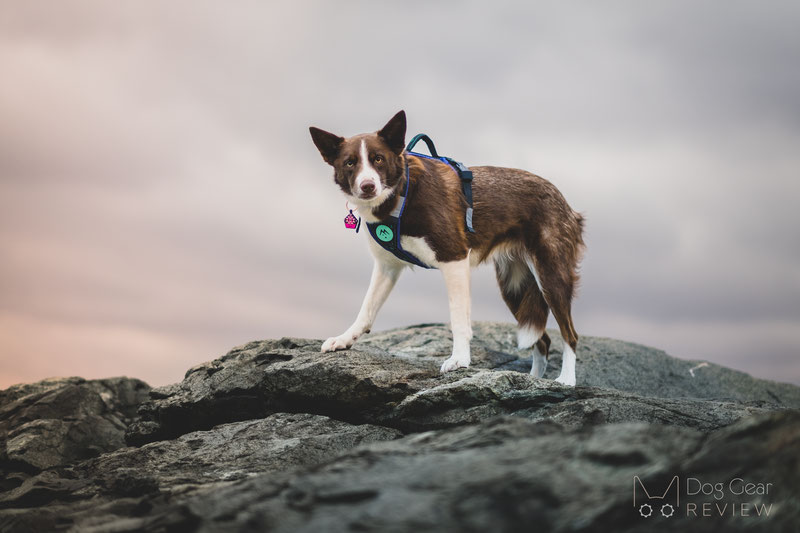 Where to buy
You can buy the new Freespirit harness on Musher's website.
Mia's measurements
Many of you asked Mia's measurements to better understand the different products' fit. Your best chance of finding a good fitting gear is always to measure (and remeasure) your dog. Even we grab the measuring tape before getting a new product - even though we tested a lot of them, and have a good feeling of her size by now.
I share her measurements below, but don't go ahead and order the same size just because your dog is similar to Mia ;)
Shoulder height: 19.5 inches (50 cm)

Weight: 37-44 pounds (17-20 kg)

Widest chest circumference (where the most harness would have the chest strap): 25-26 inches (63-65 cm)

Neck circumference for collars: 15-16 inches (38-40 cm)

Back lengths: 22 inches (56 cm)