About Mayerzon
Mayerzon Pet Supplies is specialized in dog training tools and mainly sells its products through Amazon. They have a fantastic return policy and customer service, and they offer many different muzzles.
The one we are reviewing today is their Soft Mesh Muzzle. They do not have a distinguished name for their products, so we only named this muzzle "Mesh Muzzle" to differentiate it from their other muzzles that we reviewed.
About the different reasons for muzzling
Since this is a more complex topic, we wrote an article about the different reasons for muzzling and why muzzling isn't cruel for those interested in reading more on the topic. In addition, our "What to do around muzzled dogs" poster is also available on this link for downloading.
While there are many reasons for muzzling, some shouldn't be among these - like using a muzzle to avoid barking. We feel it is essential to clarify that muzzles shouldn't be used to prevent barking; it is a dangerous and ineffective way to address this problem. If you want to learn more, check out our article on why not use a muzzle to stop barking.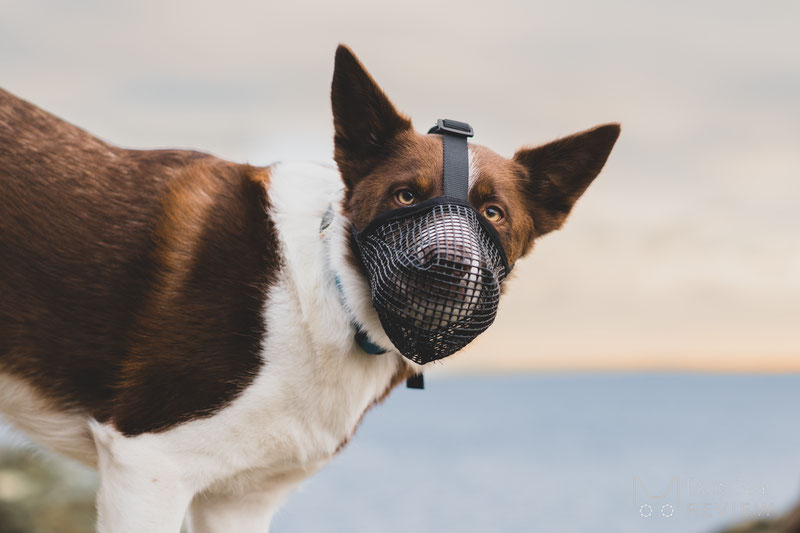 How to find the right size muzzle for your dog?
Reviewing muzzles is hard because every dog and every situation requires a slightly different solution. Something can be a pro for one dog and a con for the other one. Even when discussing sizing, there are different opinions on how much room the dog should have in the muzzle. The only thing that everyone agrees on is that the dog should be able to pant to cool down while wearing it. However, what pant room means can generate great arguments. For example, if you are looking for an agitation muzzle or the muzzle will only be used for short periods, you are okay with a muzzle that provides enough room for a half-pant. On the other hand, if you use muzzles for hikes or canicross, it is essential to have enough room for comfortable full-pant.
The other tricky thing with sizing is that although there are great Facebook groups to help determine if the muzzle looks good on your dog, different photos could make the muzzle look much bigger or smaller.
The sizing of this Mayerzon Muzzle
We received two sizes to see which one fits Mia well. This Mayerzon muzzle provides excellent ventilation. Sizing up provides a better pant room without it being way too long, like many other muzzles. Below you see the fit of the Medium vs. Large Mesh Muzzle for reference.
The Medium size fits Mia and allows a half-pant, while the Large is way roomier, allowing even a full pant.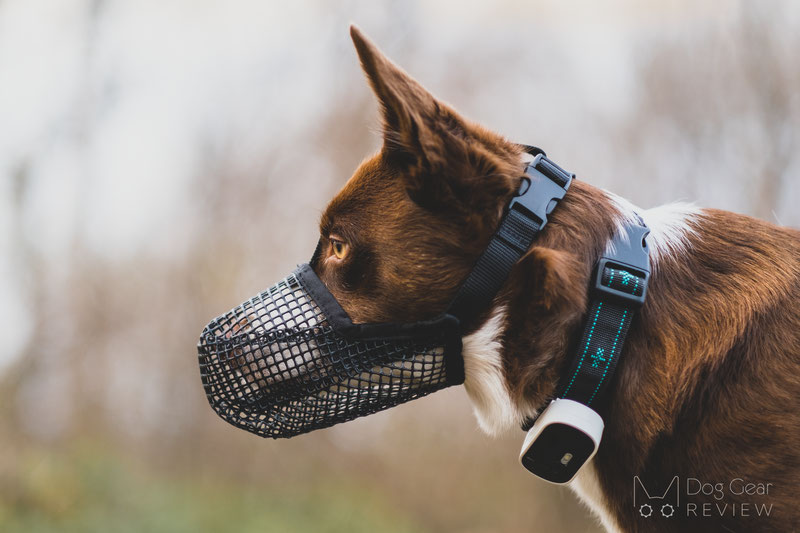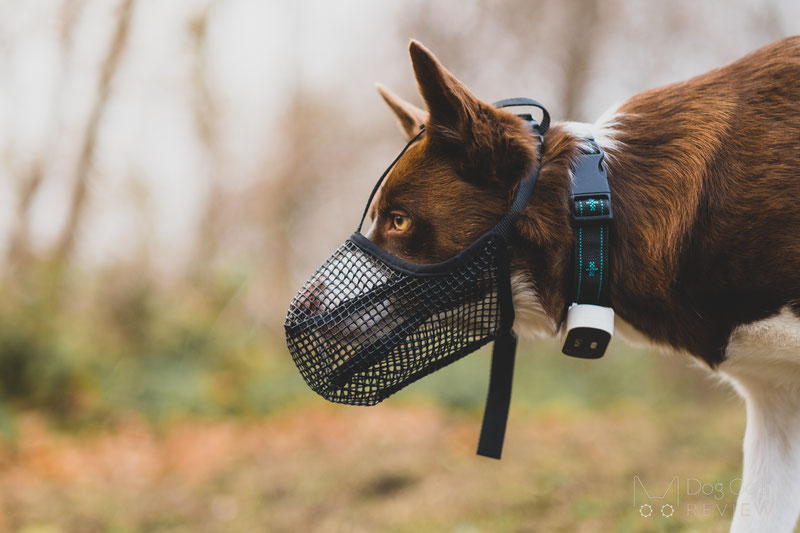 Mayerzon Mesh Muzzle Review
This time, Mayerzon created a fully closed mesh design. The mesh sides are foldable and soft but still resistant and durable.
Since it is a soft muzzle, it isn't appropriate for bite-risk dogs but can be great for public transport or in other situations when friendly dogs must wear a muzzle. In addition, it is very lightweight and highly packable - it can be folded and stored in a pocket easily.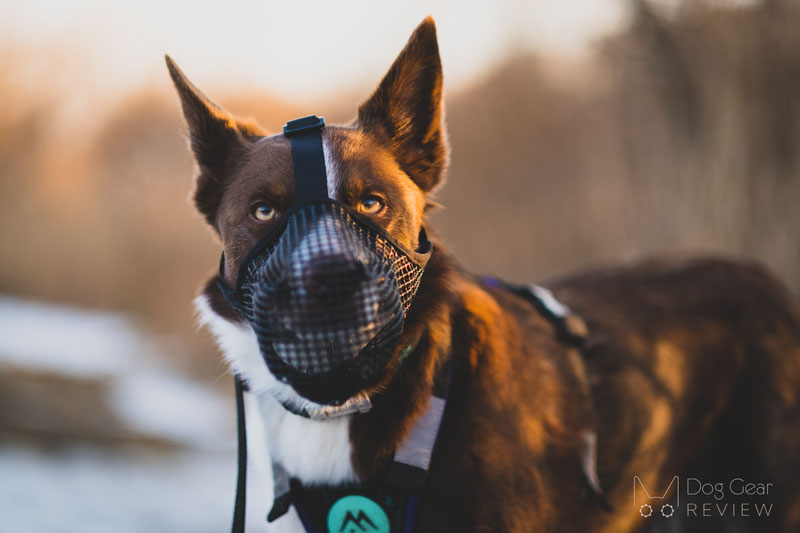 It is also a great starter muzzle for muzzle training, especially if one would cut a treat hole on the front. The soft material ensures that the muzzle will not rub or chafe, and its light weight makes it easier for gear-shy dogs to accept something on their face. It can also be good for scavengers, although not helpful for dogs eating poop.
Both the neck strap and the forehead strap are adjustable, and the broader straps also helped it stay in place better while Mia was running around.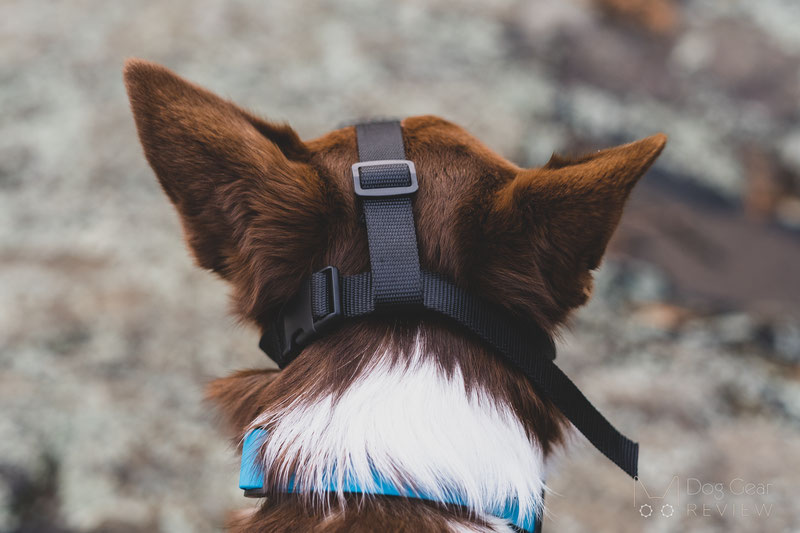 The only disadvantage of its light weight is that there is no weight to pull it down, so if the straps are securely adjusted, the muzzle tends to bounce back up in the dog's eyes - especially if you size up. However, if you look back at the photo of the smaller size, that was a lot easier to fit securely without bothering Mia's eyes.
This muzzle doesn't have a full collar to secure it around the neck, so when adjusting the fit of a larger muzzle, you will pull the "basket" back as well. Having a separate strap going around below the neck area would make the fit more snug and secure on bigger sizes as well.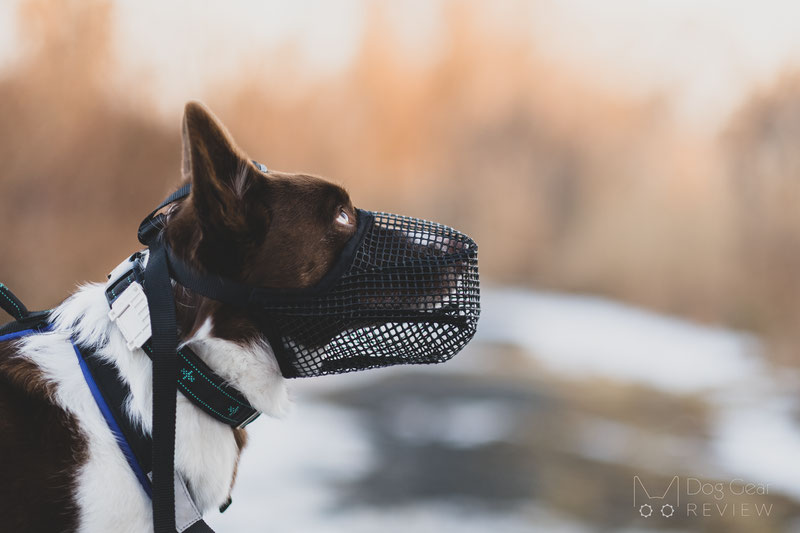 To summarize, this muzzle is great for:
not rubbing or chafing the dog's nose,

preventing licking, a quick nip, scavenging or picking up sticks or bigger items.

start muzzle training since it's soft, lightweight.
This muzzle is NOT suitable for:
bite-risk dogs since the mesh material could be bent and folded.

determined poop eaters.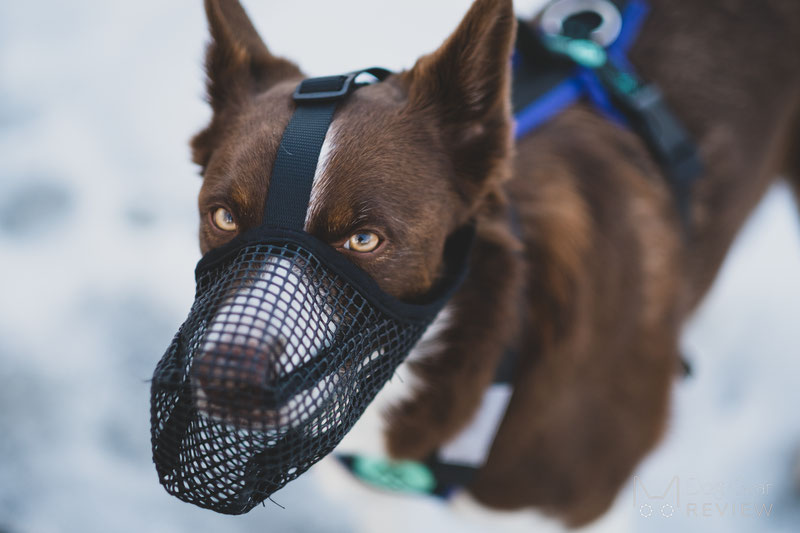 Where to buy
You can buy the muzzle on Amazon. It comes in four sizes.
Disclaimer: this review contains an Amazon affiliate link, which supports Dog Gear Review if you purchase the product after clicking on it without costing you anything extra. Using affiliate links will never compromise us writing unbiased, honest reviews!
Additional resources
If you want to learn more about muzzles, you can join amazing groups on Facebook, like Muzzle Up, Pup!, or follow The Muzzle Up Project. You can also check out the Muzzle Training and Tips website and browse our articles, where we discussed many muzzle-related topics.