Sensored Life, established in 2011 in Rochester, New York, offers cost-effective and user-friendly monitoring solutions for seasonal homeowners, RV enthusiasts, property managers, wine collectors, marinas, and more. Their flagship product, MarCELL, has gained popularity for its reliable service and ease of setup.
Important Disclaimer on Temperature Monitors
Having a temperature monitor still doesn't mean we can leave a dog in a car unattended on a hot day - especially not when the owner cannot get back to them in time in case there is a temperature alert. A temperature monitor is just one of the tools you can use to ensure your dog is safe and comfortable on days with extreme temps (either hot or cold). Remember to use it as a backup or addition as every tool can fail.
Introducing the MarCELL Cellular Temperature & Humidity Monitor
MarCELL is a cellular temperature and humidity monitor that alerts for temperature fluctuations, moisture levels, and power outages. Unlike Wi-Fi devices, MarCELL utilizes the cellular network, ensuring data reporting and alert transmission even when power and internet services are disrupted. It features an integrated backup battery that allows it to operate for up to 48 hours during power outages.
MarCELL can only be used in areas with cellular signal coverage. It operates on Verizon and AT&T networks, with monthly plans starting at $8.25/month. Devices connected to Verizon are restricted to the U.S. and Puerto Rico, while the AT&T version operates in the U.S., Canada, and Mexico. Note that MarCELL is not compatible with the SaskTel network.
MarCELL's main features:
Real-time Monitoring: Stay informed about your dog's comfort with live temperature and humidity updates on your smartphone while traveling in an RV, camping, or at trials/training events.

Instant Alerts: Set up the temperature and humidity ranges and receive timely notifications if the car environment becomes uncomfortable for the dog.

Easy-to-Use App: Access historical data and change the alert settings effortlessly.

Long-lasting Battery: Designed to work when plugged in, but also runs 48 hours from the battery.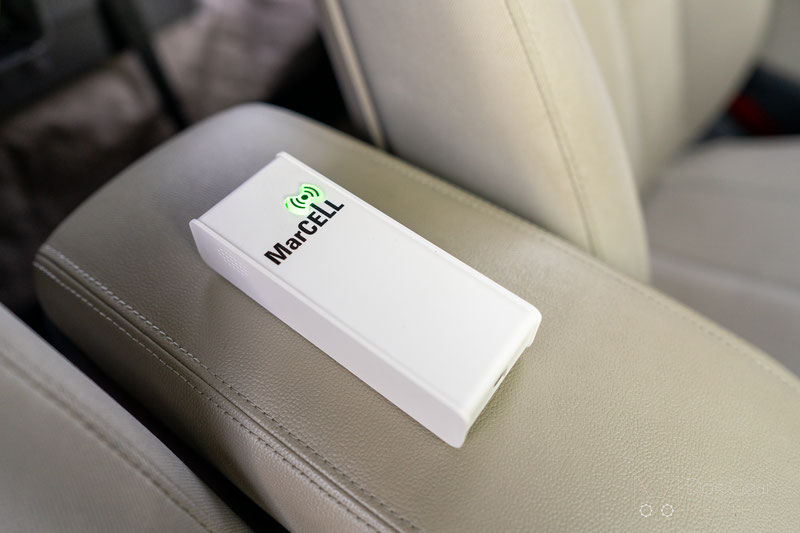 MarCELL Cellular Temperature & Humidity Monitor Review for K9 Car Setups
The MarCELL system was recommended to us by many of our followers when I was looking for a temperature sensor for the car for the summer. During search training or on callouts, we stage dogs from the cars. Although we use all available cooling products during the summer, from cooling mats and cooling vests and fans to Aluminet shades, and we ensure someone is always by the cars so we can leave them wide open, I wanted something to track the temperature. While this seems less of an issue for winter, it gets pretty cold in our area, especially in evening training sessions, so keeping an eye on the temperature can also be helpful then.
I have used the MarCELL temperature monitor over most weekends this summer, which provided plenty of real-life scenarios to test it! I placed it right by Zulu's crate or even on the door to ensure I got accurate measurements. When setting it up, you want to be sure it is not in direct sunlight or directly behind the windshield, but you also want to leave it somewhere where it can get cell coverage.
It has a handy light that can display different colors to show you the monitor's status so you can quickly check if it is connected to the network (blinking green light).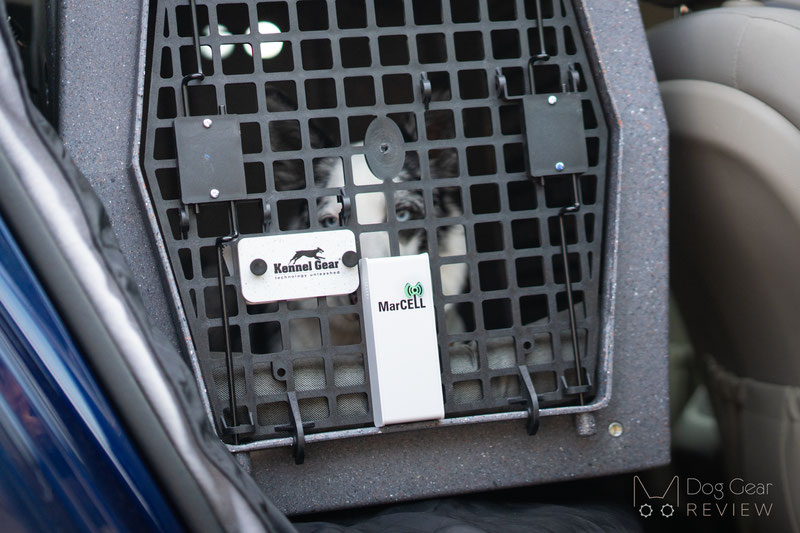 It is important to note that as a default, you DO NOT see the live temperature when checking the phone app. This is to keep the cost of the subscription low and not to push measurements when it is not necessary. However, the monitor still records the temps and backs it up in the app in a batch every 8 hours. To clarify, this doesn't mean that all measurements come in with an 8-hour delay; rather, the data shows up in the app every 8 hours.
There are two ways to check on the monitor between these automatic syncs:
You can set and change temperature ranges, and if the low/high value is reached, you get an instant notification (email and/or message based on your settings), so you know when to check things out.
If you want to check on the current status at any point, you can also press the "Update now" button in the app, which gives you an instant update. However, these are extra messages, so you must purchase them in $2 increments, covering 8 check-ins. Important: They have a note in the app that this feature doesn't work when the monitor is running on battery power (but it will still send you the emergency alert even if it's not plugged in).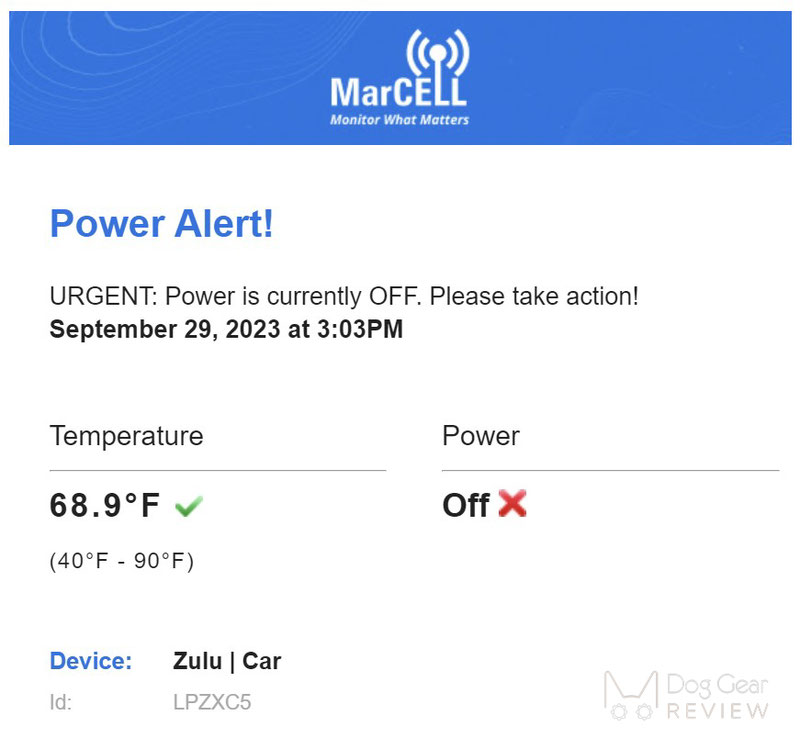 Email Power Off Alert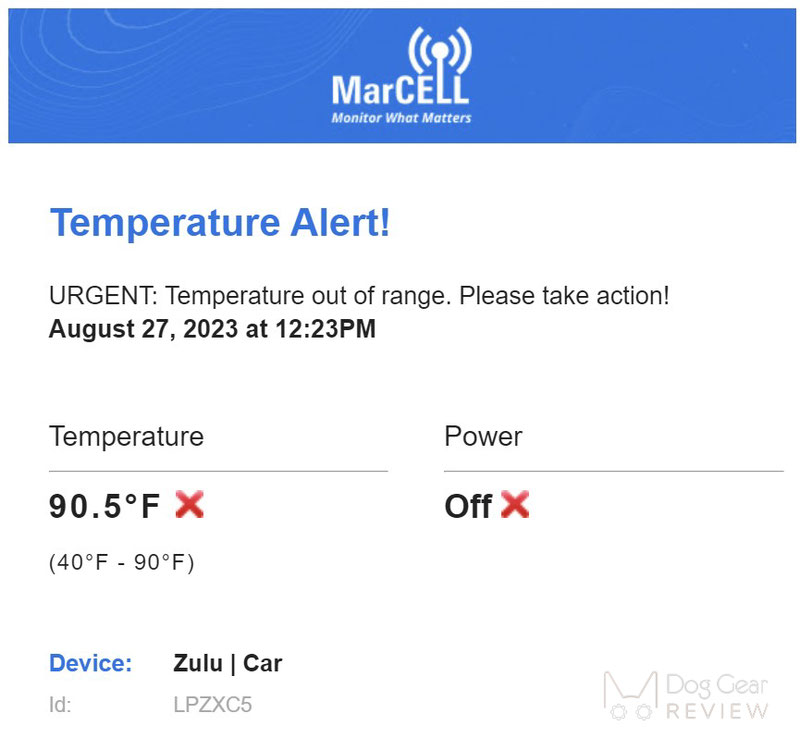 Email Temp alert
We must remember that this monitor was primarily designed for warehouses, greenhouses, wine cellars, and such where it is mainly plugged in, and sudden changes are less likely. They are just recently discovering the pet safety market, so we might see new features coming out over the next years that are more geared towards this area. The way I used it is probably a small niche among its use cases.
The cons of MarCELL I have experienced:
The UX/UI of the app is pretty industrial. There isn't much to do there, and it does what it promises, though.
The first time I used it in the car, it immediately lost connection to the network when I unplugged it, and I didn't notice that until I got back home. I could have easily checked the light, which was blinking yellow instead of green, but that was my first time using it, and I didn't pay attention to it. If you notice this, you can easily reset the connection, which is what I should have done. I have used it many times in different locations, and the connection was never lost again, so that might have been an initial setup issue.
Not being able to use the instant messages when it is running from the battery can be a concern if you want that for peace of mind while your dog is in the car.
Not getting a notification about low battery levels can become a safety issue if you are away for ~48 hours. The battery time was pretty decent and was around the promised limit, but not knowing that it is not working is a concern. The company is also aware of this and is thinking/ working on a solution, so this might be solved soon. There isn't even an option to see the current battery level when it is plugged in, so it is a guessing game to determine if I am ready to head out again or if it is still charging. It would be nice to have a 50%, 10%, 5%, and 1% battery warning, even if it cannot tell you exactly how much time that means (as it can vary in different locations/environments).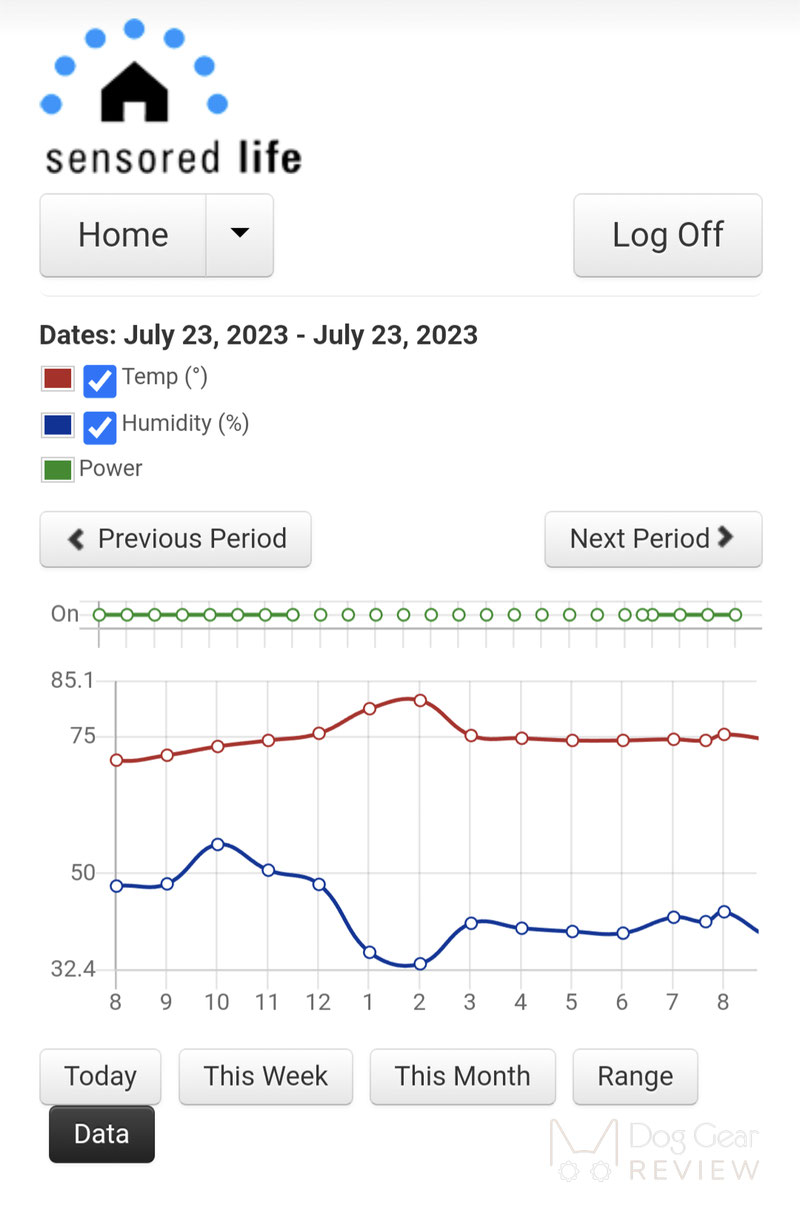 App Interface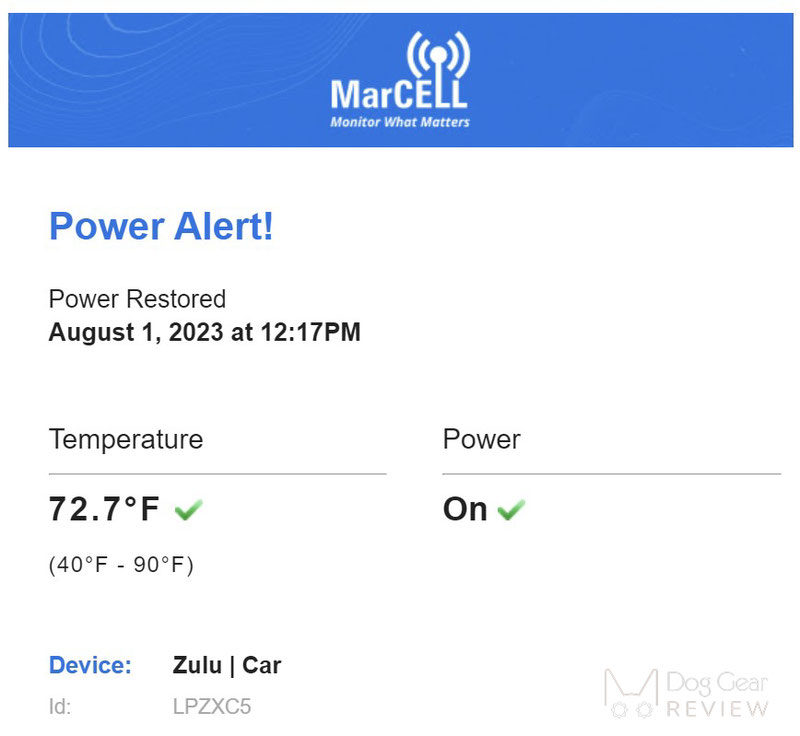 Email Notification when power is back on
The pros of MarCELL I have experienced:
Accuracy: both the temps and humidity measurements seemed accurate every time I confirmed with another device.
Cellular-based: many monitors work through Bluetooth only, which means they do not require a subscription, but they only work if you are within Bluetooth range, which would not be helpful for me.
Sending the alert promptly and accurately when needed. In a real-life scenario, I got an alert only once, and when I rushed to check on the very cool and calm Zulu, I noticed that the sun had moved, and now the monitor was under direct sunlight. It went back within the range quickly once I relocated it.
No long-term contracts are required, and you can pay only for the months you use the service, so it is great if you only need it when traveling or during the summer months.
There is also an online login option so you can easily access historical data and even download it in a CSV file if you want to check trends.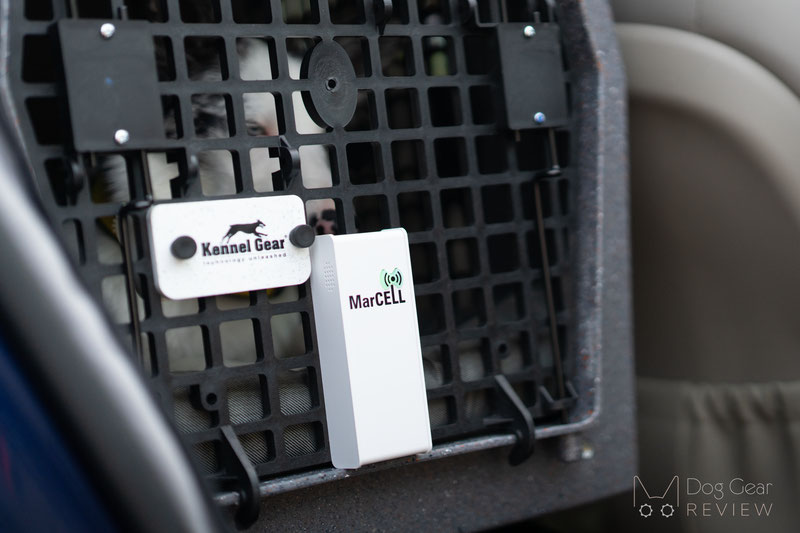 Review Summary
MarCELL is a highly accurate system you can trust to notify you when the values are out of range. They focus on functionality over UX/UI, but they deliver what they promise - just be sure you understand how they sync the data and the limitations of the instant updates.
I know many sport dog owners who switched over to MarCELL because the other user-friendly monitors did not provide accurate measurements or were not trustworthy, and they are all very happy with this solution.
Using it unplugged for over two days is pushing the limit of its use case as you have to be careful of running out of charge, but it was a seamless experience for one-day trips. Its features are better aligned with the RV use case, where you would keep it plugged in, but it also worked as part of our K9 vehicle setup.
Where to buy?
The MarCELL monitor is currently available through their website and from their Amazon store.
Affiliate Disclaimer: This review contains an Amazon affiliate link, which supports Dog Gear Review if you purchase the product after clicking on it without costing you anything extra. Using affiliate links will never compromise us in writing unbiased, honest reviews!