Lumac is a micro company that originated in Northern Sweden and was founded by an Estonian-French couple who worked as sled dog tour guides and trained long-distance race dogs.
The company is now based in France, where the couple was influenced by the local canicross scene, broadening their knowledge and skills in sled dog sports. The company prides itself on offering high-quality products made from materials sourced from the European Union. They focus on attention to detail, such as ensuring there are no hanging sewing thread ends and minimizing sharp webbing corners.
This micro company offers a unique blend of influences from Northern, Baltic, and Western Europe and is backed by hands-on experience in pulling sports.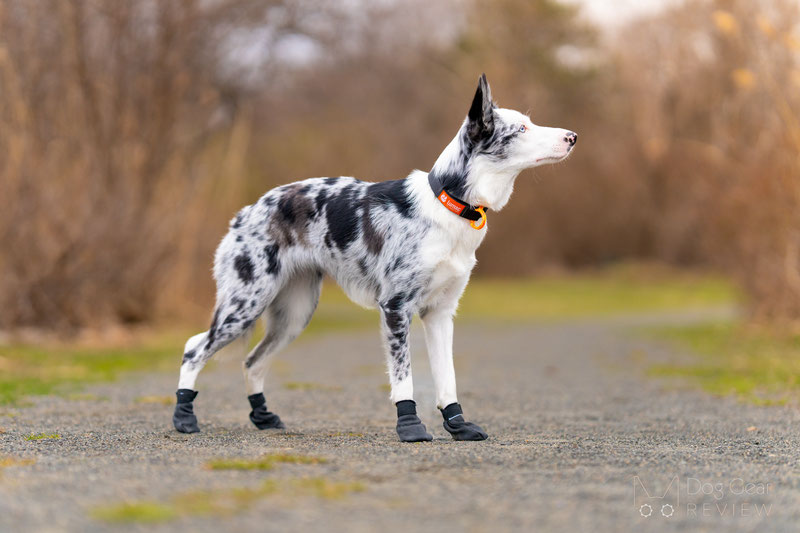 Do dogs need boots?
The question of whether dogs need boots is a common one among pet owners. The answer, however, isn't straightforward as it varies from dog to dog and depends on various factors.
Different types of boots serve different purposes. For example, boots can protect a dog's paws from extreme temperatures, such as hot pavement or cold snow. They can also prevent paw drying and cracking caused by salted roads during winter walks. Additionally, boots can provide traction on slippery indoor surfaces and protect paws from sharp objects on rocky terrain.
The decision to use boots ultimately comes down to your dog's needs and sensitivities. Some dogs may require boots more than others, depending on their breed, size, age, and health conditions. Observing your dog's behavior and how they react to different terrain and temperatures is essential to determine if boots are necessary.
We wrote an article about things to keep in mind when using boots on hikes over the summer since there are just as many pros as cons around the topic. We also have another article on the different types of winter boots, the differences between summer vs. winter boots, and much more.
To read more educational posts, check out our Articles page!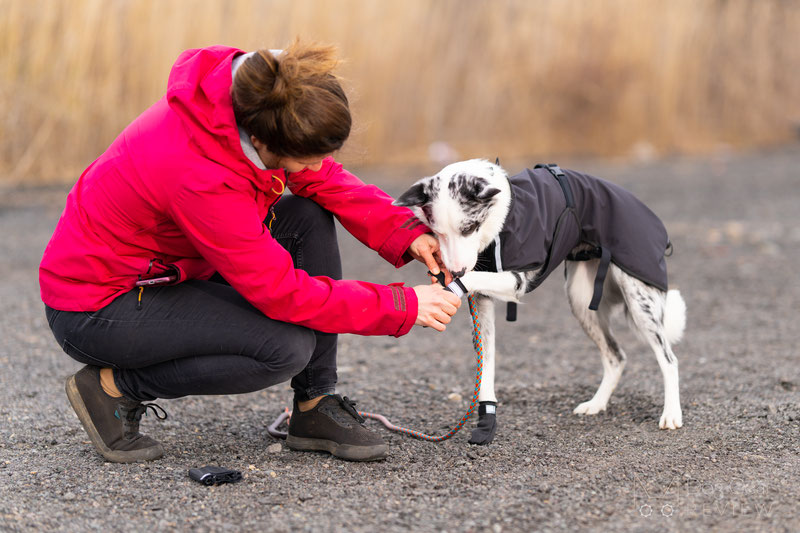 What size of boots does my dog need?
When choosing the right size of boots for your dog, it's essential to follow the sizing guide provided by the manufacturer. Most companies provide sizing instructions on their product site, so be sure to check before purchasing.
Place a sheet of paper on the ground to measure your dog's paws accurately and have your dog stand on it. Lift the opposite leg to put weight on the paw you want to measure and draw lines on both sides. You can then measure the distance on the paper later without causing any stress to your dog.
Some companies ask for the paw's width, while others size based on the paw's length, so it's crucial to check the sizing guide for each brand. It's recommended to measure all of your dog's paws since the front paws may differ in width from the back paws. You also need to ensure a snug fit, as loose-fitting boots can cause your dog to lose balance and chafe their feet.
Avoid the misconception that leaving the straps looser or ordering a larger size will make the boots more comfortable for your dog. Just like hiking in oversized boots, ill-fitting shoes can cause discomfort and pain for your pet. Therefore, aim for the most precise measurement possible for optimal comfort and performance.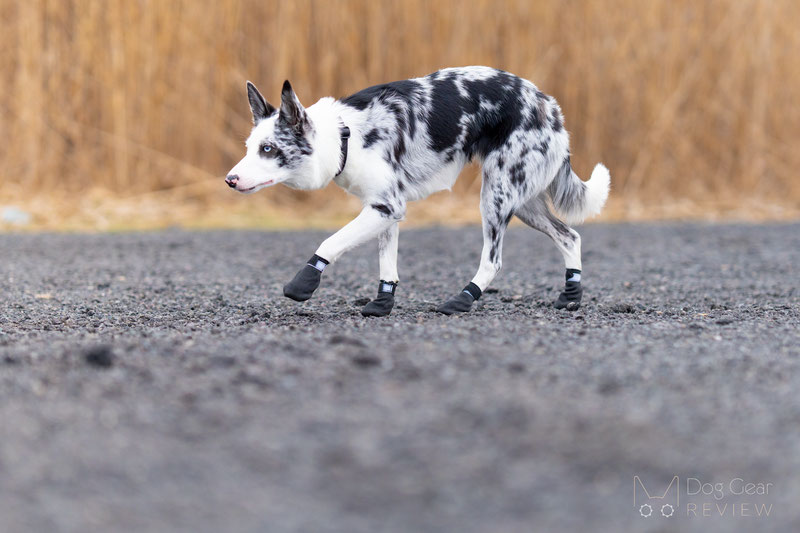 Lumac Foot Armour Booties Review
The Lumac Foot Armour boots are made from a patented material. Although the company keeps the details under wraps, the material is known to be slightly stretchy and breathable, perfect for high-wear resistance needed during autumn sled dog training. The boots' material also makes them suitable for short-term heat protection, but it is not designed for prolonged use on hot pavement.
These boots are versatile and can be used on rocky and sharp surfaces even when the dog is pulling. Available in XL, L, M, and S sizes, but a set of XS was designed for Zu's tiny stick legs and small paws, so if you need something unique, reach out to them :)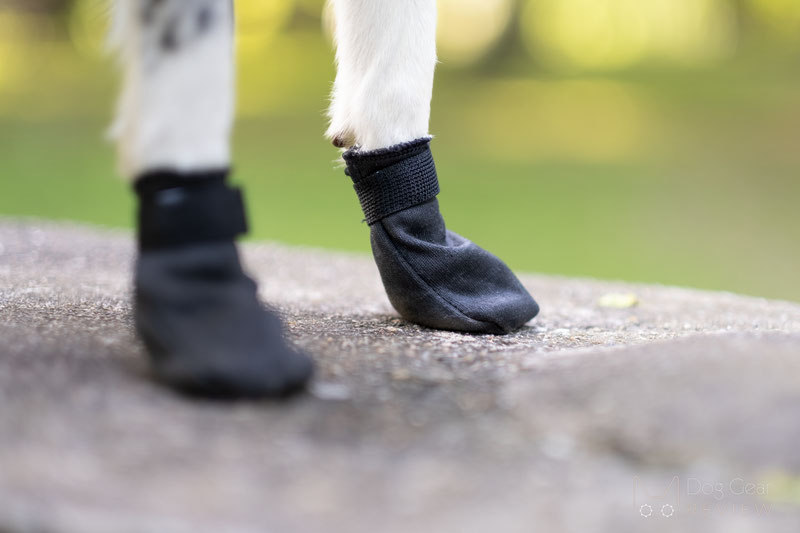 It is important to note that the material tends to shrink when worn, which is why the company recommends sizing up. After a few uses, the boots conform to the dog's paw shape.
The boots' design is somewhat loose to provide ample space for the dog's nails to move around for better grip and comfort, but they are less baggy than other sock-type boots, especially with their rounded corners that better follow the paws' shape.
The material is smooth and non-irritating, which helps prevent rubbing on the feet, but they should also be fairly durable.
When using these boots first, they were a bit slippery when the dog ran around off-leash. As they got broken in, their surface became less slippery, but they still didn't provide as much traction as most other boots we have tried so far. This is only a concern if you use them for activities where the dog makes sudden stops or turns while running off-leash (like playing fetch, herding, etc.), so you should be careful with these activities at the beginning.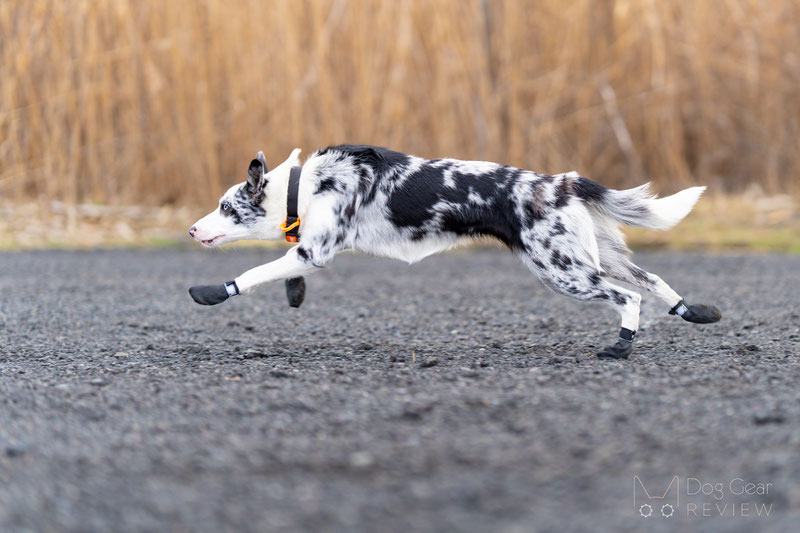 We used these boots a lot since Zu had a broken nail, then a big cut on her paw while we were testing the shoes anyway.
They are easy enough to put on (although they do not have a particularly wide opening) and stay on well, even off-leash, when the 20mm elastic velcro straps are secured tightly. Zulu never had an issue with chafing while wearing them, and their soft material is unlikely to rub dew claws or carpal pads, either.
Although they have a bit of reflective stripe - the only con I could note is that I wish they would have some hi-vis color (maybe even just the strap) because they are hard to find once you drop one of them by the car in the dark… :D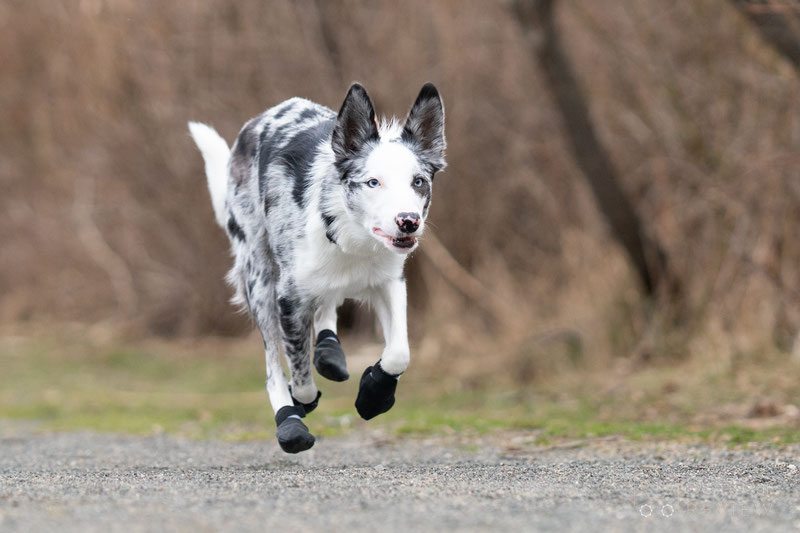 Review Summary
The Lumac Foot Armour Booties are lightweight and comfortable for dogs needing a bit of extra protection. The thin material and ergonomic design make it a great option for gear-shy dogs who prefer to avoid wearing other boots.
Their rounded, sock-like design is very practical: it gives the dog's paw enough room to spread out for better traction but doesn't have any unnecessary extra corners that could cause the dog to step on them while running. They indeed took the shape of Zu's paws as we used them, and they became even better fitting with time.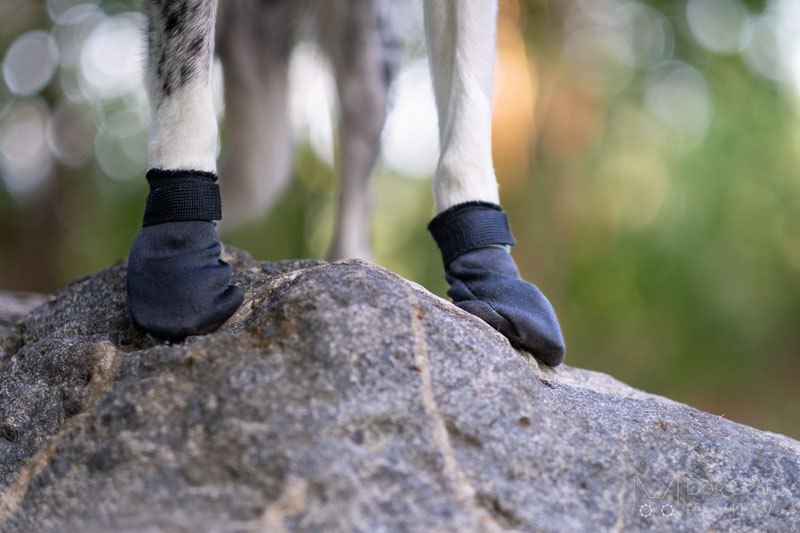 Where to buy
You can buy all their products on their website.