Why Muzzle?
Since this is a more complex topic, we wrote an article about the different reasons for muzzling and why muzzling isn't cruel for those interested in reading more on the topic. In addition, our "What to do around muzzled dogs" poster is also available on this link for downloading.
While there are many reasons for muzzling, some shouldn't be among these - like using a muzzle to avoid barking. We feel it is essential to clarify that muzzles shouldn't be used to prevent barking; it is a dangerous and ineffective way to address this problem. If you want to learn more, check out our article on why not use a muzzle to stop barking.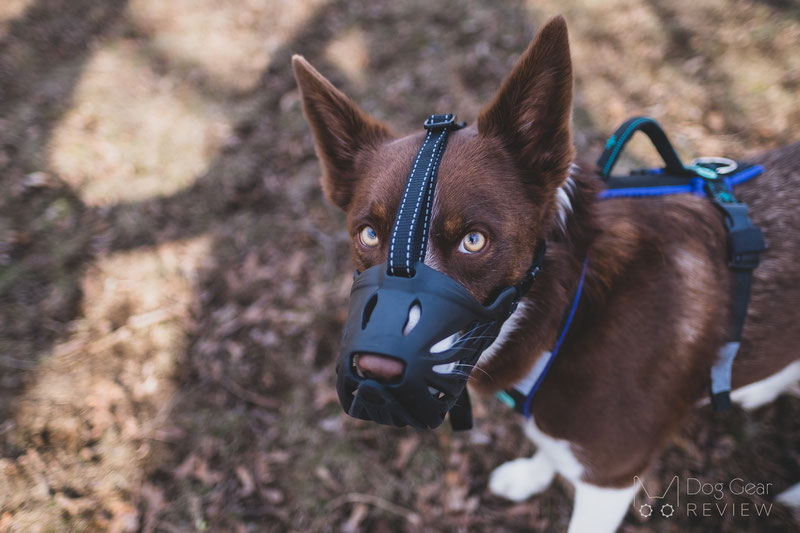 How to find the right size muzzle for your dog?
Reviewing muzzles is hard because every dog and every situation requires a slightly different solution. Something can be a pro for one dog and a con for the other.
Even when discussing sizing, there are different opinions on how much room the dog should have in the muzzle. The only thing that everyone agrees on is that the dog should be able to pant to cool down while wearing it. However, what pant room means can generate great arguments. For example, if you are looking for an agitation muzzle or the muzzle will only be used for short periods, you are okay with a muzzle that provides enough room for a half-pant. On the other hand, if you use muzzles for hikes or canicross, it is essential to have enough room for comfortable full-pant. We discuss this in detail in our article about Panting Freely vs. Fully in a Muzzle.
The other tricky thing with sizing is that although there are great Facebook groups to help determine if the muzzle looks good on your dog, different photos could make the muzzle look much bigger or smaller.
The sizing of this LuckyPaw Muzzle with Movable Front Strap
We received a size 6 and 7 since Mia is between sizes, so we can discuss how upsizing works with this muzzle.
Below you see size 6, Mia's size based on the sizing chart. It provides enough room for a very small pant, making it suitable for short-term use, like a nail trim, but not for more extended wear. The top part is also too short for Mia, pushing the muzzle against her nose when the straps are safely adjusted.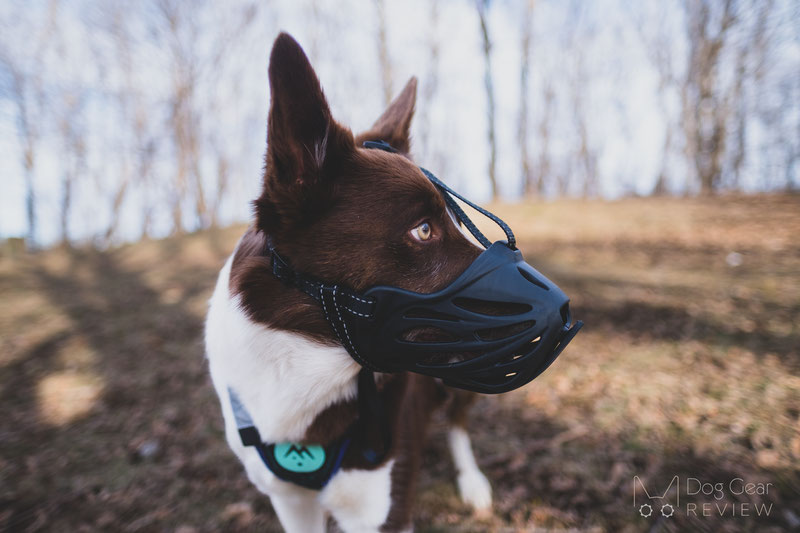 The size 7 below provides a very comfortable pant room, and the length looks better on Mia, but it is still a tad too short for an ideal fit. This is clearly different for each dog, and even this fit doesn't have any functional problems. Her snout fits deep enough, and the sides go back enough to stay on safely; it is just an awkward fit on her.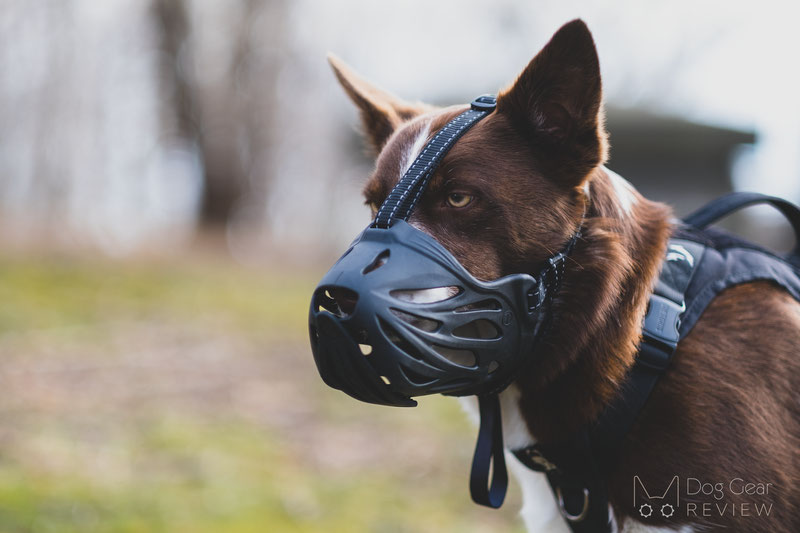 When upsizing, the issue you will run into is that the treat hole is designed for a smaller fit, so it's getting harder to deliver treats through the muzzle with a bigger size.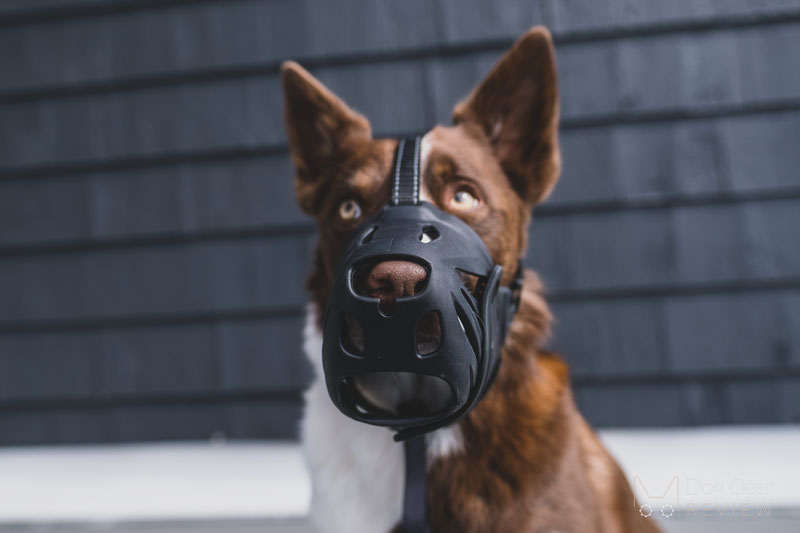 LuckyPaw Muzzle with Movable Front Strap Review
Muzzle training is crucial to ensure the dog will be comfortable wearing the muzzle. Many think that putting a muzzle on a dog without introducing it properly will magically solve their problems, but it is more complex than that. Muzzle training can take from a few days to a few weeks, and it ends when the dog willingly puts their face in the muzzle (or doesn't mind you putting it on) and doesn't try to remove it.
This LuckyPaw Muzzle has features helping this initial period to go more smoothly and was designed specifically for helping during training.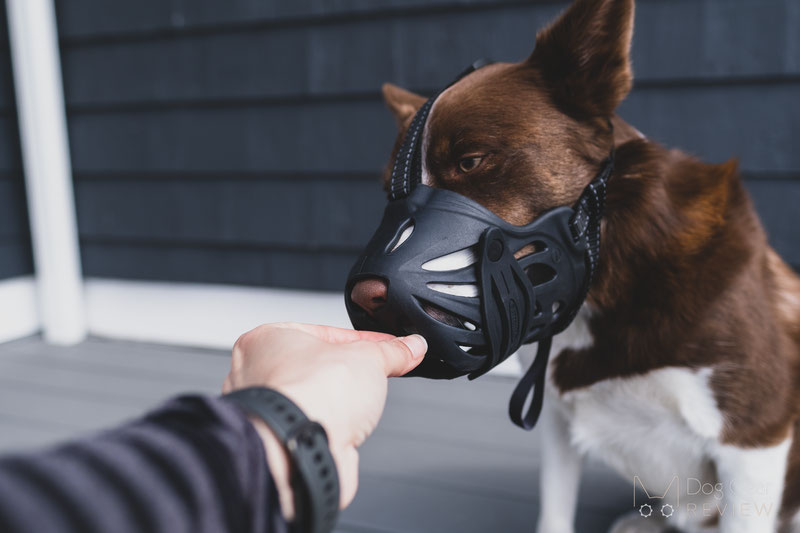 This muzzle has a more closed design making it somewhat safer (no finger or a dog's ear can slip in). Still, soft plastic muzzles are not strong enough to prevent a serious bite from a determined dog, as we discussed in our previous article. It also has adjustable straps and a collar loop for safety.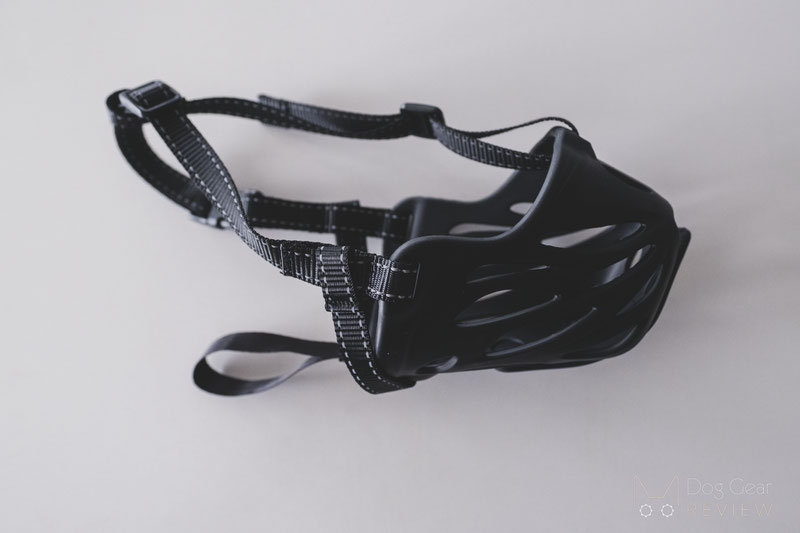 There is a silicone strap on the front of the muzzle that can be moved to cover the front - or secured to either side to free the treat hole for easy rewarding while training! The front strap stays in place reasonably well; I wouldn't be worried about a dog getting it open, but there is no lock on it, so if a dog keeps pushing their face to the ground, there is probably a chance they can open it.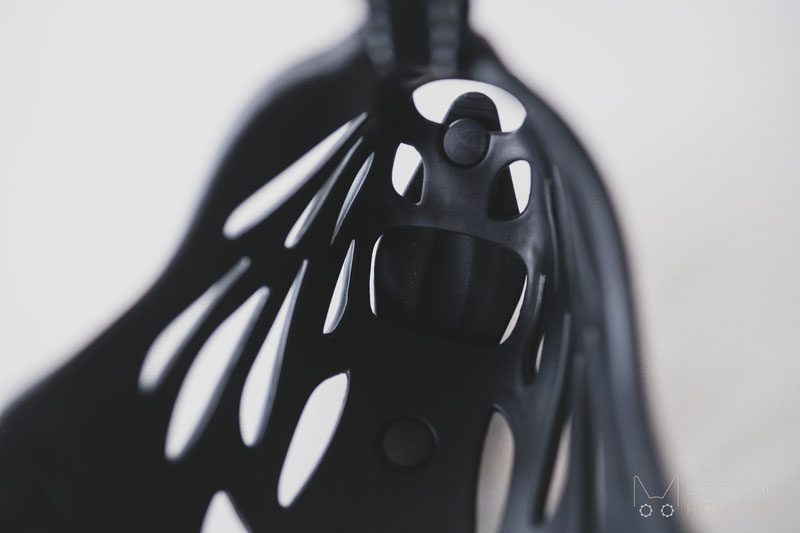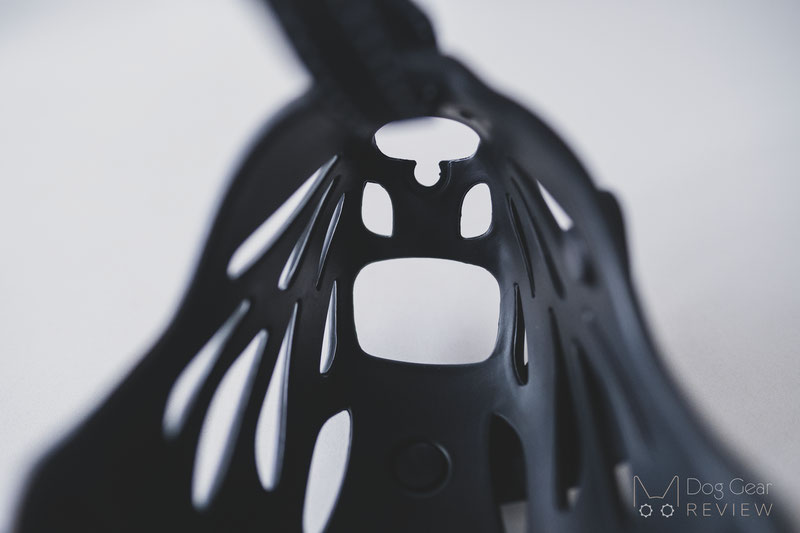 Below, the front strap attaches to one of the side holes on the left to leave the front open.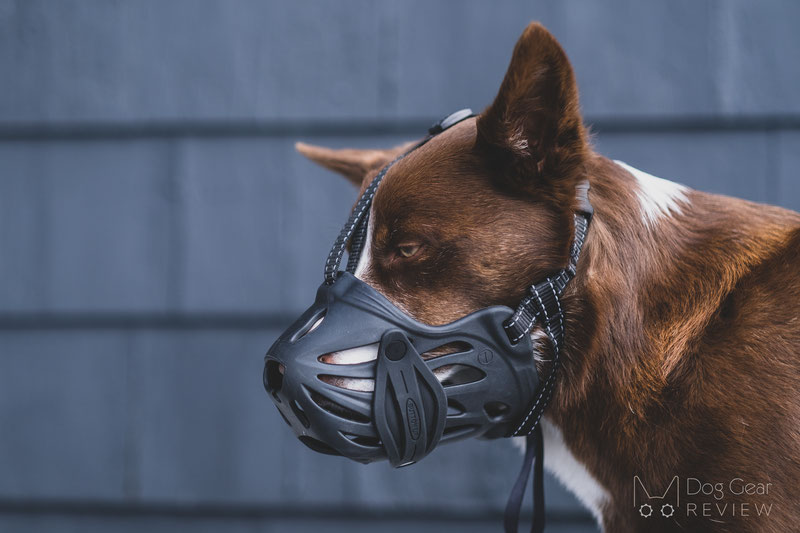 The forehead strap is adjustable, but it is pretty broad, and if you don't want the slider in the dog's face, the two sides of the straps don't lay flat, which might annoy some dogs and possibly somewhat limit their vision. Since the muzzle is already on the short side on Mia's snout, I wouldn't be comfortable removing the forehead strap because she could potentially pull her nose out of it.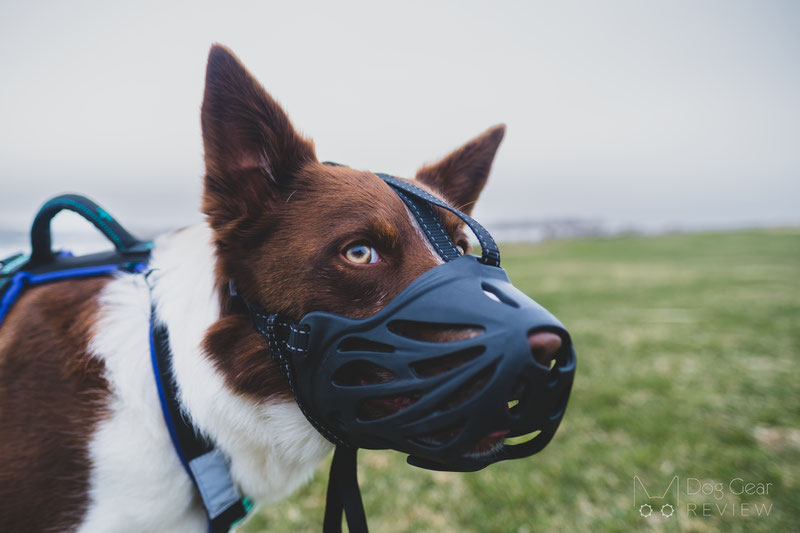 To summarize, my only issue with this muzzle is how it fits Mia which might or might not be an issue for your dog. I feel that the top section is proportionally too short on all sizes, compared to how long the sides are. But again, if you have a dog with a different head shape, this might just work in your favor. Altogether it is a well-made silicone muzzle for a very affordable price!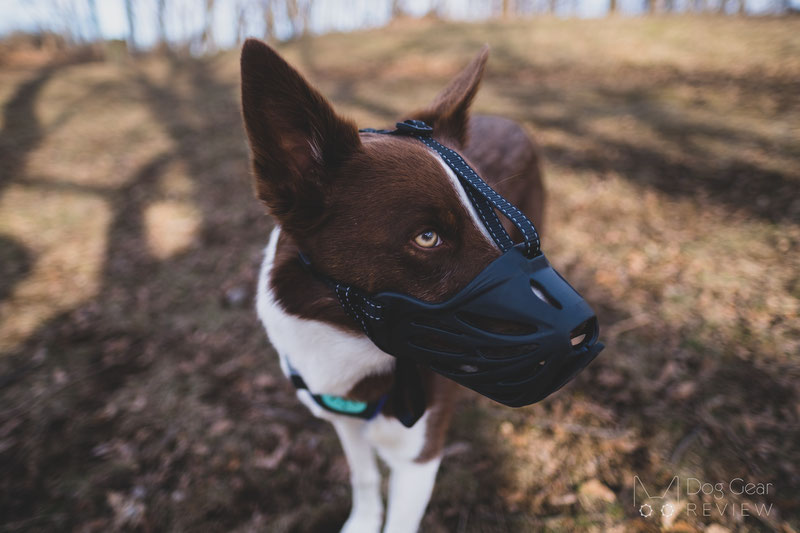 To summarize, this muzzle is great for:
preventing licking, a quick nip, scavenging, or picking up sticks or bigger items.

start muzzle training since it's soft, lightweight, and has a treat hole.
This muzzle is NOT suitable for:
bite-risk dogs since the mesh material could be bent and folded.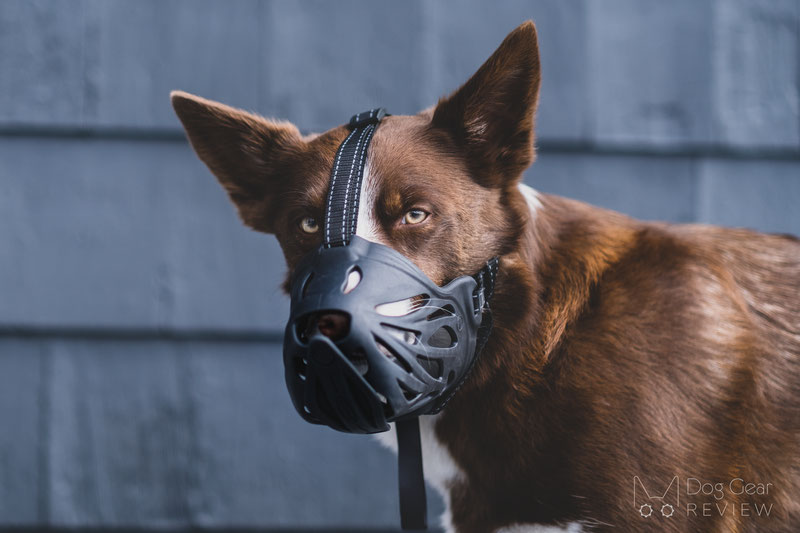 Where to buy
You can buy the LuckyPaw Muzzle with Movable Front Strap on Amazon. It comes in seven sizes.
Disclaimer: this review contains an Amazon affiliate link, which supports Dog Gear Review if you purchase the product after clicking on it without costing you anything extra. Using affiliate links will never compromise us writing unbiased, honest reviews!
Additional resources
If you want to learn more about muzzles, you can join amazing groups on Facebook, like Muzzle Up, Pup!, or follow The Muzzle Up Project. You can also check out the Muzzle Training and Tips website and browse our articles, where we discussed many muzzle-related topics.