About Kurgo
I don't think I have to introduce the Kurgo brand to most people since they have pretty amazing products: all of them is durable, well made and good looking. Their main profile is to create dog gear for hiking and for other outdoor activities.
Kurgo Loft Jacket Review
I bought this coat more than a year ago when we needed something to protect her on a late fall, full-day hike. The Kurgo Loft Jacket was perfect for this: it is lightweight, water-resistant, windproof but not too closed on the chest so the dog will not overheat if you use it on a hike where they can run around off-leash.
A brilliant detail is the zipper above the shoulders to access the back ring of the harness in case you would like to use the coat over it. I tried to use it a few times, but most of Mia's harnesses have the back ring farther back than the zipper. If you are planning to use it over a harness, be sure to check where the ring of the harness would be. On my coat, the zipper starts 1 inch (2.5 cm) from the neck part, and it is 6 inches (~15 cm) long.
My workaround was to put the harness over the coat during a cold hike when I had to use both, but you have a high chance that the harness will ruin the jacket while rubbing on it, so I highly suggest against it.
On the picture below, you can see how much farther the back ring of this harness is - there is no way it could be used under the coat.
Another issue is that the zipper will probably open up entirely if you are using it to access the harness, since when you pull the dog forward the front part of the zipper will slide open and when the dog pulls, the back part will open up. This is only an issue in the pouring rain because the dog's shoulders will be wet quickly.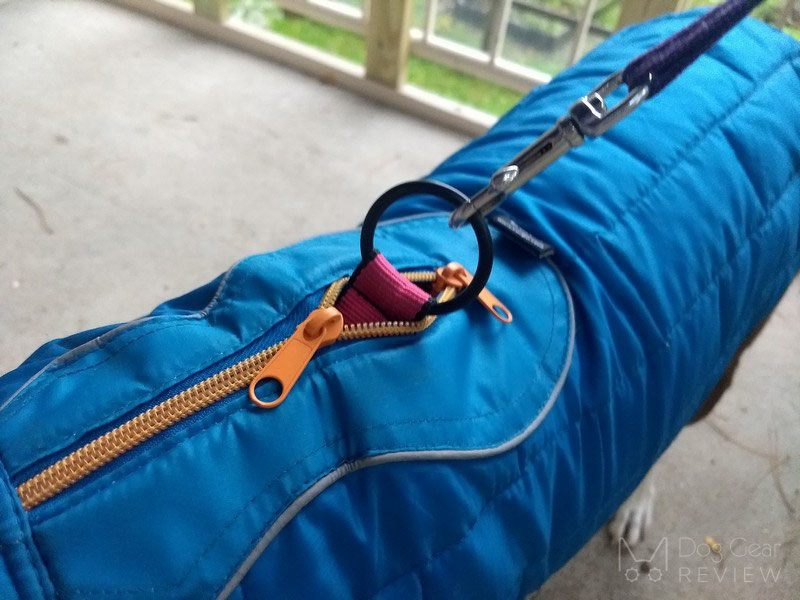 The product description says the jacket is not waterproof just water resistant. This means it doesn't let the rain through (the dog's back is completely dry), but it soaks the rain in and usually is still wet hours later. This is more of an issue with the part between the front legs because it will soak in the mud even if it's not raining anymore then drip for a half day at home. I have to tell that the water resistance of the coat is much better when it is new and will get worse as you use it and the material softens up. Washing it in the washing machine is also reducing the water resistance so try to avoid that as much as possible.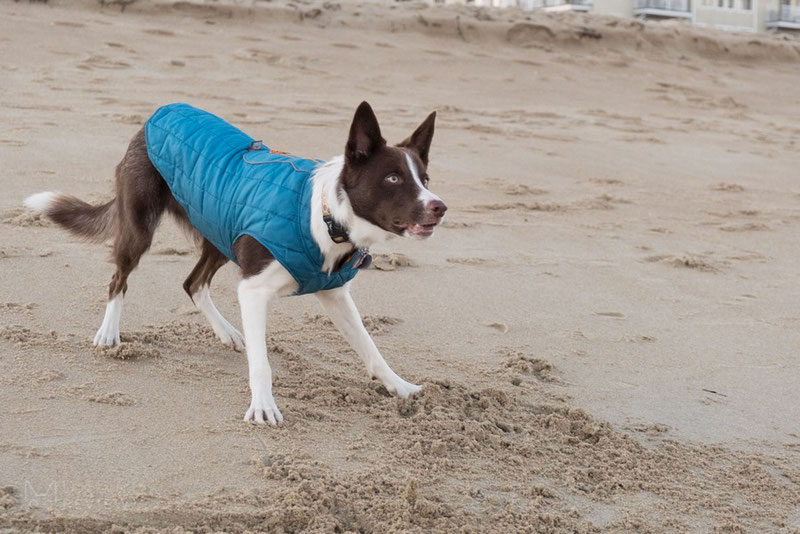 Besides these I am happy with the coat: it keeps Mia warm even during mild winter hikes, but it's not too warm for her. It looks good and I'm impressed with the durability of the material: it definitely looks worn after two years - but it is not torn even though she went through some bushes during hikes. I also like that it doesn't have fleece parts because it is much easier to keep it clean.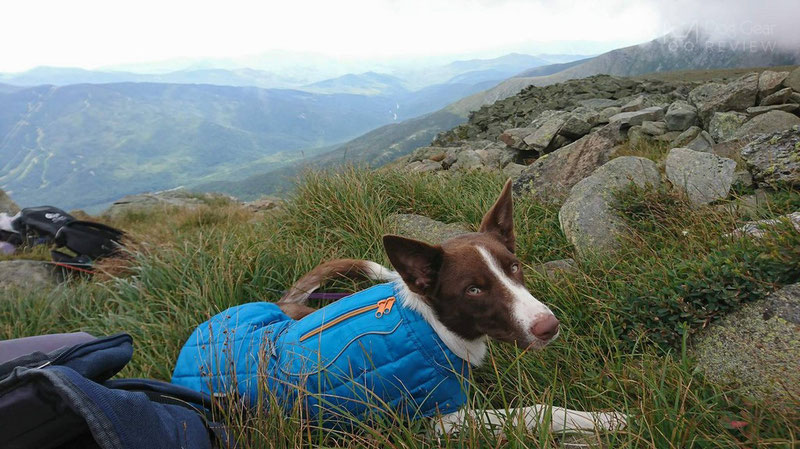 About the reversibility
After a lengthy debate, I decided to buy this coat based on being advertised as reversible. This would mean you can use either the orange or the blue side of the coat.
My original plan was to use the orange side but this never really happened. The sizing of the coat has a range because you have some flexibility how you want to stick the two velcro side together: you can choose just to stick the end of them together - leaving it looser - or tighten it with making the velcro parts overlapping completely. This works great with the blue side, but if you reverse it and your dog is not in the middle of the measurement range, the velcro sticks out on the sides in a weird way which will get stuck on everything and open up quickly once it's dirty.
This is how it looks if I tighten it to Mia's chest size (which works with the blue side):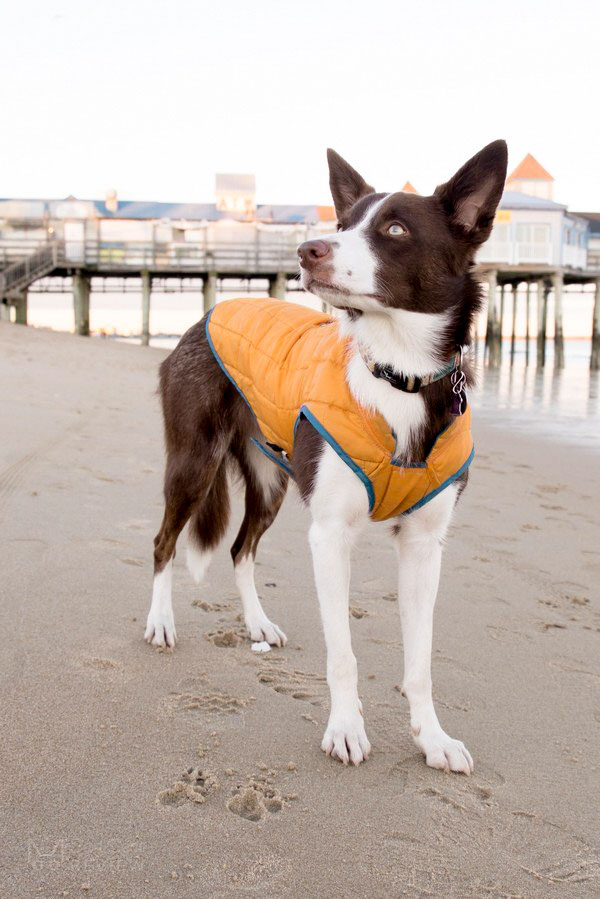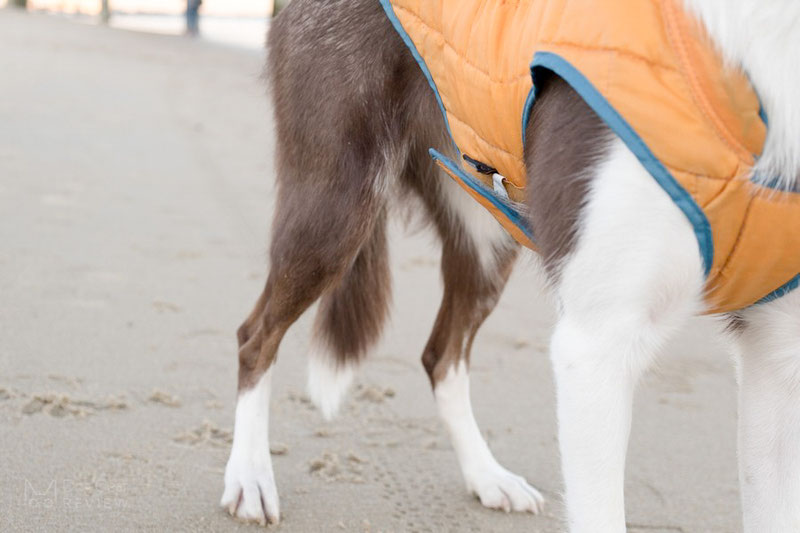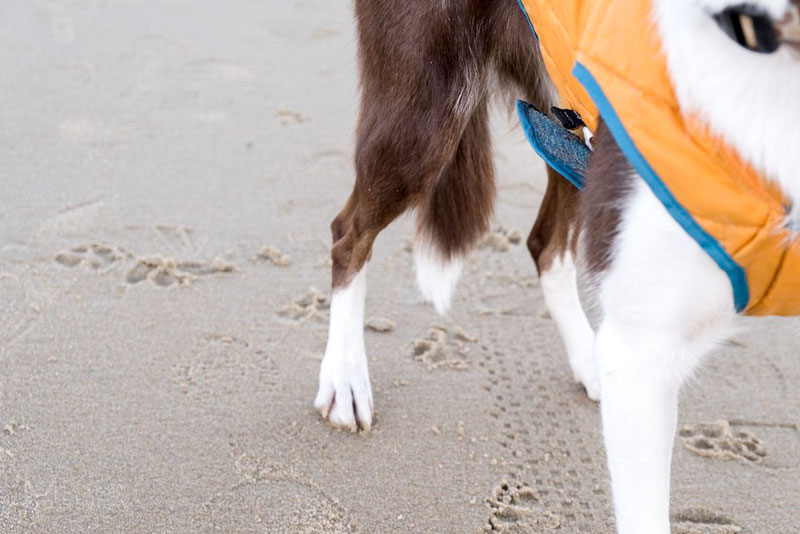 This is how it looks if I stick the velcro together as it supposed to be (too big for Mia's chest)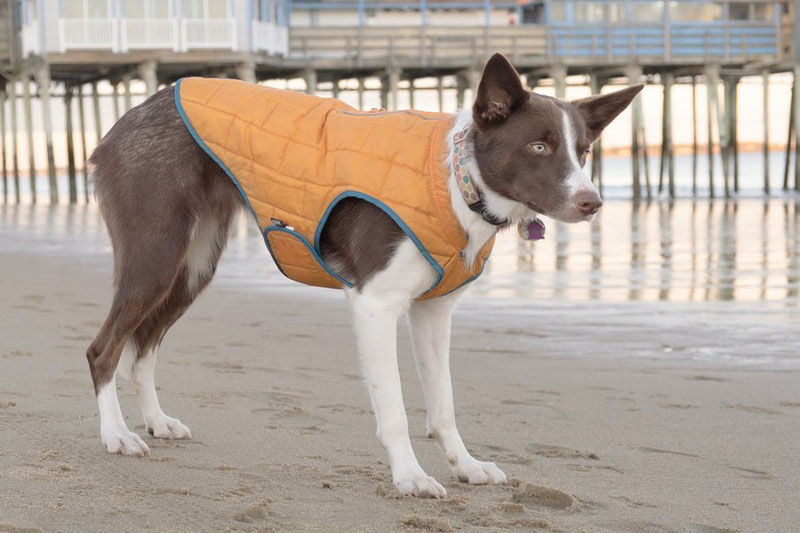 The other issue with using the orange side is that the rough side of the velcro will face your dog's stomach and either collect all the hair if you have a fluffy dog or it can rub the skin in case of a smooth hair dog.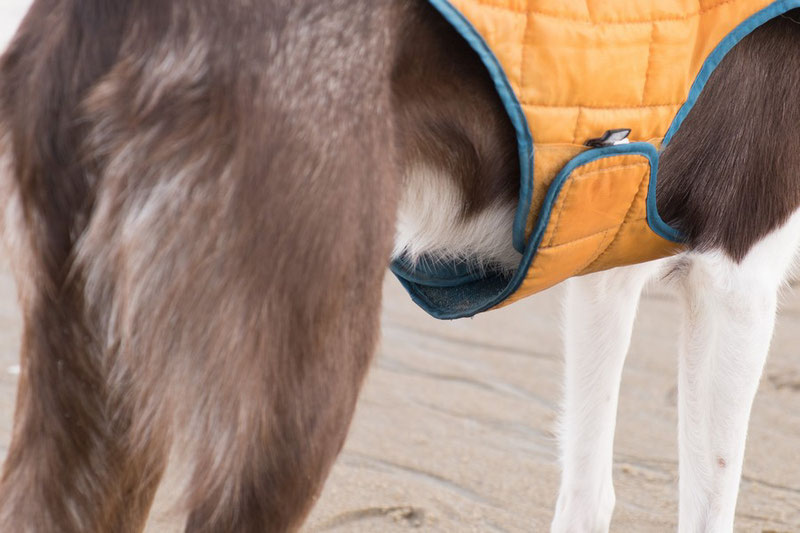 I also have to say that finding a coat for Mia is a mission impossible due to her body shape: if a jacket fits her skinny chest, it will end halfway on her back or if it covers her back, it is way too big on her chest. I also got this coat when Mia was maybe eight months old, so I wanted to stay on the safe side regarding sizing since she was still growing. Probably I wouldn't have this issue with the velcros if I would have a smaller size and would compromise with the coat not covering her back.
This picture below from Kurgo's website shows my point perfectly: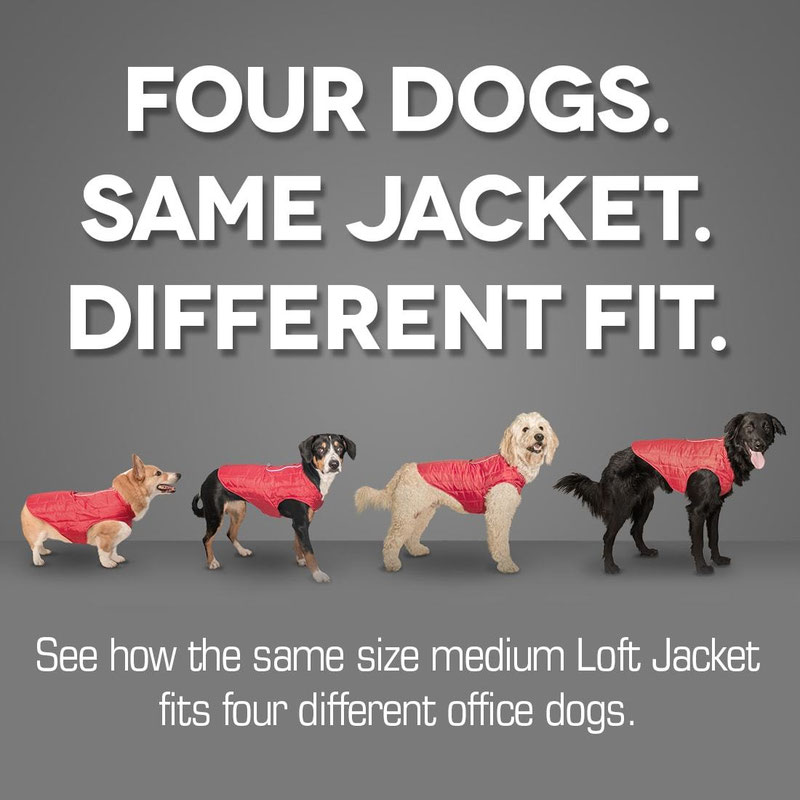 UPDATE
My problem with this coat started after using it for 1.5 years. Unfortunately, the velcro didn't hold as strong anymore and sometimes, especially in snow, opens up. It is a little better after washing it, but it is definitely not as strong as it was at the beginning. This was unfortunate because I purchased this coat way before starting this site and really liked it.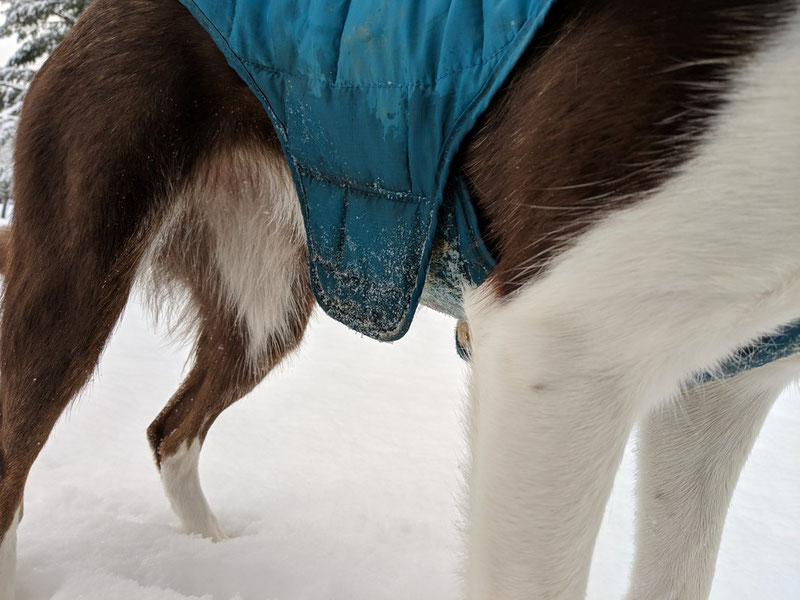 A few weeks later I saw Kurgo's post about their Lifetime Warranty for all of their products and contacted them - not as Dog Gear Review, just as a regular customer. I filled out their Warranty Claim form on their website and two days later they shipped out another coat for me! Impressive customer service and dedication to quality! Well done Kurgo!
Checking Dog Coats with a Thermal Camera
We wrote an article checking 12 coats (including this one) with a thermal camera to see the insulation capabilities of different materials and coat designs.
If you want to learn more about our findings, click here to read the article!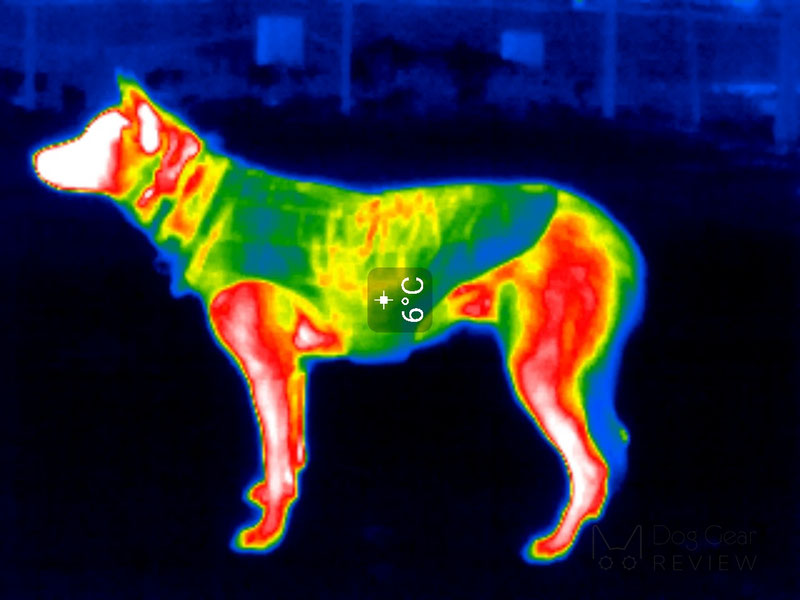 Review Summary
The coat is made from a durable, easy-to-clean material but it seems the velcro can be the bottleneck in the long term. The jacket is not sliding on the dog and is not flimsy, so the wind will not flip it up on the back. It's great for windy, cold days but it is best used in dry weather because it isn't waterproof.
Before buying it, be sure you like the color on the "outside" unless your dog is in the middle of the size range. While it comes in 8 amazing color combinations, which are bright, it doesn't have reflective parts on it.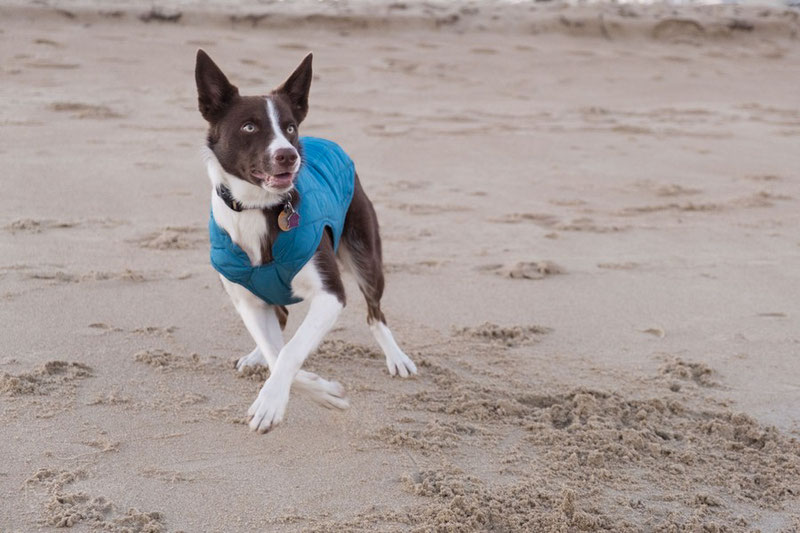 Where to buy
You can find the Loft Jacket on Kurgo's website and on Amazon as well. The collar on some pictures is from Bol-Dog.com.
Disclaimer: this review contains an Amazon affiliate link, which supports Dog Gear Review if you purchase the product after clicking on it without costing you anything extra. Using affiliate links will never compromise us writing unbiased, honest reviews!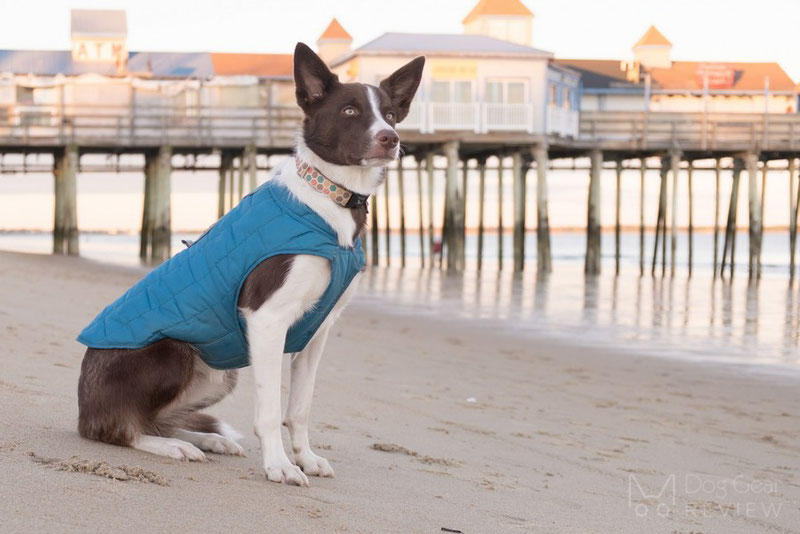 Mia's measurements
Many of you asked Mia's measurements to better understand the different products' fit. Your best chance of finding a good fitting gear is always to measure (and remeasure) your dog. Even we grab the measuring tape before getting a new product - even though we tested a lot of them, and have a good feeling of her size by now.
I share her measurements below, but don't go ahead and order the same size just because your dog is similar to Mia ;)
Shoulder height: 19.5 inches (50 cm)

Weight: 37-44 pounds (17-20 kg)

Widest chest circumference (where the most harness would have the chest strap): 25-26 inches (63-65 cm)

Neck circumference for collars: 15-16 inches (38-40 cm)

Back lengths: 22 inches (56 cm)