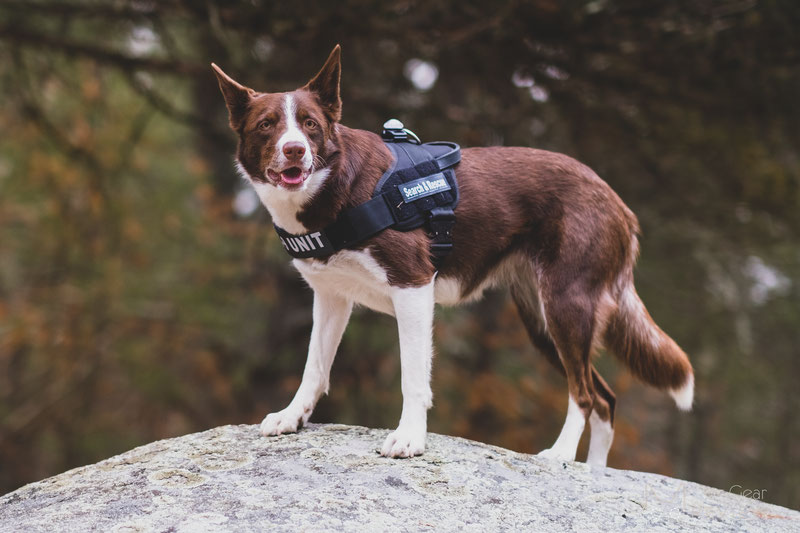 Julius-K9® IDC® Stealth® Powerharness with Cobra®buckles Review
About Julius-K9
Julius-K9 started as a small, Hungarian family business in 1997, and since then, they sold more than 7 million products - many to police units and for service dogs. They are also one of the few companies that do extensive testing on their products and conduct researches to understand better what works best for the dogs.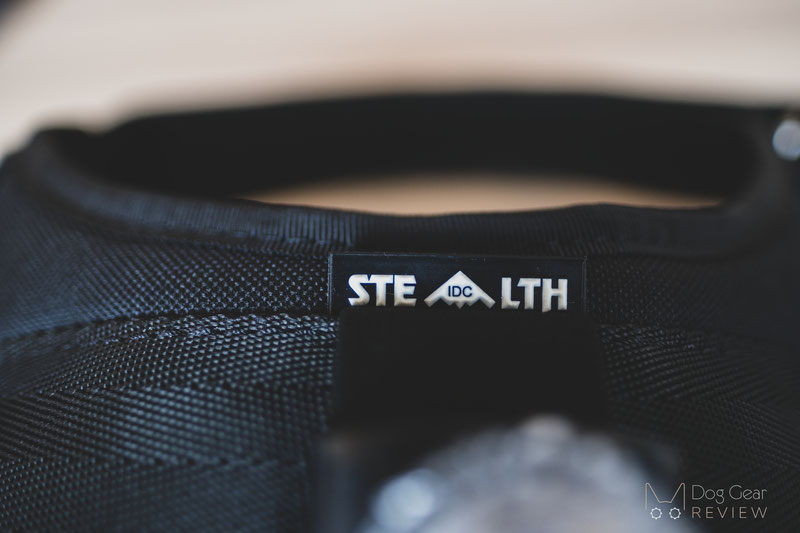 Norwegian Harness vs. shoulder joint
Before jumping into the review of this harness, we have to stop for a second and talk about the common misconception that all harnesses going across the shoulders restrict the dog's shoulder movement; therefore, they shouldn't be used. To adequately address this topic, we wrote an article to discuss when this is true and when it is safe to use. We also discuss the proper adjustment and position of these harnesses on the link above, so check it out if you are interested.
To summarize the article, if these harnesses are correctly fitted and not used for a dog who pulls, they are safe to use and do not restrict movement.
About the IDC® Stealth Powerharness
At first glance, this harness looks pretty similar to their "original" IDC Powerharness, but it has some very cool added features!
We already have a very detailed review of the IDC Powerharness where we talked about the designed and addressed all topics around it - including introducing all the extra accessories (like pressure distribution pad, side bags etc) that you can add to it. In this review, we will not discuss these again, just point out how the IDC® Stealth Powerharness is different and talk about its unique features.
The Stealth harness was designed for security and law enforcement services to have extra features geared towards their needs. One of the first things to note is that it only comes in sizes 1-3, so it only fits bigger dogs. Mia is between size 0 and 1 and previously used the size 0 from the IDC harness. You can see on the photos that the Size 1 is slightly big for her.
One of the other differences is that the Stealth harness only comes in black in most countries and in orange/green in a few others, but in general, it doesn't offer the wide variety of color options as the IDC harness.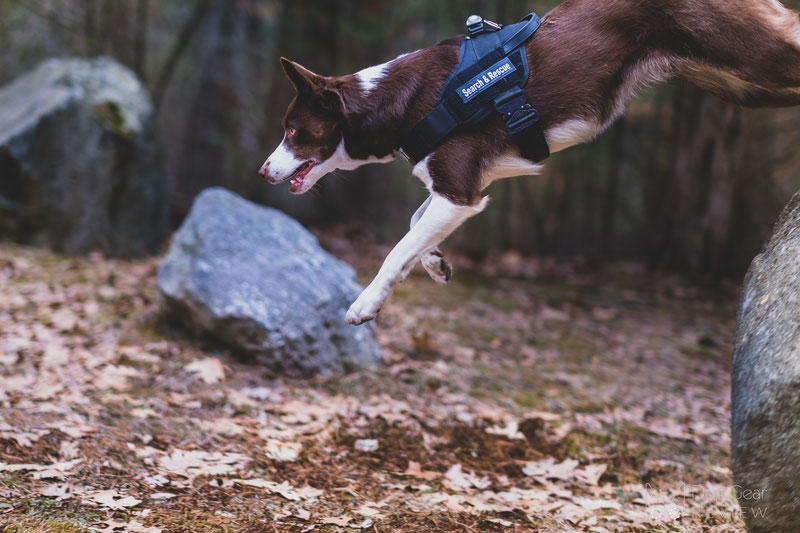 The most eye-catching update of this harness is the large velcro panel. While it looks significantly bigger than on other harnesses, the shape of the sides "cut off" the corners, so it's hard to fit a larger patch nicely. In the photos below, the orange custom patch from Julius-K9 is Small, while the black & white patch is large.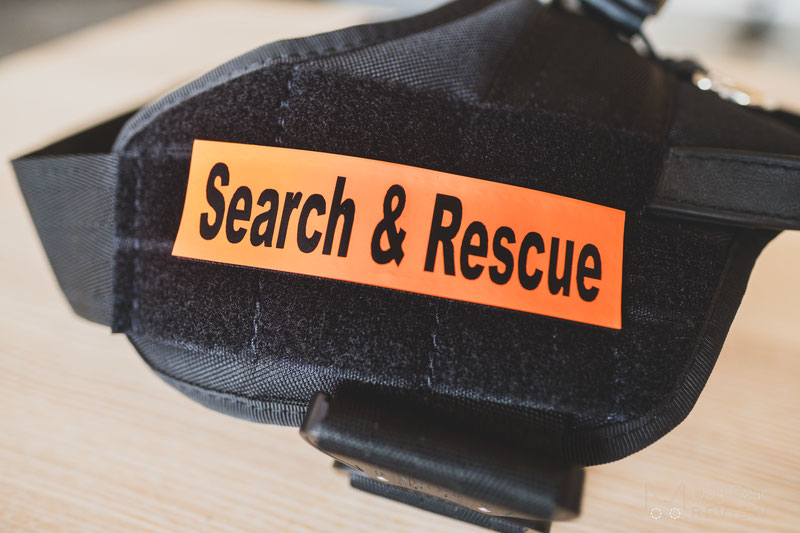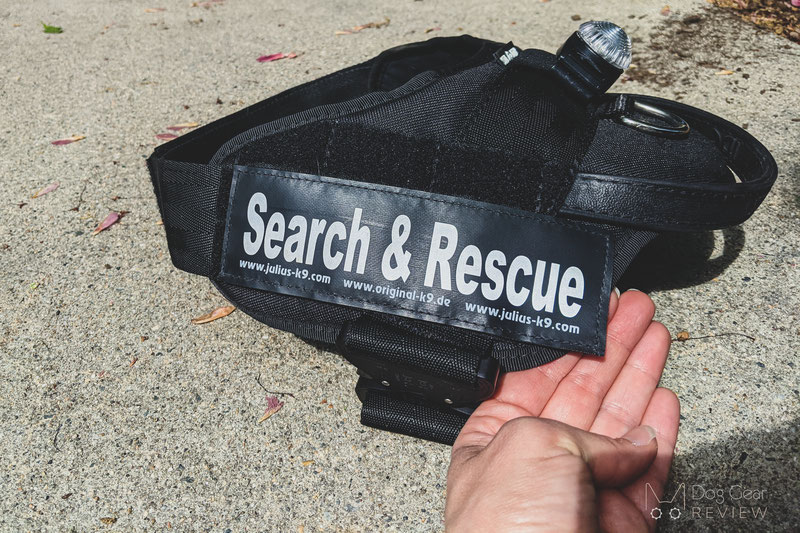 There is another addition to the velcro space - on the front strap! This allows you to add text or reflective elements to the front, which is a fantastic extra if you need to communicate something. This strap fits their Large velcro patch perfectly.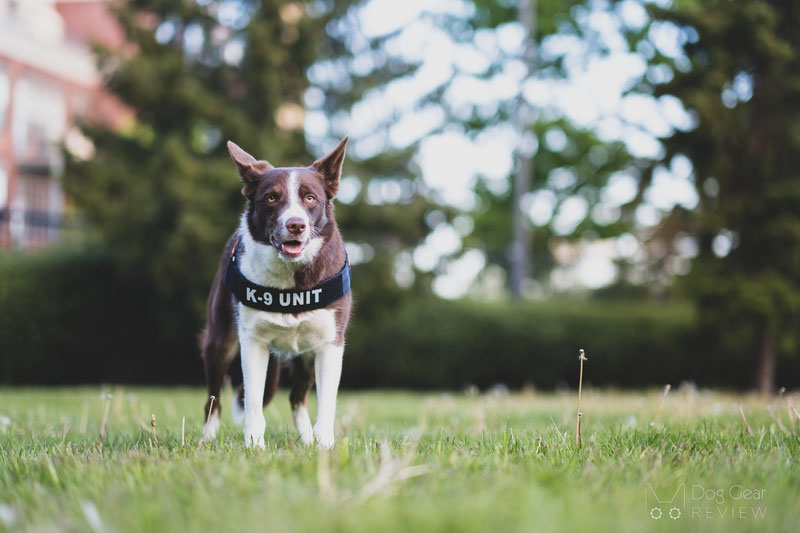 There are two versions of this harness: one with the well-known Cobra buckle and another with a strong plastic buckle with a safety strap covering it for added security.
The handle on the back is similar to the one on the Longwalk harness. It lays flat and has a non-slip surface.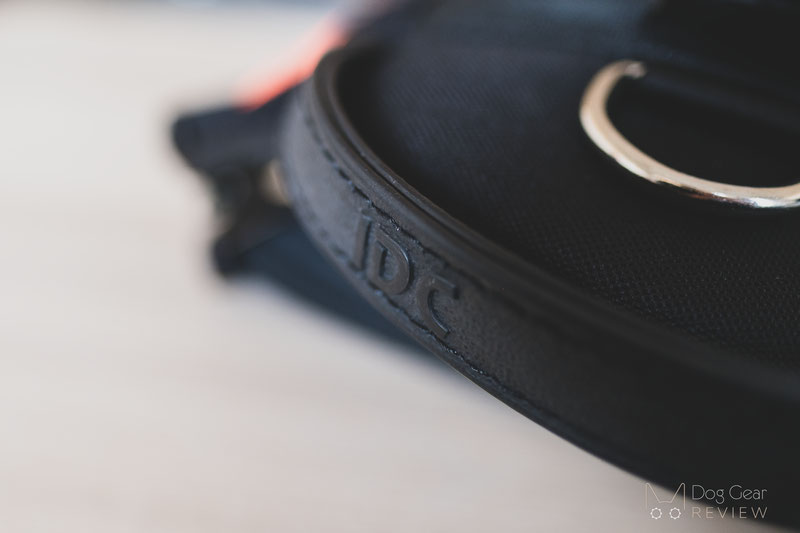 The elastic loop on the back is the same as on the IDC harness, and it allows you to add a light if needed. The one on this photo is called Guardian Dog Safety Flash Light and is sold by Julius-K9 in the US. Although I don't have a GoPro to try on, you should also be able to fit that on this loop.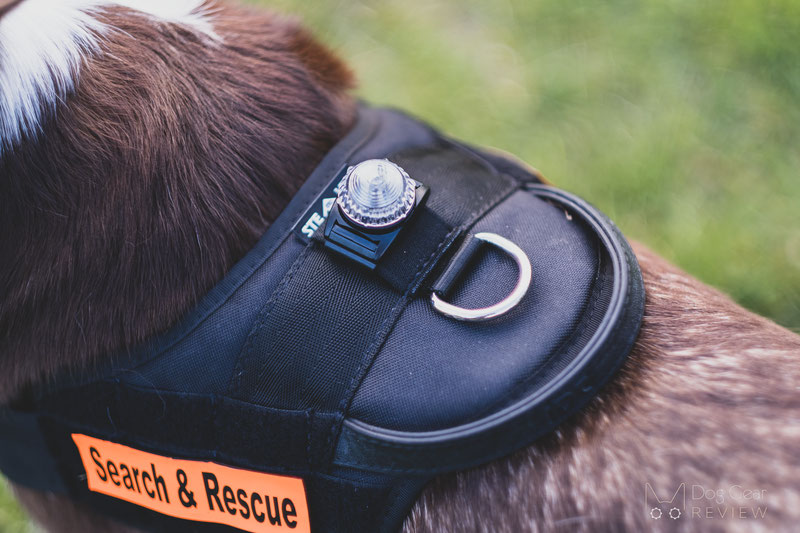 IDC® Stealth Powerharness Review
The Stealth Powerharness is a well-made and designed harness, just as we would expect from Julius-K9. The extra hook and loop fields are very nice, although you might want to find a custom patch to optimally utilize the unique proportion of the velcro panel on the back.
This is a streamlined and durable harness that can easily handle long-term use without showing signs of tear and wear. The flat handle is easy to grab when needed, while the dog can run through the forest without getting stuck on something.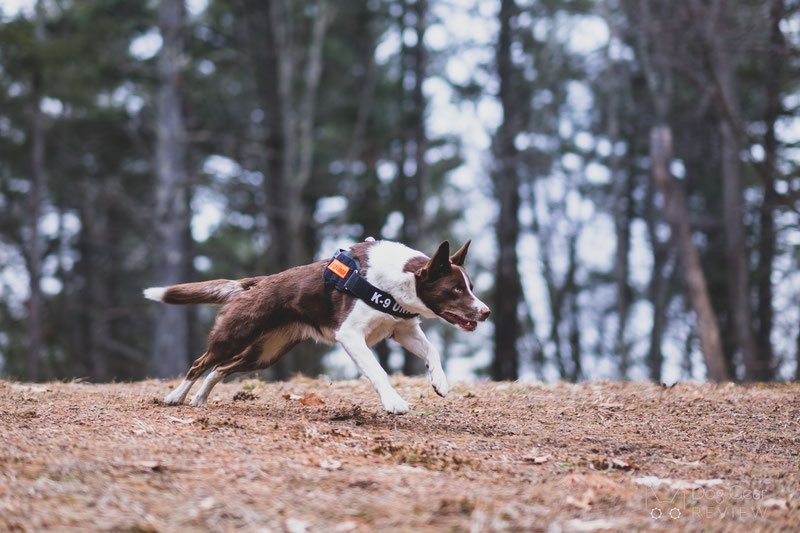 The only issue we faced with this harness has to do with gravity. The Cobra buckle looks cool and is strong, but it's also much heavier than a plastic buckle. If the dog is off-leash, this causes the harness to rotate since the side with the Cobra buckle is heavier than the other. If you plan to use it while the dog is leashed, the leash pressure keeps it in place reasonably well, and the effect of the buckle is barely visible.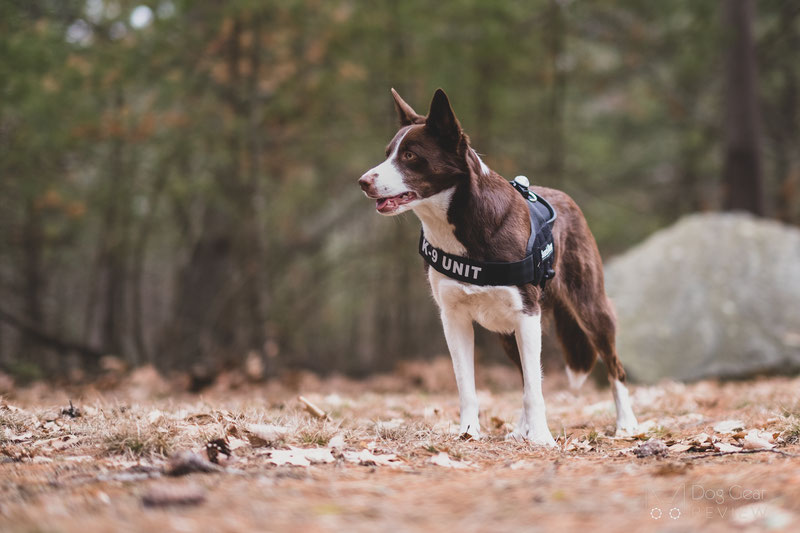 This harness is used by a few other members of our Search team, so I saw it on different dogs as well. The rotation seems to be more significant on narrow dogs with short hair, while the harness will have much less room to slide around on a broader chested, long-haired dog.
Functionality Review
As we mentioned above, this harness was designed for working dogs, but we will quickly go through our usual functionality review here as well.
• No-pull correction: I wouldn't suggest using it without the Front Control Y-Belt if your dog pulls. Without a front attachment point, it will not help to teach better leash manners, and it can also hurt the dog's shoulders.
• Running/Biking (as an occasional hobby, buy specific equipment if you want to get into it seriously): Only use it if your dog is perfectly trained and only runs next to you without putting pressure on the leash, and be sure the harness leaves enough room for the front legs. No bikejoring, sledding, etc., with this harness!
• Hiking: The handle is great to give a hand to the dog if needed. Keep in mind that the harness has to be correctly adjusted to ensure the dog is not sliding out when lifting - if needed, you can purchase a chest pad for additional safety. As always, be sure the dog can run, jump comfortably in it without any restriction before going for a hike!
• City walk: If your dog gets scared easily, buy a chest pad to make it safer. The custom velcro text can be a big plus in a busy neighborhood to let other people know if your dog is reactive/shy/friendly etc., or to put your contact information on it in case your dog would run away. You can buy these from Julius-K9 in different colors and even with phosphorescent or reflective text.
• Easy to put on/adjust: you just have to put it over the head and use one buckle. It is excellent for big-headed dogs or those who are afraid of putting a tight harness over their heads. I found it helpful for walking up to agility training (where you remove it for the training and put it back after) or for a quick walk when you want to put something on the dog quickly and remove it with one click.
• Visibility: It can be great if you add reflective patches and can buy the orange one. The black was meant to be hard to see in the dark.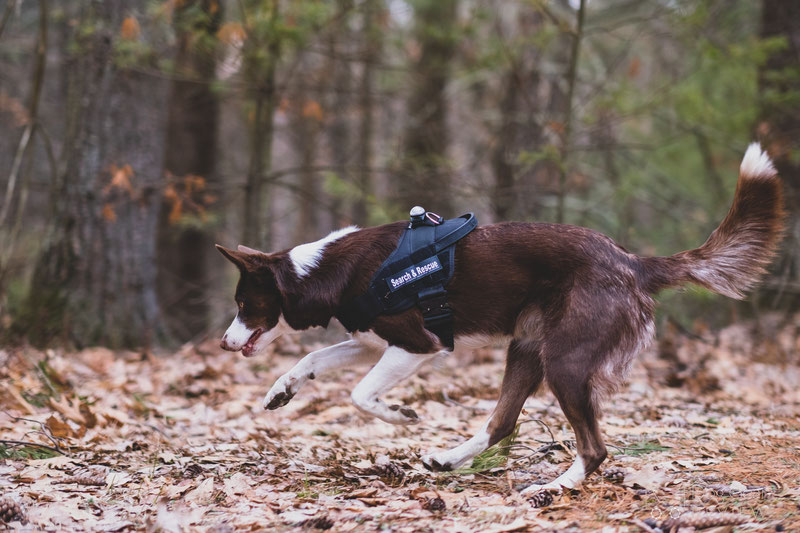 Review Summary
The IDC Stealth Powerharness is a nice upgrade of their more accessible IDC Powerharness. If you need a bigger velcro space, a streamlined handle, and a more robust buckle, it is a great choice! If you want to use it off-leash, I would choose the version with a plastic buckle instead of the Cobra version to avoid the constant rotation.
Where to buy
You can buy all Julius-K9 products on their website and can probably also find retailers and stores in your country.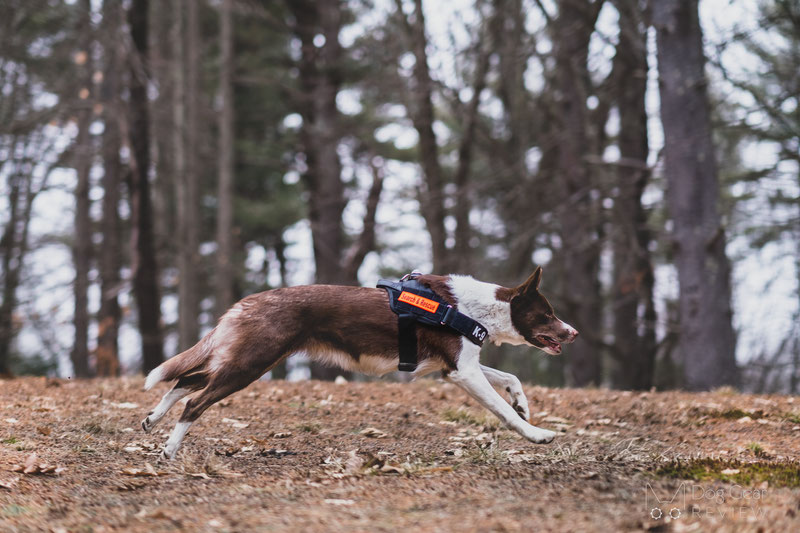 Mia's measurements
Many of you asked Mia's measurements to better understand the different products' fit. Your best chance of finding a good fitting gear is always to measure (and remeasure) your dog. Even we grab the measuring tape before getting a new product - even though we tested a lot of them, and have a good feeling of her size by now.
I share her measurements below, but don't go ahead and order the same size just because your dog is similar to Mia ;)
• Shoulder height: 19.5 inches (50 cm)
• Weight: 37-44 pounds (17-20 kg)
• Widest chest circumference (where the most harness would have the chest strap): 25-26 inches (63-65 cm)
• Neck circumference for collars: 15-16 inches (38-40 cm)
• Back lengths: 22 inches (56 cm)