Invoxia's Smart Dog Collar, acclaimed with seven international awards, including the CES Innovation Award from 2022, stands out as an advanced canine technology. This innovative device is not only alocatiopn tracker but it also integrates cutting-edge sensors and artificial intelligence algorithms to revolutionize canine preventive healthcare with the goal of enhancing the well-being of our dogs.
Using a tracker to keep the dog safe?
We can't push enough that connectivity and coverage can be spotty or interrupted by the environment and cause problems outside the tracker's responsibility. The technology also relies closely on your phone, providing accurate location - which is better for some phones and worse for others.
A tracker is a good backup and can be a lifesaver in emergencies, but any electronics can and will have blind spots. We see many people getting lazy with recall training or keeping an eye on the dog because they have a tracker. Please don't expect a smart collar to keep your dog safe because only you can do that. Knowing their location or getting a notification that they left without you will not keep them from being run over before you get there.
About the Invoxia Smart Dog Collar
The Invoxia Smart Dog Collar is the only biometric collar with GPS tracking and health scanning capabilities. Offering real-time GPS tracking without distance limitations, it ensures constant awareness of your dog's location as long as there is a cell network available.
The collar also monitors various aspects of your dog's well-being, including activity levels, sleep patterns, appetite, and barking. Its standout feature is Resting Heart & Respiratory Rate monitoring, allowing pet owners to establish vital sign baselines and quickly detect abnormalities. With Heartprint Technology, the collar also provides a geometrical representation of the dog's heart signature, contributing to ongoing research for digital biomarkers related to health, aging, and stress.
Let's discuss its details!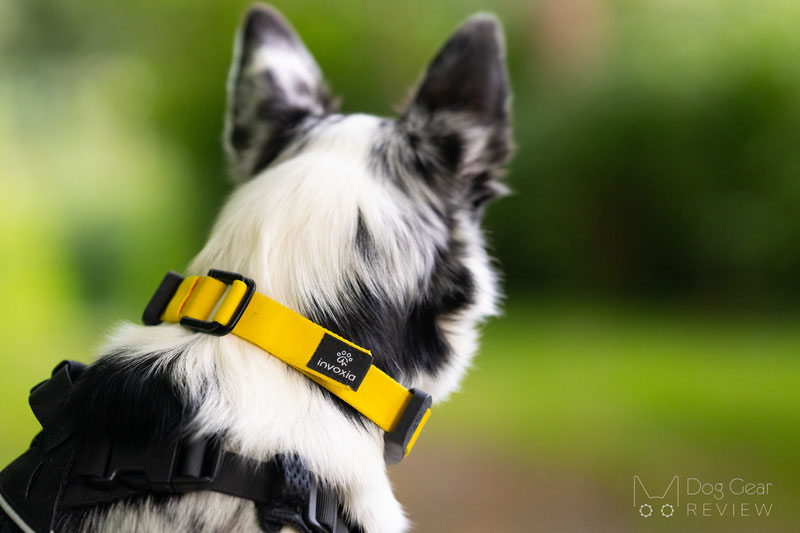 How does the Smart Dog Collar work?
The Invoxia Smart Dog Collar, available in various sizes catering to medium to large dog breeds, operates through a built-in SIM card.
A subscription plan is required to activate data transfer via the LTE-M network, ensuring connectivity even when away from your dog. This collar works seamlessly anywhere with cell coverage and canm also use your phones Bluetooth or WiFi signals to determine the location. Additionally, upcoming features such as escape alerts, virtual fence, find nearby, and buzzer will add to the collar's safety capabilities.
Leveraging LTE-M connectivity, smart geolocation using Bluetooth, Wi-Fi positioning System, and GPS, along with AI-based adjustments, the collar offers increased precision and personalized insights.
They offer monthly, annual, and two-year plans that you can choose when buying the collar on the website. The tracker is currently working in the United States, Mainland France, Belgium, The Netherlands, Spain, Germany, Sweden, Finland, and Norway and is coming soon to Switzerland.
The Module
While most dog trackers have a separate unit attached to a collar, Invoxia created this tracker as an integrated unit. The tracker module is designed to withstand various environments, boasting an IP67 waterproof rating and dustproof construction.
It features a 2-week battery life with average usage (mainly staying home/close to your phone and going for a few walks a day). Charging the unit takes approximately 3 hours and 30 minutes for a full charge from complete discharge, with an 80% charge achieved in about 2 hours. It is powered by two non-replaceable rechargeable lithium batteries (3.8V, 520mAh).
Its dimensions measure 175 x 88 x 34 mm, and the collar weighs 165g (5.8oz). Crafted with dermatologically compatible silicone for the module and RPET fabric (recycled and 100% recyclable polyester) for the strap, including metal buckles, the unit ensures comfort and durability.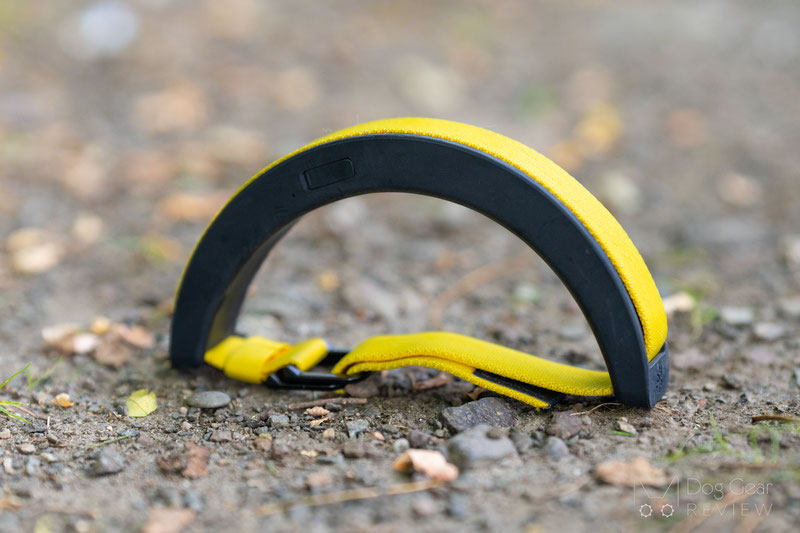 Operating within a temperature range of -10°C to 40°C (14°F to 104°F) and a storage range of -20°C to 60°C (-4°F to 140°F), with a maximum operating altitude of 2000m, the collar unit is versatile across various conditions. Compatible with iPhones running iOS 16 or higher and smartphones running Android 10 or higher.
Location Tracking
GPS tracking provides position updates every 2, 5, or 10 minutes based on the selected frequency, allowing for location monitoring. You can also find unlimited location history in the app. Smart geolocation combining Bluetooth, Wi-Fi positioning System, and GPS, ensures optimal coverage and precision in tracking. The collar's AI-based adjustments enable adaptive algorithms, enhancing accuracy and delivering personalized insights into your dog's activities and whereabouts.
Upcoming features such as escape alerts, lost mode, and a buzzer feature will further enhance the collar's capabilities. Currently, the collar has a push notification when the dog starts a walk or finishes it.
Activity & Health Tracking
The Invoxia Smart Dog Collar provides comprehensive health and activity tracking features to better understand your pet's well-being. They use AI to detect active minutes automatically and distinguish between various activities like walking, running, sleeping, barking, playing, eating, and more.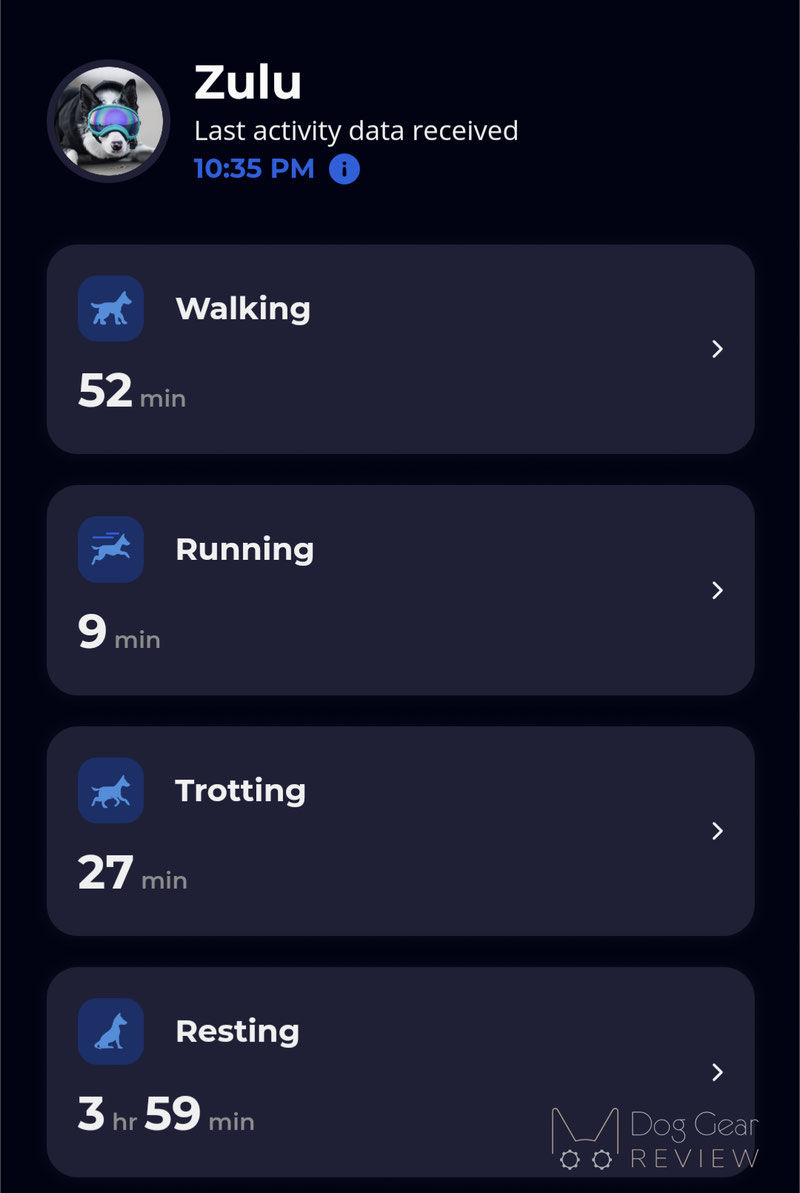 Daily activity breakdown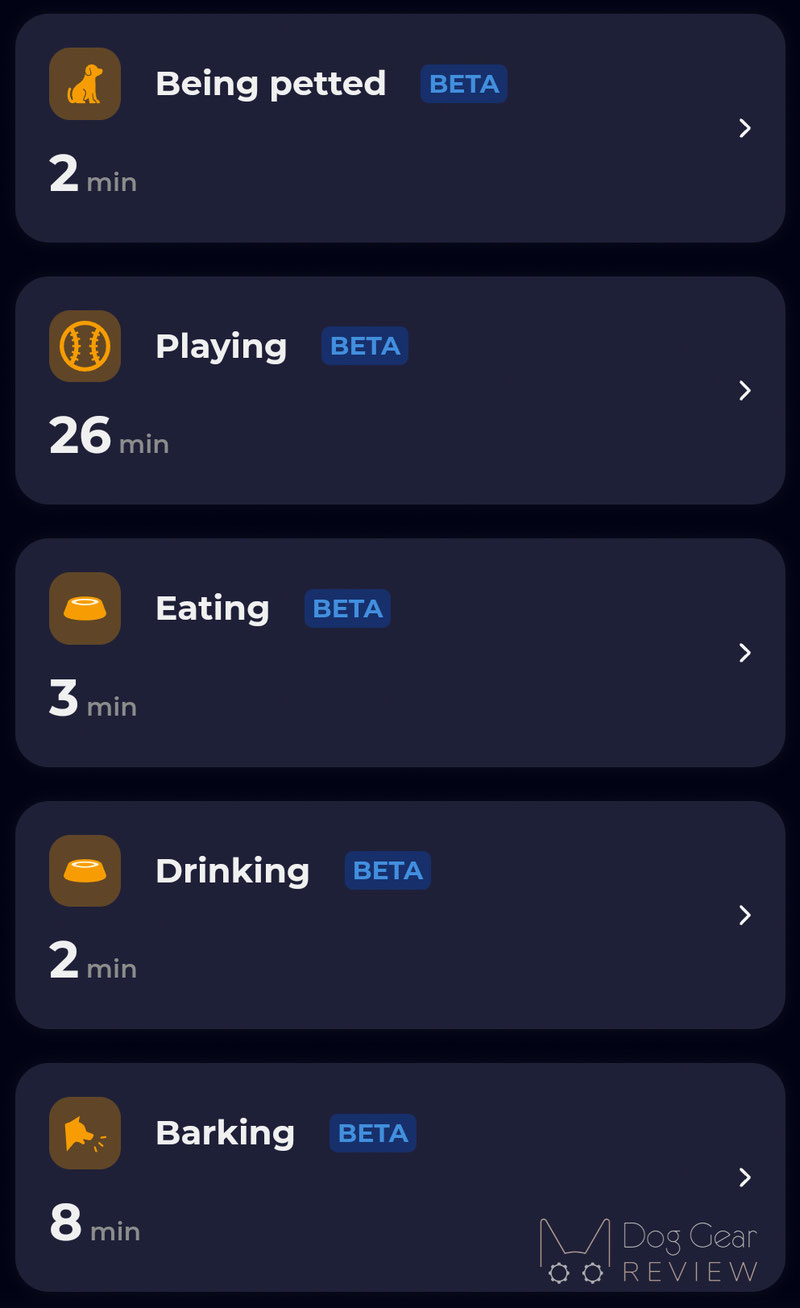 New features in beta testing when writing this review
The collar also includes a Resting Heart & Respiratory Rate feature, enabling pet owners to establish baseline vital signs and quickly identify abnormal changes. By examining the resting heart rate, resting respiratory rate, and a unique heart signature (a geometrical representation of heartbeats), the collar aids in early detection of signs related to heart disease. Ongoing research projects aim to extract digital biomarkers for pathologies, aging, and stress from these heart shapes.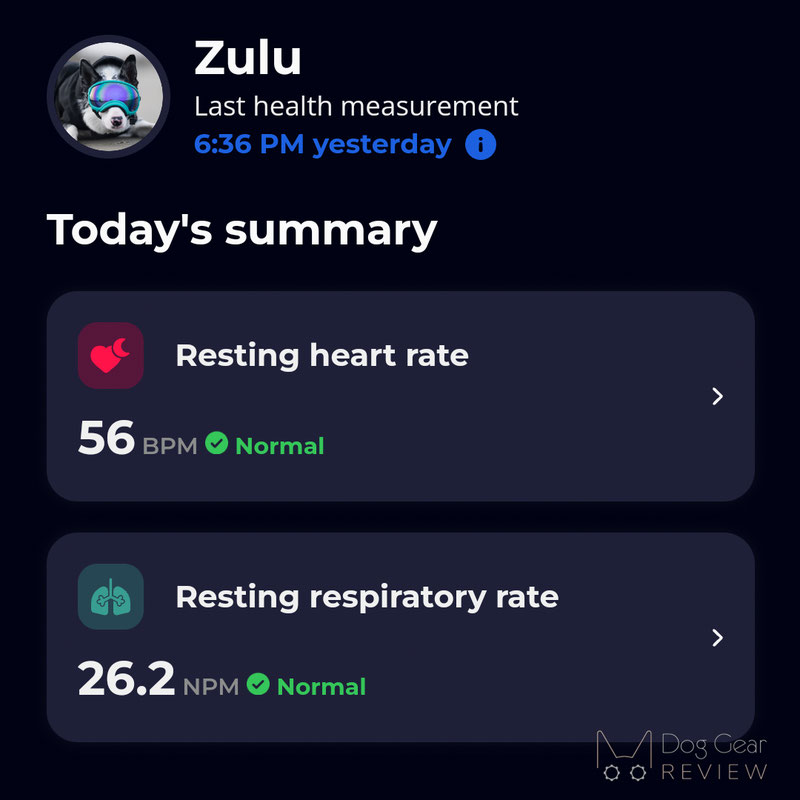 Summary page for health data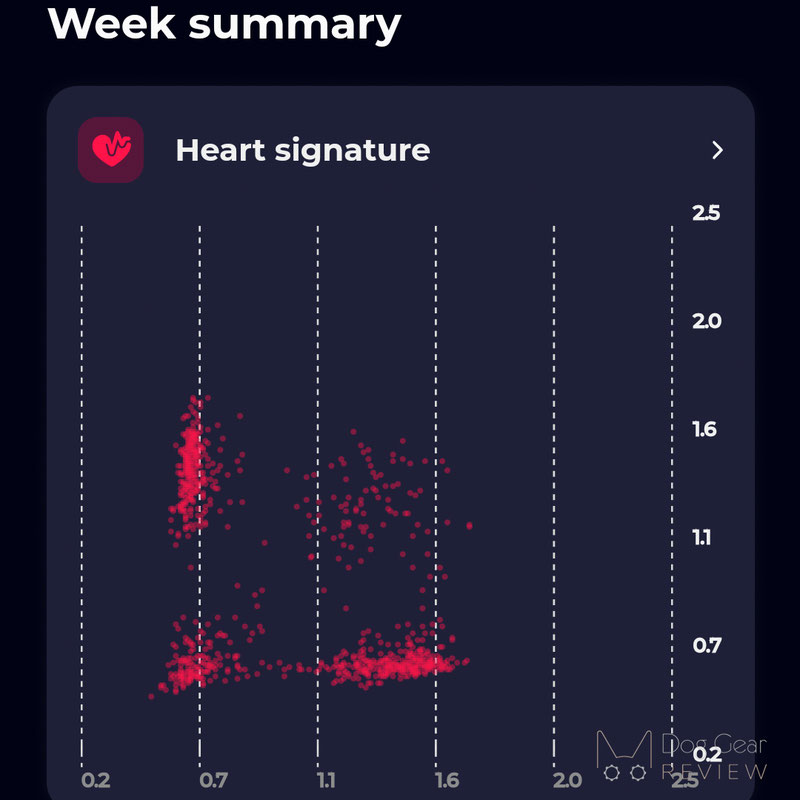 Resting heart rate measurements
This proactive approach allows for the early identification of symptoms, facilitating timely intervention before conditions escalate. Moreover, the collar supports monitoring treatment effectiveness and provides data-driven insights for veterinarians to make informed decisions, ensuring the best possible care.
Invoxia Smart Dog Collar Review
The Invoxia Smart Collar does a good job of combining health data with GPS tracking features and doing both on a level that is useful and seems to be accurate.
Many assume that this collar needs to be tight to collect the measurements, but it is supposed to fit as a regular one. It collects the health measurements when the dog rests and puts their weight on the collar. As it has sensitive sensors in the module, it cannot be used as a collar and attach a leash to it.
The official 2-week battery time was true for us, we went even longer without charging when only used for short walks and a longer hike/training during the weekend. It seems to be pretty good optimizing batterty usage and sending data in an effective way. If I just have it lay around at home, it easily went 4+ weeks without a charge but of course that will be very different if the dog is out and away from you most of the time when you are walking.
Zulu has a tiny 14" neck and is wearing the smallest size. We made it work, but I think this is the smallest neck that the collar can fit effectively. As half of the collar has the module, it makes the collar somewhat rigid, so on Zulu's neck, the collar was more shaped as a "U" than an "O," causing the strap to connect at a weird angle and loosen up after a few minutes every time she wore it.
It never loosened to the point of falling off but it could easily fit through her head, as you see in the below photo. As far as I know, they are working on a unit for smaller dogs, but I don't have more information on that.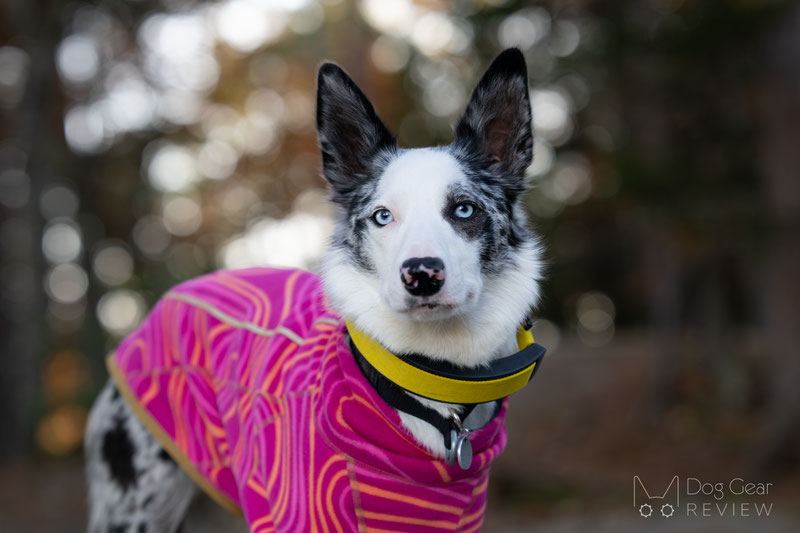 They are introducing and testing new metrics and features all the time. This is the list I currently see in the app when writing the review on 11/12/2023:
Location tab:

History
Live Tracking: more frequent updates in the first 30 minutes, ends after 30 minutes to save battery
Find nearby: Guides you in a direction once the collar is in Bluetooth range and you can ring the collar when nearby to identify the exact location of the dog in case they are stuck or injured.

Health:

Resting Heart Rate (daily + history)
Resting Respiratory Rate (daily + history)
Heart Signature (weekly/monthly cumulative data: needs some time to collect it)

Activity:

Daily Active time chart
Walking
Running
Trotting
Resting
Being petted (beta only)
Playing (beta only)
Eating (beta only)
Drinking (beta only)
Barking (beta only)
Driving to mark time spent on the road (beta only)
We live in an area where location tracking can be spotty for many trackers, as cell coverage can also be spotty. So far, the Invoxia Smart Collar did a great job logging in her daily walks, and the tracks rarely had those outlier points when it suddenly puts a location point a mile away, messing up your track. I assume the latter is thanks to the AI adjusting these logs. I ran into an error a few times when no GPS location was found in the history when I looked back a past day, but never in real life when I pulled up the app to check on a location.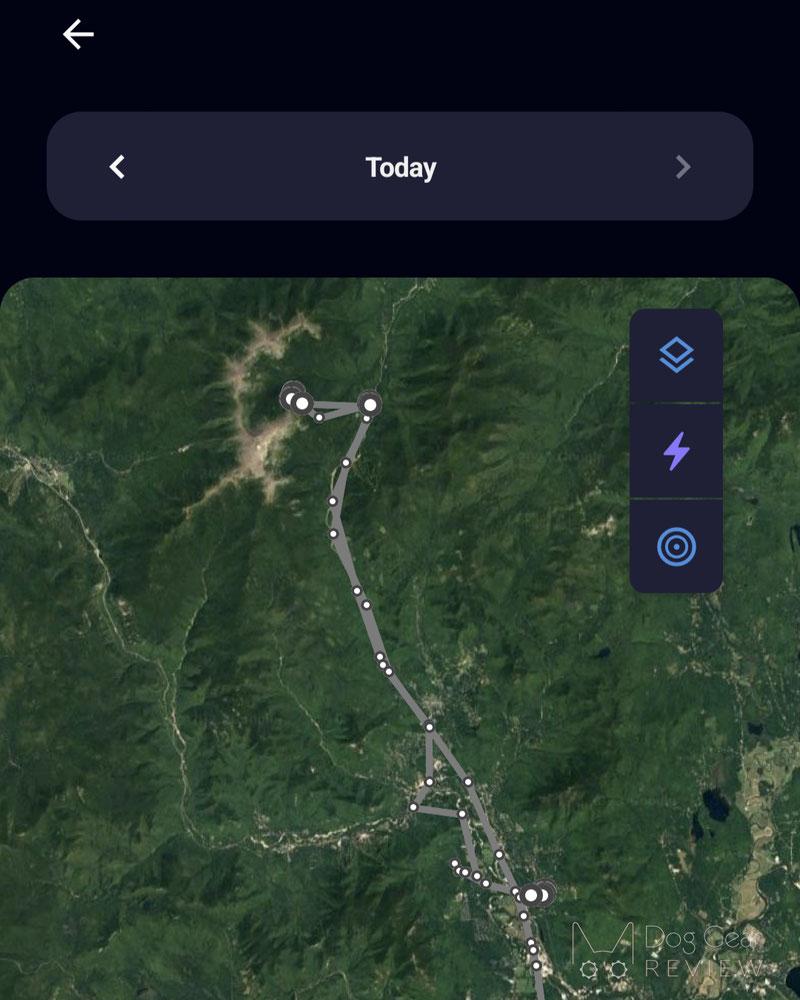 Location log for both driving and walks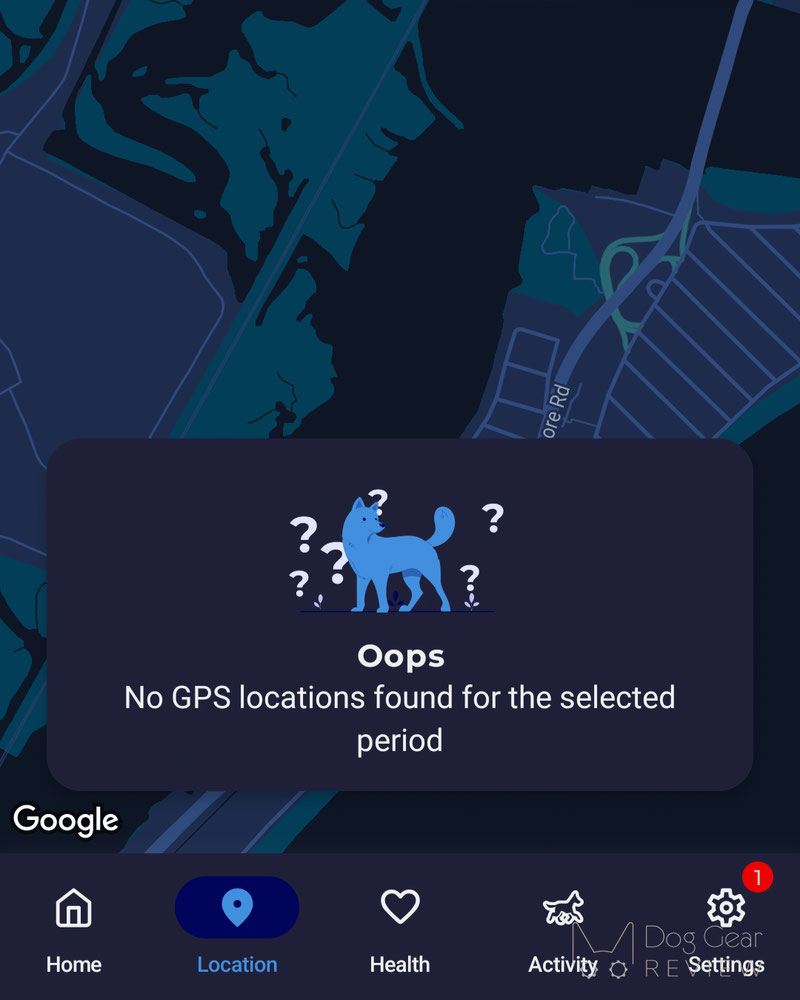 The error message
The metrics I can easily distinguish seemed more or less accurate with Zulu - although it often starts with a lag. This means if we play fetch three times a day for 5 minutes, it usually recognizes that we played three times, and on the charts, it puts the activities in the right time, but it might be logged in a bit less or more time.
Being petted and barking was inaccurate for us while driving seems to pick up the times accurately.
I have a harder time estimating the accuracy of the health data, but the charts align with what I would expect based on the times when we are out for a walk or playing. I don't know how accurate the measurements could be as the collar always loosened up, and Zulu also has a dense neck fluff.
Their FAQ page confirms that "The heart rate and breathing data are collected exclusively at rest. A continuous recording during several sets of ten-minutes-per-ten-minutes of sleep is necessary to have a representative average of the Resting Heart Rate and the Resting Respiratory Rate"
However, I had multiple measurement points on the charts from times when Zu wasn't sleeping, so either the time log was inaccurate, or it took measurements when she wasn't sleeping. Either way, I don't have any proof of its accuracy/errors as these are not metrics I was able to double-check with another tool.
Although we had a few days when her health values seemed a bit high, I saw nothing unrealistic or surprising on these charts. I would love to hear from someone whose dog is known to have heart issues to see if abnormal values pop up as expected.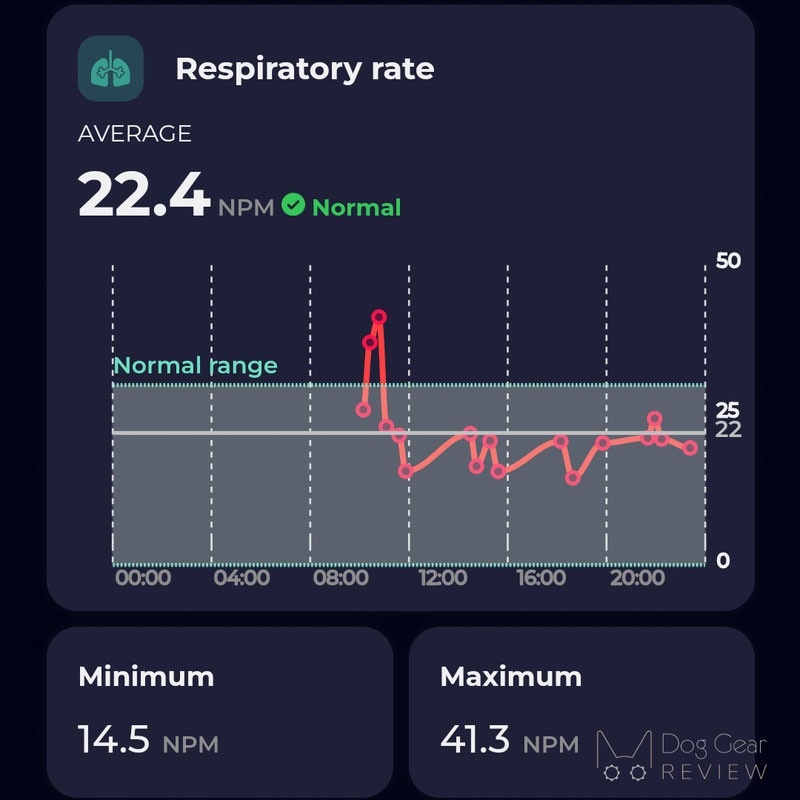 Respiratory Rate - daily view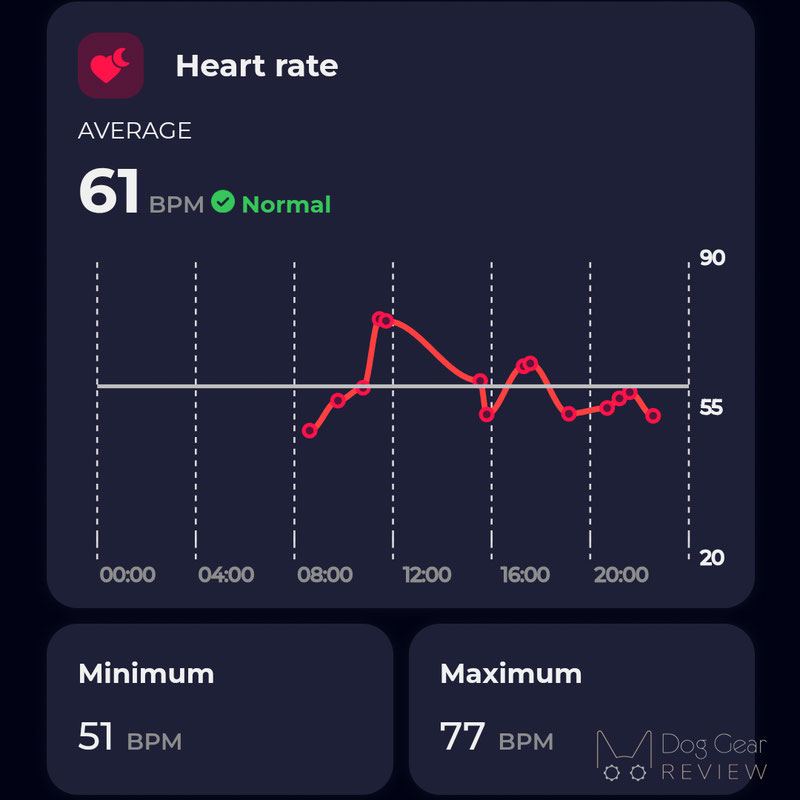 Heart Rate - daily view
The app is easy to use, with good UX/UI and an intuitive menu system. I like that you can break down most stats to see a daily, weekly, or monthly view, which allows you to check trends or dive deep into the details. The only thing I miss is being able to set an activity goal and see how you are progressing/trending with that.
The home page displays surveys and articles only at the moment, which I feel is not the best use of the landing page, but this is subjective. I personally would appreciate these articles on a secondary page, and the home page could have a high-level data overview of activity trends/goals and health status.
Invoxia Smart Dog Collar Functionality Review
Is the Invoxia Smart Dog Collar a good option if I'm worried about my dog getting loose and running away?
None of the trackers we tested so far worked perfectly in every situation, which is why it's important to note that these are still only backups for emergencies, not a replacement for training and regularly practicing good recall. So far, the location tracking has worked seamlessly, but they only released the live tracking recently, so we only did some basic testing on that so far.
I look forward to testing their escape alerts, virtual fence, and buzzer features when they come out, as those should be important additions to the safety features.
Is the Invoxia Smart Dog Collar a good option for tracking how much my dog is running around while we are hiking?
It logged in our activities pretty accurately, but it doesn't count steps or the distance, so you will only have the activity time and the breakdown of how much that was spent with running, trotting, etc. The track will also not be a step-by-step track to see how the dog was ranging out from you, but it followed the trails closely enough.
Is the Invoxia Smart Dog Collar a good option to track my dog's overall activity level?
This collar does a good job of logging the time spent with each activity (playing, walking, etc.), and each of these metrics can be checked on a timeline in a daily, weekly, and monthly view.
Is the Invoxia Smart Dog Collar a good option to check on my dog while they are with a dog sitter or at the doggie daycare?
You should be able to use the Invoxia Collar for remote monitoring from work or even from another continent, as you can pull the same stats through the cell network. I haven't put this to the test over a longer period, but I was able to check Zulu's location from a distance.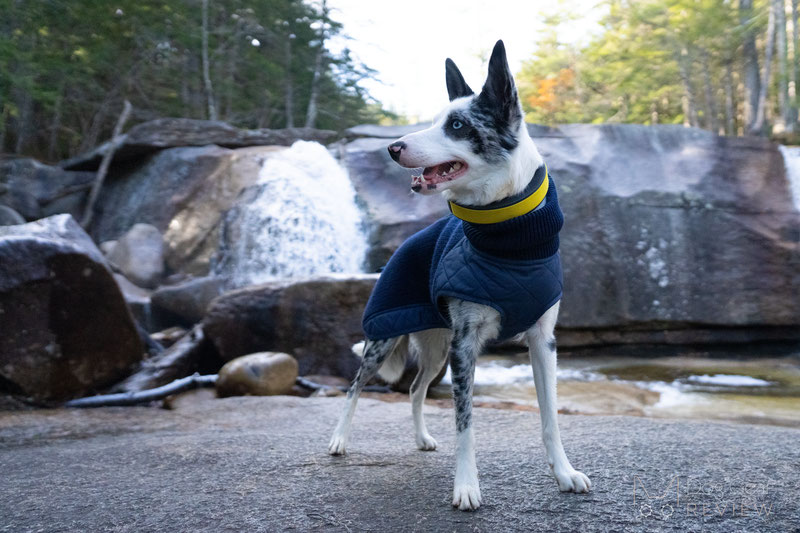 Invoxia Smart Dog Collar Review Summary
The Invoxia Smart Dog Collar combines GPS tracking with health monitoring with plenty of innovation on the latter. Despite assumptions about tightness, the collar is designed to fit like a regular one, collecting health measurements when the dog rests.
The app features various metrics to help you track activity and health data and be aware of trends and spot any changes. The collar's location tracking performed well for us, and the health metrics generally align with expected patterns, though it is hard to confirm the accuracy health data.
The app boasts a user-friendly design and is easy to use. The collar serves as a reliable backup for emergencies, offering live tracking, and upcoming features like escape alerts and virtual fence will add to its safety capabilities. Although the unit might look bulky, it fits very ergonomically and didn't bother Zulu at all.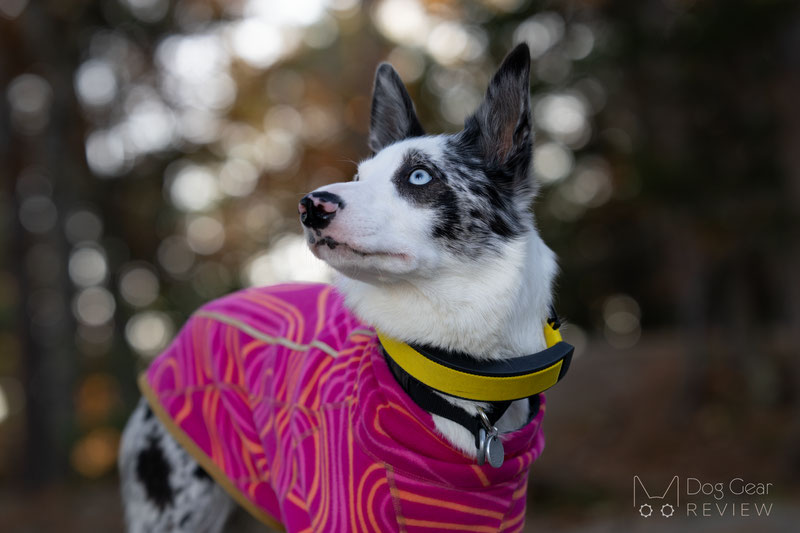 Where to buy
You can buy the Invoxia Smart Dog Collar and choose a subscription on their website and can also find it on Amazon.
Disclaimer: this review contains an Amazon affiliate link, which supports Dog Gear Review if you purchase the product after clicking on it without costing you anything extra. Using affiliate links will never compromise us in writing unbiased, honest reviews!