Discount code at the end of the review!
About Impact Dog Crates
Impact Dog Crates is selling dog crates made of 99% recyclable aluminum since 2013. All crates and accessories are manufactured in Northern Idaho, and all materials are sourced from small US businesses.
They offer three crate designs: the High Anxiety Crate for strong escape artists, the Stationary Crate for at-home use, and the Collapsible Crate that folds down to 8 inches.
About the Collapsible Impact Crate
Although it is pricey, the Collapsible Impact Crate is versatile, so if you have an active lifestyle, you can get away with investing in one crate and use that for flights and dog events and know your dog is secured safely. When used with accessories, it is IATA-approved, which means it can also be used on flights.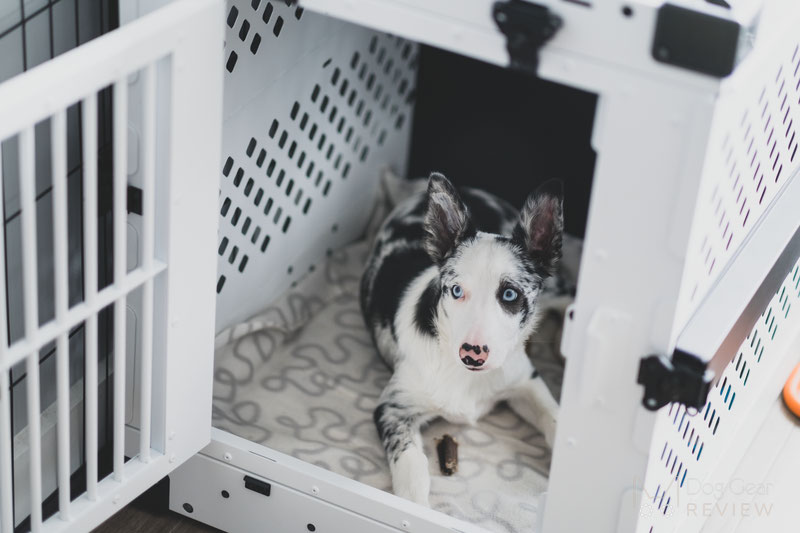 It has two sturdy handles on the top and one on the side, making carrying it easier. These are held down with a spring system, so they don't stick out when not used.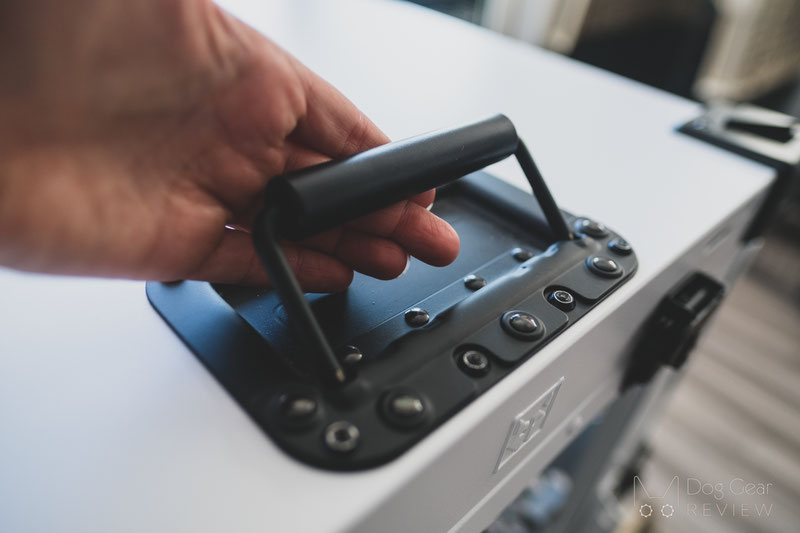 The side panels and the bars locking the collapsible edges are held in place by strong butterfly locks.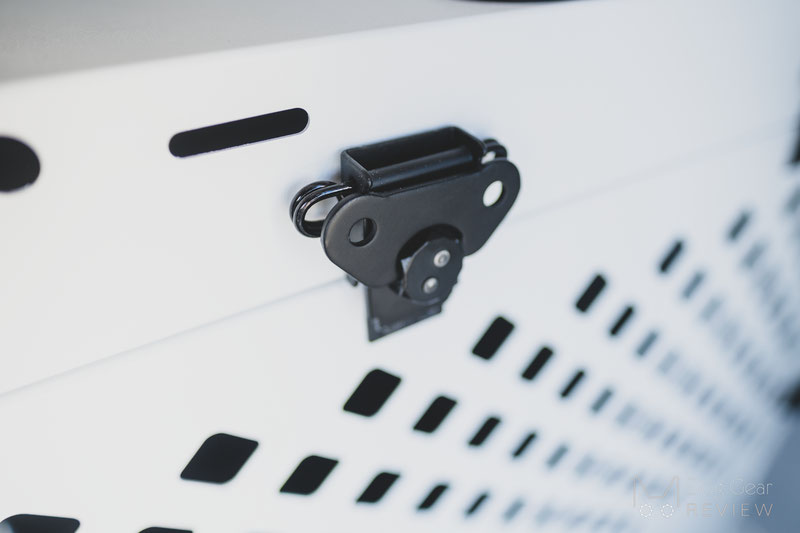 There is a stainless steel slam latch on the door that safely holds the door in place.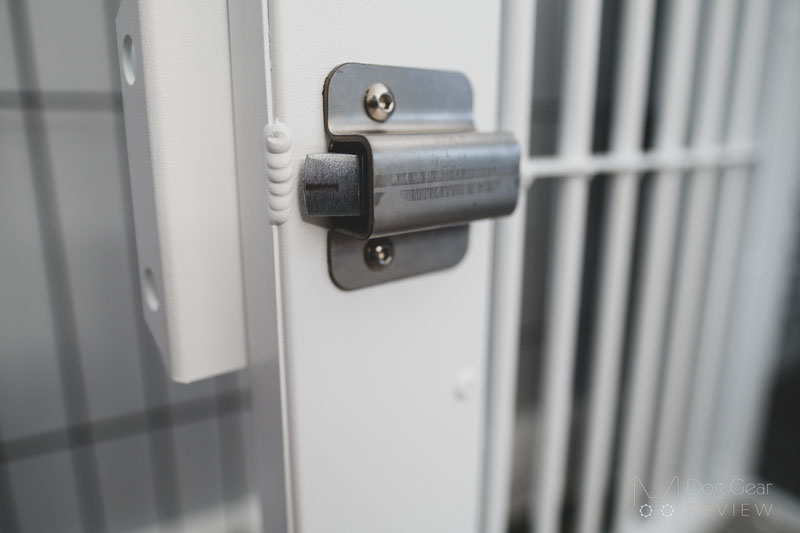 If you want to add a padlock or need to use zip ties to close the door for a flight, there are two holes by the lock that you can use for additional ways to secure the door.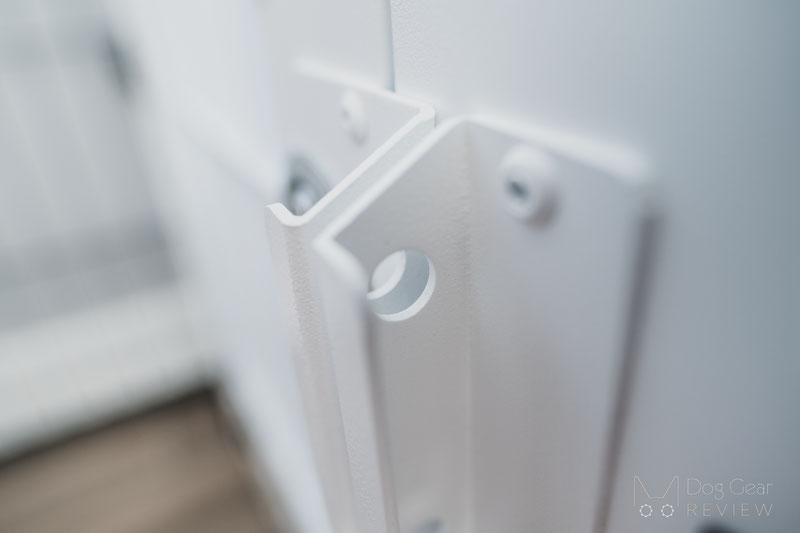 The crates are also stackable, so if you have multiple ones, you can safely put them on top of each other to save floor space.
Collapsible Impact Crate Review
We chose the Collapsible Crate over the stronger High Anxiety or Stationary Crate because its versatility fits our lifestyle and needs better. Neither Mia nor Zulu is a strong dog, and they like spending time in their crates, so I wasn't worried about them needing a more robust structure than the other two styles would offer. Being able to fold down the crate makes it perfect for events and trips, and we can also use this crate if we end up flying with them again.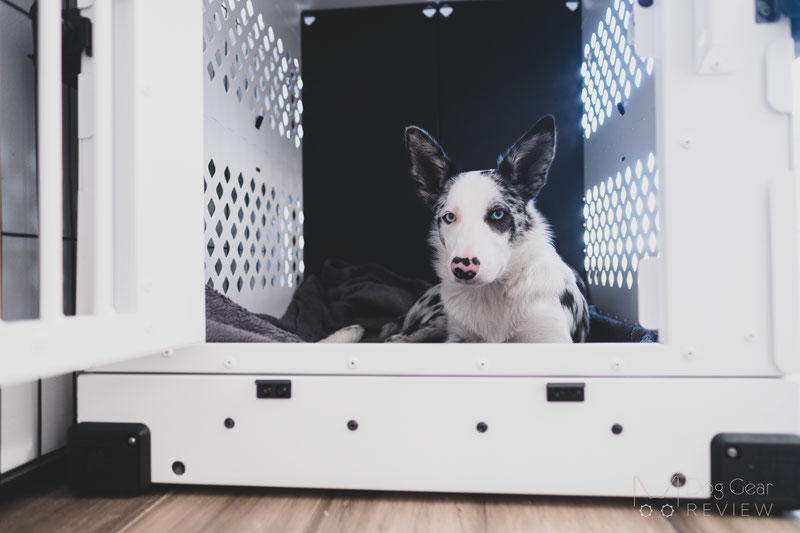 First, let's talk about assembly. I uploaded a video to Facebook to show our first assembly of the crate. I didn't look up the instructions before, so you see some struggle while figuring out some of the steps, but it was absolutely manageable and was much smoother the next time. Turning the butterfly locks needed a little more strength than I expected, but again, that's nothing one can't handle. I think one of the sidebars is the slightest bit bent which is why I needed to apply more pressure to secure it with the butterfly lock; the other side went a lot easier.
The sides are made of Aluminum panels, but when the crate is assembled, and everything is tightened, they do not feel flimsy. If you have a dog who digs or chews on the crate, you will probably notice the coloring coming off from these areas, which is not unexpected in my mind when we think about powder coating.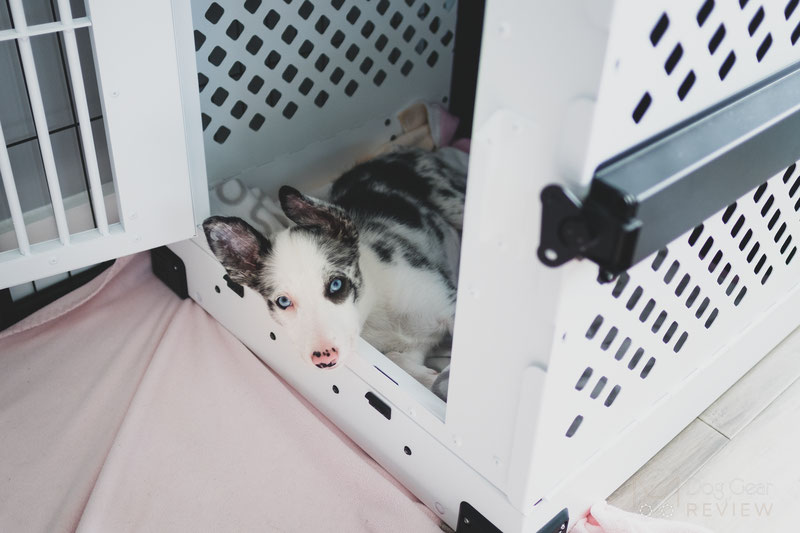 Although they are lightweight compared to their robust design, our 34" crate is still 35 lbs, so if you plan to carry one regularly, grab some weights to see how you feel about it. It is definitely manageable, but if you are not in good shape, don't expect to run up with it to the second floor. They also sell a Wheel Cart that you can use to roll the crate in and out of spaces if needed.
After putting it together, it looked a lot less bulky in the room than expected. The big holes on the side break up the surface nicely, and the white color fits in the space well. It looks blocky from the front but feels a lot airier from the side.
Having the vent holes all the way down on the sides provides better ventilation on the dog's level. Many crates only have ventilation holes on the top, making it harder for dogs to cool down when laying down.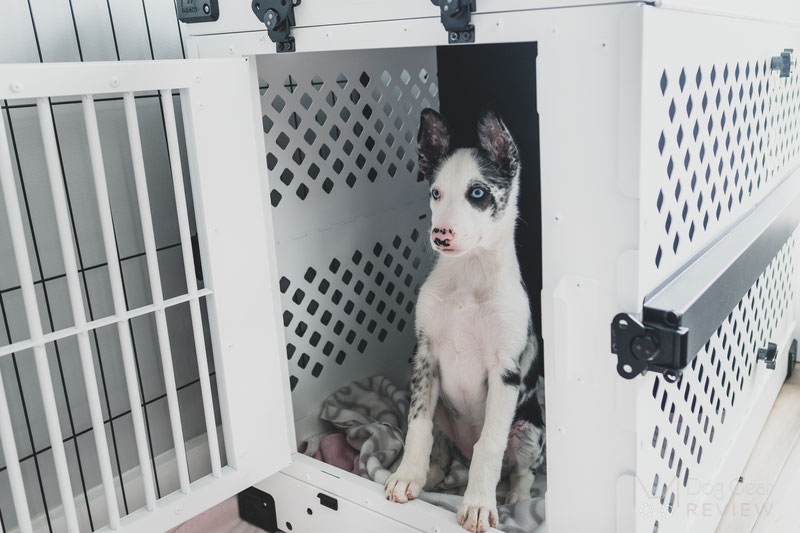 The latch closes more loudly than I expected, so I needed to spend a few sessions making Zulu comfortable with the sound, but that goes back to her sensitivity. She quickly got comfortable and didn't mind it after the first day. It opens very smoothly when pulling on the ring, and it's neat that it locks automatically; there is no need to secure it with additional steps.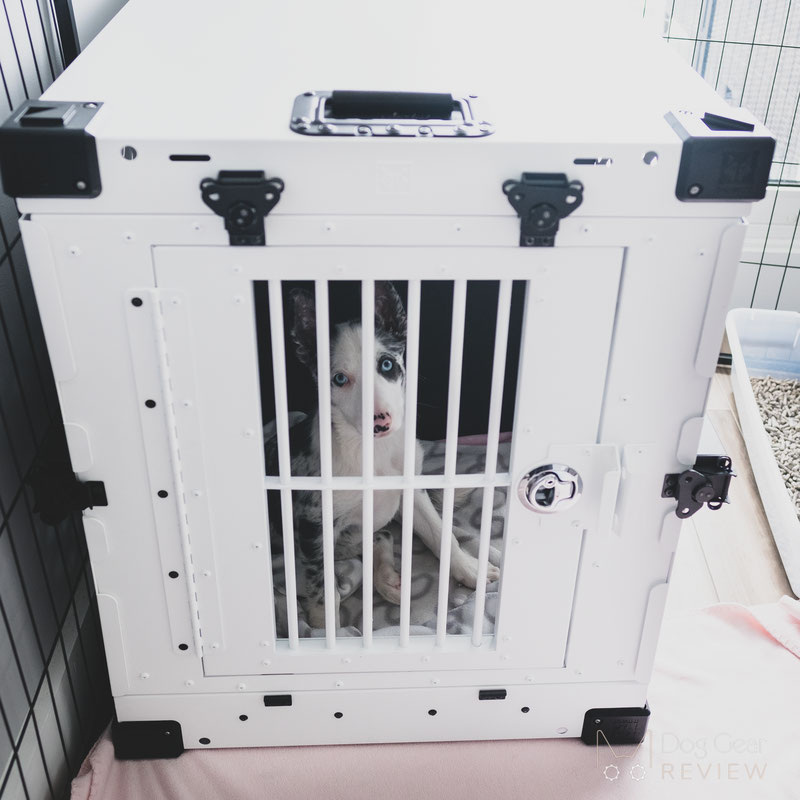 Zulu was a shy puppy, and sometimes she still needs a safe place to hide when she gets overwhelmed by guests. She was a little insecure in her previous wire crate but can completely relax in her Impact crate. Having a more enclosed space helps her feel safe and regroup in busy, loud environments.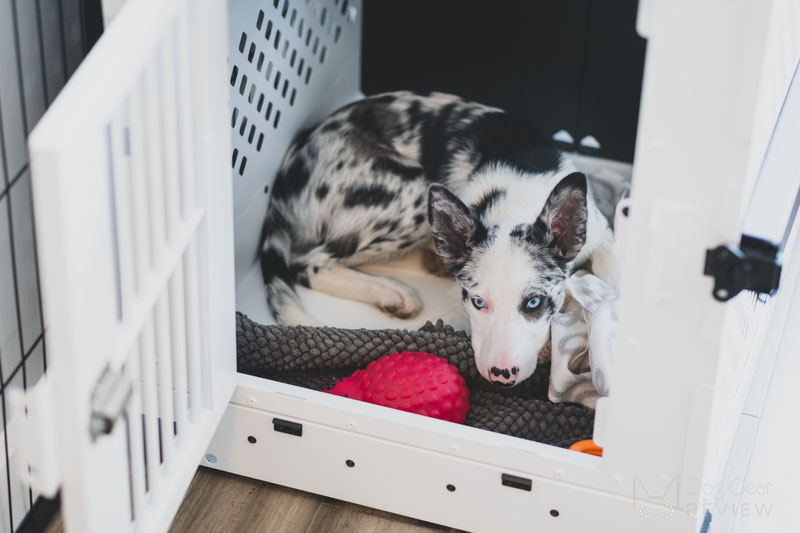 Accessories
Impact Crates offers accessories that can be added to the different crates. We will go through a few of these we tried.
Puppy Divider
Impact Crates recently launched their Puppy Divider that you can safely secure through the vent holes, so you can already use it for a puppy and give them more room as they grow. This is important to ensure they don't start using one corner as a bathroom and the other side as a sleeping area.
The puppy divider is a powder-coated panel that snugly fits in all their crates. It is held in place by two rods that go through three points on the back of the panel to ensure it stays in place well. The rods are secured with four wing nuts outside the crate.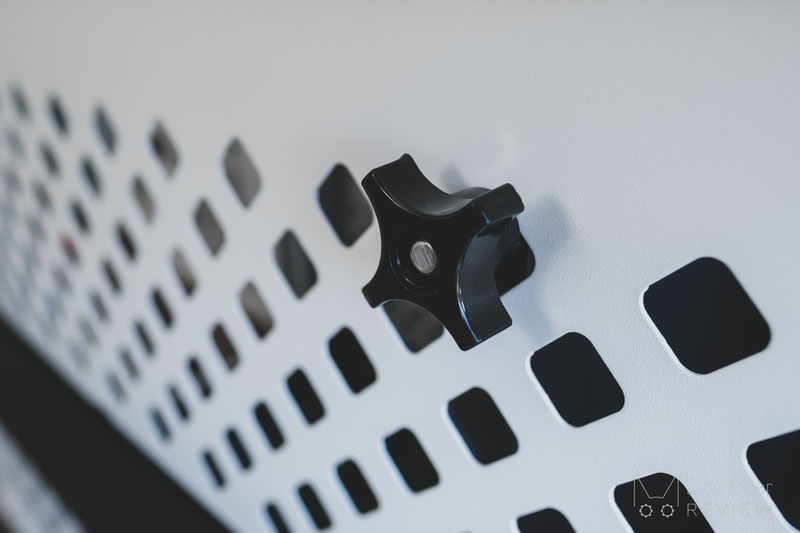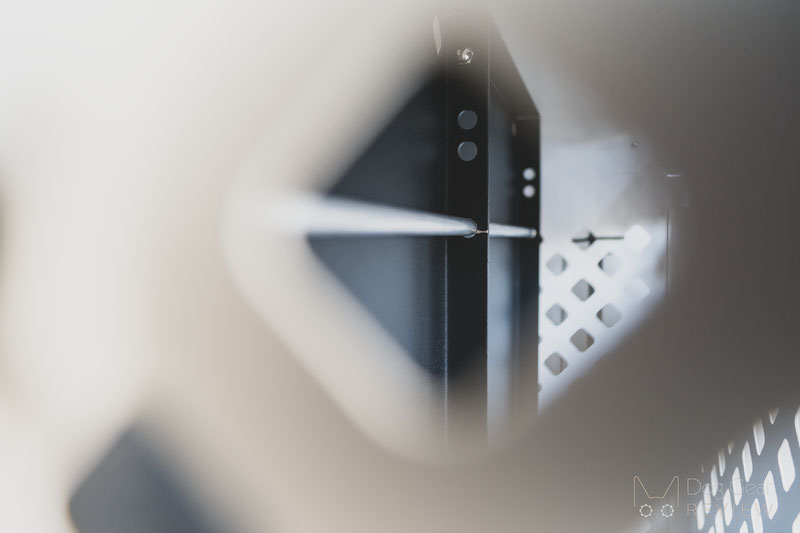 The black powder-coated panel behind Zulu in the photos is the puppy divider I moved a few times as she grew.
It is indeed a snugly fitting panel, so you need to remove the sidebars of the create to move the divider. When placing it somewhere in the middle of the crate, I had a hard time securing the wing nuts alone since I couldn't reach both bottom ones to tighten them simultaneously.
It is not a hard process and is not something you will frequently do; this is just a note that the whole process was a little harder for me to do alone than shown in their instruction video.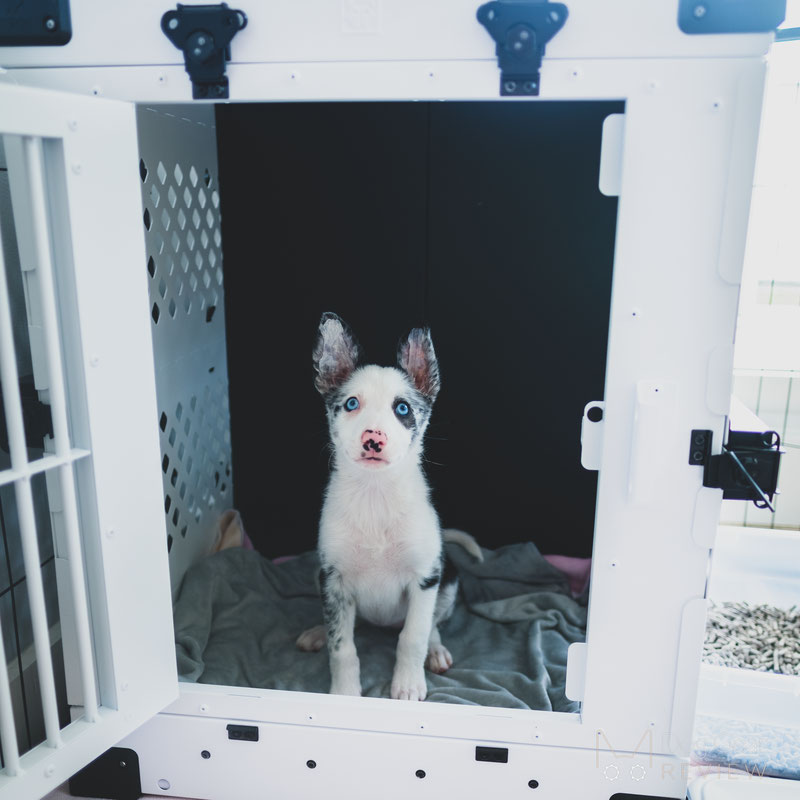 Impact Door Guard
Adding the extra panel to the door makes the crate IATA compliant (for flights) and can also be helpful for dogs who try to chew on the door bars otherwise. Creating a partial visual barrier can also be helpful for anxious dogs or if the crate is used in a busy environment - like dog shows or sport events.
The Door Guard consists of two panels on both sides of the door, secured together by screws.
Vinyl Pad
The Vinyl Pad is a Vinyl-coated Polyester Crate Pad with a half-inch thick foam in the middle.
It snugly fits the crates and provides a low-profile, non-slip surface for the dogs. It is very light and not too soft, just enough to add comfort to the crate.
Since the Puppy Divider is already a snugly fitting panel, the pad cannot be placed under it, so we haven't tried it in the crate yet. However, Zulu likes to play on it, and she started digging it a few times, which didn't do any damage. Mia also uses it on the deck, and she seems to like it!
It seems to be a durable, well-made pad that does the job without taking up space from the crate. If you are looking for a softer mat, they also have a thicker version called Impact Orthopedic Crate Pad.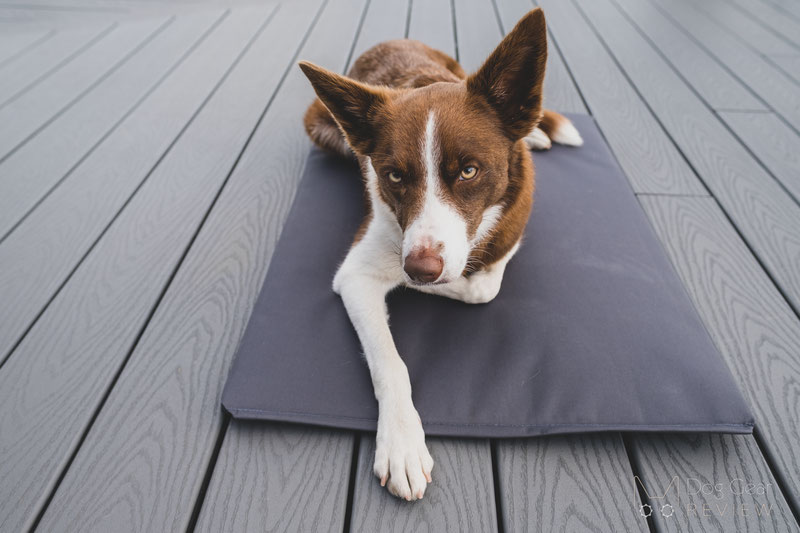 IATA Brackets
When these brackets are installed, they ensure that the crate cannot be collapsed even if the sidebars are removed. It transitions the collapsible design into a stationary crate required by the airlines when shipping a dog. They are added to all sides above and below the folding hinges, securing the side panels in place.
Adding these brackets can also help with the crate rattling in the car, or to reinforce the sides for stronger dogs.
Functionality Review of the Impact Collapsible Crate
The most significant advantage of the Collapsible Crate is its versatility, so let's see how it scores for each of the scenarios below.
Using in the Car
When writing this review, none of the Impact Crates are crash-tested. They did some weight testing with the Collapsible Crate when they stacked 1360 lbs tires on it, which confirms that it is a solid, well-made crate, but we don't have information on how it performs in an accident. The crate also doesn't have an emergency exit / second door that you could use to get the dog out of the cargo area if the back door gets stuck in an accident.
Since we only have a sedan, I couldn't yet test it in the car and will update the review with information on rattling if we finally get an SUV that can fit the crate. Impact recommends the stationary crate for vehicles to avoid the noise, but the IATA brackets should also do an excellent job of preventing rattling.
For car use, I would definitely recommend having one of their beds in there if there is no risk of the dog destroying them because the Aluminum surface is slippery, and the dog will slide around as the car moves, which would make most dogs anxious or at least uncomfortable in there.
At Home Use
It is a good-looking, well-designed crate that works well in our space. The only thing to note when used close to your sleeping area is that the dog bangs around in it fairly loudly compared to other crates. Our dogs move around all night as they change position, dream, etc., and this crate is definitely louder than other plastic or even wire crates.
Using it for Traveling, Events etc.
Having a solid crate that can be collapsed is excellent for an active lifestyle. I like that it can be folded down quickly and easily carried through doors to a hotel room, and it also makes trips to and from the airport easier when you travel with multiple dogs and have a hard time finding a car that fits the larger crates that airlines require. Don't forget to buy the necessary accessories to make the crate IATA-approved before flying!
The 35 lbs weight is something to keep in mind if you need to carry it farther or when checking the weight limit for flying with dogs because they check the dog's and the crate's weight together, but that's the trade-off of having a solid, durable crate.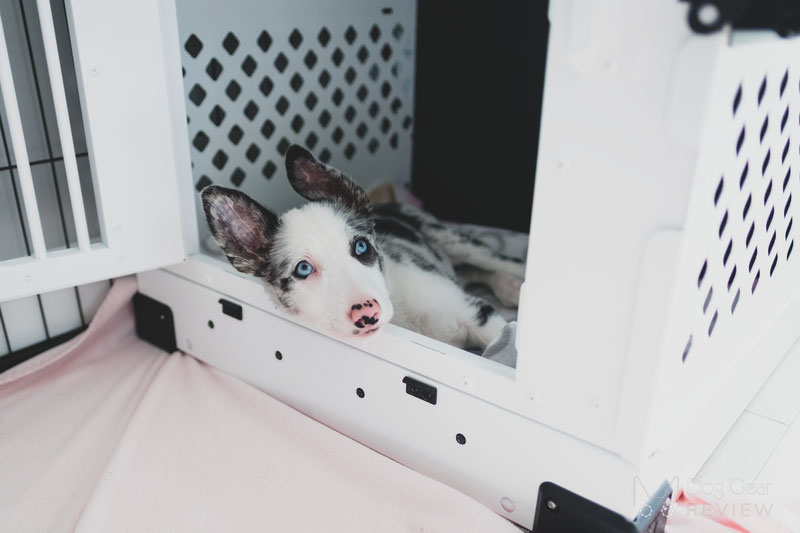 Summary: Is the Collapsible Impact Crate Worth It?
The biggest con of this crate is definitely its price. Since this crate is on the highest end of the price spectrum, it only makes sense to buy it if you can utilize it in different scenarios. Having one crate instead of juggling multiple ones for different needs is very comfortable, especially since they launched the Puppy Divider. Now you can use the Impact Crate crate for your puppy from day one and use that at home, while traveling, on flights, etc. Its selling point is its versatility and packability while offering more protection/safety than most other options on the market.
It is a well-made, robust, Aluminum crate. Being able to collapse it and just put it in storage when not needed is an excellent feature if you are running out of space or need to haul dog stuff in the car. Having more sensitive, anxious dogs also makes me appreciate this crate's visual barrier while it still has decent ventilation.
Although it is much stronger than the wire or cheaper plastic crates, remember to check out their other two crate styles if you have a strong dog who escapes everything.
Where To Buy & CODE
You can buy the Impact Crates and their accessories on their website and get 15% OFF with the code "DGR"!