About Illumiseen
Illumiseen is dedicated to offering high-visibility LED products for people, horses, and dogs. They have a variety of options worth checking out! :)
The details of the Reflective LED Dog Safety Vest
This vest offers everything you can ask for if you want visibility! It has a bright neon orange color, reflective edges all around and three LED lights on each side with a rechargeable battery.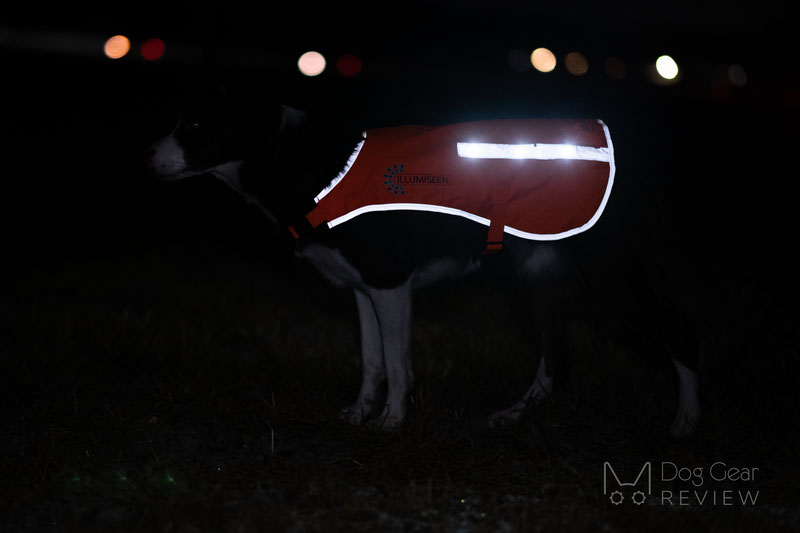 The LED lights are bright and have three lighting modes: slow flashing, rapid flashing, and static/solid mode.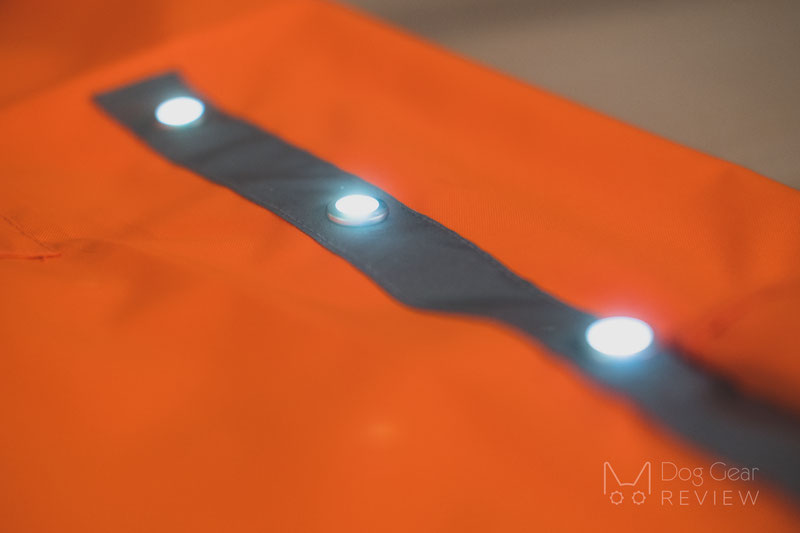 The rechargeable battery is stored in a small pocket at the back of the vest, and it only takes an hour to be fully charged.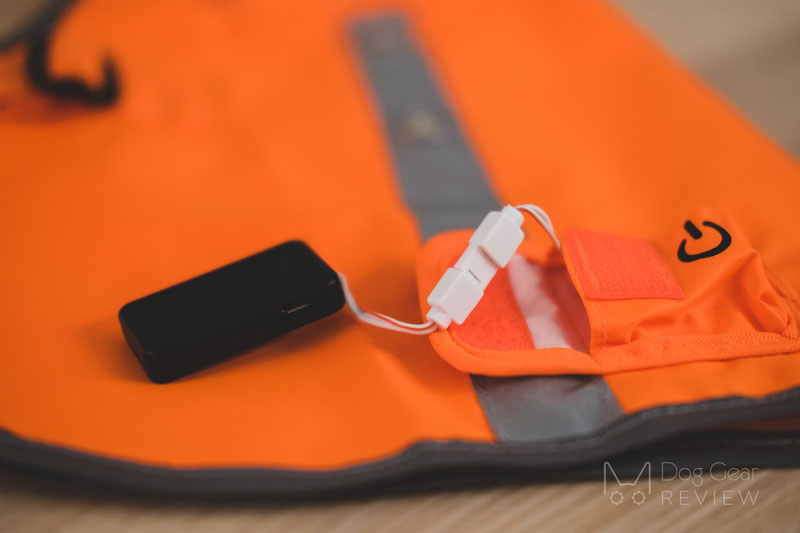 The vest is adjustable on the front (around the neck) and around the chest with the elastic strap. The buckles are small, lightweight buckles made from plastic. We had no trouble opening them even on freezing nights, which happened with some other plastic buckles.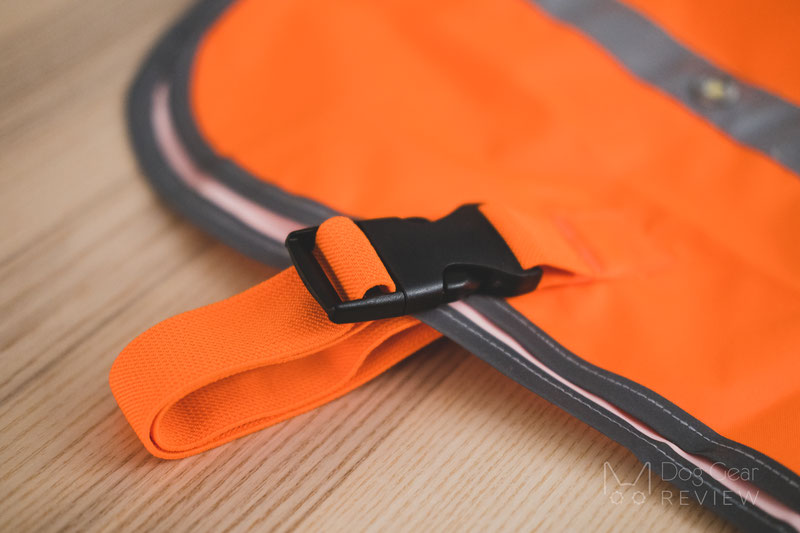 Illumiseen LED Dog Vest Review
We received this vest in the fall, just in time for those dark morning and night walks. We were also excited to start using this vest because we have weekly Search and Rescue trainings at night. Since Mia is still a beginner, it helps a lot to clearly see her movements when she is farther away from me. With this vest, it was much easier to see her body posture, movement, speed, etc., compared to when only a LED collar gives a point of reference.
After using it for months, we tested the battery at home to see how long it would work with a full charge. I was surprised that it was still glowing after 9+ hours! Temperature change and turning it on and off can be hard on the batteries, so this was an overly ideal situation to test it. Still, it is impressive. The light started to be less bright after 7 hours, but it was still weakly glowing after 9 hours.
In general, I was surprised how well the battery worked. It's also good that the lights slowly fade when the battery is getting low instead of just turning off as their LED collar and leash. This way, you will get a feeling that you need to charge it before the next walk.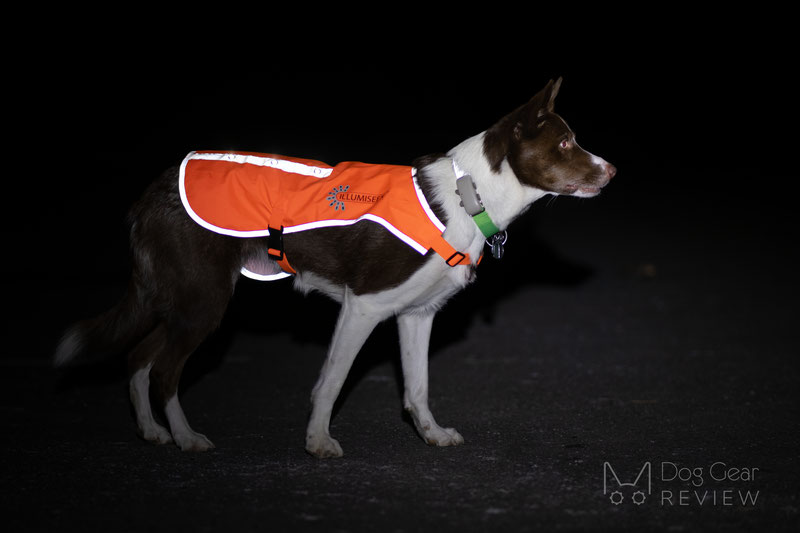 The vest's material is thin and lightweight, which makes it suitable for warmer days as well. During the freezing winter nights, I put it over a base layer which was easy with the adjustable straps. I had concerns about the material holding up while Mia runs through the woods at night on trainings, but it doesn't have any tears yet. Honestly, I am not sure if this is due to the durability of the vest or just luck because it does feel very thin.
The vest, and mainly the battery, are water-resistant but not waterproof. It can handle walks in the rain but don't let your dog go for a swim while wearing it. If you need to clean it, use a wipe cloth or damp sponge to wipe down the vest and drip-dry before the next use.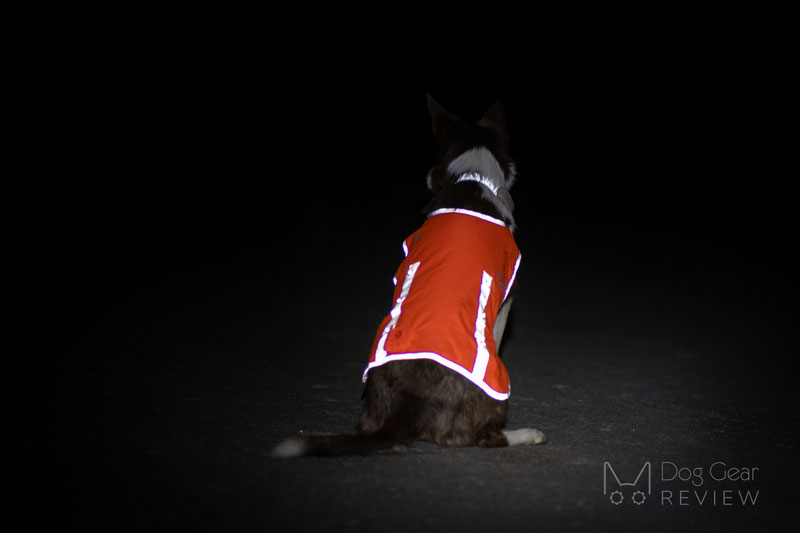 The only slightly annoying thing about this vest is that sooner or later, the battery's weight is rotating the vest to the left. It doesn't get worse than in the photo below. Still, this makes the right side less visible by the LEDs almost being on the top instead of the side. Sliding was less of an issue when used over another coat.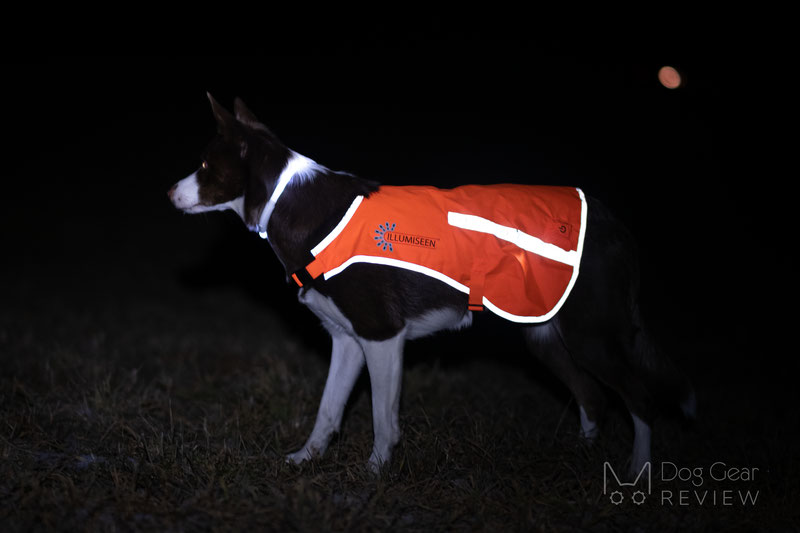 Summary
This vest delivers everything that offers, but only that. It stays on (although it rotates a little), the elastic straps make fitting easy, and most importantly, it provides good visibility. At the same time, it will not keep your dog warm; it's not a raincoat; you can't attach a leash to it, and the material is not strong enough to protect the dog from anything in the woods.
The photo below shows the vest in the dark, with some light coming from far behind me. As you see, it provides excellent visibility at night, and the orange makes it visible during the day as well. I also like that it doesn't take up much room and it's so light that you can carry it in your pocket if needed.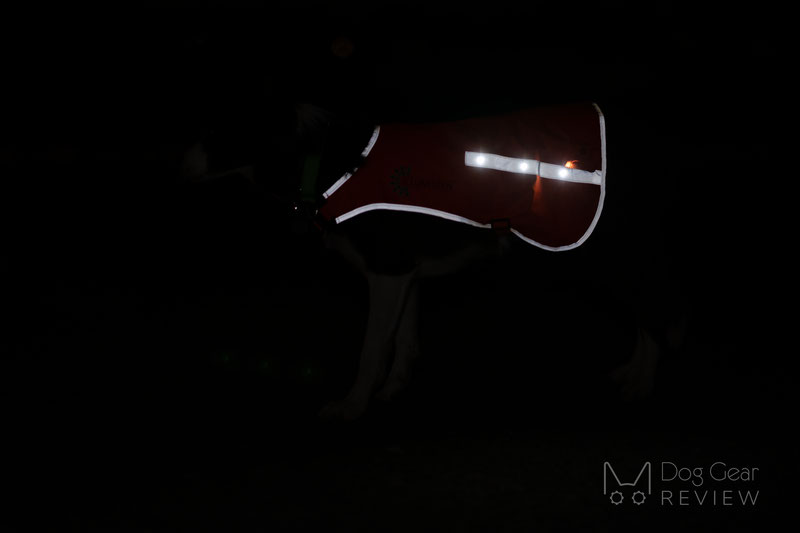 Where to buy
You can buy all their high-visibility LED products on their website and on Amazon. The vest comes in five sizes, from XS to XL; for reference, Mia has a Medium vest.
The orange LED collar and LED leash (that we also reviewed) perfectly matches the vests, but they also come in different colors. A nice extra that Illumiseen offers a lifetime guarantee for all their products, and I only heard great things about their customer service!
Disclaimer: this review contains an Amazon affiliate link, which supports Dog Gear Review if you purchase the product after clicking on it without costing you anything extra. Using affiliate links will never compromise us writing unbiased, honest reviews!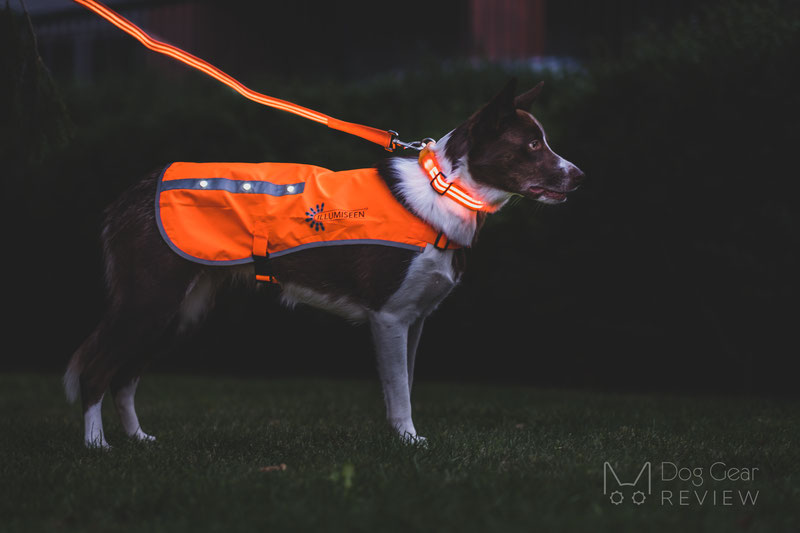 Mia's measurements
Many of you asked Mia's measurements to better understand the different products' fit. Your best chance of finding a good fitting gear is always to measure (and remeasure) your dog. Even we grab the measuring tape before getting a new product - even though we tested a lot of them, and have a good feeling of her size by now.
I share her measurements below, but don't go ahead and order the same size just because your dog is similar to Mia ;)
Shoulder height: 19.5 inches (50 cm)

Weight: 37-44 pounds (17-20 kg)

Widest chest circumference (where the most harness would have the chest strap): 25-26 inches (63-65 cm)

Neck circumference for collars: 15-16 inches (38-40 cm)

Back lengths: 22 inches (56 cm)