About Illumiseen
Illumiseen is dedicated to offering high-visibility LED products for people, horses, and dogs. They have a variety of options worth checking out! :)
In this review, we will talk about three of their products: the LED Collar, the LED Necklace and the LED leash.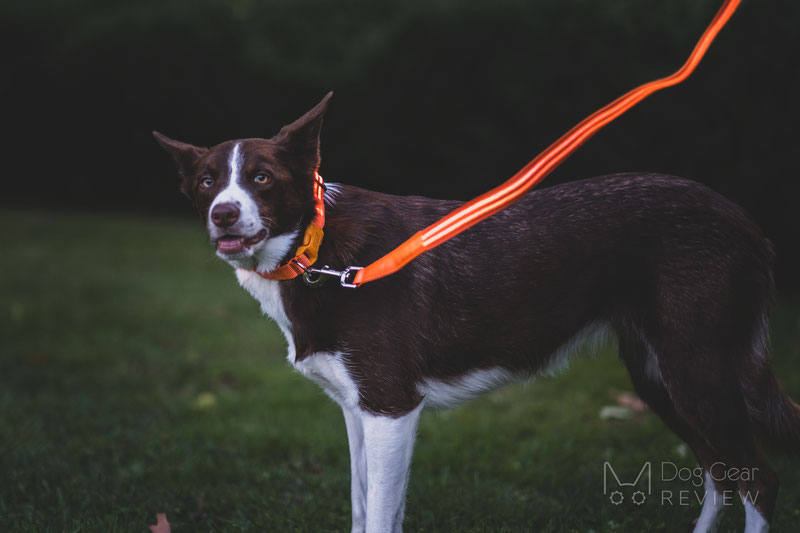 Illumiseen LED Dog Collar Necklace Review
The LED Necklace is a bright collar, brighter than their LED collar that we will introduce in the next section. When Mia wears the Necklace in a pitch dark forest, the Necklace illuminates the environment as well, so it's visible even when Mia is walking away from me, covering the collar.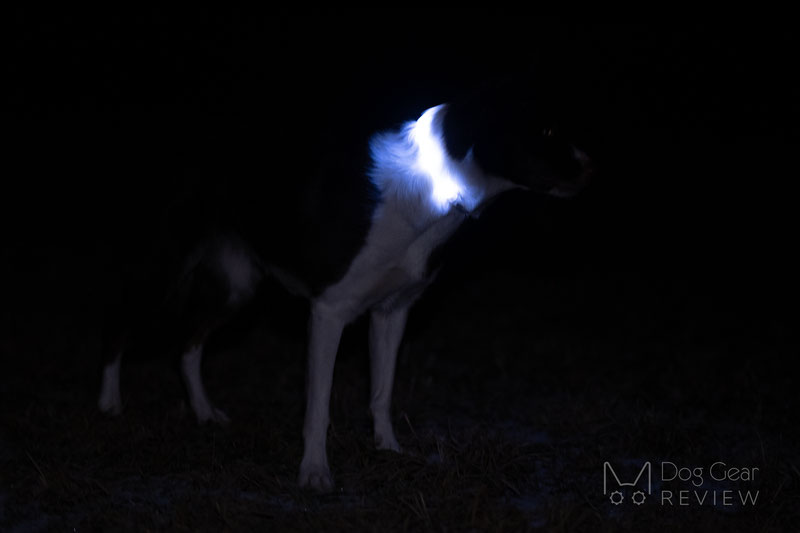 The Necklace has the lights in a 27 inches (69 cm) long tube. Before using it, you can easily open the loop, cut the "tube" and the lights with a scissor to the right lengths and then connect it again. It can fit neck sizes from 9.0" to 27.6" (23-70 cm). Since this Necklace cannot be used to attach the leash anyway, you can leave it longer than your dog's collar size. This makes it easy just to slide it over the dog's head when putting it on/taking it off, and it will also have a harder time getting lost in the dog's hair.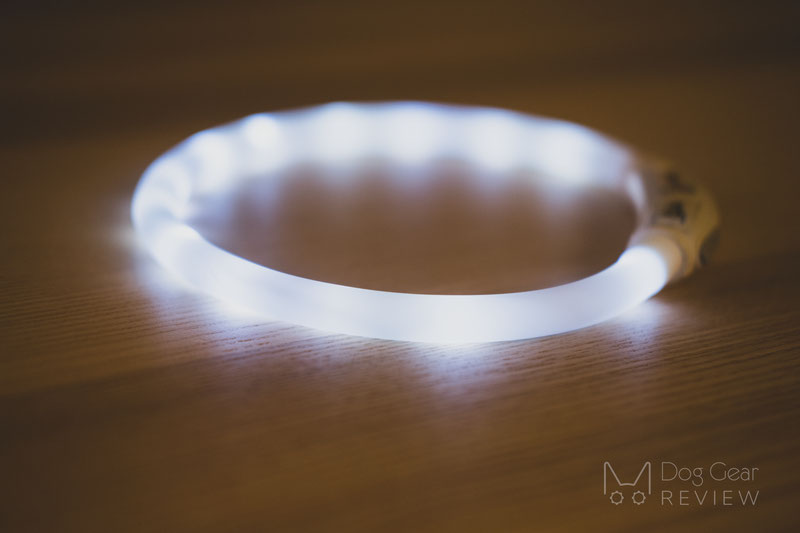 It has three light modes: steady, slow flash, and quick flash. You can switch between these by pressing the on-off button. On the description, they promise three hours of battery time in steady mode, while flashing mode boasts this to 5-6 hours. After using it for months, we tested at home how long it would work with a full charge, and I was surprised that it was still glowing after 10+ hours. Temperature change and turning it on and off can be hard on the batteries, so this was an ideal situation to test. Still, it is impressive. The light started to be less bright after 9 hours, but it was still somewhat glowing after having it on for 10,5 hours.
The battery is easy to recharge with the USB cable it comes with.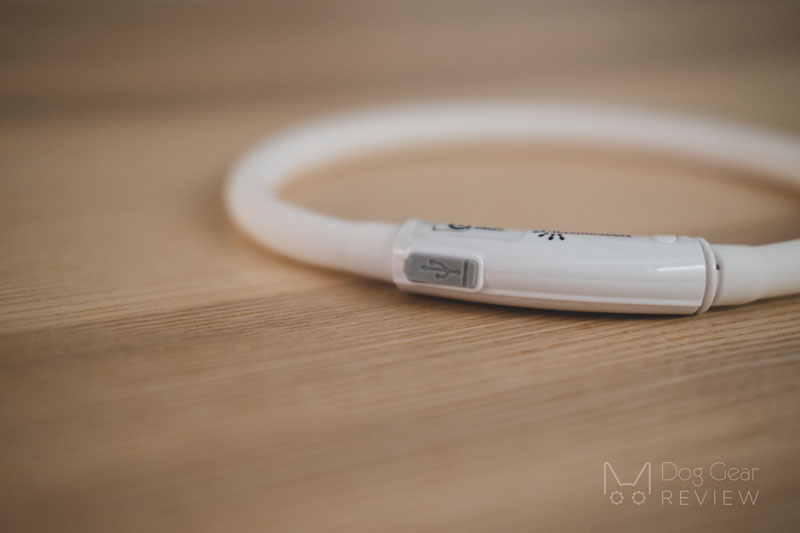 The Necklace is so bright that I actually stopped using it for night searches after a while because I felt it might interfere with Mia's night vision. Dogs see well enough in the dark, but having a brightly illuminated circle around them can make it hard for them to see what's outside the light-up area. We mainly used it for city walks because it is so visible from all sides. I also enjoyed that I can quickly slide it over her head without using another buckle.
When writing this review, the Necklace comes in six colors. I believe they use the same LED lights for all colors, and it's only the "tube" that colors the light. We used the white one, and I assume that would be the brightest between these options, but I haven't compared them.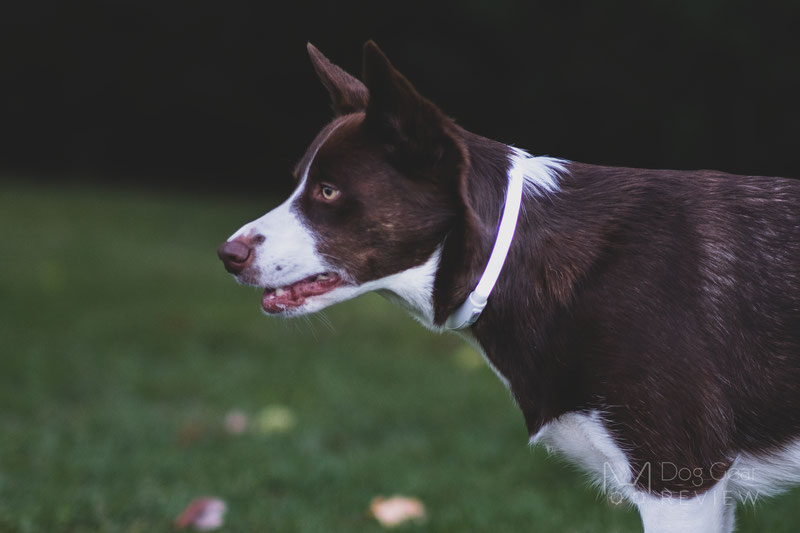 Illumiseen LED Dog Collar & Leash Review
The Illumiseen LED Dog Collar and the LED Dog Leash are a matching set, made with the same lights, design, material, etc.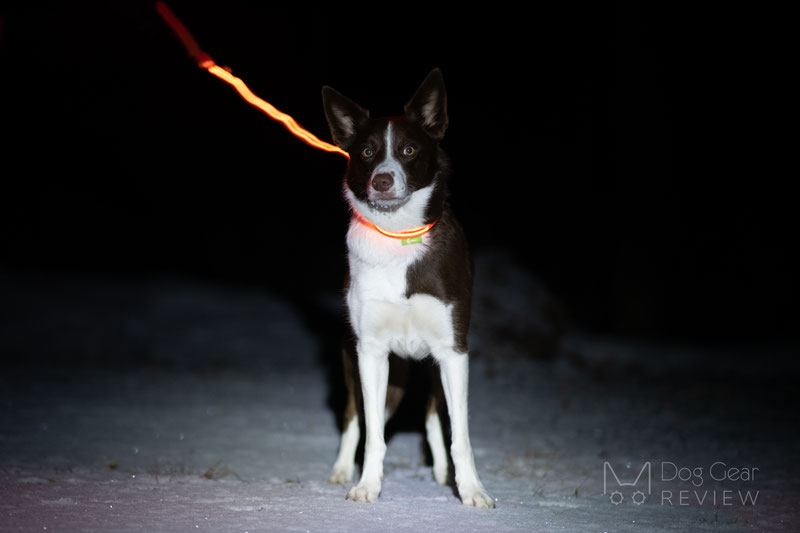 The collar is a lightweight, adjustable design with two light strips on it. The rechargeable battery is hidden between the two layers of material. You can turn it on/off and switch between the three modes by pressing this part of the collar.
The product description promised 5 hours of battery time, but we usually got 7-8 hours for both. Charging the leash and the collar is a little weird because they light up while charging (the whole leash/collar), and they will only turn off when fully charged.
We only had trouble with the batteries on truly freezing days (colder than -10 Celsius / 14 Fahrenheit) with strong wind. I experienced the collar turning off on these days when the battery was getting low (maybe around 40%, hard to tell). I was able to turn it back on, and it worked again for ~5 minutes before shutting off again, which is actually normal behavior for some batteries. After knowing this, I just made sure to charge them before training in the cold and haven't had trouble with it again.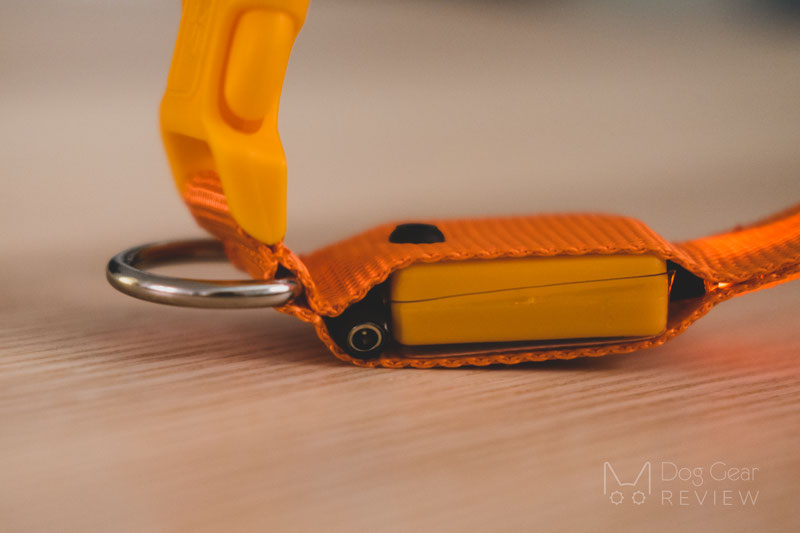 My only quality concern would be the colored plastic buckle on the collar. It doesn't feel the highest quality, but we haven't had any trouble with it. I probably wouldn't trust it as the primary collar with a strong dog who tends to lunge or pull.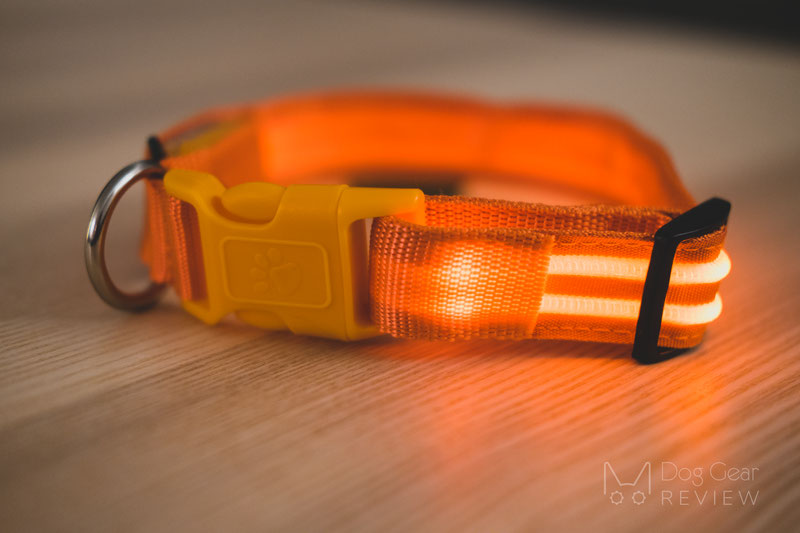 The visibility of this collar is excellent, and it is wide enough that it doesn't get lost in the dog's hair. The collar is visible even from far away, while it isn't that bright that it would light up the dog's environment. As mentioned before, the latter was a pro in my mind because dogs probably see better in the dark this way.
The collar comes in six sizes and six colors; Mia has a Small one.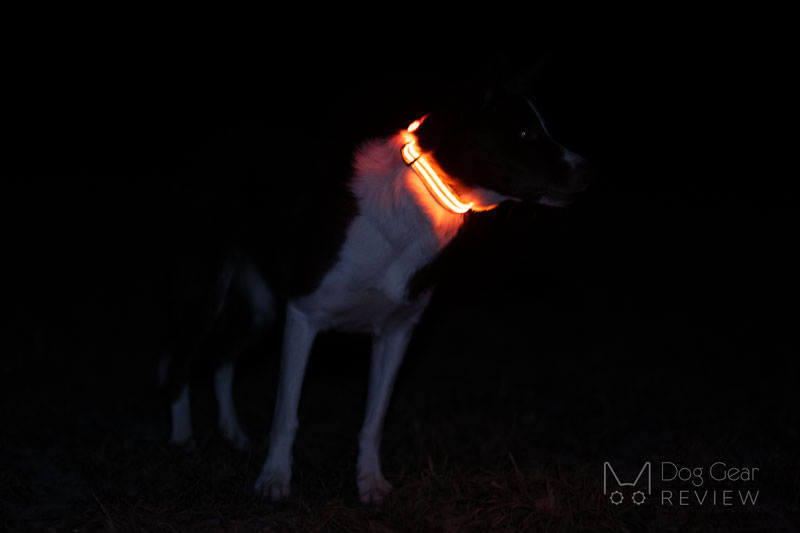 As I mentioned, the LED leash is matching the collar perfectly in color and design. The handle is nicely made, a little padded with a synthetic-looking material. The handle is too wide to easily use the leash's carabiner to loop it around your shoulders.
The leash comes in a 4-feet and a 6-feet version. We used the 4 feet leash, and it was comfortable for city walks. Due to the integrated lights, the leash feels more "rigid" than other leashes. It is also more slippery than most leashes; it's hard to have a good grip on the leash itself unless you hold the handle.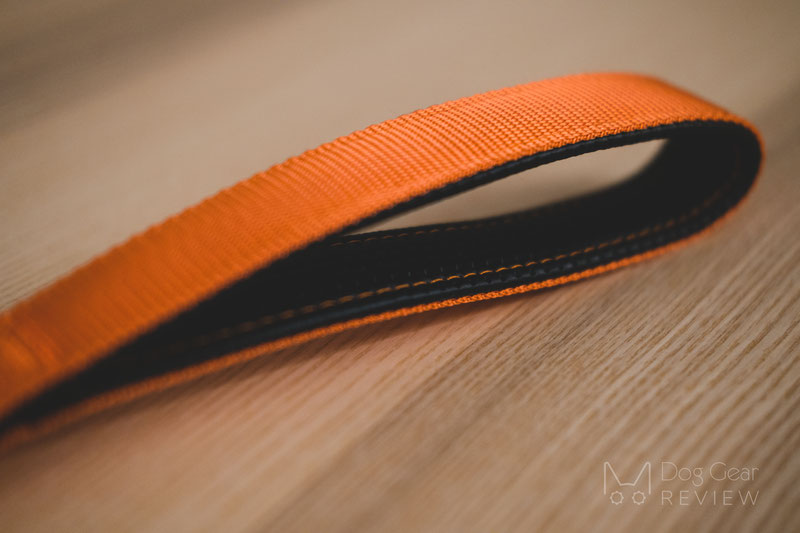 The rechargeable battery is hidden the same way as we saw with the collar. It is just below the handle of the leash and is easily accessible for charging.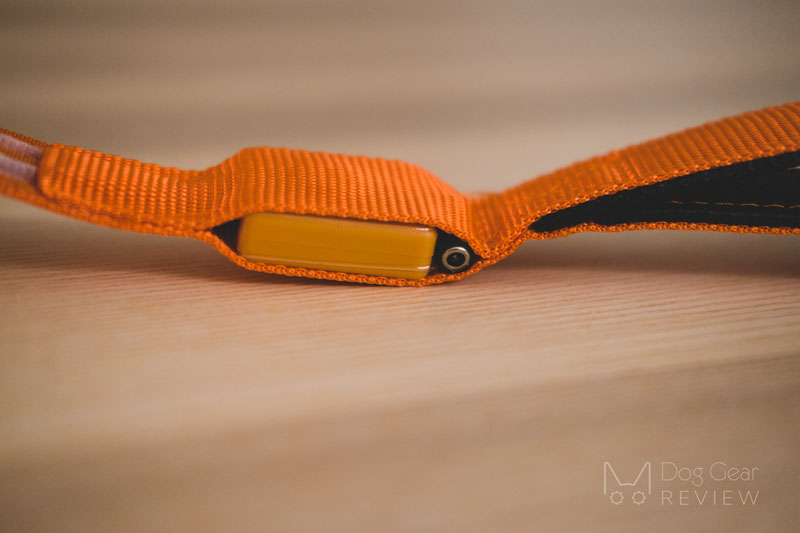 Having a LED leash makes a lot of sense if you walk by busy roads because it is visible from farther away and from all angles. The LED collar might be temporarily blocked by you walking the dog or walking in the other direction, but the leash keeps you lit up in all these situations.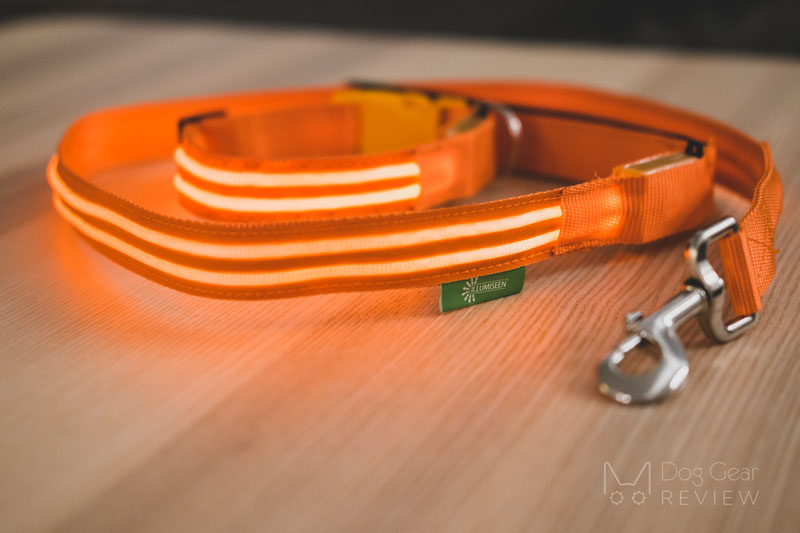 Summary
These LED products came in handy for all our night walks this season. We also used them for the weekly night Search trainings in forests which gave me plenty of time to observe and compare their visibility from a bigger distance in an environment without any other light source.
Both their visibility and battery time exceeded my expectations. I expected to struggle with low batteries constantly, but I easily got away with weekly/biweekly charging sessions.
The only information I am missing at this time is the waterproof rating of all these LED products. By looking at the materials and charging solutions, I would assume they are water repellent but not waterproof. They seem to be able to handle rain but would probably not survive swimming. I reached out to Illumiseen to confirm it but haven't heard back yet. I will update the review when I know more about this.
Where to buy
You can buy all their high-visibility LED products on their website and find the leash and the collar separatrely on Amazon.
Illumiseen also has a LED vests that that we reviewed as well. It nicely matches these LED products if you are looking to add even more visibility to your night walks ;) A nice extra that Illumiseen offers a lifetime guarantee for all their products, and I only heard great things about their customer service!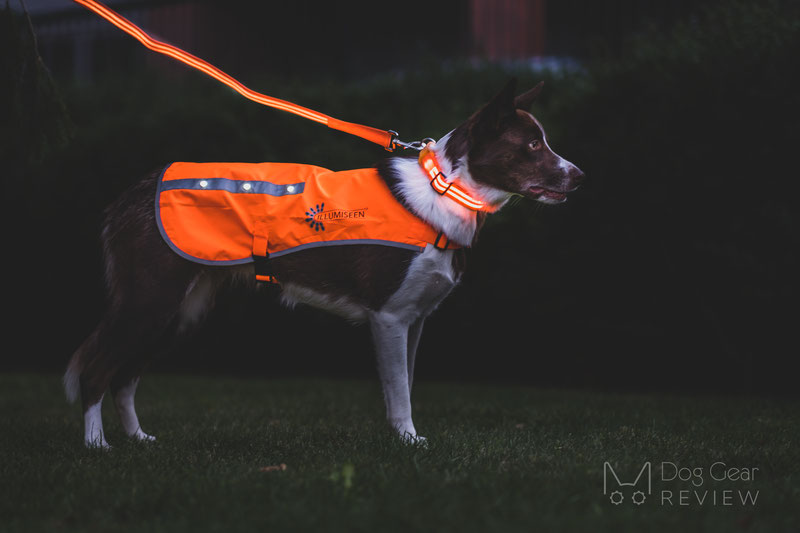 Mia's measurements
Many of you asked Mia's measurements to better understand the different products' fit. Your best chance of finding a good fitting gear is always to measure (and remeasure) your dog. Even we grab the measuring tape before getting a new product - even though we tested a lot of them, and have a good feeling of her size by now.
I share her measurements below, but don't go ahead and order the same size just because your dog is similar to Mia ;)
Shoulder height: 19.5 inches (50 cm)

Weight: 37-44 pounds (17-20 kg)

Widest chest circumference (where the most harness would have the chest strap): 25-26 inches (63-65 cm)

Neck circumference for collars: 15-16 inches (38-40 cm)

Back lengths: 22 inches (56 cm)