Dog Cooling Mats
Dogs naturally look for a cooler surface to lay on when it's hot, so providing a cooling mat is a great way to help them stay cool over the summer.
Many cooling beds use some type of gel, which is great material unless the dog happens to be a chewer. For this reason, most of the new gel cooling mats use a non-toxic gel, but not all so make sure to double-check this before buying.
Other beds/mats use ice, a much safer solution around chewers. If you choose a mat with ice, ensure there is some insulation/padding around the ice so the surface doesn't get overly cold for the dog. Just like when you need to apply ice on yourself - you want limited contact through a cloth or another insulating layer.
About the Green Pet Cooling Mat
The Green Pet Cooling Mat is an award-winning cooling mat with a patented gel formula. It provides relief from heat without the need for refrigeration, water, or electricity. The product's naming is a bit inconsistent on different platforms, so to clarify, the brand name is Green Pet, and the product's name is Cool Pet Pad.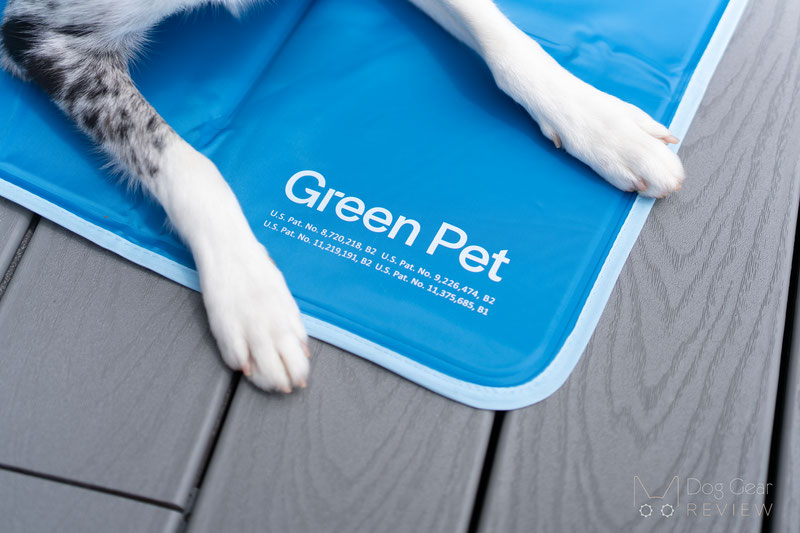 While it is a versatile cooling mat, remember that it is not intended to be used in direct sunlight and over hot surfaces, as that would limit its ability to absorb the dog's heat over the environment.
The main features of this cooling mat:
Non-toxic gel maintains a lower temperature than your dog's body without overcooling them.
Instant cooling effect lasts up to 3 hours.
Cooling ability recharges within 15-20 minutes of non-use (no refrigeration needed).
Portable, foldable, easy to store, and easy to wipe clean.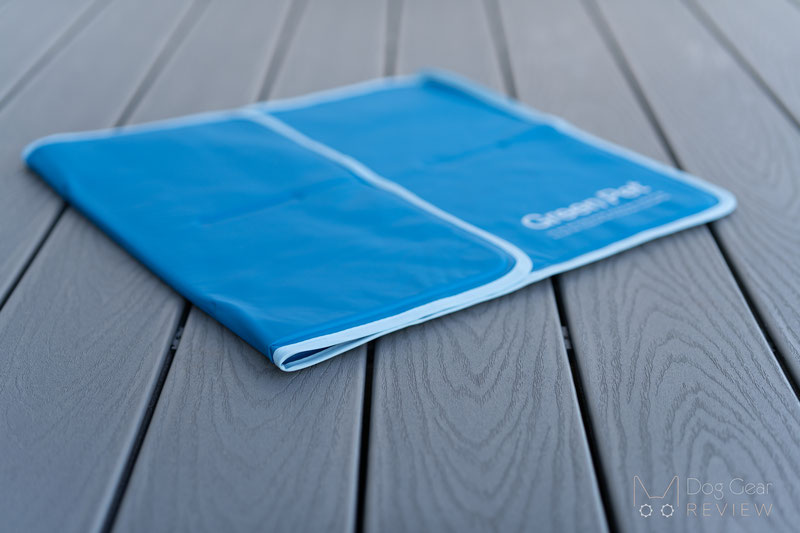 Green Pet Cooling Mat Review
The Green Pet Cooling Mat is perfect for long days/multiple days at dog shows and competitions when using an ice-based cooling mat wouldn't be practical. It is a low-profile mat, making it easy to add over a bed, in the crate, and bring along for events or camping trips.
I mainly used this inside our home, over Zulu's memory foam bed, to see how she likes it on hot days. It seems to be a success, and I can also confirm its effectiveness as I sat on Zulu's bed to give her some cuddles, and I was definitely chilled after a few minutes. Adding it on top of a bed adds extra cushion to the mat while extending the use of the otherwise warm memory foam bed over the summer.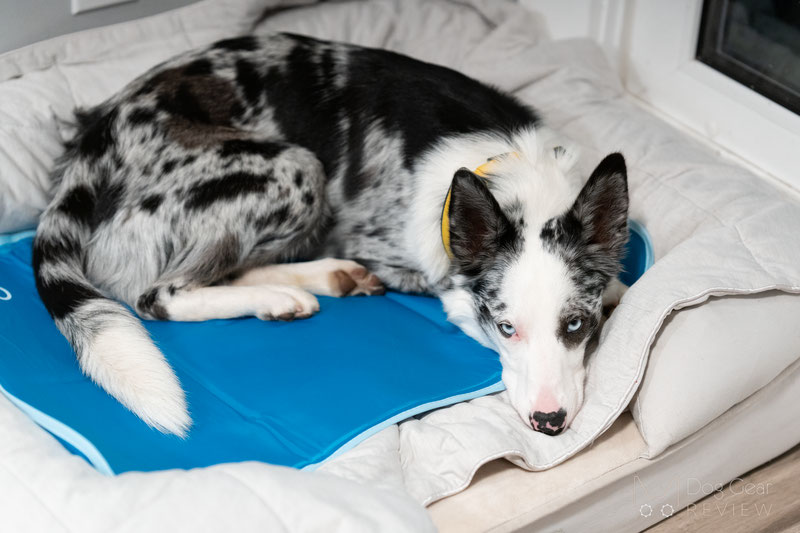 When checking with the heat cam, I expected to confirm the cool surface, but it was interesting to see that it was still cold under the Zulu when she stood up after 5 minutes on the mat.
In the case of most non-freezer-based cooling mats/blankets, the surface still warms up under the dog, just not as fast as other materials would, or it takes less time for them to cool down when the dog moves. However, with the Green Pet Cooling Mat, it was very clearly visible that the surface of the mat was just as cool under the dog as on other sections.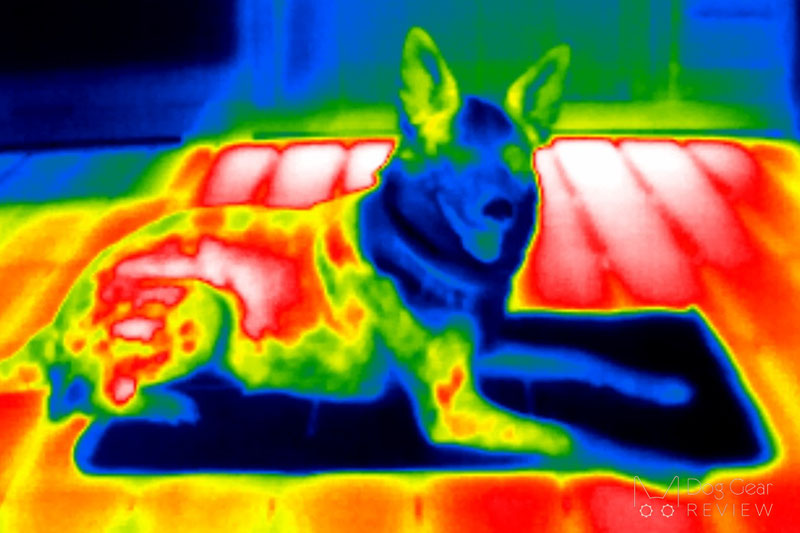 Review Summary
In conclusion, the Green Pet Cooling Mat is an award-winning cooling mat designed to provide heat relief for pets.
Its patented gel formula offers a lower temperature than a dog's body, ensuring effective cooling without overcooling. The mat provides a cooling effect of up to 3 hours and can recharge within 15-20 minutes of non-use without refrigeration.
It's versatile, portable, and easy to clean. While unsuitable for direct sunlight or hot surfaces, it's great for various scenarios, including dog shows, competitions, and indoor use.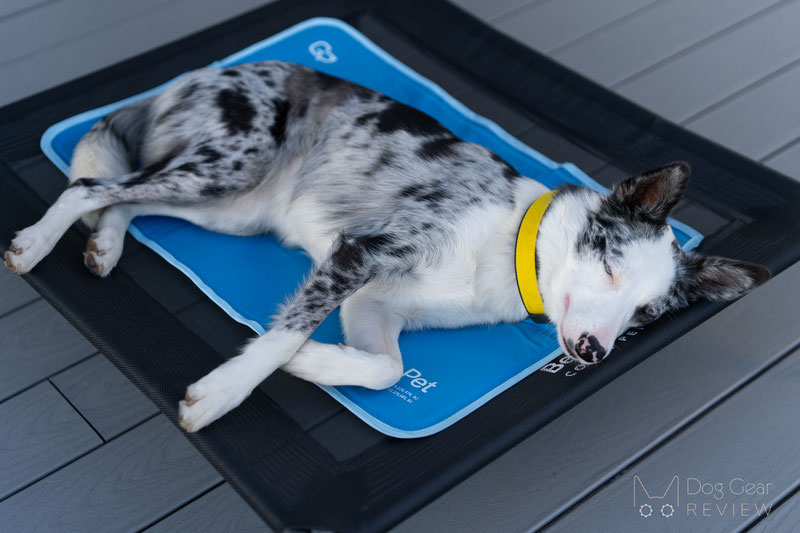 Where to buy
You can buy all the Cooler Dog Hydro Cooling Mat through Cleanrun or Amazon.
Disclaimer: this review contains an Amazon affiliate link, which supports Dog Gear Review if you purchase the product after clicking on it without costing you anything extra. Using affiliate links will never compromise us in writing unbiased, honest reviews!