FunnyFuzzy is the brainchild of pet lovers aiming to cater to their pets in innovative ways while reimagining the pet ownership experience. Inspired by their dog's color preferences, the founders crafted a pet lifestyle brand that designs products from a pet's perspective, incorporating colors like blue and yellow that dogs can see.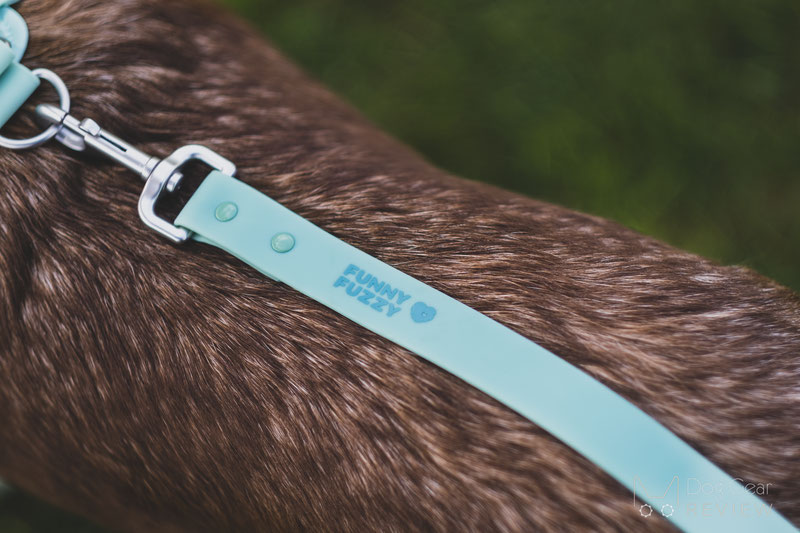 About the Gummy Dog Harness
The Gummy Dog Harness is a stunning Y-harness with four adjustment points and two buckles on the chest strap.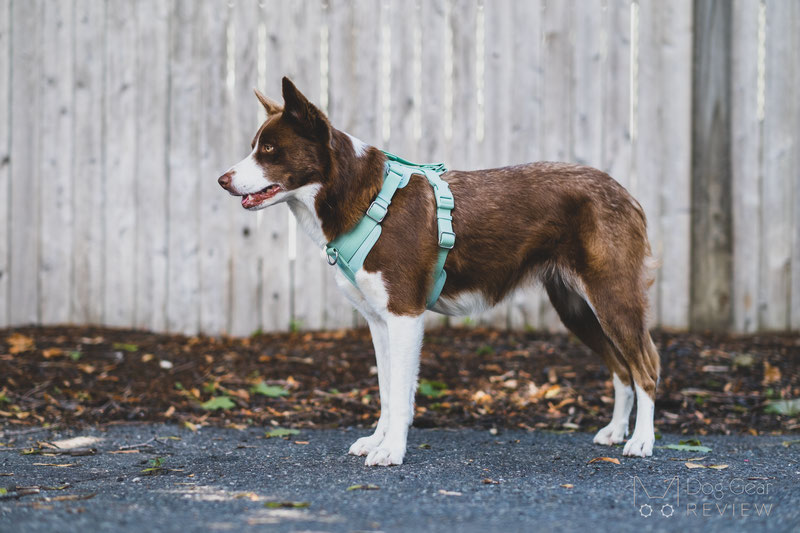 It is made of tear-proof PVC, a strong rubber, so it is entirely waterproof, antibacterial, and easy to clean.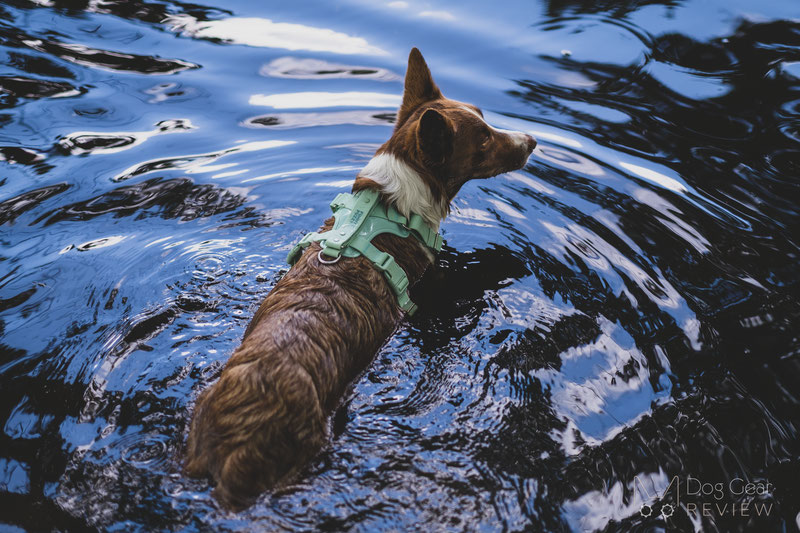 The harness has matching plastic buckles on the chest straps for every color option.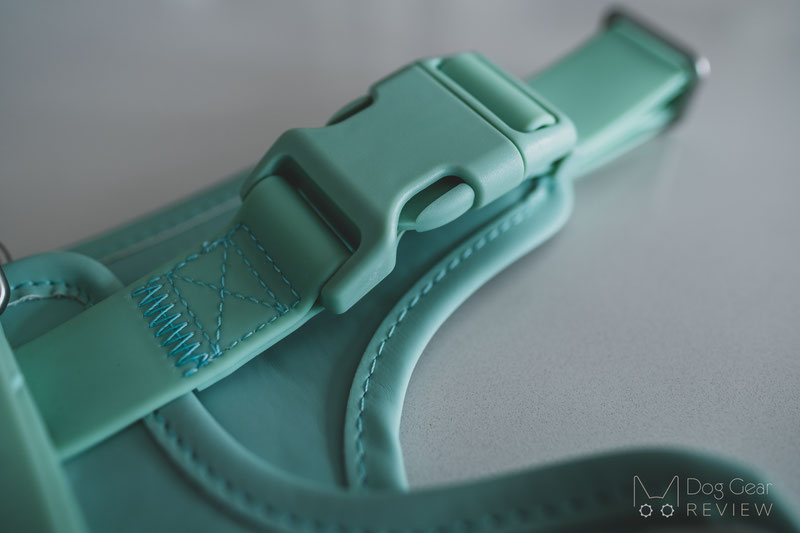 The top and bottom panels are well-made and reinforced where needed. The PVC material makes them odor-resistant and quick dry.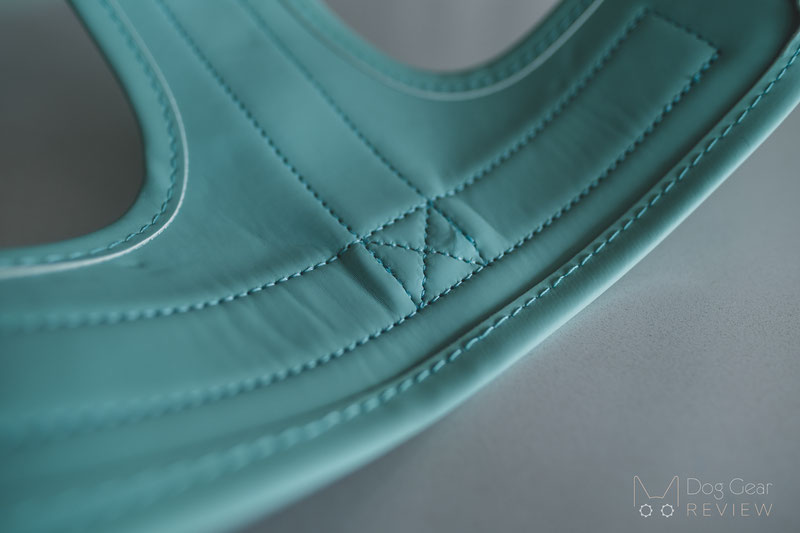 About the Gummy Dog leash
The Gummy Dog Leash perfectly matches the Gummy harness color options and is made of the same tear-proof, waterproof PVC material. Its length is adjustable between 57-83 inches (145-210 cm) to fit different scenarios.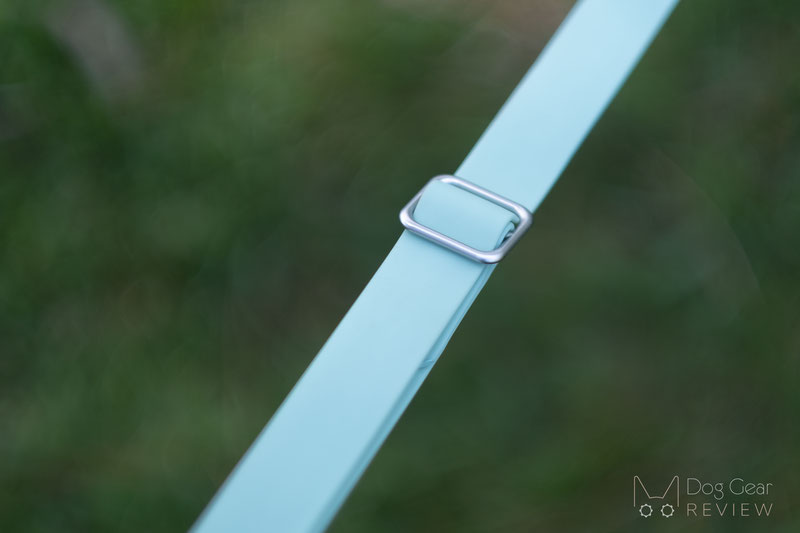 The PVC material is comfortable to hold; it does not stretch and provides a good grip even when wet.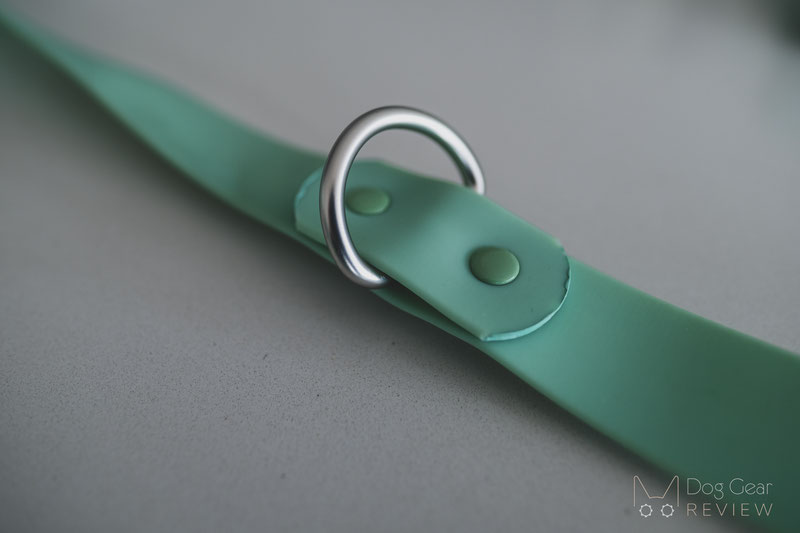 The leash has durable alloy carabiners on both ends to create a versatile, multifunctional leash. It can be used as a hands-free leash (around the waist or chest) or as a double-ended leash attached to the no-pull and back rings. It can also be used to tether the dog by opening the handle.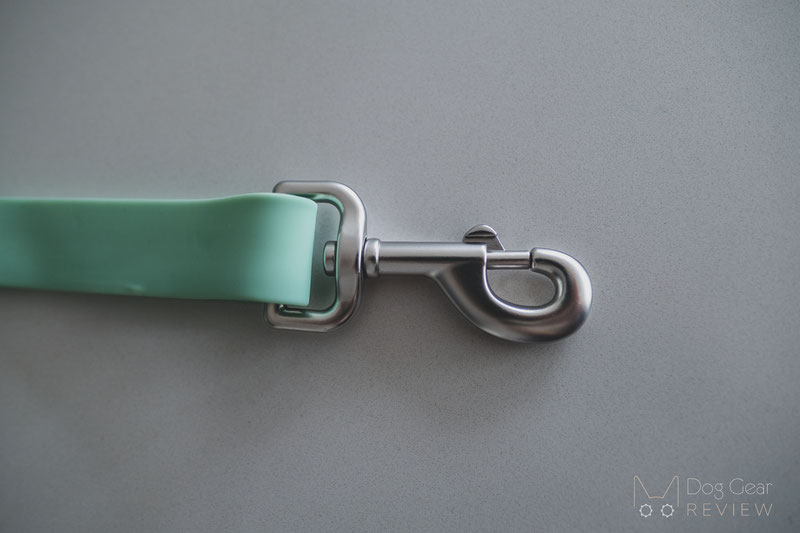 FunnyFuzzy Gummy Dog Walk Set Review
We received many questions about this set while we used them because of its stunning color and unique design. It is a great-looking harness that stands out and draws attention even from non-dog people.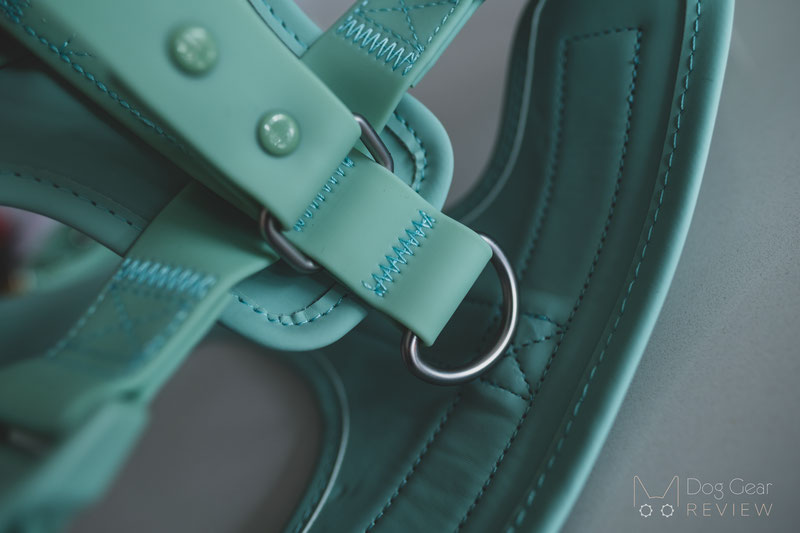 All details of this harness show that it was designed with great attention to creating something unique. It has a big handle on the back that's easy to grab when extra control is needed, but it lays flat when not in use, providing a streamlined look.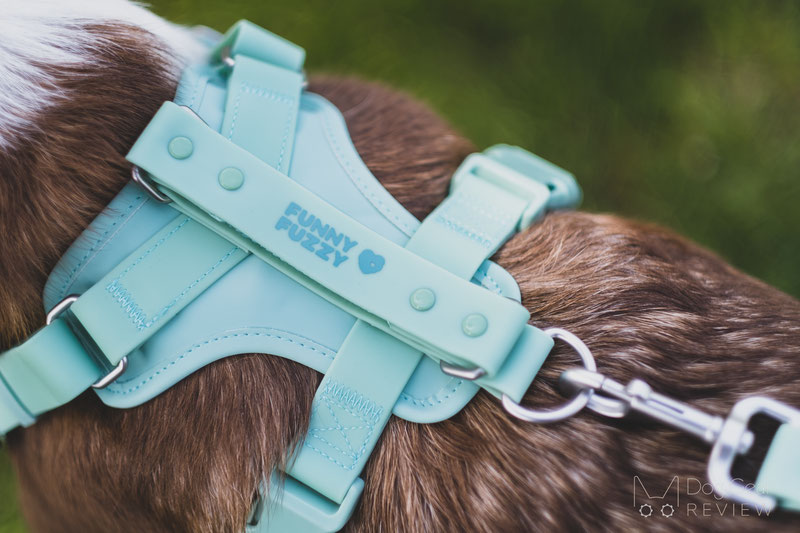 Being completely waterproof is an excellent feature. We used the set for a few trips to the beach and muddy hikes, and it was very comfortable just to rinse it and dab it dry while all the other gear was drying for the rest of the day, dripping muddy water and smelling like wet dog.
The placement of the back ring and no-pull ring are both ideal for their purpose and make the harness a very functional gear for different outings.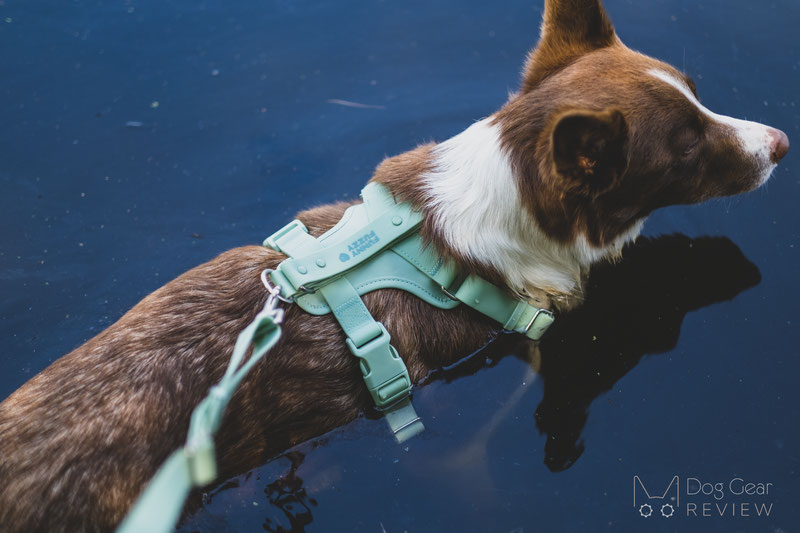 While I do love all the details of this harness, we run into a problem with its fit.
The ratios of the harness make it very hard to fit it on most dogs. Mia is a hard-to-fit dog, but we tried this on others as well, and it was not an ideal fit for almost any dogs besides wide and deep-chested, bully-type dogs. When you look at the photos of Mia, you see that the neck straps should be tightened even more to give clearance to the shoulders, but the chest straps are already cutting into her armpits. It not only does not provide room for a full range of shoulder movement, it cuts into the armpits even when the dog is just standing.
This makes wearing it over an extended period very uncomfortable for the dog and can cause chafing and rubbing in the armpits. If you loosen up the neck straps to move the harness back a little more, the neck straps will cover the shoulders even more, changing the dog's stride and causing potential joint problems for dogs who pull on the leash.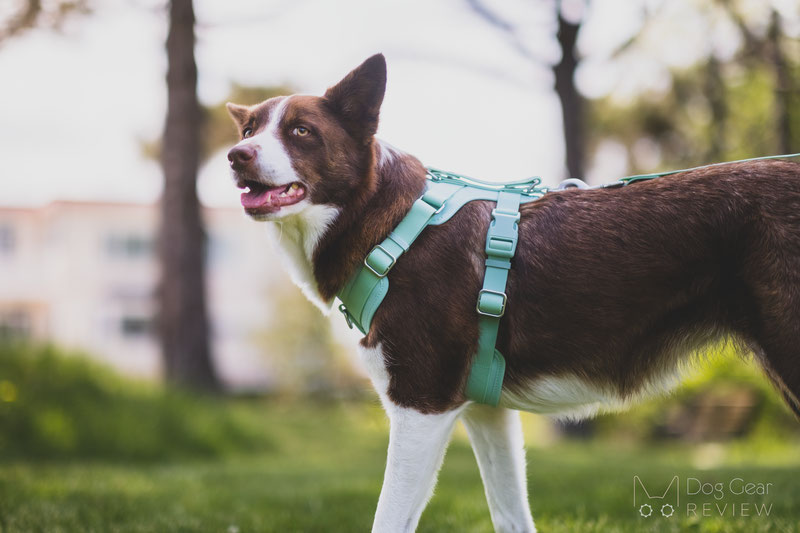 If you want to learn more about Y-harness fitting, you can check out our article on the topic.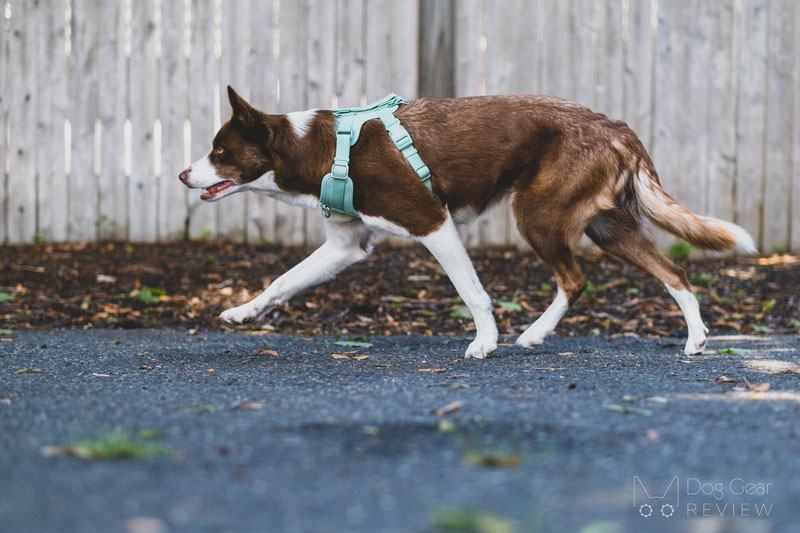 Functionality Review
No-pull: The no-pull ring works well, and the tight-fitting design actually makes it an effective no-pull harness. If you want to learn more about why using a no-pull harness fitting this way can be harmful in the long run, you can check out our other detailed article on the topic

Running/biking: If it fits your dog well and leaves room for free shoulder movement, it can be used to give running and biking with the dog a try before you invest in proper equipment. It is not meant to be used as a pulling harness and is not ideal for that due to the lack of padding and unique design needed for pulling.

Hiking: The waterproof material makes cleaning up after a hike easy. I would love to use it for hikes if it would be comfortable wear for Mia.

City walk: works pretty well for city walks. The two rings and the versatile leash give you plenty of options for different scenarios.

Easy to put on/adjust: All straps are adjustable, and they stay in place well after adjustment. The neck straps do not have buckles, so the harness must go over the head; then, you can use the two buckles on the chest strap to fix the harness.

Visibility: It does not have reflective elements.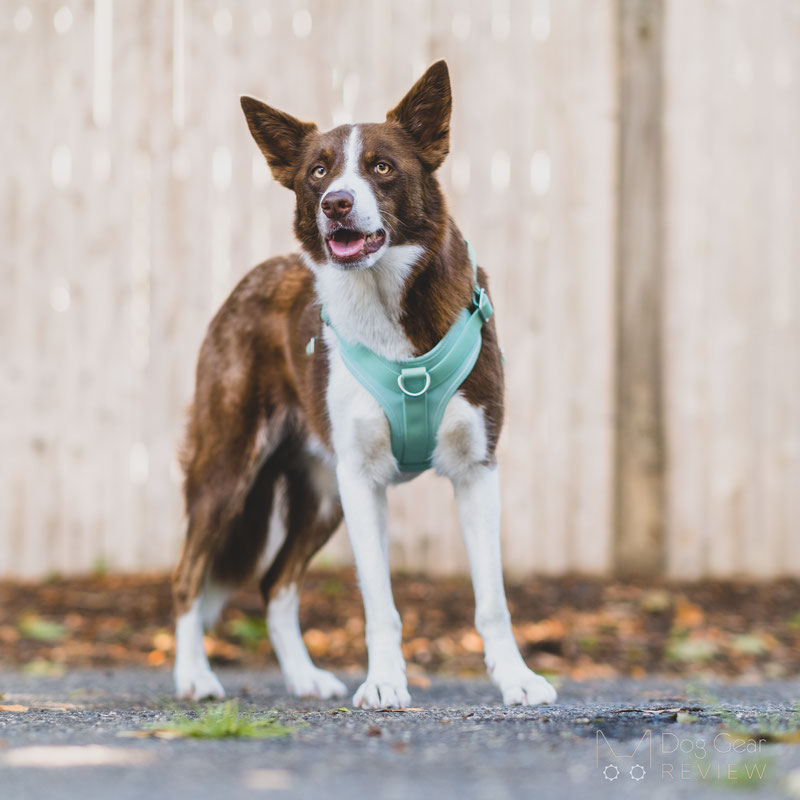 Review Summary
I think FunnyFuzzy is on the right track with this harness, and it will be a great and unique option on the market if they modify the top and bottom panel ratios/length to create a better, non-restrictive fit.
The material, color, and quality of both the leash and harness are on point, creating not only a functional but also a beautiful set!
Where to buy
The Gummy Set is available through their website, and you can buy the harness and the leash separately as well.
They come in three stunning colors, the leash in one size while the harness has three sizes. Mia had the medium harness.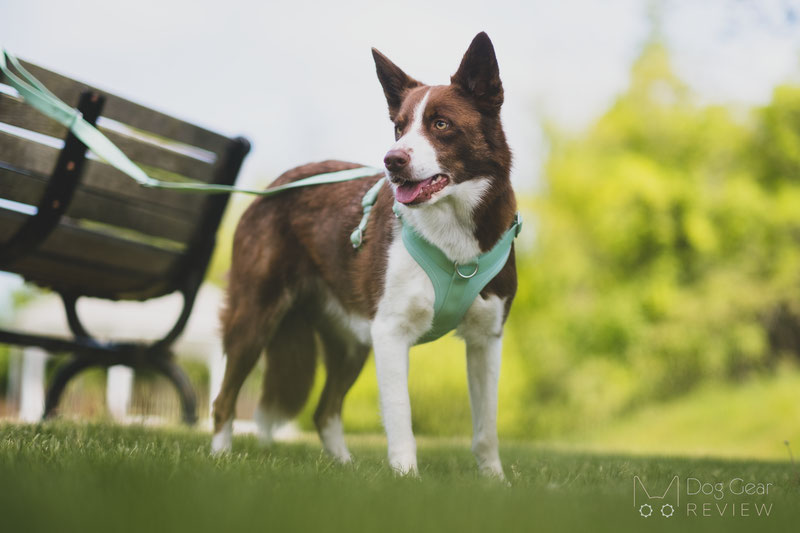 Mia's measurements
Many of you asked Mia's measurements to better understand the different products' fit. Your best chance of finding a good fitting gear is always to measure (and remeasure) your dog. Even we grab the measuring tape before getting a new product - even though we tested a lot of them and have a good feeling of her size by now.
I share her measurements below, but don't go ahead and order the same size just because your dog is similar to Mia ;)
Shoulder height: 19.5 inches (50 cm)

Weight: 37-44 pounds (17-20 kg)

Widest chest circumference (where the most harness would have the chest strap): 25-26 inches (63-65 cm)

Neck circumference for collars: 15-16 inches (38-40 cm)

Back lengths: 22 inches (56 cm)