FunnyFuzzy is the brainchild of pet lovers aiming to cater to their pets while reimagining the pet ownership experience. Inspired by their dog's color preferences, the founders crafted a pet lifestyle brand that designs products from a pet's perspective, incorporating colors like blue and yellow that dogs can see. They offer a wide-variety of pet products.
About the FunnyFuzzy Calming Furniture Protector Dog Bed
The FunnyFuzzy Furniture Protector Dog Bed is the solution for when you want to have your dog on the furniture without needing to worry about scratches or stains.
Not only does this dog bed add to your pet's comfort, but it also serves as a protective shield for your furniture. The removable and washable cover is made from durable fabric, guarding against stains, scratches, and pet hair on the couch. It is designed to cover the front of the sofa to protect from the dog's paws and claws when jumping on and off the couch.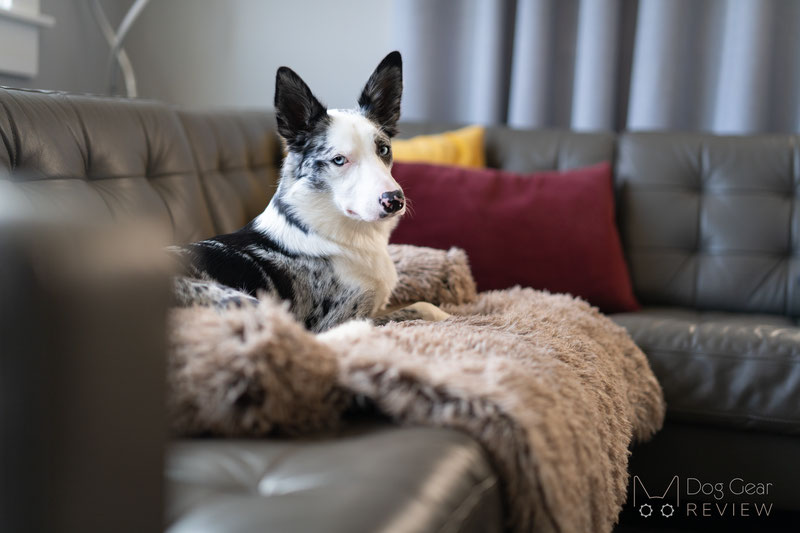 This bed features a backrest that offers additional support and a sense of security for the dog and keeps them from sliding onto the couch. It provides a comfortable space to curl up, stretch out, or rest their head, promoting relaxation and reducing anxiety.
The outer material is faux fur (synthetic fabric) intended to create a relaxing, calming surface that dogs can snuggle into.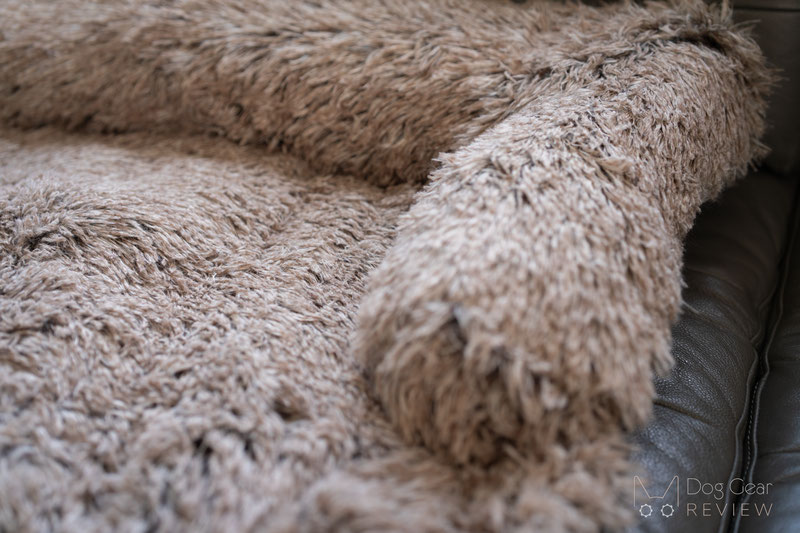 FunnyFuzzy Calming Furniture Protector Dog Bed Review
The FunnyFuzzy Calming Protector Bed was a big success in our home! Twice a year, Zulu is shedding a lot and leaves a lot of fur on the couch, even if she is just up there for a short time. This bed keeps the couch scratch-free and makes containing all the fur much easier.
The raised edges and the non-slip bottom make it stay in place fairly well, so it doesn't bunch up and slide. It is not a rigid bed, though, more like a mat/cover, so it's easy to pack away when not needed. On the other hand, it is not a thick bed, so it doesn't provide much support or padding when used off a couch.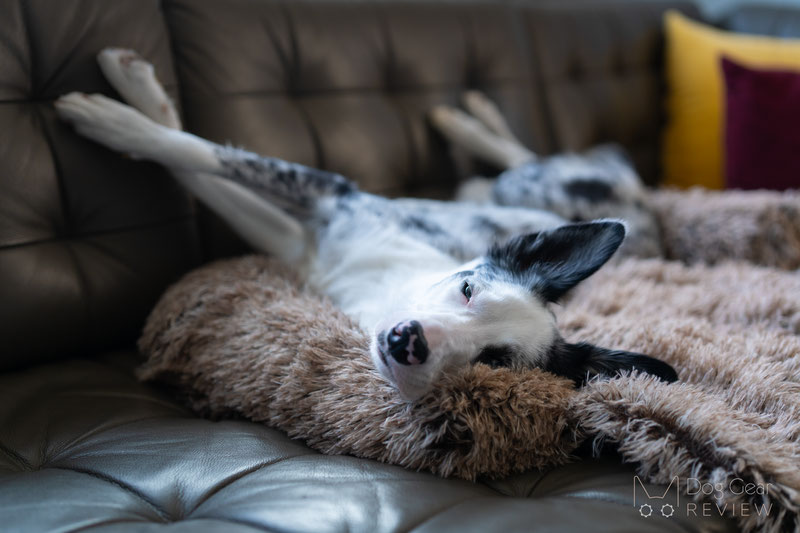 Zulu has a medium-sized bed with external dimensions of 837716 cm ( 32.5 x 30.3 x 6.2 in). As the cover is designed to have a section over the couch's front, you need to size up to create a big enough area for them to sleep, especially if your dog likes to stretch out when sleeping. As a general guideline, adding 30-40% of their regular bed size probably gives them enough room to sleep comfortably with the bed pushed all the way back on the couch and still having coverage on the front.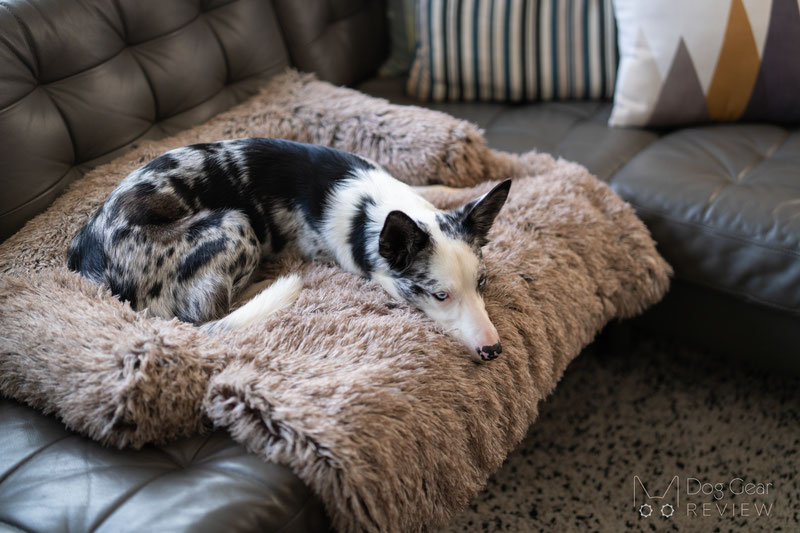 While the cover is removable, it only allows you to remove the "pillows" from the headrest section; the filling of the mat portion stays in for the wash. We had only washed it once or twice, and it handled it well, but this type of stuffing tends to bunch up over time when washed frequently. The bed is also not waterproof, although the non-slip bottom part can probably contain the mess for a shorter period.
Summary
The Calming Furniture Protector Dog Bed has a removable and washable cover and is designed to protect against stains, scratches, and pet hair on the furniture. It features a backrest for support and a faux fur surface. It was designed with the idea to promote relaxation and to support reducing anxiety levels for dogs.
While not overly thick, it is a reliable safeguard against shedding and scratches, making it an ideal addition to any couch.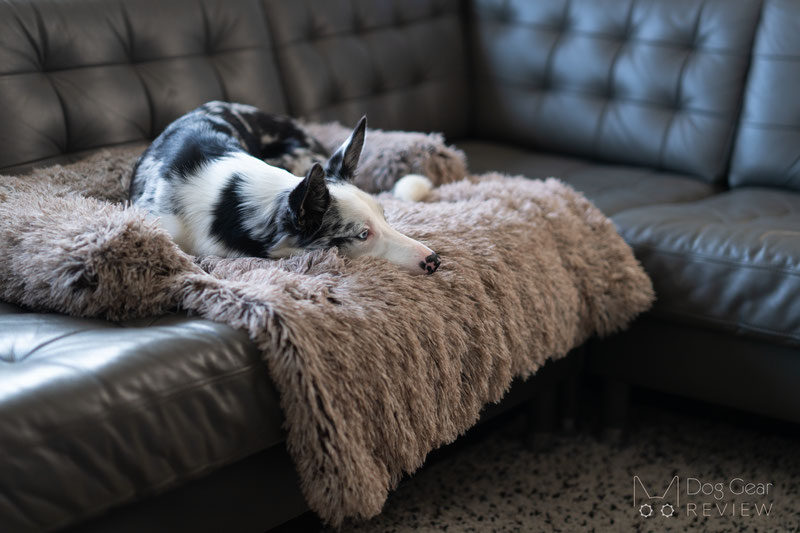 Where to buy
You can only buy the FunnyFuzzy Calming Furniture Protector Dog Bed on their website. It comes in four sizes and three colors.
Zulu's measurements
Many of you asked for the dog's measurements in reviews to better understand the different products' fit, so I'm sharing Zulu's below for reference.
Shoulder height: 19 inches (50 cm)

Weight: 29 pounds (13 kg)

Widest chest circumference: 24 inches (60 cm)

Neck circumference for collars: 14 inches (35 cm)

Back lengths: 17 inches (44 cm)