FunnyFuzzy is the brainchild of pet lovers aiming to cater to their pets while reimagining the pet ownership experience. Inspired by their dog's color preferences, the founders crafted a pet lifestyle brand that designs products from a pet's perspective, incorporating colors like blue and yellow that dogs can see. They offer a wide-variety of pet products.
What is a Dog Drying Coat?
Picture this: You've just given your dog a much-needed bath, and now they're sprinting around the house, shaking water droplets everywhere, rubbing against the couch, and leaving a wet mess in the house. This is a familiar post-bath scenario for many pet owners, and this is where a dog-drying coat comes to the rescue. A drying coat is a highly absorbent, light coat that you can add on the dog to minimize the post-bath chaos.
A drying coat can also be used after dock diving or in any other scenario where you would end up with a wet dog in the car or the house. Additionally, keeping dogs warm and cozy can prevent injuries, especially in sport or working dogs who need to take breaks between high-impact runs.
About the FunnyFuzzy Dog Bath Towel
The FunnyFuzzy Dog Bath Towel is a soft, fluffy "bathrobe" that provides great coverage and adjustability with large velcro sections.
The product description also mentions that it can be used as an anxiety jacket - calming dogs when snugly adjusted around them. However, I am unaware of any peer-reviewed studies proving the effectiveness of anxiety jackets for dogs, so we will not cover that aspect in this review. Please send over any reliable studies done on a meaningful sample if you have any!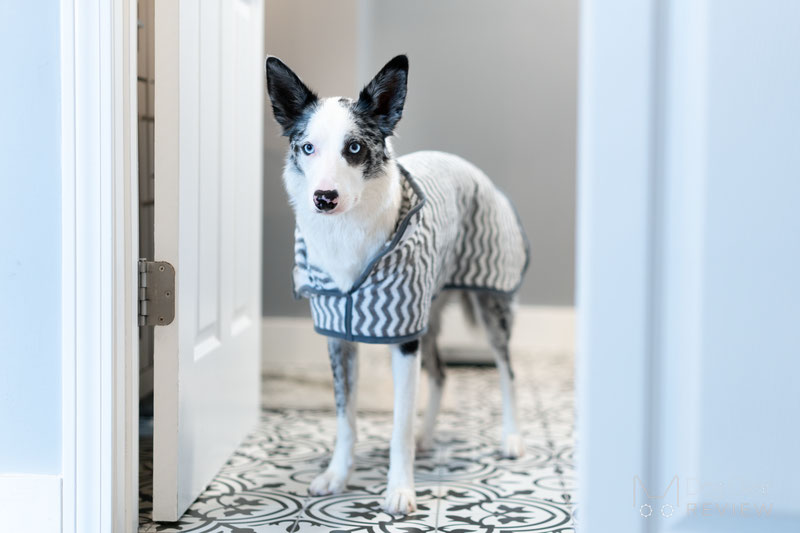 The FunnyFuzzy Dog Bath Towel is made of coral fleece, which is renowned for its high absorbency, as it can soak up to eight times its weight in water. It is thicker and softer than polar fleece. It is an elastic, soft material, so dogs can move freely while wearing it, even if it's snugly adjusted around them.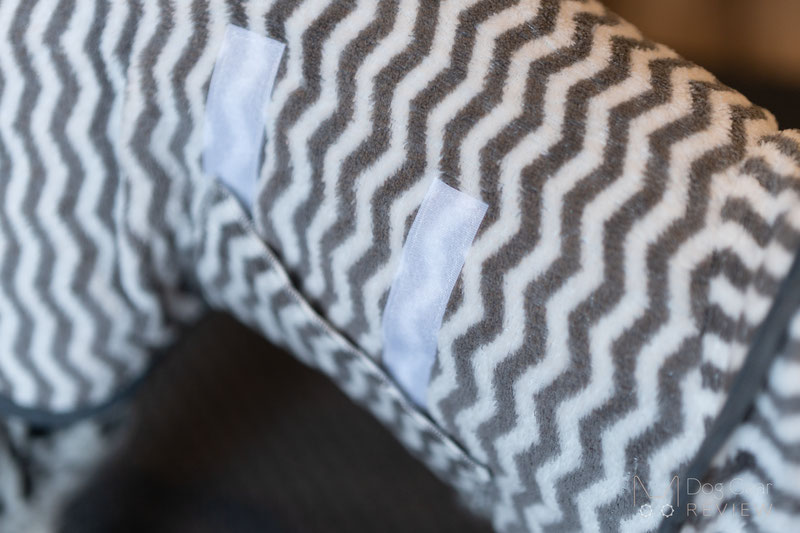 The neck section has a big enough opening to easily pull it over most dog's heads, and the collar section can be secured with two velcro strips leaving a wide range of sizing opportunities for different dogs.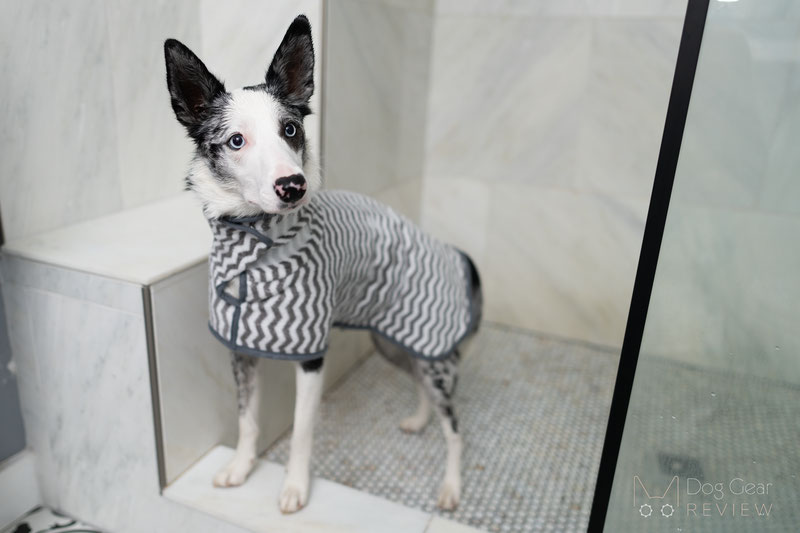 FunnyFuzzy Dog Bath Towel Review
The FunnyFuzzy Dog Bath Towel is a very soft and light material that makes it easy to pack it up when heading for an event or to just store it when not needed. Even the gear-shy Zulu didn't mind wearing it. However, it needs to be pulled over their head, which might be hard with some dogs, especially if they are stressed when getting a bath.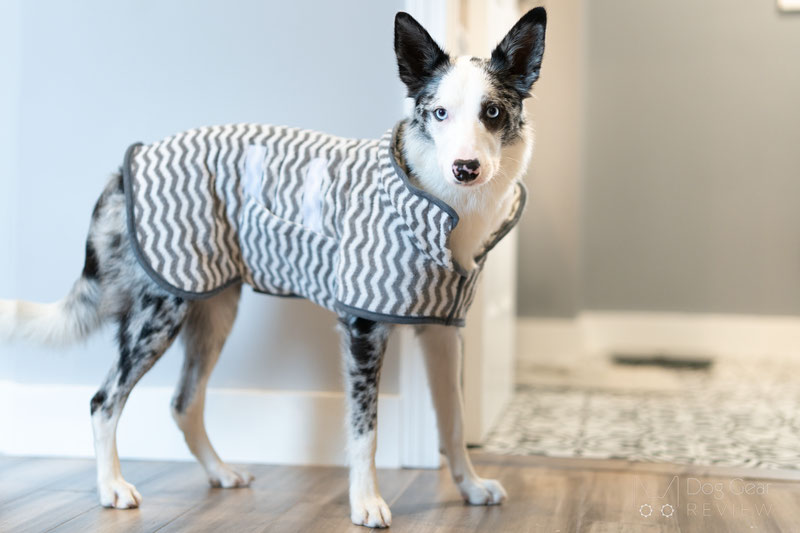 The bathrobe currently comes in 5 sizes (XS-XL) and two colors with the same pattern. Zulu is wearing a small size that provided good coverage on her back and was easy to secure around the neck and chest. The velcro attachments are very strong; the coat stayed in place even when she was zooming around and rubbing herself to her bed after the bath.
The only small issue I kept running into is that the velcro keeps sticking to the fleece material, so every time I put it away, it comes back as a ball of material, and I need to detangle it to figure out which part goes where and prevent it from sticking together again.
While the head opening worked well for Zulu, you might want to size up if you have a dog with a large, blocky head. The neck opening is elastic, but I wish FunnyFuzzy would include the size of that in the description.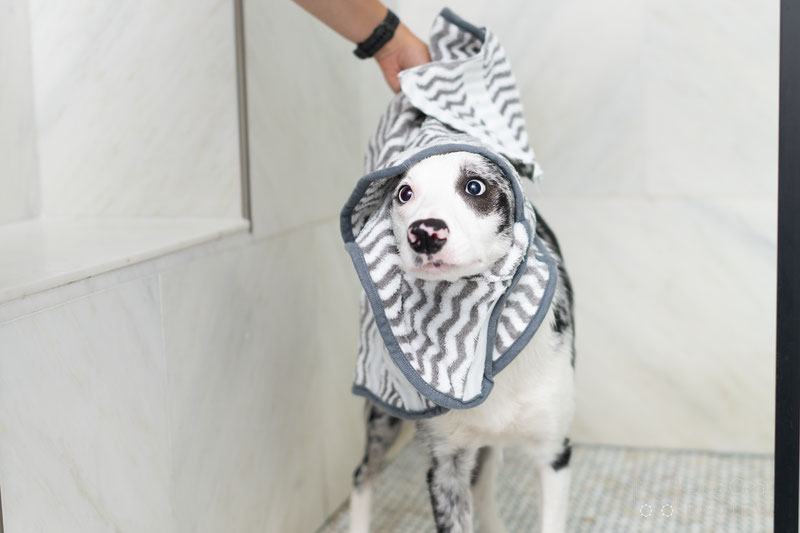 Review Summary
Altogether, the FunnyFuzzy Dog Bath Towel is a good option in its price range if you are looking for something to use at home or in the car. It is not a sturdy outdoor coat; its material would easily snag on something if you use it for an outing. Technically, it could be used as a base layer under a water/windproof shell since it is breathable and keeps heat well, but its design better fits the indoor bathrobe use case.
Where to buy
You can only buy the FunnyFuzzy Dog Bath Towel on their website. It comes in five sizes and two colors.
Zulu's measurements
Many of you asked for the dog's measurements in reviews to better understand the different products' fit, so I'm sharing Zulu's below for reference.
Shoulder height: 19 inches (50 cm)

Weight: 29 pounds (13 kg)

Widest chest circumference: 24 inches (60 cm)

Neck circumference for collars: 14 inches (35 cm)

Back lengths: 18 inches (46 cm)