FunnyFuzzy is the brainchild of pet lovers aiming to cater to their pets in innovative ways while reimagining the pet ownership experience. Inspired by their dog's color preferences, the founders crafted a pet lifestyle brand that designs products from a pet's perspective, incorporating colors like blue and yellow that dogs can see.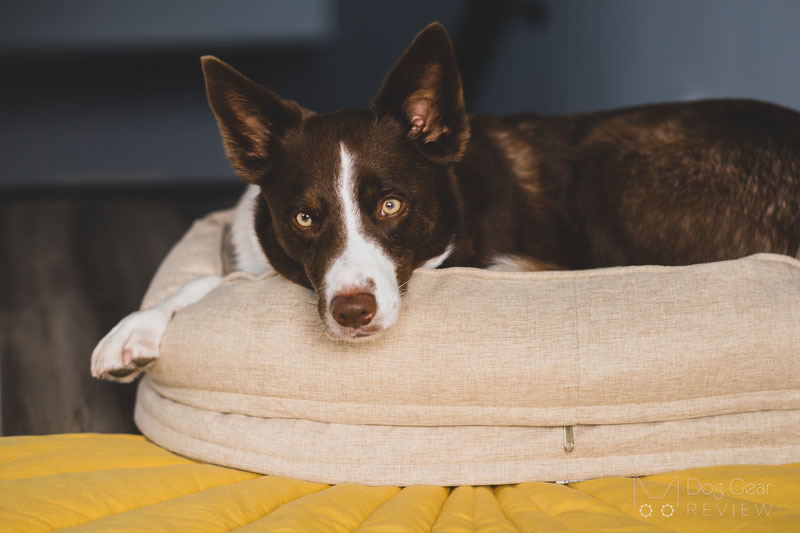 About the FunnyFuzzy Donut Bed
The Donut Bed is a soft bed with tall sides to create a cozy area to snuggle in. The removable cover is 100% cotton and can be hand washed in warm water. The base is a thick and bouncy polyester foam cushion with a waterproof liner around.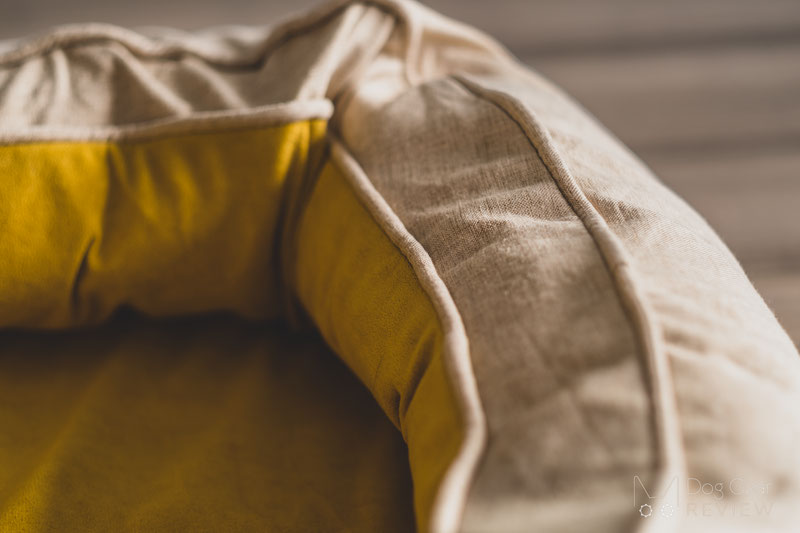 The bed comes in two sizes: medium and large. The dimensions on the website show the outer measurements, so expect that the actual sleeping area is a lot smaller due to the wide side pillows, which are approximately 4" on our medium bed.
FunnyFuzzy Donut Bed Review
When receiving this bed, I was worried it would be too small for Mia (we got the medium size), but she loves to curl up in it. I think the snug fit and the tall sides make her feel safe and secure. It's especially great on cold nights when she even snuggles in her head for extra warmth.
Even though she has a large bed next to it to comfortably stretch out, sometimes we wake up to the sight below, which tells you everything about Mia's comfort level: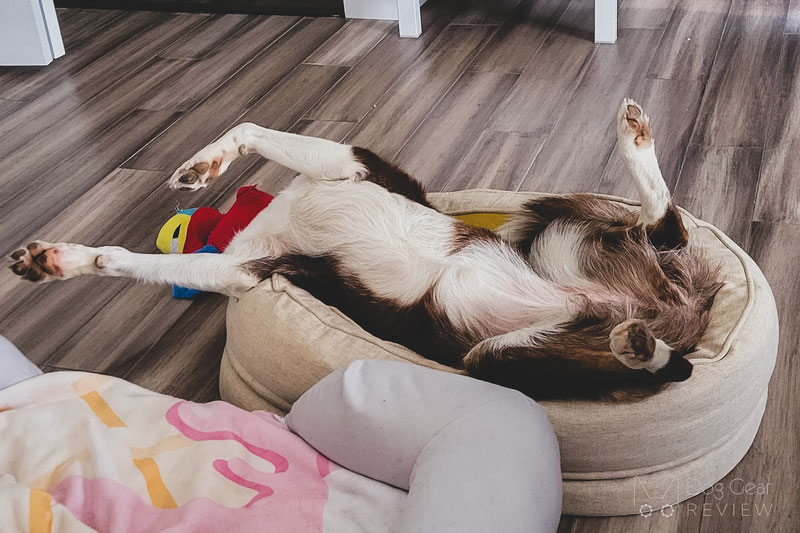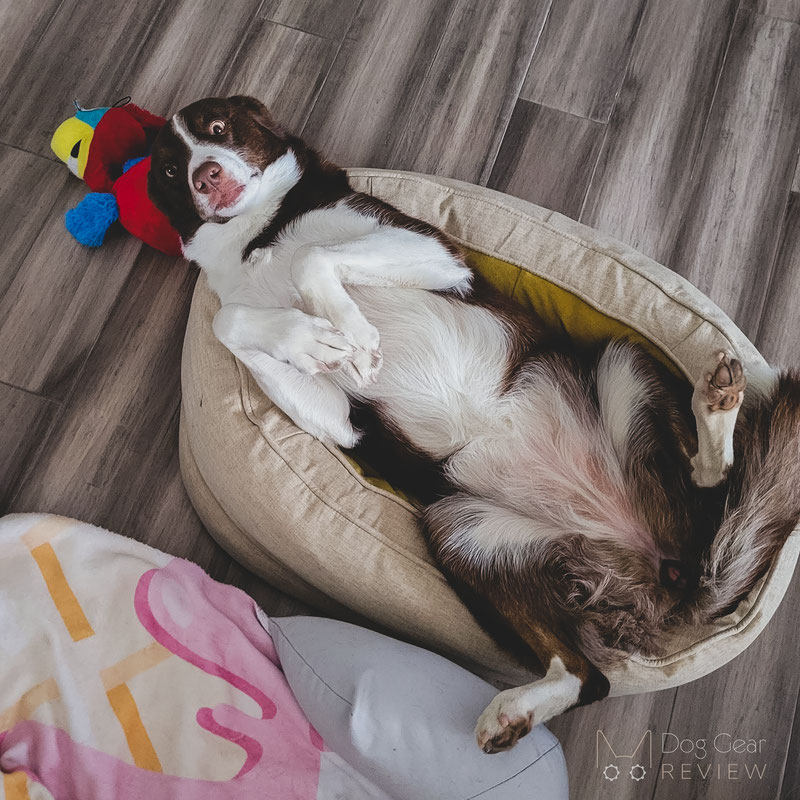 The material of the bed is well-made and durable. I am impressed with its quality and how well it looks: the color choices are very stylish but still subtle, making it a great addition to all homes.
As you see in the photos, the sides are "filled" enough to hold their shape even though Mia is working hard daily to push them out. They are still bouncing back nicely after months of heavy use. The hidden zippers are big enough to be easy to open, so removing the cover is easy.
The only two cons I can think of are that the cover isn't machine washable and that the side pillows don't have a waterproof cover. However, the latter is probably smart because the sides are breathable this way. Otherwise, dogs might get hot within those tall walls if all sides have a waterproof lining. It's just something to keep in mind if you have an older dog or a puppy prone to having accidents.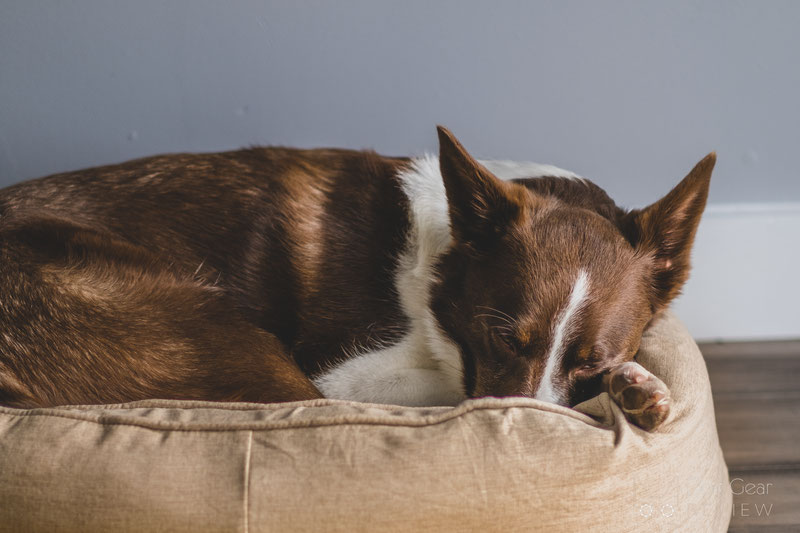 Altogether this is not only a well-made bed, but it's also a very stylish one! I like how it looks good in basically any space instead of just being a functional item. If you want to upgrade the pup corner, you can also add a matching Leaf Blanket that we also reviewed.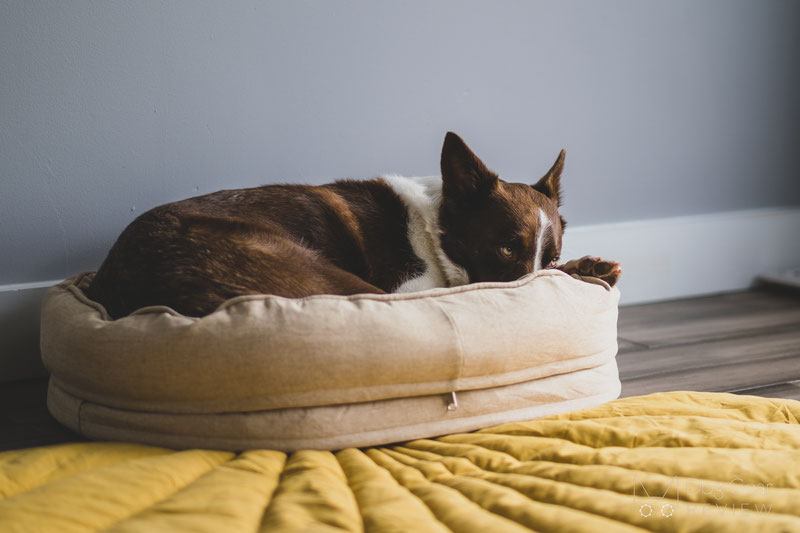 Where to buy?
You can buy this bed on their website. When writing this review, it comes in four stunning colors and two sizes. The bed in the review is a Medium in "Ginkgo Yellow" color.