FunnyFuzzy is the brainchild of pet lovers aiming to cater to their pets in innovative ways while reimagining the pet ownership experience. Inspired by their dog's color preferences, the founders crafted a pet lifestyle brand that designs products from a pet's perspective, incorporating colors like blue and yellow that dogs can see.
Why would a dog need a life jacket?
While life jackets can be a lifesaver for many dogs in many situations, not all dogs need one. So how do you know if it would be helpful for yours?
Let's start by talking about dogs with medical conditions, joint issues, or just bad swimming techniques that need a life vest's extra help. There are also dogs doing hydrotherapy as part of their rehabilitation, where life jackets are regularly used. It's clear that these dogs can benefit from a life jacket that helps them stay in a proper swimming position and let them safely enjoy some low-impact exercise.
How about a healthy young dog? They can benefit from a life vest the same way as small kids who can already swim. If you take your dog on a boat or kayak, they can unexpectedly fall into the water, and the cold water can cause shock to their body. Accidents can also happen when dogs jump in the water or play around it, hit their heads, and lose consciousness. It's also possible for a good swimmer to enjoy their water time too much and not stop when their muscles tire. This can cause muscle cramps that can be fatal if the owner cannot get to the dog in time.
Many people think that life jackets are just fancy gadgets, and our dogs (and wolves) lived happily without them in the past. While this is true, we also have to keep in mind that our dogs' lives have changed so much. We take them with us on longer trips on the water on a SUP or kayak; we train them in dock diving; we take them to dog beaches where we play fetch with them all day. All these are very different situations from a dog (or wolf) just enjoying some time around the water by themselves. These changes in their lifestyle require new solutions from our side as well to help our dogs safely accompany us on all these adventures.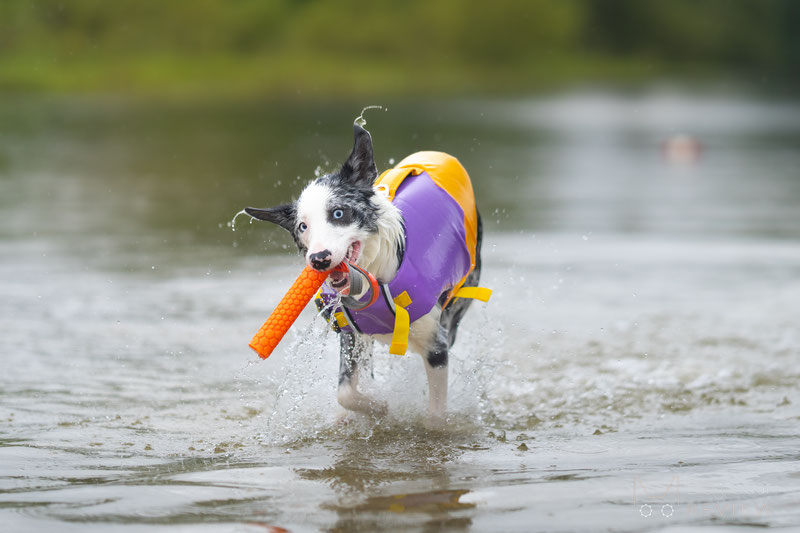 About the FunnyFuzzy Life Jacket
Equipped with buckles and velcro sections on both the neck and chest, this life jacket ensures secure straps for a snug fit. Boasting buoyancy foam inserts, the FunnyFuzzy Life Vest guarantees optimal flotation, while an inner zipper facilitates easy removal of the foam insert, streamlining storage and drying.
The life jacket's exterior is crafted from durable Oxford fabric, offering durability and also visibility through bright colors. Inside, a scuba fabric lining adds cushioning and insulation, keeping dogs comfortable during water activities.
The back of the life vest features an easy-to-grab handle to support or lift the dog as needed. A metal D-ring is also placed in front of the handle, providing an easy-to-access leash attachment point during adventures.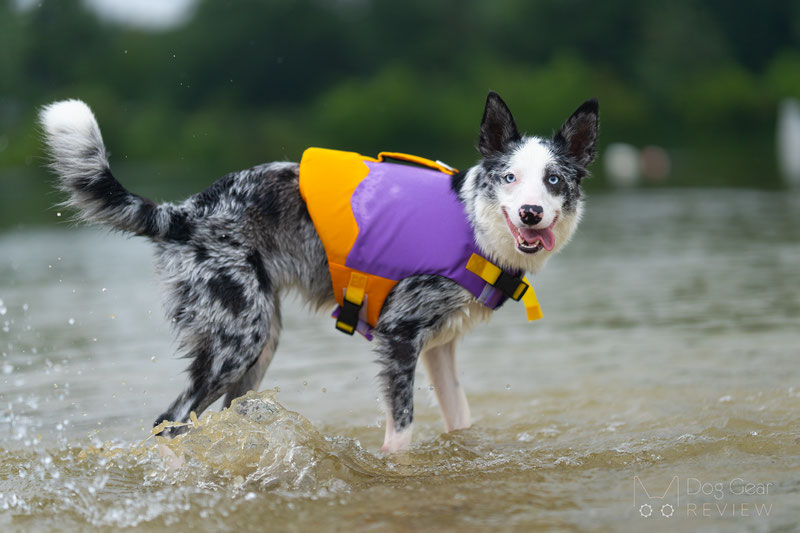 FunnyFuzzy Life Jacket Review
The FunnyFuzzy Life Jacket is a light (although not as lightweight as some other options on the market) flotation vest that provides dogs with safety and visibility during water activities. It currently comes in five sizes and three bright colors.
While the materials used for this life vest are great, the design creates an awkward fit on most dogs. As you see in the photos, the neck section is unnecessarily wide, and there is very minimal armpit clearance behind the front legs. One of these could already cause limited shoulder mobility, but the combination of these two design problems prevents a full range of motion and puts pressure on the shoulders when swimming.
Zulu is a hard-to-fit dog with a deep chest, but this life vest fits all other dogs I have seen before similarly - including the current product photos on their website.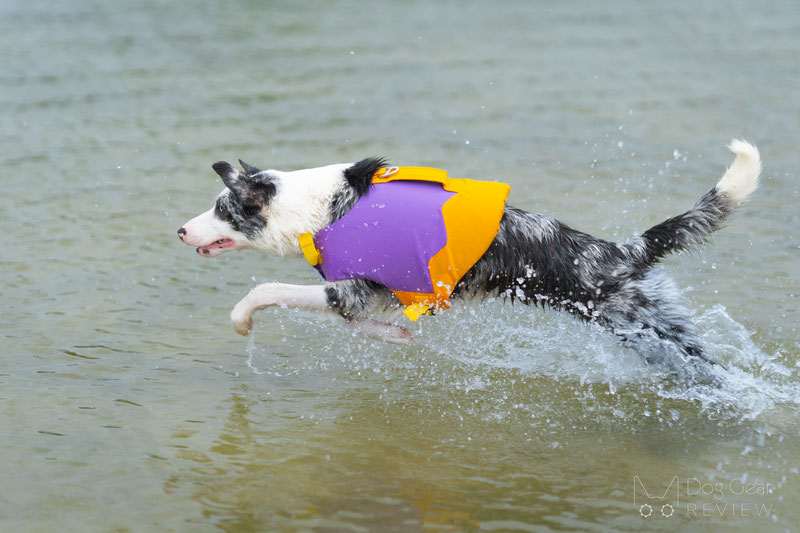 While the neck section is too wide, the section under the chest is too narrow. This is not optimal because that's where all the pressure is distributed when the dog is swimming, supported by the life vest. A wider material helps distribute the upward pressure while swimming and also when the dog is lifted out of the water.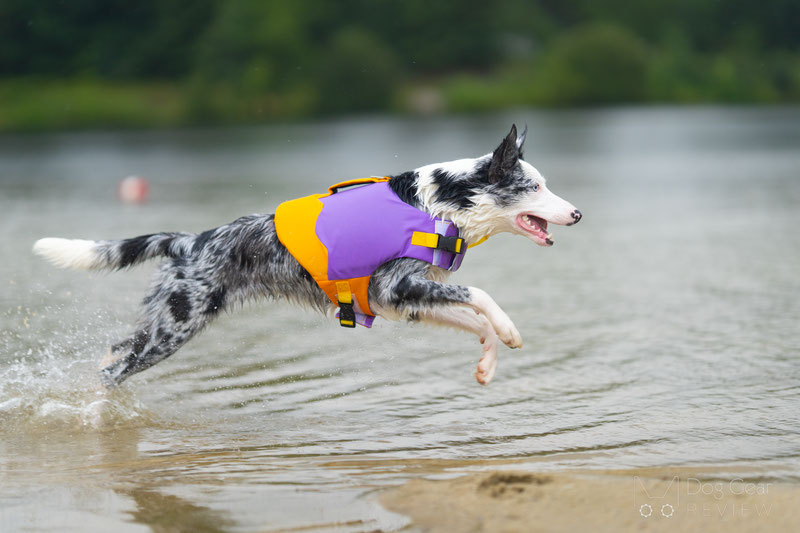 The combination of velcro and buckles keep the vest secure, but once the velcro starts collecting dirt and hair, the two buckles might not be enough to secure the life vest - especially if you need to grab a bigger dog by the handle and lift them out of the water. The neck section has a narrow velcro piece which significantly limits the range of adjustment if one wants to use the velcro and the buckles together. Another concern is that the straps loosened up a bit as Zu ran around.
Again, the combination of velcro and the buckles is a working solution as long as the velcro panels are kept clean and you do not need to lift out a large dog regularly. Neither the buckles nor the velcro opened while Zu was using it, but we haven't had many swimming opportunities this year.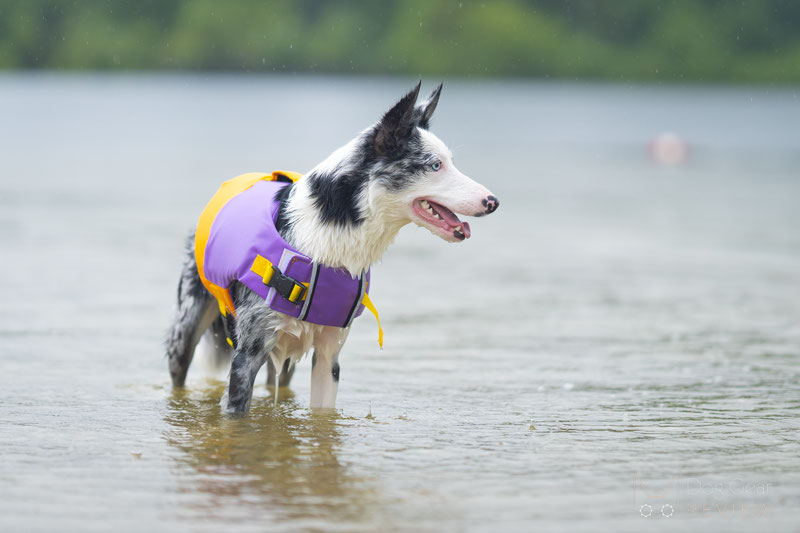 Summary
The FunnyFuzzy Life Vest can be a suitable choice if your dog primarily accompanies you on a kayak or SUP, providing an added sense of security and peace of mind in case they fall in. However, this life vest is probably not an optimal solution for dogs that love their beach runs, frequent swims, or require frequent lifting in and out of the water.
The challenges mentioned in this review are mostly related to the life vest's fit, which varies for individual dogs. There's a possibility that it might fit your dog better than it did Zulu.
FunnyFuzzy got the materials right, yet the design could benefit from enhancements such as improved armpit clearance, a more slender neck section, broader chest support, and an overall streamlined - less bulky and less rigid structure.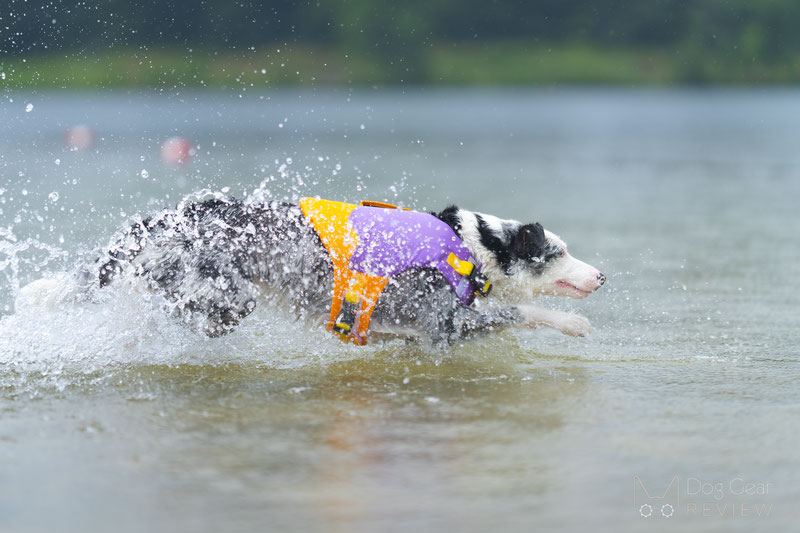 Where to buy
Currently, you can only buy the Funny Fuzzy Dog Life Jacket on their website. It comes in five sizes and three colors.
Zulu's measurements
Many of you asked for the dog's measurements in reviews to better understand the different products' fit, so I'm sharing Zulu's below for reference.
Shoulder height: 19 inches (50 cm)

Weight: 29 pounds (13 kg)

Widest chest circumference: 24 inches (60 cm)

Neck circumference for collars: 13 inches (33 cm)

Back lengths: 17 inches (44 cm)