The Ferplast Company was established in 1966 with their first product being a birdcage for hunters with plastic-coated wires. In the beginning, not many believed the company can be successful but now they offer 4,000 products produced in their three plants in Italy, Ukraine, and Slovakia. They export to 85 countries and have 107 international patents.
Today we review the Ferplast Atlas Scenic SUV Dog Crate that we have used for over 6 months.
About the Ferplast Atlas Scenic SUV Dog Crate
The Atlas Scenic SUV Dog Crate is made of light thermoplastic. It is designed with a slanted back and front panel to fit smaller SUVs and hatchbacks. The coated steel grid on the front and back and the extra holes on the sides provide plenty of ventilation - which is where the "scenic" naming is coming compared to their similar design with a closed back.
Atlas Scenic SUV Dog Crate has unique features like the removable drainage plastic pad at the bottom that ensures the dog stays dry. The sliding door on the front can be opened in both directions (left & right) which is especially useful if you purchase it with the divider and use it for two dogs.
There are different accessories available from Ferplast, like the division panel to split the inner space in two,  wheels and curtain, and water dispensers.
The SUV crate comes in two sizes:
The small-medium (Atlas Car 80) is 82 x 51 x 61 cm (32 length x 20 width x 24 height in inches, crate doorway is 11.25W x 17.32H inches)

The intermediate (Atlas Car 100) is  100 x 60 x 66 cm (39 length x 23 width x 26 height inches, crate doorway is 13.5W x 18.5H inches)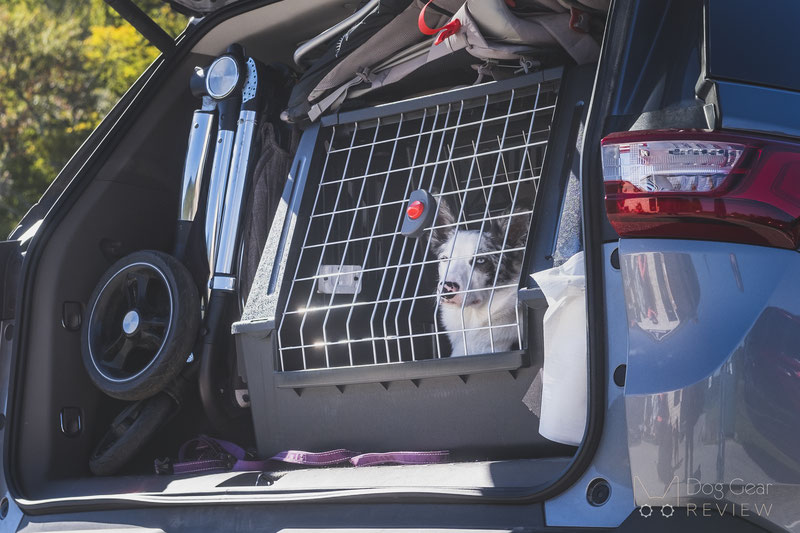 Ferplast Atlas Scenic SUV Dog Crate Review
I got the Ferplast Atlas Scenic SUV crate for Zulu because this was the only side door crate for a reasonable price that fit the back seat of our sedan next to Mia's crate. It is not a crash-tested crate and a strong dog could push the door out, but it was a decent quality crate for a teenage Border Collie while I was looking into a more permanent solution.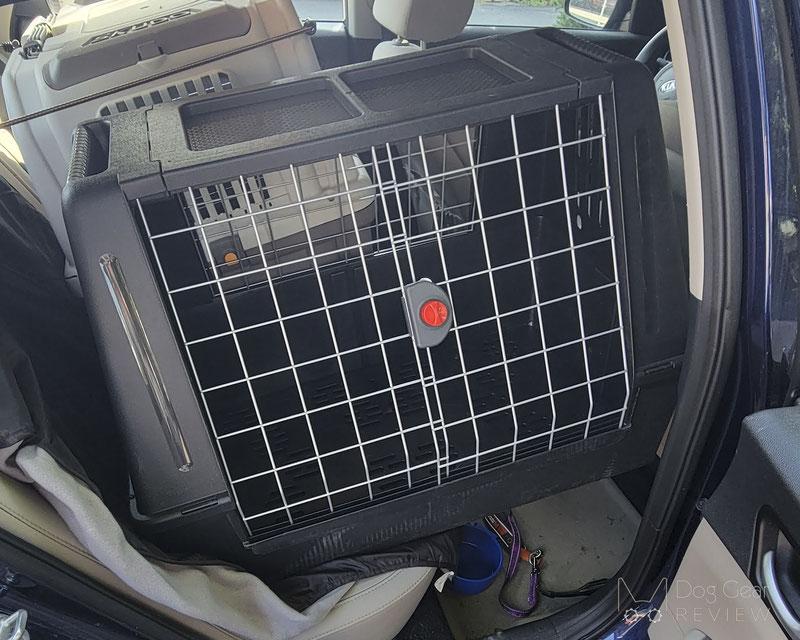 Zulu used their smaller crate (small-medium in the US / Atlas 80 in the EU) and it was a very comfortable size for her. On Ferplast's website, they define the max capacity of 20 kg (45 lbs) for this size. As a subjective note, I would feel more comfortable using this for dogs under 15 kg (33lbs) but might work for heavier dogs if they are crate-trained well and do not try to push the doors out.
We also used this crate in an SUV during a 5-days road trip. The crate's angled back and front made it fit so perfectly with the seat front of it still being at a comfortable angle for passengers. The bottom of the crate provides plenty of room for Zulu to stretch out and she can comfortably sit up even though all side panels are at an angle so the top's surface is significantly smaller than the bottom.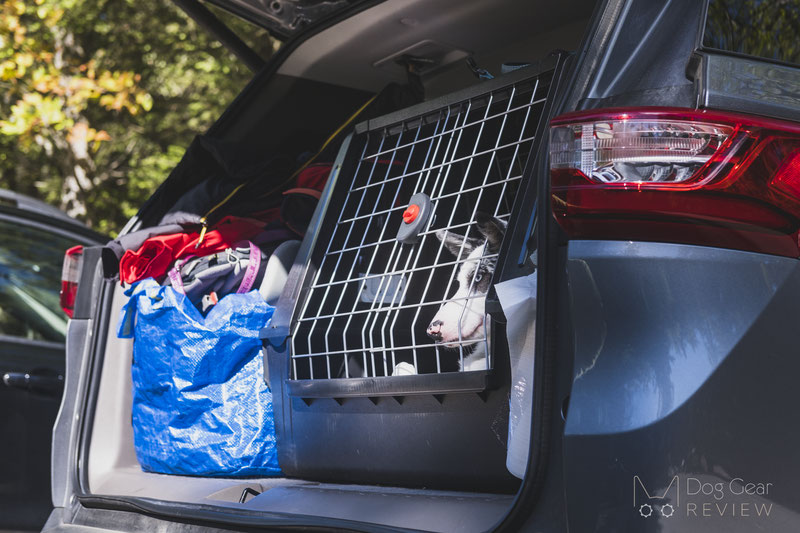 While the large door makes it easy to get the dog in and out, the raised bottom edge might make it more challenging for smaller dogs to jump into the crate from the ground. On the other hand, the bottom does an excellent job of keeping all the dirt inside the crate.
The doors have locking latches that are easy to use, but difficult for dogs to open. I heard from others that the lock sometimes gets harder to open over time but so far we haven't encountered this problem. Sliding the doors is not a super smooth feeling but they don't get stuck either.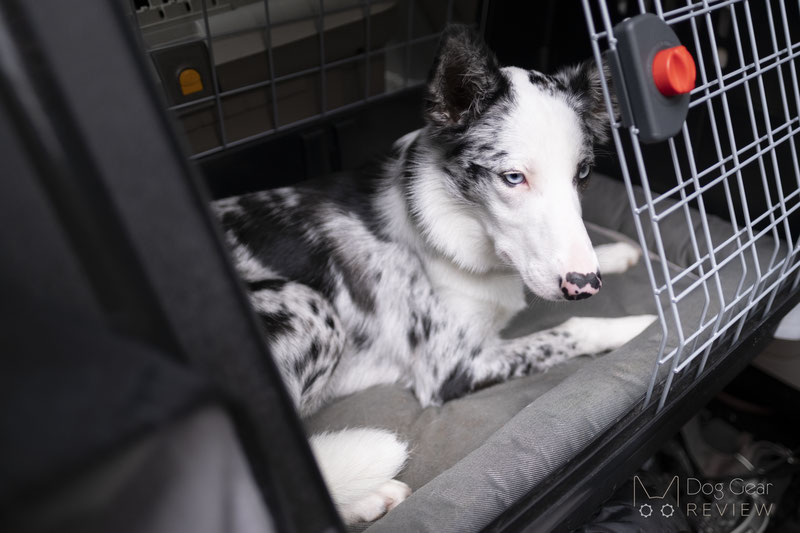 The crate is lightweight and easy to move around when needed by the two large handles. I carried it in and out of hotel rooms a few times and it was a manageable task while also holding onto the dog's leash. The plastic sides are similar to the other crates in this price range: I wouldn't call it flimsy, but they are not super thick either.
The assembly wasn't as easy as the other crates coming in two parts but it is not too difficult either when following the assembly instructions. The top and bottom parts snap together fairly well but you have to use screws to securely assemble them.
Having an open design on both the front and back made the crate very well-ventilated and also makes it easy to keep an eye on the dog from inside the car.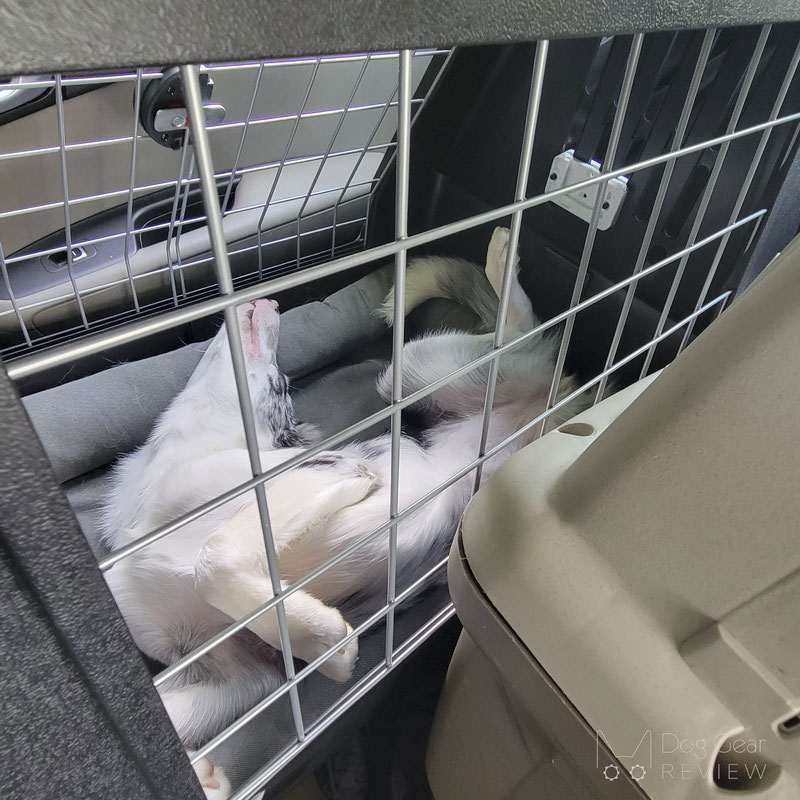 Functionality Review of the Ferplast Atlas Scenic SUV Dog Crate
 Using in the Car
This dog crate is not crash-tested, but it is a decent plastic crate in its price category. The bottom is leakproof with raised edges, so it is safe to use even if your dog is wet or has an accident/gets carsick. The sliding doors somewhat rattled on dirt roads but it was not a constant noise while driving around.
At-Home Use
It is not an escape-proof crate for dogs with severe separation anxiety, but none of the similar crates are.
 Using it for Traveling, Events, etc.
We used this crate in hotel rooms while traveling and really liked it. The handle makes it easy to move around, and you can store some stuff on top of the crate in the two (open) compartments without them sliding down. The slanted front side also makes it easier to use in small hotel rooms and leaves more space to move around it.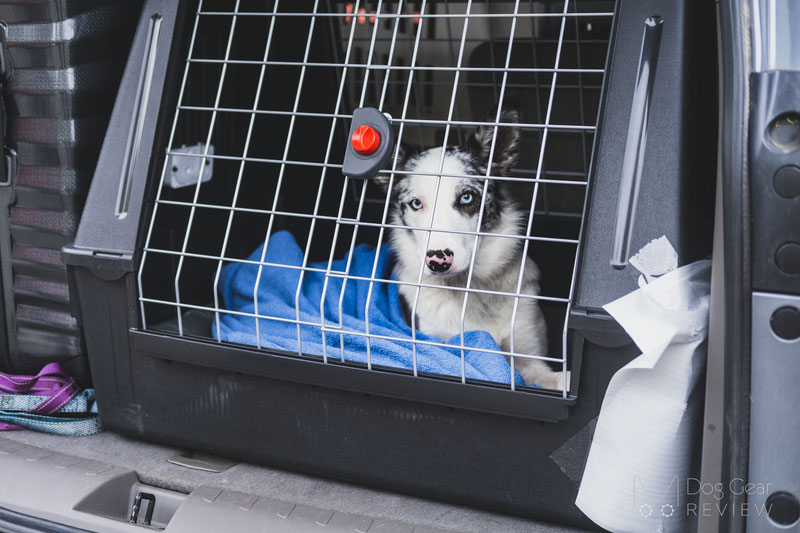 Review Summary
If you are looking for a sturdy, crash-tested crate, this is not it, but it is a decent crate in its price range. There are very few budget-friendly side-door crates on the market so this crate is definitely filling a niche.
Where To Buy
You can buy the Ferplast Atlas Vehicle SUV Dog Crate through their website and can also find it on many websites like on Amazon and pet stores.