About EQDog
EQDOG is a Danish company whose goal is to set new standards for dog accessories by utilizing human products' advanced technology and creating innovative solutions. Their products are made with adventure dogs in mind who need durable, well-made, high-quality products that are also comfortable and stylish.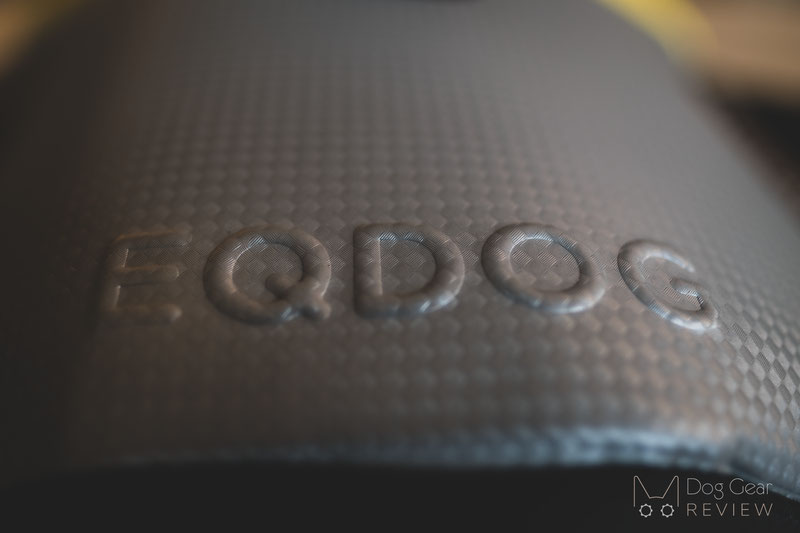 Why would a dog need a life jacket?
While life jackets can be a lifesaver for many dogs in many situations, not all dogs need one. So how do you know if it would be helpful for yours?
Let's start by talking about dogs with medical conditions, joint issues, or just bad swimming techniques that need a life vest's extra help. There are also dogs doing hydrotherapy as part of their rehabilitation where life jackets are regularly used. It's clear that these dogs can benefit from a life jacket that helps them keep in a proper swimming position and let them safely enjoy some low-impact exercise.
How about a healthy young dog? They can benefit from a life vest the same way as small kids who can already swim. If you take your dog on a boat or kayak, they can unexpectedly fall in the water, and the cold water can cause shock to their body. Accidents can also happen when dogs jump in the water or play around it, hit their heads, and lose consciousness. It's also possible for a good swimmer to enjoy their water time too much and not stop when their muscles get tired. This can cause muscle cramps that can be fatal if the owner cannot get to the dog in time.
Many people think that life jackets are just fancy gadgets and our dogs (and wolves) lived happily without them in the past. While this is true, we also have to keep in mind that the life of our dogs changed so much. We take them with us on longer trips on the water on a SUP or kayak; we train them in dock diving; we take them to dog beaches where we play fetch with them all day. All these are very different situations from a dog (or wolf) just enjoying some time around the water by themselves. These changes in their lifestyle require new solutions from our side as well to help our dogs safely accompany us on all these adventures ;)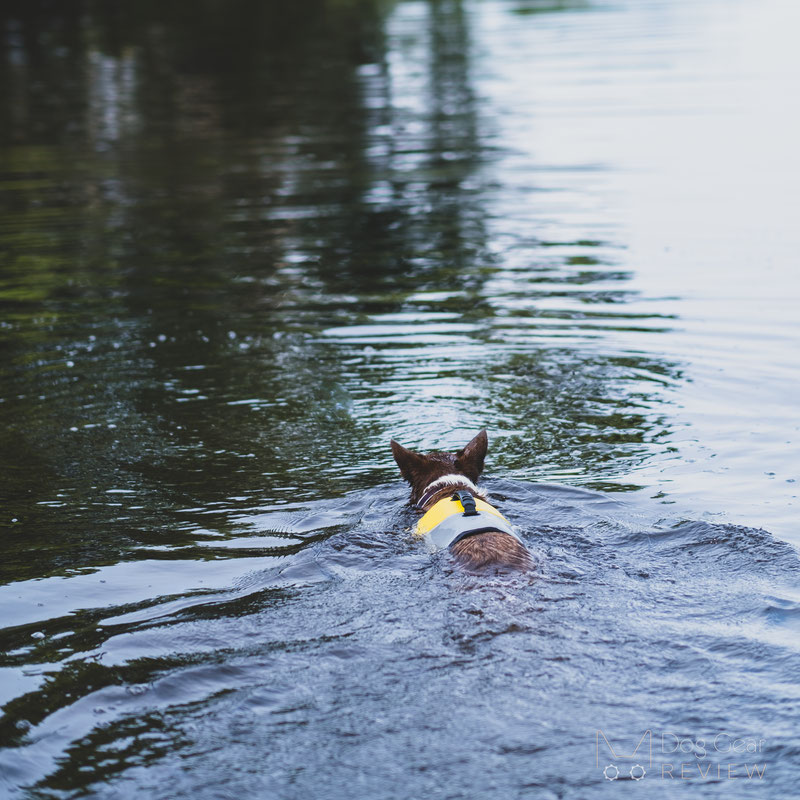 The details of the Pro Life Vest
The EQDOG Pro Life Vest is a beautiful and well-thought-through life jacket with a streamlined design. It has big cutouts for the front legs to move back and a wide belly band for distributing the pressure evenly.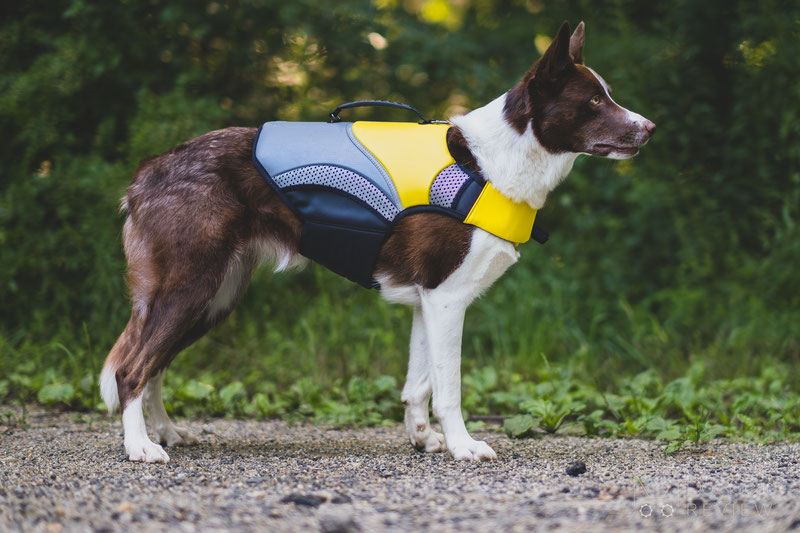 The details of this life vest are stunning and impressive. EQDOG really made an effort to create a well-rounded design. Besides thinking about esthetics, they also added reflective elements all over for extra visibility.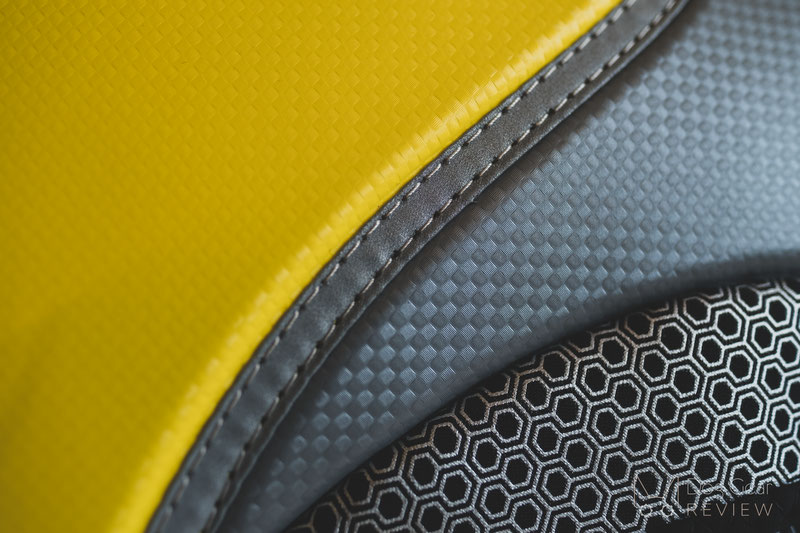 All the buckles are partially hidden under the material, which both protects them and makes the design more minimalistic. Neither the adjustable belly strap nor the neck section is only secured by the buckles; they also have velcro for added security and to remove some tension from the buckles.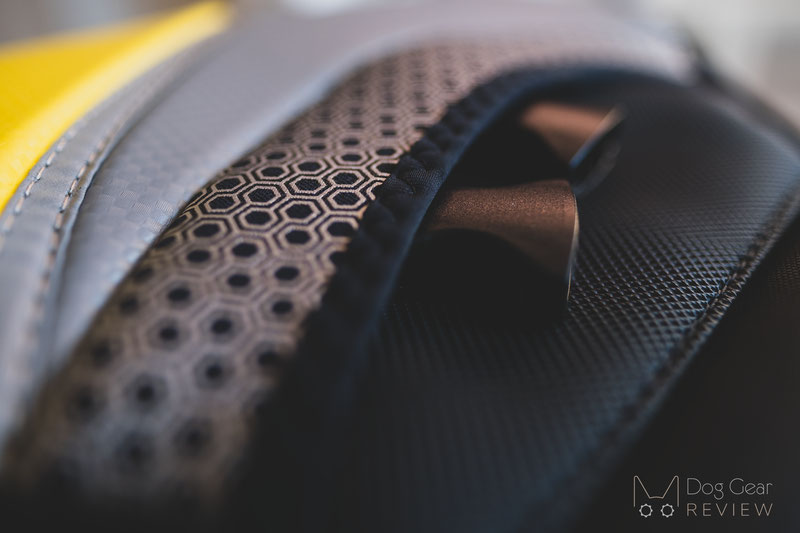 The back of the life vest features a big, easy-to-grab assistant handle that can hold more than 180 kg (396 pounds).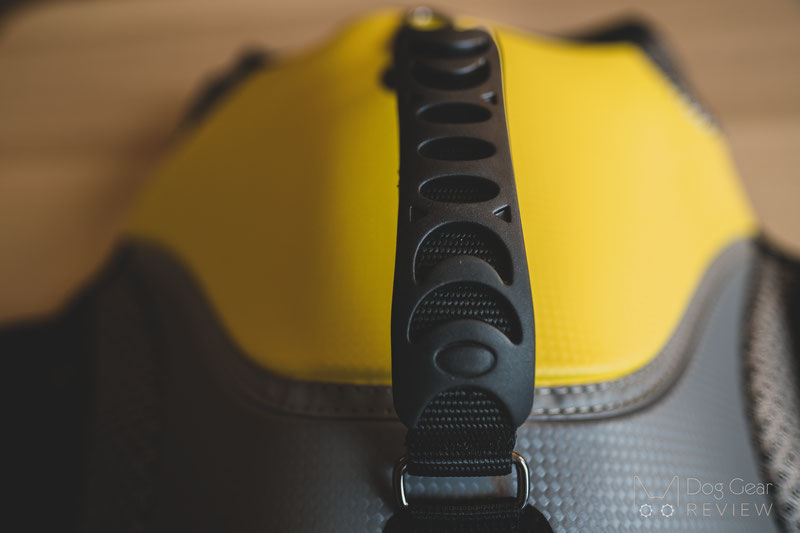 There is also a strong leash attachment ring at the front of the handle.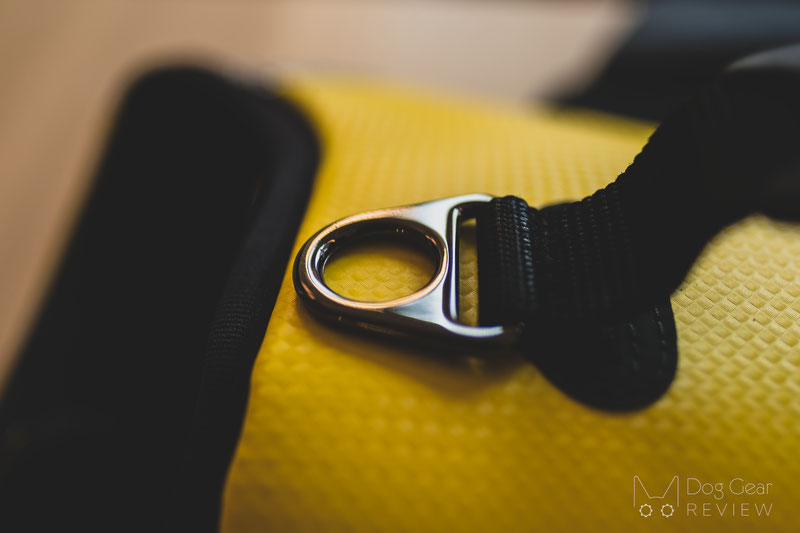 Even though the visible features of this swim vest are already impressive, its most distinguishable feature is below the surface. This is the only life vest on the market so far that not only has laminated EVA foam as a floatation material, but it is also molded by pressure and heat (called the Thermoform technology). This provides more floatation while the laminated PVC skin on top of the EVA foam prevents water from getting into the vest.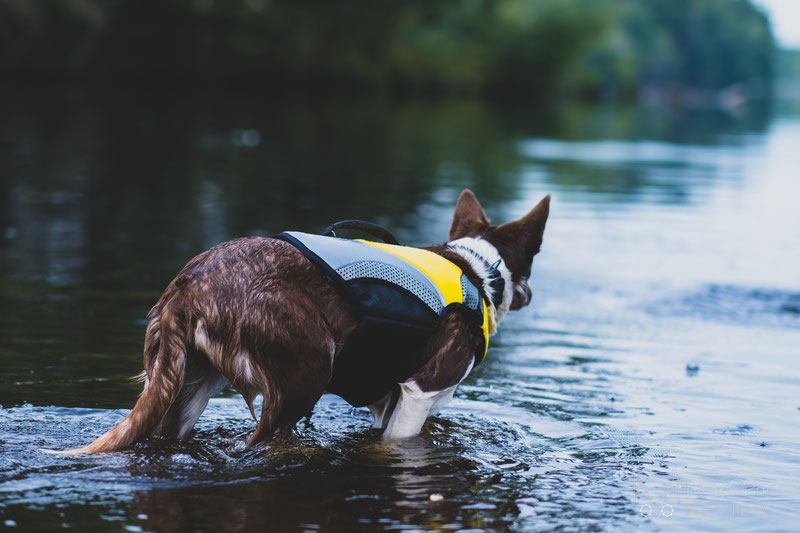 Pro Life Vest Review
The EQDOG Pro Life Vest provides the ideal amount of coverage: it balances well the need to cover a big enough area to provide sufficient support and leaving enough room for the legs' full range of motion.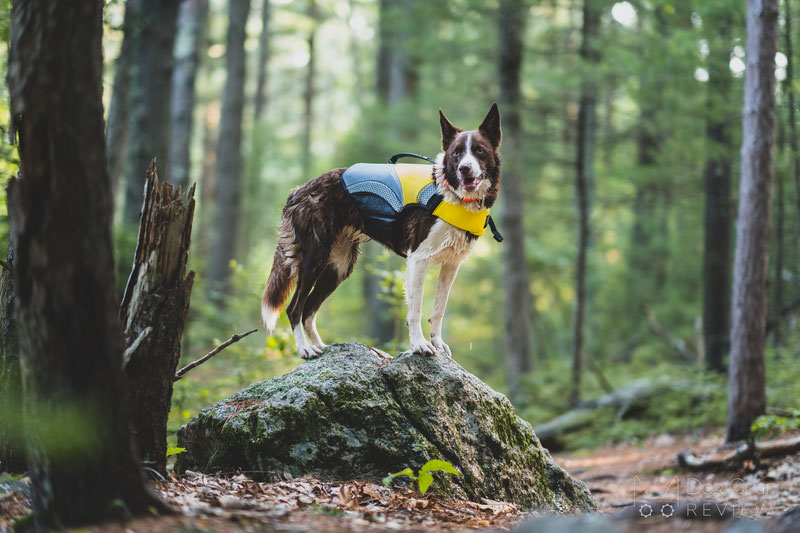 The cut-off design of the bottom end of the vest ensures that the dog can easily paddle with their back legs without the edge of the vest chafing or restricting it. The life vest doesn't feel bulky at all; it fits Mia like a second skin.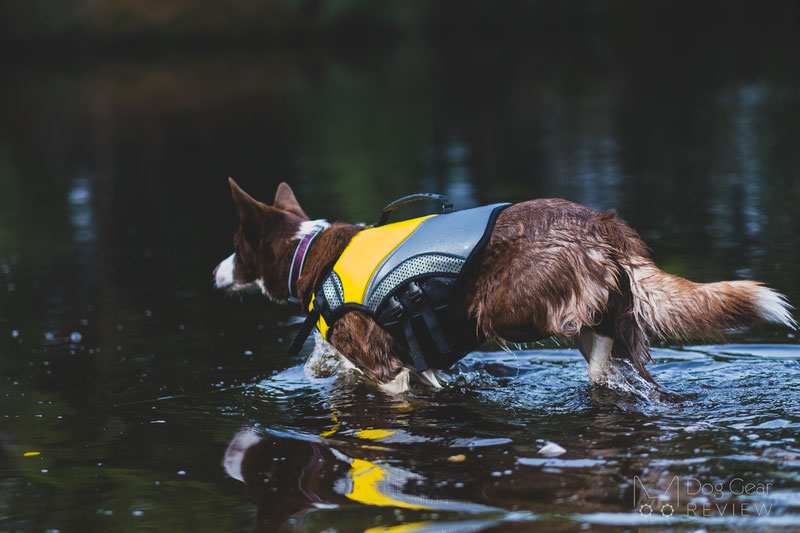 It is impressive that the well-fitting vest provides the same amount of floatation as the much bulkier ones. I also like that the more streamlined design and hidden buckles make it less likely for the dog to get stuck on a branch or something else under the water surface when swimming in lakes.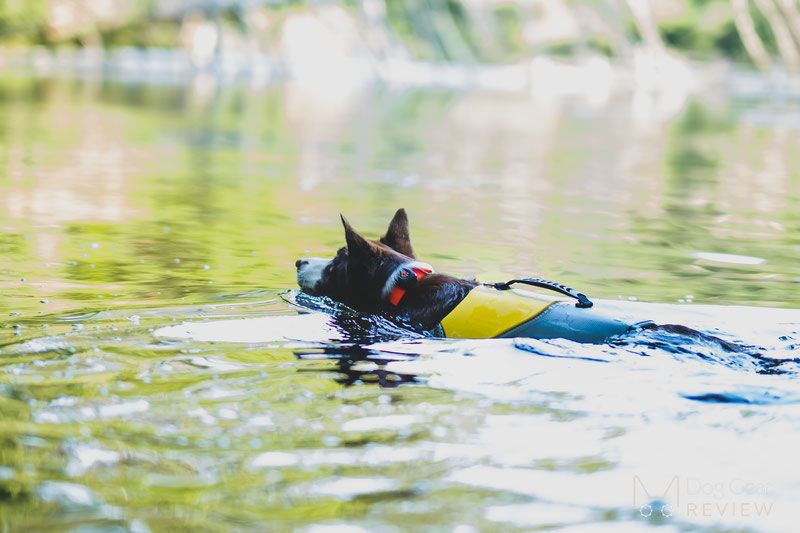 This vest floats the dog evenly on the water while maintaining a natural swimming position. While this is great for every other purpose, I just wanted to note that Mia tends to hold her head very low when she swims, and she still swallows some water when retrieving something while wearing the vest. So if your dog struggles with the same issue, don't expect this vest (probably any vest) to solve it. Besides this, it is a great life vest for every other purpose.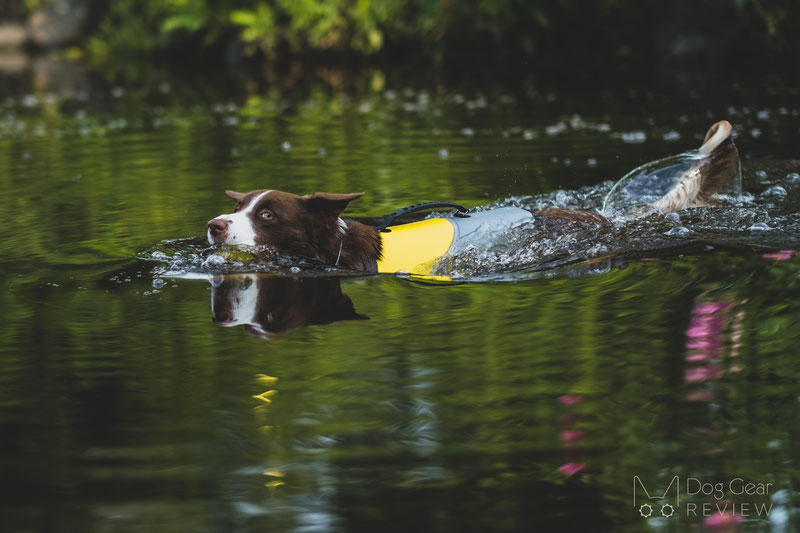 Another thing to consider is that this product fits medium to large dogs the best. The sizing goes from XS to L/XL, and Mia needed their Small size, so if you have a tiny pup, you will probably not find a size for them.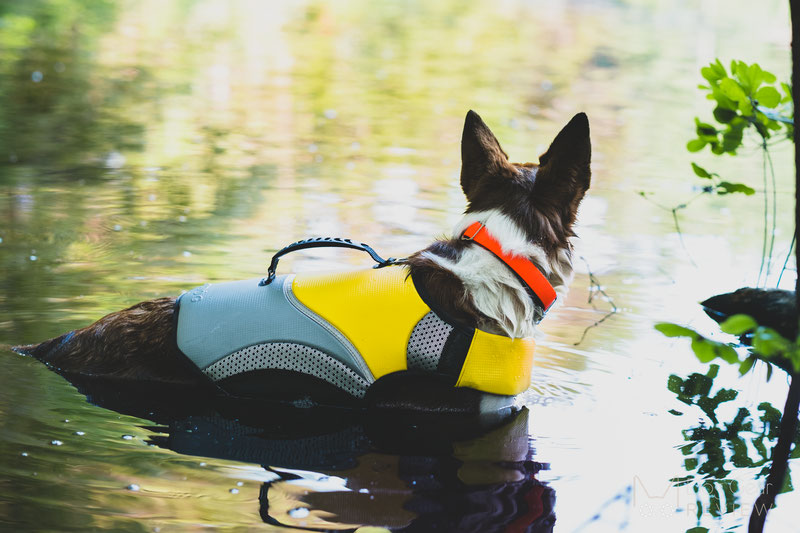 Summary
To summarize, this is a neatly fitting life vest, providing excellent coverage without being bulky. It also dries surprisingly fast because the material doesn't soak in the water. The big handle is very helpful if you ever need to grab the dog to help them out of the water. It is a well-designed, great-quality life vest that worked well for us overall!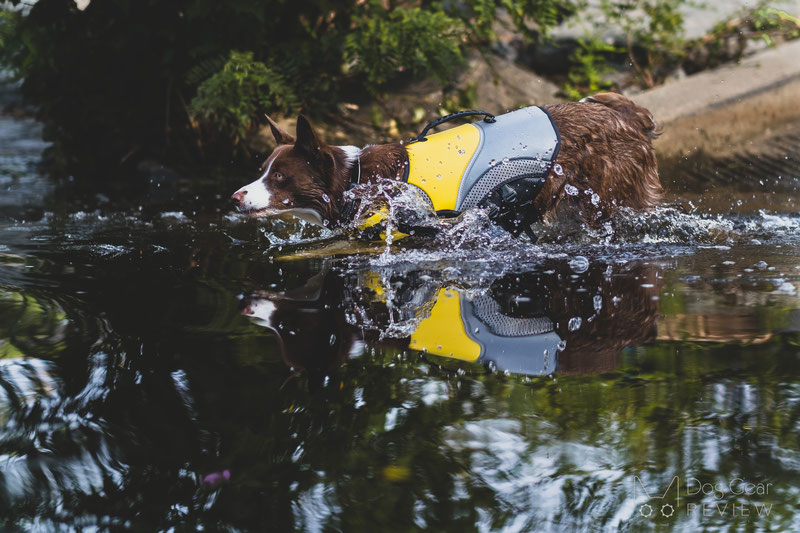 Where to buy
You can buy all their products on their website. They are mainly focused on the European market and have direct sales in Australia. If you are interested in their products but are out of these areas, reach out to them to see if they have an established retailer/shipping channel in your country as well! They are planning to enter the US market in the future but do not have a distributor there yet.
For a reference, Mia got their Small size.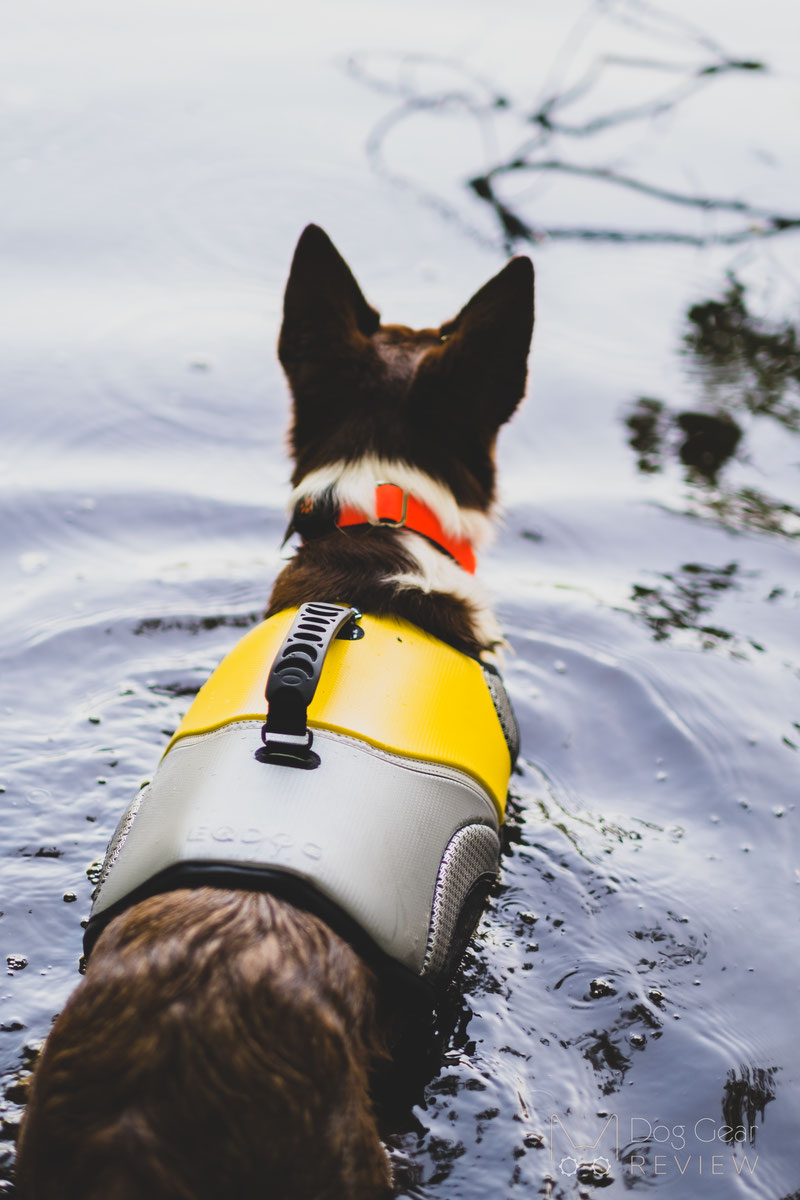 Mia's measurements
Many of you asked Mia's measurements to better understand the different products' fit. Your best chance of finding a good fitting gear is always to measure (and remeasure) your dog. Even we grab the measuring tape before getting a new product - even though we tested a lot of them, and have a good feeling of her size by now.
I share her measurements below, but don't go ahead and order the same size just because your dog is similar to Mia ;)
Shoulder height: 19.5 inches (50 cm)

Weight: 37-44 pounds (17-20 kg)

Widest chest circumference (where the most harness would have the chest strap): 25-26 inches (63-65 cm)

Neck circumference for collars: 15-16 inches (38-40 cm)

Back lengths: 22 inches (56 cm)