About DogWear Adventure
DogWear Adventure is a newly launched small company in Canada that was created from the need to find a well-fitting and comfortable boot for their dog for hikes after none of the options on the market worked for them. They were looking for a solution not to compromise comfort and security when it comes to dog gear.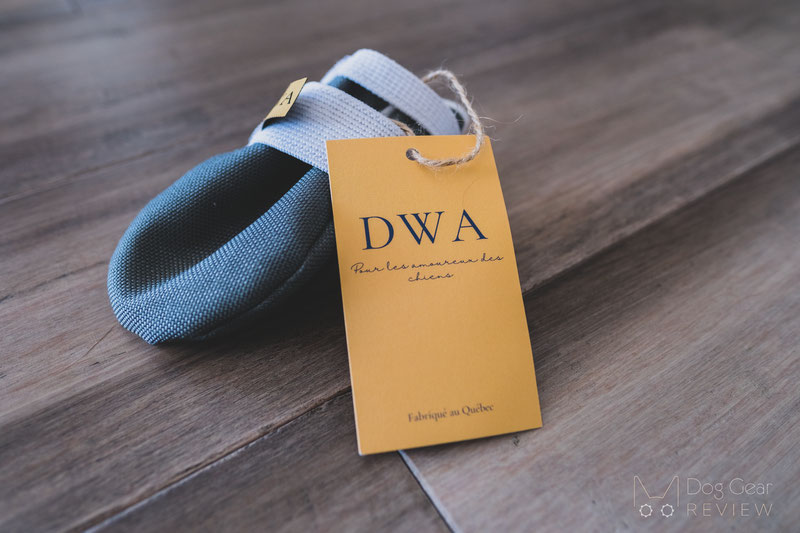 Do dogs need boots?
The question of whether dogs need boots is a common one among pet owners. The answer, however, isn't straightforward as it varies from dog to dog and depends on various factors.
Different types of boots serve different purposes. For example, boots can protect a dog's paws from extreme temperatures, such as hot pavement or cold snow. They can also prevent paw drying and cracking caused by salted roads during winter walks. Additionally, boots can provide traction on slippery indoor surfaces and protect paws from sharp objects on rocky terrain.
The decision to use boots ultimately comes down to your dog's individual needs and sensitivities. Some dogs may require boots more than others, depending on their breed, size, age, and health conditions. It's essential to observe your dog's behavior and how they react to different terrain and temperatures to determine if boots are necessary.
We wrote an article about things to keep in mind when using boots on hikes over the summer since there are just as many pros as cons around the topic. We also have another article on the different types of winter boots, the differences between summer vs. winter boots, and much more.
If you want to read more educational posts, check out our Articles page!
What size of boots does my dog need?
When it comes to choosing the right size of boots for your dog, it's essential to follow the sizing guide provided by the manufacturer. Most companies provide sizing instructions on their product site, so be sure to check before purchasing.
To measure your dog's paws accurately, place a sheet of paper on the ground and have your dog stand on it. Lift the opposite leg to put weight on the paw you want to measure and draw lines on both sides of the paw. You can then measure the distance on the paper later without causing any stress to your dog.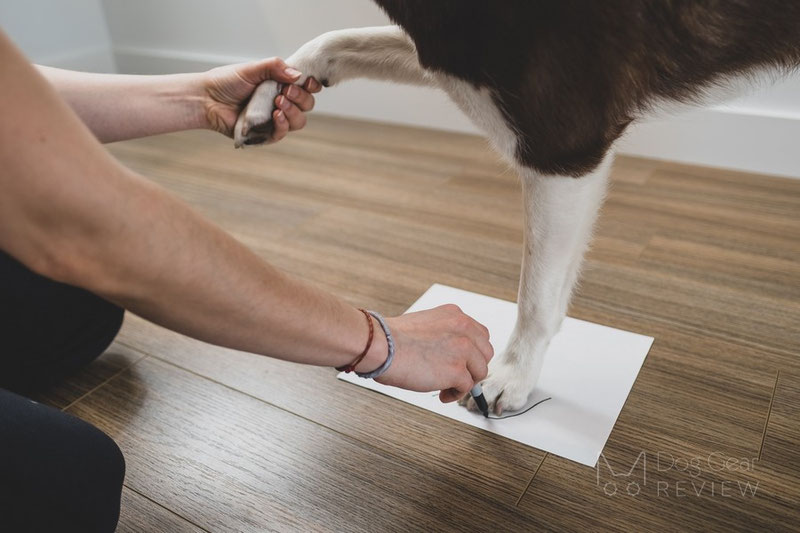 Some companies ask for the paw's width, while others size based on the paw's length, so it's crucial to check the sizing guide for each brand.
It's recommended to measure all of your dog's paws since the front paws may differ in width from the back paws. You also need to ensure a snug fit, as loose-fitting boots can cause your dog to lose balance and chafe their feet.
Avoid the common misconception that leaving the straps looser or ordering a size larger will make the boots more comfortable for your dog. Just like hiking in oversized boots, ill-fitting shoes can cause discomfort and pain for your pet. Therefore, aim for the most precise measurement possible for optimal comfort and performance.
The details of the DogWear Adventure Winter Boots
These sock-type booties don't have a rigid rubber sole which provides more comfort and traction to the dogs. They are secured with two elastic velcro straps, and they stay on very well! They are also machine washable, which is an excellent feature for boots.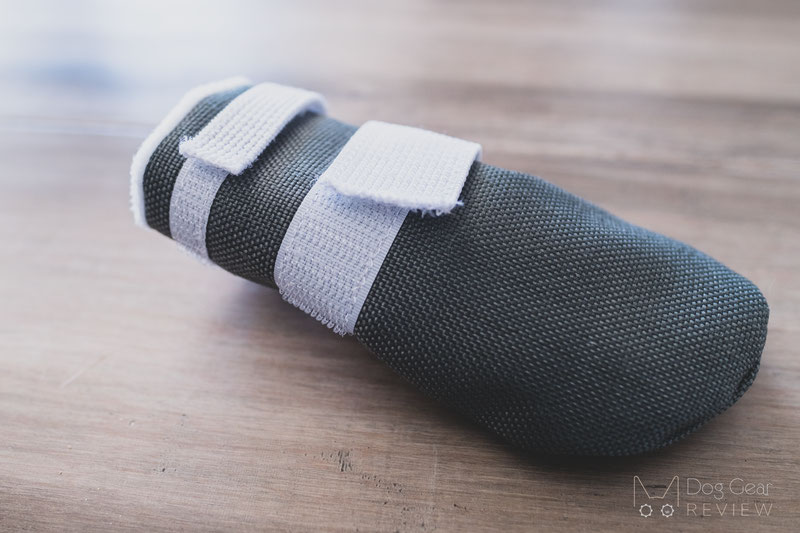 The outer material is Cordura Nylon 1000D, durable enough to handle winter hikes, snow, salt, and ice. The outer fabric is also waterproof.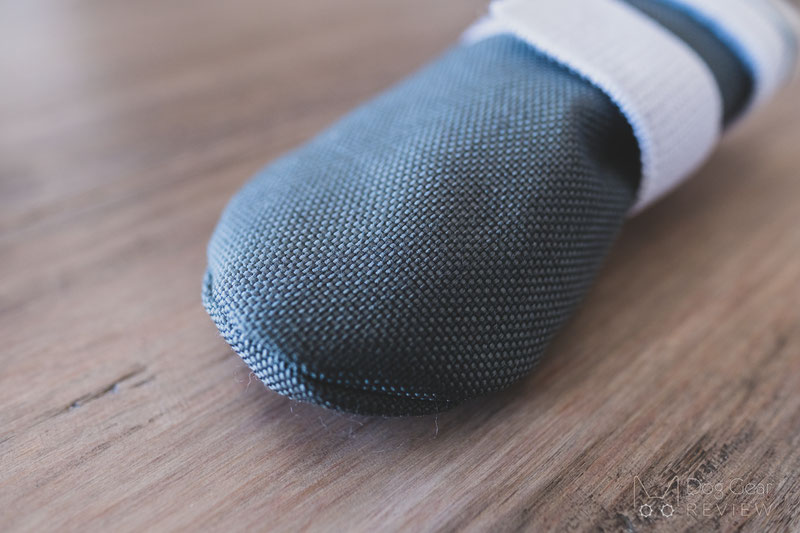 The inside is lined with micropolar for extra warmth and is seamless to prevent chafing and rubbing even when used on a longer outing.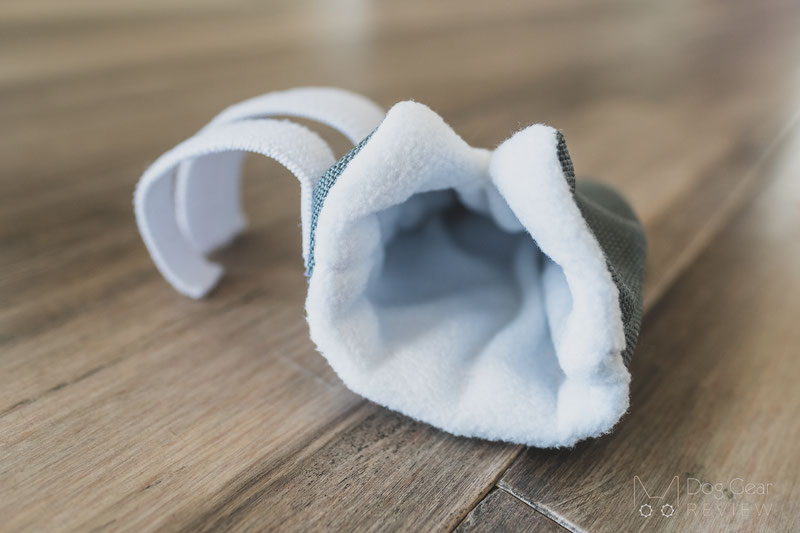 DogWear Adventure Winter Boots Review
Mia can be very picky when it comes to boots. If I put boots on her that are not 100% comfy (still the correct size and fit), she looks at me like she is in significant pain. She is also a dog who jumps around on three legs with panic on her face when a tick gets between her toes, so no surprise there.
I am just mentioning these, so you get a feeling of how hard it is to find boots for her that she likes. However, when I put on the sock-type boots, she doesn't even skip a beat; just keeps running around like nothing is on her paws. There is no need to get used to them or spend a few minutes adjusting to the feeling. This is probably the highest compliment Mia can give when testing boots.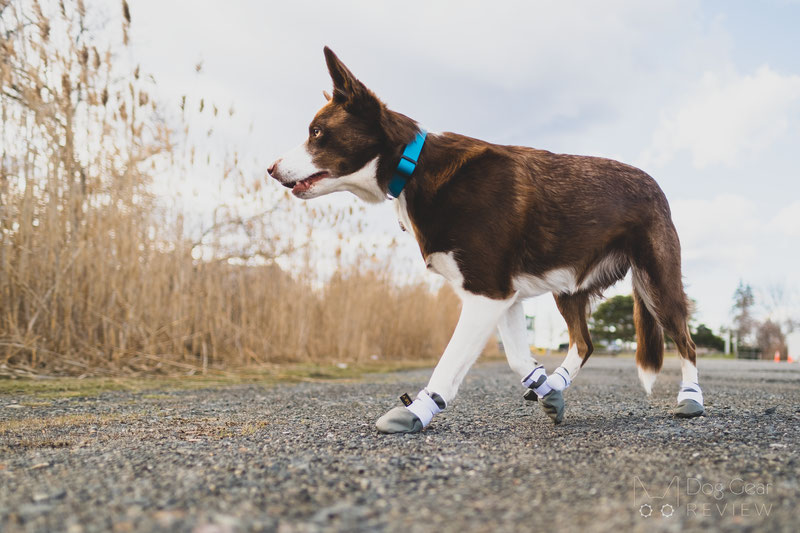 While the outer material could handle warmer weather as well, the lining makes it too warm for summer use. We still used it in early spring, and it performed well both in snow and on rough trails.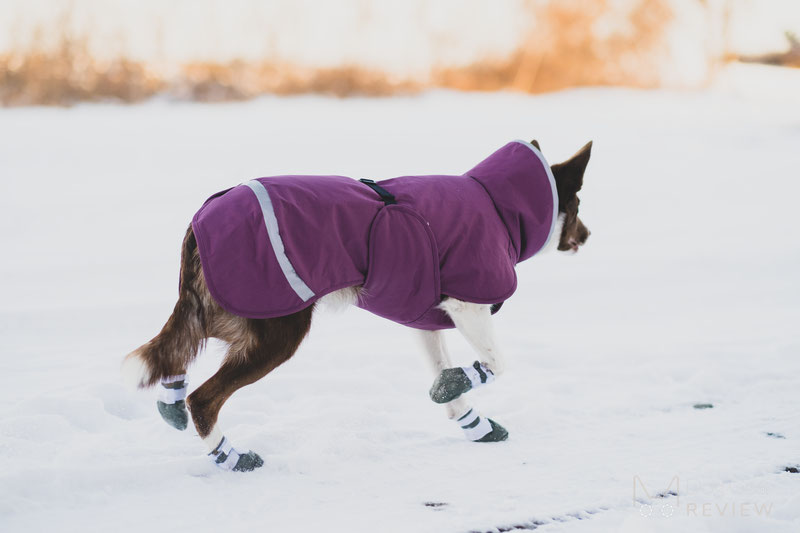 I also like that these boots have the same material all around, so it is not a problem if they rotate. The outer material's durability and the comfort of the inside are the same all around.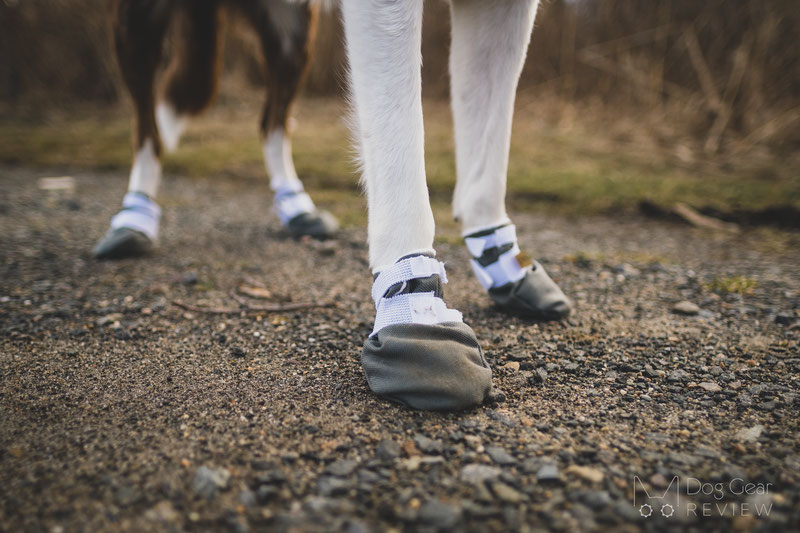 We ran into two quality issues, but we received these boots right when they went to market. I noted them to DogWear Adventure, and they are already working on a solution for both. One is that the end of the velcro straps started fraying after a few weeks. Unfortunately, this is common with this type of strap, but they are already looking for another brand to replace them.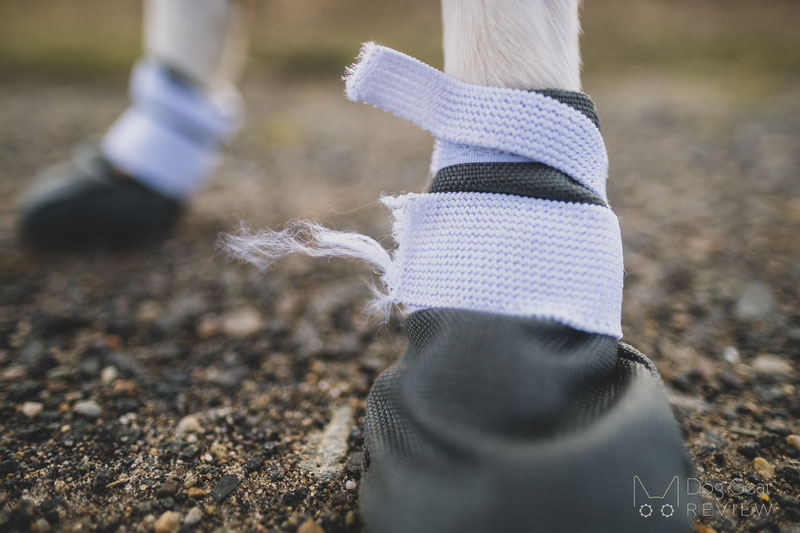 The other problem was that if the dog ran around a lot, the top strap sometimes slid up, not supporting the boots. These top straps are designed higher than on most boots to prevent the snow from getting inside, but this makes them more prone to sliding up as well.
DogWear Adventure is thinking about securing the top strap in the back on newer boots to fix the position, so this should be solved soon as well.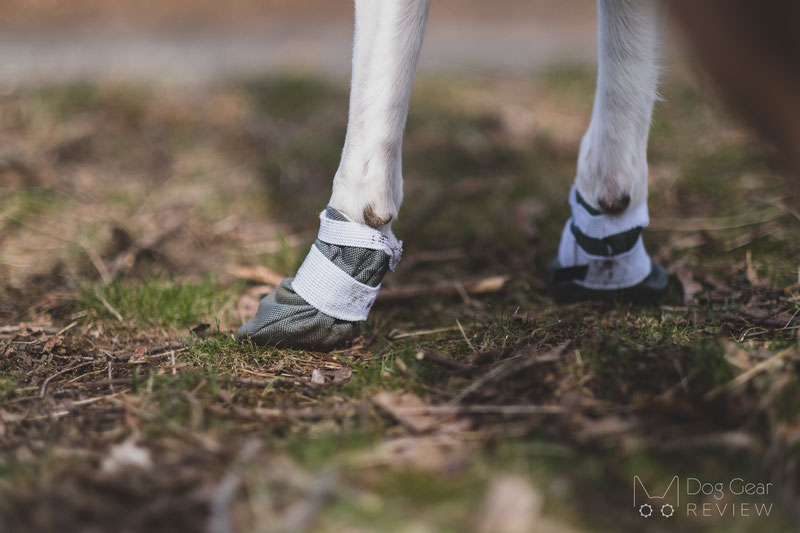 On Mia, it also leaves excellent clearance under her carpal pads which can be another area to chafe when wearing boots.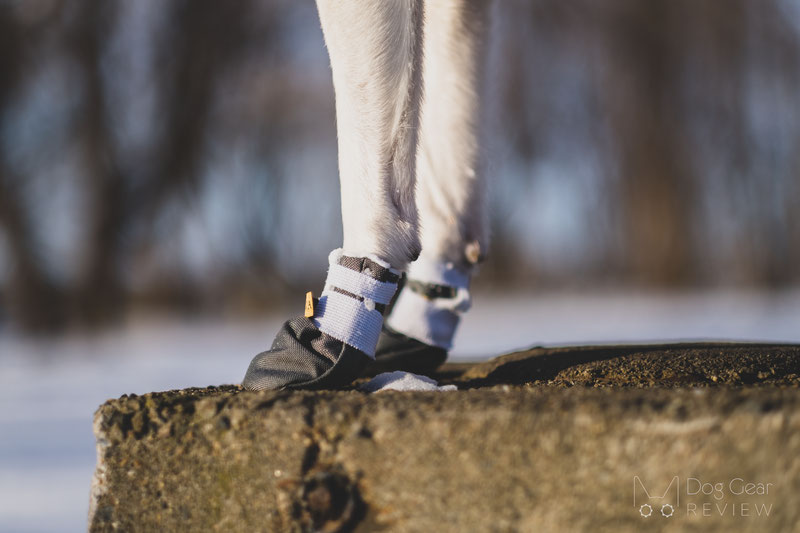 Altogether these boots are great and have the potential to be perfect for colder adventures once those two problems are fixed. They have all the features that make them practical for winter hikes and none that would make them too stiff or uncomfortable. They are also very packable without rubber soles and are lightweight (the small weighing 17 grams, the medium 20 grams).
There are left and right boots; the difference is the direction of the velcro straps: if you place the straps to go out, then in, it is less likely they will open up. Also, the back of each boot is supposed to be the one with the little slit. This is there to full the material together more when tightened. These ensure an ideal setup, but they still work if you mix them up sometimes (I certainly did, and they still stayed on well).
They are sold in pairs of two which is ideal for dogs who need different sizes for the front and back paws. Mia had two sizes: medium for the front paws and small long for the back ones.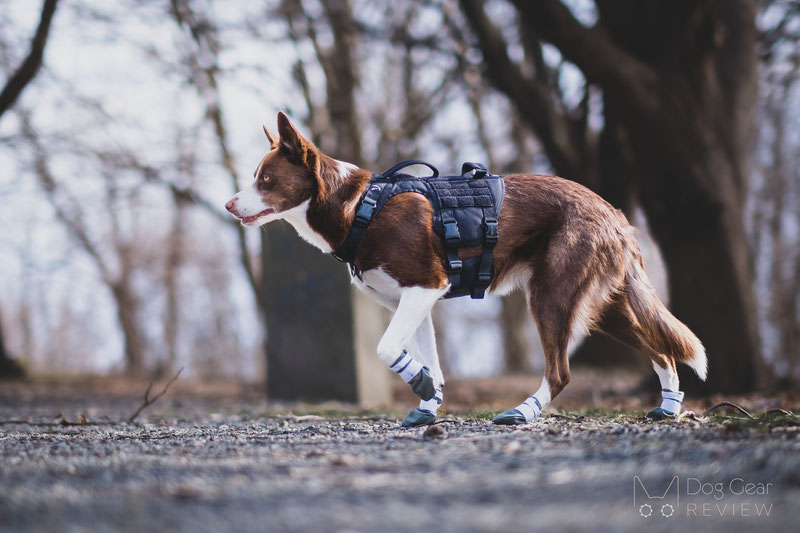 Where to buy?
You can find the Winter Boots on DogWear Adventure's website and you can find them on Instagram.