About Duo Gear
Duo Technical Gear is a very cool company introducing innovative solutions for everyday problems. They tried out many harnesses and decided to develop their designs, addressing the most common issues they saw.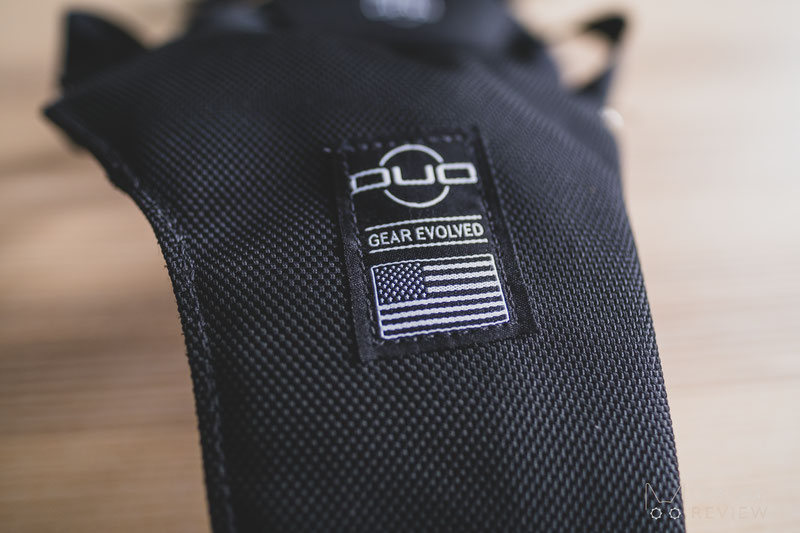 About the American Eclipse Adventure harness in general
The Adapt harness is DUO Gear's solution for dogs who slide out from harnesses when they get scared or for escape artists who prefer to run away. The sliding neck straps provide a cinching system while the back and chest plate act as a buffer to ensure that it is not choking the dog. The harness basically behaves as a low-sitting limited-slip collar that can be pulled over the head when loose, but it tightens enough when there is leash pressure so the dog cannot slip it off.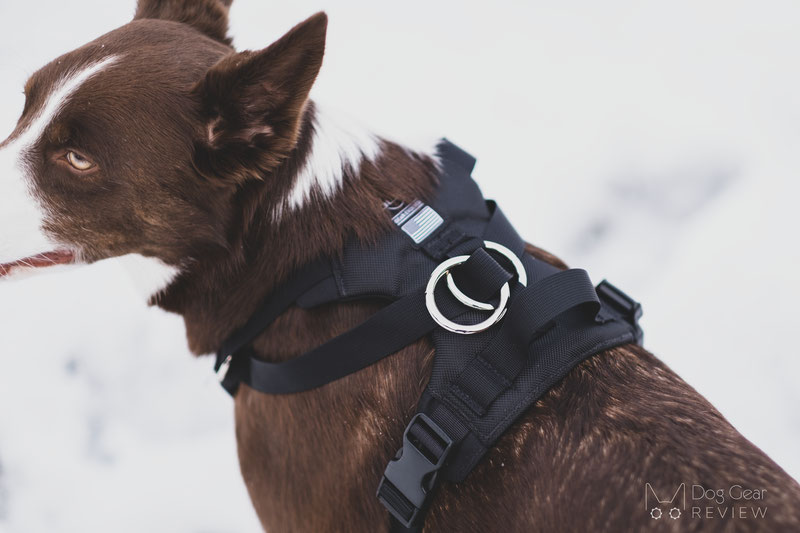 The wide and durable straps easily slide through the ring on the backplate, ensuring smooth tightening and loosening when pulled from any direction. There is also a big handle on the back that's easy to grab.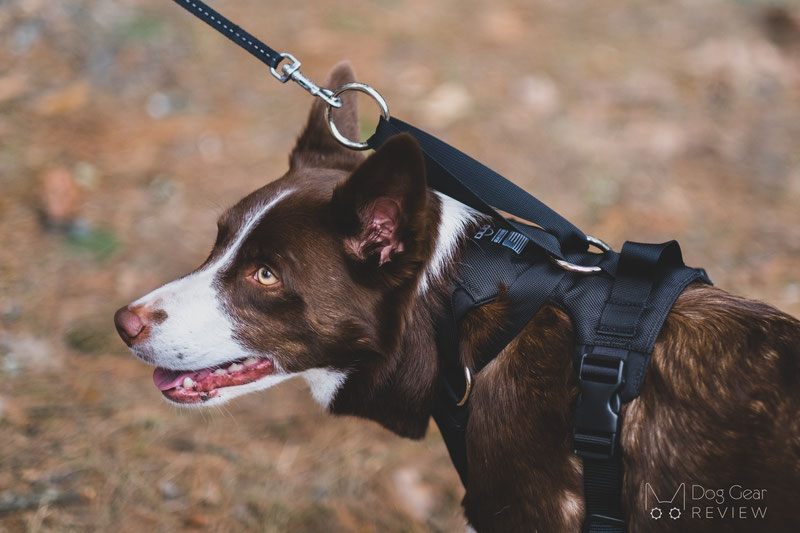 When used for off-leash hikes, it behaves like any other Y-harness. It leaves a fair amount of space behind the front legs but will slide up when the neck-straps are tightened.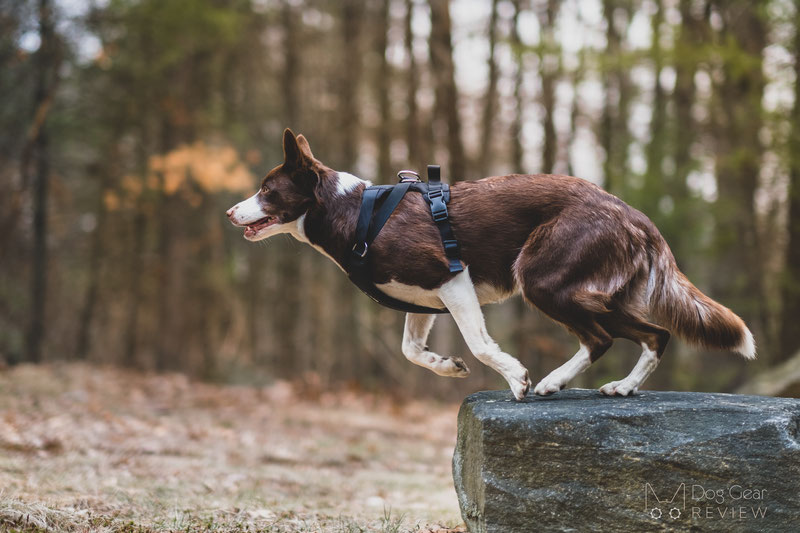 The materials used for this harness are high quality, durable, and abrasion-resistant, as we also saw that with their Eclipse harness. It is made from 500D Cordura, 1000D Ballistic Nylon, Milspec webbing, and buckles to withstand everything you throw at it while the Orthopedic-grade Molding Foam Core makes it comfortable for the dog.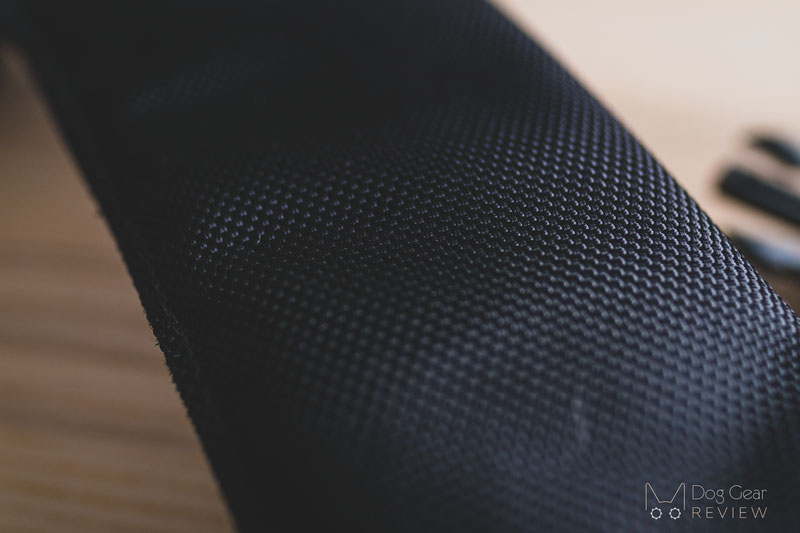 The S-L sizes have 1" webbing and 1.5" rings, while the XL-XXL sizes feature 1.5" webbing and 2" rings.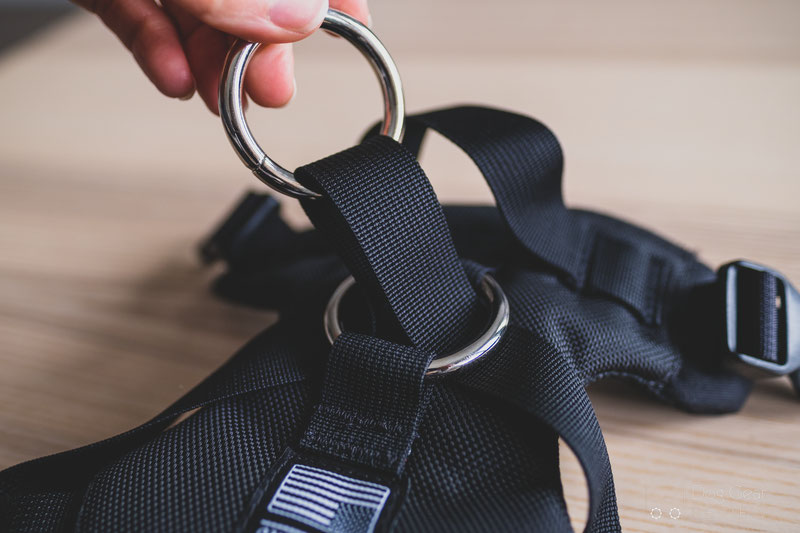 American Eclipse Adventure Harness Review
While we tested this harness, our posts generated great attention from both sides. We agree that it is not the best harness for every dog and every situation, but if you keep the original goal in mind (to keep escape artists safe), it is a high-quality harness with an innovative design!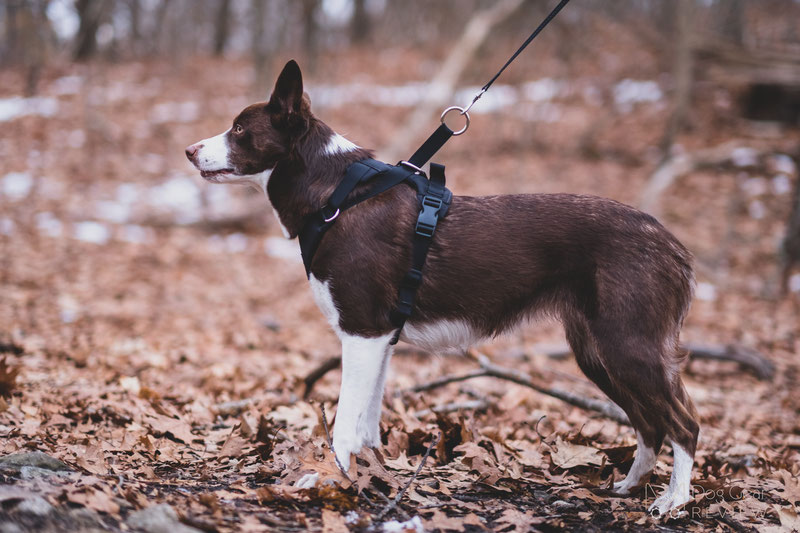 Having the sliding straps doesn't mean that you don't have to adjust this harness. You want to set it up so when the neck-straps are fully extended, it fits like a Y-harness should, and it's not hanging too low on the neck of the dog. This will make it faster for the straps to tighten as needed, and it ensures that the harness is comfortable when used off-leash or without leash pressure. I have seen these harnesses worn with way too long neck-straps, making it harder for the straps to naturally slide back to the normal position - which is why in some videos, you see owners needing to lift the backplate to make the neck-straps loosen. When not having a lot of excess straps, the harness easily slides back to the "all extended stage" - at least it was never an issue with Mia when she moved after releasing the leash pressure.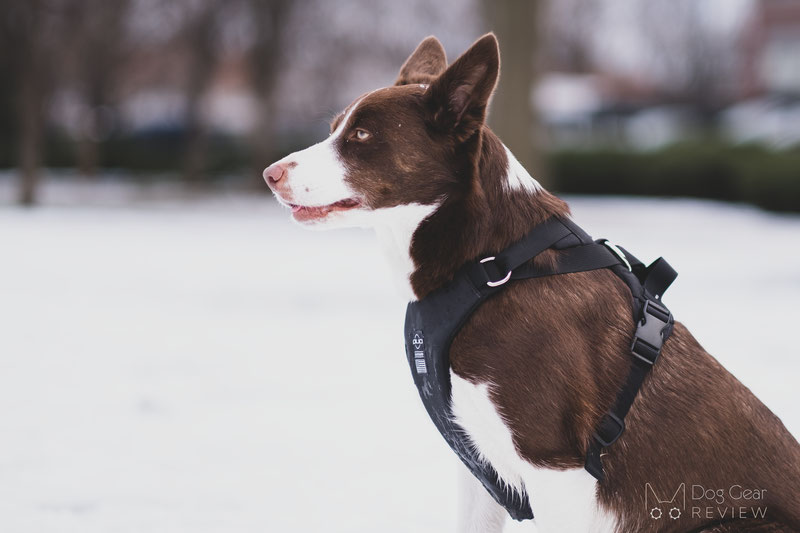 Adjusting the neck-straps can be a little time-consuming, but you only need to do it once, and then it holds very securely. It's a nice feature that you can hide the extra straps in the opening of the back panel, so they don't flap around.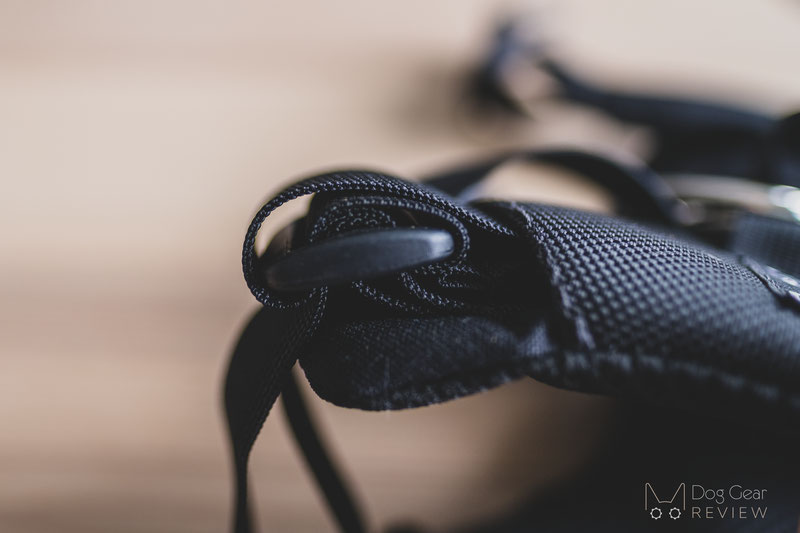 Some of our followers were concern about the straps sliding over the shoulder. This is not something that caused any rubbing on Mia's skin or fur, and I don't see it being a concern unless the dog has skin issues or sensitive skin. Ideally, if your dog walks nicely on the leash and the neck-straps are adjusted well, it shouldn't constantly slide on the dog; it just lays there as any other harness strap would.
Some of you also expressed worries about the sliding straps wearing down on the two metal rings. After using this harness for over two months, there are no signs of chafing on that strap at all. I also asked the developers and they informed me that they tested the Apat harness on multiple dogs for hundreds of hours without any evidence of chafing or damage to the harness.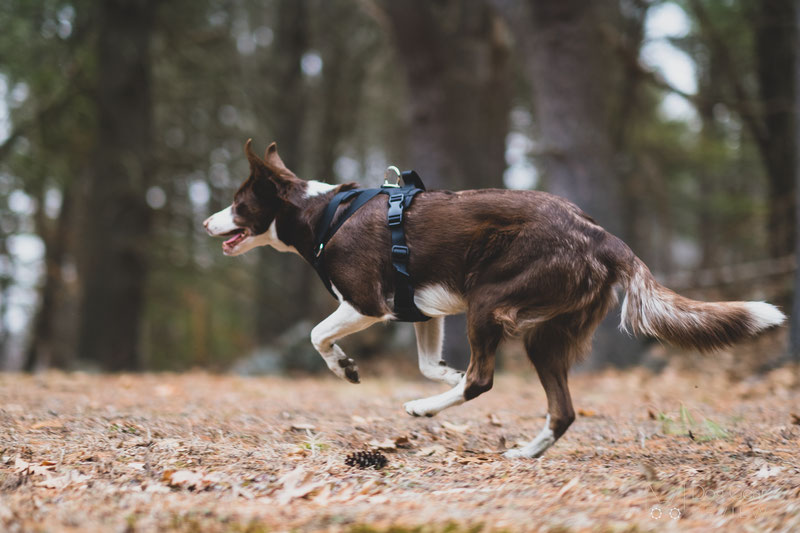 The padding on the inside of the harness is a mesh-like, breathable material that collects fur and mud but was pretty easy to clean with a lint roller or something similar.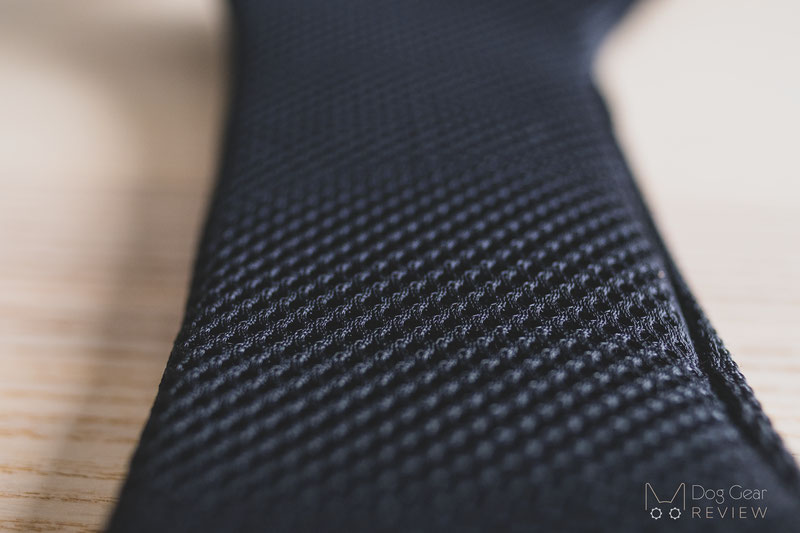 In the product description, DUO Gear also mentions that the Adapt harness can be used for pullers or for reactive dogs who are lunging. While it might work in these cases for some dogs, we don't feel the design is ideal for these situations. Having the harness tightening around the neck for a reactive, lunging dog can increase the frustration/fear/negative association, while a strong puller will keep pulling with all their strength while the harness would slide higher up on the neck, putting pressure on their trachea. In these contexts, the harness behaves like a low-sitting martingale collar, giving you less control than a high-sitting collar while having the same or higher chance of hurting the neck.
I imagine this design would work nicely for a trained dog who just needs a slight correction when pulling or getting tense around a trigger, but this wouldn't be my go-to option when I start working on these issues with a new dog.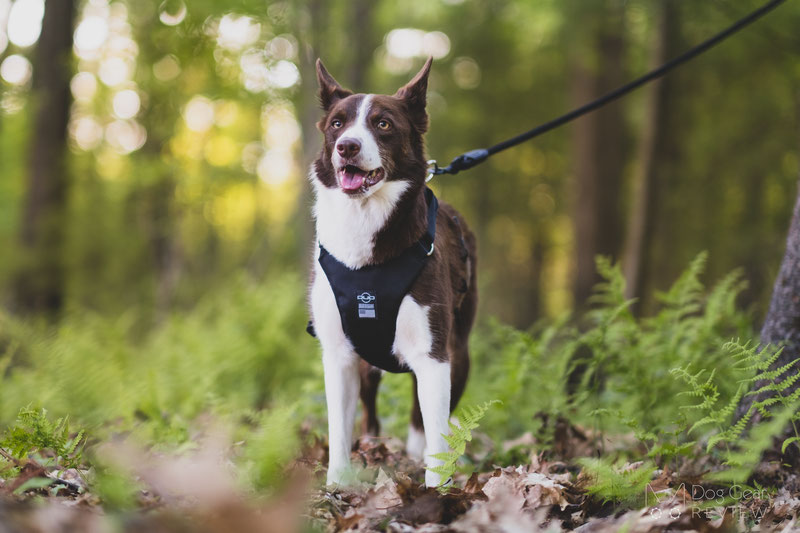 Functionality Review of the American Eclipse Adventure harness
No-pull correction: As we discussed above, we wouldn't recommend this harness for no-pull training. DUO Gear has another design specifically for no-pull training.

Running/Biking (as an irregular hobby, buy specific equipment if you want to get into it seriously): I wouldn't recommend it unless your dog is trained to run next to you and doesn't pull into the harness at all to avoid putting pressure on the lower neck.

Hiking: It worked reasonably well for off-leash hikes. The handle is easy to grab, and the durable material easily handles dense undergrowth. I wouldn't recommend it for steep on-leash hikes because if you attach the leash to ensure the dog is not sliding down, you will keep putting pressure on the lower neck every time the dog slips.

City walk: That's the best use-case for this harness. It workes well, although it could have a reflective part for extra visibility.

Easy to put on/adjust: It only has buckles on the chest straps, so you have to pull the harness over the head and then use the buckles on both sides to fix the harness. Adjusting the neck-straps to the ideal length might take multiple tries and some time, but it's nothing too complicated.

Visibility: it doesn't have any reflective stripes.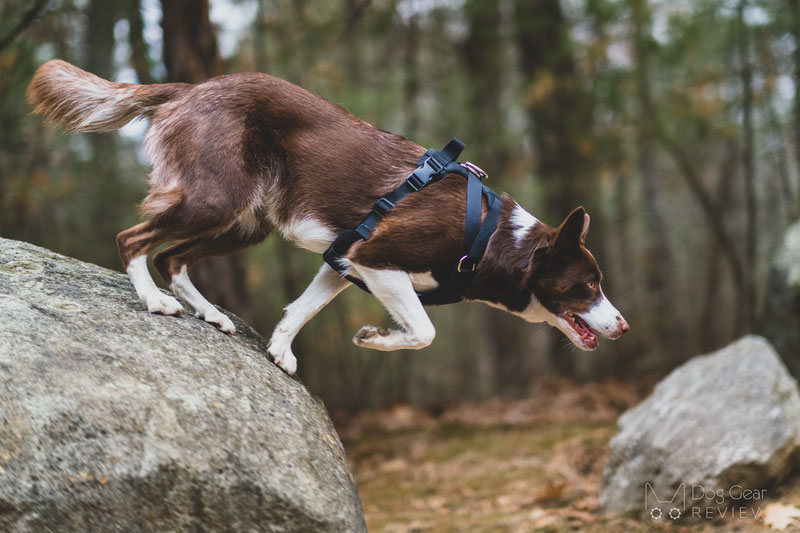 Summary
If you have an escape artist who slides out even from collars, this harness is a great option to look into. When used off-leash and adjusted correctly, it's also great for hiking and long walks; the handle on the back is also great to give a hand to the dog when needed on a rough trail. I wouldn't recommend this to be used on challenging, steep hikes, though. If you leash the dog for safety on a steep section, you don't want to stop a sliding dog with the straps suddenly tightening and hitting the lower neck with the dog's weight.
Altogether this is a very well-made, durable harness that seemed to withstand all adventure without any issues!
As always, when you receive the harness, be sure it is a good fit for YOUR dog. If you need help deciding, read our article on harness fitting and utilize DUO Gear's 30-day return offer if concerned.
Where to buy
You can buy the American Eclipse Adventure harness on their website or on Amazon. For reference, Mia had a Medium harness.
Disclaimer: this review contains an affiliate link, which supports Dog Gear Review if you purchase the product after clicking on it without costing you anything extra. Using affiliate links will never compromise us writing unbiased, honest reviews!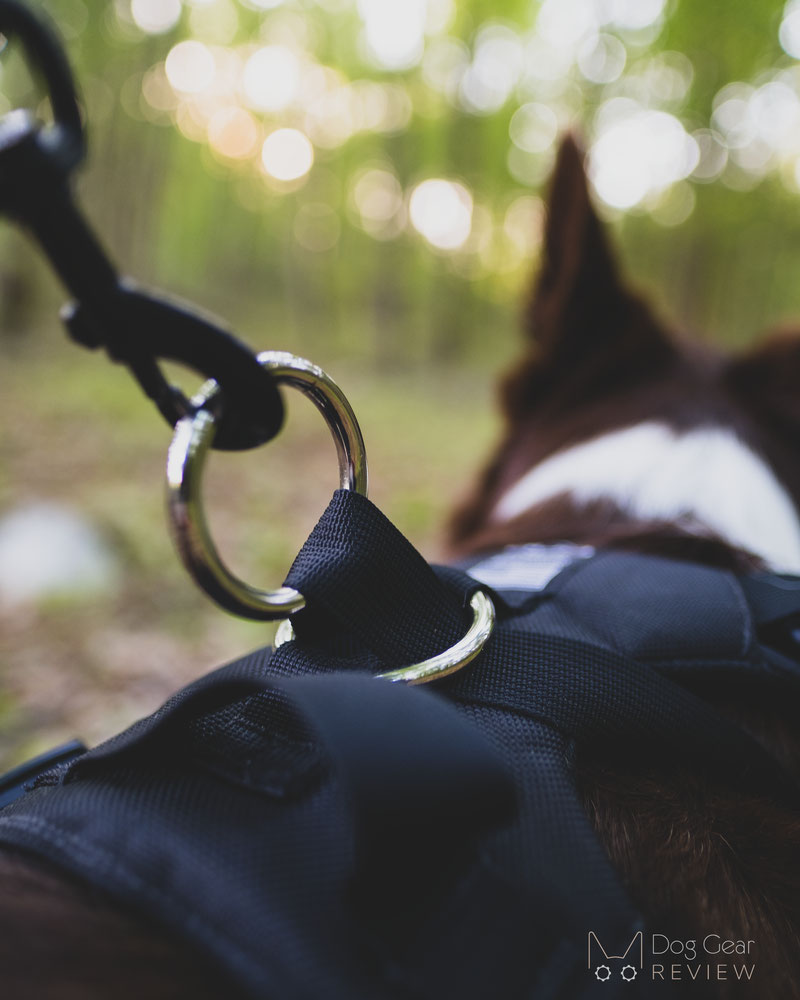 Mia's measurements
Many of you asked Mia's measurements to better understand the different products' fit. Your best chance of finding a good fitting gear is always to measure (and remeasure) your dog. Even we grab the measuring tape before getting a new product - even though we tested a lot of them, and have a good feeling of her size by now.
I share her measurements below, but don't go ahead and order the same size just because your dog is similar to Mia ;)
Shoulder height: 19.5 inches (50 cm)

Weight: 37-44 pounds (17-20 kg)

Widest chest circumference (where the most harness would have the chest strap): 25-26 inches (63-65 cm)

Neck circumference for collars: 15-16 inches (38-40 cm)

Back lengths: 22 inches (56 cm)